Top Irish Casserole Dishes: A Taste of Ireland's Comfort Foods
Roll up your sleeves and prepare to be whisked away on a tantalizing tour of Ireland's most delectable casserole dishes!
Whether you find yourself leisurely wandering through busy Dublin or embarking on adventures in the quiet Irish countryside, these mouthwatering meals will make you feel like you're in the comfort of your home.
The Best Irish Casserole Dishes to Try
Ireland's cuisine is known for making the best out of the freshest ingredients that are sourced locally. Its top restaurants for vegans, seafood, and steaks are known for making the farm to table meals.
Among the best casserole dishes in Ireland are the Irish beef and Guinness stew, the Irish colcannon casserole, Dublin coddle, traditional stew, shepherd's pie, and lamb stew.
Are you ready to delve into the preparation and unique qualities of these special casserole dishes? Let's read 'em all below!
Irish Beef and Guinness Stew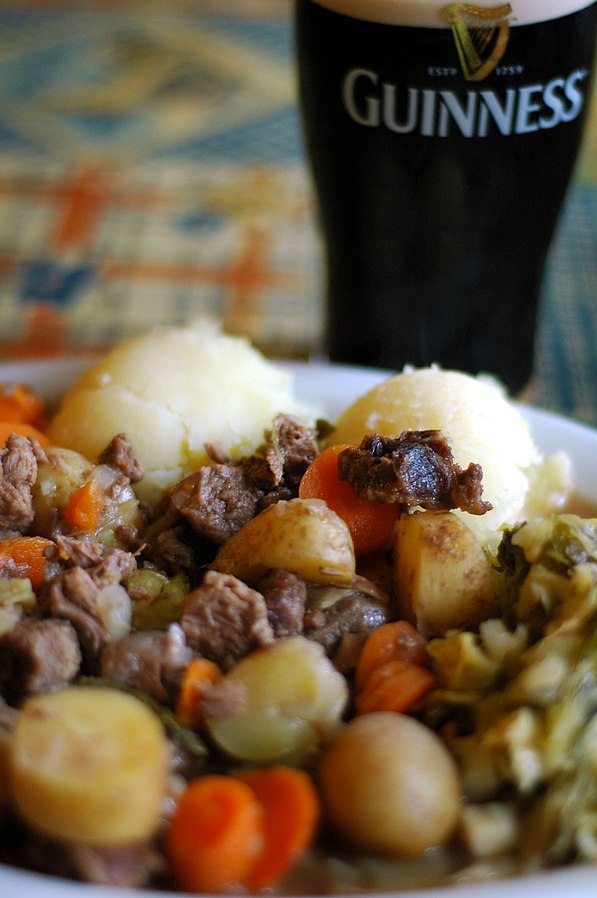 Irish Beef and Guinness Stew stands out as one of the best due to its unique blend of tender beef, hearty broth infused with Guinness stout, and harmonious flavors of root vegetables.
It's a timeless culinary masterpiece that captivates food enthusiasts worldwide with its recipe searched and shown online for those wanting to try this dish.
Ingredients:
Beef stew meat chunks, vegetable oil, chopped large onion, minced garlic cloves, carrots, celery stalks, potatoes, tomato paste, Guinness beer, beef broth, bay leaves, dried thyme, salt and pepper, fresh parsley for garnish
How it's made:
Irish Beef and Guinness Stew is cooked by browning chunks of beef stew meat in a pot with vegetable oil. The onions and minced garlic are sautéed before adding sliced carrots, sliced celery, and diced potatoes.
Tomato paste is stirred in, and then filled with Guinness beer and beef broth, along with bay leaves and dried thyme for seasoning. The stew is simmered over low heat for a couple of hours until the beef becomes tender and the flavors meld together.
Pro Tip: You can find the best Guinness casserole in Dublin's pubs and restaurants, such as the Quays Irish Restaurant in Dublin, T.P Smiths, or at The Old Mill. 

You can also ask the restaurants if the beef used is fresh and grass-fed. That way you'll have your beef leaner and healthier.
Irish Colcannon Casserole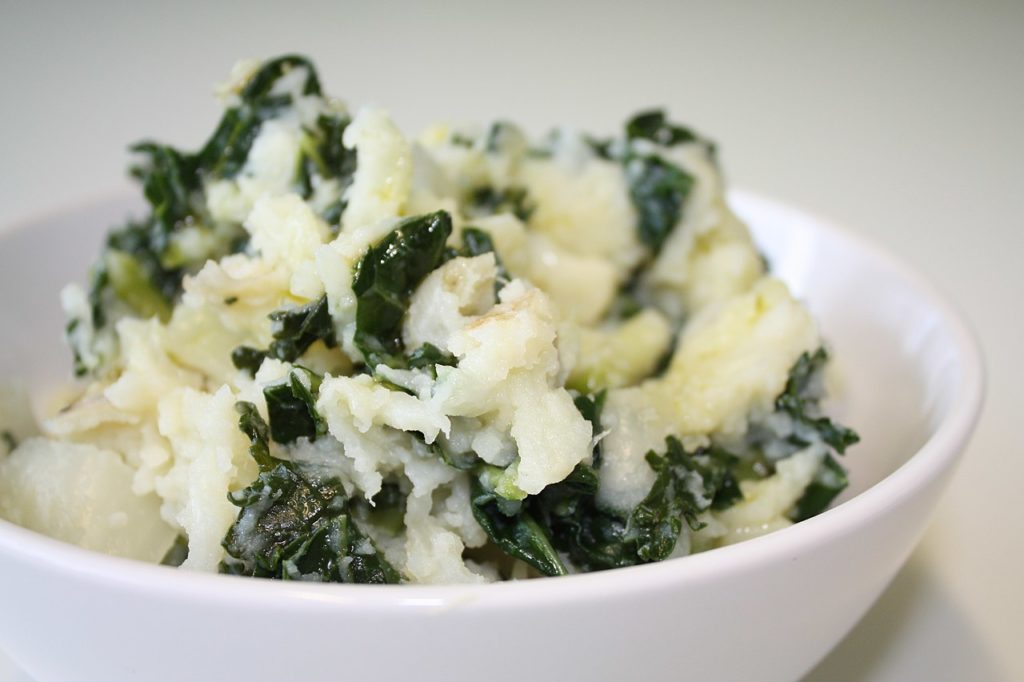 What makes this dish one of the best is its simplicity that evokes traditional Irish flavors through the harmonious combination of creamy mashed potatoes and sautéed cabbage.
It's actually one of Ireland's most popular foods that can be eaten by anyone because it's not filled with strong flavors. Plus, it's very comforting to have a taste of home in a simple potato dish.
Ingredients:
Potatoes, cabbage or kale, butter, milk or cream, onions, bacon or ham, salt and pepper
How it's made:
Irish Colcannon Casserole is cooked by first boiling potatoes until tender, then mashing them with butter, cream, and salt. The cabbage is sautéed with onions until softened in a separate pan.
The mashed potatoes and sautéed cabbage mixture are combined and spread into a casserole dish. The dish is then baked in the oven until the top is golden and crispy. 
Pro Tip: If you're cooking this yourself, make sure to drain the potatoes well after boiling. When eating this dish, it's best when it's freshly served and paired with soda and some tasty bread or crackers. 

You can order a colcannon and a variety of it at the Gallagher's Boxty House, The Quays, and at the The Wicklow Heather.
Dublin Coddle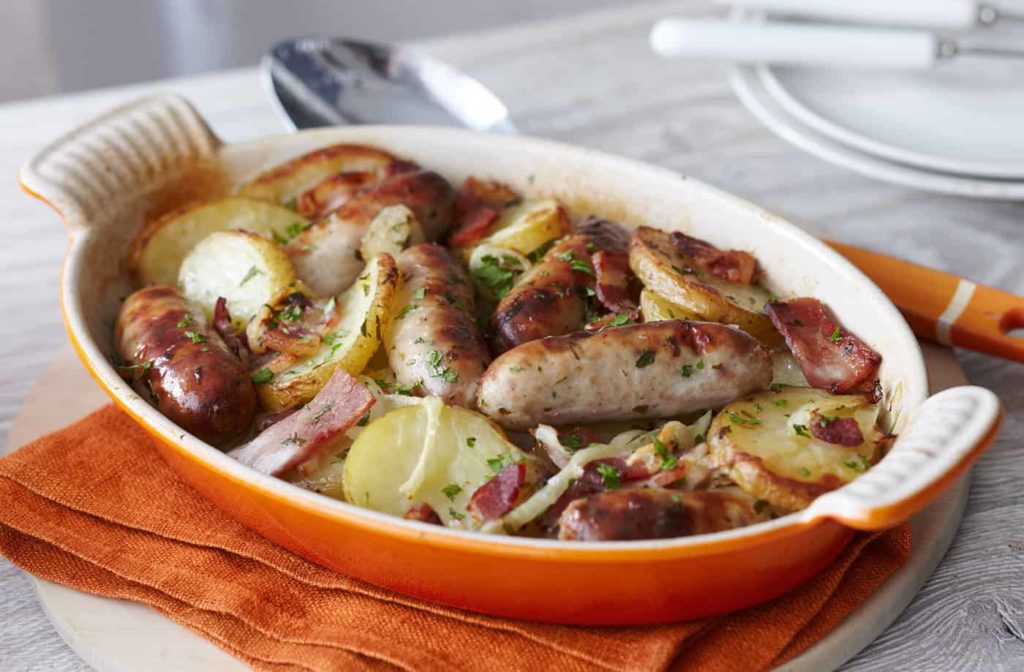 The Dublin Coddle is like a salad, only this time it's a mixture of potatoes and lots of carbohydrates-rich ingredients. What sets it apart is the simplicity of the ingredients and the way they are layered in a pot and slow-cooked together.
Unlike other stews, Dublin Coddle does not require browning or extensive preparation of the ingredients.
Ingredients:
Sausages, bacon, potatoes, onions, broth
How it's made:
This dish is made by browning sausages, bacon, and onions. Potatoes, sausages, and bacon are layered with onions, covered in broth, boiled, and simmered for an hour.
Pro Tip: Resist the temptation to stir frequently if preparing it at home, as this can cause the potatoes to break down and turn mushy. Instead, let the flavors meld naturally because there's a reason the ingredients are layered that way.

You can have the best Dublin coddle at the John Kavanagh – The Gravediggers, The Hairy Lemon, or at The Old Mill.  
Traditional Irish Stew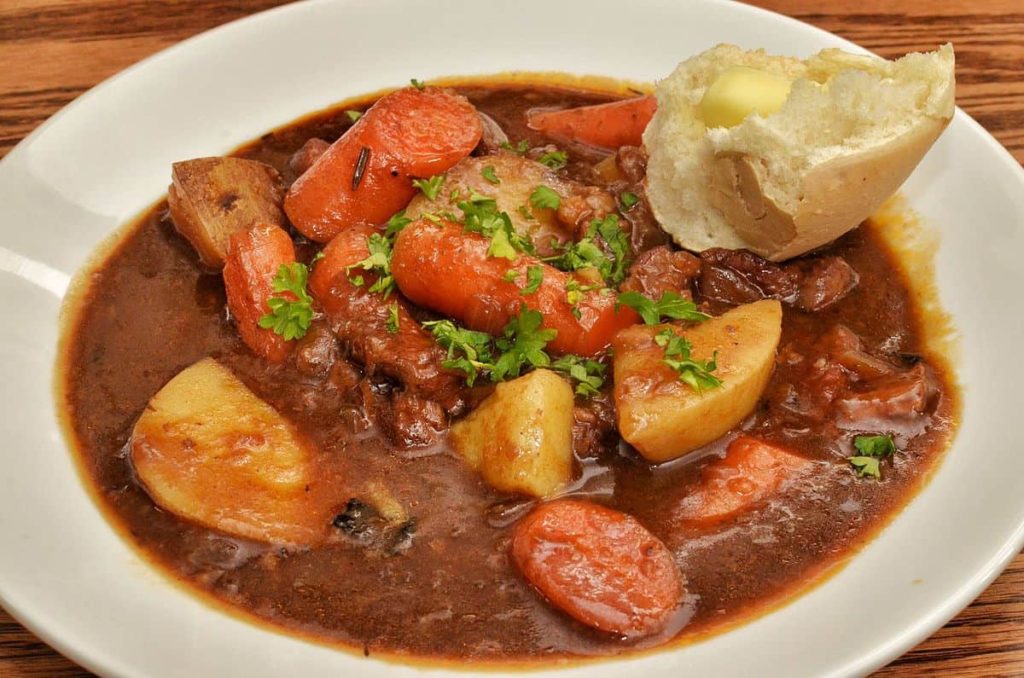 This is a traditional Irish favorite because it's so easy to cook and it's very tasty. It's actually a common meal for Irish people because of the accessibility of its ingredients.
This is a tasty dish because it's simmered for over an average of 1.5 hours that lets the flavors burst and get absorbed by the meat.
Ingredients:
Lamb or beef, potatoes, onions, carrots, broth
How it's made:
A little similar to how the Irish beef and Guinness stew is made, but no beer is used.
It begins by browning chunks of beef stew meat in a pot with vegetable oil, then the onions and garlic are sautéed before the veggies are added, followed by the tomato sauce and broth. 
Pro Tip: It's okay to make a vegan version on the Irish stew, though it won't taste as flavorful than the version with meat. You can add corn if you want a sweet twist, but this is purely optional.

Darkey Kelly's, The Brazen Head, and Lundy Foots offer authentic sumptuous Irish stew in Ireland. They are just among the best, though.
Irish Shepherd's Pie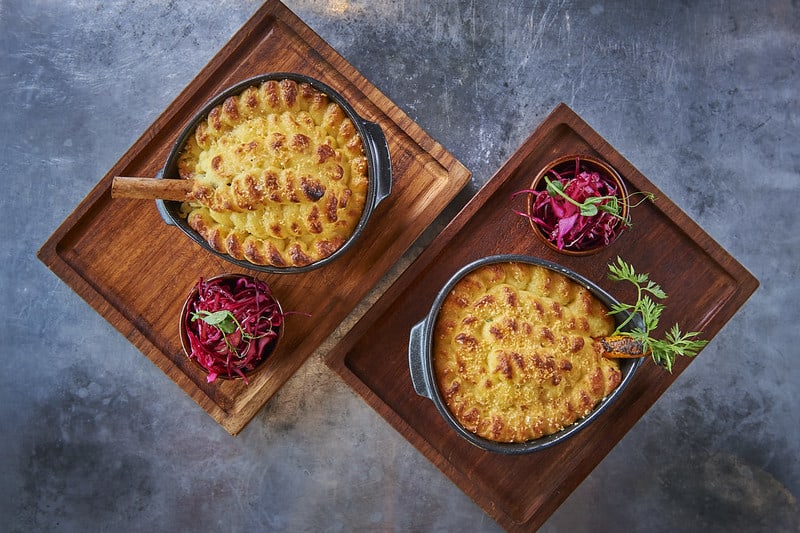 The dish has a long-standing tradition in Ireland, passed down through generations, making it a beloved and nostalgic classic. In fact, families have slight variations onto this dish by adding more greens such as celeries and peppers.
It actually looks like lasagna, only it's a pie that's really meaty with a little cheesy potato top.
Ingredients:
Ground lamb or beef, onions, carrots, peas, tomato paste, Worcestershire sauce, beef broth, butter, mashed potatoes, grated cheese (optional)
How it's made:
The Irish Shepherd's Pie is cooked by browning ground lamb or beef with onions, carrots, and peas.
After this, they are then combined with tomato paste, Worcestershire sauce, and beef broth before topping it with mashed potatoes and baking until golden and bubbling.
Pro Tip: Bake in an oven preheated to 375°F (190°C) until the top is golden and the filling is heated through, which usually takes about 25-30 minutes.

For a classic shepherd pie, you can have them at The Old Storehouse, The Sussex, and at Searsons.
Irish Pan Haggerty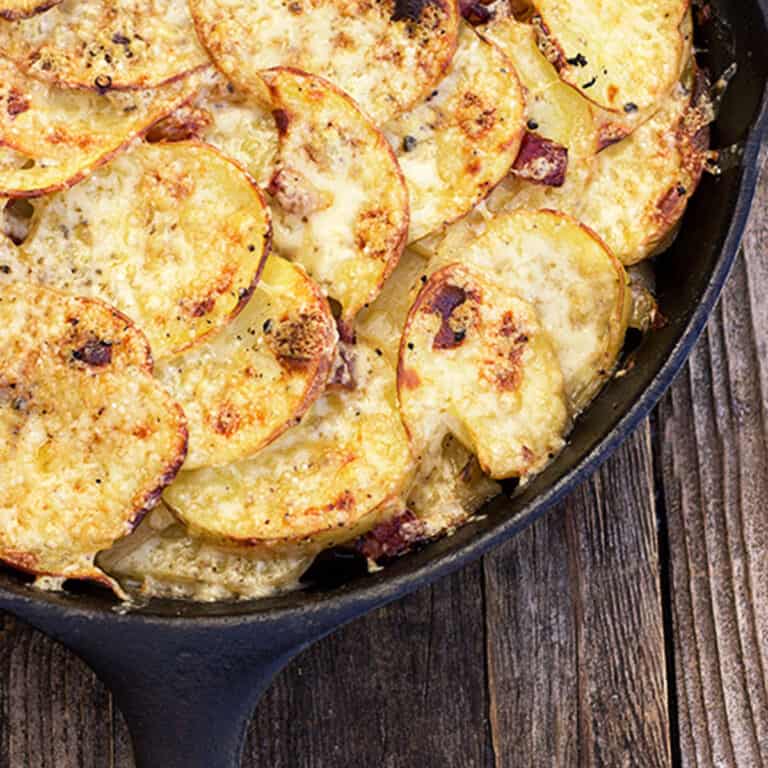 Irish Pan Haggerty is a traditional dish that originated in Northumberland, England but has become popular in Ireland as well.
It's also a common favorite either as a meal or for a quick snack because of its subtle yet satisfying creamy flavor that just melts in your tongue.
Ingredients: Thinly sliced potatoes, onions, cheese, bacon or ham, salt
How it's made: Irish Pan Haggerty is typically cooked by layering thinly sliced potatoes, onions, cheese, and optionally bacon or ham in a skillet or pan, then cooking it slowly until the potatoes are tender and the cheese is melted and bubbly.
The potatoes become tender and infused with the savory notes of the onions and cheese. The result is a rich and satisfying flavor profile that is both creamy and slightly caramelized.
Pro Tip: Big potatoes, such as Russets or Yukon Golds, can provide larger, more substantial slices that hold their shape during cooking. Cheddar is commonly used, but it's a great try to mix it with Gruyère or Swiss.

Pan Haggerty on panacalty is not usually served in restaurants, though its variations may be similar to some of the potato dishes served in Burren Smokehouse, The Chop House, and at the Gallagher's Boxty House.
What is a typical Irish dinner?
A typical Irish dinner often consists of a main course of meat or vegetables, and is accompanied by a variety of side dishes like fruits or potato snacks.
Let us give you some dinner menu samples that you're family may like:
The Classic Stew Dinner
| | |
| --- | --- |
| Starter | Irish soda bread, which is a classic Irish bread made with buttermilk and baking soda, served warm with butter |
| Main Course | The traditional Irish Stew made with lamb or beef, potatoes, carrots, onions, and herbs, slow-cooked for rich flavors |
| Side Dish | Colcannon, or mashed potatoes mixed with cabbage or kale, butter, and cream. |
| Dessert | Apple pie with cinnamon |
Irish stew is an excellent choice for a family dinner due to its comforting and nourishing qualities.
With soda bread and colcannon as side, they satisfy appetites but also creates a cozy atmosphere that encourages conversation and quality time spent with loved ones
Carbs and Protein-Rich Dinner
| | |
| --- | --- |
| Starter | Smoked salmon that is thinly sliced, oak-smoked, served with brown bread, lemon wedges, and a dollop of creamy horseradish sauce |
| Main Course | Bangers and Mash, or the traditional Irish sausages served with creamy mashed potatoes and a rich onion gravy and steamed vegetables |
| Side Dish | Champ, or mashed potatoes blended with scallions, butter, and milk |
| Dessert | Baileys Irish cream cheesecake |
Bangers and mash, accompanied by smoked salmon, makes for a delightful option for a dinner with friends.
The combination of these dishes allows for a balance between indulgence and simplicity, making it a versatile choice that appeals to a wide range of palates.
All-Time Favorite
| | |
| --- | --- |
| Starter | Boxty pancakes, or traditional Irish potato pancakes served with smoked salmon, sour cream, and a squeeze of fresh lemon juice |
| Main Course | Dublin Coddle, or Irish one-pot dish made with sausages, bacon, potatoes, onions, and herbs |
| Side Dish | Soda farls, or pan-fried bread made with buttermilk, flour, and baking soda |
| Dessert | Blackberry and apple crumble |
Boxty pancakes and Dublin coddle make a fantastic combination for dinner, particularly among Irish people, due to their traditional roots and complementary flavors.
When enjoyed together, the soft and pillowy boxty pancakes provide a delightful contrast to the savory and hearty coddle. This combination embodies the essence of Irish comfort food.