The 5 Best Breweries in Dublin
There are numerous breweries to visit in Dublin! This city has you covered whether you're opting for traditional family-run breweries or want to explore new brands.
So where should you go to try these new Irish beers that range from the easy-drinking to the carefully poured stout route?

Fear not because we're here to help you out! If you're ready, let's take a look at our choices for the best breweries in Dublin.
How Much Do Breweries Cost in Dublin
Brewery prices are usually dependent on the type of the beer as well as the quality of ingredients. On the other hand, they also offer tour packages which vary in price due to their length and depth.
Below are some estimated prices of beers, food packages and brewery tours.
| | | |
| --- | --- | --- |
| RASCALS BREWING COMPANY | Tasting Trays House Tasting Tray A La Carte Tray Rascal Core Beers Happy Days Session Pale Ale Jailbreak Helles Lager | €8.00 €10.00 Pint €5.95 Pint €5.95 |
| GUINNESS OPEN GATE BREWERY | Small Plates Halloumi Fries, Beetroot Relish, Gogb, Pink Sauce Medium Plates Kish Seafood Tacos, Hop House 13 Pickled Slaw, Garlic Aioli Guinness Foreign Extra Stout (7.5%) Guinness Draught (4.2%) | €6 €10.00 Pint - €5 Half Pint - €2.50 Pint - €5 Half Pint - €2.50 |
| THE PORTERHOUSE BREWING COMPANY | Soup of the Day Sweet Chili Chicken Stouts Pale Ale | €4.50 €9.50 €4.55 €4.40 |
| GUINNESS STOREHOUSE | Standard Tickets Connoisseur Experience | €25 €65 |
| JW SWEETMAN | Growler | €20 |
| SMITHWICK'S EXPERIENCE | Smithwick's Experience | €14 |
The Best Breweries in Dublin
Using the following criteria, we evaluated the breweries in Dublin:
1. Rascals Brewing Company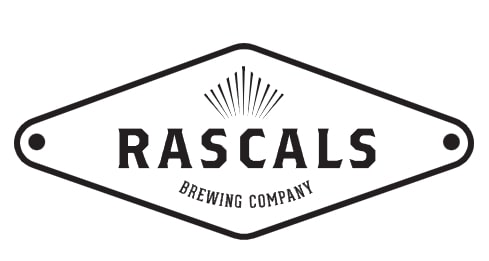 Test
Info
SERVICES
Rascals Brewing Range of Beers, Brewery Tour, Food Menu
WEBSITE
http://www.rascalsbrewing.com/
ADDRESS
Unit 5 Goldenbridge Industrial Estate Tyrconnell Road Goldenbridge Estate, Dublin D08 HF68 Ireland
CONTACT DETAILS
+353 1 538 2051
OPERATING HOURS
Restaurant and off-license

• Monday to Friday: 4:00 PM - 12:00 AM

• Saturday to Sunday: 1:00 PM - 12:00 AM


Kitchen

• Monday to Friday: 4:00 PM - 10:00 PM Saturday: 1:00 PM - 10:00 PM

• Sunday: 1:00 PM - 9:30 PM
| | |
| --- | --- |
| Criteria | Ratings |
| Background and expertise | ★★★★★ (5/5) |
| Menu | ★★★★★ (5/5) |
| Beer selection | ★★★★★ (5/5) |
| Food and other items | ★★★★★ (5/5) |
| Tours and additional services | ★★★★★ (5/5) |
| Customer feedback | ★★★★★ (5/5) |
| Staff attitude | ★★★★★ (5/5) |
| Overall satisfaction | ★★★★☆ (5/5) |
Rascals has evolved from producing homebrew kits in Rathmines to a full-fledged brewery in Inchicore.
We were very impressed by their location and diverse in-brewery features. They have a spacious area that includes outdoor seating and a pizza restaurant
Alongside this, they also have a behind-the-scenes section where tourists can observe the brewing process. A guided sample of several of Rascals' outstanding beers is included in the brewery tour.
We really like that these behind-the-scenes features give customers a very in-depth look. For example, the guide describes the various grains used in each beer and invites you to smell the various hops, and much more.
What we also really appreciate is that after the tour customers can enjoy a range of delicious foods from wood-fired pizzas to a kids menu. It really makes it a great one-stop-shop for families looking for brewery tours and great food.

However, do take note that service can be slow sometimes during peak hours. Moreover, this brewery doesn't accept walk-ins, so you'll need to book your spot in advance.
Overall however, if you're looking for a brewery with excellent food options that caters to everyone in the family as well as a great quality tour, we highly recommend checking them out.
Wide beer selection
Freshly made pizza
Great location and in-brewery features
Friendly and fun atmosphere
Slow service during peak hours
No walk-ins
Customer Reviews
Beer Selection
Visited Rascals with a few friends on Saturday – a great addition to inchicore and Dublin. Did the tour (led by one of the owners, which was cool) and that was very interesting. Had a few drinks afterward from an extensive beer menu accompanied by a delicious pizza (the Clonakilty pudding, lads!!! A+). Very friendly and knowledgable staff and overall a lovely atmosphere. More power to ye! – Ronan Kenny, Google Reviews
Accessible Location
Big fan of rascals beer. A few of us visited from Belfast for a day out. We booked the premium tour of the brewery which was very good. The beers here are something totally different and delicious. The pizza made on-site from the stone oven is unreal. It's easy to get to from Dublin City centre on the luas. The staff is very friendly and informative. – Jay M., Google Reviews
2. Guinness Open Gate Brewery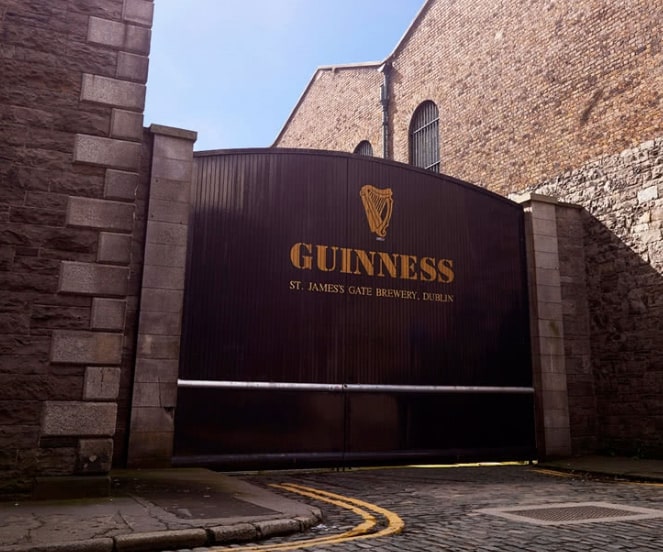 Test
Info
MENU
Beer, Halloumi Fries, Beetroot Relish, Gogb Pink Sauce, Shrimp Aranci, Lime, Coconut Aioli, Skin-On Fries, Shredded Cheese Slaw
WEBSITE
https://www.guinnessopengate.com/
ADDRESS
Saint James's Gate 53 James's Street, Dublin D08 X20N Ireland
CONTACT DETAILS
+353 1 408 4800
OPERATING HOURS
Monday to Thursday: 10:00 AM - 5:00 PM

Friday to Saturday: 9:30 AM - 6:00 PM

Sunday: 9:30 AM - 5:00 PM
| | |
| --- | --- |
| Criteria | Ratings |
| Background and expertise | ★★★★★ (5/5) |
| Menu | ★★★★★ (5/5) |
| Beer selection | ★★★★★ (5/5) |
| Food and other items | ★★★★★ (5/5) |
| Tours and additional services | ★★★★☆ (4/5) |
| Customer feedback | ★★★★★ (5/5) |
| Staff attitude | ★★★★★ (5/5) |
| Overall satisfaction | ★★★★☆ (4/5) |
The Guinness Open Gate Brewery is an innovative brewing area where you can try out new flavors and find your perfect brew.
We like that their brewers are granted freedom and flexibility in creating unique concoctions. They have many limited-edition small-batch beers available and this provides customers with a specialized experience .
We're also big fans of its ever-changing beer menu because it ensures that there is always something new on tap. For example, they have Black Forest Stout and Sea Salt & Lime Lager – all of which have a great distinction of flavor between one another.
If you want to take your beer drinking experience to the next level, we highly recommend their offer of a STOUTie. It's a beer topped with a selfie of your choice and we think this is a unique offer that allows customers a more personalized experience.
We really like that between the amenities Guinness Open Gate Brewery offers, there's a good range of both history and modernity to it that a lot of customers will enjoy.
However, we do wish that there is a better experience when visiting their space. Free parking on Crane and James Street is available but very limited.
What impressed us the most though (which makes a trip to their brewery definitely worth it) is their rooftop bar experience. Customers will be given a free pint and they can enjoy this alongside a breathtaking panoramic view of Dublin below.
With that said, the guiness Open Gate Brewery is definitely one of our top picks in Dublin and worth a visit!
Whiskey and beer tastings are included
Debit cards accepted
STOUTie gives a customized experience
Guinness' Gravity Bar, offers panoramic views of Dublin
Limited parking available
Necessary advance bookings
Customer Reviews
An Experience Visiting Again
Beer was tops, the atmosphere was tops, the staff working there are truly an amazing Assett to your bar, from Dearbhla seating us with a smile, to Shannon with her beer knowledge to help us understand the menu and Sam's charming sense of humor. Oh, I even forgot I think paddy was his name the security what a gent! – Shauna D., Google Reviews
Excellent food and drink
Did not even realize this place existed but we were on our way back into the city after visiting the Storehouse and spotted it. Very nice outside but covered seating with a DJ playing some interesting sounds. The staff was incredibly friendly and helpful. The food menu is small but really good – the burger was amazing! The beer menu is excellent with some guest beers and some great craft beers – try the Norwegian Kveik ale if it is on the menu – excellent! A nice touch is that they give you a sample of one of the beers when you sit down for free. Also had a nice espresso martini for dessert. A definite revisit – you can book online in advance which is what we will be doing in the future. Not far from the storehouse and a great place to go to afterward.— BanzaiClepton, Google Reviews
3. The Porterhouse Brewing Company

Test
Info
MENU
Bottled Beers, Draught Beers, Guest Draught Beers, Whiskeys, Cocktails, Wines, Soup of the Day, Buffalo Chicken Tenders, Garlic Chili Prawns, Spice Bag Cauliflower, Loaded Nachos, Mini Plates
WEBSITE
https://porterhousebrewco.ie/
ADDRESS
Stag Industrial Estate, unit 3/4, Ballyboggan Rd, Dublin 11, Ireland
CONTACT DETAILS
01- 6774180
OPERATING HOURS
Nassau Street & Temple Bar

Drinks Menu

• Monday to Thursday: 4:00 PM - 11:30 PM

• Friday to Saturday: 1:00 PM - 11:30 PM




Food Menu

• Monday to Friday: 4:00 PM - 11:30 PM

• Saturday to Sunday: 12:00 PM - 11:30 PM
| | |
| --- | --- |
| Criteria | Ratings |
| Background and expertise | ★★★★★ (5/5) |
| Menu | ★★★★★ (5/5) |
| Beer selection | ★★★★★ (5/5) |
| Food and other items | ★★★★★ (5/5) |
| Tours and additional services | ★★★☆☆ (3/5) |
| Customer feedback | ★★★★★ (5/5) |
| Staff attitude | ★★★★★ (5/5) |
| Overall satisfaction | ★★★★☆ (4/5) |
The Porterhouse Brewery, Dublin's first brew pub, is a name that comes to mind if you're looking to enjoy different beer varieties. Their location stands out with its combination of brick wall facades yet sleek and modern design.
We really like that the ambience they create is very warm and inviting, making it a great location to go to with friends to have a few pints. On top of this, their drink menu has a wide selection that is fun and unique!
The bar has a number of distinctive drinks, ranging from a lively Irish Ale to a hearty full stout. It is definitely our top pick if you're looking for more creative varieties including Yippy IPA which is a zesty fruity option.
The Porterhouse Brewery does make traditional Irish varieties like plain, porter, and red ale using direct-fired kettles, which are "expensive but important if you want the greatest results." This combined with their more special range makes it a powerhouse of beer selection.

Moreover, this brewery hosts live music seven days a week, with a focus on traditional music from local bands. It's a great combination of entertainment and quality beverages.
However, this may not be the best place to go to if you're looking for a calmer brewery visit as they can get crowded very quickly.
All in all, we find that the Porterhouse Brewery certainly continues to provide some of the city's best pints and is a pub worth visiting.
High quality craft beers
Menu ranges from more traditional to creative beer varieties
Hosts live music and entertainment all week
Friendly and speedy service
Very crowded 
Hidden charges in prices
Customer Reviews
Great pub with fab atmosphere
Our first night out in Dublin on our Christmas holiday. A classy panelled pub with many different levels, heaps of bottled and draft craft beers and beautifully decorated. Enjoyed the Scraggy Bay IPA and Porterhouse winter stout very much. Highly recommend this pub..lots of glam young things mixed with serious beer faces. And the food passing our table looked good too though we didn't eat there. But we will return. – Jenni08_13, Google Reviews
HUGE beer selection and great food
Passed by on our way back from shopping and returned for dinner later that night. What a great place! It is loud and enormous with dark wood fixtures, loads of music posters and a HUGE offering of beers from around the world. We tried a couple of their own beers and were highly satisfied. The food was delicious and the service was very fast and friendly. Our party of 3 was not ignored even amongst many other larger parties. – OriginalFrau, Google Reviews
4. J.W. Sweetman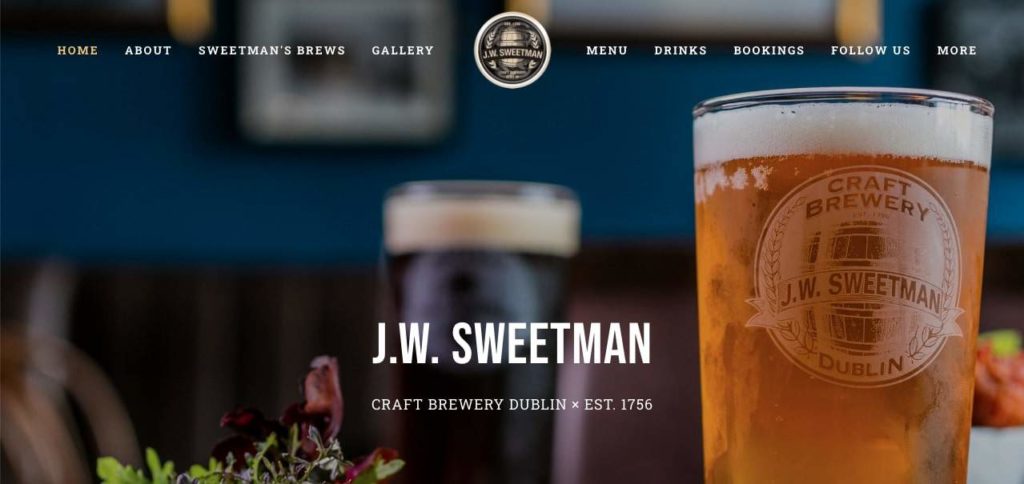 Test
Info
SERVICES
Craft Beers, Food Menu, Irish Beer Draught, International Bottles, Craft Beer Talks, Events
WEBSITE
https://www.jwsweetman.ie/
ADDRESS
1-2 Burgh Quay, Dublin 2
CONTACT DETAILS
01 670 5777
OPERATING HOURS
Monday to Thursday: 3:00 PM to 11:30 PM

Friday to Sunday: 12:00 PM to Late
| | |
| --- | --- |
| Criteria | Ratings |
| Background and expertise | ★★★★★ (5/5) |
| Menu | ★★★★★ (5/5) |
| Beer selection | ★★★★★ (5/5) |
| Food and other items | ★★★★☆ (4/5) |
| Tours and additional services | ★★★★☆ (4/5) |
| Customer feedback | ★★★★☆ (4/5) |
| Staff attitude | ★★★★☆ (4/5) |
| Overall satisfaction | ★★★★☆ (4/5) |
Established in 1756, J.W. Sweetman's rich history extends to providing present day customers with an unforgettable brewery experience.
What stands out is that their amenities make them a fantastic choice for beer connoisseurs looking for depth in an establishment's heritage. Their building houses a microbrewery, pub as well as a restaurant.
It makes a great experience for learning about their founding through politician John William Sweetman, while at the same time enjoying their delicious selection of beers and food.
However, we would like to forewarn that party reservations online are limited to six people and they do have certain days where they are fully booked.
It would be best to coordinate with them directly in any special cases of scheduling.
In terms of their craft brew range, we really appreciate the assortment that they offer. This includes a sweeter tasting Irish Red Ale to a 4% Irish Dry Stout perfect for those looking for creamier flavors.
We find that they have a really good range that caters to a lot of different beer preferences. In addition to this, they also offer seasonal craft beers which make a trip to their brewery unique during different parts of the year.
Customers can also enjoy pairing these beers with items like Gaelic Whiskey Chicken and a Brewmaster Burger. We really like how flavorful the foods are on their menu.
All in all J. W. Sweetman combines the right balance of history and beer selection offering customers a fulfilling and satisfying brewery experience.
Offers craft beer talks
Great food menu
Wide selection of distinct craft beers
Rich and established history
Party booking reservations limited to 6 people
Schedules available may be filled up easily due to accommodating events
Customer Reviews
Worth a Stop if You're into Craft Brew
Stopped in for dinner after our day tour. I got the whiskey chicken, while my wife got the bangers and mash. Very good! Had their stout…it was a craft brew Guinness! Definitely worth a stop if you are into craft brew. -Mitch Mull
Good Place, Great Staff
Very good place, great staff! The food was amazing, I will never forget that lamb shank. We were placed on a table at the window with a great view! We'll definitely come back 🙂 -Beatriz Sesana
5. Hope Beer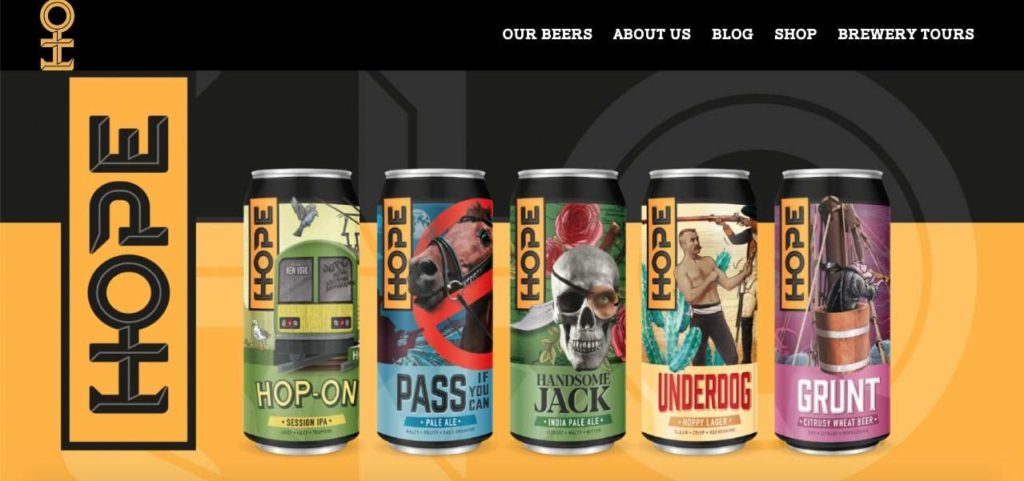 | Test | Info |
| --- | --- |
| SERVICES | Beers, Clothing, Posters, Glasses, Brewery Tours |
| WEBSITE | https://hopebeer.ie/ |
| ADDRESS | Unit 1 Howth Junction Business Park, Kilbarrack Way, Kilbarrack, Dublin |
| CONTACT DETAILS | 087 996 7889 |
| OPERATING HOURS | Weekdays: 9:00 AM to 5:00 PM |
| | |
| --- | --- |
| Criteria | Ratings |
| Background and expertise | ★★★★★ (5/5) |
| Menu | ★★★★☆ (4/5) |
| Beer selection | ★★★★☆ (4/5) |
| Food and other items | ★★★☆☆ (3/5) |
| Tours and additional services | ★★★★★ (5/5) |
| Customer feedback | ★★★★★ (5/5) |
| Staff attitude | ★★★★★ (5/5) |
| Overall satisfaction | ★★★★★ (5/5) |
With a more curated selection of beers and strong contender for best brewery tour, Hope Beer is the place to go if you're looking for a more condensed experience.
Hope Beer is a relatively younger brewery starting out in 2015. However, since then they have provided the market with a range of five distinct beers.
What we can appreciate about them is that their processes and operations all take sustainability into consideration. They make sure that their packaging materials are recyclable and that their methods are energy efficient.
In addition to this, they have a great and accommodating team of brewers. Many of the customers have highly complimented how their tour services are great because of the expertise of the different guides.
However, we would like to disclose that these tours are comparatively shorter – they last 25 minutes and require a minimum of six people. This would make it a little bit more difficult for customers looking for a more accessible brewery tour.
As mentioned before, they have a core range of five beers brewed year round. We like that they have a substantial amount of information available online discussing ingredients, background and flavor notes.
They also have limited and seasonal editions which give customers more specialized options!
Overall, Hope Beer is a great choice if you're looking for a high quality brewery tour and a solid selection of core beer flavors.
Enforce sustainable practices
Knowledgeable brewery guides
Solid range of core and limited edition beers
Affordable brewery tour price
Brewery tour requires a minimum of six people and lasts 25 minutes
Schedules fill up very fast
Customer Reviews
Fantastic Brews and Great Tour
Great tour, really interesting to get an insight into how the a new business like Hope comes about. The brews they have are fantastic too. The fact that the brewery is next to the stations means you can leave the car at home and enjoy the beer tasting -Luke Gahan
Knowledgeable Tour Guide
Great brewery tour in north Dublin. The guide was one of owners and he talked a lot about the industry, the brewery, production and distribution. They really talk about beer with passion and was totally worth the trip to Howth. -Gustavo Pelogia
FAQs about Breweries in Dublin
---
From beer selections to tours, we hope our list helps you in planning your next brewery visit. If you would like to read more, we also have an article on the best pubs in Dublin.