Best Budget-Friendly Things to Do in Cork
Do you want to have fun in Cork without spending a lot of money? If so, you are in luck, because Cork is a city that offers plenty of cheap and free things to do for all ages and interests.
Whether you're looking for culture, history, nature, or entertainment, you can find it in Cork on a budget.
In this article, we'll show you some of the best activities to enjoy Cork without breaking the bank, both indoors and outdoors, depending on the weather. So, let's get started with our guide to cheap things to do in Cork.
Top Free Things to Do in Cork
Cork has plenty of free activities such as hiking Ballycotton Cliff Walk, enjoying street art at Ardú, exploring Crawford Art Gallery, visiting Fitzgerald Park's gardens.
You can also discover history at Cork Public Museum, and explore Macroom Castle.
Enjoy Colorful Street Art at Ardú
Website: http://arducork.ie/
Email: [email protected] 
Ardú Street Art invites everyone to join a celebration of Cork's history, culture, and art. It's a project that celebrates Cork's resilience and creativity by inviting 11 top street artists to paint murals inspired by the 1920 Burning of Cork.
The theme of the project is nostalgia and celebration, as Cork rose from the ashes 100 years ago and now faces new challenges.
A free self-guided audio tour of the 11 Ardú Street Art locations is available on the Ardú website, where visitors can also find more information about the artists and the project.
This tour takes you on an hour-long journey through Wandesford Quay and its surroundings, suitable for all ages. The murals are a rallying cry to the city, a reminder that we have overcome terrible times before and we can do it again.
Pro Tip:

Use the map of the Ardú Street Art area to help you navigate through the streets. This will ensure that you don't miss any important pieces and help you plan your route efficiently.
Hike Along Scenic Cliffs at Ballycotton Cliff Walk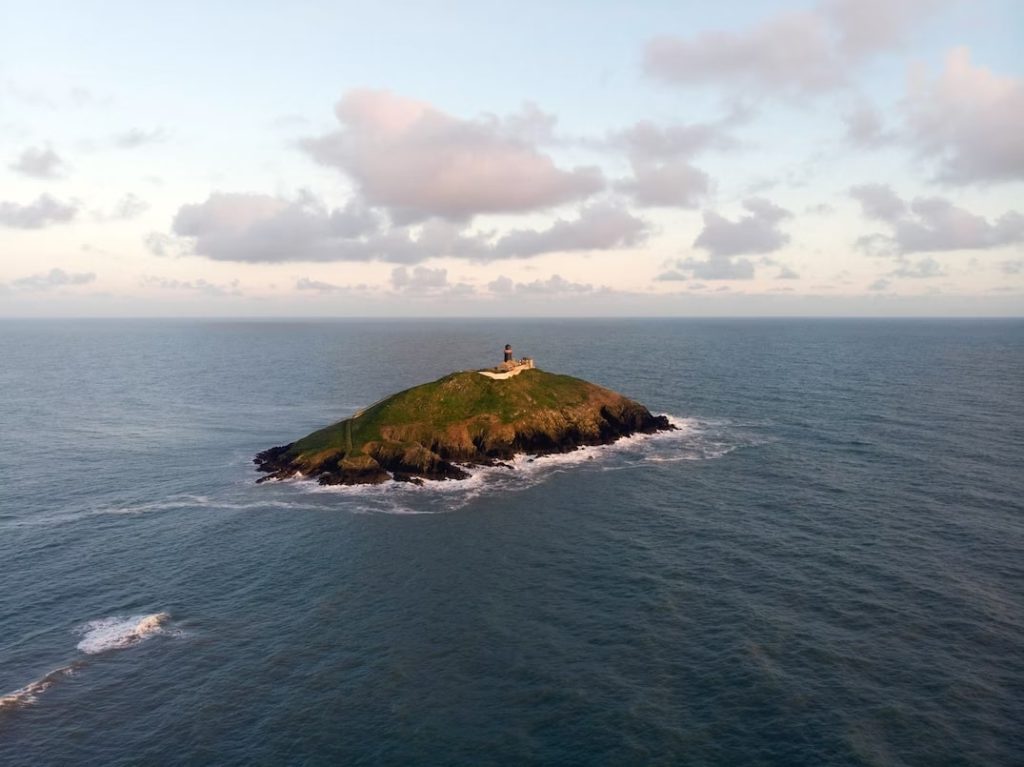 If you're looking for a great way to explore the natural beauty of Cork, why not try the Ballycotton Cliff Walk? It's a coastal walk that will take your breath away with its amazing views of the ocean and the cliffs.
You can start your walk in the charming village of Ballycotton, where you can grab a coffee and soak up the atmosphere. Then, follow the trail that begins next to the Mary Stanford Lifeboat, a historic vessel that saved many lives.
As you walk along the cliff edge, you'll see Ballycotton Island and its unique black lighthouse, which is one of only two in Ireland. You might also spot some dolphins playing in the water, so keep your eyes peeled.
The walk is about 9 km long and takes around 3 hours to finish, but you can choose to shorten it by returning the same way or taking a different route through Ballyandreen and country roads.
Pro Tip:

The Cliff Walk can be inaccessible during high tide, so it's important to check the tide times beforehand to ensure you can complete the entire walk without any issues.
See Beautiful Art from Ireland and Beyond at Crawford Art Gallery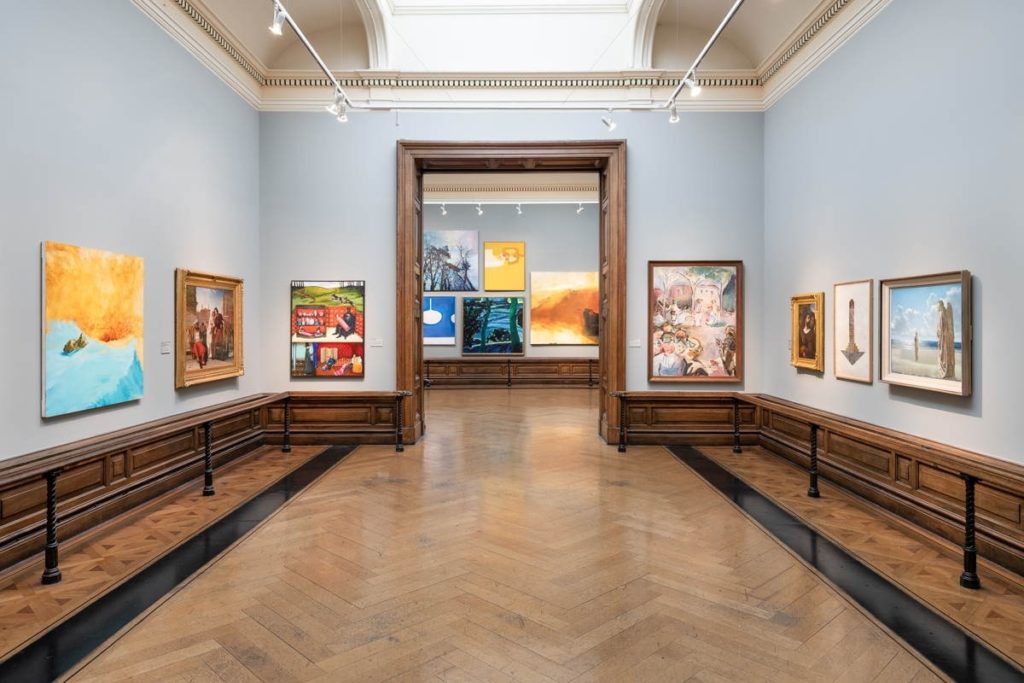 Website: https://crawfordartgallery.ie/
Address: Emmett Place, Cork, Ireland, T12 TNE6
Phone: 021 480 5042
Email: [email protected] 
Operating Hours: 
Monday to Saturday – 10 AM to 5 PM (Second floor closes 15 minutes before closing)
Thursday until 8 PM
Sundays and Bank Holidays – 11 AM to 4 PM
The Crawford Art Gallery has over 2,000 works of art from different periods and styles. You can see paintings, sculptures, and videos from Ireland and Europe, as well as Greek and Roman casts from the Vatican.
One of the highlights of the gallery is a collection of Greek and Roman sculpture casts, which came from the Vatican Museum in Rome in 1818.
Another attraction is the Irish art from the 19th and early 20th century, which showcases the rich heritage and culture of Ireland.
The gallery also hosts visiting exhibitions, featuring the work of major and emerging artists, so you can always find something new and exciting to see. 
Pro Tip:

Enjoy a delicious meal in a beautiful setting at the gallery café, which has won several awards for its cuisine. The café offers a range of dishes, from modern trends to traditional Irish classics, made with fresh and local ingredients.
Take a leisurely stroll at Fitzgerald Park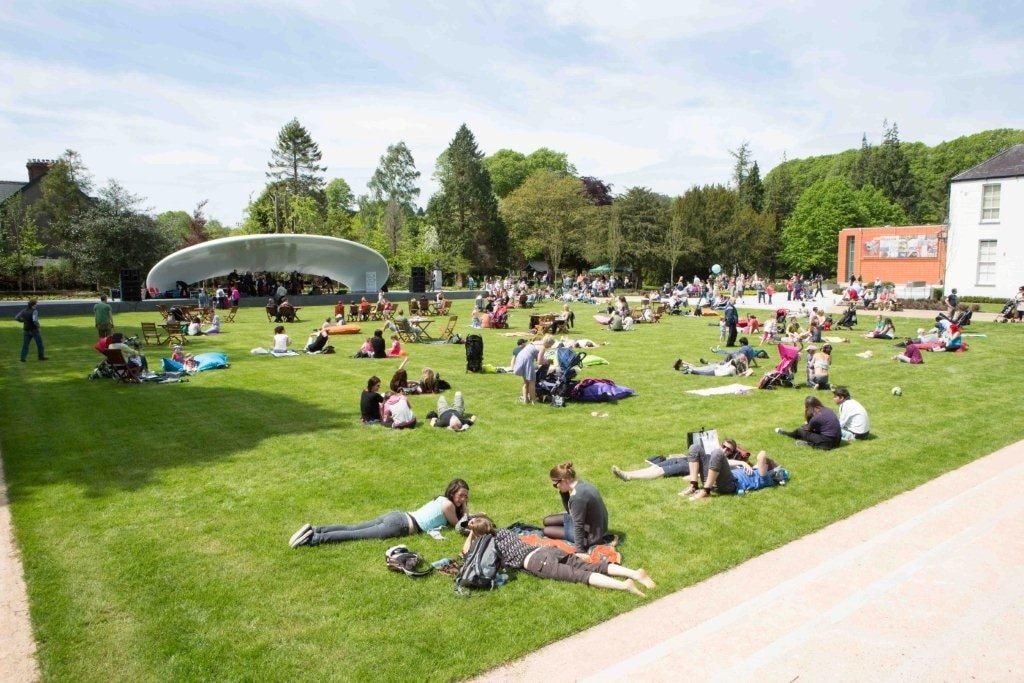 Address: Mardyke, Cork, Ireland
Phone: +353214924000
Fitzgerald's Park was the site of the 1902 International Exhibition, a world trade fair that was organized by Edward Fitzgerald, the city's Lord Mayor at the time. The park still has some features from that era, such as the pavilion and the fountain.
There's a café, a pond, a playground, and several sculptures, including one of Michael Collins by Seamus Murphy. You can cross the river by Daly's Bridge, also known as the 'Shakey Bridge', which's a pedestrian bridge built in 1926.
The park also has boat slips along the riverbank, which remind you of the times when people used to go punting on the river. Fitzgerald's Park's a great place to relax and enjoy the charm of Cork.
Pro Tip:

Fitzgerald Park is located along the banks of the River Lee. Consider taking a boat ride or a leisurely cruise along the river to enjoy a different perspective of the park and the city.
Discover Artifacts from Cork's Past at Cork Public Museum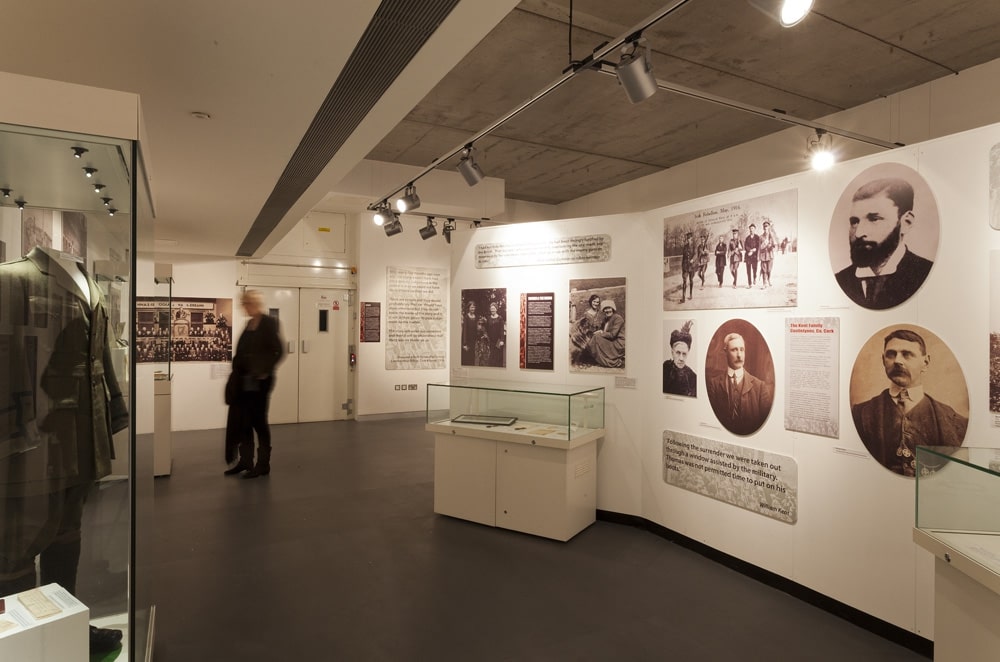 Website: https://www.corkcity.ie/en/cork-public-museum/
Address: Fitzgerald Park, Mardyke, Cork, T12 V0AA, Ireland
Phone: +353 21 427 0679
Operating Hours: 
Tuesday to Friday – 10 AM to 4 PM
Saturday – 11 AM to 4 PM
Monday & Sunday – closed
Bank Holiday Weekends – closed
Cork Public Museum is a Georgian house that was built in 1845 and hosted the Cork International Exhibition in 1902 and 1903.
The museum has a rich and diverse collection of artifacts that tell the story of Cork's history and culture. You can see objects from ancient Egypt and Greece, medieval Cork, and recent archaeological digs.
Pro Tip:

Take some time to research the exhibits and collections at the Cork Public Museum. This will help you appreciate and understand the artifacts and displays better during your visit.
Explore the Old Macroom Castle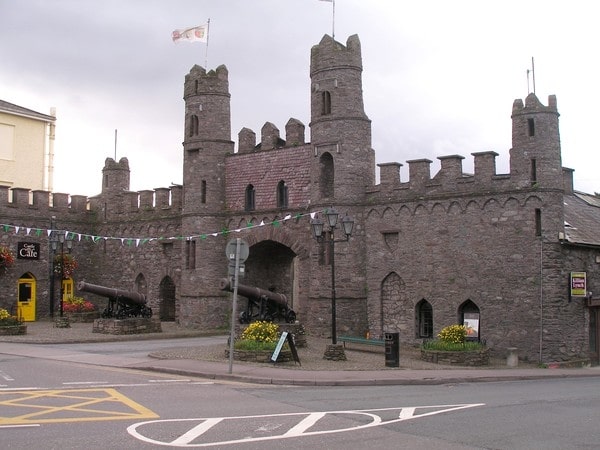 Website: https://www.castles.nl/macroom-castle
Macroom Castle was built by the Carew Clan on the site of an ancient fort, and later passed to the McCarthys, the powerful lords of Munster.
In 1650, the Cromwellian forces took over after capturing Bishop Boetius McEgan, a friend of the McCarthys. Later, William Penn, who was connected to Pennsylvania, owned the castle briefly before selling it to a company.
The castle has seen many changes and challenges over time, with old walls, arches, and cannons remaining. When you visit, you're stepping into history and the story of Ireland.
Pro Tip:

The castle is located in the centre of Macroom, which is a lively and charming town with plenty of shops, cafes, pubs, and restaurants. You can also visit some of the nearby attractions, such as the English Market, Nano Nagle Place, and St. Fin Barre's Cathedral.
Take a Peaceful Walk around a Lake at The Lough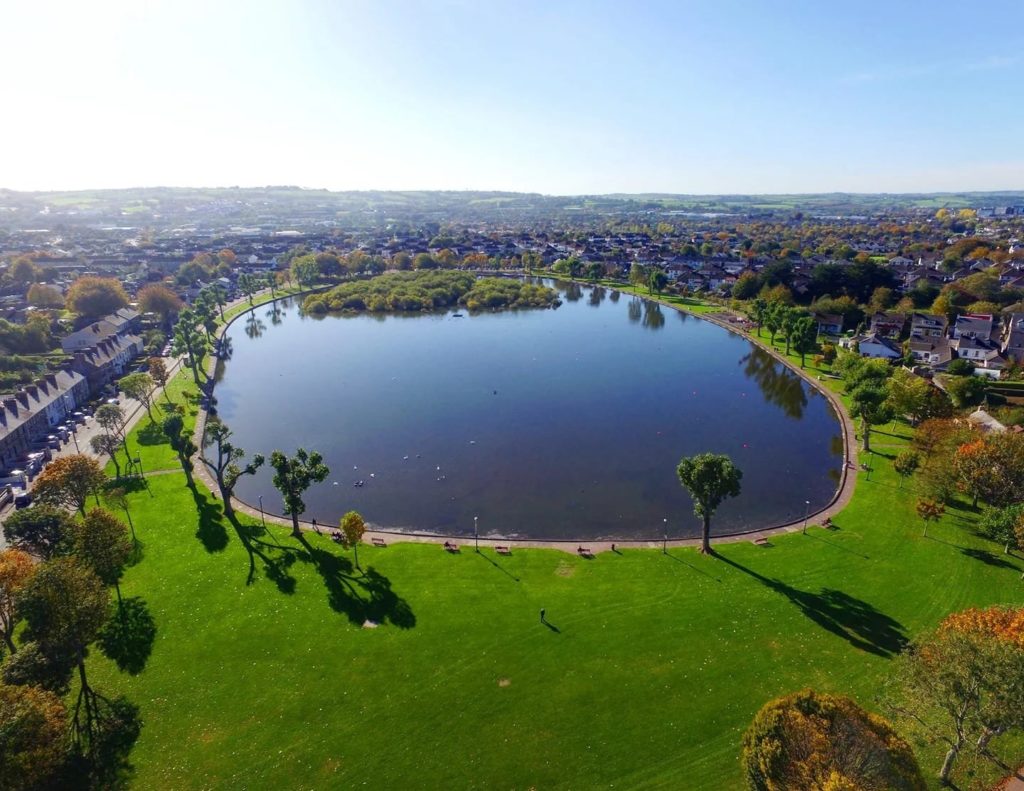 Address: South Western Regional Fisheries Board,Sunnyside House,Macroom,Co Cork,Republic of Ireland
The Lough is a shallow lake that's home to many birds and animals, such as swans, ducks, geese, and otters.
It's also one of Ireland's oldest protected areas, as it was declared a Public Wildlife Refuge in 1881. You can walk around the lake on a 1 km loop and watch the wildlife, or relax on the grass and read a book.
There's also a playground for kids to have fun. In the summer, you can join the locals for "Ceili at the Lough", a traditional Irish dance event that takes place in the evenings. 
Pro Tip:

The Lough is a great spot to kick a football, have a picnic, or just watch the world go by.
Best Cheap Things to Do in Cork on a Sunny Day
Marvel the Stunning Gothic Architecture of St. Fin Barre's Cathedral
Website: https://www.corkcathedral.webs.com/
Address: Saint Fin Barre's Cathedral, Cathedral Office, Library House, Dean Street, Cork
Phone: (+353) (0)21 4963387
Operating Hours:
Monday to Saturday (including bank holidays) – 9 AM to 1 PM & 2 PM to 5 PM
Sunday (April to October only) – 12:30 PM to 2 PM & 4:30 PM to 5 PM
St. Fin Barre's Cathedral is a beautiful and historic church that stands on the site where Cork was founded in the 7th century. The cathedral is a Neo-Gothic masterpiece that celebrates the legacy of St. Fin Barre, who founded his monastic school on this site.
It was designed by William Bruges, an English architect, and built from different kinds of stone. The cathedral has a stunning interior that features stained glass windows, marble mosaics, and rich sculptures.
You can see scenes from the Bible, Christ with angels, and more than 1,260 sculptures in the cathedral. There's also a cannonball from the Siege of Cork in 1690, which shows the cathedral's role in the history of the city.
Pro Tip:

Before visiting, you should be aware that they should keep quiet and show respect to worshippers. Additionally, the cathedral hosts various events throughout the year and offers a gift shop for visitors to purchase souvenirs.
Relax on a Sandy Beach at Redbarn Strand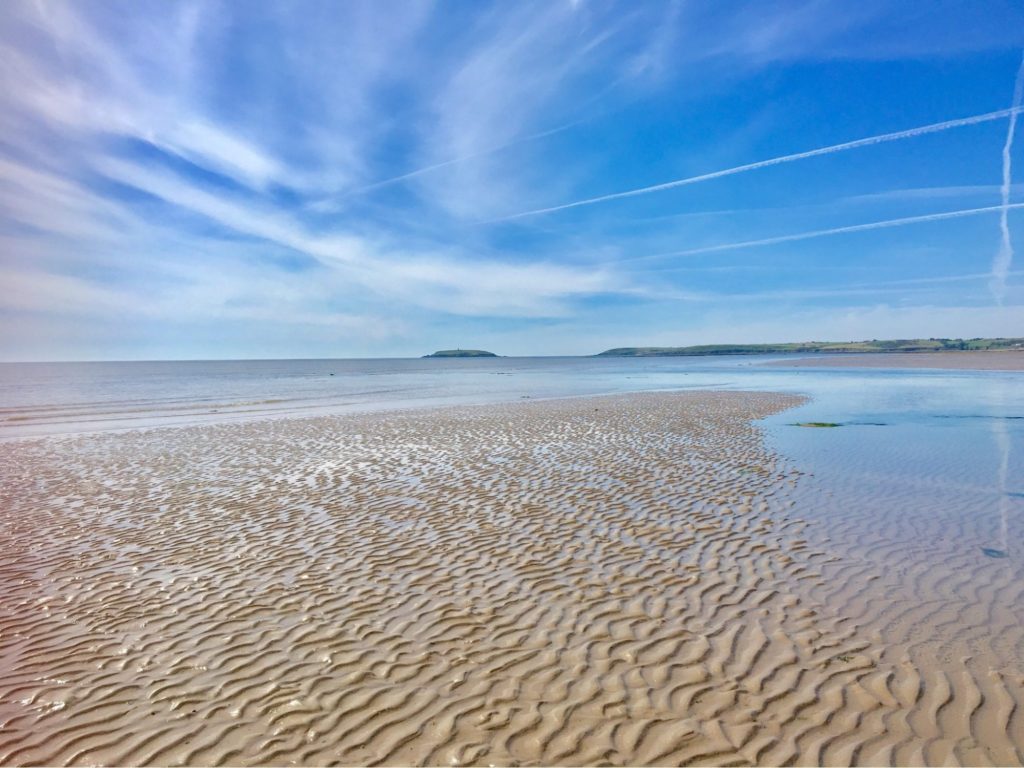 Address: Redbarn, Youghal, County Cork, Ireland
If you're looking for a beautiful beach to visit in Cork, you should check out Redbarn Strand in Youghal. It's a long and wide sandy beach that has a Blue Flag status, which means it is clean and safe.
You can enjoy a romantic stroll, take the dog for a long walk, or have lots of fun with the family. There's public parking and toilets nearby, so you don't have to worry about anything.
Redbarn Strand is also close to Ballyvergen Marsh, which is the largest freshwater coastal marsh in Cork. It's a great place to see migratory birds and other wildlife.
Pro Tip:

Redbarn occasionally hosts events like beach clean-ups, outdoor yoga sessions, or sandcastle competitions. Keep an eye out for any upcoming events that might enhance your visit to the strand.
Admire Colorful Waterfront Houses at Deck of Cards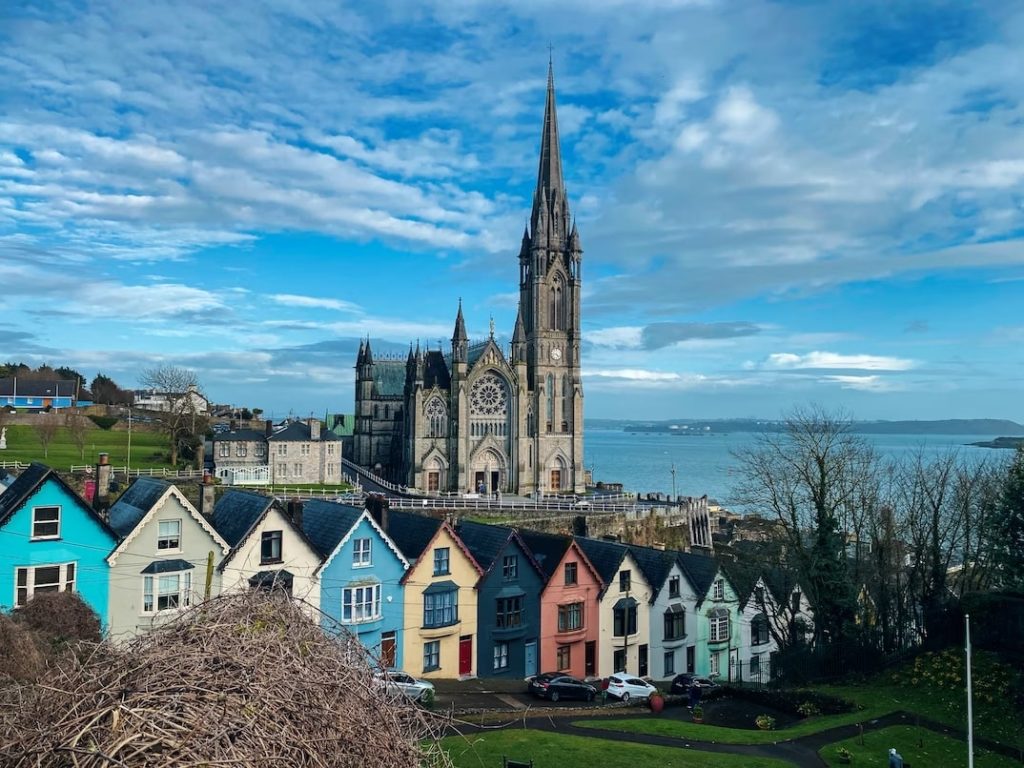 Address: 1-23 West View, Kilgarvan, Cobh, Co. Cork, P24 H598, Ireland
The Deck of Cards is a row of 23 colourful houses that look like a deck of cards stacked up on a steep hill. They have a beautiful view of the harbour and the St. Colman's Cathedral, which is a stunning Gothic church.
The Deck of Cards were built by the Carew family in the 19th century, and they have been painted in different colours by the residents over the years. It's a unique and charming sight that shows the character and history of Cobh. 
Pro Tip:

You can get a great photo of the Deck of Cards from several spots in Cobh, such as West View Park, West View Road, and Cannon O'Leary Place.

Be wary of climbing Spy Hill, which is dangerous and has a big drop on the other side!
Climb for Great Views at the Shandon Bell Tower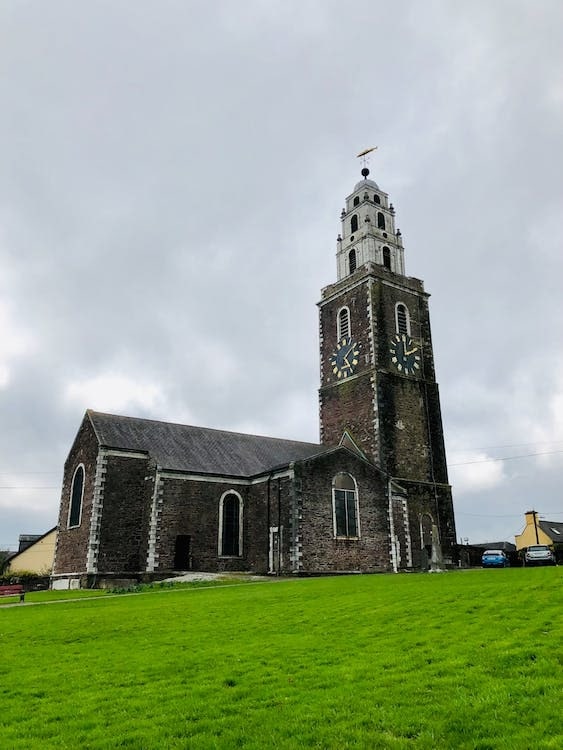 Website: http://www.shandonbells.ie/ 
Address:  Shandon Bells & Tower, St Anne's Church of Ireland, Eason's Hill, Shandon, Cork City, T23 YN88
Phone: 353214505906
Email: [email protected]​ 
Operating Hours:
Monday to Saturday – 10 AM to 5 PM (Last Entry: 4:30 PM)
Sunday – 11:30 AM to 4:30 PM (Last Entry: 4 PM)
Bank Holiday (June/August) – 11:30 AM to 4:30 PM (Last Entry: 3:40 PM)
One of the most amazing things you can do in Cork is to visit St. Anne's Church and ring the famous Shandon Bells. These are 18th century bells that you can play by yourself on the first floor of the church.
Going up to the balcony, you see the clock working and learn about the urns and the four-faced liar. Passing by the belfry, ear defenders are needed. In the narrow space, you bravely walk the wooden steps.
At the top of the tower, you'll be rewarded with a stunning view of Cork City. You can see the history and development of the city in 360 degrees, and admire its many steeples and spires.
Pro Tip:

Prepare your body for the challenge of climbing 132 steep steps to reach the Shandon Bell by warming up with gentle exercises.

Practice climbing stairs in intervals, alternating between a moderate to fast pace and short rest periods.
Unearth History with Amazing Views at Charles Fort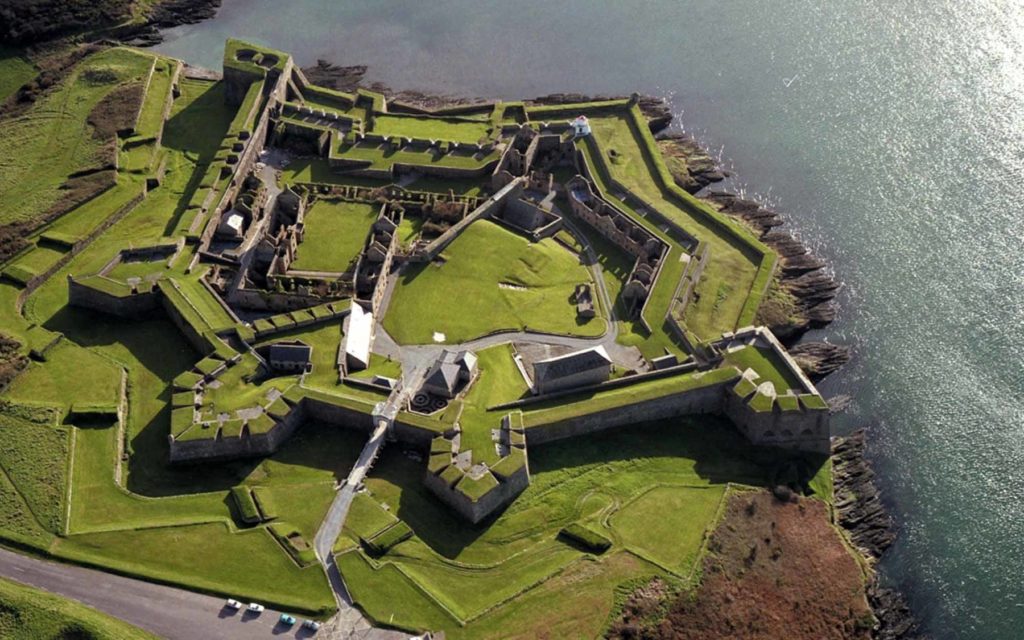 Website: https://heritageireland.ie/places-to-visit/charles-fort-national-monument/
Address: Summer Cove, Kinsale, Co. Cork, P17 AY18
Operation Hours:
16 March to 31 October 2023: Open daily – 10 AM to 6 PM
November to MidMarch: Open daily – 10 AM to 5 PM
Charles Fort is a star-shaped military fortress that has been guarding the harbour of Kinsale in County Cork for over three centuries. It was built by King Charles II in the late 17th century, and designed by William Robinson.
Charles Fort has witnessed some of the most important events in Irish history, such as the Williamite War and the Irish Civil War. It was used by the British army until 1922, when Ireland became independent.
Charles Fort lets you discover the history and culture of Ireland. You can see the impressive fortifications, buildings, and weapons, as well as the beautiful views of the harbour and Kinsale.
Pro Tip:

The fort is not reachable by public transport, but it can be reached by driving from Cork city in approximately 40 minutes.

Alternatively, you can walk or cycle from Kinsale town, which is around 3 km away, offering scenic views of the harbour and James Fort.
See Stunning Coastal Scenery at Mizen Head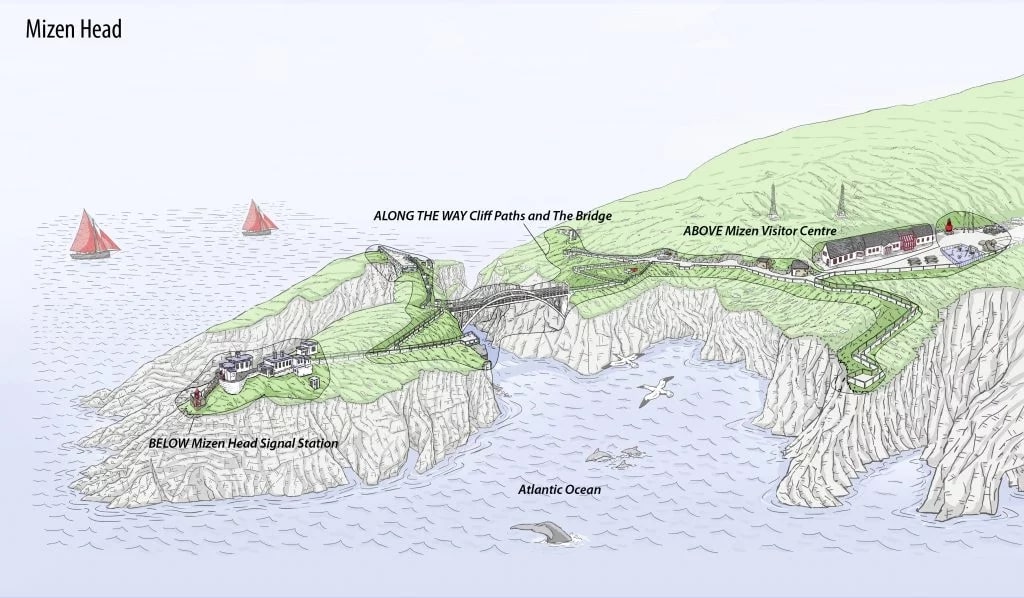 Website: https://mizenhead.ie/
Address: Mizen Head Signal Station, Mizen Tourism Co-operative Society Ltd., Harbour Road, Goleen, West Cork, Ireland
Phone: +353 28 35000 or + 353 28 35115 (Summer Only)
Email: [email protected]
Operating Hours:
June to August: Daily – 10 AM to 6 PM
September, October, April, May: Daily 10:30 AM to 5 PM
November to March: Weekends 11 AM to 4 PM
Mizen Head is a peninsula in Cork with a lighthouse that's been shining since 1848 to help ships avoid the perilous rocks along the coast. You can drive or take a boat from Schull Harbour, a charming town close to Bantry Bay, to get to Mizen Head.
Here, you can admire the ocean views and learn about the area's history. It was once a military base during World War II and played a role in the war effort. You can explore the lighthouse and see how life was like for the lighthouse keepers. 
Pro Tip:

Many outdoor activities are available for fun in West Cork, such as horse riding, kayaking, surfing, fishing, swimming, and hiking. Boats can take visitors to look for whales and dolphins, or guides can show the best places to watch birds. A nature reserve with old trees and many plants is also worth visiting.
Support the Donkey Sanctuary by Adopting a Donkey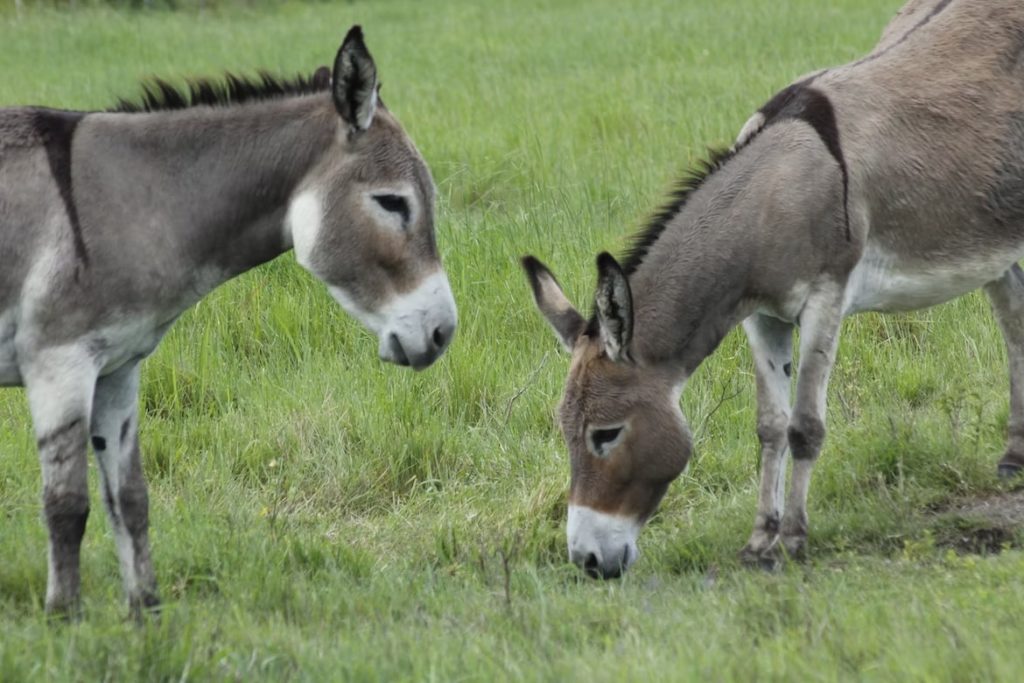 Website: https://www.thedonkeysanctuary.ie/adopt
Address: Liscarroll, Mallow, Co Cork, Ireland P51 PH29
Phone: +353 (0) 22 48398
Visiting Hours: Friday to Monday – 9 AM to 4 PM
The Donkey Sanctuary is a refuge for donkeys and mules that were rescued from neglect or abuse, and now live happily in a beautiful setting.
You can explore the walkways, meet the friendly animals and learn more about the work of the sanctuary, which has taken in over 4,300 donkeys since 1987.
You can support the sanctuary by making a donation or adopting a donkey! This means that you'll help to cover the costs of their care, and you'll receive updates and photos of your chosen donkey. 
Pro Tip:

To ensure you are ready for the commitment, visit the donkey you want to adopt in person by booking a visit on their website, allowing you to bond and learn more about their needs before making a decision.
Best Cheap Things to Do in Cork on a Rainy Day
Explore Ancient Abbey Ruins at Red Abbey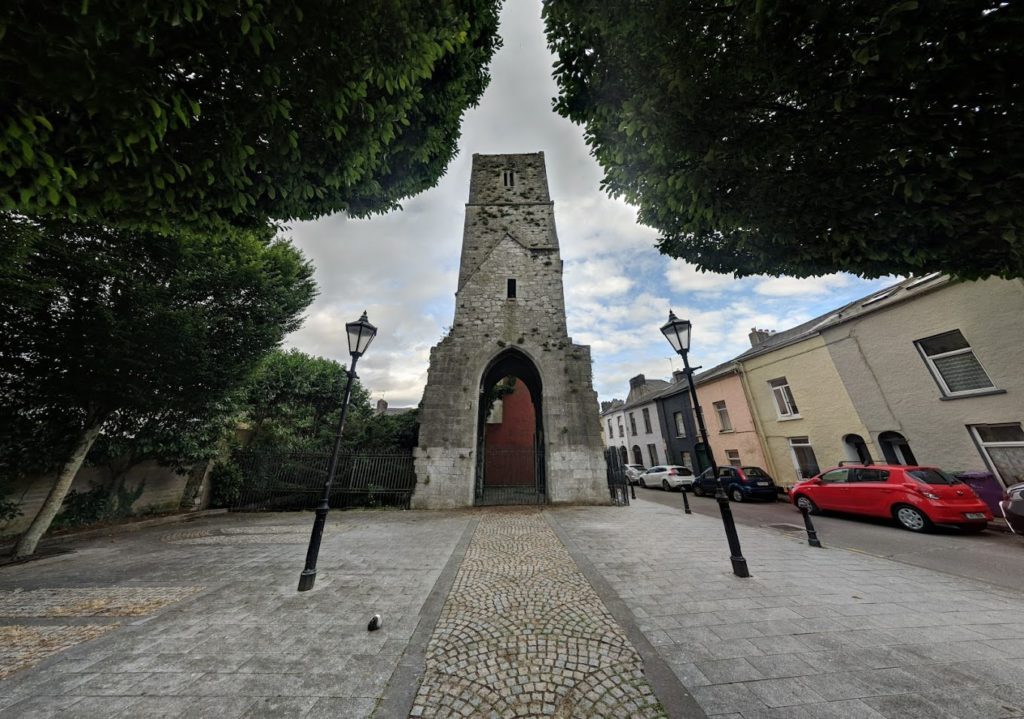 Address: Red Abbey St, Ballintemple, Cork, Ireland
Red Abbey is the oldest building in Cork and the only one that remains from medieval times. It's a red sandstone tower that was part of an Augustinian Friary founded in the 13th century.
Back then, the Red Abbey was where people prayed and learned and it also became a cannon spot during a fight in 1690. Some buildings turned into a sugar place, but a fire in 1799 destroyed it.
Even though many years have gone by, the tall tower of the Red Abbey is still standing. It's a symbol of Cork's history and heritage, and a reminder of its medieval past.
Pro Tip:

The abbey, a national monument, is maintained by Cork City Council and supported by volunteers and donations. Please respect the rules and regulations to help preserve this historic site.
Uncover Explosive History at Ballincollig Gunpowder Mills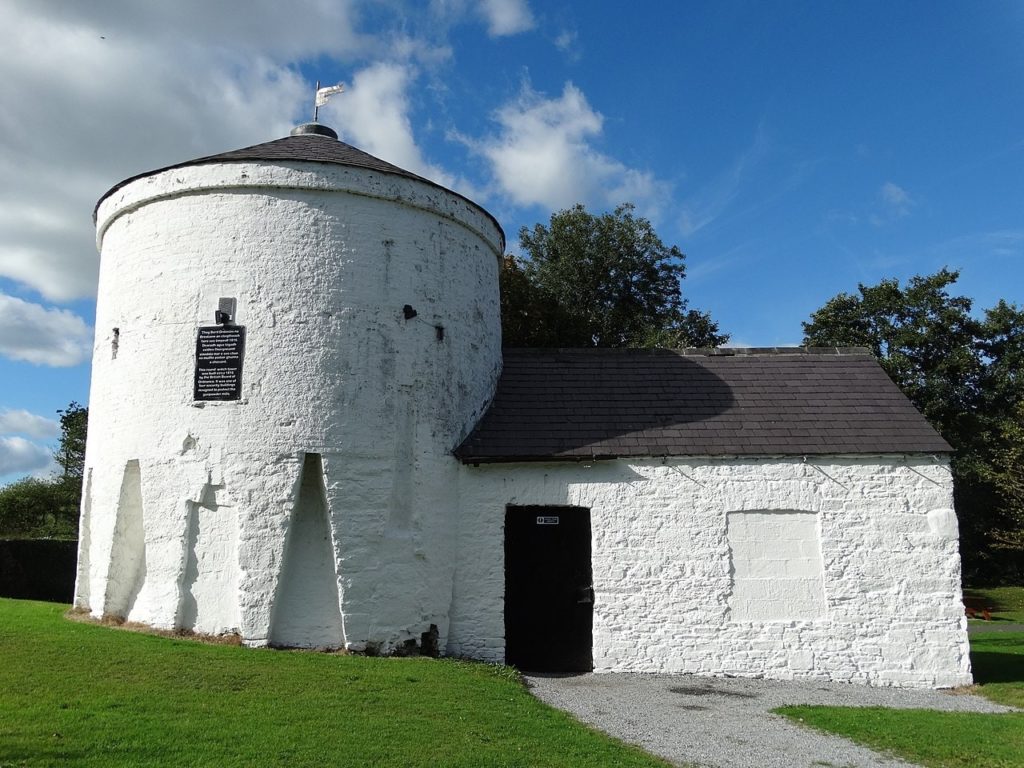 Website: https://www.powdermills.ie/
Address: Lackenshoneen, Ballincollig, Co. Cork, Ireland
The Gunpowder Mills in Ballincollig are an amazing place to see the history of Cork. They made gunpowder for the British army and the Napoleonic Wars from 1794 to 1903.
The mills stopped working after the wars, but you can still see their buildings and machines.
At the Gunpowder Mills, visitors can discover how people lived in the past by exploring the historic mills, kilns, canals, barracks, and workshops, while also enjoying the beauty of nature and the park.
Pro Tip:

The Gunpowder Mills site is quite large and involves walking on uneven terrain, so it's important to wear sturdy footwear.
Step into Medieval Times at Barryscourt Castle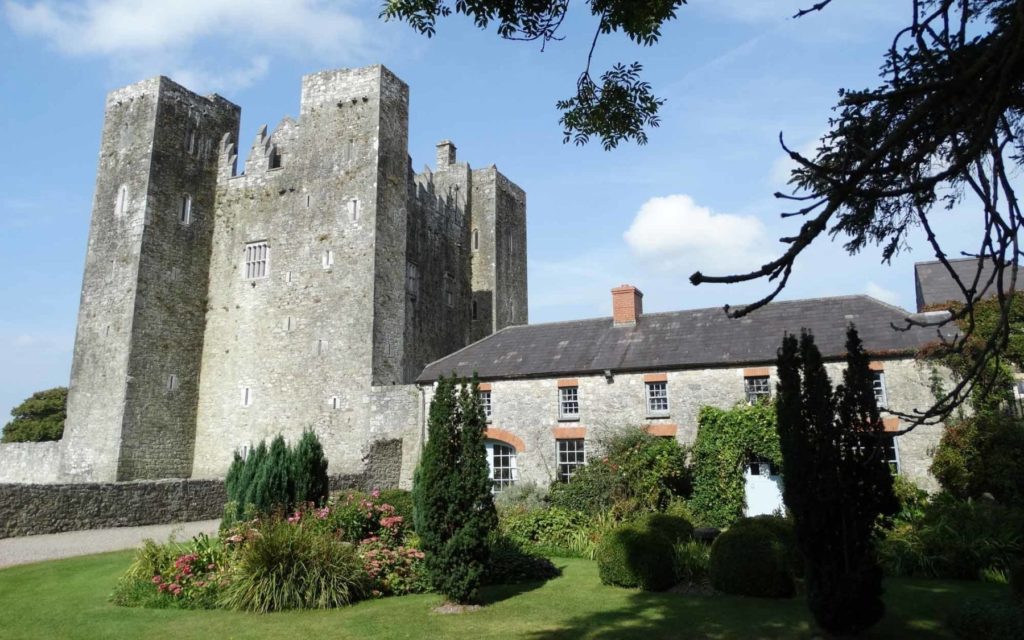 Website: https://heritageireland.ie/places-to-visit/barryscourt-castle/
Address: Carrigtwohill, Co. Cork, T45 Y290
Barryscourt castle was the home of the Barry family in the 16th century. It's a beautiful Irish tower house with many defensive features such as a murder hole, crenulations, and stumble steps.
Inside the castle, there's an exhibition about the arts in Ireland from 1100 to 1600. There's also displays that show how the family slept, ate, and prayed in their private chapel.
The castle also has a medieval garden with an orchard and a herb garden. The garden has a wall with corner towers. 
Pro Tip:

Check the opening times and admission fees of the castle before you go. The castle is closed until further notice due to COVID-19 restrictions, but you can still view it from the outside. 
Try Diverse Foods in a Famous Market at the English Market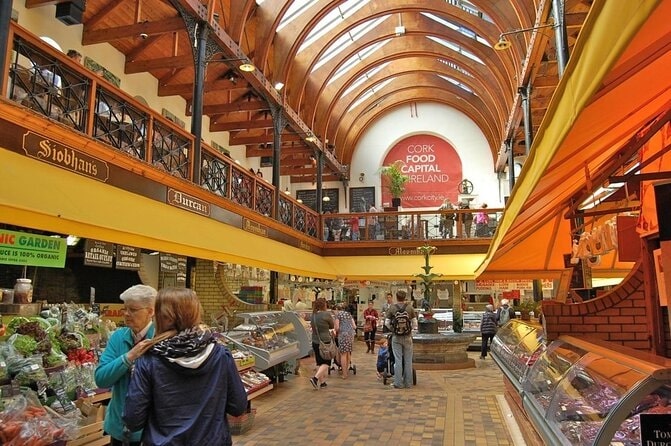 Website: https://www.corkcity.ie/en/english-market/english-market-home/ 
Address: Grand Parade, Centre, Cork, Ireland
Phone: +353 21 422 6902 or +353 87 280 9483
Email: [email protected]
Operating Hours: 
Monday to Saturday – 8 AM to 6 PM
Sunday – closed
Bank holidays – closed
The English Market, a historic food market in Cork city, has been open since 1788. It sells local and international food.
You can buy fresh fish, meat, cheese, bread, fruit, and vegetables there. They also have traditional Cork foods like drisheen, spiced beef, and buttered eggs.
It has a Victorian style theme with a cast iron fountain, gabled roof, and stained glass windows. There's a cafe on the mezzanine floor where you can have coffee and food while looking at the stalls.
Pro Tip:

For those looking to dine at the English Market, we recommend trying out O'Flynn's Gourmet Sausages, My Goodness, The Sandwich Stall, Heaven's Cakes, and The Alternative Bread Company as they are all highly recommended food establishments.
Engage with History and Gardens at the Nano Nagle Place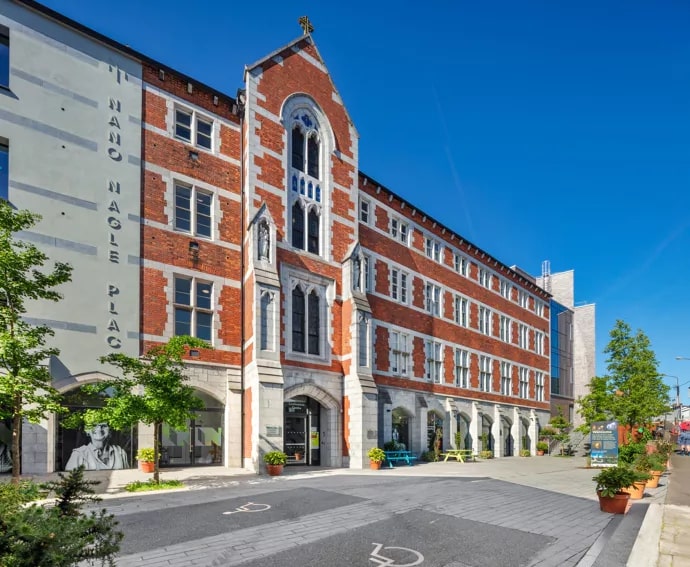 Website: https://nanonagleplace.ie/
Address: Nano Nagle Place, South Presentation Centre Ltd., Douglas Street, Cork City, T12 X70A
Phone: +353 21 4193580
Email: [email protected] 
Operating Hours: Tuesday to Sunday – 10 AM to 5 PM
Nano Nagle Place is a heritage museum in Cork City that tells the story of Nano Nagle, a pioneer of Irish and global education.
Nano Nagle founded the Presentation Sisters and opened schools for the poor in the 18th century. She also cared for the sick and became known as the Lady of the Lantern.
The interactive exhibition at the museum shows how Nano Nagle lived and worked in Cork. In addition to that, the museum has lovely gardens, a book shop, and a cafe. 
Pro Tip:

Visit the Nano Nagle Design Shop and discover a range of local gifts, such as handmade cards, educational toys, local literature and quirky stationery.
Discover the Modern Arts and Music Scene at Triskel Arts Centre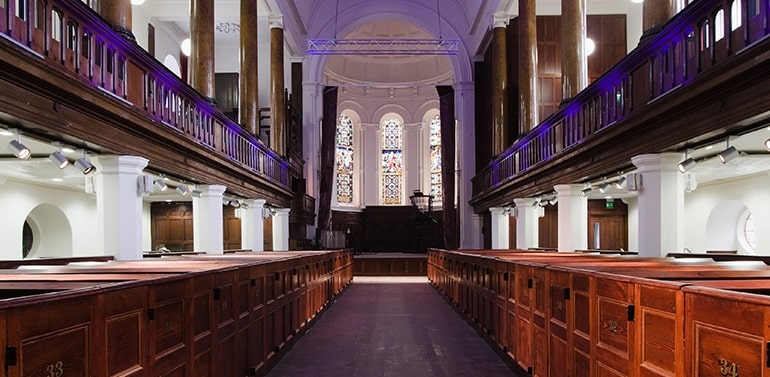 Website: https://triskelartscentre.ie/
Address: Triskel Arts Centre, Tobin St., Cork City
Phone: (021) 427 2022
Email: [email protected] 
Triskel Arts Centre, a cultural centre in Cork City located in a neoclassical-style Georgian Church, hosts live music, cinema, art, and literature events. Triskel Christchurch is a versatile venue hosting concerts, films, and art exhibitions.
The Triskel Gallery Space, adjacent to the Paperboys Café and Garden, showcases contemporary artists and offers a variety of food and drinks. The top floor houses The Collective Cork, a yoga and dance school.
The centre also serves as a base for the Cork Traveller Women's Network, a group dedicated to advocating for traveller rights. Overall, Triskel Arts Centre offers a diverse range of cultural experiences and serves as a hub for creativity.
Pro Tip:
When visiting Triskel, remember to enter the Gallery Space and Cinema/Music events through the Tobin Street entrance.
For the Gallery Space, go up the main stairs and turn left.
For Cinema and Music events, doors open 15 minutes before the showtime, so arrive early to go through the entry process and find your seat.
Be on time for performances at Triskel Christchurch as latecomers may not be allowed. Face coverings are optional, but you can wear one if you prefer.
Keep your e-ticket ready on your phone for scanning.
Only consume food and drinks purchased on-site.
Lastly, stay in your assigned seat throughout the screening or performance.