Ireland's Best Living Options for Young Professionals
Are you a young adult looking to relocate, start a new career, or find a place to live near your workplace in Ireland? If so, you might be wondering which city or town suits your lifestyle, budget, and preferences.
Dublin's Docklands and Galway's city centre are great for young professionals, while Cork's city centre, along with Limerick's Castletroy, offer excellent options too.
Depending on what you're looking for, you might find your ideal place in one of these neighborhoods. Read on and learn more about each city or town, as well as some tips on how to enjoy the Irish way of life.
Dublin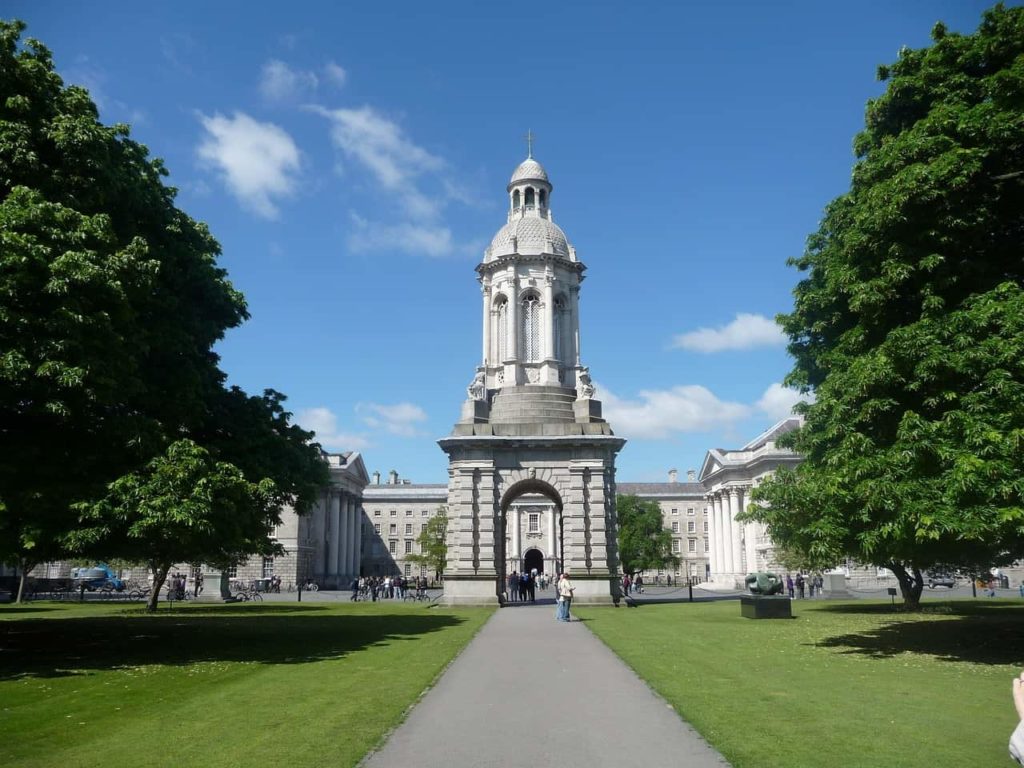 Dublin is the capital and largest city of Ireland, and it's also the hub of business, education, and entertainment. If you want to work in a global enterprise, study in a prestigious university, or enjoy a vibrant nightlife scene, Dublin is the place for you.
Stephen's Green – Best for City Lovers
Easy access to Trinity College, Dublin Castle, and National Gallery
Central location for major attractions
Historic park
Convenient transportation
Can be crowded and noisy especially on weekends and holidays
High cost of living
Lack of parking area
Stephen's Green is a green and historic area in Dublin, where you can enjoy a peaceful and relaxing oasis in the middle of a bustling city. It offers a glimpse into the 1916 Easter Rising and the evolution of Dublin's urban design.
It's a Victorian public park and garden, with tree-lined walks, shrubberies, colourful flowerbeds, rockeries, and an ornamental lake. It also has a sensory garden for the visually impaired and many statues and monuments.
Stephen's Green is well-connected by public transport and bike lanes, making it easy to get around the city. You'll have the convenience of accessing many amenities, such as shops, cinemas, libraries, museums, and landmarks.
Pro Tip:

Dublin offers a variety of cultural events, including concerts, art exhibitions, theater performances, and literary festivals. Keep an eye out for these events and immerse yourself in the city's rich cultural scene.
The Dublin Docklands – Best for Innovators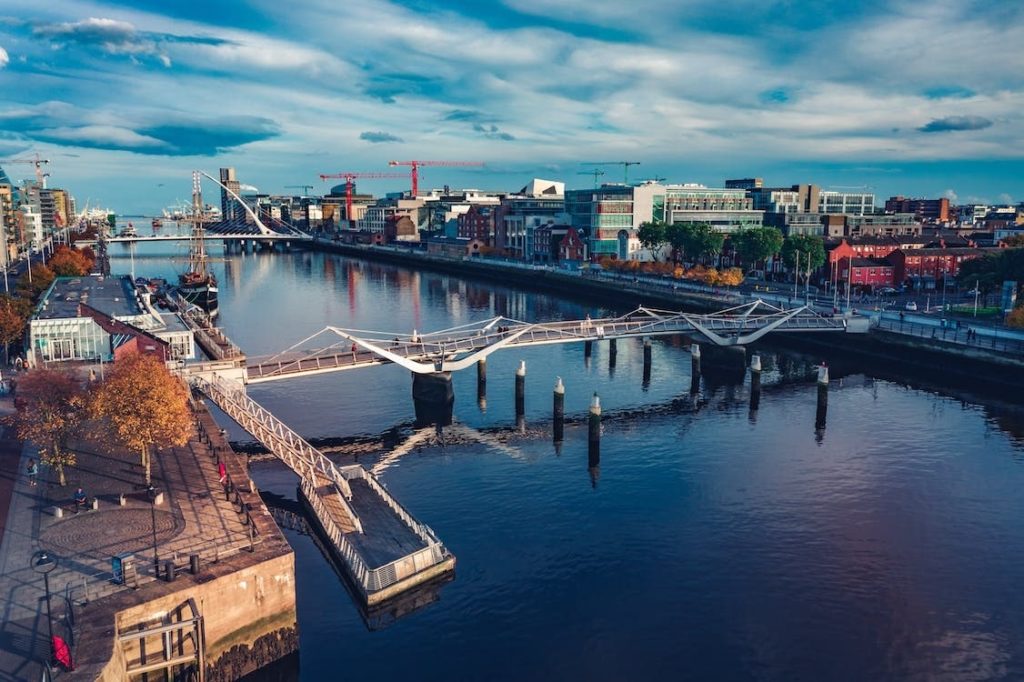 Great hotels and restaurants
Close to central Dublin, but less crowded
Many attractions
Higher cost for hotels and restaurants
Industrial/modern aesthetic lacks charm of other neighborhoods
Dublin's Docklands, known as "Silicon Docks," is a great spot for young adults like you. It's like Ireland's version of Silicon Valley with lots of tech companies.
The area has modern buildings that stand out from the rest of the city. Even though tourists usually miss it, there are cool cultural things to see.
There's the Emigration Museum, which shares the story of Ireland's large diaspora. The Samuel Beckett Bridge, resembling a harp, spans the River Liffey and the impressive Customs House serves as a great place to learn about Dublin's history.
The Docklands are not far from O'Connell Street, so it's easy to stay central without being in crowded tourist areas. Since it's a business neighborhood, you can find some really nice luxury hotels there with spacious rooms overlooking the river.
Pro Tip:

The beautiful Grand Canal in the Dublin Docklands offers an exciting kayaking adventure. Try paddling through the lovely waterways, surrounded by modern buildings and historical sights, for an unforgettable experience as a city explorer.
Drumcondra – Best for Sports Lovers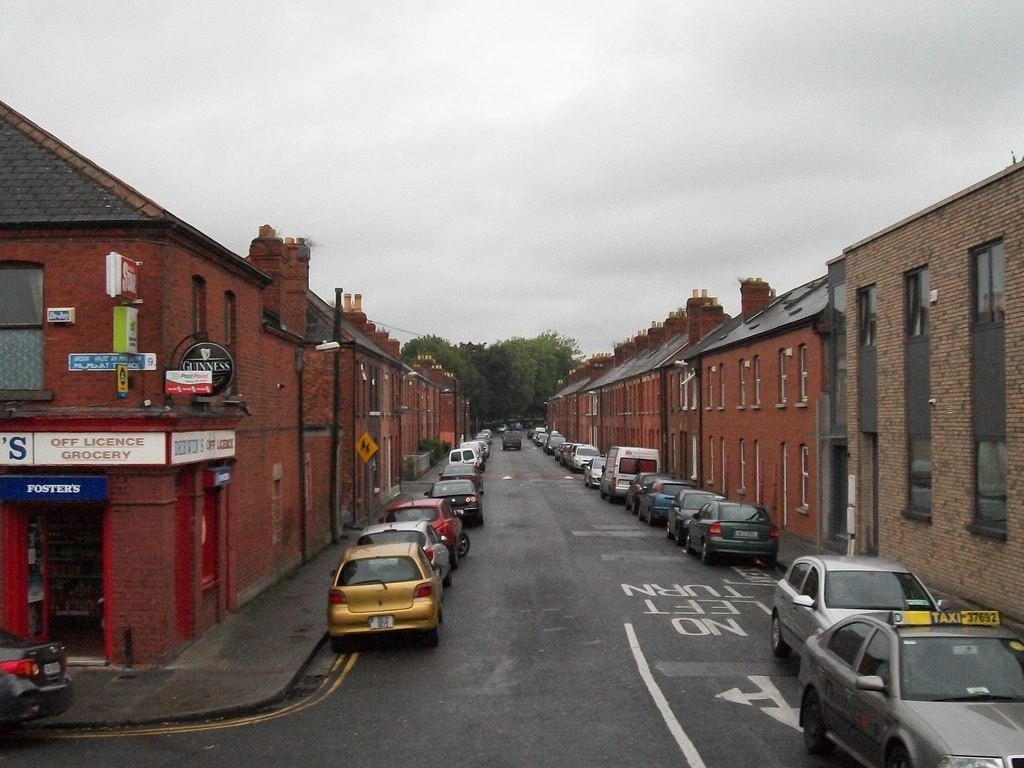 Close to the city center and the airport
Friendly and tranquil atmosphere
Old-world charm and history
Gentrification and independent businesses
Brunch spots, yoga classes, foodie markets, etc.
Plenty of hotels to stay
Lack of a large supermarket
Traffic and congestion on match day or big-gig day
Drumcondra is a great area to live in Dublin if you want to be close to the city and the airport without spending too much.
This is a green and pleasant area that has many pricey homes, Dublin's Croke Park Stadium and lots of places to eat and drink.
It's not a very popular place to live in Dublin for tourists, but it's one we always recommend.
Pro Tip:

One of the best things about living in Drumcondra is the sense of community and belonging that you can experience. Join local groups and clubs, volunteer, or attend local events and festivals to make new friends or learn new skills.
Ballsbridge – Best for Affluent Professionals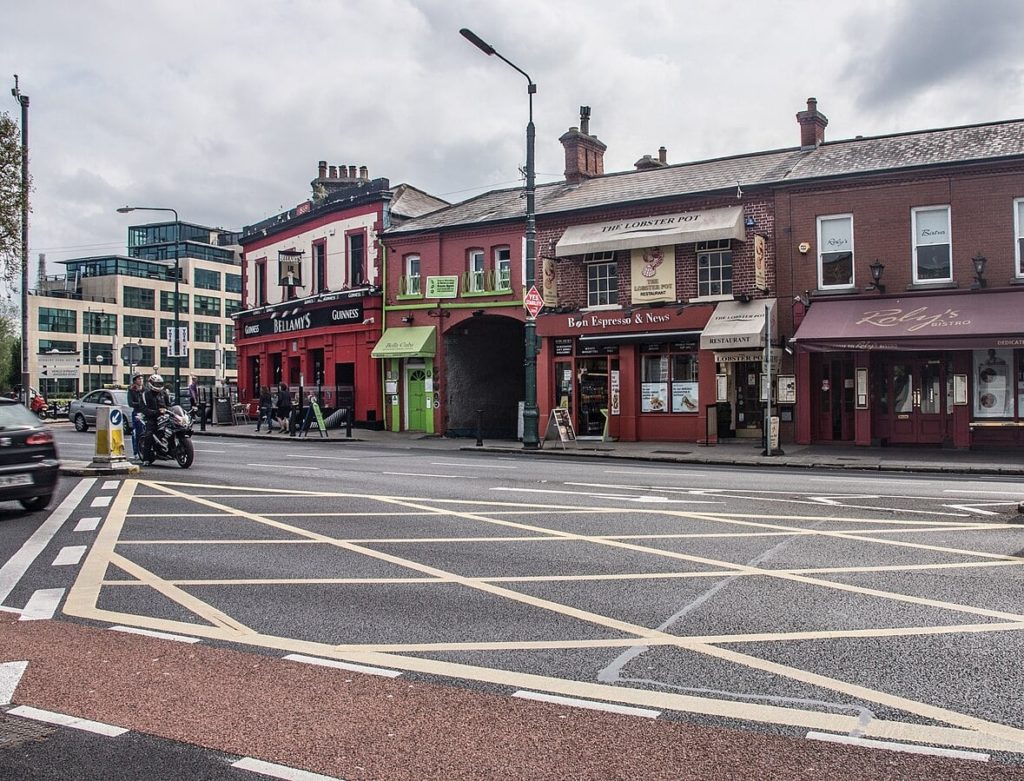 Lot of options for food, shopping, and nightlife
Lots of greenspace and relaxation
Safe area
Limited housing options
Lack of diversity
Ballsbridge is a great place to live in Dublin if you want to be close to the city centre but also have a lot of style and charm.
It's not right in the middle of the city, but you can walk to Trinity College in less than 35 minutes, so it's not too far.
Ballsbridge has many embassies, pubs and fancy restaurants. It's also one of the safest areas in Dublin, and a great place to start your adventures from.
Pro Tip:

If you want to start your day with a delicious coffee and breakfast, head to the Orange Goat on Serpentine Avenue. This cosy café serves homemade food and speciality coffee.

Then, enjoy a relaxing walk in Herbert Park, which was once the site of the World Fair in 1907. The park offers sport pitches, formal gardens, a playground, a fish pond, and tennis and bowling facilities on the north side.
Galway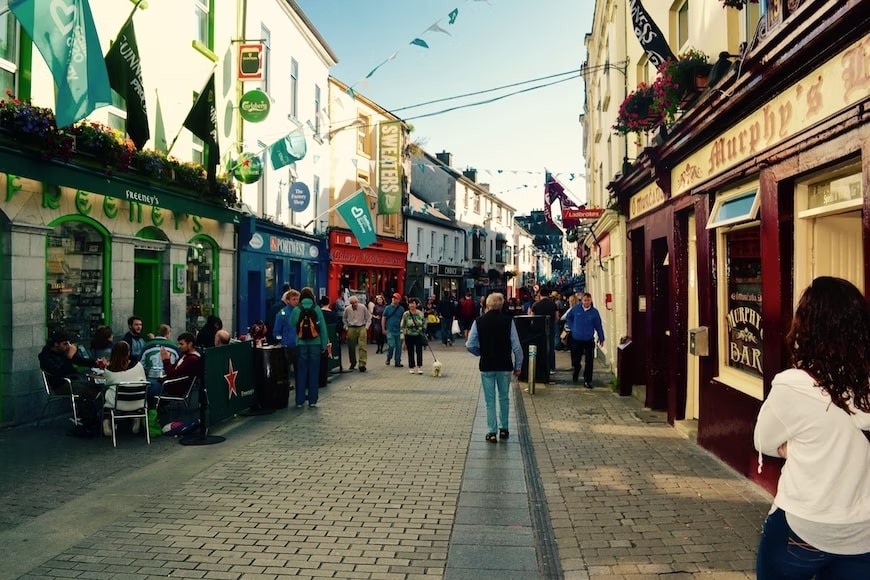 Galway is the fifth-largest city in Ireland and the cultural capital of the west coast. It's known for its festivals, music, theater, and arts scene. It's also a gateway to the stunning landscapes of Connemara and the Aran Islands.
Galway City Centre – Best for Culture Vultures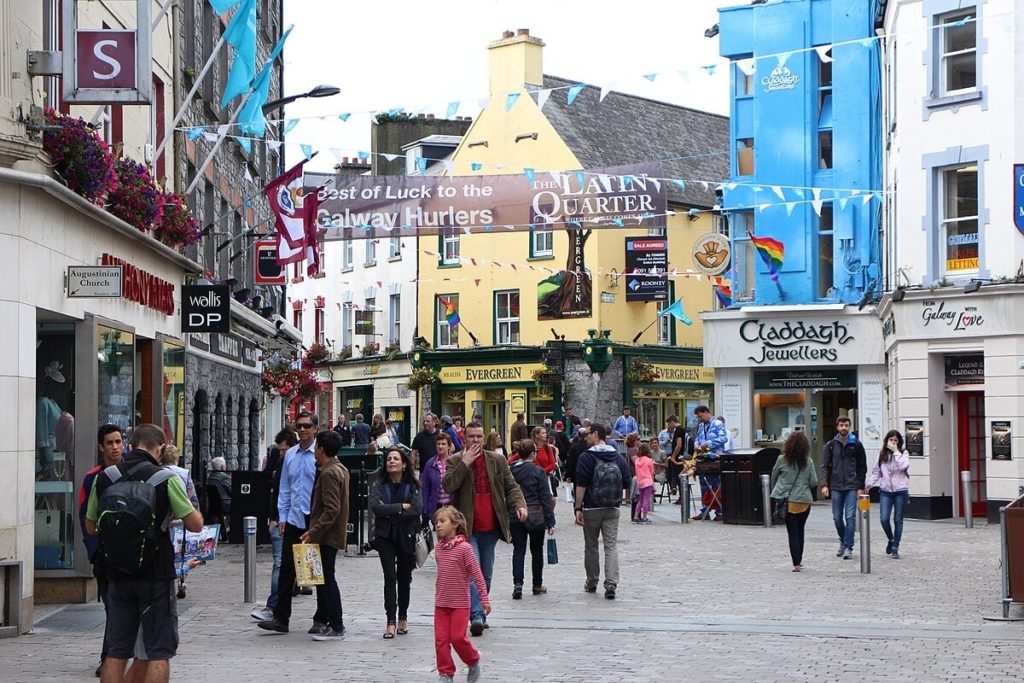 One of the best places to work in Ireland
Affordable living
Vibrant and creative city
Galway City Centre has a prime location, close to many attractions, restaurants, bars, and shops. It also has a lively and friendly atmosphere, with plenty of opportunities to socialize and have fun.
One of the its main attractions is its nightlife, which caters to different tastes and preferences. The Latin Quarter and Eyre Square host pubs, bars, and nightclubs where visitors can enjoy live music, comedy, theatre, and dancing.
Galway City Centre is also rich in history and culture, with many landmarks and monuments to explore. Places like Eyre Square, Galway Cathedral, Saint Nicholas' Collegiate Church, and Lynch Memorial Window reveals the city's past and present.
Pro Tip:

While English is the primary language spoken in Galway, learning a few Irish phrases can endear you to the locals and show respect for the culture. Gaeilge (Irish Gaelic) is still spoken in some areas of the city.
Oranmore – Best for Sea Lovers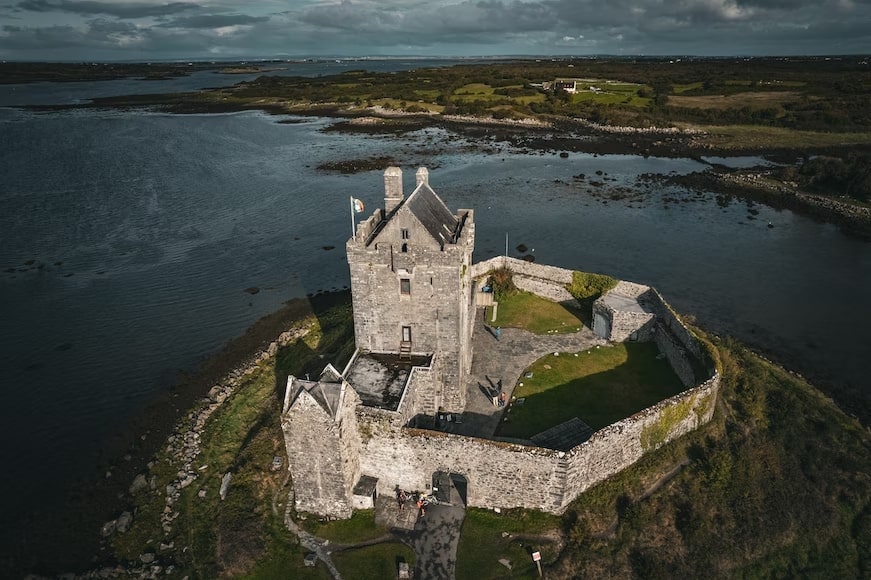 Proximity to Galway Airport (a few kilometers away).
Quieter environment compared to central parts of Galway.
Close to various natural attractions, ideal for outdoor activities like hiking, cycling, and fishing.
Limited number of bars and restaurants in the area.
May require public transport or a car for transportation.
Fewer cultural attractions compared to more central areas in Galway.
Oranmore offers the best of both worlds: vibrant city life in Galway and the tranquil beauty of Galway Bay, attracting young professionals.
Its proximity to Galway city (9 km) allows easy commuting by car, bus, or train and provides access to explore the nearby Burren, Connemara, and the Aran Islands. The town's location near the airport also makes travel convenient.
The thriving economy of Oranmore presents opportunities in various sectors, including technology, biotechnology, engineering, tourism, and education.
Oranmore showcases its rich history with ancient structures like the 15th-century castle, medieval church ruins, and megalithic sites while also providing modern attractions. Oranmore's famous music and dance sessions allow visitors to experience the lively Irish culture.
Pro Tip:

Plan your commute to Galway city in advance and avoid travelling during rush hours if possible. You can choose from bus, train, car or bike to reach the city, and also check the traffic and weather first.
Athenry – Best for History Buffs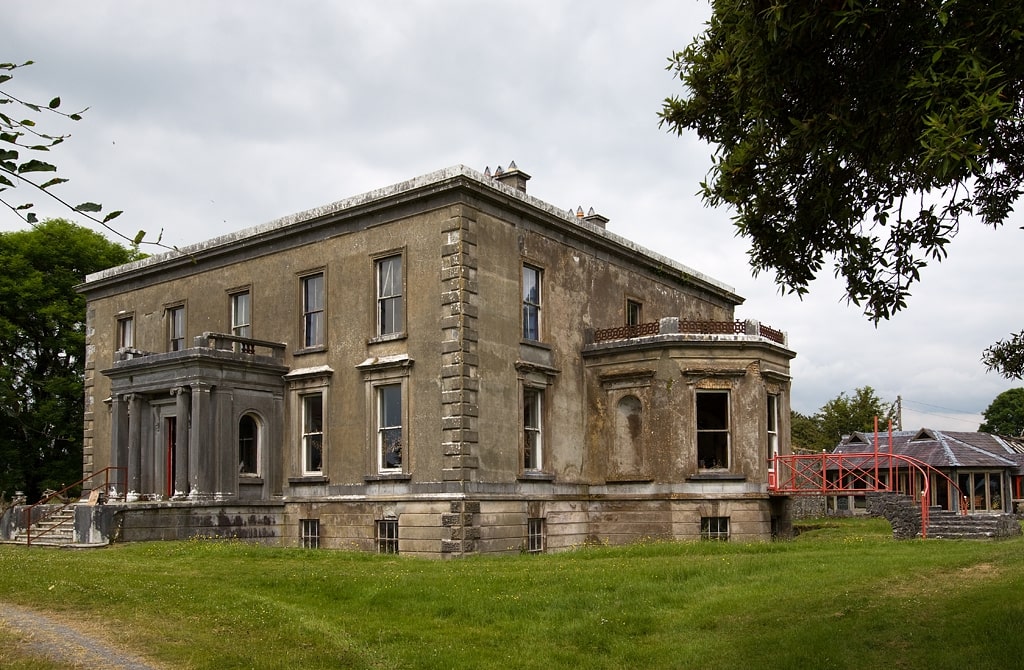 Rich history
Hub for technology and innovation
High quality of life for its residents and visitors
More expensive than other parts of Galway
Unpredictable weather
Traffic congestion
Athenry is a charming town with a rich history. It has a growing technology sector and is home to data centers, making it an attractive option for those seeking jobs in the tech industry.
It's a 13th century Anglo-Norman town with some of Ireland's best preserved medieval castle, priory, and town wall. The town also has a famous market cross and a heritage centre that showcases its history and culture.
It hosts many data centers and tech businesses in County Galway. Global companies like Apple, Amazon, and Microsoft, as well as local start-ups and enterprises, use its cloud computing and innovation services.
Athenry has a friendly and lively community that celebrates its culture and heritage with various events and festivals. The town also provides many amenities and facilities for education, shopping, dining, entertainment, and sports.
Pro Tip:

When going to the Athenry Heritage Center, be sure to ask for the complimentary Athenry Heritage Trail map, offering a curated walk that leads you to all the captivating heritage sites in the charming town.

Likewise, when visiting Market Cross, make the most of your experience by filling your vacation rental's larder or picnic basket with an array of delectable treats from the bustling street market.
Cork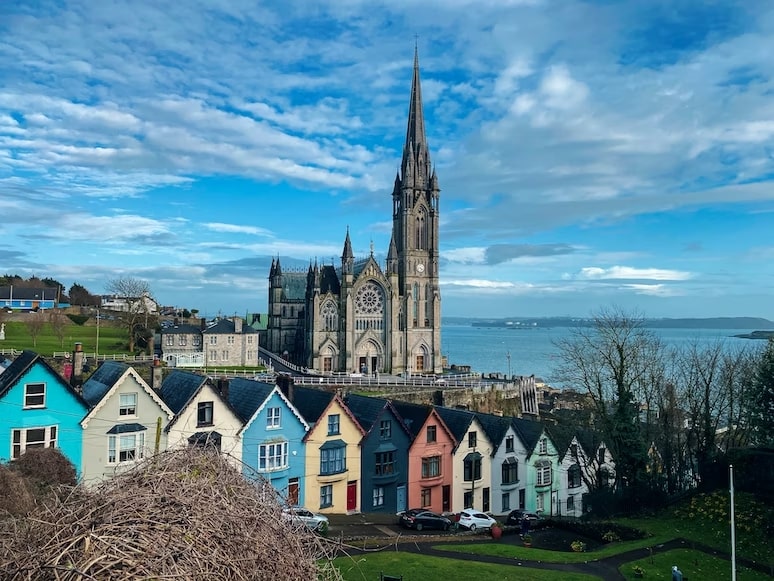 Cork, the second-largest city in Ireland, is famous for its delicious food and is home to University College Cork. It also houses major companies like Apple, Amazon, Microsoft, IBM, Pfizer, Dell, and Johnson & Johnson.
It's also surrounded by natural beauty, such as the Lee Valley, the Blarney Castle, and the Wild Atlantic Way.
Cork City Centre – Best for Foodies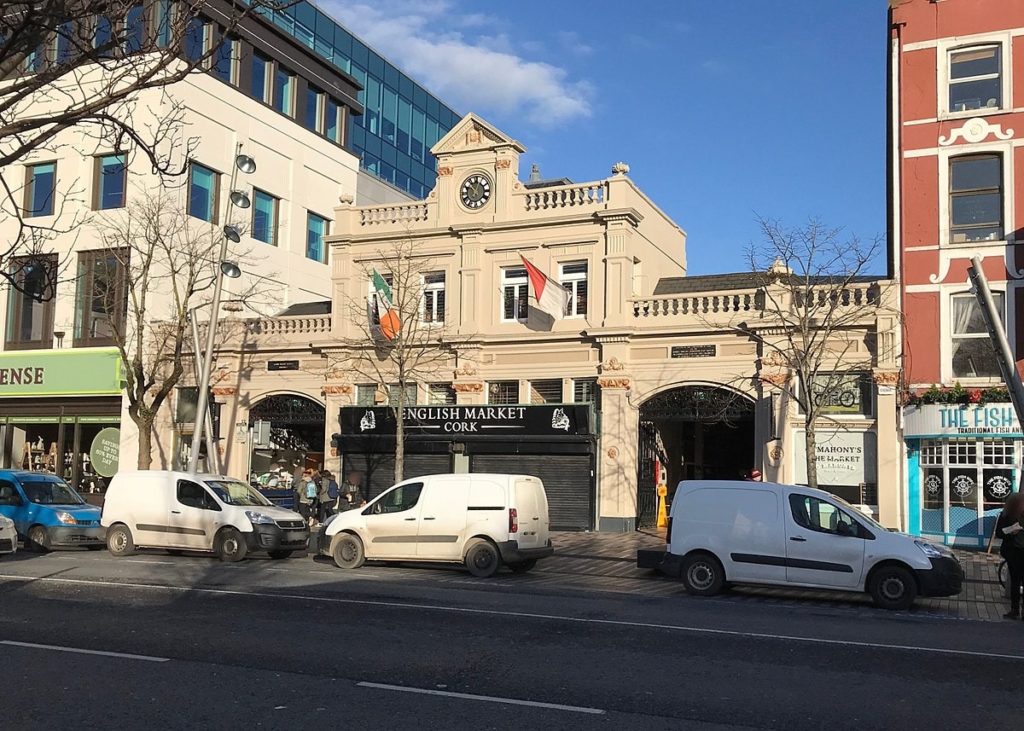 Vibrant culture with festivals, music, art, and nightlife
Home of University College Cork and the English Market
Access to various amenities like shops, restaurants, museums, etc.
Walkability and public transport options for easy commuting
Rich history and heritage to explore
Traffic congestion and parking problems during peak times
Higher costs of living, including rents and house prices
Noise pollution from busy streets and entertainment venues
The vibrant heart of Cork, with bustling streets like St Patrick and Washington, offers a majority of the shopping, dining, and entertainment options in the city. This lively area also has a variety of accommodation choices, from hotels to apartments.
Young art lovers will appreciate the nearby Crawford Art Gallery's collection of Irish contemporary art, while The English Market's beautiful architecture and artisan food are a major attraction.
This neighbourhood invites wandering, with the River Lee, the colourful buildings, and Fitzgerald Park. They are ideal for strolling, seeing, and unwinding.
The City Centre's excellent connectivity makes it an ideal base for exploration. With all bus lines passing through or terminating in the area, getting around the city and neighboring suburbs is easy.
Pro Tip:

Despite the urban setting, there are plenty of outdoor spaces and parks to enjoy. Keep fit by utilizing green areas like Fitzgerald Park or participate in sports clubs and recreational activities.
The Victorian Quarter – Best for Night Owls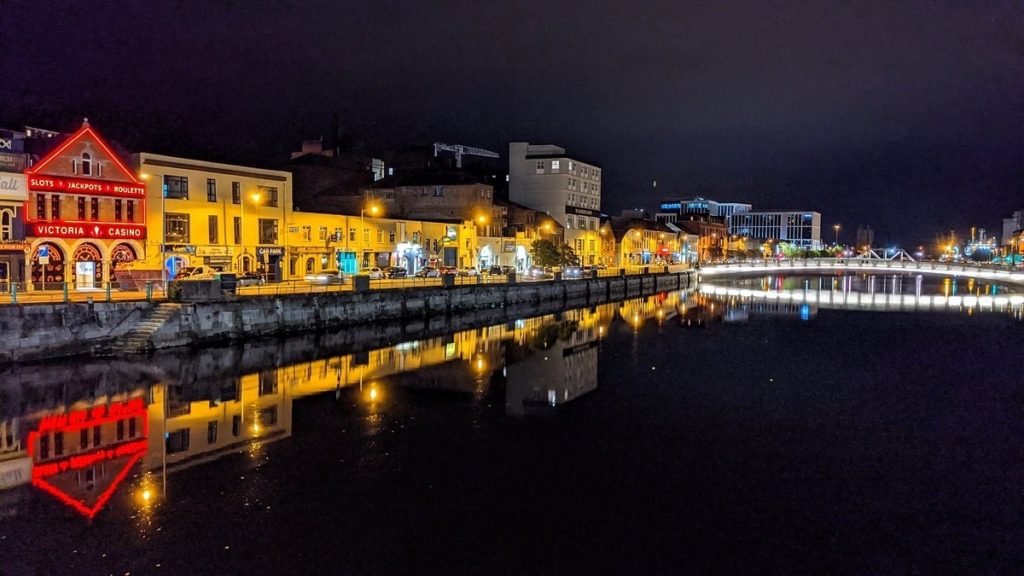 Charming historic architecture and river views
Lively atmosphere with restaurants, cafes, and pubs.
Convenient public transport for commuting
Proximity to popular attractions like the English Market and Cork Opera House
Traffic congestion and parking issues on specific streets.
Noise pollution from nearby railway and airport.
Higher costs of living, including rents and house prices.
Fewer cultural and entertainment options compared to Cork City Centre.
The Victorian Quarter, centered around MacCurtain Street, is a charming district with beautiful old Victorian buildings, now a vibrant spot for young adults seeking alternative shops, cafes, restaurants, pubs, and live music venues.
It's conveniently located with St. Patrick's Bridge connecting it to Cork's City Centre, granting easy access to bustling city life. Adjacent is Kent Station, providing excellent transport to other cities in Ireland and commuter services to places like Cobh.
Not only that, but the area also hosts the primary bus station, Parnell Place Bus Station, just across the bridge. This station offers a range of connections, from regional to international, making it effortless to explore the city and beyond.
Whether you prefer award-winning hotels, cozy B&Bs, or budget-friendly backpacker options, the Victorian Quarter caters to all styles and budgets, ensuring a comfortable and memorable stay for young adults visiting Cork.
Pro Tip:

While the Victorian Quarter is within walking distance of Cork City Centre, consider utilizing public transport or cycling for longer commutes. This can be more convenient and environmentally friendly.
Cobh – Best for Maritime Enthusiast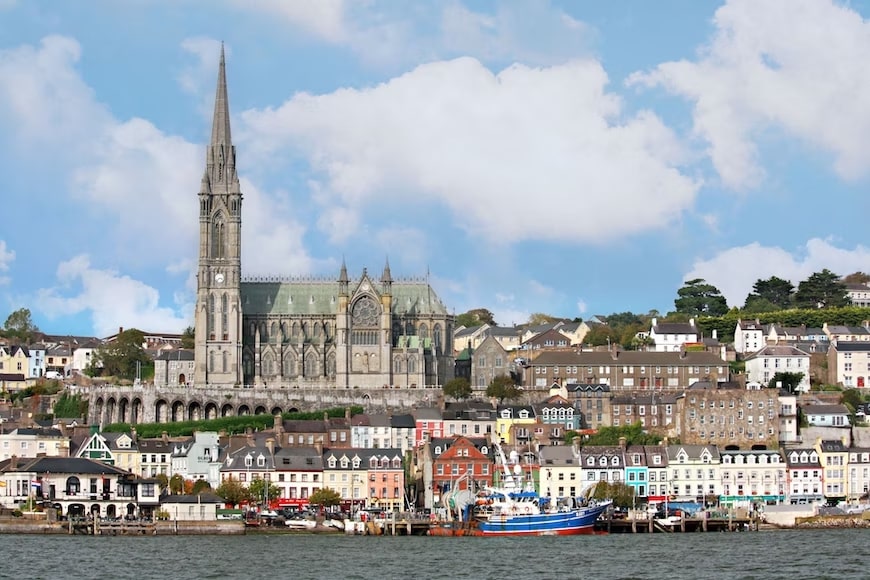 Picturesque coastal town with colorful houses and waterfront views.
Rich maritime history and heritage to explore.
Friendly and relaxed community vibe with events and festivals.
Natural beauty and scenic surroundings for outdoor activities.
Weather impacts from the Atlantic Ocean, like strong winds and rain
Higher costs of living, including rents and house prices
Isolation from Cork city centre and limited public transport options
Located southeast of Cork, Cobh is a charming seaport town perfect for young adults seeking exploration and adventure. Its history as a transatlantic passenger port, including the RMS Titanic's last stop, adds to its allure.
Today, Cobh is a captivating tourist spot with a focus on maritime heritage. Attractions include St. Colman's Cathedral, Cobh Heritage Centre, Titanic Experience, Cobh Museum, and Cobh Road Train.
Cobh's charming town center, once a haven for seafarers, features colorful houses, lively pubs, restaurants, and cafés, creating a warm and inviting ambiance, perfect for socializing and making cherished memories.
Transportation to and from Cobh is convenient, with buses and trains connecting it to Cork. The 25-minute train ride to Kent Station not only offers easy access to the city but also treats travelers to views of the scenic River Lee and Lough Manon.
Pro Tip:

Cobh is renowned as the last port of call for the Titanic in 1912 before it sank. Visit the Titanic Experience Cobh and St Colman's Cathedral, where you can learn about the tragic event and pay tribute to the victims.
Limerick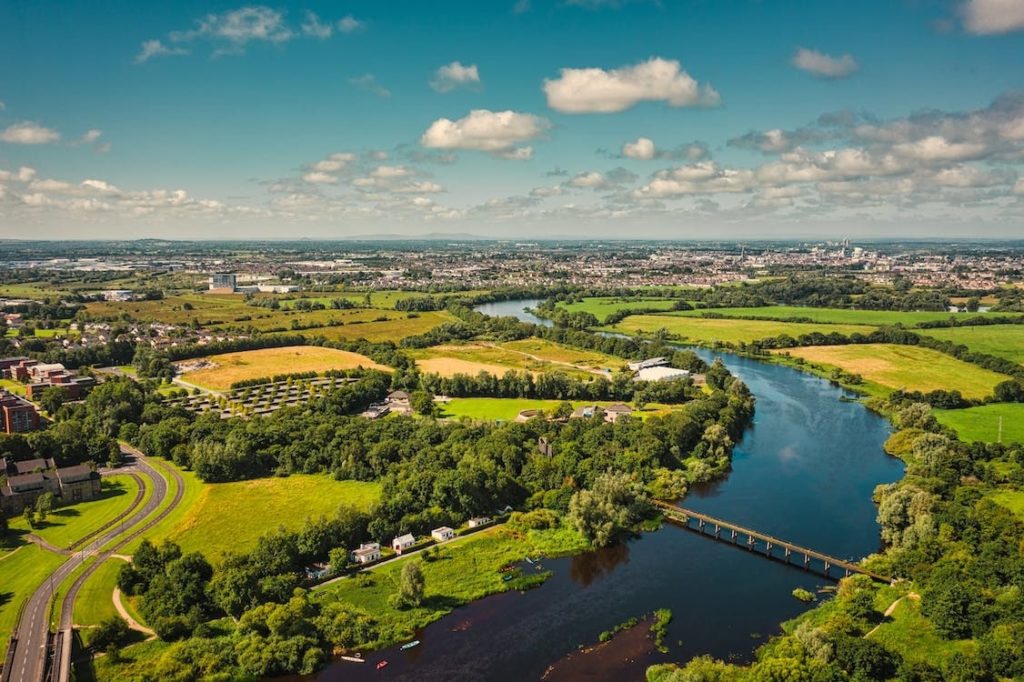 Limerick is the third-largest city in Ireland and the cultural capital of the mid-west region. It's a historic and cultural city with Viking roots and many artistic attractions.
Limerick City Centre – Best for Literary Lovers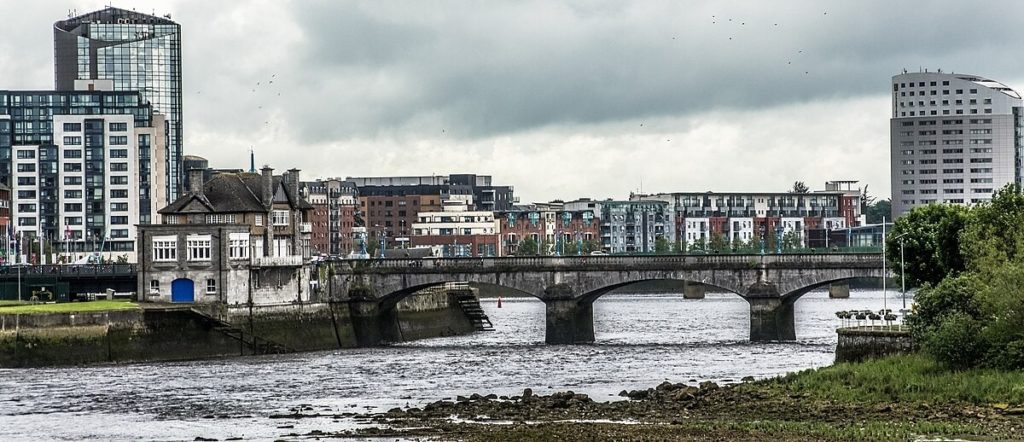 In close proximity to famous tourist destinations
Convenient access to public transportation
Vibrant nightlife
High cost of living
Noisy, particularly during weekends
Crowded area
Limerick City Center is the oldest and most historic part of Limerick. It has many medieval and cultural attractions that show the city's rich and diverse history.
The city was established by the Vikings in the 10th century and has been influenced by different cultures, such as the Normans and the Anglo-Irish. Iy has a mix of modern and historic buildings, from ancient castles to contemporary shopping malls.
The best way to discover all the important Ireland landmarks in the area is to take a Limerick City Walking Tour. The views and vibes of the city will enhance your learning about its past.
The scenery around the city center is also beautiful, with the River Shannon flowing through the middle of it.
Pro Tip:

If you want to explore the history, culture, and nature of Limerick City Center, don't miss these attractions: 

– King John's Castle
– The Milk Market
– Hunt Museum
– Limerick Museum
– People's Park
Castletroy – Best for Students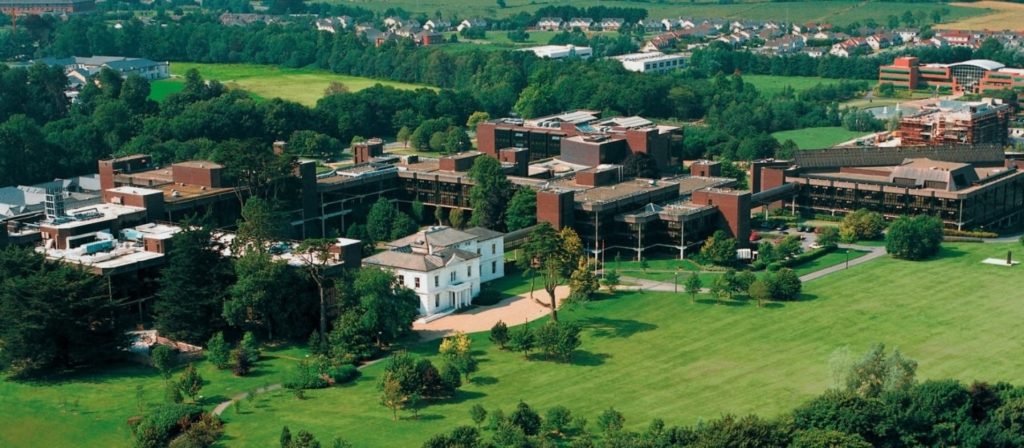 Excellent public transportation links
Home to the University of Limerick
Neighborhood suitable for families
Abundance of amenities (shopping centers, supermarkets, restaurants)
High cost of living
Heavy traffic during busy hours
Far from the city centre
About three miles to the east of Limerick's city center is Castletroy, a lively neighborhood with a cool history.
It used to be a small village with a castle built by the Normans many years ago. But now, it's a thriving community with a big shopping center, a university campus, and places where people live.
Castletroy is home to the University of Limerick, giving it a dynamic, youthful feel with plenty of bars, cafes, and restaurants serving the student population, with many thinking it one of the best Irish cities to visit.
Another great aspect of Castletroy is its beautiful parks and green spaces, perfect for those who enjoy the outdoors. Whether you want to take leisurely walks or have a picnic, it's an ideal spot to enjoy nature and have fun.
Pro Tip:

As a resident of Castletroy, take advantage of the University of Limerick's amenities, including its sports facilities, libraries, and cultural events. It's an excellent way to engage with the academic community and meet new people.
Annacotty – Best for Nature Lovers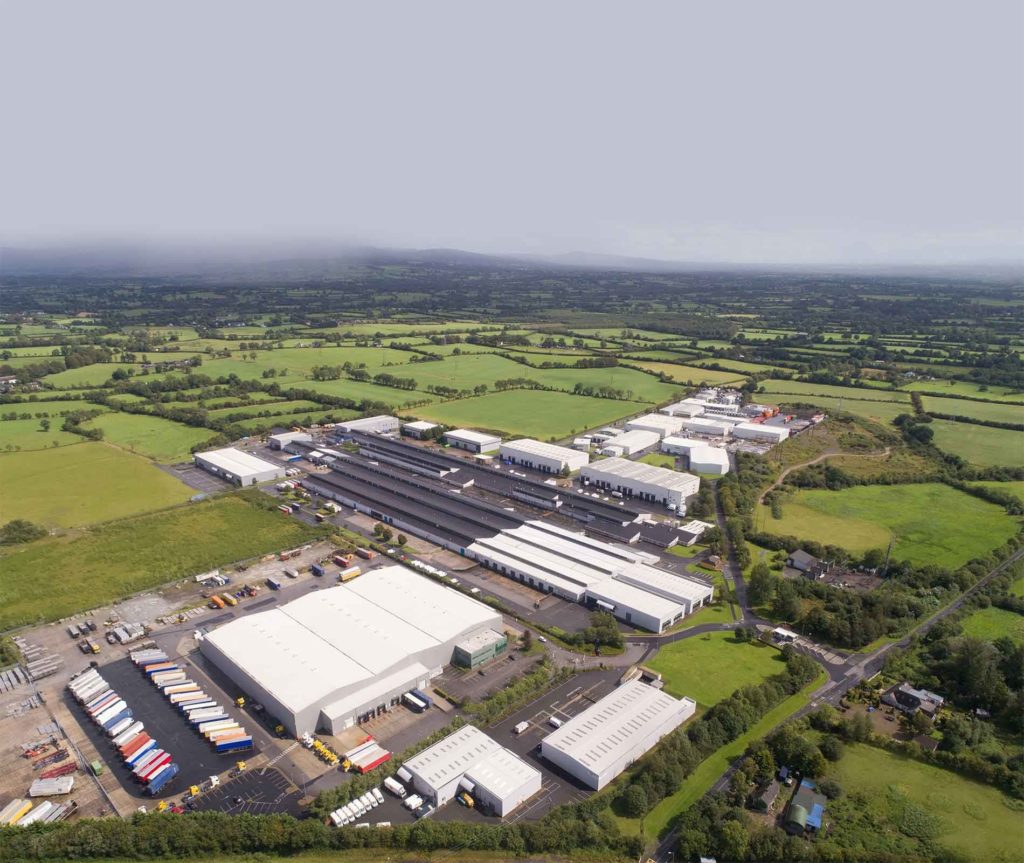 Quieter and more rural lifestyle
Variety of housing options at generally more affordable prices
Well-connected by public transport
Availability of schools, shops, restaurants, pubs, and sports facilities in the area
Close to University of Limerick
Limited nightlife and entertainment options
Prone to flooding during heavy rainfall
Less diverse and cosmopolitan environment
Annacotty is a quiet and peaceful suburb located on the east side, next to Castletroy. It's a great place for young adults who want to escape the busy city life.
One of the best things about Annacotty is that it's close to the Annacotty Business Park, where you can find work easily without traveling far. Besides that, the area has many shops and restaurants that are worth checking out.
Another highlight of living in Annacotty is the beautiful nature around, like the Annacotty Forest and the River Shannon. They offer great chances for outdoor fun and relaxation, making it a perfect escape from busy daily life.
So, if you're a young adult looking for a peaceful place with job opportunities and nice places to visit, Annacotty is a perfect fit.
Pro Tip:

Living expenses can vary, so create a budget to manage your finances effectively. Be mindful of rent, utilities, transportation, and entertainment costs.
Dooradoyle – Best for Healthcare Professionals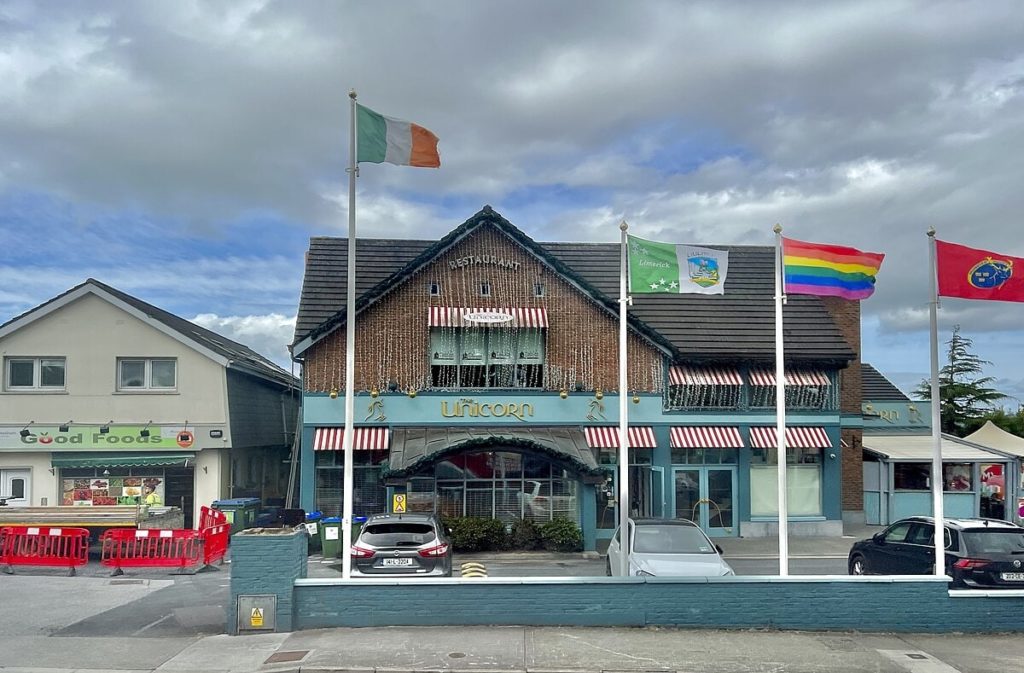 Home to University Hospital Limerick
A lot of shops, restaurants, and supermarkets
Convenient transportation connections
Diverse community
Some areas can be noisy
Limited parking space
Fewer cultural attractions and nightlife options
Located just a few miles from the city center, Dooradoyle lies in the southwestern part of Limerick. It is one of the best neighborhoods in Limerick due to its proximity to essential amenities.
Among these amenities is the prestigious University Hospital Limerick, which ranks as one of Ireland's largest acute care hospitals, ensuring top-notch healthcare accessibility.
Besides that, the neighborhood's main attraction is the Crescent Shopping Center, one of the largest shopping malls in Ireland. It features everything from luxury boutiques to cinemas and a large, diverse food court.
Another cool thing is that Dooradoyle is easy to reach. You can use public transport or major roads like the M7 motorway and N18 national road to go to other cool places like Dublin and Galway. 
Pro Tip:

Take advantage of the Crescent Shopping Centre and its various shops, restaurants, and cinema for leisure and entertainment. This can be a great way to unwind after a busy workweek.