Waterford Wonders: Exclusive Activities You Won't Find Anywhere Else
Tucked away in Ireland's sunny southeast, Waterford is a hidden gem worth discovering. This ancient city brimming with history dates back to the 10th century – they even call it the Déise County, a nod to its Celtic roots!
So, if you're all about that authentic Irish experience, we've got you sorted with unique must-dos in Waterford!

Whether you're an off-the-beaten-path explorer or just looking for unique experiences, this place has a little bit of everything for everyone. So, read on!
The Best Unique Things to Do in Waterford
The best unique things to do in Waterford include experiencing the Magic Road, savoring a Blaa from Walsh Bakehouse, riding the Suir Valley Railway, and exploring the House of Waterford Crystal.
You can also immerse yourself in the King of Vikings Virtual Reality, embark on an Epic Guided Walking Tour, visit Goats Island, and discover Metal Man for an unforgettable adventure.
Experience the Mystery of Magic Road
Have you heard of the Magic Road in Waterford? It's a crazy spot near the stunning Mahon Waterfall, where your car seems to roll uphill if you stop and put it in neutral.
Some say it's an optical illusion, others say it's faeries messing with you. To try it out, go to Mahon Bridge and follow the signs for Mahon Falls.
Look for two stones that say "Magic Road" and a "Fairy Tree" with rags on it. That's where you park your car in neutral and watch it go backward (see how the magic happens!)
But be careful, the road is narrow and curvy, so watch out for other cars and people.
Pro Tip:

Experience the beauty of Mahon Falls and the Magic Road in Waterford with just a short drive. Take a 20-minute walk from the car park to reach the magnificent waterfall, a must-do activity.
Tour the House of Waterford Crystal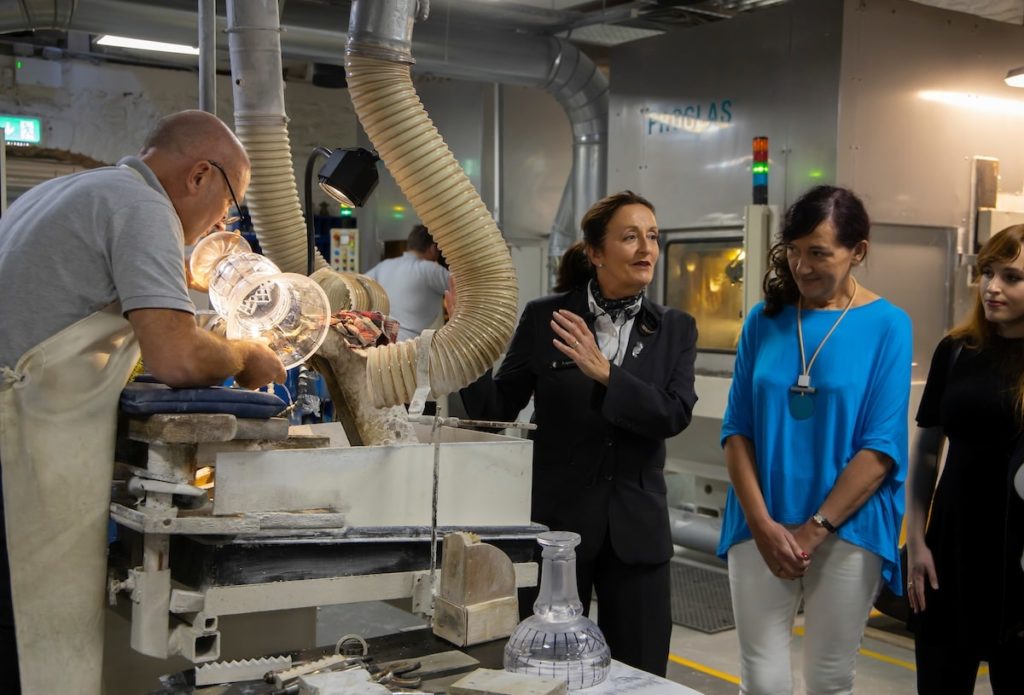 How would you like to see how one of Ireland's most iconic brands is made? At the House of Waterford Crystal, you can witness the magic of crystal creation from start to finish.
You'll see how the craftsmen blow, mould, cut, sculpt and engrave the fine crystal pieces that have made Waterford famous. You'll also get to meet the people behind the craft and learn about their stories and skills.
And of course, you'll be amazed by the stunning display of Waterford Crystal products and trophies in the world's largest showroom.
It's a chance you shouldn't miss in Waterford to witness the mesmerizing craftsmanship and rich heritage of Waterford Crystal in the heart of the Viking Triangle.
Pro Tip:

Keep an eye out for the unique wooden moulds employed by glassblowers to give form to molten crystal. Waterford Crystal stands apart as one of the rare firms that upholds the time-honored tradition of mould making.
Savor the Blaa from Walsh's Bakehouse
Website: https://walshsbakehouse.ie/ 
Address: Unit 1 Block 5, Lacken Road Business Park, Kilbarry, Waterford
Phone: +353 51 378 080
Email: [email protected]
Operating Hours: Monday to Friday – 9 AM to 3 PM
What if we told you that there's a bread roll so special that it can only be made in one place in the world? That's right, we're talking about the Waterford Blaa, a soft and fluffy delight that has been part of the city's history for over three centuries.
The Blaa came with the Huguenots, a group of French Protestants who fled persecution and settled in Waterford, bringing their baking skills with them. They used leftover dough to make these rolls, which soon became a local favorite.
Today, the Blaa is protected by the European Commission, meaning only blaas made in Waterford can be called blaas. These bread rolls have been granted Protected Geographical Indication status. 
Pro Tip:

With almost twelve thousand consumed daily, make sure to get there before 11 AM because they sell out too fast.For a classic and beloved choice, opt for a blaa filled with hot, freshly cooked bacon.
Take a Ride on The Suir Valley Railway
Website: https://www.wsvrailway.ie/book-tickets/ 
Address: Pond Road, Tramore, Co. Waterford
Phone: +353 ( 0) 51 384058
Email: [email protected] 
All aboard for a vintage train ride along Ireland's longest narrow-gauge railway. Waterford Suir Valley Railway lets you experience the golden age of rail as you travel through scenic landscapes only accessible by train and the Waterford Greenway.
Departing from Kilmeadan Station, you'll enjoy stunning views of the River Suir, Mount Congreve Gardens, and Carriganore, where Waterford's merchants hid their treasures from Cromwell's army.
The round trip takes 40 minutes and includes a treasure hunt for kids and a chat with the volunteer crew about the railway's history. 
Pro Tip:
Don't miss the Whistlestop Café for some tasty treats and coffee or ice cream.
For a special evening, book the Sunset Express on Thursdays from June to August and enjoy prosecco, strawberries, live music, and a local picnic box on a 75-minute journey to Bilberry.
Immerse Yourself in the King of Vikings Virtual Reality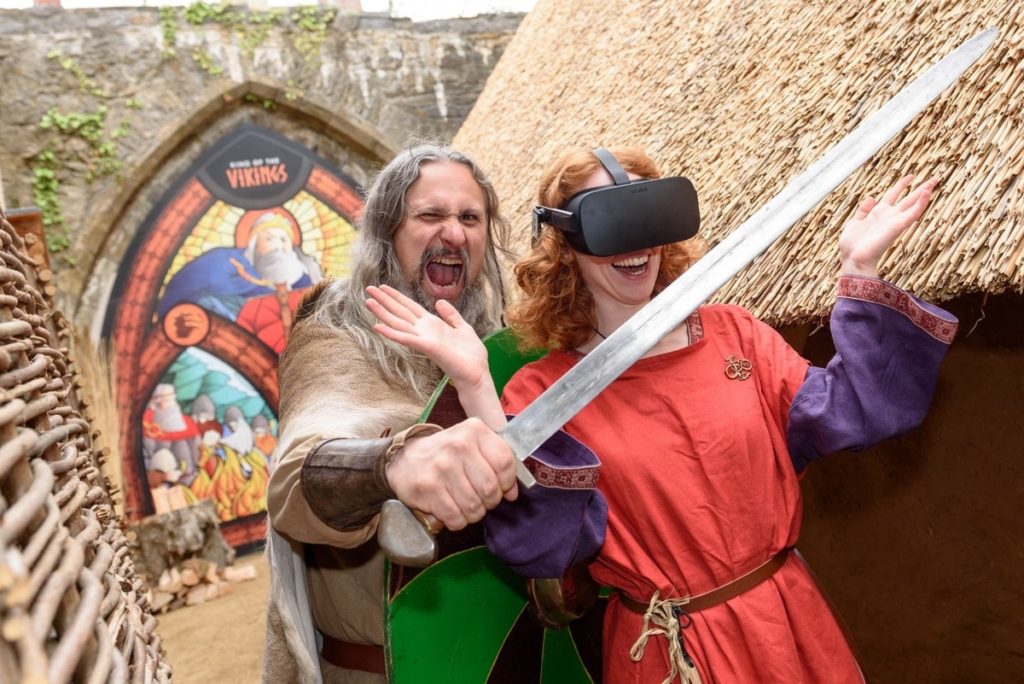 Website: https://www.waterfordtreasures.com/museum/king-of-vikings/ 
Address: Viking Triangle, Waterford
Phone: +353 (0)51 849501
Email: [email protected]
Operating Hours: Wednesday to Sunday – 10 AM to 6 PM
Want to travel back in time and meet the fierce Vikings who founded Ireland's oldest city? Then you'll love King of the Vikings, a cutting-edge virtual reality attraction that lets you experience the Viking era like never before.
You'll enter a realistic replica of a Viking house, located in the historic ruins of a medieval monastery in the lively city of Waterford.
There, you'll encounter a Viking comb-maker who will tell you fascinating stories about life in Viking Waterford. Then, you'll put on a special helmet (a 3D Oculus Rift headset) that will take you on an immersive journey to 1100 years ago.
Pro Tip:
Visit the King of the Vikings attraction, located just 100 steps away from Reginald's Tower, to explore the remarkable treasures of Viking Age Waterford and admire a life-size replica Viking longship.
Don't forget to stop by the Tourist Information Centre, which is only 2 minutes away, for helpful maps, information, and valuable local recommendations.
Join an Epic Guided Walking Tour at the City
Website: https://www.waterfordtreasures.com/open-museum/
Address: Viking Triangle, Waterford
Phone: +353 (0)51 849501
Email: [email protected]
The epic Viking Triangle tour in Waterford encompasses six national monuments ranging from 1190 AD to 1783. It provides a captivating overview of Irish history in the city, all guided by an expert with boundless enthusiasm.
Your guide, a history buff, brings the past to life, and you might even play historical figures like Strongbow or Thomas Francis Meagher. You'll also get to see the Irish Museum of Time, the Irish Silver Museum, and even fly the Irish flag for the first time.
Plus, you'll have a blast with your larger than life guide who will make you feel like a part of history. It's an all-weather, interactive and fun tour that will show you the best of Waterford!
Pro Tip:

Prior to booking your tour, always verify if a church service is taking place. In the event that there isn't, seize the opportunity to have your enthusiastic guide accompany you to explore the magnificent Christ Church Cathedral.
Admire the Majestic Views at The Metal Man
As you visit the town of Tramore, you might spot a metal figure on a pillar near the sea. That's the Metal Man, a special landmark that has a sad history behind it.
Back in 1816, a ship called HMS Seahorse crashed into the rocks and more than 350 people died. To prevent such disasters from happening again, the Metal Man was built as a sailor signal to avoid dangerous cliffs.
You can't get close to him because the cliffs are too risky. But you can admire him from different places along the shore.
Pro Tip:

While the tradition of hopping around the Metal Man's base barefooted for a successful marriage is endearing, please note that it's now on private property and the coastline is eroded. 
Explore the Tranquil Goats Island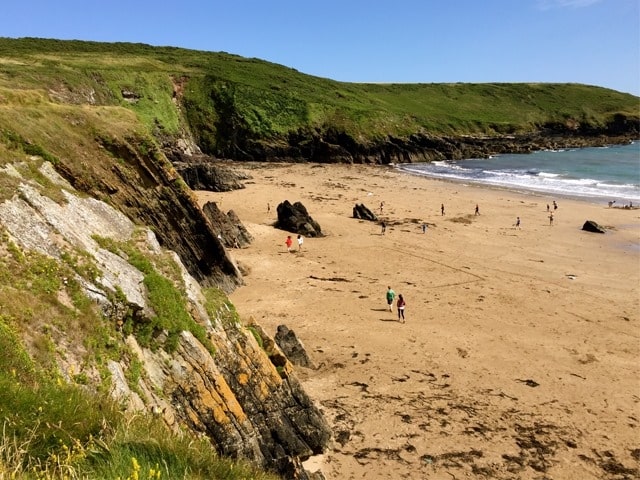 Hidden away in Waterford lies the charming Goats Island beach, just 5km west of Ardmore. This sheltered cove, with a name shrouded in mystery, allures those seeking an off-the-beaten-track adventure.
Brave locals swim here year-round, so don your swimming gear and take the plunge but always exercise caution when entering the water.
This southern-facing inlet is protected by the island's western side. Accessible via a winding lane marked for Goat Island, it's a serene escape for the adventurous souls looking to explore the Irish coastline.
Pro Tip:
Take advantage of low tide at the sandy beach by booking an abseiling or rock climbing adventure with Ardmore Adventures.
For the daring, cliff jumping is an exhilarating option as the tide rolls in.