Top Walking Destinations in Killarney Unveiled
Ready, set, walk! Killarney National Park is your playground for an unforgettable adventure.
This lush park offers a range of options, from leisurely strolls to more challenging treks. The stunning scenery and historic sites await you.
We've handpicked Killarney's best walks at your disposal, showcasing the rugged beauty of McGillycuddy's Reeks and other natural wonders. Now, lace up your shoes and dive into the checklist of your next adventure!
What are the best walks in Killarney?
The best walks in Killarney include Knockreer Circular Walk, Library Point, Muckross Lake Loop, The Old Kenmare Road, Ross Island, Mining Trail, Gap of Dunloe, Rosie's Beach, The Mass Path, and Muckross Abbey Loop.
Knockreer Circular Walk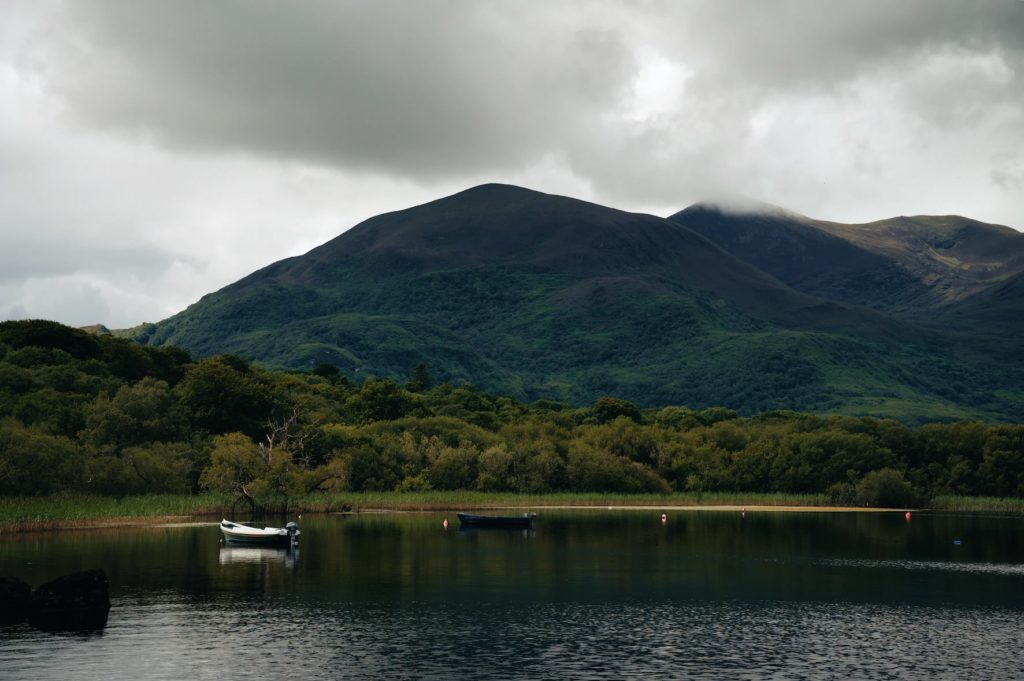 Starting Point: Deenagh Lodge
Finishing Point: Deenagh Lodge
Difficulty: Easy
For a convenient Killarney walk, the Knockreer Circular Walk is a top choice, just a 10-minute stroll from the town center. This 5km trail, suitable for walking and cycling, takes you around the National Park's accessible areas.
You'll encounter a few moderate inclines, but the reward includes breathtaking views of Lough Leane and the MacGillycuddy Reeks. During your two-hour adventure, you may encounter local red deer, so keep an eye out for that!
This walk provides both locals and visitors with a taste of the National Park's accessible beauty, making it a perfect way to ease into a few days of Kerry walking.
Pro Tip:

When crossing the first cattle grid, take the opportunity to join the Fossa Way trail, which leads to the Castlerosse Hotel, Killarney Golf Club, and The Europe Hotel. It's a convenient spot where the horse trail intersects with the circular walk path.
Library Point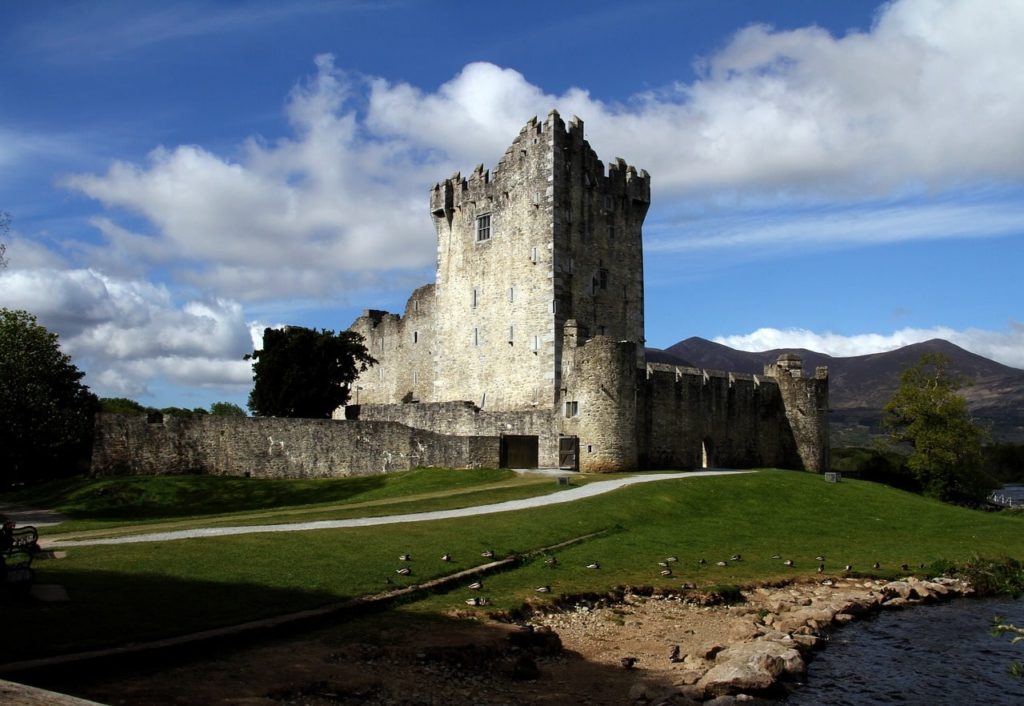 Starting Point: Ross Castle
Finishing Point: Ross Castle
Difficulty: Easy
For a shorter, rewarding 5 km walk, you can explore Library Point on the Ross Island Walk near Ross Castle. The Library Point Trail leads through secluded woodlands, passing ancient Copper Mines with a 4,000-year history.
As you wander, you'll reach Governors Rock and ascend to Library Point, where you can soak in magnificent views of Innisfallen Island and the distant MacGillycuddy's Reeks. The return path follows the lakeshore back to Ross Castle.
Ross Castle is a must-visit landmark in Killarney National Park, known for its well-preserved tower house and lakeside location. It's a great starting point for boat trips on the Lakes of Killarney.
Pro Tip:

Don't forget the option of a boat ride to Innisfallen Island, providing a scenic spot for a picnic lunch. Explore this often-overlooked gem in Killarney.
Muckross House to Torc Waterfall Lake Loop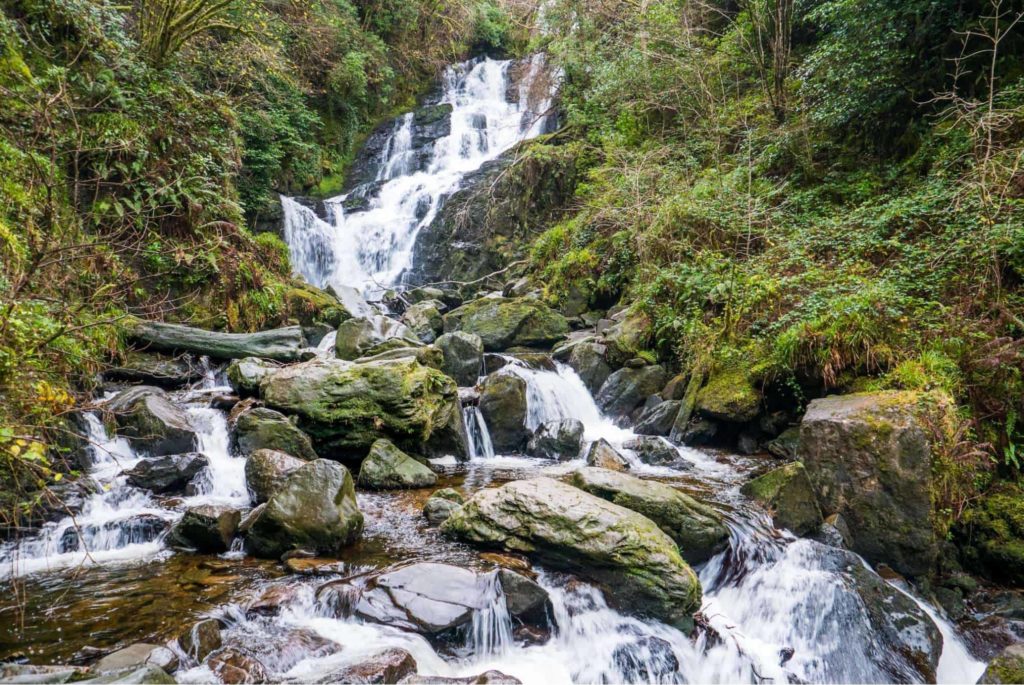 Starting Point: Muckross House
Finishing Point: Muckross House
Difficulty: Moderate
The Muckross Lake Loop Walk is a 15 km family-friendly trail in Killarney that takes about 3 to 4 hours to complete. You can enjoy mountain views, limestone cliffs at Dundag Point, and a climb through the woods with a view of the 18m Torc Waterfall.
You'll join the Lake Loop, pass the Muckross Peninsula, and spot red deer in Reenadinna Wood. You can also make a detour to see Torc Waterfall.
The trail includes Muckross Abbey, Dinis Cottage, the Meeting of the Waters, the Old Weird Bridge, and more. It's a well-maintained path, but some sections can get muddy or flooded in winter, so bring waterproof footwear.
Pro Tip:
If you need a coffee break, visit Dinis Cottage, situated at the western side of Muckross Lake.
The lake is a good spot for Brown Trout fishing, with private boat rentals and bank fishing allowed, especially in September.
The Old Kenmare Road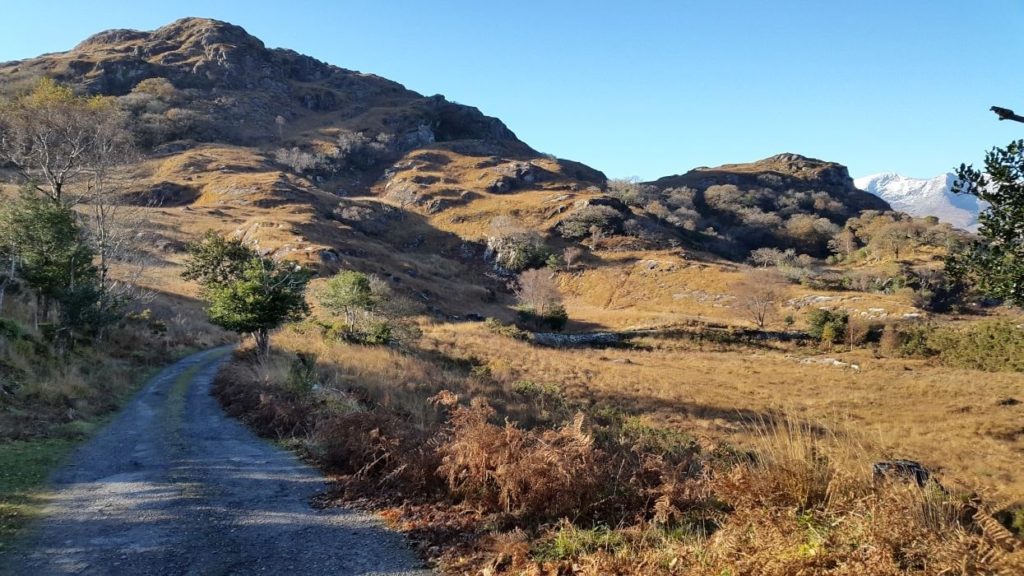 Starting Point: Torc Upper car park
Finishing Point: Incheens
Difficulty: Strenuous
For a rewarding walk, take the Old Kenmare Road, a 16 km trail within Killarney National Park, forming part of the Kerry Way. It offers a close-to-nature experience, winding through woodlands and exposed uplands.
The trail exudes isolation and natural beauty, a stark contrast to the bustling towns of Killarney and Kenmare. The Old Kenmare Road, often described as a step back in time, promises peace and solitude, even during the busiest summer months.
This trail, offering diverse landscapes and flora, provides a truly special and tranquil experience within Killarney National Park, making it a favorite segment of the Kerry Way.
Pro Tip:

It's a one-way route, so starting at the upper car park of Torc Mountain is recommended, and consider leaving a second car at Derrycunnihy Church if ending your walk there.
Ross Island Mining Trail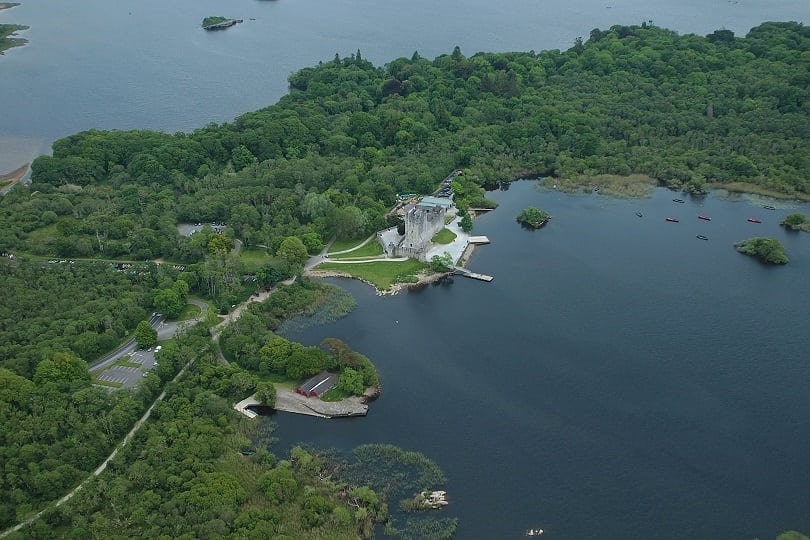 Starting Point: Ross Castle car park
Finishing Point: Ross Castle car park
Difficulty: Easy
Ross Island's Copper Mines Trail is a 2km loop that's part of Killarney National Park's treasures. Located near Ross Castle, the loop offers a peaceful stroll, passing historical mine ruins and encampments.
The island boasts over 150 acres of woodlands along Lough Leane's shores. While the mining activity ceased in the 19th century, today you'll find solitude and scenic beauty on the 3km paved paths encircling the island.
Ross Castle's rich history and the island's tranquility make this a must-visit spot for both history buffs and nature lovers. The loop takes about 1.5 hours to complete, offering a rewarding experience amidst rare trees and plants.
Pro Tip:

If you want to reach the Copper Mines via an off-beaten path, look for a faint path to your left after leaving Ross Castle. Follow the trail through the woods, over stepping stones and up a hill.

This alternative trail runs along the lakeshore and offers an interesting alternative to the main paved path, but be prepared for uneven ground, fallen trees, and other obstacles.
Gap of Dunloe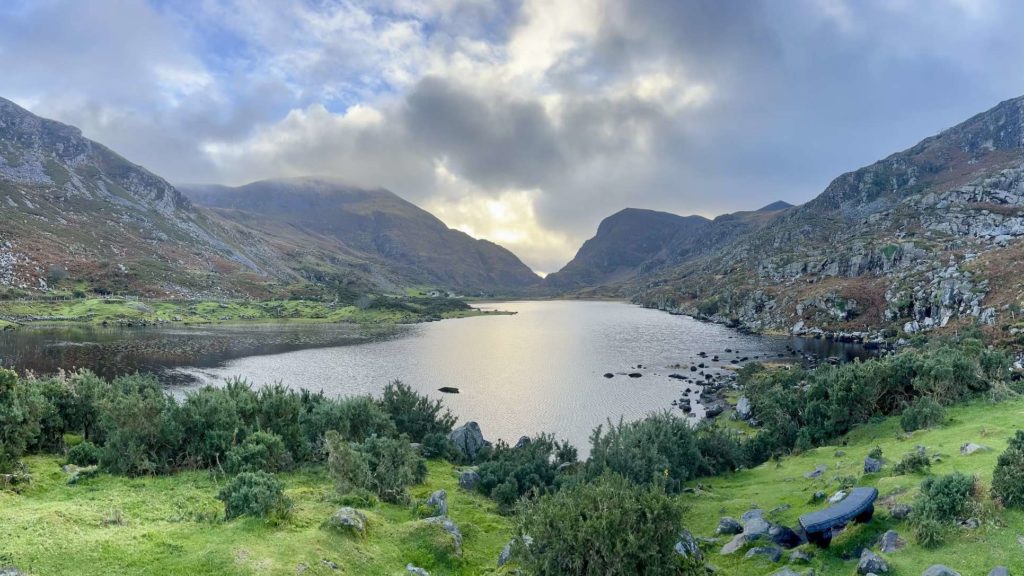 Starting Point: Kate Kearney's Cottage
Finishing Point: Lord Brandon's Cottage
Difficulty: Moderate
The epic Gap of Dunloe, a 12 km route in the heart of Kerry, showcases Killarney's rugged beauty. Starting at Kate Kearney's Cottage, this walk passes through the famous Gap, nestled between the majestic McGillyCuddy Reeks.
The journey can be a one-way adventure or a round trip to Lord Brandon's Cottage, depending on your fitness and time
Along the way, you'll discover stone cottages from Victorian times and the Great Famine, winding roads, glacial lakes, and potential wildlife sightings. When you reach the head of the Gap, the magical views back down are a must-see.
Pro Tip:

For a peaceful experience, visit the Gap of Dunloe during spring or autumn when there are fewer visitors. If you prefer solitude, brave the cold and wet of winter, but be prepared with warm and waterproof clothing.
Rosie's Beach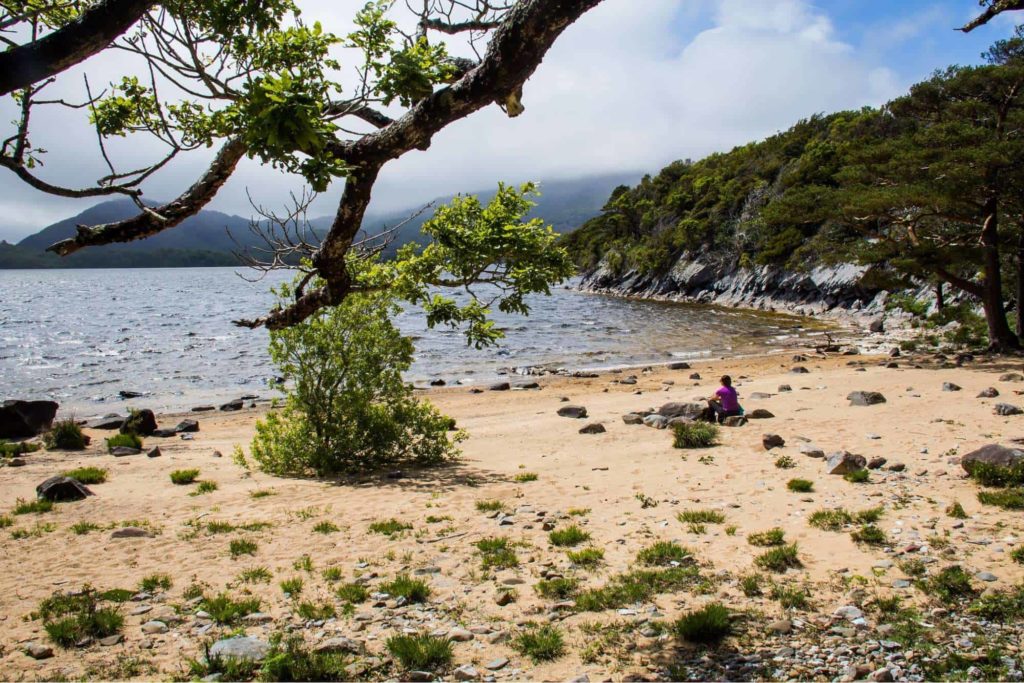 Starting Point: Muckross House carpark
Finishing Point: Muckross House carpark
Difficulty: Easy
Rosie's Beach, a hidden gem near Killarney, is well worth a visit. It's often described as a 'secret beach' due to its peaceful seclusion. The route to get there is quite easy.
You'll start at the Muckross House car park, follow signs for Dinis Cottage along a 1.5km woodland trail, and then take a grassy path on your left. This path leads you to one of the quietest and most beautiful spots in the entire park.
It's said that Elizabeth Rose (Rosie) Vincent, who once owned the Muckross Estate, frequented this beach for picnics and lake paddling during the early twentieth century.
Pro Tip:

Keep an eye out for a faint sign of a path through the grass on your right-hand side about 1.5km from Muckross House. Don't mistake it for the more prominent viewing point with a bench just beyond it.
The Mass Path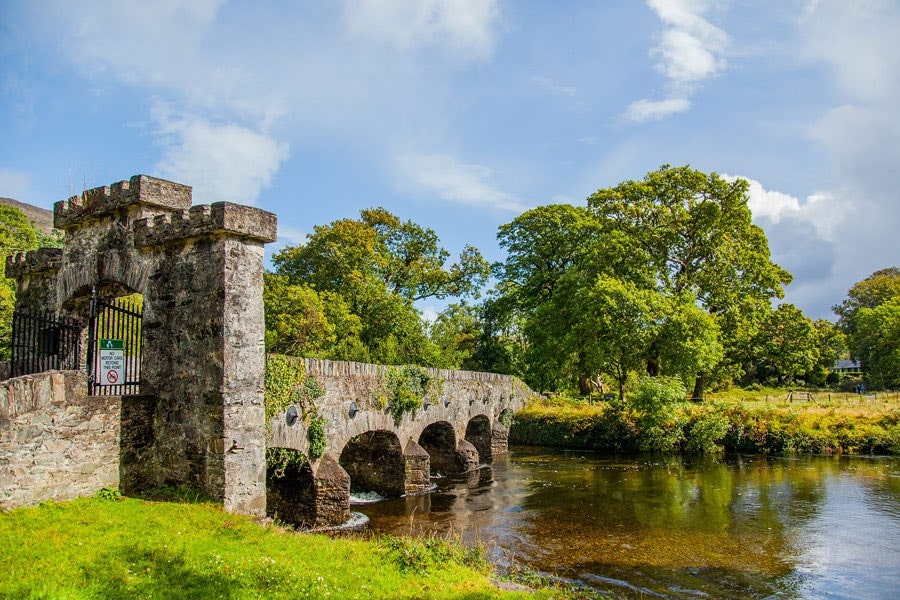 Starting Point: Derrycunnihy Church
Finishing Point: Lord Brandon's Cottage
Difficulty: Strenuous
Rosie's Beach near Killarney is a secluded and tranquil spot, accessible by following a simple route starting at Muckross House car park and finding a grassy path on the left after a 1.5km woodland trail.
On another note, near the Galway River bridge, Derrycunnihy Church awaits. This trail is part of the Kerry Way long-distance walking route.
Right across from the car park, wooden steps and a boardwalk take you through oak woodlands, crossing streams, and passing abandoned ruins along the way, offering a scenic historical exploration.
Pro Tip:

Visit Lord Brandon's for a relaxing break by the Upper Lake and a chance to see the White Tailed Sea Eagles in Killarney National Park. During summer, enjoy refreshments at the coffee shop.
Muckross Abbey Loop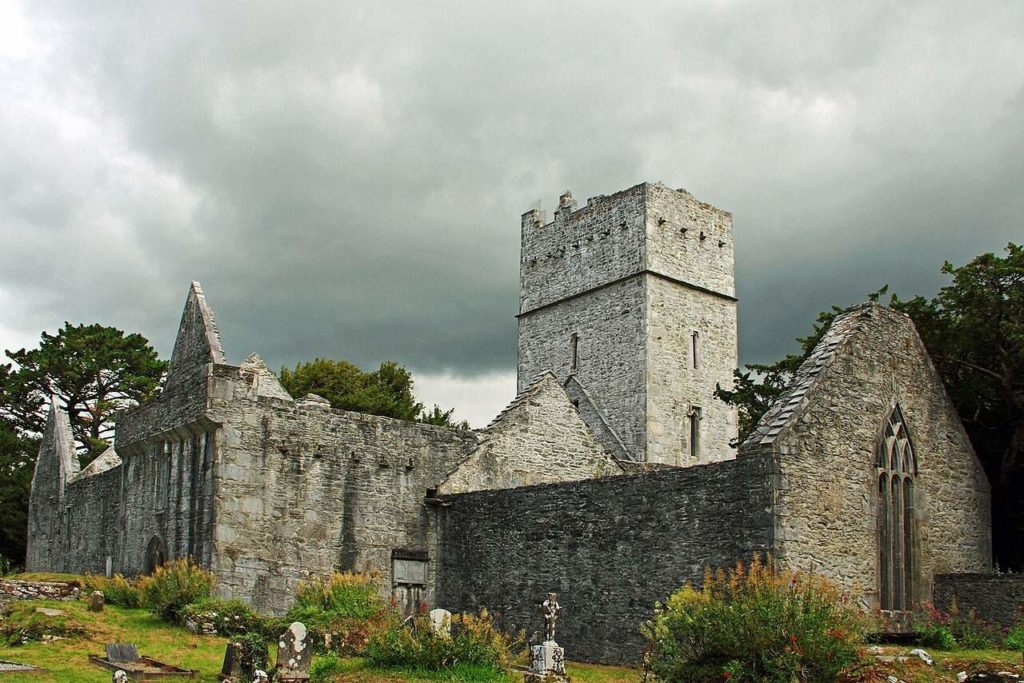 Starting Point: The 'new' entrance car park
Finishing Point: The 'new' entrance car park
Difficulty: Easy
Muckross Abbey Loop is a captivating loop walk that combines stunning scenery, medieval ruins, and a touch of adventure.
On this route, a tarred path leads to Muckross Abbey, and a lakeshore option offers potential deer sightings in the meadows.
You'll explore the abbey ruins before circling around, passing through a small archway, and returning via a slightly different route.
Muckross Abbey, a must-see spot in Killarney National Park, offers access to historic ruins through some of the park's beloved areas, providing a delightful blend of splendor, solitude, and adventure for visitors.
Pro Tip:

Don't miss the stunning ancient yew tree at Muckross Abbey, believed to be as old as the abbey itself and possibly Ireland's oldest. Be sure to respect the tree, as local legend says anyone who harms it will meet a tragic fate.