Cycling in Dublin: Everything You Need to Know
Cycling in Ireland is increasingly popular due to its health benefits, affordability, and environmentally-friendliness. The government promotes cycling through the Cycle to Work Scheme, further encouraging it as a mode of transportation.
Dublin, the capital city of Ireland, is an excellent starting or ending point for a cycling adventure. It offers over 200 km of cycle lanes and paths, along with numerous bike-friendly amenities and attractions.
However, there are some challenges for cyclists in Dublin, such as busy roads, tram tracks, and unpredictable weather. It is important to always follow cycling laws and take safety measures when cycling in the city.
In this guide, you'll learn where to find bike rentals in Dublin, how to stay safe on the road, and how to secure your bike in the city.
Where to Get Bike Rentals in Dublin
In Dublin, you can find bike rentals from various providers like Dublin Bikes, Bleeper Bike, Bike Stop Dublin, River Cycles, and Phoenix Park Bikes. Each option offers different services and locations to explore the city.
Bike Stop Dublin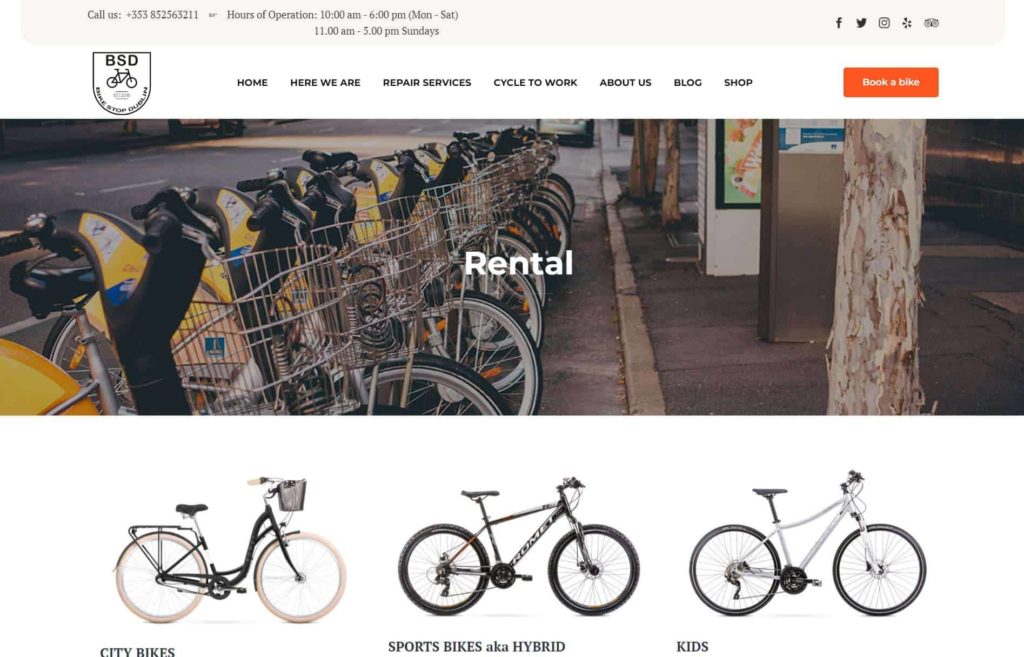 Website: https://bikestopdublin.com/rental/ 
Address: 37 Capel St, North City, Dublin, D01 X2E5
Phone: +353 852563211
Email: [email protected] 
Operation Hours:
Monday to Saturday – 10 AM to 6 PM
Sunday – 11 AM to 5 PM
Bike Stop Dublin is a centrally located bicycle rental service that offers a variety of bikes for rent, such as city bikes, mountain bikes, electric bikes, and more. Their rentals include a high-quality bike, a helmet, a lock, and GPS-guided audio tour.
Designed to cater to group tours, Bike Stop Dublin offers customizable options, including guided tours and bicycle delivery services. They also cater to various events and occasions, such as corporate tours, stag and hen parties, and more.
To rent a bike, customers can either make a reservation online or simply walk into the shop. The rental rates are affordable, and customers have the option to rent for a few hours, a full day, or even longer periods.
River Cycles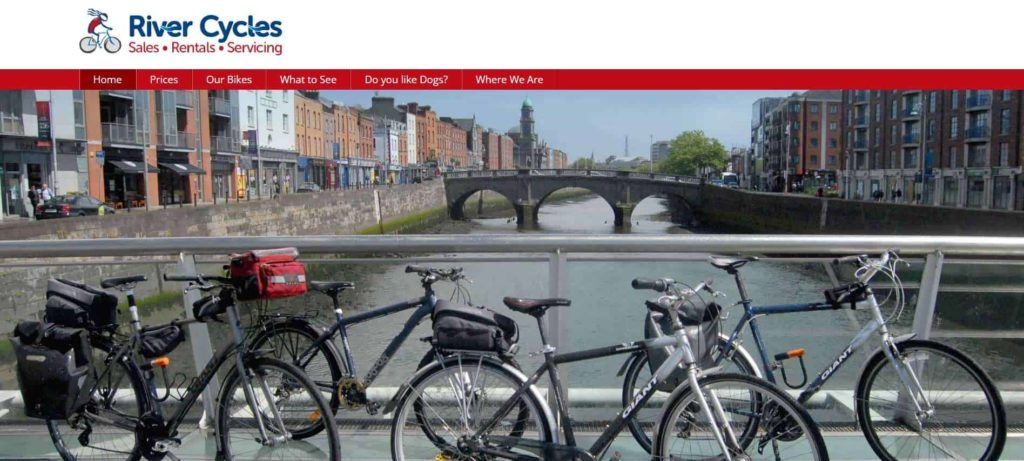 Website: https://rivercycles.com/ 
Address: 10 Ushers Island, Dublin 8
Phone: +353-86-265 6258
Email: [email protected] 
River Cycles provides a comprehensive bike rental service at their exceptional riverside location on the River Liffey.
They have a cool coffee shop and 400 bikes for rent, including BMX bikes and high-performance carbon fibre Colnago C50's.
Most of their bikes are custom-made and have top-notch Schwalbe Marathon Plus tires. They also have great expedition bikes if you want to go on a tour around Ireland.
And if you need extra gear like Ortlieb panniers, they've got that too. Plus, their daily bike rental is one of the cheapest in the city, and the bikes are still high quality.
Phoenix Park Bikes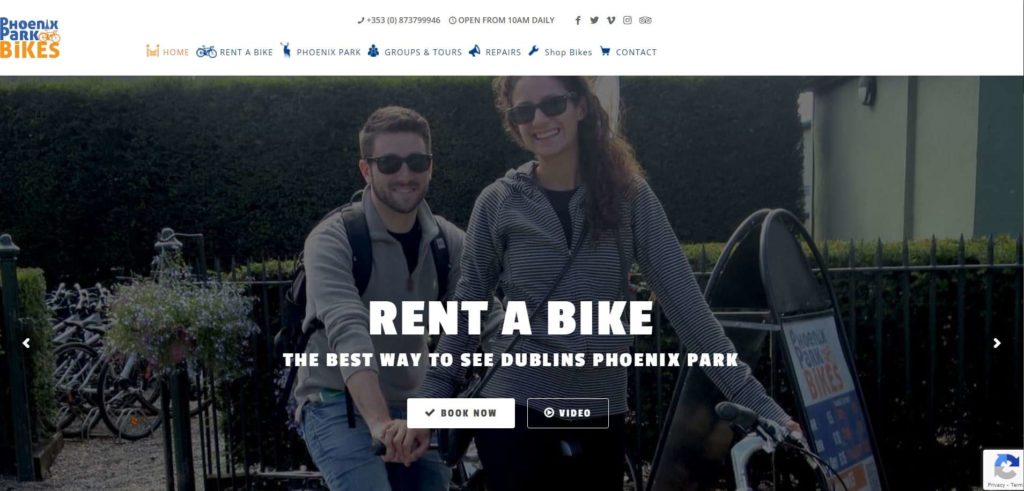 Website: https://www.phoenixparkbikes.com/ 
Address: Phoenix Park Bikes, Gate House, Chesterfield Avenue, Phoenix Park, Dublin 8, D08 DF88
Phone: +353 (0) 873799946
Email: [email protected] 
Operation Hours: Monday to Sunday – open from 10 AM
Phoenix Park Bikes is a professional bicycle rental company offering tours and group excursions. With over 150 bikes for kids and adults, they specialize in bike hire
They provide bike rental services for individuals and groups, including families, schools, and large excursions. They also offer guided tours within the park grounds and even outside Dublin.
For those looking for overnight trips around Ireland, touring bikes are available too.
Bleeper Bike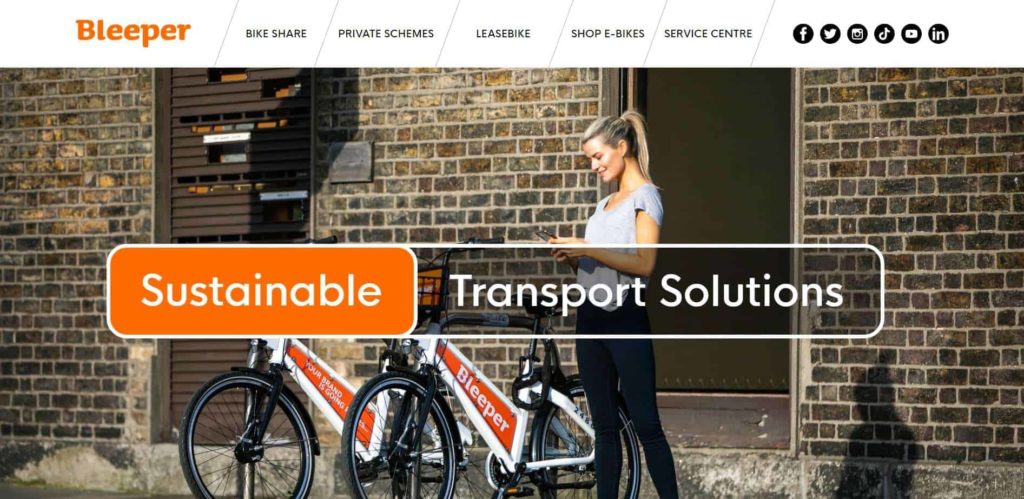 Website: https://www.bleeperactive.com/ 
Address: Bleeper, Unit 4 Merchants House, 27-30 Merchants Quay, Dublin 8. D08 K3KD
Phone: (01) 437 0930
Email: [email protected] 
Bleeper Bike is a unique bike rental service in Dublin that utilizes a dockless system. It lets you rent a bike from a network of stations around the city using an app or a smart card.
To rent a bike, all you need to do is download the app or register on their website, find and unlock a bike near you, enjoy your ride and explore Dublin, and return your bike to any station when you are done.
This innovative approach allows for greater flexibility and convenience, as bikes can be picked up and dropped off at various locations throughout the city. It's a popular choice for short journeys and quick trips around Dublin.
Dublin Bikes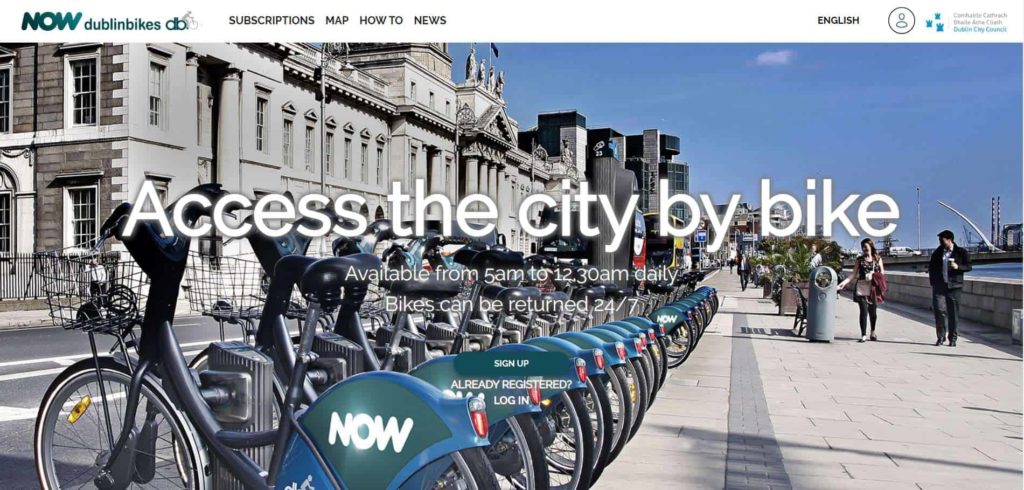 Website: https://www.dublinbikes.ie/en/home 
Address: dublinbikes, JCDecaux Ireland Ltd., Unit 2, Naas Road Industrial Park, Old Naas Road, Bluebell, Dublin 12, D12 A242
Phone: 0818777070
Email: [email protected] 
Operation Hours: Monday to Sunday – 5 AM to 12:30 AM
Dublin Bikes offers 1,600 bicycles for hire in Ireland's capital city. The city bike scheme, launched by Dublin Corporation, aims to promote a greener way of exploring the city.
With 115 locations across Dublin, commuters and tourists have easy access to the bikes. This scheme is similar to those in Paris, Copenhagen, and other European cities.
Users can enjoy the bicycles for free for the first thirty minutes each time. To hire a bicycle from dublinbikes, you can choose from a one-day ticket, a three-day ticket, or an annual subscription.
Basic Biking Safety Tips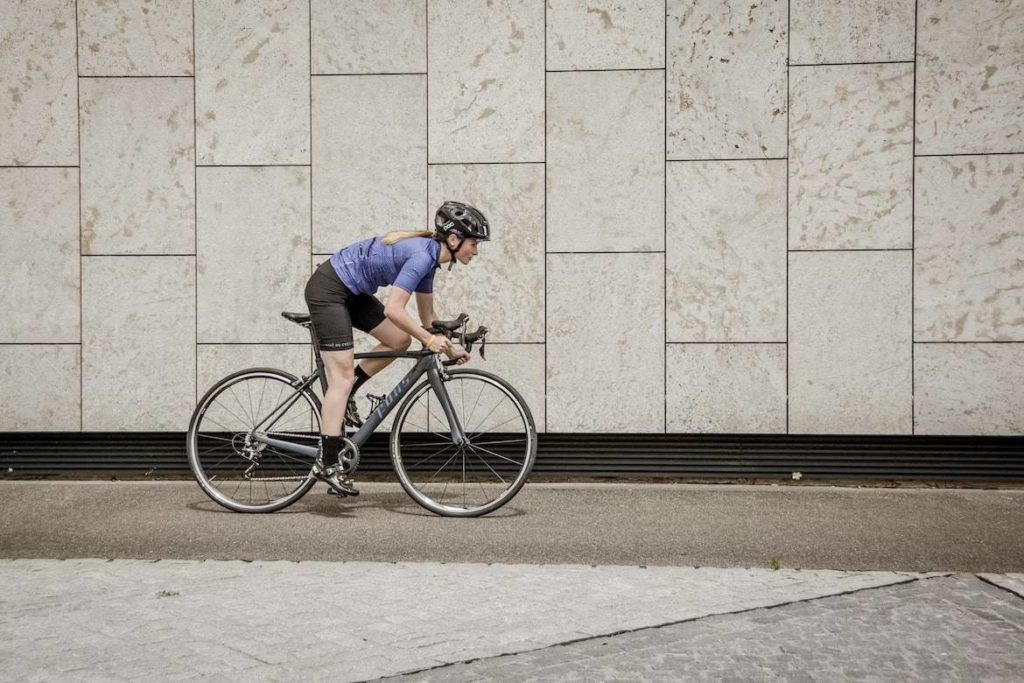 Ensure Bike Control
Make sure your bike is the right size and properly adjusted for you.
Regularly inspect and maintain your bike to ensure it is in good working condition.
Prioritize Personal Safety
Always wear a well-fitted helmet to protect your head from potential injuries.
If you're under 18, it's mandatory to wear a helmet while biking on public roads.
Enhance Visibility and Stay Alert
Wear a helmet, a headlamp, and a jacket that has a bright or reflective color.
Be aware of your surroundings and anticipate potential hazards, even if you follow traffic rules.
Use hand signals to indicate your intentions to other road users.
Stay vigilant and be prepared to yield to vehicles at stop signs, driveways, and when passing.
Master the skill of looking over your right shoulder to ensure safe cycling and awareness of your surroundings.
Choose a Safe Lane Position
Ride in the same direction as traffic to increase your visibility to motorists.
Adopt the appropriate lane position when passing other vehicles or preparing to make a turn.
Select the safest lane position when encountering narrow lanes, making right turns, or riding on one-way roads with multiple lanes.
Exercise caution around trucks and buses, as they have significant blind spots and may make unexpected turns.
Steps to Secure your Bike in Dublin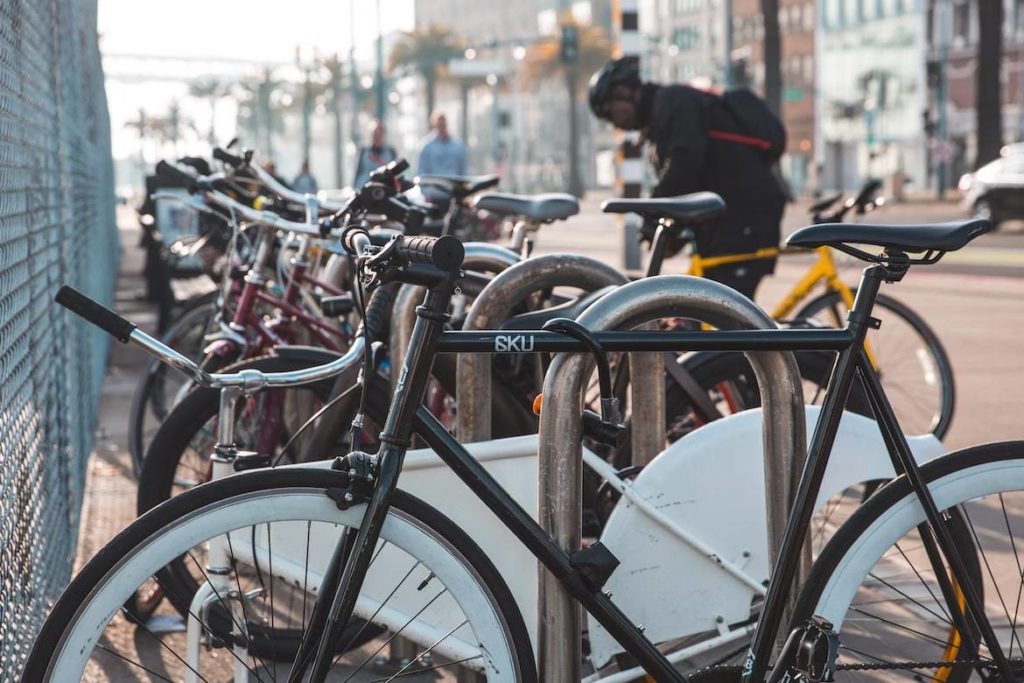 Bike theft is a common problem in many cities, but you can take some steps to prevent your bike from being stolen:
One of the best ways is to invest in two good quality bike locks and use them to secure your bike to a fixed object, such as a bike stand or a lamppost.
Make sure the lock is tight and off the ground, and choose a well-lit and public place to park your bike.
You should also take a photo of your bike and note down its serial number, so you can identify it if it is recovered.
Don't forget to report any bike theft to the Garda as soon as possible.
According to Garda's statistics, most bikes are stolen during the day, between 8am and 5pm.