Dublin's Bike Scene: Cycling Culture & Routes
Dublin is more than just a pretty face. Sure, it's got history and charm, but it's also got a bunch of awesome cyclists who are rocking the city on their bikes.
Whether they're cruising along the ancient lanes or zooming past the shiny buildings, these folks know how to have fun on two wheels.
Dublin's cycling scene is a cool blend of old and new, with a dash of Irish flair.
Is Dublin a good place for cycling?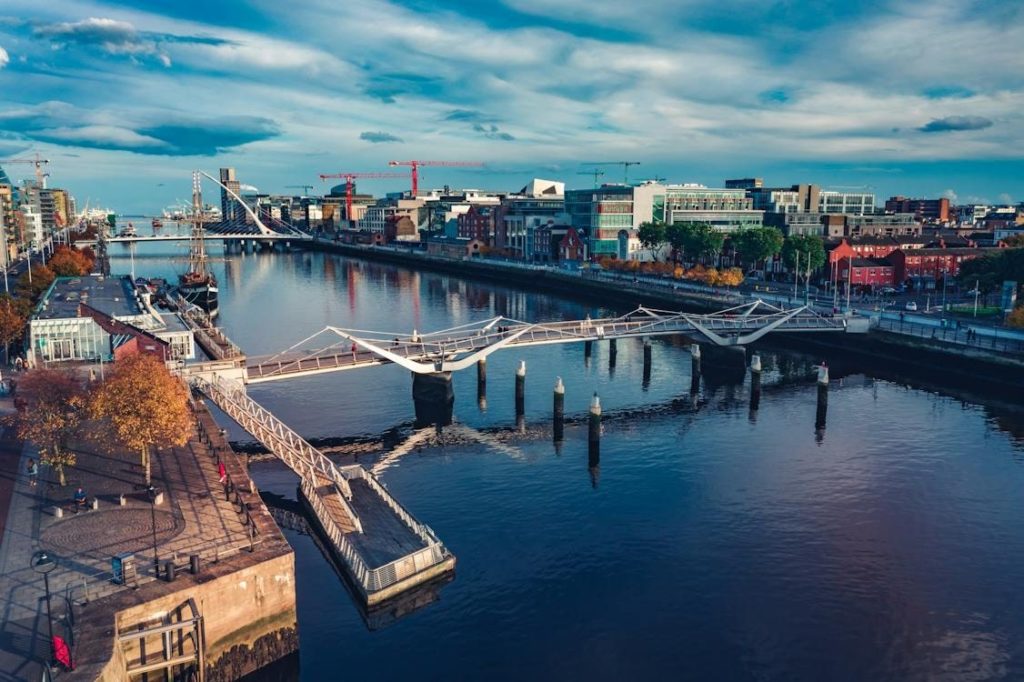 Dublin is a great place for cycling as the city has put in the effort to make it a bike-friendly place. It's also an ideal venue for cycling enthusiasts who want to experience different aspects of the city and its surroundings.
You'll find dedicated bike lanes, a nifty bike-sharing scheme, and cool cycling events like the Great Dublin Bike Ride. Loads of folks are now using their bikes for commuting, with safer routes and bike parking spots.
Plus, you've got cycling advocacy groups, safety campaigns, and even tax incentives for cycling to work. And let's not forget Dublin's awesome social and recreational biking scene.
Dubliners love to pedal around the city for fun and fitness. It's not just about getting from A to B; it's a lifestyle and an eco-friendly choice.
What are the infrastructures suitable for bicycle riders in Dublin?
Bike Sharing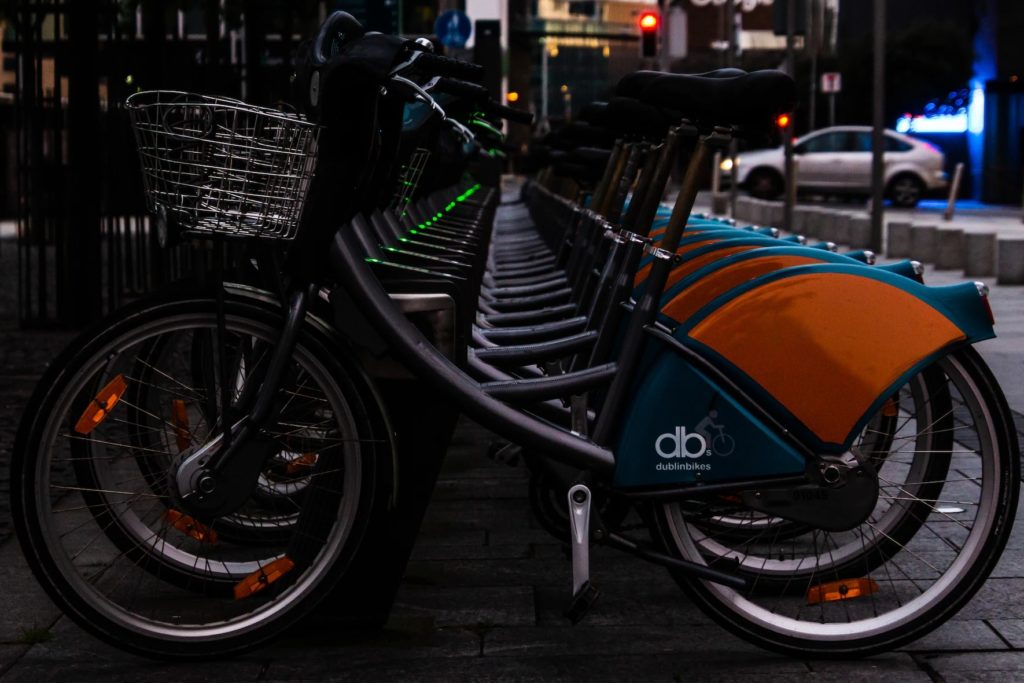 If you're looking for a convenient way to get around Dublin, you might want to try DublinBikes, also known as NOW DublinBikes. It's a bike rental system that anyone over 14 can use.
You can find stations all over the city centre, and each one has at least 15 bikes ready to go. You can use the service any day of the year, from 5am to 12.30am.
But that's not all. Dublin also has some stationless bike hire schemes, like Bleeper and MOBY Bikes. These bikes don't need a station, so you can find them in places where DublinBikes doesn't reach.
Bike Lanes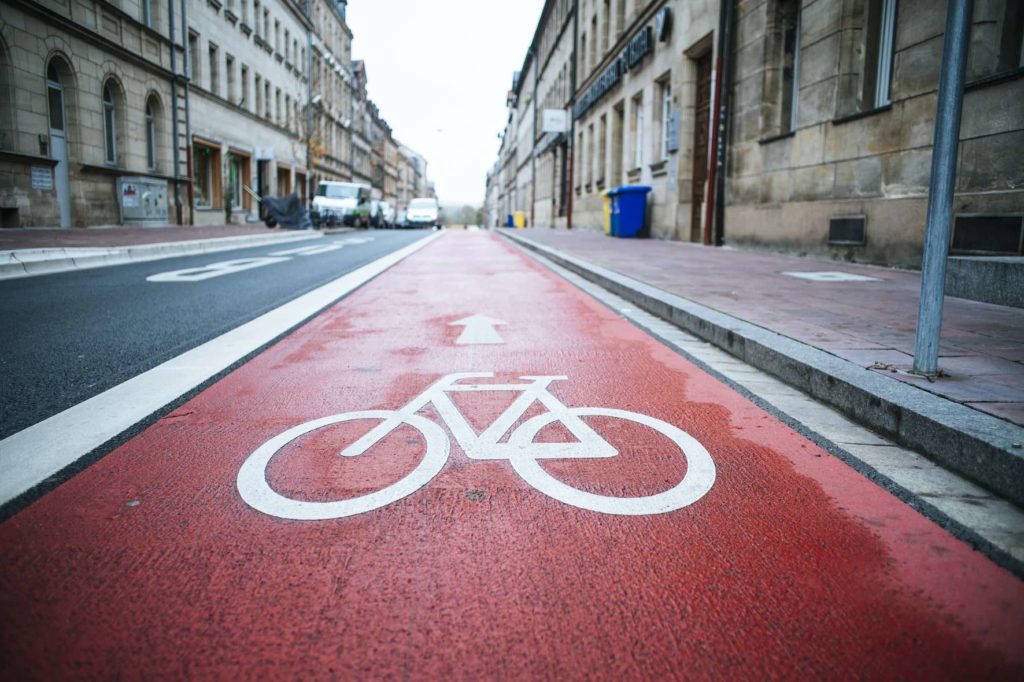 Dublin boasts several top-quality cycling lanes, enhancing the city's bike infrastructure. The Braemor Road cycle route in Churchtown is a standout example, evolving from one of the city's worst to one of the best.
The Tallaght to Templeogue Route impresses with its two-way cycle path alongside a large route, incorporating Danish-like cycle tracks and several commendable elements.
For leisurely rides, the Phoenix Park cycle paths provide stunning views along the city's main park.
The Blackrock contra-flow stands out as a contemporary and high-quality option. Lastly, Bull Alley Street introduces a well-executed contra-flow cycle lane, including a toucan crossing, elevating the cycling experience in Dublin.
Bike Parking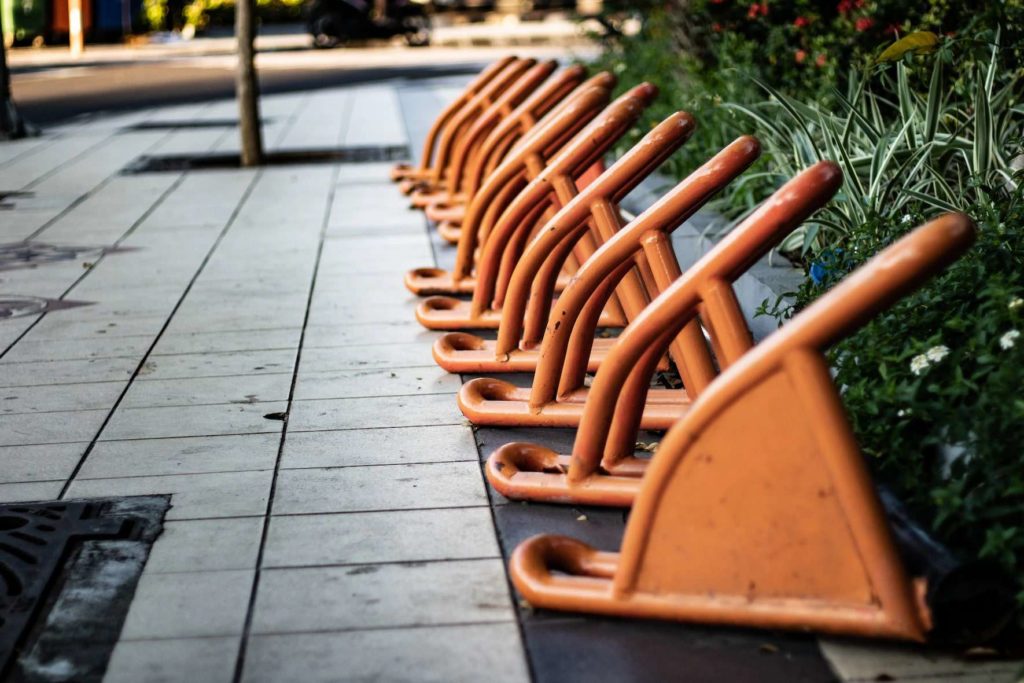 Dublin's cycling numbers have doubled in a decade, increasing the demand for bike parking. Dublin City Council (DCC) has responded by introducing 8,646 new cycle parking spaces since 2013, with ongoing expansion in 2023.
DCC selects appropriate locations, and footpaths should be at least 3.3 meters wide for parking installations, with more space needed in bustling areas. Cargo bike parking is now available at St. Stephen's Green and Manor Place.
For secure indoor cycle parking in the city center, Park Rite on Drury Street offers 300 spaces, including a maintenance area and is under CCTV surveillance, accessible 24/7 for free.
Plus, six bike lockers at Drury Street Car Park are available for long-term rentals.
Dublin Greenways
The Canal Way Cycle Route is a 3.6km scenic path along the Grand Canal, connecting Portobello and Spencer Dock. It was built by Dublin City Council with Smarter Travel Initiative funds.
More than 2,000 cyclists use it daily, crossing nine junctions with pedestrians and cars. It's great for anyone who wants to join the cycling community in Dublin.
The council also plans to build more Greenways along the canals, the coast and the rivers. One example is the Tolka Valley Greenway, a 4km route that links four areas and expands the park with wetlands and walkways.
Active Travel Network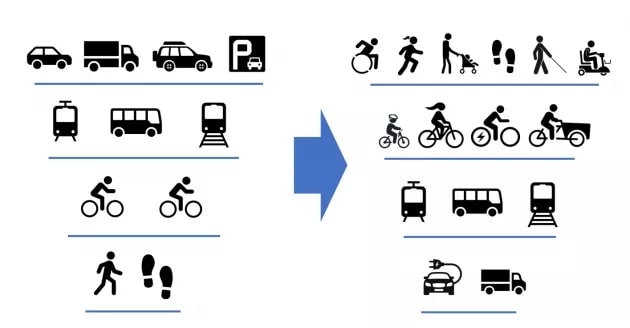 Dublin City Council's Active Travel Network is set to transform the city's lifestyle, creating a walk-wheel-cycle network that enhances connectivity while promoting sustainability.
Over the following years, this network will expand from its current 10km to a comprehensive 310km throughout Dublin, making it safer, more inclusive, and eco-friendly.
The plan includes incorporating segregated cycle lanes, widening footpaths, accommodating impaired users, fostering biodiversity through tree planting, and encouraging social interaction in communal spaces.
This transportation initiative, led by Dublin City Council and supported by the National Transport Authority, aims to reduce carbon emissions while improving the well-being of all residents through accessible and sustainable travel options.
What are the advantages of cycling in Dublin?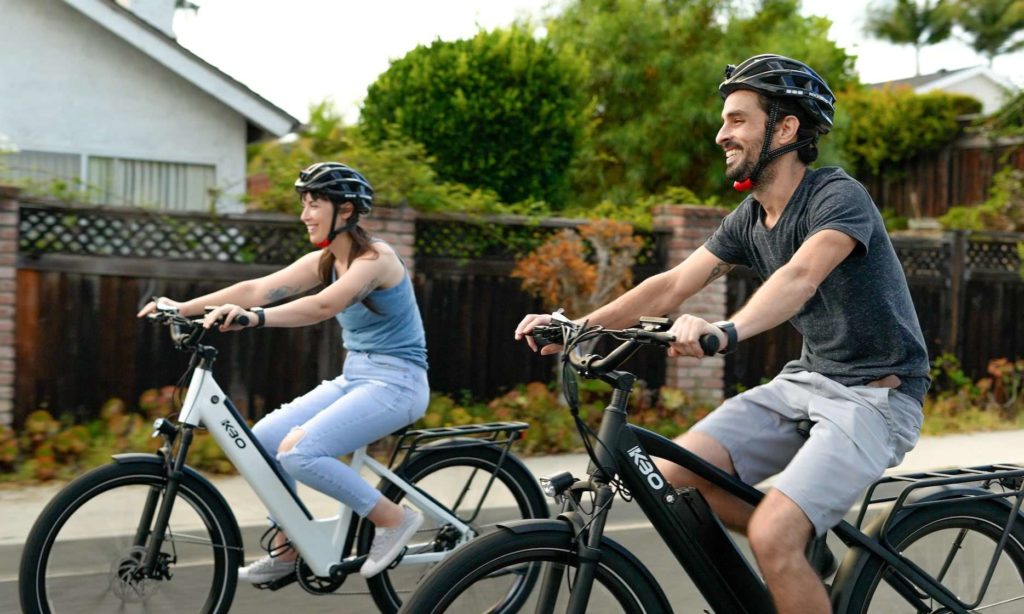 Environmental Benefits
Cycling is an eco-friendly mode of transportation. It produces no emissions and helps reduce air pollution and greenhouse gas emissions, contributing to a cleaner and healthier environment.
Cost-Effective
Cycling is a cost-effective way to get around. Once you have a bicycle, the ongoing expenses are minimal compared to owning and maintaining a car.
Traffic Congestion
Dublin can experience traffic congestion, especially during peak hours. Cyclists can often navigate through traffic more quickly, avoiding delays.
Health Benefits
Regular cycling is an excellent way to stay fit and healthy. It provides cardiovascular exercise and helps improve overall fitness.
Convenience and Accessibility
Dublin has been working to improve its cycling infrastructure. There are dedicated cycling lanes, bike racks, and bike-sharing schemes, making it easier and more convenient for cyclists.
Scenic Routes
Dublin is a picturesque city with many scenic routes for cyclists, such as along the coastline or through its parks.
What are the disadvantages of cycling in Dublin?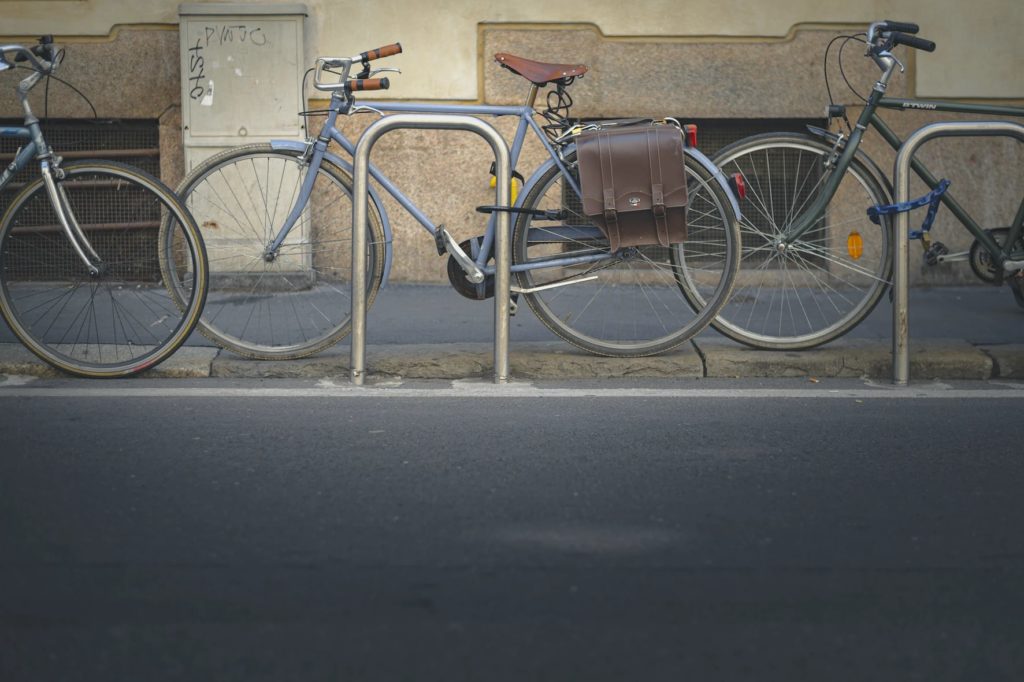 Weather
The weather in Dublin can be quite variable and often rainy. Cyclists may have to contend with wet and windy conditions, which can be uncomfortable and even dangerous.
Safety Concerns
Dublin's cycling infrastructure is still developing, and there are concerns about the safety of cyclists. Sharing the road with cars can be risky, and there have been accidents involving cyclists.
Theft and Vandalism
Bicycle theft is a common problem in Dublin, and cyclists need to invest in good locks and take precautions to prevent theft or vandalism.
Limited Bike Storage
Some public transport options in Dublin have limited space for bikes, which can be inconvenient for commuters who want to combine cycling with other modes of transportation.
Hilly Terrain
Dublin has some hilly areas that can be challenging for cyclists, especially those who may not be in peak physical condition.
What are the best spots for cycling in Dublin?
Tolka Valley Greenway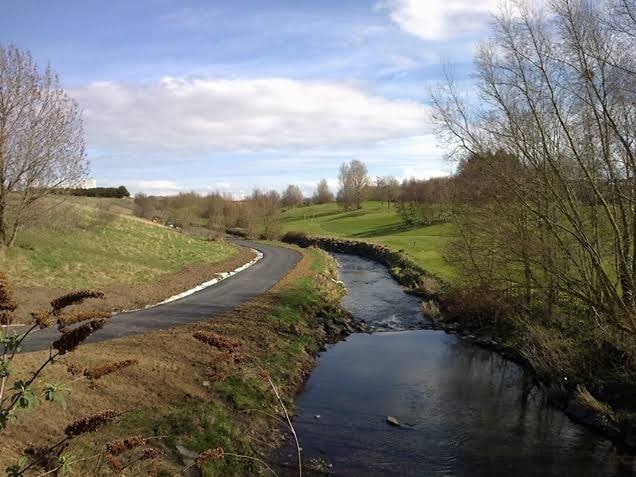 Places of Interest:
River Liffey Bridges
Spencer Dock
Tolka River Cycle Path
Botanic Gardens Glasnevin
Phoenix Park
Chapelizod Village
War Memorial Park
If you're up for a surprisingly scenic bike spin through Dublin's North City, you're in for a treat. This route features the Tolka River, The Phoenix Park, and The River Liffey, making you forget you're in the city.
What makes Tolka Park Greenway stand out is the clear separation between cycle and pedestrian tracks, well-marked and maintained.
Looking for a longer ride? You can extend it to the royal canal greenway and return through Phoenix Park and the recently opened north city quays segregated cycle lanes. 
Grand Canal Greenway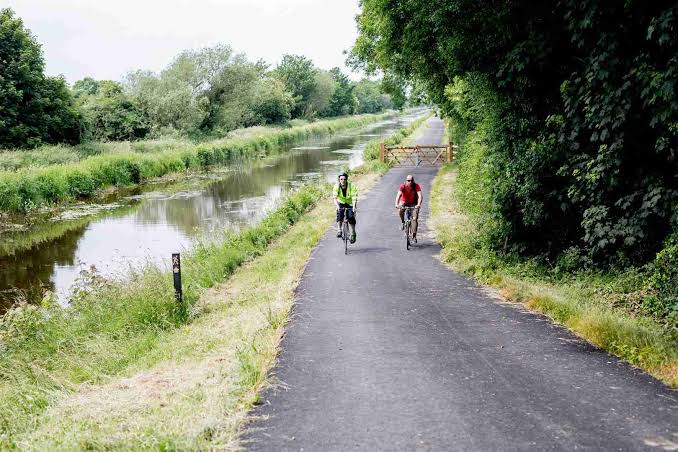 Places of Interest:
Grand Canal Basin
Nocturnal Wildlife Sensitive Lights
Thomas Omer's Cottage
Corkagh Park
The Red Bridge
Adamstown
You can now bike from Dublin's Liberty area to Adamstown on the western edge of County Dublin with minimal road use.
In the late 18th century, a Dutch engineer oversaw the construction of the grand canal, and the original towpath was meant for horse-drawn canal barges carrying passengers and cargo, including Guinness.
Today, these redundant towpaths have become a shared-use greenway for pedestrians and cyclists.
The Docklands and Ringsend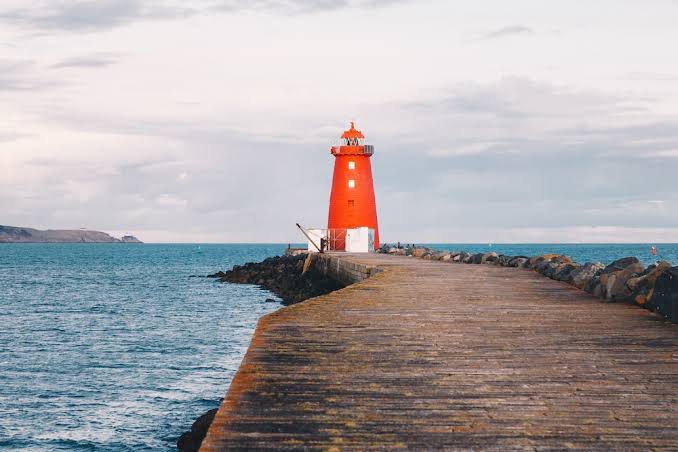 Places of Interest:
Windmill Lane Recording Studios
Poolbeg Lighhouse
Dublin's Docklands is a vibrant mix of old and new. Your cycle adventure may start with coffee and delicious treats at il Valentino Bakery & Cafe by the Grand Canal Harbour.
As you ride, you'll spot street art on Hanover Quay, explore U2's music history at Windmill Lane Recording Studios, and catch locals racing rowboats on the River Liffey.
You can take a breather before reaching the Great South Wall; you can even cool off with a swim in Dublin Bay along the 8 km-long wall. You'll finish at the iconic red Poolbeg Lighthouse. 
Royal Canal Greenway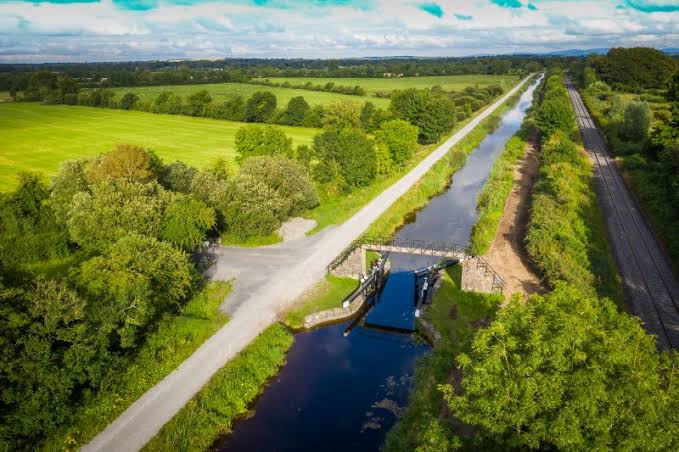 Places of Interest:
Bindon Blood Stoney's Diving Bell
Luke Kelly Statue
Croke Park
National Botanic Gardens
Glasnevin Cemetery
The Gravediggers Pub
William Rowan Hamilton's Quaternion Formula
Ashtown Village
M50 Viaducts
The 12th Lock
The Royal Canal, Ireland's longest at 145km, is becoming a continuous Dublin-to-River-Shannon cycle route. Most parts are ready, with the unfinished Dublin segments navigable with caution.
Phase one starts at North Wall Quay, extending to Sherriff Street. Phase 2 offers a safer path, avoiding busy roads.
While more development is planned, you can enjoy the route today, dealing with occasional road crossings and obstacles. The journey is filled with history and scenic beauty, culminating at the 12th Lock Boutique Hotel Bar, a great place to unwind.
The Metals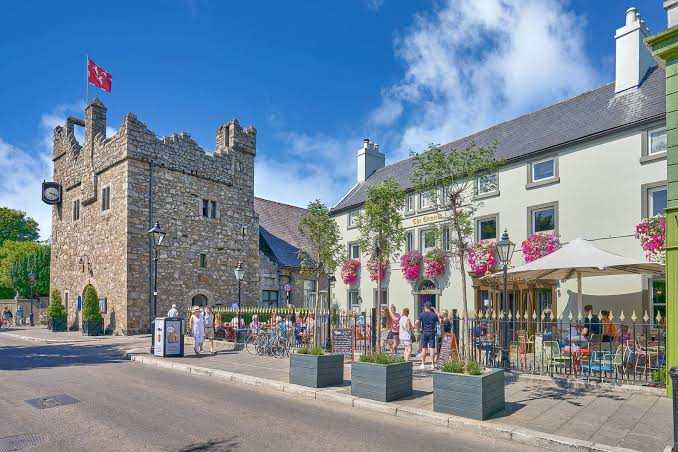 Places of Interest:
Dalkey Village
Dalkey Castle & Heritage Centre
Dalkey Quarry
The Metals railway line
Dun Laoghaire seafront
National Maritime Museum
Teddy's Ice cream
People's Park
Dublin Bay Ferry
In Dublin, you'll find a place steeped in history and perfect for leisure. Here, you can witness four world records from the world's oldest commuter railway to the fastest human in history when his carriage suddenly accelerated.
This historic railway line has been transformed into a pedestrian and cycle path long before modern greenways. It's ideal for a leisurely ride, offering scenic views of Dublin Bay from Dalkey to Dun Laoghaire.
You can go in the opposite direction, but be ready for a steeper climb! With DART stations at Dun Laoghaire and Dalkey, it's accessible, and there are plenty of culinary treats at both starting and finishing points. 
Liffey Greenway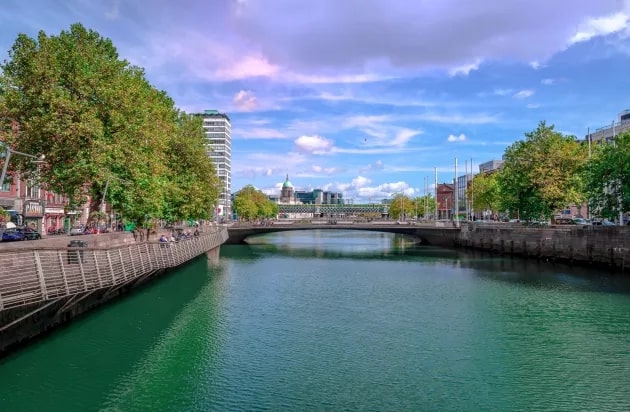 Places of Interest:
Kilmainham Gaol
War Memorial Gardens
Boat Clubs
Chapelizod Village
This super-short, yet charming, Dublin cycle route spans just over 2km. The actual cycle track is only 1.4km long, but it's extended through the picturesque War Memorial Gardens to connect with the South Circular Road near Islandbridge.
While perfect for a leisurely bike ride or a stroll, it may get crowded on weekends. You can start from Chapelizod, east of the village, and immediately lose yourself in lush greenery alongside the River Liffey.
This isn't for speedsters; it's for enjoying the scenery and observing rowers from the north bank clubs. You can even learn about Oliver St. John Gogarty's near-death experience near the river. 
Old Town Dublin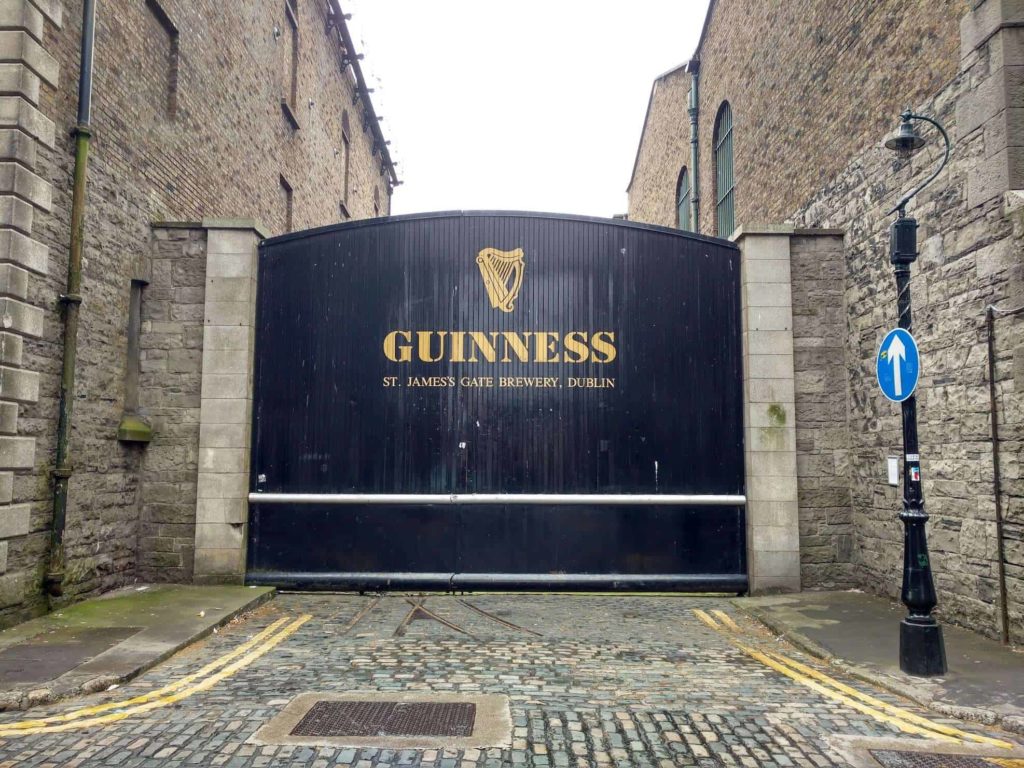 Places of Interest:
Guinness Storehouse
Royal Hospital Kilmainham
Irish Museum of Modern Art
Dublin's historic center is a treasure trove of attractions. To fully experience it, hop on a bike. Begin your journey at the Guinness Storehouse in the Liberties, where you can delve into the area's proud brewing heritage.
A short ride takes you to the Irish Museum of Modern Art (IMMA) at the Royal Hospital Kilmainham, home to over 3,500 contemporary artworks by Irish and international artists.
While in the neighborhood, make a stop at Manning's Bakery on Thomas Street, known for its delectable rainbow cake and coffee eclair. It's a delightful tour of Dublin's cultural and culinary highlights!
Clontarf to Howth Route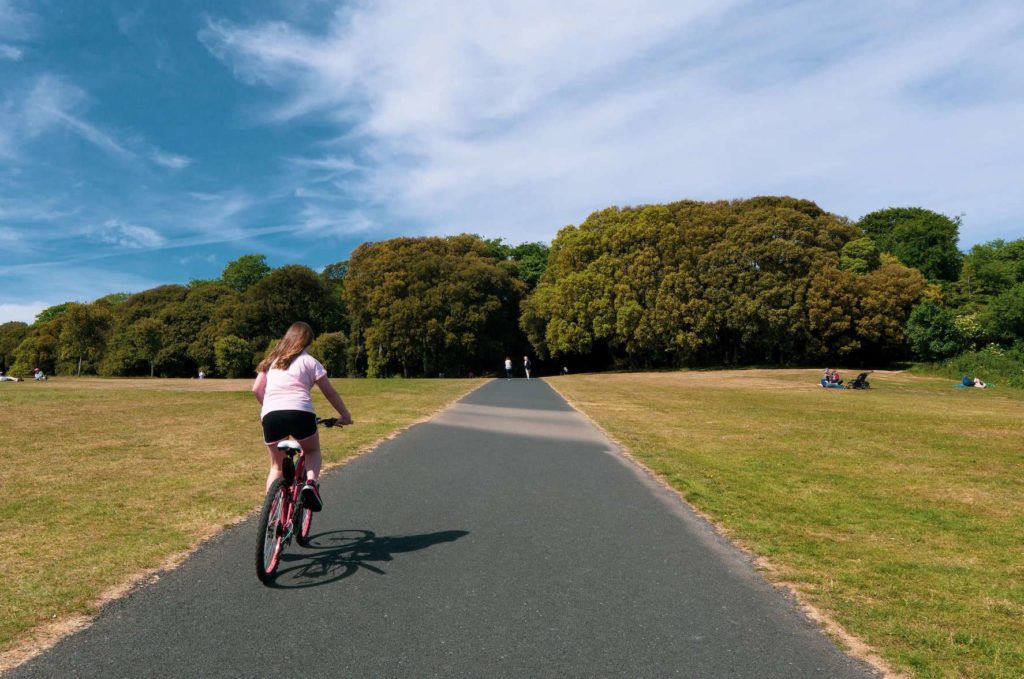 Places of Interest:
North Bull Wall and Island
Old Dollymount tram stop
Anne's Park and The Peace Tree
The old Kilbarrack cemetery and 13th century Church of Mone
Lui Na Greine (Sunset) standing stone
Bailey Lighthouse
Howth village
Bram Stoker's birthplace
The Oldest Jewish Cemetery in Ireland
The Clontarf to Howth Cycleway, finished in 2019, doesn't quite reach Howth but stops at Sutton Cross roundabout. It's a well-loved Dublin route, offering stunning sea views, fresh air, and various points of interest.
Despite occasional issues with cyclist-pedestrian interactions, it's a delightful ride for all. It's recommended to start at the junction of East Wall Road and Alfie Byrne Road, crossing the Tolka River.
After that, you'll follow the dedicated cycle lane for a 9km ride to Sutton Cross. From there, you can explore Howth Village or choose the return route through Sutton Cross and Fairview Park for added variety.
Phoenix Park and Smithfield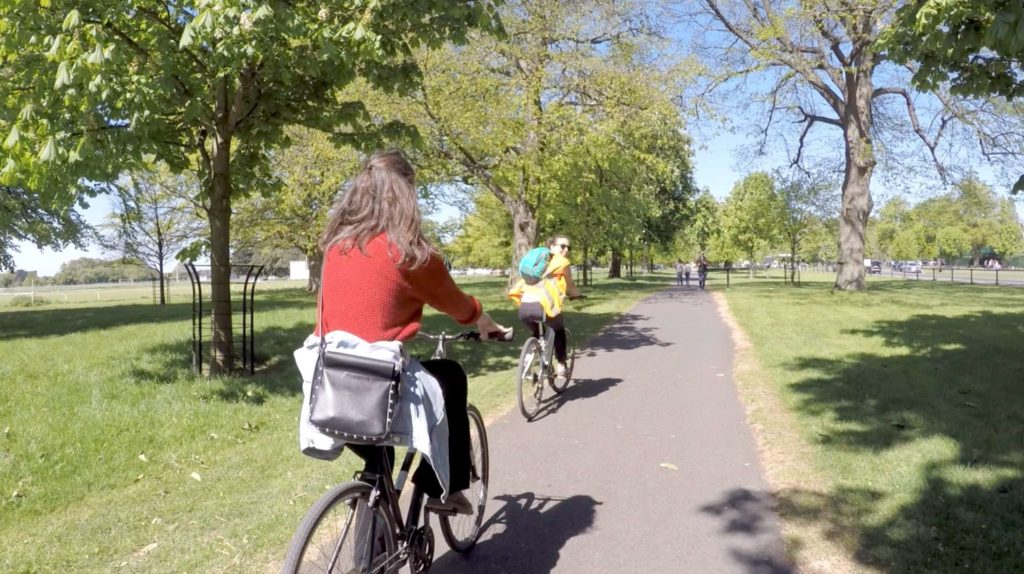 Places of Interest:
Dublin Zoo
Áras an Uachtaráin (The President's House)
Farmleigh House
Cobblestone
Jameson Distillery Bow St.
St Mary's Abbey
Phoenix Park, one of Europe's largest walled city parks at 707 hectares, invites you to explore its green landscapes. At the park, there's a resident urban deer you should keep an eye out.
A quick 10-minute bike ride takes you to Smithfield, known for its art studios, vintage shops, and dining spots like Oxmantown Cafe. You can try their Gruyere grilled cheese or roast chicken with lemon aioli. 
Southside & Dodder Greenway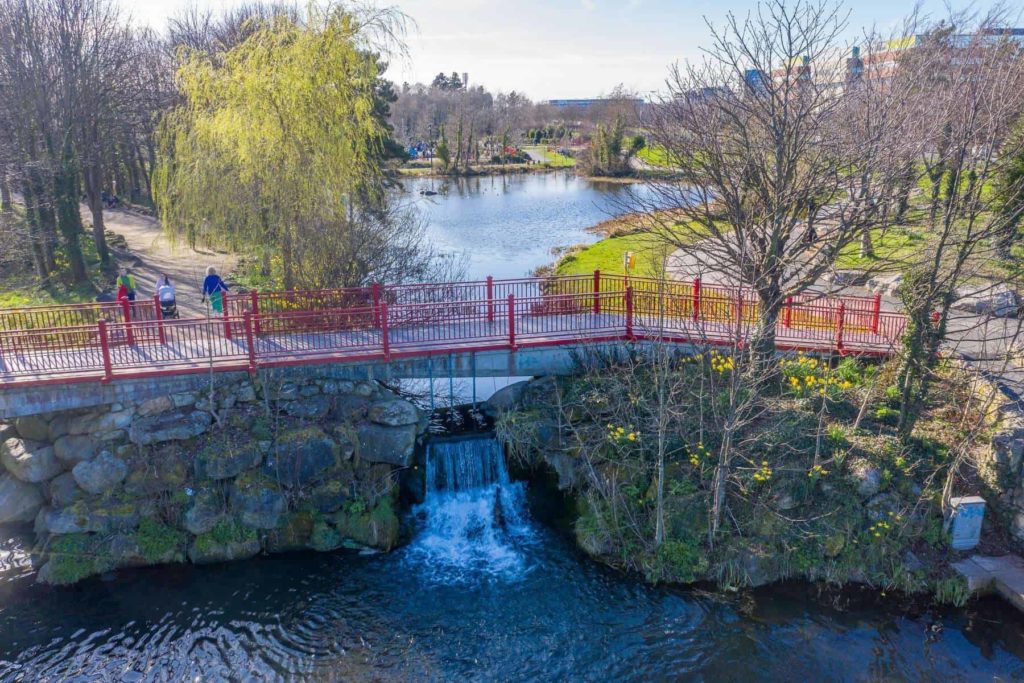 Places of Interest:
Stillorgan Obelisk
The Priory
Pearse Museum
Dodder Greenway
Cycling alongside rivers and streams, this route passes by seven waterways, providing a serene experience.
Along the way, you'll encounter historical gems like the Stillorgan Obelisk, the Pearse Museum in St. Enda's Park, and the ruins of the Priory, once home to Sarah Curran, known for her tragic love affair with patriot Robert Emmet.
The Dodder Greenway is under construction, with a current 2.4km dedicated cycle track, expected to expand to 5km soon. It's an ideal choice for both leisure cyclists and commuters.
What are the tips recommended for cycling in Dublin?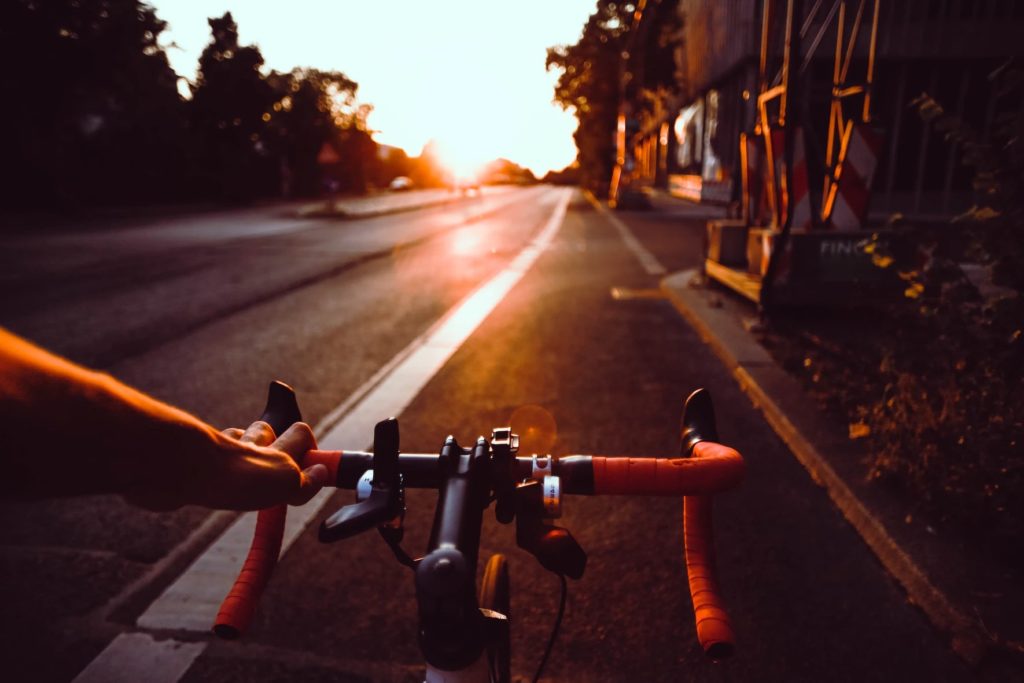 Utilize Dublinbikes
Dublin's public bicycle hire system is globally recognized for its efficiency. Start your cycling journey by using this system.
Prices are reasonable and include options like 1-day subscriptions for €3.50, 3-day subscriptions for €5, and an annual subscription for €35. The first half-hour is free, with a reasonable fee structure after that.
Secure Your Bike
While Dublin is generally safe, bike theft rates can be relatively high. Always use a sturdy lock, and choose secure locations to park your bike.
Consider using a thick chain with external protection and, if possible, multiple locks. In crowded areas, blend your bike with others to deter theft.
Gear Up Safely
Safety should be a priority when cycling in Dublin. While helmets and reflective vests are not mandatory, they are highly recommended for your protection.
Ensure your bike is equipped with proper lighting, a horn, and brakes as they are mandatory for safe cycling.
Signal Your Intentions
In Dublin, it's a good practice to use hand signals to indicate your turns. This not only alerts motorists but also helps fellow cyclists understand your intentions, reducing the risk of accidents.
Remember to keep to the left side of the road, as traffic in Ireland follows the English standard.
Obey Traffic Rules
As a cyclist, it's crucial to adhere to traffic rules. Avoid cycling on sidewalks, highways, or against the flow of traffic.
Respect traffic lights and never cycle under the influence of alcohol. Make sure to stop your bike when students are crossing the street, maintaining a courteous and safety-first approach.