The 5 Best Wedding Venues in Ireland
Who doesn't want a perfect fairytale wedding? We spend months looking for the perfect dress, the perfect cake, the perfect flowers, and of course, the perfect place.
Fortunately, with a wealth of dreamlike locations, the Emerald Isle is a perfect place to get hitched. To help you fulfill your dream wedding, we put together a list of the top wedding venues in Ireland.
Wedding Venue Costs

Weddings are often extravagant affairs that families spend years saving and preparing for. We should note that most venues require an official inquiry to discuss rates.
These rates also usually only include the wedding package, which usually consists of the ceremony, reception, and dinner. Other activities and accommodations will be subject to extra fees.
We did our best to look for the price ranges you can expect from these venues.
| SPA | 60-minute Massage |
| --- | --- |
| Virginia Park Lodge | From €105 per guest |
| Ashford Castle | From $86,333 in the low-season |
| Gloster House | Available upon request |
| Ballymagarvey | From €89 per guest |
| Carton House | From €110 per guest |
Top Wedding Venues
Everyone wants their wedding to be perfect and that includes the location. We evaluated these venues according to the following criteria:
1. Virginia Park Lodge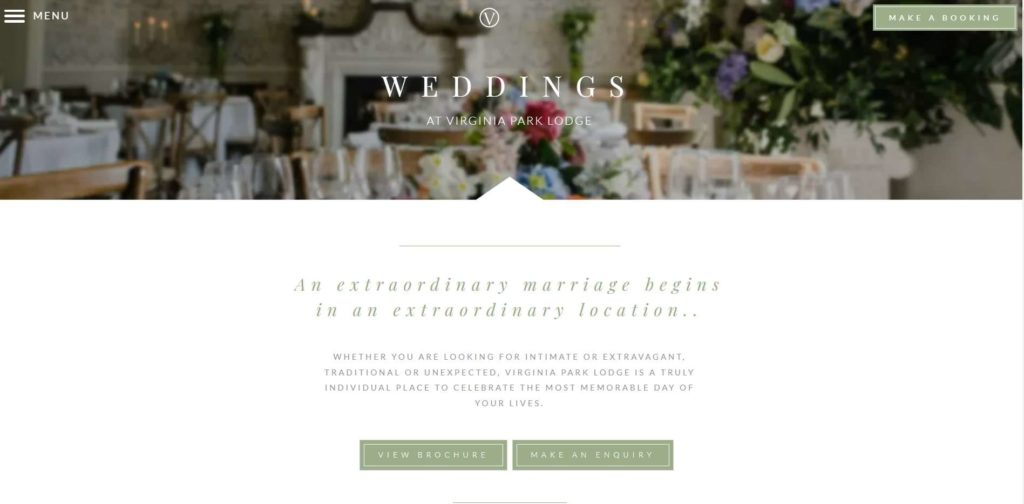 | | |
| --- | --- |
| Location | ★★★★★ (5/5) |
| Facilities | ★★★★☆ (4/5) |
| Service | ★★★★★ (5/5) |
| Value | ★★★★☆ (4/5) |
Virginia Park Lodge is a hunting estate built in the 18th century surrounded by a hundred acres of gorgeous grounds. With verdant forestry, a deer park, and a view of Loch Ramour, we can't deny the beauty of the place.
You'll have your pick of a large extravagant celebration or a small intimate gathering. The pavilion with lake views can hold up to 300 guests, while their banqueting hall can hold up to 90.
Up to 125 guests can also stay overnight in their luxurious country house accommodations. That's a nice option for convenience.
While they are licensed to hold civil weddings, more traditional couples have plenty of beautiful churches nearby to choose from.
One of our favorite things about Virginia Park Lodge is the exquisite organic and farm-fresh dining experience they offer from their very own Gooseberry Gardens and Farm. They support local farmers, producers, and suppliers.
The "wild and flavorful" dishes are exclusively created for your wedding menu by Michelin-starred chef Richard Corrigan, who is the current owner of the estate.
All their wedding packages include a welcome reception with seasonal flowers, a wedding banquet with a four-course dinner menu, drinks reception, and complimentary use of the bridal suite for your special night.
One thing we have to note about the place is its country home amenities. This means a number of things, such as the walk on stone pathways from some of the huts may not be ideal for ladies in high-heels.
But the lighting in certain rooms may also not be lacking for wedding preparations, such as hair and makeup. Some guests have also complained about a lack of toiletries or cutlery in their rooms, and a lack of heated water at certain times of the day.
A stay at VIrginia Park Lodge isn't cheap either, and for those prices, we would prefer a more comfortable experience. Still, the overall experience is solid, so they still count among the top options.
Stunning lake views
Farm-fresh menu from Michelin starred chef
Plenty of nearby activities
Customer Reviews
The staff had v little notice about me needing a vegan meal (I tried ringing once and forgot to ring back to give them some warning) but despite this It was delicious and when the non vegan buffet came out later that night the chef prepared a delicious coconut curry with chickpeas and sweet potato. It was so good! So much appreciated -G Laverty
I dont normally do this but just back from 2 days stay for a wedding. This place is fantastic and staff were wonderful and made us all feel as if we were at home. Food was superb and if I could give it a 6 then I would.
Thank you all. Still on a massive high and all comments back from all guests are very complimentary. Special thanks to Ciaron, Ray and Jean for their attention to detail and ensuring everyone was so well looked after. -145garye
2. Ashford Castle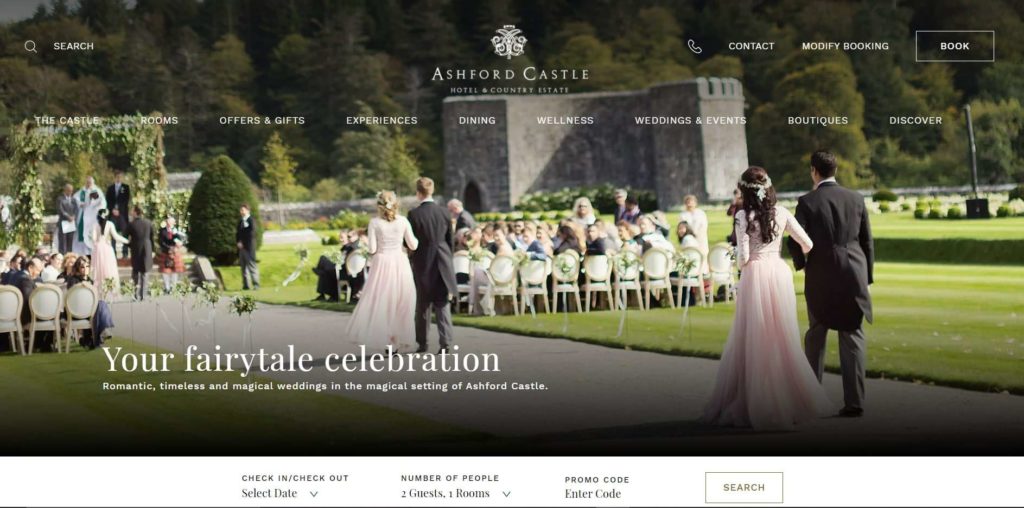 | | |
| --- | --- |
| Location | ★★★★★ (5/5) |
| Facilities | ★★★★★ (5/5) |
| Service | ★★★★☆ (4/5) |
| Value | ★★★☆☆ (3/5) |
Who hasn't dreamed of being whisked away to a castle for happily ever after? Ashford Castle has been consistently voted most romantic hotel in Ireland for providing that experience.
You can book the entire estate for yourselves–all 83 bedrooms and suites that can hold up to 160 guests. The bridal suite has views of Lough Corrib and two bathrooms, and can be opened up to two adjacent rooms for a three-bedroom wing.
You and your newlywed spouse can also choose to stay in the Hideaway Cottage, which is on the lake edge for a more intimate and quiet wedding night.
There's so much to do around the castle, including falconry, golf, river cruising, fishing, swimming, equestrian, and spa treatments. There's also beautiful gardens to walk through, with seasonal flowers.
However, we should note that all estate activities (excluding walking around the gardens, thank God) require extra payment.
The staff at Ashford Castle abide by the rule "no request is too large, no detail too small." We think this really solidifies the castle experience as the moment you step in you are treated like royalty.
There are also different restaurants and bars to try in the estate, including a Dungeon restaurant, and their popular George V dining hall.
Booking Ashford Castle is definitely very expensive, though, starting at $86,33 for the low season (January to March). We suppose that's par for the course when it comes to booking an actual castle for yourselves, but there are definitely cheaper alternatives with their share of charm.
Anyway, the real problem is in finding a date for availability and privacy. Ashford is incredibly popular, so most of the time it's full of other people and it's difficult to get a slot for the pool or spa, or other activities.
Gorgeous lakefront
Plenty of activities
A number of restaurants and bars to choose from
Difficult to book
Extra fees for estate activities
Expensive
Customer Reviews
This was our 4th visit to Ashford and it didn't disappoint! Every time we consider going elsewhere we think why bother when you continue to get perfection at Ashford! From the minute you enter the gates until you leave, you're treated like royalty. The rooms are spectacular, the surroundings serene, the food is to die for, the staff & service unequalled. Nothing comes close to this place!
I love that every room is different and every visit has been in different room. Our room was exquisite, from the fabric wall coverings, the Murano chandelier, the silk bed covers-just gorgeous. During our stay I indulged in the spa which was just fabulous. We enjoyed all our meals from the dinners in the dungeon to the breakfast & dinners in the George V. It was great seeing the same staff again! Ashford is a class act & we look forward to our next visit. -sillygit
We had a lovely stay. Michael in the bar was super and machale arranged a movie for us , lovely lady .
Our restaurant experience was amazing, Ciara the restaurant supervisor is first class at her job as was Josef who knew his wines. Good and wine was fabulous!
We had nice spa treatment just check your products if you purchase any before leaving the spa to ensure you have the right ones.
Would definitely return, the staff in your bar and restaurant definitely create the experience. -Girls trip
3. Gloster House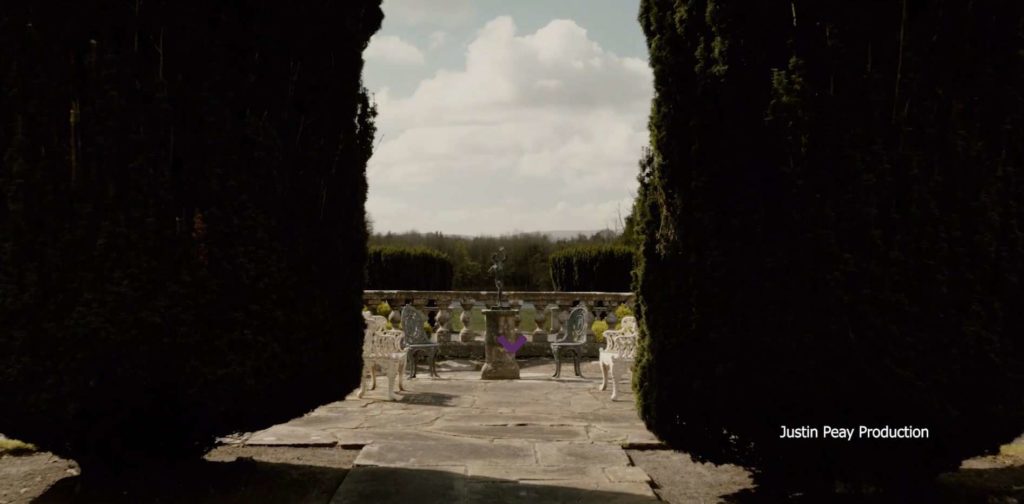 | | |
| --- | --- |
| Location | ★★★★★ (5/5) |
| Facilities | ★★★☆☆ (3/5) |
| Service | ★★★★☆ (4/5) |
| Value | ★★★★☆ (4/5) |
Gloster House is a private venue in a gorgeous 300-year old estate surrounded by gardens and forestry.
You'll have the entire place to plan for your ceremony, reception, dinner, party, and whatever else you need. The reception rooms present a range of sizes, including a double-height entrance hall, a large white chapel, and a garden room for up to 180 guests.
The team at Gloster House has a small list of recommended caterers that they work with for you after you have made the important decisions. We love that your degree of involvement is up to you here.
There are no corkage fees for drinks during the drinks reception and dinner, by the way, so you have the option of bringing your own and having your caterer serve it at the event.
It's also worth noting that their on-site accommodation is only for up to 24 guests, which may give you difficulty if you want a large guestlist.
The bridal party who will stay in the house, however, will have a cooked breakfast waiting for them in the morning in the formal dining room. Not a bad touch.
Gloster House only holds one wedding per week, incidentally. We like that, as it means there is no rush to leave the grounds if you want to extend your stay to a second-day event.
On the whole, the place is undoubtedly gorgeous, with elaborate plasterwork in every room, a large gallery, and gardens and courtyards blooming around it.
Our main concern is that the venue is simply that–a venue for your event. You will have to book a separate caterer and have your guests book other hotels in the towns nearby.
This may be an added hassle for certain bridal parties to plan around when other venues include food and drink as well as a large amount of rooms.
Lake and garden views
No drink corkage fees
Second-day event available
Separate caterer
Can only house up to 24 guests
Customer Reviews
We had visited four different venues prior to Gloster House and whilst each was a serious contender, we hadn't had a unanimous 'yes' from both of us and our parents. We liked the idea of being able to hire out a house in the countryside and having it to ourselves. We adored the architecture of Gloster house. We felt the house had so much potential. It had so many different spaces we could use from an onsite chapel, a beautiful courtyard and a glorious hallway for the drinks reception – it was a unanimous 'yes' from all parties involved as we walked around! We adored the white chapel. It had such a wow factor when we first walked in. We could just picture the flowers and the choir. We also loved the idea that our guests weren't required to travel from the Church to a venue. It was and is a one-stop venue. -Doireann and Vincent
We had our wedding at Gloster House in July this year and it was absolutely the best decision we could have made! The venue is spectacular – so many of our guests told us it was the best wedding venue they'd ever seen. Tom and Mary are the perfect hosts, combining a personal approach with the utmost professionalism. They unfailingly responded to our many many questions in the lead up to the day and were on hand to make sure everything came together seamlessly on the day. We booked Gloster House for three nights and held a bbq in the gardens the day after. We felt so at home the whole time and there were a few tears when we left. An unforgettable and exceptional place to celebrate such an important milestone with friends and family. -Gwen and Peter
4. Ballymagarvey Village
| | |
| --- | --- |
| Location | ★★★★★ (5/5) |
| Facilities | ★★★☆☆ (3/5) |
| Service | ★★★★☆ (4/5) |
| Value | ★★★★☆ (4/5) |
Ballymagarvey Village has a rich 800-year old history, and its scenery as a restored village really gives the place a homey, familiar feeling we love.
Ceremonies are held in the Mill Loft, a beautifully restored corn and flax mill for up to 170 guests. It's by a gorgeous waterfall, which we think just perfects the romantic atmosphere.
The Manor House is perfect for the reception, with a stunning conservatory leading to a walled garden. The living rooms and kitchen also offer what the staff at Ballymagarvey call a "warm country ambience".
There's a head chef and team dedicated to creating a seasonal menu locally sourced from Boyne Valley for your approval. A good thing, as this gets rid of any difficulty looking for a caterer.
Aside from the luxurious nine bedrooms for up to 18 guests in the Manor House itself, the tranquil Courtyard Cottage has 20 en-suite bedrooms.
If that isn't enough, you can also book the Schoolhouse Accommodation and Secret Garden, which have five rooms each.
However, some of these rooms leave a lot to be desired. Guests have complained about flooding, faulty doors, no TVs, thin walls, and heating.
Frankly, for €190 for two people, we'd rather not deal with a flooded room!
As the place is also quite rustic, it may be difficult to find an outlet to charge. WiFi at the location is also not great, which is difficult in this technologically forward age,
Ballymagarvey also offers two packages for extended stays, including a rehearsal dinner package and an informal barbecue package for the next day.
Pricing is dependent on the season, day of the week, and package, but it starts at €89 per guest for a weekday wedding with a welcome reception, Manor House reception, wedding banquet, and evening reception.
More affordable per guest than the others on this list
Gorgeous waterfall nearby
Bad WiFi and no TVs in rooms
Flooding, thin walls, and faulty doors in some rooms
Customer Reviews
"What can I say that I haven't already said about this amazing venue…Its been one of my top three wedding photography venues for many years now and it never lets me down, I love shooting wedding here and the staff are top shelf service. The grounds are perfect for weddings and plenty of area's for making pictures and moments in time captured forever." -FINNimaje Wedding Photography
I attended a wedding here earlier this week…beautiful venue for a wedding but the accommodation left a lot to be desired. I was in the twin room in the school house…had difficulty with the front door, the room was boiling upon arrival and there was actually no window in the room for ventilation. No TV, no soundproofing, minimum products in the bathroom (hardly enough for one person yet alone two) and the cheapest loo roll I have ever seen in a hotel claiming to be luxurious! The staff were all great but the cost of €190 for the night was just too expensive for the very basic facilities provided. -Trudy Halpenny
5. Carton House
| | |
| --- | --- |
| Location | ★★★★★ (5/5) |
| Facilities | ★★★★☆ (4/5) |
| Service | ★★★☆☆ (3/5) |
| Value | ★★★★☆ (4/5) |
The Carton House in Limerick is a beautiful 5-star Fairmont-managed hotel surrounded by gorgeous estate grounds. It's pretty often used for weddings, actually.
That's part of why they have a dedicated Wedding Specialist to assist with florals, menus, table settings, centerpieces, and any creative help you may need.
We love this offer, as we know how stressful it is for the bridal party to plan a perfect wedding. Having a complimentary expert on-site can be a huge relief to the couple.
They have two ballrooms of different sizes for the event, the Carton Suite and the FitzGerald Suite. The latter can hold up to 100 guests, which we think a good size.
You can also choose the garden terrace or the FitzGerald Suite's outdoor deck for your private drink reception, if you want more options.
Anyway, the year-round package costs €125 per guests on off-dates and €130 on Fridays and Saturdays.
It includes a four-course meal, a half-bottle of wine per guest, evening food, table centerpieces, complimentary use of the Presidential Suite, and two complimentary upgrades to Deluxe State Rooms for the wedding party.
They also have a winter package available at €115 per guest Friday and Saturday or €110 per guest Sunday through Thursday.
Both these packages come with complimentary champagne for the couple upon arrival, reduced accommodation rates for up to 20 bedrooms for your guests, personalized menus and table plans, and discounts for the spa and golf courses.
They're decent packages, overall, especially compared to the competition. We should note, however, that although most of their clients deemed them excellent, we found some issues too.
The main complaint we found in our surveys was the service, particularly the bar service. Some guests have complained about rude service or bags gone missing, which are things no one wants to deal with on their wedding night!
Complimentary wedding specialist
Room discounts for bridal party
Golf and spa discounts for bridal party
Customer Reviews
"Perfect room, perfect restaurants and the staff was amazing.
Very welcoming and very careful staff with us, they have always listened to us.
The bedding is incredibly comfortable
The location and environnement around hotel was really beautiful
Thank You" -Emilien Marcelot
"Stayed here for a work meeting and it was amazing from being to end. Staff so friendly and helpful and the hotel is just stunning
Special mention to Martin, Thomas (both of you !!), Richard, Caroline, Niamh and Sarah- I'm sure I've missed someone but everyone was brilliant
Can't wait until next time!" -NiamhJDublin
FAQs about Wedding Venues
---
Need to find the perfect bouquet for your spouse-to-be? Check out our lists for the best flower delivery shops in Limerick, Galway, Cork, and Dublin.