The 8 Best Photographers in Cork
Photographers not only capture the best moments in life but also help us preserve these memories by turning them into beautifully photographed moments that we can relive time and time again.
Whether it be for a birthday bash or a corporate event, you'll need a skilled photographer to document the occasion perfectly.
Let us help you narrow down your choices by sharing our recommendations of the best photographers in Cork you should be booking ASAP.
How much do photographers in Cork charge?
Because it's such a personalized service, photographers take a number of factors into account when giving a price. These include their skillset, equipment required, time and date, location, type and size of event, and so on.
Aside from having pre-made packages, photographers also often give personalized quotes that are tailored to the service requirements.
Nevertheless, we prepared some benchmark rates of how much popular photography-related services cost in Cork:
| Photography Service | Estimated Rates |
| --- | --- |
| Wedding | €1,800 - €2,500 |
| Portrait | €100 - €500 |
| Commercial | Further consultation is needed |
| Newborn | €100 - €500 |
The Best Photographers in Cork
To be able to present you with the best photographers in the city, we had to weed out those that didn't reach our standards. Here are the criteria that we used to select our top entries:
1. Save the Journey Photography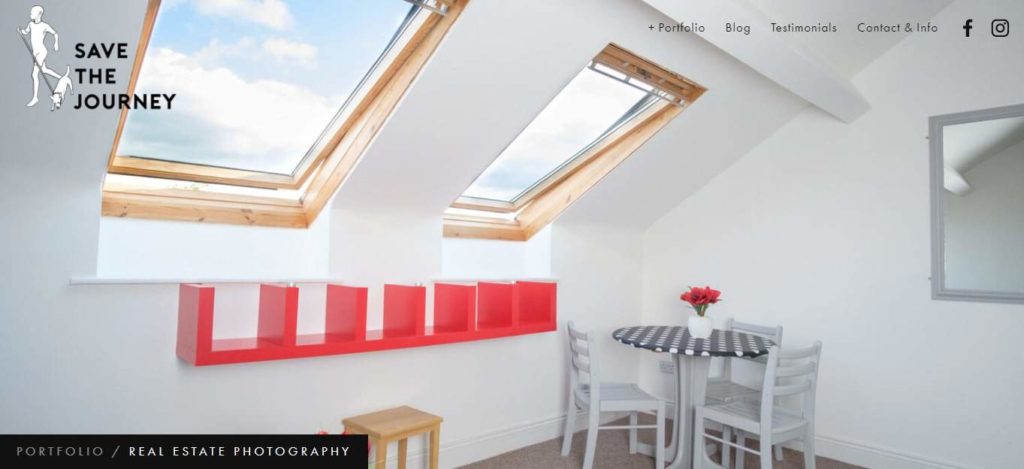 Test
Info
SERVICES

• Family celebrations

• Weddings

• Event

• Commercial

• Sports

• Real estate

WEBSITE
https://www.savethejourney.com/
ADDRESS
42 Evergreen Rd, Turners Cross, Cork
CONTACT DETAILS
+353 85 142 2426
OPERATING HOURS
Daily: 9AM-5PM
| | |
| --- | --- |
| CRITERIA | RATING |
| Services | ★★★★★ (5/5) |
| Quality | ★★★★★ (5/5) |
| Portfolio | ★★★★☆ (4/5) |
| Special Services | ★★★☆☆ (3/5) |
Save the Journey Photography was established by freelance photographer Jannik Pietzsch. Though based in Cork City, Jannik is open to traveling within Cork County, too.
From the get-go, we were impressed at the variety of photography services that he offers. He does photography for family celebrations, weddings, and even sports.
Considering that he works solo, this may be a cause for concern for some who'd want more photographers around to take photos from all angles throughout the event.
Even so, past clients that we've spoken to were happy with Jannik's work. They even commended him for being able to take shots of children and pets with ease.
Speaking of children, Jannik now offers newborn baby photography. He photographs newborns alone or with their parents and loved ones.
For family photography, Jannik usually spends one to two hours on-site, but this still varies on the size of the event and the number of guests. Nevertheless, he takes this opportunity to shoot as many candid and traditional photos as he can.
When it comes to wedding photography, prices begin at €325 for an elopement shoot. His most premium wedding package will set you back €1,195, but to be fair, this is a full package.
However, keep in mind that he charges a travel fee of €50–€100 for destinations outside of Cork.
Did we mention that aside from being his favorite, event photography is his specialty? His coverage includes concerts, circus performances, exhibitions, and performance art.
Aside from that, he also covers sports from motorsports to MMA fighting. So, if you're looking for someone that can keep up during fast-paced events, Jannik may be a good option.
But if you want to take things slow, Jannik's also known for his real-estate photography. We appreciate his quick turnover time of only a day, which is great if you're an agent in a rush.
On top of that, he also does corporate headshots and product photography. We like that he can even drop by your office or business, too.
For each service, he adds complementary retouching and editing per shoot. Afterward, you'll be able to collect your photos, which are available in three different sizes.
To add to his list of pros, we like how easy it is to reach Jannik through his various social media platforms, contact number, email, and inquiry form on his website.
Wide variety of services
Does free retouching and editing
Photos are available in three sizes
Works solo
Has a travel fee for outside Cork
Customer Reviews
Photos were beautiful
"Jannik did a 70th birthday shoot for my mother in law and her grandchildren and whole family. The photos were beautiful and he successfully managed to wrangle 8 small children into both portraits and more natural shots which was amazing. I would highly recommend Jannik he is professional, easy to deal with and most importantly has a great eye for really beautiful images." – Sharon Barry, Google Reviews
Delighted with the results
"We asked Jannik from Save the Journey to take some natural/candid family photos and we were delighted with the results. The whole experience was so relaxed and enjoyable, yet the service so professional. He was great with the kids, even the family dog and we'd highly recommend him." – Etain Galvin, Google Reviews
2. David Clynch Photography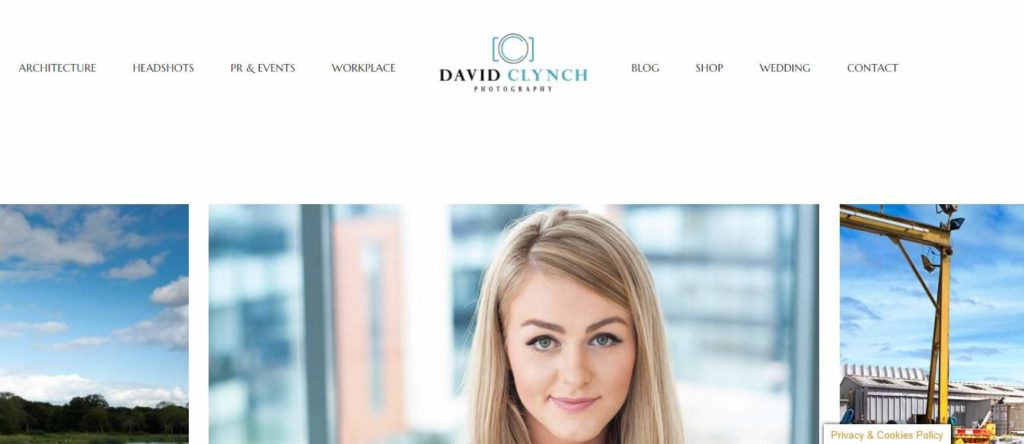 Test
Info
SERVICES

• Architecture

• Headshots

• PR

• Events

• Workplace

• Wedding

WEBSITE
https://davidclynchphotography.com/
ADDRESS
Shamrock Lawn House, Douglas, Cork
CONTACT DETAILS
+353 87 988 7557
OPERATING HOURS
Monday-Saturday: 9AM-9PM
| | |
| --- | --- |
| CRITERIA | RATING |
| Services | ★★★★☆ (4/5) |
| Quality | ★★★★☆ (4/5) |
| Portfolio | ★★★★☆ (4/5) |
| Special Services | ★★★★☆ (4/5) |
As a professional award-winning photographer, David has over 14 years of experience up his sleeve. He's known for specializing in contemporary commercial photography in particular.
Hence, if you're looking for an experienced photographer to help your business stand out to clients, David's worth checking out.
Diving into his commercial photography services, he does workplace and lifestyle, press, PR, architecture and interiors, corporate events, conferences, and corporate headshots.
His clientele includes businesses and organizations from different industries. These include restaurants, production factories, hotels, and so on.
His images can be used online such as on corporate websites or social media pages along with print media such as newspapers, brochures, and the like.
If you want the license to these images, you'll have to buy them from David. Since the amount varies per client, it'll have to be discussed further privately.
For his architecture photography, David is also known to use his drone to get the perfect shot. We definitely think that'll come in handy when shooting high-rise buildings and getting footage that an ordinary camera can't.
Speaking of footage, David also offers videography services. We think this is quite convenient if you're looking for a mix of both photos and videos.
Since he often works solo, this may make clients a bit wary. Nevertheless, clients have revealed that David can capture nearly everything even when he's doing it all himself.
Though based in Cork, David also does bookings in Tipperary, Waterford, Dublin, and Kilkenny. Hence, we think location accessibility won't be that big of a deal.
Does videography
Offers drone services
Licences to photos can be bought
Multi-award-winning
Customer Reviews
David was a dream to deal with
"From start to finish David was a dream to deal with. Very relaxed and easygoing which set the tone for our day. We got excellent photos back in a very quick time We were delighted with his service." – John McCarthy, Google Reviews
He captured the fun and enjoyment
"We would highly recommend David as an event photographer. We hired David to capture family portraits of our entire family at my parent's 50th wedding anniversary at Castlemartyr Resort. He captured the fun and enjoyment of the evening as well as the all important family portraits." – Outcast Cal, Google Reviews
3. Claire O'Rorke Photography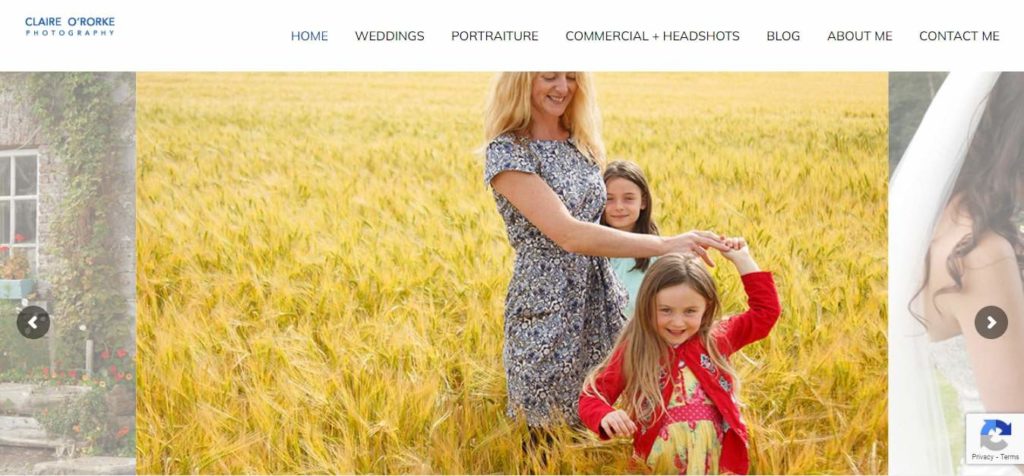 Test
Info
SERVICES

• Wedding

• Portrait

• Commercial

• Headshots

WEBSITE
https://corphotography.com/
ADDRESS
16 N Mall, Sunday's Well, Cork
CONTACT DETAILS
+353 86 864 2285
OPERATING HOURS
Monday-Saturday: 9AM-5PM
| | |
| --- | --- |
| CRITERIA | RATING |
| Services | ★★★★☆ (4/5) |
| Quality | ★★★★☆ (4/5) |
| Portfolio | ★★★★☆ (4/5) |
| Special Services | ★★★☆☆ (3/5) |
The reason Claire O'Rorke Photography stood out for us was that they have their own studio. You can head down over to their city center photography studio to have your photos taken if you don't have an area available.
Even so, Claire welcomes having shoots done in your home or anywhere else. But before anything else, you'll begin with a comprehensive consultation on what kind of style will best fit the occasion.
Speaking of occasions, Claire does wedding, commercial, and portrait photography. Among all her services, she's a crowd favorite for her wedding photography.
Her wedding package is a day's photography and an album starting from €1,800. Photographs will be taken from the moment the bride and groom begin preparing until the celebration itself.
But if there's no special occasion, her portrait service may be a good choice. Here, you can be solo, in pairs, or in groups as you're photographed.
Did we mention that Claire is a formally trained commercial photographer? For this service, she can shoot establishments, people, and food.
Past clients that we've spoken to have praised her for coming prepared with ideas for the shoot. We appreciate her proactive approach to ensuring that there are creative options for her clients to choose from.
Speaking of, her clientele includes restaurants, musicians, cooks, businesses, and even real estate. They often use her work for publicity purposes such as posting these pictures online or printing.
Hence, if you're looking for a photographer with experience in creating professional portfolios, Claire may be a good option.
Like many freelance photographers, Claire works solo. Though this may be a cause for concern for some people, past clients have applauded Claire's ability to capture nearly every moment of their event.
Formally trained commercial photographer
Has own studio
Offers pre-shoot consultation
Customer Reviews
Would definitely book her again
"I found Claire's website and I was impressed with her portfolio so we booked her for some commercial photos. She was on time, prepared and full of great suggestions. She is a really nice woman and I would definitely book her again. We were very happy with the photos which were delivered by close of business on the same day of the shoot." – Ann-Marie Fleming, Google Reviews
Second to none
"Claire's photographs and attention to detail are second to none. She recently provided us with photos for use in business publications. She listened to us when we told her what we needed and she exceeded expectations in what she delivered. Thanks Claire!" – Taylor Solicitors, Google Review
4. Denis Hyland Photography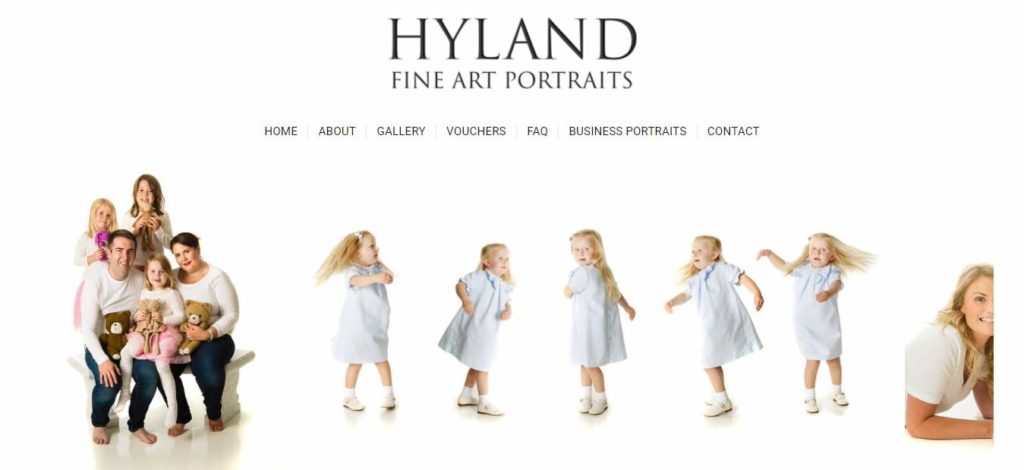 | Test | Info |
| --- | --- |
| SERVICES | Wedding Portrait Commercial Headshots |
| WEBSITE | https://www.denishyland.com/ |
| ADDRESS | Carrigtwohill, Midleton Road, Co. Cork |
| CONTACT DETAILS | +353 21 488 3204 |
| OPERATING HOURS | Tuesday-Saturday: 10AM-5PM |
| | |
| --- | --- |
| CRITERIA | RATING |
| Services | ★★★★☆ (4/5) |
| Quality | ★★★★☆ (4/5) |
| Portfolio | ★★★★☆ (4/5) |
| Special Services | ★★★☆☆ (3/5) |
As a professional portrait photographer for nearly 30 years, Denis Hyland established his own photography studio named after himself.
Along with other awards, we also think it's worth highlighting that Denis won the Kodak Gold Award for excellence in portrait photography.
Though portraits are the only service he offers, we think that his expertise and experience definitely make up for that.
Sessions take one hour from start to finish. Denis will be behind the camera while his wife, Liz, will be your design consultant.
Since they want your portraits to be as personal as possible, they welcome you to wear whatever you wish to the shoot. You can even bring multiple sets of clothes if you wish.
We also think it's worth mentioning that they're a pet-friendly studio. You're free to bring your house-trained furry friends along for the photoshoot so long as they're fed and have done their business before entering the studio.
Since they're an old-school studio, they don't put these images into disks or onto a Cloud. Hence, this may not be ideal for customers who want a digital copy of their portraits.
Instead, all their portraits are printed to be displayed on walls, desks, and so on. These come either fully framed with glass and mounts or in contemporary frameless products.
We like that all extra photographs are sold separately. Hence, you can choose a specific number of portraits that you want to have printed and how.
Their business portraits, on the other hand, do come digitally. They're sent as 72-dpi watermarked proof files over email.
After going over all the photos taken, you can select your favorites, which Denis will then edit accordingly. Then, they'll all be set for printing, to use on social media, or even as a billboard advert.
When it comes to rights, your portraits are supplied to you on an all-rights basis. You can use them however you please since you've rightfully purchased them.
Multi-award-winning
Has own studio
Pet-friendly
Sold on an all-rights basis
Only does portraits
No digital copy
Customer Reviews
Absolutely phenomenal
"Denis and Liz were so kind and caring, they really made us feel at ease even though we were there in pandemic times with a big family and no idea what we were doing! 😅 The photos came out great, and Denis really managed to capture our essence. We made a big investment in multiple products and waited a long time to see the finished results, but they did not disappoint! Everything looks absolutely phenomenal and we are so happy to have shared this truly unique photoshoot with Denis and Liz! Thank you for all your hard work." – Klaudia Kovacs, Google Reviews
Very talented photographer
"Great experience at Denis Hoyland photography. He takes his time getting to know the child before he starts so that the child warms to him. I found himself and his Wife fantastic to deal with. Very friendly people and a very talented photographer. I would definitely recommend them to people." – Niall Sheehan, Google Reviews
5. SARAH KATE PHOTOGRAPHY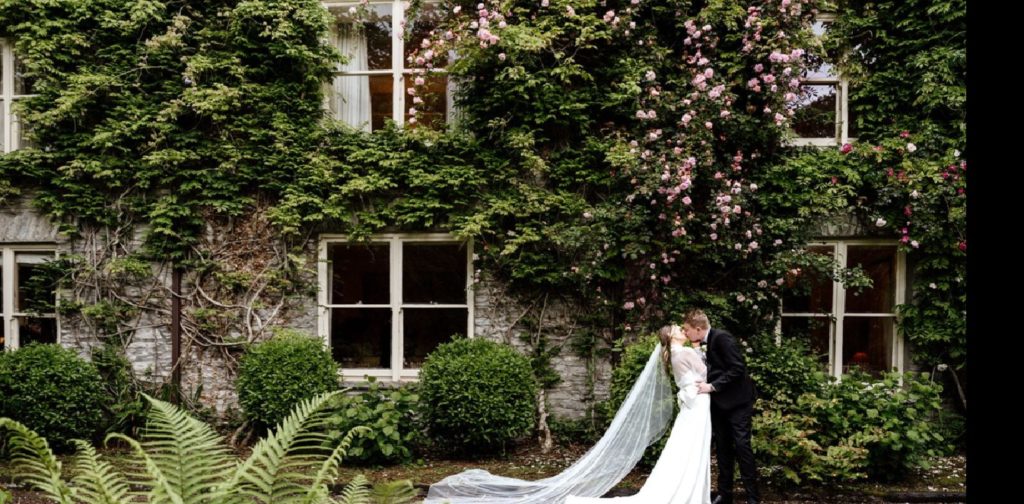 Test
Info
SERVICES
Wedding Photography
WEBSITE
https://www.jodphotography.ie/
ADDRESS
Macroom Co. Cork
CONTACT DETAILS
086 322 6492

Whatsapp: 353-086-322-6492

OPERATING HOURS
Contact for more information
| | |
| --- | --- |
| CRITERIA | RATING |
| Services | ★★★★★ (5/5) |
| Quality | ★★★★★ (5/5) |
| Portfolio | ★★★★★ (5/5) |
| Special Services | ★★★☆☆ (3/5) |
Sarah Kate is not your usual photographer. She may look like an extrovert, but in reality she is an introvert that loves meeting ang making memories with people.
Once you open their website, a few scrolls down and you will see that she is already fully booked for the year. So if have an event in mind and want a great photographer, you must book earlier than usual in order for her to add you to her schedule.
Unlike other photographers, she has an extensive range of expertise. She does not only do wedding and couple photography, but family and newborn as well.
Another reason why we like her is because as much as possible, she captures those raw moments that once you look back into it will just make you laugh even if you are alone.
We prefer her over others because she can take a photo of you if you live anywhere in Ireland and that there will only be additional costs when you want to travel an hour radius of Macroom.
The only catch here is that no base rates are available on their website and that they only way of contacting her is through their website since her phone number is not posted on their website.
Extensive range of services
Usually deliver around 800 final images
Can get wedding gallery within 12-16 weeks
It is hard to book as she is always fully booked
Customer Reviews
"SARAH KATE WAS SO AMAZING TO WORK WITH. WE DID A FAMILY SHOOT WITH OUR 1 YEAR OLD AND WE'D SUCH A BLAST. SARAH KATE SO CHATTY WE FELT COMFORTABLE FROM THE GET GO! THE IMAGES AFTER THEN, I WAS LITERALLY BAWLING THEY WERE SO AMAZING IT WAS SO HARD TO PICK THE ONES WE WANTED TO PROGRESS WITH! SERIOUSLY, COULDN'T RECOMMEND HER ENOUGH!" – Ann Martin
"I recently booked Sarah Kate to photograph our newborn on a complete whim as I loved her website. Normally I would have gone for recommendations from friends but I trusted my gut and I am not sorry! "Sarah Kate was a breath of fresh air. She was so bubbly and easy going to work with- something we really appreciated after a sleepless night! If I could give 10 stars I would!" – Christine
6. OC Photography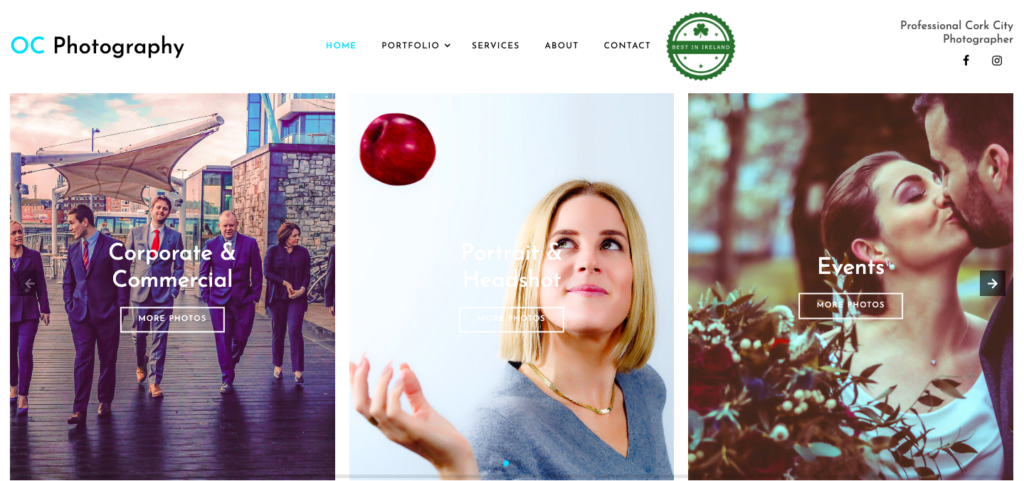 Test
Info
SERVICES
Wedding Photography
WEBSITE
https://www.jodphotography.ie/
ADDRESS
Macroom Co. Cork
CONTACT DETAILS
086 322 6492

Whatsapp: 353-086-322-6492

OPERATING HOURS
Contact for more information
| | |
| --- | --- |
| CRITERIA | RATING |
| Services | ★★★★★ (5/5) |
| Quality | ★★★★★ (5/5) |
| Portfolio | ★★★★★ (5/5) |
| Special Services | ★★★☆☆ (3/5) |
OC Photography was founded by Richie, a multi-awarding-winning filmmaker and photographer.
What we like about their photography style is how they take inspiration from the subjects themselves so each photo perfectly captures their personality and energy.
Another thing we like is the range of photography services they offer. No matter your photography need, we think they might be able to assist you with it.
They do corporate and commercial, event, portrait and headshot, weddings, e-commerce and real estate photography, as well as film production.
We like that they have the base prices available for their services to give potential clients an idea of the cost. However, since the nature of certain types of photography is varied, you'd have to contact them for a quote.
If you're wondering about their portfolio we're here to tell you that you won't be disappointed. We've seen their past works and they're absolutely amazing!
During the shoot itself, we think that you won't have to worry because they're very professional and offer great direction!
We find them to be a great choice overall. We highly recommend!
Extensive range of services
Base prices available for some services
Multi-award winning
Professional and offers great direction
No base prices available for some services
Customer Reviews
"I needed new head shots and contacted Richie at OC Photography. He responded promptly and suggested a number of locations for my shoot. He is professional and a super nice person, that made me feel completely relaxed. Great direction from Richie meant the end result was excellent professional head shots. If you are looking for a photographer, I highly recommend that you contact OC Photography."
"I was looking for professional headshots for me and my team and I would definitely recommend working with OC Photography ! Richie gave me all the info I needed and the photos are just stunning ! He came to our office and took photos with different workplace backgrounds and also suggested to take a few group pictures ! We had a great time as a team and headshots arrived pretty quickly so thanks again Richie !"
7. Sean Clarke Cork Wedding Photographer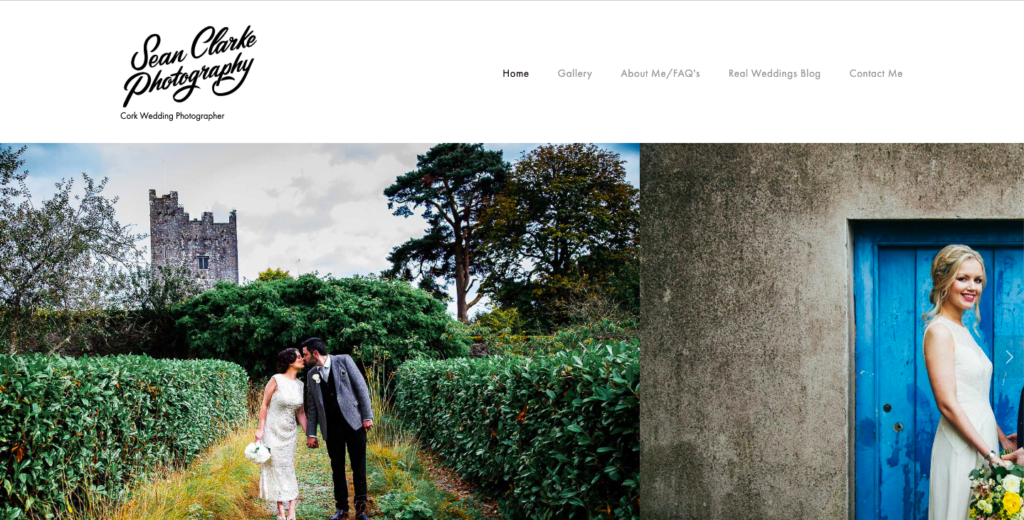 Test
Info
SERVICES
Wedding Photography
WEBSITE
https://www.jodphotography.ie/
ADDRESS
Macroom Co. Cork
CONTACT DETAILS
086 322 6492

Whatsapp: 353-086-322-6492

OPERATING HOURS
Contact for more information
| | |
| --- | --- |
| CRITERIA | RATING |
| Services | ★★★★★ (5/5) |
| Quality | ★★★★★ (5/5) |
| Portfolio | ★★★★★ (5/5) |
| Special Services | ★★★☆☆ (3/5) |
Sean Clarke is one of the best wedding photographers in Cork.
What we like about Sean's photography style is how he creates a nice balance of relaxed photojournalism mixed with fun family and group photography on the big day.
What's more is his style is more relaxed and non obtrusive so everyone can just enjoy during the event.
He tells a story through the photos he captures and that's another one of our favorite things about his work.
We've come across various photographers and we notice that many tend to focus on certain people, but not with Sean. He's careful to include everyone in the photos and we appreciate that.
He knows how to make everyone comfortable and he makes everything feel natural. He's got a great personality to top it all! It's such an amazing experience with him overall.
However, he specialises in weddings so if you need a photographer for other events or purposes, we suggest you look at the other photographers in this list.
Natural and relaxed style
Documentary style photos
Specialises in weddings
Customer Reviews
"Don't hesitate – book Sean before someone else does for your big occasion! I can't recommend him enough – lovely person to spend time with, easy going and communicative, I barely noticed him there on the day, but wow! The photos are everything you could dream of. Bright, colourful, emotionally charged, documentary style pictures for us to treasure forever. He managed to capture the personality of every guest and didn't miss a second of the day, from getting ready to first dance. Everything you could want and more in a photographer."
"We hired Sean to do our wedding in July. From the start Sean was an absolute pleasure to deal with. He did a lot of prep work on locations for our pictures and came up with great ideas. He was very open to any suggestions we had also. On the day of the wedding Sean was great to be around, he was never bossy (like I've seen with other wedding photographers) and still managed to get all the pictures we wanted and more. Several members of the bridal party commented on how well Sean fitted in without taking over proceedings. The pictures themselves were excellent with a great mix of 'set up' photos and casual background ones. I would have no hesitation in recommending Sean."
8. James O' Driscoll Photography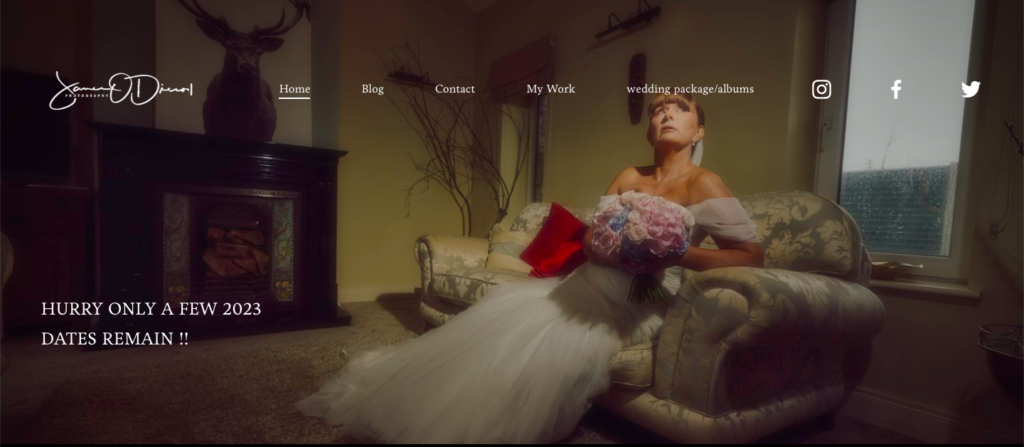 Test
Info
SERVICES
Wedding Photography
WEBSITE
https://www.jodphotography.ie/
ADDRESS
Macroom Co. Cork
CONTACT DETAILS
086 322 6492

Whatsapp: 353-086-322-6492

OPERATING HOURS
Contact for more information
| | |
| --- | --- |
| CRITERIA | RATING |
| Services | ★★★★★ (5/5) |
| Quality | ★★★★★ (5/5) |
| Portfolio | ★★★★★ (5/5) |
| Special Services | ★★★☆☆ (3/5) |
James O' Driscoll Photography was founded by James, a fully insured, registered and multi award winning photographer.
He specialises in wedding photography, but he also travels all over the country to take photographs and capture moments.
One thing he understands is that weddings are both a financial and emotional investment. So for him, choosing your photographer is also an investment in your overall experience.
With that belief, we like that he wants to make anyone's wedding day a personalized one from beginning to end.
We've taken a look at his past work and they're all exceptional! It's not only their photographs and videos that are beautiful, but the album they come in is as well!
They've got various wedding packages/albums available and the inclusions of each are available in their website.
What we think is nice about their packages is that all travel costs are included in their rates so there are no hidden additional fees.
Because of the quality and excellence of their work, they're in high demand and slots are running out for the coming year. So if you'd like to book them, you have to get in touch with them as soon as possible.
Fully insured, registered and multi award winning photographer
High quality photos and videos
Variety of packages available
Specialises in weddings
In high demand
Operating hours unavailable
FAQs about Photographers in Cork
---
That concludes our list of the best photographers in Cork! All that's left to do is to book the photographer that'll be capturing your smiles.
Speaking of smiles, when was the last time you paid your dentist a visit? We have some dental clinics we recommend you check out: