5 Must-Try Vegan Restaurants in Dublin
Ireland, with its iconic dishes mostly based on meat products, seems to be a difficult place to comb through for vegetarians, vegans, and plant-based eaters of all kinds.
Since many local recipes rely on milk products in their preparation, they often aren't easily transferable to folks who avoid these things.
But don't let that bit of fun fact stop you from visiting Dublin City and its thriving plant-based community. If you're looking for places that serve good plant-based food, don't pass up checking out the vegan fare served up in our list of the best vegan restaurants in town!
How much does vegan food go for on average?
Dublin has a lot of great vegan fare, but how much do you think it'll cost to eat out once you're there? Here's a helpful guide with the average prices that you can expect to pay if you were to dine.
| Dish | Average Price |
| --- | --- |
| Buddha Bowls | €11 |
| Burgers | €12.00 |
| Smoothies | €6 |
| Overnight Oatmeal | €4 |
| Salads | €11 |
Best Vegan Restaurants in Dublin
Equipment quality is one thing and shop reliability is another. Here are the criteria that helped us choose the shops on this list:
1. Cornucopia Wholefoods Restaurant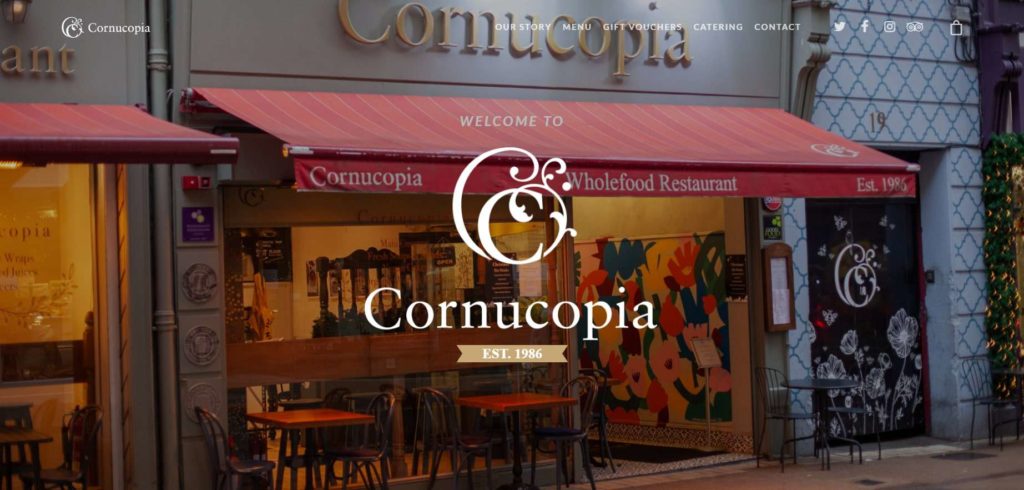 Test
Info
MENU
Breakfast Meals, Sausage Roll, Oats, Salads, Lasagna, Pies, Pasta, Enchilada, Curry, Dessert, Smoothies
WEBSITE
https://cornucopia.ie/
ADDRESS
19-20 Wicklow St, Dublin, D02 FK27, Ireland
CONTACT DETAILS
Phone: +353 1 677 7583 (Restaurant) | +353 1 6719449 (Office)

Email: [email protected] | [email protected]

OPERATING HOURS
Monday to Wednesday: 9:00 AM - 9:00 PM

Thursday to Saturday: 9:00 AM - 9:30 PM

Sunday: 10:00 AM - 9:00 PM
| | |
| --- | --- |
| Selection | ★★★★★ |
| Service | ★★★★☆ |
| Atmosphere | ★★★★☆ |
| Value for money | ★★★★☆ |
Cornucopia has been a vegetarian restaurant in the heart of Dublin since 1986, proving that vegetarian and vegan dishes are not new to the city.
All of the dishes are prepared fresh daily and there's something for everyone, from the most ardent meat-eater to the strictest vegan to the healthiest of health-food fans.
One of the best things to order at this spot is their globally-inspired menu, which changes each day of the week. There's definitely going to be something new on the menu every time, so don't feel bad about eating here whenever you visit Dublin.
What we love the most about them is how they make ingredients like fish, seafood, spices, and herbs the basis of each dish. These are then paired with local produce to put a unique twist on the traditional dishes.
However their prices compared to other vegan joints are relatively expensive – for example, sausage rolls come at about €6 a piece. Moreover, their wait times during peak hours might leave your soup cold because of how long it might take.
But if you're looking for a time-tested vegan restaurant that won't disappoint your tastebuds, then definitely try out Cornucopia on your next trip to Dublin!
Food is available for pickup and delivery
Regularly changing globally-inspired menu
Has been in the business for over 30 years
Expensive food
Long waiting time
Customer Reviews
Clean food = nice break from fried food!
"Absolutely delicious vegan food. This was our first food stop in the city and it didn't disappoint. We shared a main + two salad sides and it was the perfect amount for two. It was also clean eating, which was a nice break from all of the fried food we have been eating on vacation. We highly recommend!" – Jennifer Johnson
Bright, welcoming and cozy
"Word of mouth brought me to this wonderful spot for plant-based food. The thing that stood out to me was how bright, welcoming and cozy Cornucopia was in terms of how the place is presented plus how friendly the staff was. Though we only tried the vegan ice cream one time, every single one of the baked goods that were on display looked elegantly presented (we have an excuse to go back now and try the rest of their food!). It took us a while to get to Cornucopia on foot but the creamy, sweet, delicious vegan ice cream was worth it!" – Jordan Kevin Magtaan
2. KALE+COCO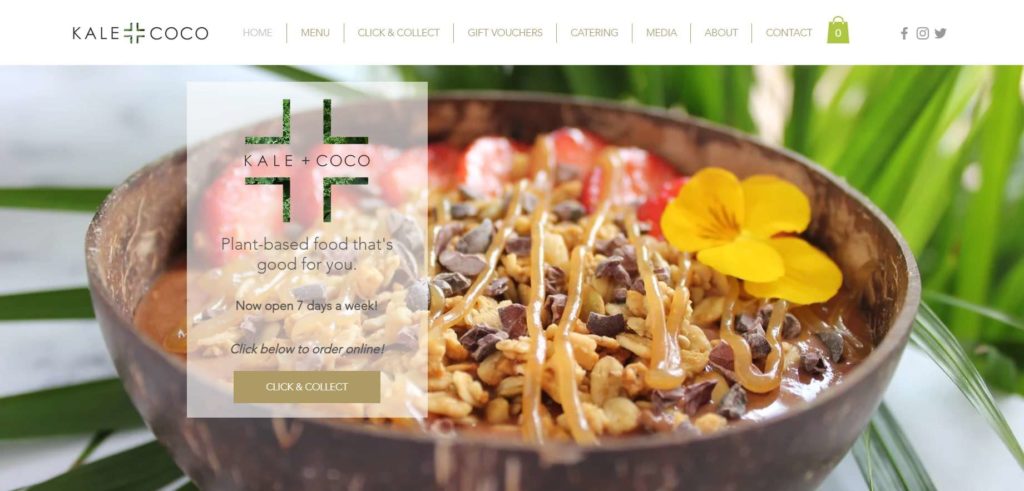 Test
Info
MENU
Oats, Smoothies, Buddha Bowls, Pastries, Coffee, Hot Drinks, Soups, Porridge
WEBSITE
https://www.kaleandcoco.com/
ADDRESS
18 Grangegorman Lower, Dublin, D07 WF44, Ireland
CONTACT DETAILS
Email:

[email protected]

OPERATING HOURS
Monday to Friday: 8:00 AM - 3:00 PM

Saturday to Sunday: 9:00 AM - 3:00 PM
| | |
| --- | --- |
| Selection | ★★★★☆ |
| Service | ★★★☆☆ |
| Atmosphere | ★★★★☆ |
| Value for money | ★★★★★ |
When in Dublin 7's Stoneybatter, you might find it difficult to find a more appetizing selection of dishes than KALE+COCO. With both dine-in and take-away options, the choices you can make are varied but they will most definitely leave you wanting more!
As the perfect breakfast brand, whether you're starting (or ending) your day, KALE+COCO has a meal for every occasion. Not only do they offer oatmeal and overnight oats, but you can also choose from a variety of smoothies and smoothie bowls.
If a bowl doesn't tickle your fancy, nobody is stopping you from mixing things up (no pun intended!) with their Nourish Bowl offerings – like their Peas & Love or Miso Hungry bowls.
The KALE+COCO café itself offers a soothing refuge for the busy bee with a wide range of coffee and non-coffee options to boot.
They often host workshops, so if you're looking for an interesting twist on your daily routine or just want to spend an afternoon with friends, there's nothing better than coming here.
Do note that KALE+COCO can get pretty busy, so if you're looking to try signature bowls like their acai bowls, you might want to order ahead and beat the rush.
Best for breakfasts
Serves a wide variety of salads and smoothie bowls
Cafe is conducive for working
Customer Reviews
Absolute to-die-for
"This place is to die for: the house plants, the açaí bowls out of coconut shells, the coffee in clay mugs, the MISSION, and VISION. Amazing – hands down. We are visiting from the States but otherwise, this neighborhood gem would be a weekly visit to work and eat healthy and delicious food." – Sydney O'Neil
Great for vegans and non-vegans alike!
"First-time visit to Kale+Coco and first impressions…what a lovely, bright, fresh atmosphere. The staff were very friendly and explained the menu well. We tried a few different things…the porridge was yummy with a great selection of optional different toppings. The green smoothie bowl was very tasty as was the banana bread. Excellent coffee and tap water flavoured with mint, cucumber, etc are readily available. I would recommend this place to anybody…vegan or not!" – Claire Kirwan
3. Veginity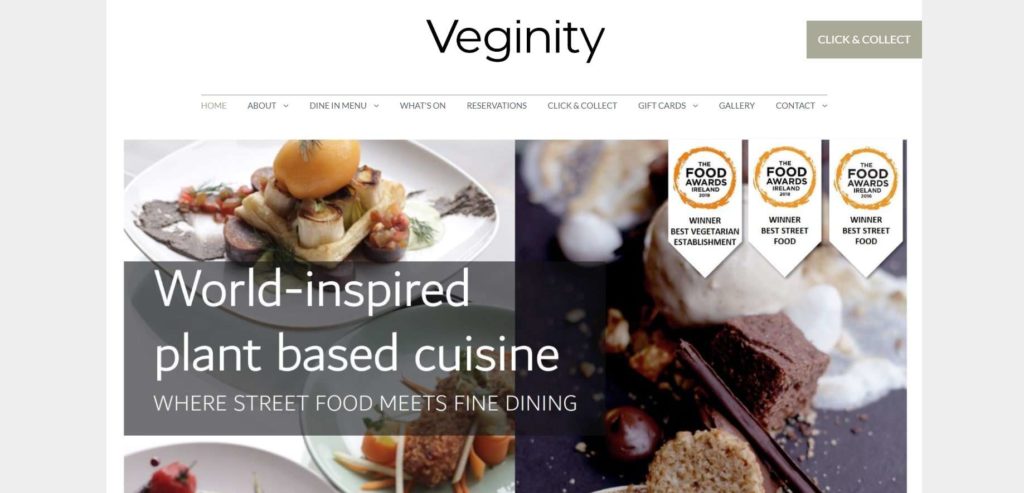 | Test | Info |
| --- | --- |
| MENU | Breakfast Meals, Soups, Salads, Sambo, Desserts, Buddha Bowls, Vegan Burgers, Pastries, Multi-course Dinners |
| WEBSITE | http://www.veginity.com/ |
| ADDRESS | 101 Dorset Street Upper, Inns Quay, Dublin, D01 A2F4, Ireland |
| CONTACT DETAILS | Phone: +353 1 535 9067 |
| OPERATING HOURS | Wednesday to Sunday: 10:00 AM - 9:00 PM |
| | |
| --- | --- |
| Selection | ★★★★☆ |
| Service | ★★★★☆ |
| Atmosphere | ★★★★☆ |
| Value for money | ★★★★☆ |
Veginity is one of the most popular vegetarian restaurants in Dublin. Its menu overflows with wickedly inventive healthy food which has garnered a ton of awards for the restaurant over the years.
If you have a love for vegan food and also happen to have a taste for the finer things in life as well, Veginity is the perfect place to go. It's not your average plant-based menu by any means.
Veginity is an all-vegan restaurant on Upper Dorset Street that serves breakfast, brunch, and dinner every single day of the week.
They are not joking when they claim that they embody the intersection of gourmet dining and street cuisine. Veginity provides "vantastic vegan food" that is unique to Dublin, with its primary focus on adapting well-known flavors into common vegan cuisine.
They do this by concentrating on plant-based ingredients, allowing consumers to experience the pleasures of conventional world gourmet dishes in an all-vegan setting.
In fact, they're one of the places in Dublin that serves pretend steaks and one of the juiciest plant-based burgers around town!
That being said, these luxuries come with a pretty hefty price tag. For example, their tofu burgers run for about €11-14, and their salads at €10-18.50.
Serves full-course dinner
Award-winning restaurant
Expensive
Place can feel a bit cramped
Customer Reviews
Excellent food
"I have been here for both dinner and coffee and cakes and I am obsessed. We had the three-course dinner with the "beef" Medallion for mains, I ended up buying a bunch of these medallions (as takeaway) for Christmas dinner. Best thing I've eaten in a while. The pastries are also excellent, not only are they super tasty, they are massive. Vish Shop is their vegan fast food just a few doors away. The food here is also really good although a little on the small side for the price but the incredible flavours make up for it." – Catherine Bury
Definitely worth a visit
"This is a really nice establishment with great vegan food and baked goods. The grilled cheese sandwich or toast was soooooo good! As was each of the pastries I tried. One hell of a cookie! They had great coffee drinks also. I got quiet about food and shared it with a non-vegan friend who also approved. Definitely worth a visit if you live in Dublin or visiting. It was super busy and took a while to get my food but it was worth the wait. You may not want to order food if in a hurry but their pastries are ready to go!" – Icaro Mardones
4. Blazing Salads
Test
Info
MENU
Bread, Soups, Salad Boxes, Curry, Samosa, Pasta, Vegan Cheese, Pie, Pizza, Burgers
WEBSITE
http://www.blazingsalads.com/
ADDRESS
42 Drury St, Dublin 2, D02 T210, Ireland
CONTACT DETAILS
Phone: +353 1 671 9552 Email:

[email protected]

OPERATING HOURS
Tuesday to Saturday: 9:00 AM - 5:30 PM
| | |
| --- | --- |
| Selection | ★★★★☆ |
| Service | ★★★☆☆ |
| Atmosphere | ★★★★☆ |
| Value for money | ★★★★☆ |
Dublin's Blazing Salads is one of the very first spots a local would recommend for a vegan brunch these days.
Recently celebratiung 40 years in business, this Dublin establishment was one of the first to offer completely vegan meals when it first opened. What sets them apart from others is their self-service salad bar (our favorite!) which has been running longer than any other of its kind.
Organic salads, fair trade cakes, and soups are just some of the options that this family-run deli makes available to its patrons. Local ingredients are used in many recipes and the entire ethos is based on being as ethical as it is profitable.
Despite fierce competition from both vegan and non-vegan competitors, it has managed to stick around making Blazing Salads an extremely successful deli that attracts many interested newcomers.
While their food selection is one of the best out there, some patrons have expressed their discontent with the deli's customer service, citing instances of staff that weren't so accommodating.
However, if you can look past this issue, Blazing Salads definitely won't disappoint you with their delectable pastries and vegan meals. Check them out when you're in the area!
Self-service bar
Wide variety of bread and pastries
Limited operation days
Customer service isn't the best
Customer Reviews
Insane food quality
"One of my favourite places in Dublin for a quick veggie option, support local it's a local place run by lovely people. Insane salads and soups. Samosas for me though. Buy the cookbook. " – Aidan Kelly
Reputation speaks for itself
"This is without a doubt my favourite place for vegetarian food in Dublin! You don't have to be vegetarian to enjoy the delicious, nutritious food, everything tasted great. Its reputation speaks for itself. Highly recommended!" – Kevin O'Toole
5. V-Face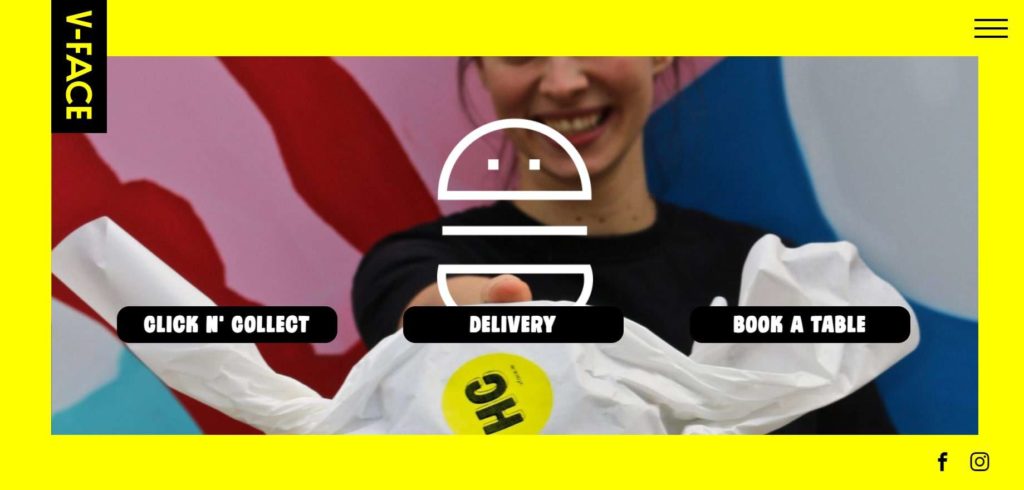 Test
Info
MENU
Veggie Burgers, Fries, Wine, Toasties, Pastries, Salad Bowls, Shakes, Coffee
WEBSITE
https://vface.ie/
ADDRESS
30 Brunswick St N, Stoneybatter, Dublin 7, D07 TP64, Ireland
CONTACT DETAILS
Phone: +353 1 865 6967
OPERATING HOURS
Monday to Thursday: 12:00 NN - 10:00 PM

Friday to Sunday: 12:00 NN - 10:30 PM
| | |
| --- | --- |
| Selection | ★★★★★ |
| Service | ★★★★☆ |
| Atmosphere | ★★★☆☆ |
| Value for money | ★★★★★ |
When it comes to the world of food, the choices we have today are abundant. But that doesn't mean the options are all vegan-friendly!
So when a restaurant like V-Face opened its doors in Dublin and began offering a menu full of vegetarian and vegan culinary delights, people went wild for their healthy burgers, hotdogs, fries, and more.
Since setting up shop in Stoneybatter initially as a pop-up in 2018, this plant-based burger bar has gained quite a lot of ground within the local community over the past few years.
From the classic toasty or sausage roll, through to burgers, fries, hot dogs, vegan coconut cupcakes, or the ultimate sponge cake in a cup – there are lots of great options on their menu for you to try.
If you can't decide between sweet or savory then a Biscoff (or if you prefer hazelnut) might be for you. We recommend trying out their vegan iced latte to hit all the good flavor spots as well!
Do note that V-Face has a small team and may take a little bit longer than their promised 15-minute serving time during peak hours. To avoid this, we suggest using their Click 'n Collect system to place your order to get past the queue.
Quick serve time for grubs
Affordable for the quantity of food
Place can feel a bit cramped
Less traditionally healthy options
Customer Reviews
Delicious imitation burgers
"As a vegetarian in the States, it is VERY hard to come across a fried chicken imitation burger, let alone a delicious one. And V Face makes me want to show everyone back at home that it can be done and done WELL. Great location, food, and atmosphere. Also, love the pink sauce – too fun. Thanks for a great time!" – Sydney O'Neill
Spectacular food choices
"This is my new go-to place whenever I'm around Smithfield. The Kimchi fries are just spectacular on their own but pair them with any of their fantastic burgers and the whole trip is an absolute treat! The prices are a bit higher than you might expect but it's one of the rare times I'd say it's worth the bit extra." – Colin Fitzsimons
FAQs about vegan food
---