The 5 Best Vegan Restaurants in Cork
You'll definitely come across a number of restaurants on every corner of Cork. However, only few offer a plant-based menu for vegetarians and vegans or foodies who just want to give it a try.
This list of the best vegan restaurants in Cork can guide you on where to fill your tummy with the healthiest options. This is whether you're a vegan, pescatarian, lacto-vegetarian, ovo-vegetarian, or a lacto-ovo plant-based food eater.
Before stepping out on your doorstep or driving into the city, check our review and get a gist of what's on the table for you.
How much does vegan food in Cork cost?
Various establishments set rates for their menu based on serving size, ingredients used, and other factors. Here is a quick preview of food prices range in the five best vegan-friendly restaurants in Cork.
Menu
Estimated Average Price 
Veggie-topped flatbreads

€7.50

Pizza

€8.20 - €15.00

Burger

€15.00 - €23.95

Pasta

€12.00 - €15.90

Salad

€4.00 - €10.90

Potato sides

€4.00 - €5.00

Soup

€5.95

Drinks

€2.00 - €13.50 (per glass)

€11.90- €26.00 (bottle/sharing)

Desserts

€6.00 - €8.50

Two-course meals

€32.00

Three-course meals
€36.00 - €45.00
The Best Vegan Restaurants in Cork
Customers have in mind a lot of considerations in choosing their meals, but we assessed the following restaurants based on the following criteria:
1. Paradiso

Test
Info
Menu

Vegetarian

Course Meal

Wine

Healthy Desserts

International Cuisine

WEBSITE
https://paradiso.restaurant/
ADDRESS
16 Lancaster Quay, Cork City, Ireland
CONTACT DETAILS
353 21 4277 939,
OPERATING HOURS

Tuesday to Saturday: 5:00 AM to 10:00 PM
| | |
| --- | --- |
| ●MENU | ★★★★★ (5/5) |
| ●SERVICE | ★★★★★ (5/5) |
| ●AMBIENCE | ★★★★☆ (4/5) |
| ●VALUE | ★★★★☆ (4/5) |
When in Cork, you would not want to miss to dine and get a taste of Paradiso experience. Its restaurant atmosphere has hosted celebrities and its prime vegetarian menu is just great for any occasion.
Paradiso is among the top choices in this list for the food it offers, the flavors of which has emphasis on complexity through the infusion of seasonal ingredients.
As what a vegetarian would prefer, the heart of the restaurant's services is vegetables. Compared with other hubs, it offers a full course vegan meal of nine savory dishes – perfect for a lovely dinner or lunch date.
Aside from the mouthwatering combinations of ingredients that will make one foodie revisit the place, the plates are very well-presented. Not to mention, the dessert and wine selections are a perfect complement to the main dish.
The venue is also something that cannot be ignored. It has a very intimate setup – quiet, cold, and is a top choice of private dates and gatherings.
The place is also known for its reliable and welcoming service staff that is ready to provide assistance. Small downsides include a limited menu and its closure every Sunday and Monday.
Although the meals are way more expensive with a limited menu than other diners, it is overall a nice place to relax and to try healthy but totally satisfying vegan eats.
Specializes in vegan food
Best service staff
Comfortable venue
Closed on Sunday and Monday
Limited to course meals
Pricey
Customer reviews
I highly recommend dining there
"Amazing selection of courses. I loved everything that was served. My favorite, though, was the roasted squash and aduki bean wonton. I highly recommend dining there. The staff were marvelous – kind, funny, and super sweet. When I'm back in Cork, I'll definitely go again." – Neha Patel
Tasting menu is the best
"Such quality, in season veggie food. One of our party has a food intolerance and the waiting staff highlighted the menu for us to show which foods contained it and which didn't. The waiting staff worked with the kitchen to modify some of the food which was really above and beyond. I've never experienced service like it. The tasting menu is the best option and it was incredible…" – Adrian Bradley
2. Quay Co-op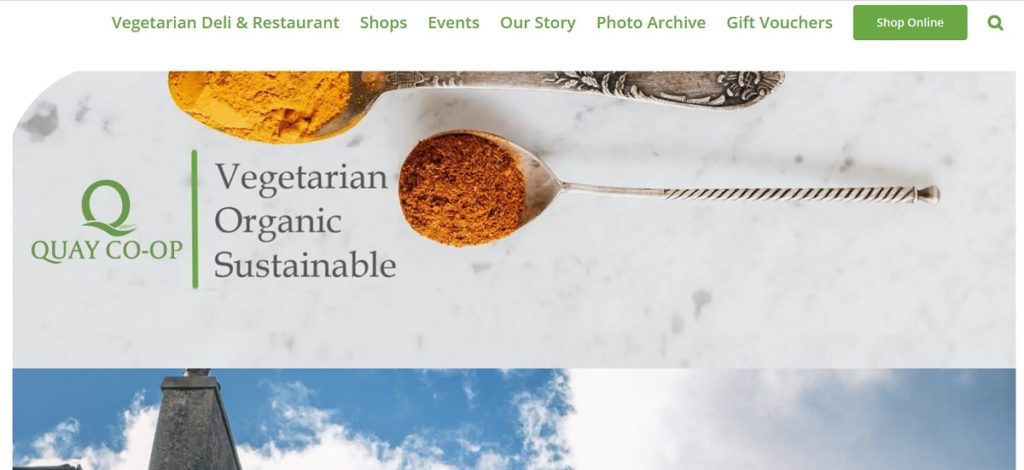 Test
Info
MENU

Vegetarian

Course Meal

Wine

Healthy Desserts

International Cuisine

WEBSITE
https://quaycoop.com/
ADDRESS
24 Sullivan's Quay, Cork, T12 X867
CONTACT DETAILS
021 431 7026 ,

[email protected]

OPERATING HOURS

Wednesday - Thursday, 12: 00 p.m. - 8:00 p.m.

Friday - Saturday, 12:00 p.m.- 9:00 p.m.
| | |
| --- | --- |
| ●FOOD | ★★★★☆ (4/5) |
| ●SERVICE | ★★★★☆ (4/5) |
| ●AMBIENCE | ★★★★☆ (4/5) |
| ●VALUE | ★★★★☆ (4/5) |
The Quay Co-op is located on the second floor of a fresh goods building in Cork. It is definitely a must place to dine in with its vegetarian-friendly and gluten-free menu for individuals.
Among the best options are its enchiladas served on rice, its vegan burger in a sesame bun, and pizza romanesca. They also have a vegetable tempura for those wanting to try crispy but green-based fingeroods.
If you're someone with a sweet tooth but is very health conscious, Quay Co-op's avocado chocolate cake and frangipane are the best for you.
Also, the good thing about this hub is that customers can opt for non-vegetarian food despite its focus on green products.
Although it has a limited operating period, what makes it a top choice is its bright, airy and spacious environment, with some seats placed on window sides overlooking the streets.
The staff are more than welcoming and are attentive to customers' needs during their stay.
We recommend this place for your events with health conscious companies, not only once, but as frequently as possible as they give great value to customers and their pockets.
It is closed every Monday and Tuesday, but can still accept customers for lunch and dinner for the rest of the week.
Specializes in vegan food
Welcoming staff
Spacious, well-lit venue
Also sells organic and vegan products
Big servings
Closed on Mondays and Tuesdays
Opens only during lunch to dinner time
Customer reviews
Would go here any day
"Staff was extremely welcoming. And the food was beyond marvelous. I'm not a vegan, but this place made me rethink my options. Would go here anyday. If you are a vegan, this is the place to go for a fancy dinner without a second guess." – Subhash Nalamati
I want to go again
"Their market with all organic options is simply awesome! Really good €1.00 options for those short in cash (like me :)). Their restaurant offers tasty options as well, although a little pricey. The environment is cozy. Attendants are very attentive. I want to go again." – Alexandre Schmidt
3. Sonflour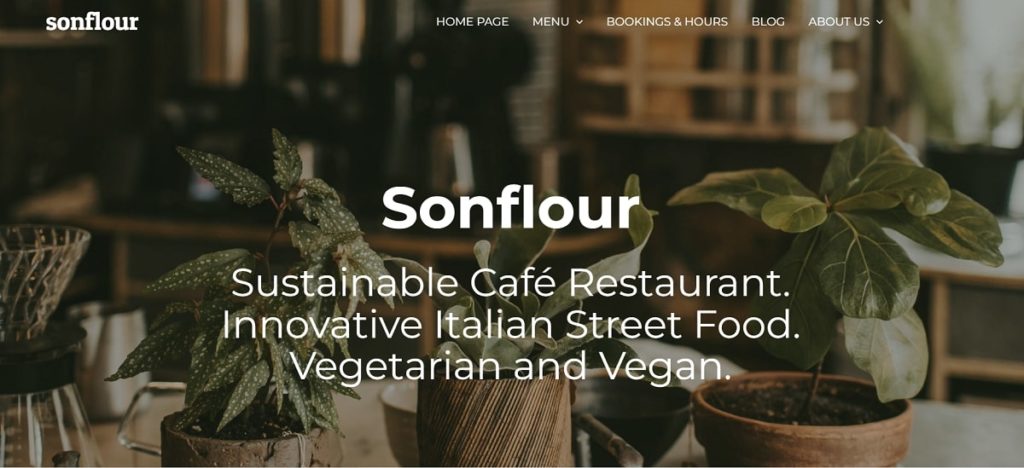 Test
Info
MENU

Vegetarian

Italian

Mediterranean

Pasta

Street Food

Desserts

Wines

WEBSITE
https://www.sonflour.ie/
ADDRESS
9 Castle Street, Cork
CONTACT DETAILS
021 427 4216,

[email protected]

OPERATING HOURS

Tuesday - Wednesday, 5:00 p.m. - 10:00 p.m.

Thursday - Saturday, 1:00 p.m. - 10:00 p.m.
| | |
| --- | --- |
| ●FOOD | ★★★★☆ (4/5) |
| ●SERVICE | ★★★★★ (5/5) |
| ●AMBIENCE | ★★★★☆ (4/5) |
| ●VALUE | ★★★★☆ (4/5) |
This restaurant is almost always a top choice because of its Italian menu centered on vegetables and plant-based ingredients. The food options on the menu are best partnered with its wide selection of coffee, smoothies, and wines.
One of the best parts of dining here is that customers get to choose their pasta type between ravioli and linguine. Customers can also one gourmet sauce made from slow-cooked tomatoes, homemade pesto, and fresh herbs.
Those craving pasta can opt for the Sunflower's Soul and the Can't Help Falling in Love with Truffle. The pasta menu is a good choice with its Italian touch for its locally sourced ingredients.
Aside from using seasonal products like other top vegan hubs, Sonflour utilizes fresh ingredients that are served in eco-friendly ways – the best for those who seek a real taste of Italian food.
Value-wise, the quality of the servings are fit for the prices, notwithstanding the friendly and perceptive staff.
The downside is that it can only accommodate a few groups due to its tiny size. Also, it is closed on Monday and Tuesday, and opens only for a five-hour dinner time during Tuesdays and Wednesdays.
Worry not, you can reserve for a table in advance and get the chance to enjoy the Italian-Mediterranean vibe for vegans1
Specializes in vegan food
Best in Italian-vegan food fusion 
Wide variety of food, drinks
Friendly staff
Limited capacity
Closed on Mondays and Tuesdays
Opens late in some days
Customer reviews
Delicious flavours and great staff
"An amazing experience! Delicious flavours, great staff and incredible value. I could have happily ordered and eaten the whole menu. We will most definitely return. Huge thanks to the chefs and our amazing waitress." – Ann Harrington
Lovely atmosphere and everything local
"Sonflour is a brilliant addition to Cork city. The restaurant has a lovely atmosphere and the food is absolutely delicious. The pasta is so fresh and tasty. Everything is made with local ingredients and you can really taste the quality. It was a real treat to have so many good vegetarian and vegan options too. Nice friendly staff to top it all off." – Mary Ellen Angland
Amazing pizza
"Service is great. Pasta looks better in the pictures than it tastes as it was lacking a bit in flavor. Pizzas were amazing." – John K. Lunde
4. Jacobs on the Mall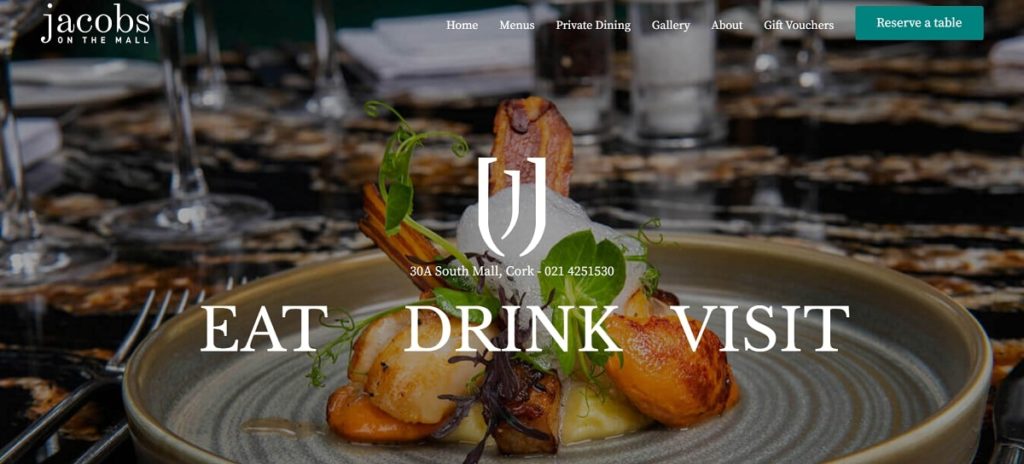 | | |
| --- | --- |
| ●FOOD | ★★★★☆ (4/5) |
| ●SERVICE | ★★★★☆ (4/5) |
| ●AMBIENCE | ★★★★★ (5/5) |
| ●VALUE | ★★★★☆ (4/5) |
Jacobs on the Mall is known as a truly first class food service provider in Cork for its beautifully and classy designed diner that is art deco- and neoclassical-inspired. You'll definitely want to come back to reexperience it all!
Among the excellent products of the restaurant for any special event are the two-course and three-course vegan and vegetarian menu on top of its regular and meat options.
Additionally, a must-try are the purely vegan Jacobs flavorsome vegetarian mixed bean burger, the Jacobs homemade chickpea burger, and any of the five dessert options of tart, cake, pudding, and bars.
It is also worth noting that some of their products are locally sourced from Irish farms.
The superb food serving and taste are already a given, but what earned our favor is the five-star rating presentation of its food – detailed, intricate, and overall well-thought-out.
What makes it stand out over the rest is the capacity to host private dining in a luxury setup, and the professionalism of the service crew. The crew is worthy of praise for the excellent services.
The only drawback for the restaurant is the limited operating hours from 5:00 p.m. to 10:00 p.m. on select days only, meaning lunch services are not available.
Prices also are higher for its menu than other vegan hubs, but this is no match for the ambience and top-tier food. The magnificent interiors, exceptional food, and efficient crew outweigh the drawbacks.
Specializes in vegan food
Variety of food options
Beautiful and neat venue
Amenable to private occasions 
Limited to dinner and private events 
Pricey
Customer reviews
Worth it and perfect
"This is my favorite place to dine! It's a bit pricey, but it's worth it; I rarely eat as well and everything in this restaurant is perfect…" – Tony Wellick
Best value with good choice
"A pleasant surprise – set menu way to go! We had been recommended this place from another restaurant that was too busy and we were very pleased. Nice atmosphere, very fresh food with great presentation and lovely staff. The cod was superb. The set menu best value by far and offers good choice. We will be back." – Max Halliwell
Vegan-friendly omnivore restaurant
"Let me just say, walk, don't run to have a delicious dining experience. Vegans, trust me,this is an extremely vegan friendly omnivore restaurant. The service is first class. We will be back." – Ronni Greenwood
5. Loving Salads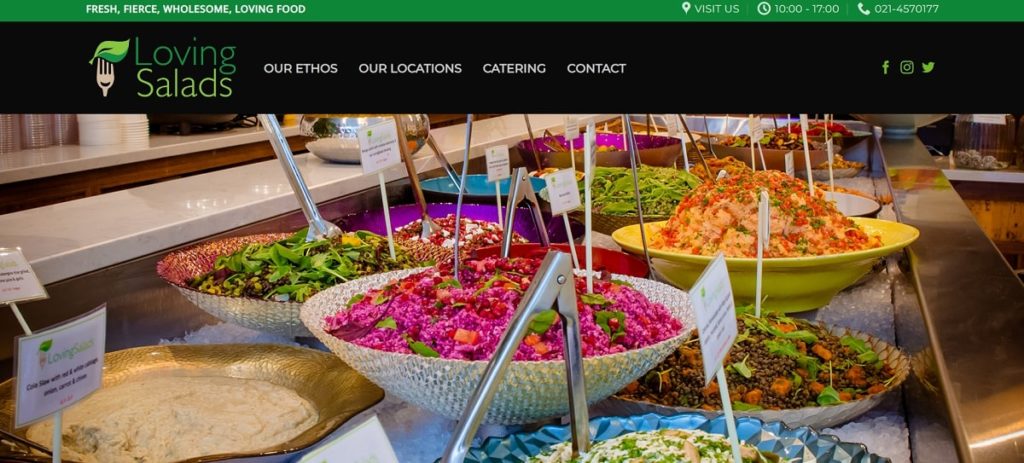 Test
Info
MENU

Vegetarian

International Cuisine

Salads

Catering

WEBSITE
https://www.lovingsalads.com/
ADDRESS
15 & 16 Academy Street, Cork
CONTACT DETAILS
021 457 0177
OPERATING HOURS

Monday - Saturday, 10:00 a.m. - 5:00 p.m.
| | |
| --- | --- |
| ●FOOD | ★★★★☆(4/5) |
| ●SERVICE | ★★★★☆ (4/5) |
| ●AMBIENCE | ★★★★☆ (4/5) |
| ●VALUE | ★★★★★ (5/5) |
What brought Loving Salads on our list for the best vegan restaurants in Cork is its choices for fresh and tasty salads that are affordable. What's also commendable on this stop are the options for gluten-free and dairy-free products for lactose intolerant foodies.
The salads are as good as they look when served that features a flavorful combination of newly picked herbs, vegetables, and fruits. On top of this is the wide selection of vegetables and salads for your plate of any size.
Loving Salads' hummus and curries are also receiving positive feedback from other customers. This is similar to our recommendation to give it a taste either for lunch or for your healthy cravings.
Also noteworthy is the accommodating staff to serve a queue of customers in the daytime.
Moreover, the restaurant offers catering services of plant-based food and has a stall at the local market on some weekends.
However, one noticeable catch is it only operates during the regular 10:00 a.m. to 5:00 p.m. and can no longer accommodate dinner unless you buy in advance. Even so, it remains a top choice for vegan eaters for its quality choice of salad ingredients.
Specializes in vegan food
Variety of food options
Beautiful and neat venue
Amenable to private occasions 
Limited to dinner and private events 
Pricey
Customer reviews
Good value for healthy food
"love this place. The food is always so good. Really good value for delicious and healthy food. They use top quality local ingredients and make really nice colourful salads. They could do with more hot food options though." – Rónan Murray
Wonderful service
"LovingSalads is such a rare gem! The unique combination of healthy, fresh, delicious and full of Love food together with the wonderful service makes you immediately develop an addiction for the place…" – Gabriela Radu
Great veggie options
"The food is always gorgeous and tasty. Something for everyone very friendly staff. Vegetarian options: All veggie options so great place for excellent choice." – Nuala Dalton
FAQs about the best vegan restaurants in Cork
---
Having a plant-based diet is definitely worth your consideration for the health benefits it offers. All in all, Cork offers a wide range of food hubs offering vegan meals, some of the best have been included here.
Surely, we have different appetites and craving levels. If you can't decide on where to eat yet? Check our other reviews on the best vegan-friendly restaurants.