The 5 Best Travel Agencies in Dublin
Itching to scratch that travel bug now that the world is slowly reopening? While we understand the dilemma, take this as a reminder to travel with caution.
If you're not the type who enjoys planning every detail, you can leave the nitty-gritty to the best travel agencies in Dublin! In this article, we've covered their service highlights, answers to commonly asked questions, and more.
Before any of that, allow us to discuss a bit about rates first.
How Much Do Travel Agencies Charge in Dublin?
In Ireland, travel agencies normally earn from commissions for every travel service they arrange. For instance, they may get around a 5% to 10% commission for every airline or hotel booking.
Unless the travel agency charges a service fee upfront, expect their service costs to be included in your chosen package or service in the form of a commission. In fact, the latter is how they generally work here!
The Best Travel Agencies in Dublin
Without further ado, let's proceed to our picks of the best travel agencies Dublin has to offer!
1.   Trailfinders
SERVICES
Flight and package bookings for private and group tours (worldwide), weddings/honeymoons, cruise holidays; travel insurance
WEBSITE
https://www.trailfinders.ie/
ADDRESS
4/5 Dawson Street, Dublin
CONTACT DETAILS
01 677 7888
Online enquiry form available here
OPERATING HOURS
Mon to Fri: 9:00 am to 7:00 pm
Sat and Bank Holidays: 9:00 am to 6:00 pm
Sun: 10:00 am to 6:00 pm
We're kicking things off with Trailfinders. As it's a multi-awarded travel agency, it's pretty easy to tell why they made our list.
For starters, they have the most extensive list of packages covering a wide range of destinations worldwide at different price points. So whether you're looking for a luxurious trip across California or a guided tour in Turkmenistan, they can make arrangements for you.
What makes them special in our book is that their travel agents are well-travelled themselves. This means that they can provide you with advice on your plans through the perspective of someone who's already been to your destination.
We also like the fact that they have multiple locations nationwide and in the UK, are open 7 days a week—and even on bank holidays. The only drawback is that there is only 1 branch in Dublin.
They also offer updated travel insurance that covers an express COVID-19 testing, quarantine, medical expenses, and many others. This is an excellent add-on if you're planning to travel within the next few months.
Wide range of destinations available
COVID-19 travel insurance available
Multiple branches nationwide
Open 7 days a week
One branch only in Dublin
Package rates unavailable online
Customer Reviews
Check out some reviews by people who used Trailfinder's services below:
"I normally don't write reviews but in the case of Trailfinders I must make an exception. We traveled with them to Melbourne four years ago and we were due to travel to Vancouver to visit a daughter recently. Covid-19 intervened. We were most pleasantly surprised with their courtesy and attention in this period. We would have no hesitation traveling with them again." —Tom Donnellan, Google Reviews
"Today I should be enroute to Memphis but alas not to be in the present climate. I would like to thank Trailfinders for always being at the end of the phone with any queries I had with regards to flights and refunds. They made it so easy to get our refund, in fact it was in our account last weekend before our travel date!!! Thank you for your kind and efficient service and we will be back to see you when life is more normal again." —Marie Cullen, Google Reviews
2.   Cassidy Travel

SERVICES
Flight and package bookings for private and group tours (worldwide), cruises, work abroad visas, etc.
WEBSITE
https://www.cassidytravel.ie/
ADDRESS
Nearest location available here
CONTACT DETAILS
081 833 2500
Online enquiry form available here
OPERATING HOURS
Check nearest location for business hours
If you're looking to bring the whole family with you on your next vacation, then Cassidy Travel is worth checking out. In fact, many of their travel agents have families themselves, allowing them to create family-friendly holidays.
While they have worldwide destinations, one of their top-rated packages offers Greece, Malta, and U.S. holidays, to name a few.
Apart from these, unique to Cassidy Travel is that they're an authorised sub-agent for the Rugby World Cup happening in 2023 in France. This means that they'll be able to get you match tickets without needing to book one yourself.
Not only that, but they'll also take care of your flights, airport transfers, and hotel accommodations. Do take note though that this package is in demand, so it's best to enquire early to secure a spot.
We like that they have several branches around Dublin. So wherever you're located in the city, rest assured that you'll find a branch nearest you.
Specialises in family holidays
Several branches across Dublin
Rugby World Cup packages available
Open on weekends
Some branches are closed on Sundays
Some packages have high demand
Customer Reviews
Customers generally recommend Cassidy Travel services. Some examples include:
"I was very impressed by the assistant Mary and the way she check out all the information we needed and to get us a great holiday package..she spent all her time and nothing was a problem she very professional. Thank you Mary and also her colleague that was there too.." —Linda Smith, Google Reviews
"Couldn't recommend enough! The staff are very friendly and very professional. My boyfriend and I decided to go last minute to Amsterdam and a lovely girl Katie from the Tallaght store helped us book an amazing location which was very affordable especially at such short notice and on a bank holiday. She found us the perfect deal and made it happen for us to go that weekend. Definitely would book through here again. Makes the stress of travel so much easier." —Chloe Murphy, Google Reviews
3.   Sunway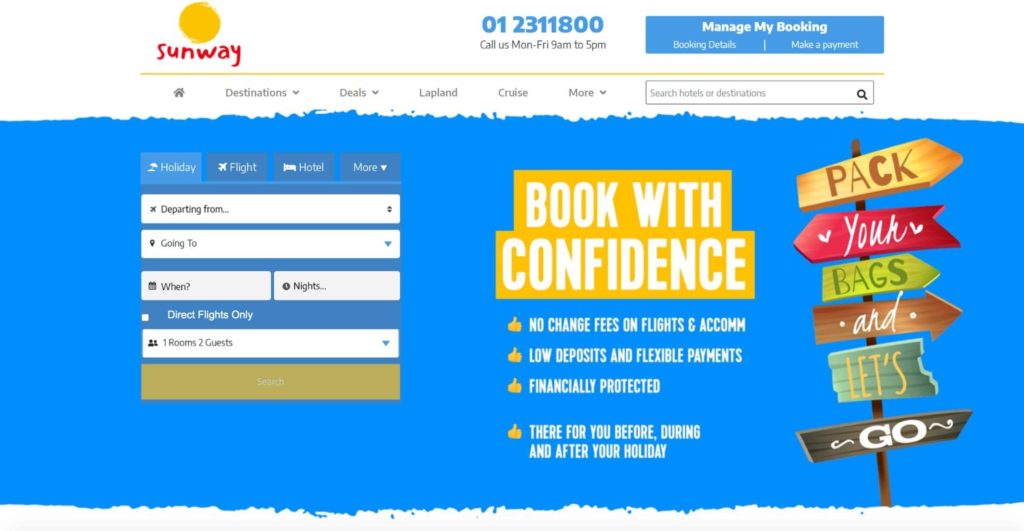 SERVICES
Flight and package bookings for private and group tours (worldwide), cruises, escorted tours, honeymoons, ski holidays, etc.
WEBSITE
https://www.sunway.ie/
ADDRESS
Sunway Holidays, Marina House, Clarence Street, Dun Laoghaire, Co. Dublin
CONTACT DETAILS
01 231 1800


[email protected]

OPERATING HOURS
Mon to Fri: 9:00 am to 5:00 pm
Now, if you're specifically looking for beach holidays, then Sunway is one of your top choices for this. They can fly you to many places worldwide, from Lanzarote to Salou.
And while sunny holidays are their specialty, there are also a number of winter holidays to choose from including Lapland and Iceland. They're also a main agent for Club Med, which has more than 80 resorts worldwide—perfect for solo travellers, couples, and even groups.
We like the idea that customers only need to pay a minimal deposit upon booking, with flexible payment plans available.
Sunway claims that there are no change fees for flights and accommodations. Upon checking their booking policy though, take note that customers still have to pay for penalties and cancellation fees.
Hence, we recommend clarifying this with them to avoid hidden costs during the event of flight or accommodation changes.
Another drawback we're seeing is that their business hours are limited to weekdays, with their office currently closed due to restrictions. Because the team is currently working from home, expect phone lines to be a bit busy as well.
Specialises on sunny holiday destinations
Travel insurance available
Flexible payment plans
Low deposit upon booking
Closed on weekends
Far office location (closed as of writing)
Busy phone lines
Customer Reviews
Check out what clients had to say about Sunway:
"I book most of my holidays with Sunway and have never been disappointed. Always fantastic reps on hand to assist and advise." —Lorna Langan, Google Reviews
"I rang sunways this week to book a holiday for all the family and got talking to a lovely lady called Lisa she was just so helpful and had it done with so much ease with a quote and I rang the family around and she gave me her ext number which put me back onto her which was great help and I had it all sorted in no time !! Well sorry she had it all sorted in no time .. thank you Lisa and I will for-sure be onto you again when booking a holiday.. I priced the same holiday with the best 4 and they were over €500 more on the price for 6 of us .. so you would be mad not to go to Sunways Direct. Thanks again Lisa." —Alan Egan, Google Reviews
4.   Tour America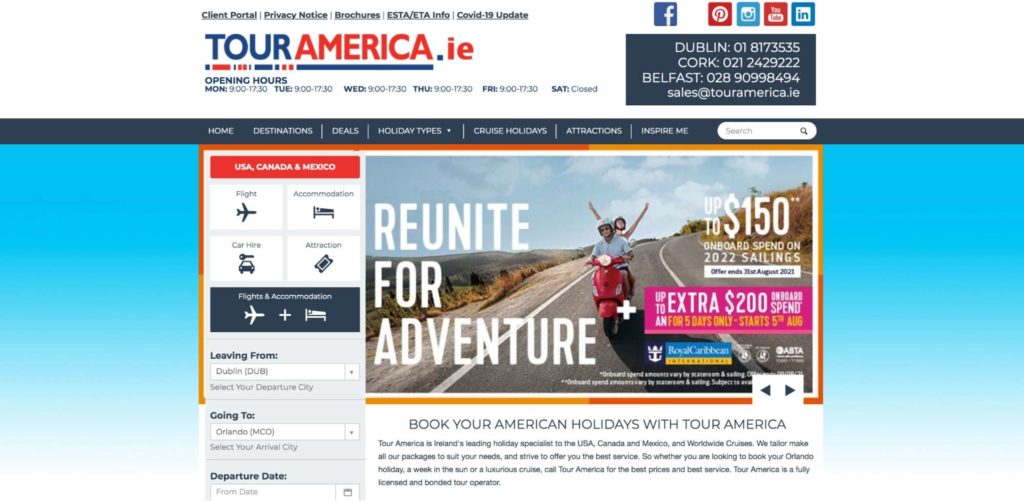 SERVICES
Flight and package bookings for private and group tours (U.S., Canada, and select destinations worldwide), cruises, escorted tours, rail holidays, luxury holidays, honeymoons, etc.
WEBSITE
https://www.touramerica.ie/
ADDRESS
62/63 Middle Abbey Street, Dublin
CONTACT DETAILS
01 817 3535


[email protected]

OPERATING HOURS
Mon to Fri: 9:00 am to 5:30 pm
North America has always been a favourite holiday destination among the Irish. So if you're fully decided on heading over there for your next vacation, then go ahead and check out Tour America to help you plan.
Beyond the United States, they also have packages that can take you to Canada and Mexico. Apart from that, they also specialise in cruise holidays around the world.
So if these destinations aren't what you're looking for, then you might want to skip this one instead.
While they may have business hours limited to weekdays, booked clients are actually entitled to a 24-hour emergency assistance service for any concerns you might have during your trip.
In related work, their insurance cover also includes 24-hour assistance in the event of medical emergencies. The only downside of this insurance policy is that it doesn't cover COVID-19-related protocols.
Still, if you want an extra layer of protection, then their insurance policy is still worth a look as an add-on.
Specialises in North American holidays/cruises
24-hour emergency assistance available
Travel insurance available
Flexible payment plans
No packages outside of North America/cruises
Closed on weekends
Customer Reviews
Take a look at what some of Tour America's previous clients have said about their services:
"I have used Tour America on a number of occasions and have always valued their knowledge, expertise and value for money. However with multiple changes on our recent booking the team could not have been more helpful and understanding. Still looking forward to our trip to Orlando but look forward to booking our next trip. Huge shout out to Brenda for her patience and help." —Brian Beatty, Google Reviews
"We have travelled with Tour America a number of times. They have always provided a great service. Their handling of the Covid crisis has been fantastic; they have done everything they can to accommodate holiday changes not once but twice. We have been very fortunate to have Brenda Clarke looking after us. She is a true professional! We can't wait to travel with Tour America again as soon as it is safe to do so." —Louise Ellison, Google Reviews
5.   Wallace Travel Group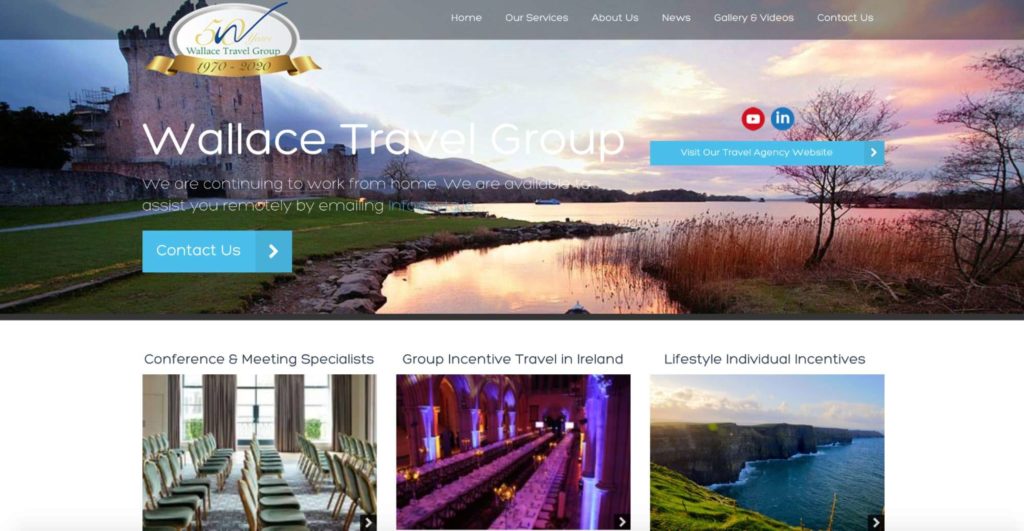 SERVICES
Conference and meeting booking, incentive travel booking for groups, lifestyle individual travel booking, etc.
WEBSITE
https://www.wallacetravelgroup.com/
ADDRESS
8 Main Street, Finglas, Dublin
CONTACT DETAILS
01 834 7888


[email protected]

OPERATING HOURS
Mon to Fri: 9:00 am to 5:30 pm
Sat: 9:00 am to 1:30 pm
If your company is looking to hold its next big meeting in Ireland, well you can recommend Wallace Travel Group to give you a helping hand.
Their network of meeting venues and accommodations is precisely what makes them a unique travel agency. You and your colleagues can enjoy a hassle-free experience throughout your conference as they'll handle the travel logistics, no matter how big or small your group is.
To add to that, they also provide incentive travel arrangements for employees and partners. Some examples of arrangements they've done in the past include a half-day tour of the Jameson Whiskey Distillery or a 5-star stay at Druids Glen Hotel.
Beyond these, they can also organise individual travels in Ireland—perfect for those who plan on exploring local!
A major downside to Wallace Travel Group is their non-inclusion of destinations abroad. They do have a separate website for that though, which mostly specialises in Iceland holidays.
Still, we can't help but highlight the agency's comprehensive environmental policy, which means that they advocate for and observe environmentally sustainable practises in their operations.
They're the only company on our list to have this commitment. So if responsible travel is something you feel strongly about, then rest assured that this agency will live up to its word.
Specialises in conference travel logistics
Ideal for Irish holidays
Environmentally-conscious agency
Open on Saturdays
No destinations abroad
Office closed as of writing
Customer Reviews
Check out what former clients said about Wallace Travel Group:
"I was traveling by bus with Wallace Travel Group in Ireland. It was great. Our tour guide Alexandra Bellinghausen was simply brilliant. She gave us an incredible amount of information without it getting boring. So you could save a lot. She was always friendly and had an ear for everyone. Bus driver Matt Kellegher was just as brilliant. A super good bus driver who was always friendly. All in all, I would love to vacation with Wallace Travel Group again and again. We recommend." —Doris Kossel, Google Reviews
"I have had a fantastic trip to Iceland with these people. I would definitely recommend them." —Shiningstar 98, Google Reviews
FAQs about Travel Agencies
---
And those are the best travel agencies in Dublin! We hope that our guide has helped you plan your next vacation.
Think we missed other travel agencies in our list? Send us a message and we'll look right into it.
Now, if you want to go on a little staycation in Dublin instead, then we just have the thing for that, too. Check out our list of the best room rentals in Dublin!