Best 7 Room Rentals in Dublin
Are you looking for a room to rent in Dublin? Chances are, you're already pretty overwhelmed with the choices for the best room rentals in this huge city.
No need to fuss! Brighten up because we've made the search easier for you.
In this article, you'll find several options for the best room rentals in Dublin. Whether you're on a business trip or on a holiday, you'll find the perfect one along with other info such as reviews, pros and cons, and more.
Before you get too excited though, take a look first at some tips concerning room rentals.
Tenant's Guide for Room Rentals
Before you jump right in and book your desired room rental, you would need to consider a number of things to avoid possible problems in the future:
1. Cancellation policy
You never know if you'll need to cancel a booking you made for some reasons.
Hence, before you proceed with the booking process, check the website's cancellation policy which may be found in the FAQ section.
This is to avoid the possibility of losing any fees you already paid for, or only ending up with a partial refund.
2. In-person accommodation visits
Again, check the website of the room rental platform you're on. See if they allow tenants to see their accommodation of choice in person before they make a reservation.
Some only offer a virtual tour of the property.
3. Amenities
Be aware of the provided amenities in your lodging of choice. This is so you'll know if you need to bring other appliances such as an electric heater, iron, etc.
4. Pets
If you wish to bring your fur babies along your trip, see if your prospective landlord allows pets. And if they do, ask if bringing pets would incur other fees.
Options for the Best Room Rentals in Dublin
Without further ado, here are our options for the best room rentals in Dublin!
1. Spotahome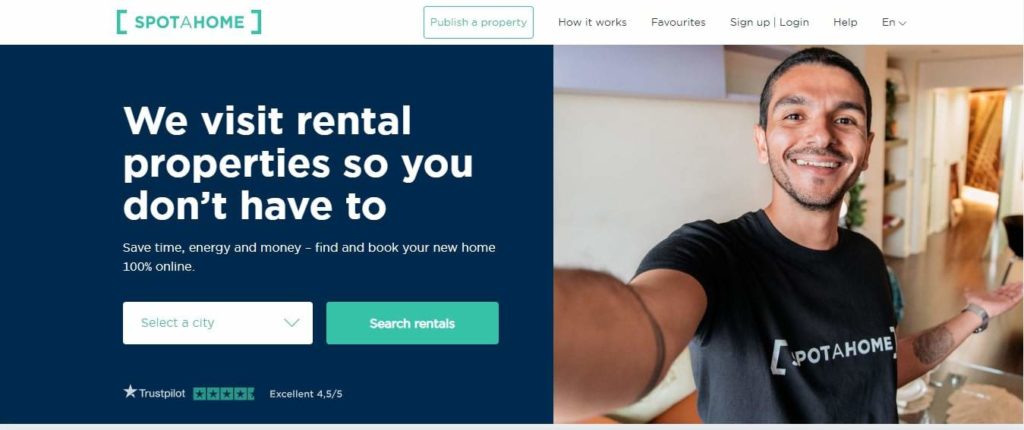 | | |
| --- | --- |
| BEST FOR | Visual tour of accommodations |
| SERVICES | Apartment, studio, room, and residence rentals |
| WEBSITE | https://www.spotahome.com/ |
| ADDRESS | Calle de Méndez Álvaro, 20, Madrid, Comunidad de Madrid 28045, Spain |
| CONTACT DETAILS | Go to their website for assistance |
| OPERATING HOURS | N/A |
Headquartered in Spain, Spotahome helps people find residences, rooms, and more in over 10 European cities by acting like a bridge that connects tenants to their prospective landlords.
Because they are a 100% online booking platform, Spotahome is especially useful for foreigners looking to find accommodations in another country without having to actually visit the site. Instead, they can rely on Spotahome's so-called Homecheckers who take photos and videos as well as write descriptions of the properties featured on their website.
Once you reserve your preferred accommodation, you'll have to wait for about a day for your landlord to respond. Once the landlord responds to your request and accepts your booking, Spotahome will then arrange for you to contact your landlord via email to discuss the details of your move-in..
Note that different landlords will have different policies, so make sure to read them first before you decide to book.
Spotahome will be the one to collect your first payment and give it to your landlord. Additionally, you may have to pay booking and customer support fees depending on the location.
Furthermore, if you have some language issues, Spotahome also provides customer support in a number of languages.
Virtual tours available
Rentals in major European cities
Wide range of accommodations available
Payment methods include PayPal
No language barriers for non-English speakers
Not for tenants looking to rent for less than a month
Does not allow in-person visit of accommodations
Cannot share identities of people you will be living with
Booking and customer support fee
Customer Reviews
Check out some comments from their satisfied customers:
"Very helpful when things go wrong! When my booking got cancelled, I was called within 5 minutes with new options. There was one I liked but it was too far out of my price range. Andrea from Spotahome personally called the landlord of the property and negotiated a better price for me, and I got a new property within 20 minutes of losing the previous one! Incredibly fast, efficient and friendly service!" -Shannon M
"Fast and efficient!! My favorite platform." -Inês Guerreiro Espirito Santo
"They smoothed out the rental process and got me in a place in the city center. Antonio was easy to work with and communicated generously about the status." -Chris
2. HomeToGo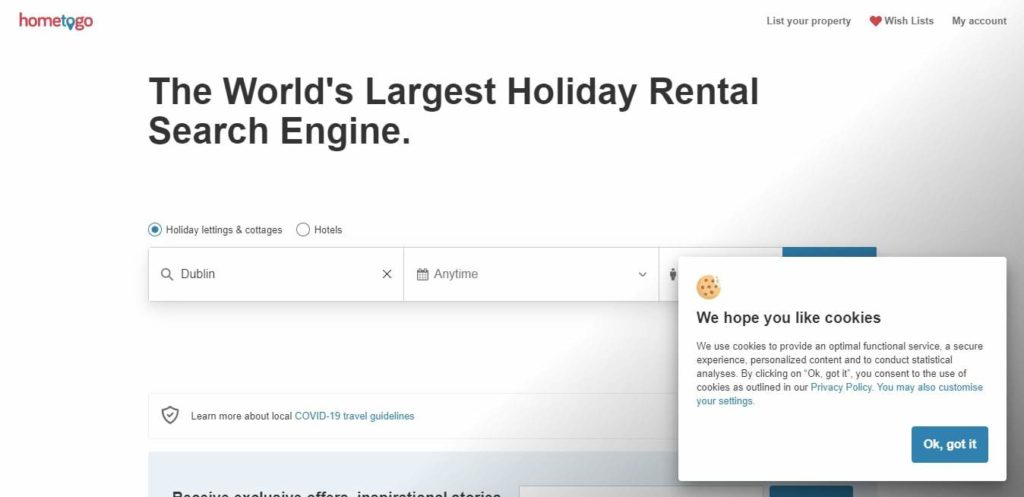 BEST FOR
Holiday rentals
SERVICES
Hotels and holiday lettings and cottages
WEBSITE
https://www.hometogo.co.uk/
ADDRESS
Pappelallee 78/79, 10437 Berlin, Berlin, Berlin 10437, Germany
CONTACT DETAILS
+44 20 3826 8782


[email protected]

OPERATING HOURS (CEST)
(Except German public holidays)
8:00 am to 10:00 pm (Monday – Thursday)
8:00 am to 8:00 pm (Friday)
12:00 pm to 8:00 pm (Saturday)
2:30 pm to 9:00 pm (Sunday)
Whether you're looking to spend your holidays along Portugal's Atlantic coast or explore the tourist spots of Dublin, you'll find the right lodging for you on HomeToGo.
HomeToGo boasts of being the world's largest search engine for holiday rentals by bringing together more than 2,000 holiday rental providers in over 200 countries worldwide.
To book your desired rental in your selected destination, HomeToGo a link will be provided which will automatically redirect you to the home rental provider's website. From there, simply follow the website's instructions to complete your booking.
Aside from the usual house, apartment, and room accommodations, HomeToGo also allows you to search for other accommodation types such as hostel, camping sites, castles, boats, among others. Their filters also allow you to customise your search according to a variety of items including amenities, location, price, rating, etc.
What's more, if you need to rent for a few months or more, HomeToGo also displays properties that can be booked for up to a year.
Wide range of accommodation types
More than 2,000 house rental providers
Tenants can compare house rental prices
Includes extensive info about destinations
Different booking process and payment policy per rental provider
Unable to block travel dates
Does not allow in-person visit to holiday rental
Customer Reviews
Below are some great sentiments from their customers:
"Found the ideal property in the right location at a reasonable price. Was easy to book so would highly recommend on the results so far." -Michael Acourt
"Easy to navigate and search and a simple payment process!" -Jayne Meek
"Using the map to show properties is brilliant, you can look where you want to go, prices, view the properties, check availability etc." -Mrs. Errington
"Needed to find a house with seven bedrooms for a short break in Northern England. Site immediately came up with several options. Brilliant!" -John Hutchinson
3. MagicStay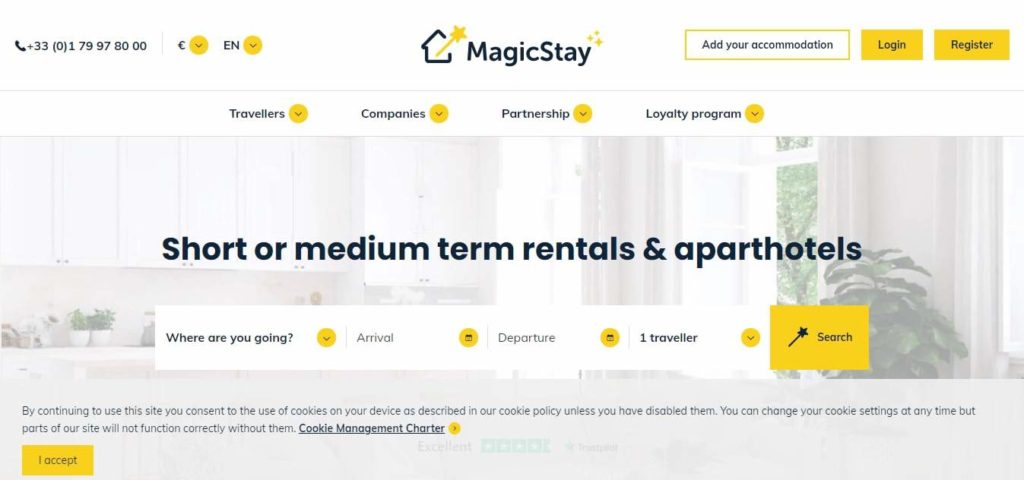 BEST FOR
Short and medium-term rentals for corporate trips
SERVICES
Hotel, flat, room in a flat, cottage, etc.
WEBSITE
https://www.magicstay.com/
ADDRESS
Grasse, France
CONTACT DETAILS
+33 (0)1 79 97 80 00


[email protected]

OPERATING HOURS
N/A
Established in 2013, MagicStay has been awarded several times for its work in providing its clients accommodations in accordance with company requirements.
They cater especially to professionals and employees in need of lodgings during business trips and other company assignments.
What's great about MagicStay is that their customers can book directly on their website.
Also, the accommodations featured in MagicStay (which number up to several hundred thousand) have been selected by the MagicStay team and are maintained by hospitality professionals such as real estate agencies.
Furthermore, tenants are guaranteed compensation for situations where fire, water, or other damages have occurred. Plus, they may pay via credit card or by transfer.
Wide variety of accommodation types and filters
Owners are paid only after 48 hours after tenant's arrival
Housing ads list security details (e.g smoke detector, fire alarm, etc.)
24/7 customer care
Does not allow in-person visit to accommodation
Only provides a host's personal info after booking
Does not allow changing of stay dates once booking is confirmed
Customer Reviews
See what their happy customers have to say about their service:
"Nothing to say just perfect!!!" -Bonnard Audrey
"Very good stay in a clean apartment with good follow-up." -Mda Rimau
"Clear and well-made web interface.
Easy to use and good service." -Romain
"Professional and quality service. I recommend this site." -Emma R
4. University Living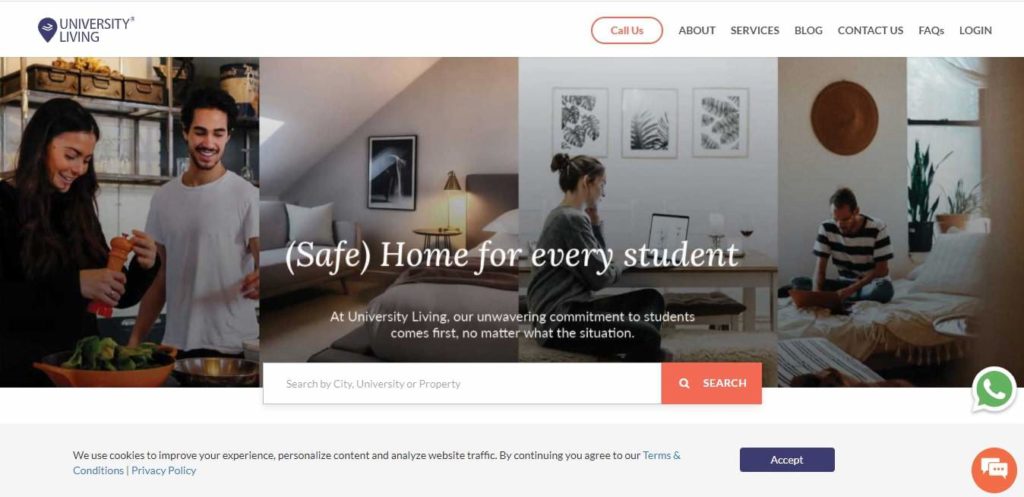 BEST FOR
College students
SERVICES
Accommodations (studio, ensuite, shared), airport pickup, international SIM, room essentials, room replacement, travel insurance, forex, guarantor, and remittance
WEBSITE
https://www.universityliving.com/
ADDRESS
Plot No. A 14, Eco Towers, Sector 125, Noida 201301, India
4th Floor, Suite 2 B Congress House, Lyon Road, Harrow, Middlesex HA1 2EN, UK
1198 Toorak Road, Camberwell, VIC, 3124 – Melbourne, Australia
CONTACT DETAILS
+44 2033322614 (UK) +91 8287902210 (India) +61 388070912 (Australia)
OPERATING HOURS
N/A
If you're planning to complete your tertiary education in Dublin, check out University Living. University Living helps international and domestic students alike find housing to kickstart their college life in over 265 cities across Europe, USA, Australia, among others.
To book your desired accommodation, simply type in the city, university, or property you have in mind. Once you've selected the type of room you want and length of stay from the options available, you'll need to provide other details needed to make a reservation.
Finally, University Living's house expert will get in touch with you to confirm your booking.
What's more, if you're worried about bringing in so much luggage aside from your clothes, University Living has a partner company offering a collection of products you can avail of via their room essentials service.
And if you want to replace your room due to a number of reasons, they can search for a new room for you for €250.
They also offer airport pickup, student travel insurance, international SIM cards, and other services.
24/7 assistance
Offers other services aside from housing
Offers short-term stays
Discounts and other perks for group bookings
In-person visit to accommodation is allowed
Featured accommodations are for students only
Pets are not allowed
Customer Reviews
Check out a number of rave reviews from their customers:
"Ms. Sadhika Obheroi from University Living guided me throughout the booking process for an accommodation in London. She made sure that it was as smooth and comfortable as possible. Very patient, kind and approachable! Will definitely recommend her and University Living for accommodation assistance!" -Riya
"Really thank Mukul for his patience and help. I am very happy about the process of booking this room. Mukul answered all my questions in time and gave appropriate suggestions." -Sienna
"I really want to say thank you to university living for helping me find my perfect accommodation. The service was quick and they really help you when it comes to finding what suits you. I'll 100% recommend for students who are starting university this year and for future students. Looking forward to my new home." -Desiree Anim
5. Housing Anywhere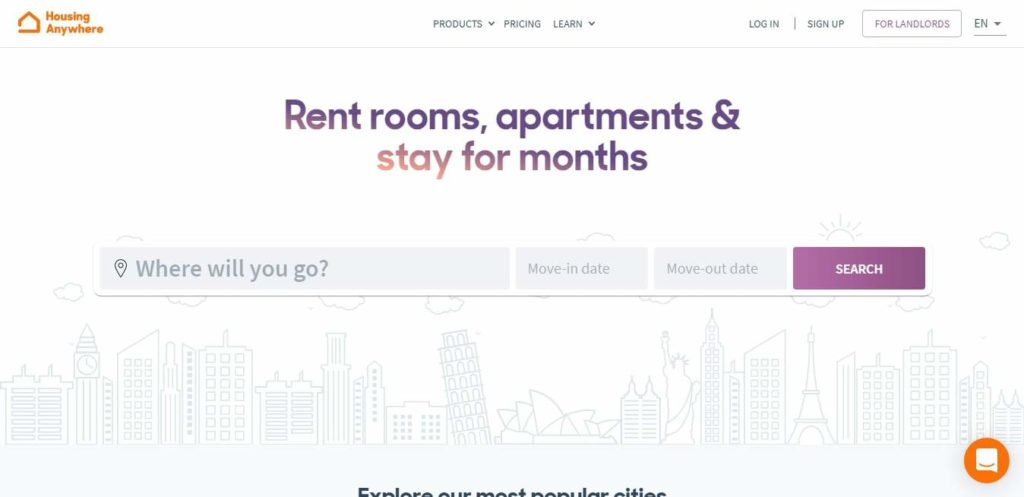 BEST FOR
Mid- to long-term rentals
SERVICES
Studios, apartments, private and shared rooms
WEBSITE
https://housinganywhere.com/
ADDRESS
Hofplein 20, Rotterdam, 3032 AC, Netherlands
CONTACT DETAILS

[email protected]


+31858881399 (Netherlands)
+442039665720 (UK)
+14156517083 (United States)
+4932221095865 (Germany)
+390694500359 (Italy)
+34911230233 (Spain)
+33176400213 (France)
+3225889978 (Belgium)
OPERATING HOURS (CET)
Monday – Thursday: 9:30 AM – 12:30 PM 2 PM – 6 PM
Friday: 9:30 AM – 12:30 PM 2 PM – 5 PM
Housing Anywhere is another platform where you can find private and shared rooms, studios, and apartments fit for mid- to long-term rentals. It operates in more than 400 cities worldwide and is headquartered in the Netherlands.
Similar to other rental platforms, you just type in your destination and choose from the available accommodations featured in that area. Housing Anywhere's filters allow you to adjust your search depending on included and excluded bills, type and gender of tenants, house rules, among others.
Housing Anywhere also enables you to chat with your prospective landlord directly from their website via their direct messaging service.
What's more, you can also pay your rent to your landlord through Housing Anywere's payment service. Housing Anywhere will be the one to collect your first rent, and give to your landlord after 48 hours—provided you have no reasons to find a new accommodation.
Once you book through the website, you will have to pay a booking fee, minimum of €150 and capped at €250. This is a one-time payment only; all other services such as searching the website and chatting with landlords are free.
Direct messaging platform
48-hour cancellation window
Convenient payment tracking system
Has a booking fee
No in-person tours
Not for short-term rentals
Customer Reviews
Below are several wonderful reviews from Housing Anywhere's customers:
"Great service, fast reactions and willing to help with anything." -Anouk Flikweert
"Everything went as expected. Owner was responsive, was waiting for me at my arrival and all photos were accurate. Good experience!" -Candela
"I'm very much satisfied with this platform, their efficiency and service. With the help of HousingAnywhere I was able to find the apartment I was looking for. I would definitely recommend it to everyone who is looking for a place to stay, either short or long term." -Iva Lepcevska
6. Studenthousing.ie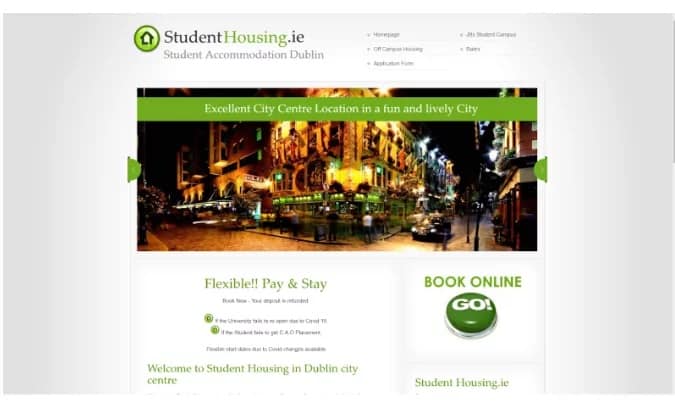 StudentHousing.ie offers high-quality accommodation for an affordable price.
They are near various colleges such as Trinity College Dublin, The American College Dublin, National College of Ireland, and many more.
Refunds are possible if the university fails to re-open due to the pandemic, and/or if the student fails to get C.A.O placement. They also offer special discounts for TU Dublin students.
They communicate well with their clients thus, create hassle-free accommodations. For easier transactions, bookings can be done online as well.
Close to all Dublin colleges
Social events
7. College Cribs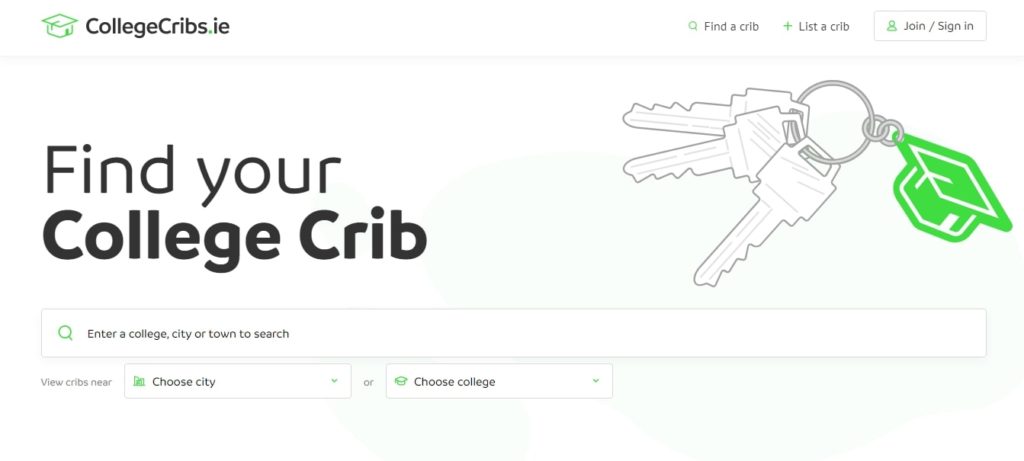 College Cribs is a company that offers a wide range of rooms that is especially geared to accommodate the needs of college students in the area as well as property owners with similarly appropriate properties as well.
We found their website to be convenient and user-friendly in a way that is adequately categorized so that clients will have an easier time to sort through their selection that is in accordance with their needs and preferences.
For sellers, they offer effective and easy-to-browse promotions so that their properties get the best exposure to the right customers who have the highest rate of renting their rooms.
Another thing we find notable is their unique niche for offering not only affordable and functional rooms but also those that are aesthetic and pleasing to the eyes which can be ideal for students to destress and have to get more productive as well.
Overall, with a wide range of rooms all over Ireland, students can easily rent and schedule their desired rooms all on their website at any time and negotiate with the owners at their own pace as well which jives well with the busy schedule academics bring.
Direct access to students
User-friendly website
Wide variety of room rentals
No physical office
Operating hours unavailable
Customer Reviews
Here are some reviews from their clients:
"I recommend CollegeCribs to any student seeking accommodation: I had all the information I needed to make an informed choice."
"CollegeCribs is just perfect for me. I've been using it for years and every year I get the best students through you. Highly recommended!"
FAQs About Options for the Best Room Rentals in Dublin
---
And that ends our list of options for the best room rentals in Dublin!
In case we've missed other amazing platforms that offer room rentals, please contact us! We'll check them out ASAP!
And if you live near Waterford and in need of elderly care for a loved one, check out our list for the best nursing homes in Waterford!