Unveiling Ireland's Best Romantic Getaways: Plan Your Dream Escape
If you're looking for a chance to escape with your partner for a cozy weekend getaway, you've come to the right place! Ireland has an abundance of romantic options that will surely tempt you.
No matter what you're celebrating, we have the perfect place for you. We have a list of amazing resorts, cottages, castles, and food spots for any occasion.
So, what are you waiting for? Start planning your dream getaway with us today and create cherished memories with the love of your life.
The 10 Best Romantic Getaways in Ireland
MacNean House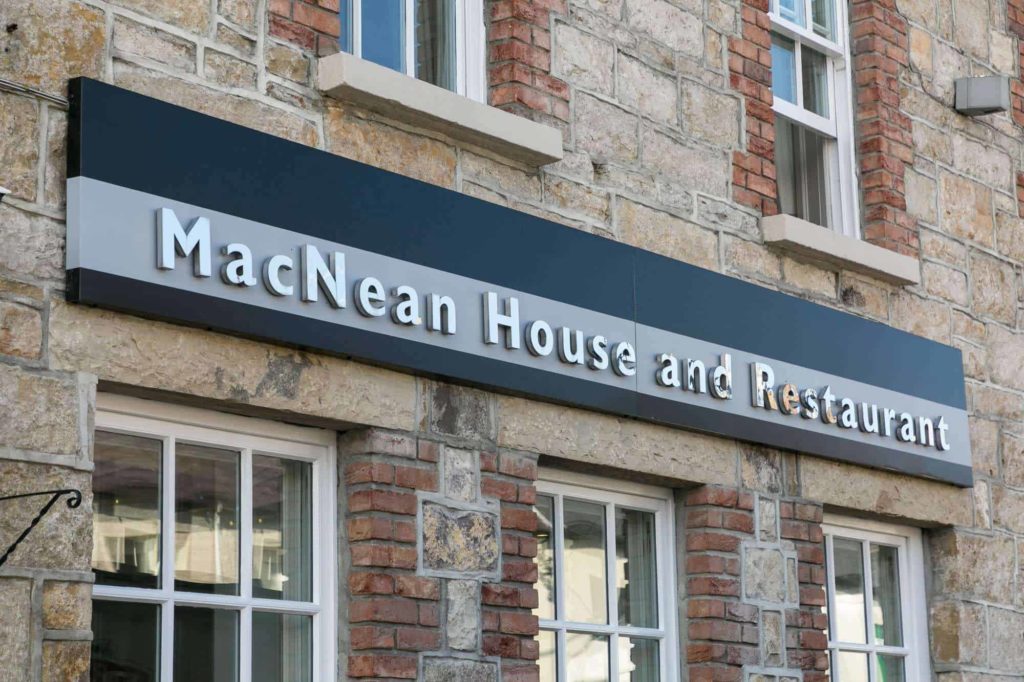 Website: https://www.nevenmaguire.com/ 
Address: MacNean House & Restaurant, Blacklion, Co. Cavan, F91 YK0F
Phone: +353 71 9853022
Email: [email protected] 
Restaurant Opening Hours: Tuesday to Saturday Dinner – 6 PM or 6:30 PM
Reservation Line Opening Hours:
Monday – 10:30 AM to 5 PM
Tuesday to Friday – 10:30 AM to 6 PM
For a delicious treat with your loved one, why not try Neven Maguire's award-winning restaurant and guesthouse? You'll enjoy mouthwatering dishes and comfy accommodations at this foodie paradise.
One dish that we recommend here is the Roast Thornhill Duck Breast, which is part of their Prestige Tasting Menu that showcases local and seasonal ingredients. You can pair this dish with a recommended wine or pick one from their amazing wine list.
After a satisfying meal, you can relax in your cozy guest room or the charming townhouse. In the morning, you'll enjoy a tasty breakfast with the MacNean Porridge.
Pro tip:

Due to high demand, it's recommended to make your reservation well in advance, especially for Friday and Saturday evenings. Consider booking as soon as you have a date in mind to increase your chances of securing a table.
Cabu Cabins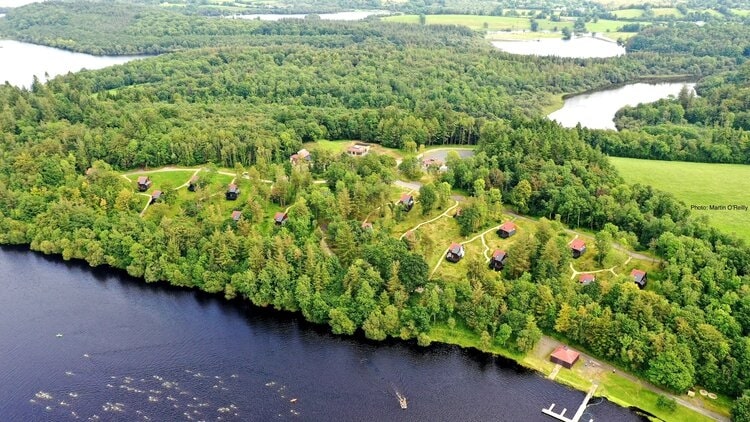 Website: https://holidays.cabu.co.uk/cabu-by-the-lakes 
Address: Killykeen Forest Holidays Ltd, Killykeen, Co Cavan, Ireland, H12 XH36
Phone: +353 49 489 4027
Operating Hours: Monday to Sunday – 8 AM to 9 PM
Do you want to surprise your partner with a romantic escape in Ireland that they'll never forget? Then book a Cabu Cabin, a snug hideaway in the woods of Killykeen Forest Park, by the lovely Lough Oughter.
You'll love this fantastic area known for its fishing, lakes, and boating opportunities. During your stay, you can relax in your own cozy log cabin or lake house with a wood-burning stove.
Enjoy quality time together as you explore the beautiful woodland, go for bike rides, take relaxing walks, and share lots of laughter.
At Cabu House, you'll find a fully licensed bar, a shop, and a nature spa where you can relax in a bubbling hot tub, sauna, and a room for unwinding.
Pro tip: 

Don't miss the chance to relax at The Retreat's spa, where you can enjoy ancient Japanese treatments, relax in the outdoor hot tub and sauna, and unwind completely. 

Additionally, don't forget to check out The Explorer's Bar on-site, where you can savor a variety of craft beer and creative cocktails.
Lough Eske Castle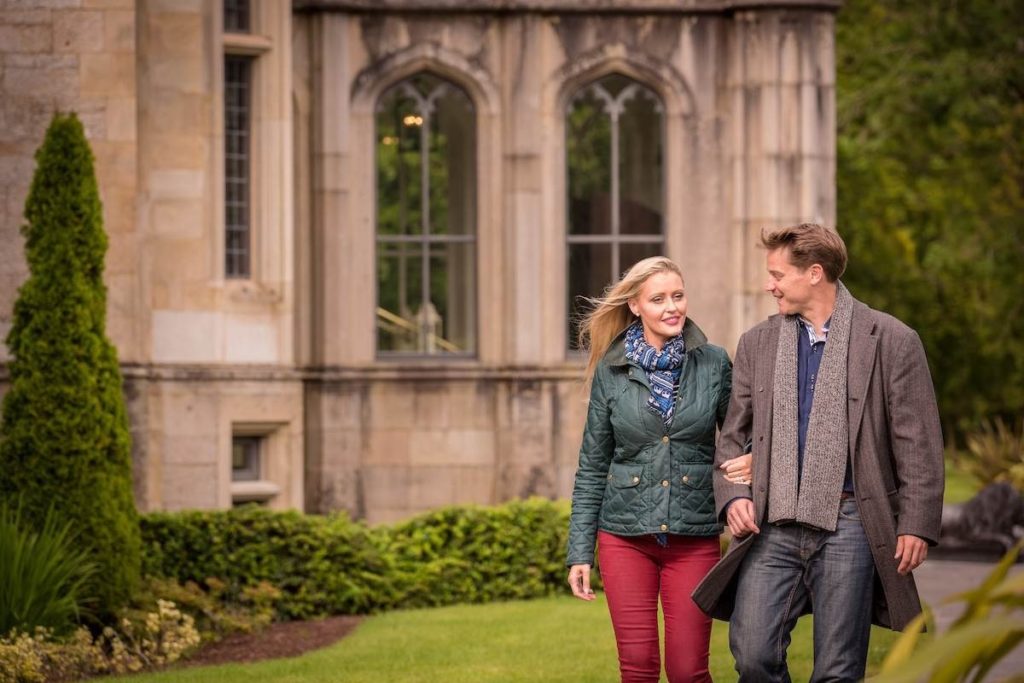 Website: https://www.lougheskecastlehotel.com/ 
Address: Lough Eske Castle, Donegal Town, Co. Donegal, F94 HX59
Phone: +353 7497 25100
Email: [email protected]
Lough Eske is one of the most popular castle hotels in Ireland, and for good reason. You and your partner will feel like royalty in this stunning castle, with its relaxing pool and spa and beautiful Donegal views.
Situated on the lough shores, this castle has stunning gardens and has been recognized as The Times Best Luxury Hotel in Ireland.
The bedrooms are luxurious, with four poster beds and opulent decor. The Cedars Restaurant is also highly acclaimed for its culinary excellence.
Pro tip:

Before leaving the castle, participate in their fish smoking activity. Even if you're not an angler, you can use the hotel's fish and learn from the chef how to unlock its flavor. 
Inis Meáin Suites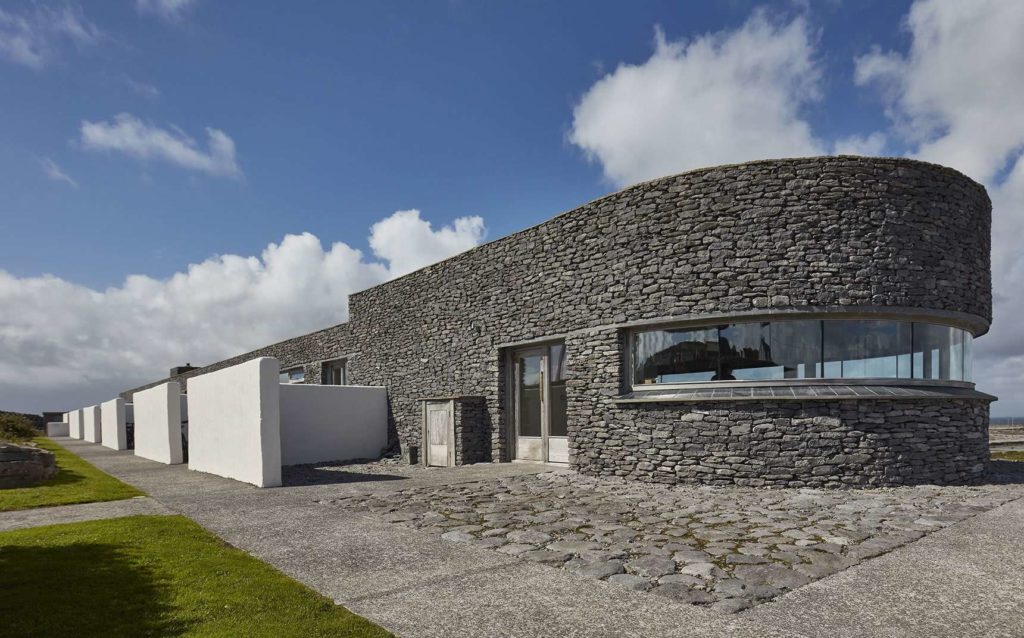 Website: https://inismeain.com/ 
Address: Inis Meáin Restaurant & Suites Inis Meáin, Co. Galway, H91 NX86
Phone: +353 86 000 0000
Email: [email protected]
You must consider escaping to this remote island in the captivating Aran Islands, where love and tranquility fill the air. The private suites here are simply dreamy, with their chic and earthy interiors that create the perfect romantic ambiance.
And let's not forget about the mouth-watering breakfast boxes and hotpot lunches that are delivered right to your door every single day. It's pure bliss!
But what truly sets this place apart is the exploration kit they provide. It's like having your own personal guide to help you discover the island's hidden gems.
Now, mark your calendar because the suites are open from March to September, giving you the perfect window of opportunity to plan your romantic escape.
Pro tip:

To ensure a smooth journey to the island of Inis Meáin, make your travel bookings in advance. You can easily book a passage on the passenger ferry, seasonal ferry,  or plane. 

For something more private and fancy, you can even opt for a helicopter or private boat!
Fernwood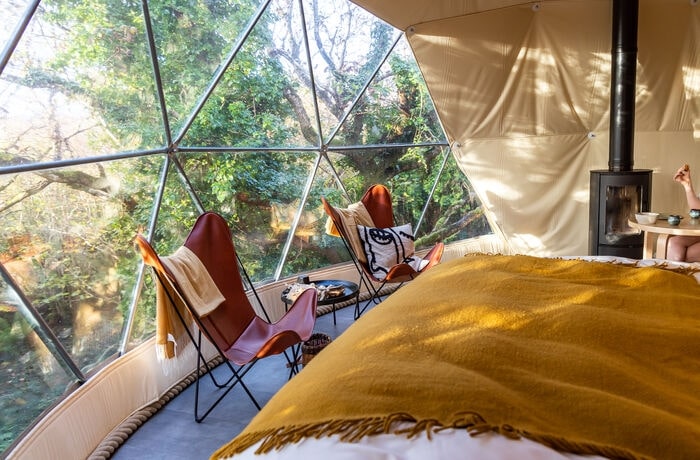 Website: https://www.fernwood.eco/ 
Address: Clifden, Galway, H71 XY80
Phone: +353 876407321
Email: [email protected]
Looking to recharge not just your energy, but also your love life? Check out Fernwood, one of the best places for couples to go glamping in Ireland, where you can escape to a beautiful eco woodland retreat designed exclusively for couples.
At Fernwood, you can choose between a cozy studio with large windows and a fireplace or the captivating Treehouse Dome that will sweep your partner off their feet.
Perched 5 meters above the ground, the plush geodesic dome at Fernwood boasts a super-king Murphy bed and a cozy woodburner stove, creating a romantic treetop retreat.
Inside, you'll find a kitchenette with a combi oven, fridge, and hob for breakfast in bed, along with a spacious deck to plan your adventures over a cup of coffee.
Pro tip:

While a car is essential for exploring Connemara, walking or using public transport is feasible. However, keep in mind that there is no public transport within Clifden, and taxi availability can be limited.
Glamping at the Grove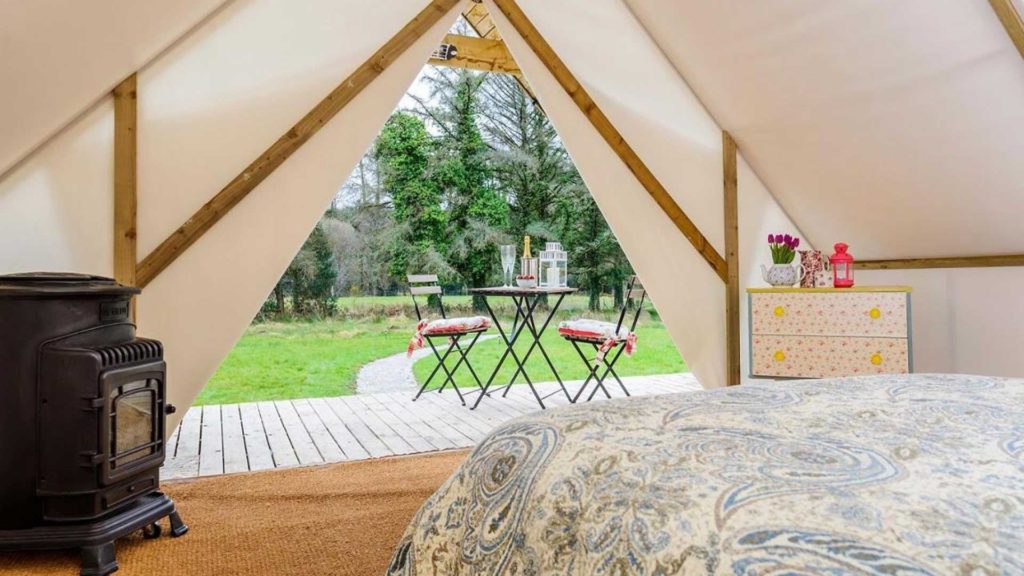 Website: https://www.killarneyglamping.com/ 
Address: Killarney Glamping, Ballycasheen, Killarney, Co. Kerry, V93 YT32
Phone: +353 87 9750110
Email: [email protected]
If you're looking for privacy and relaxation, Glamping at the Grove is the perfect place for you! This adults-only venue offers romantic suites with comfy double beds, warm electric blankets, and private bathrooms with showers.
You and your partner can enjoy dining together on your own deck and treat yourselves to a barbecue with toasted marshmallows. You can upgrade to a fancy luxury lodge with a big bed, heating, a coffee machine, and a kitchen.
Located in Killarney, it's the ideal spot for a romantic getaway in Ireland, with plenty of things to see and do nearby, like the famous Ring of Kerry.
Pro tip:

Stay updated on the Killarney Glamping at the Grove website for the cheapest rates and reservation availability. Book directly through their site to access special offers and exclusive deals, ensuring you get the best value for your getaway.
Legan Castle Farmhouse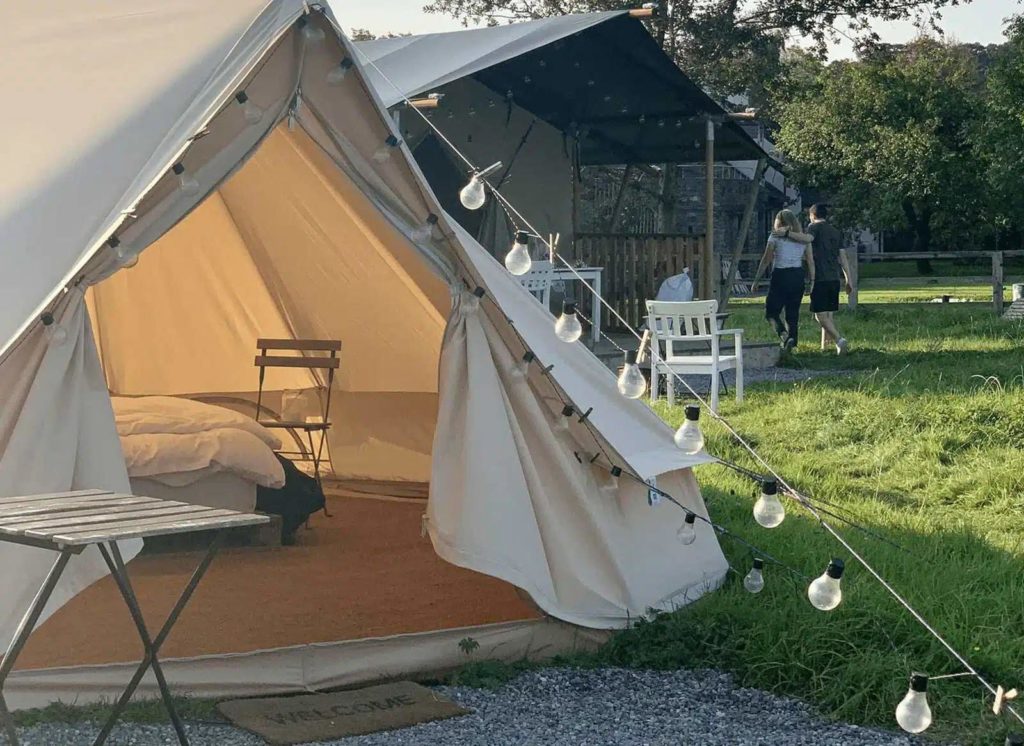 Website: https://legancastle.ie/ 
Address: Legan Castle Farmhouse, Legan, Thomastown, Co. Kilkenny
Phone: +353 87 122 3224
Email: [email protected] 
Legan Castle Farmhouse is not your ordinary guesthouse – they have cozy bedrooms, glamping bell tents, and even a private cottage called The Bolthole. When you arrive, they'll welcome you with beautiful flowers, fires crackling in the fireplace, and delicious homemade treats.
At Legan Castle Farmhouse, you'll feel right at home with their warm and cozy bedrooms.
If you're feeling adventurous, you can try glamping in their lovely bell tents. And if you're looking for some extra privacy, The Bolthole cottage is the perfect retreat just for the two of you.
But one of the best things about your stay will be the amazing food! They prepare everything from scratch, including delicious scones, cakes, and eggs straight from their own hens.
Pro tip:

When packing for glamping, choose versatile clothing that can match easily, and consider layering options for changing temperatures. Don't forget essentials like a sunhat, sunglasses, raincoat, comfortable footwear, and a backpack or bum bag.
Ballyfin Demesne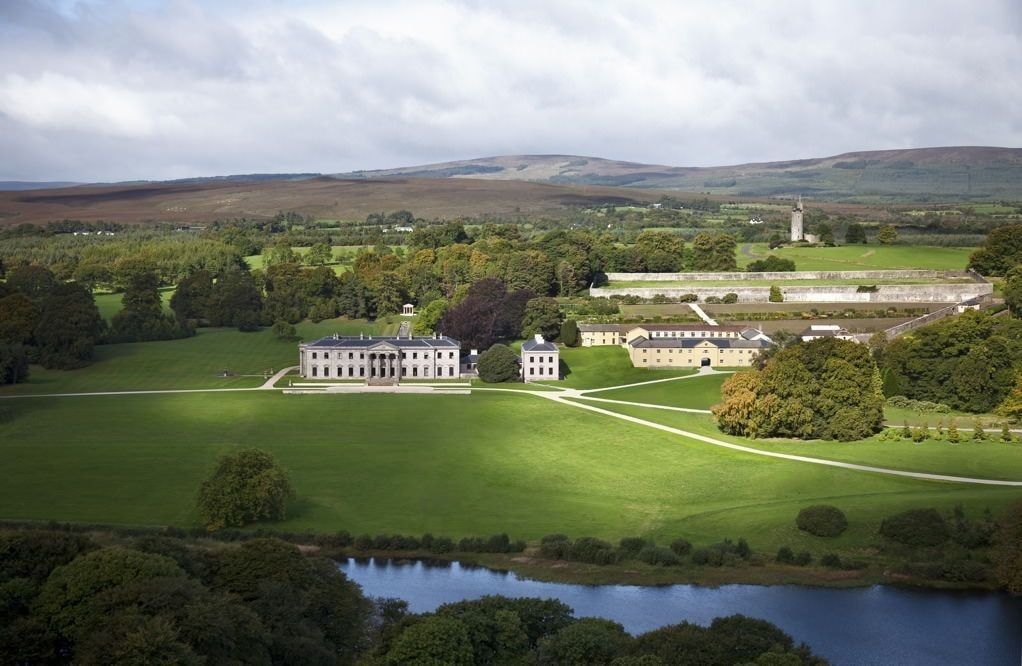 Website: https://www.ballyfin.com/en/ 
Address: Ballyfin Demesne, Ballyfin, Co. Laois
Phone: +353 5787 55866
Email: [email protected]
Ballyfin Demesne is a charming country house retreat nestled at the base of the beautiful Slieve Bloom Mountains, blending history and natural splendor.
In this five-star haven, you'll be treated like royalty, with impeccable service, magnificent rooms, and cozy fireplaces in the communal areas awaiting your arrival. It's the ideal home away from home for a truly relaxing experience as a couple.
Their gourmet restaurant serves exquisite cuisine accompanied by an impressive selection of wines from their exceptional cellar, indulging your taste buds with delight. The culinary delights and the warm ambiance will make you want to come back.
Don't miss out on the opportunity to create lasting memories together at the Ballyfin Demesne. Its rich history, breathtaking surroundings, and unparalleled luxury will make it a destination you'll want to revisit time and time again.
Pro tip:

When staying at Ballyfin, take advantage of the early arrival option from 12 noon to make the most of your experience by exploring the house and demesne before check-in at 3pm.
The Cliff House Hotel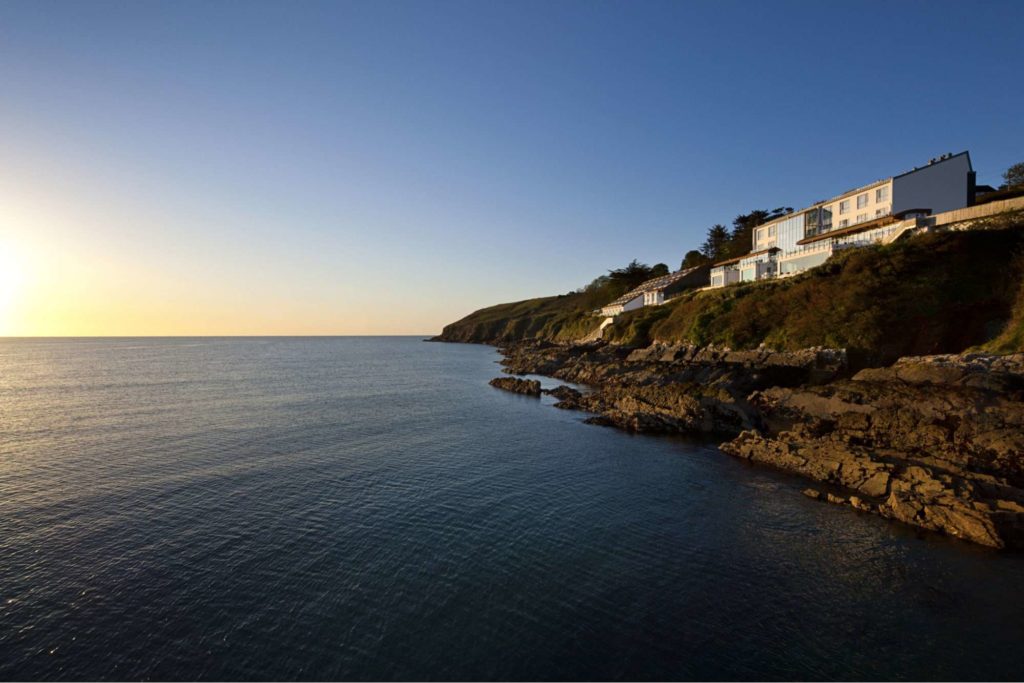 Website: https://cliffhousehotel.ie/ 
Address: Middle Road, Ardmore, Co. Waterford
Phone: +353 24 87800
Email: [email protected] 
The Cliff House Hotel in Ardmore is a great choice for couples who want a beautiful and romantic getaway. It's located on top of a cliff, and you can enjoy amazing views of the ocean from anywhere in the hotel.
As the top luxury 5-star hotel in Ireland, you can be confident that you're in for an exceptional experience. Choose from the hotel's 39 charming boutique rooms, each adorned with exquisite furnishings and unique artworks crafted by local artisans.
You can spoil your partner by taking them to the spa in the morning, and later you can have a romantic dinner with candles at the Michelin Star House Restaurant, where you'll have a stunning view of the coast.
There's also a fancy bar where you can have a drink before dinner, and in the summer, you can sit outside on the terrace and enjoy tasty lunches. 
Pro tip:

To avoid confusion with other locations in Waterford that have similar names, use the following coordinates to reach the Cliff House Hotel: N 51 57.61 W 007 42.84 or the Loc8 code YSB-80-TR9 for Garmin devices.
Wineport Lodge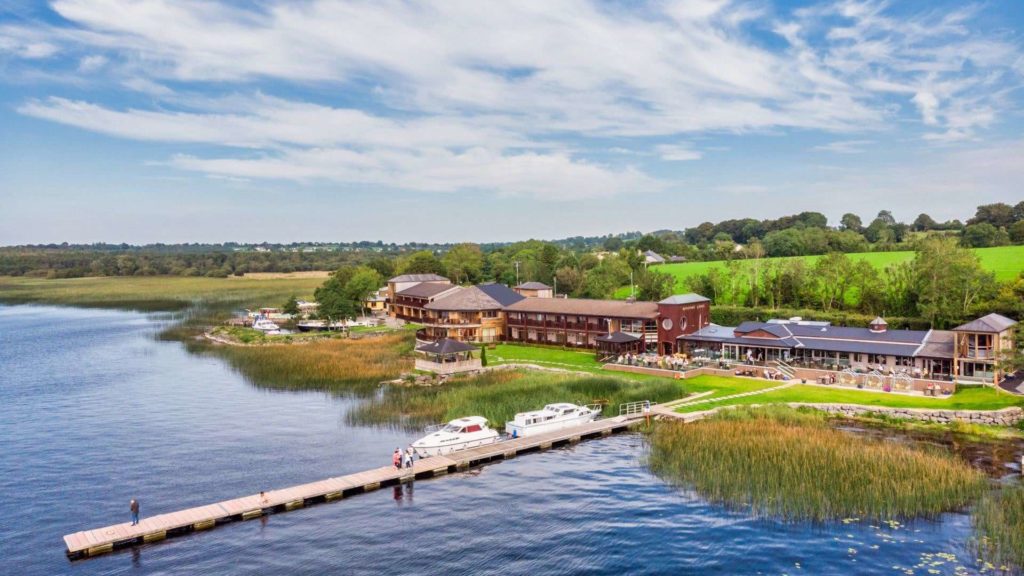 Website: https://www.wineport.ie/ 
Address: Wineport Lodge, Glasson, Athlone, Co Westmeath, N37 R2D7
Phone: 090 643 9010 / 090 643 9010
Email: [email protected] 
Wineport Lodge, located by the beautiful Lough Ree, is a beloved romantic hotel in Ireland that offers an exquisite experience.
You'll find luxurious lodges with plush carpeting, cozy beds, and your very own hot tub on the terrace, providing breathtaking views of the lake.
You can spend quality time together, savoring the warm steam and admiring the lough as you indulge in a glass of sparkling wine, and later, marvel at the starry constellations in the night sky.
Treat yourselves to delightful cocktails at the bar, followed by a memorable dinner. After an invigorating afternoon hike, unwind with a relaxing cup of tea for two, or perhaps indulge in a soothing couples' massage in the tranquil treatment rooms.
Pro tip:

To enhance your romantic getaway, explore the captivating artworks at Luan Gallery, pay a visit to the nearby Athlone Castle, or take a leisurely stroll through the picturesque village of Glasson.
The 10 Best Romantic Log Cabins with Hot Tubs in Ireland
Killyhevlin Lakeside Hotel and Lodges
Website: https://www.killyhevlin.com/ 
Address: Killyhevlin Lakeside Hotel & Lodges, Dublin Road, Enniskillen, Co. Fermanagh, BT74 6RW
Phone: +44(0)28 6632 3481
Email: [email protected] 
If you ever watched Sleepless in Seattle and admired Tom Hanks' amazing houseboat, you can experience a similar dreamy lakeside getaway at Killyhevlin.
These cozy cabins are situated right on the water's edge, each with its own dock leading directly to Lough Erne. Whether you fancy a refreshing swim or prefer to unwind with a glass of wine, this tranquil setting offers the perfect escape.
Additionally, you can opt for one of the woodland lodges that come with private hot tubs, and enjoy full access to the hotel amenities, such as the pool, thermal suite, and outdoor jacuzzi. 
Pro tip:

If you're self-catering at Killyhevlin, don't bother bringing groceries from home. There's a nearby Tesco superstore just three minutes away, offering affordable prices on beer and wine, among other items.
Drumhierny Woodland Hideaway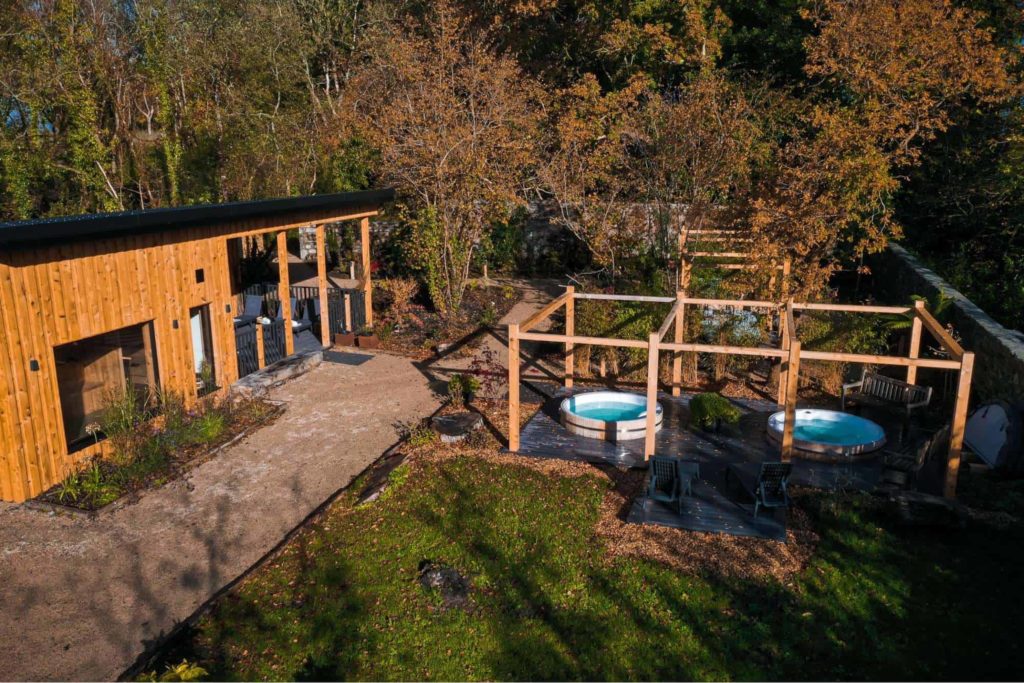 Website: https://www.drumhiernyhideaway.ie/ 
Address: Drumhierny, N41 T6P6 Leitrim Village, Co. Leitrim
Phone: +353 71 93 17777
Email: [email protected] 
Drumhierny's latest cabins are perfect for couples looking for a peaceful escape.
With their charming lodges nestled in an ancient forest, you can enjoy the beauty of nature while having enough space to unwind.
The sofa inside offers plenty of space to relax, and the deck outside lets you cozy up among the trees. You can also enjoy the outdoor spa in the estate's old walled garden, where they offer seaweed baths and hot tubs.
Pro tip:

Enhance your lodge experience by ordering a fire pit delivery, which includes a generous supply of logs and giant marshmallows for just €25. 

When arriving in Drumhierny from Carrick-on-Shannon, don't miss a visit to Honestly Farm Kitchen's shop, where you can find tasty organic burgers, steaks, freshly baked bread, and farm-fresh vegetables.
Aurora North Coast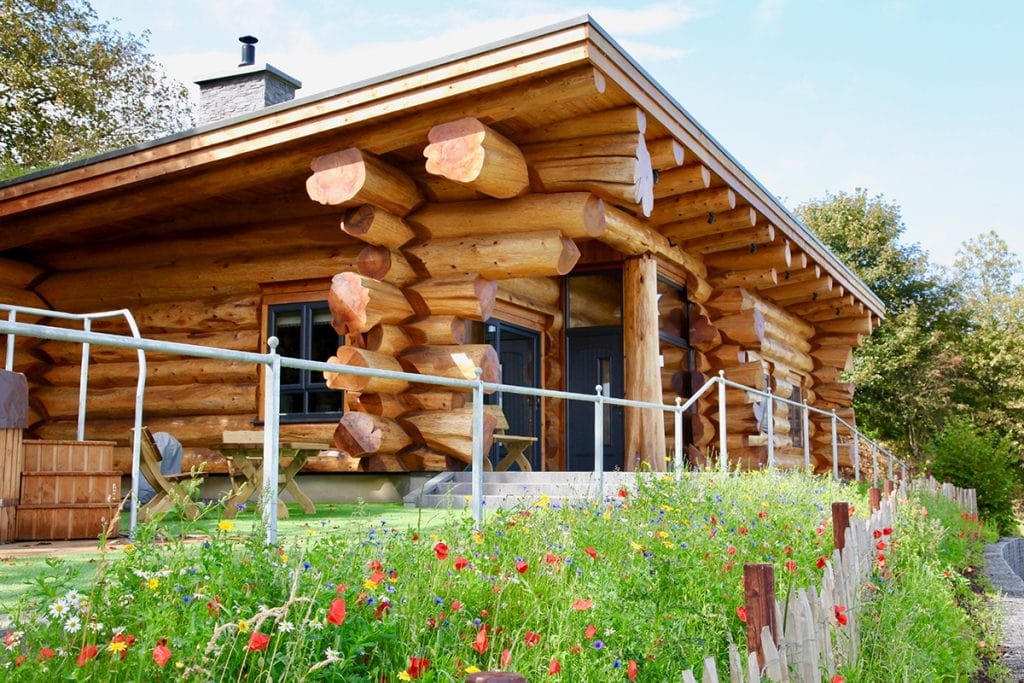 Website: https://www.auroranorthcoast.com/ 
Address: 14 & 16 Castlenagree Road, Bushmills, Co Antrim, BT57 8XN
Phone: 07761 945914
Email: [email protected]
In Ireland, it's hard to find log cabins that truly capture the authentic Canadian vibe,. However, at Aurora North Coast, you'll discover exactly that as they've directly imported two cabins from British Columbia.
As you step inside, you'll enjoy comfort, style and modern amenities. 'Ulex' cabin, in particular, stands out with its stunning copper standalone bathtub in the bedroom, offering uninterrupted views of the picturesque Rathlin Island.
To enhance your romantic getaway, both cabins are equipped with private hot tubs, allowing you to relax and unwind in complete privacy.
Pro tip:

Don't miss the 2-acre sunflower field at Aurora North Coast in late August, as it not only captivates with its beauty but also attracts wildlife and pollinators, creating a must-see experience. 
Woodland Lodges at Center Parcs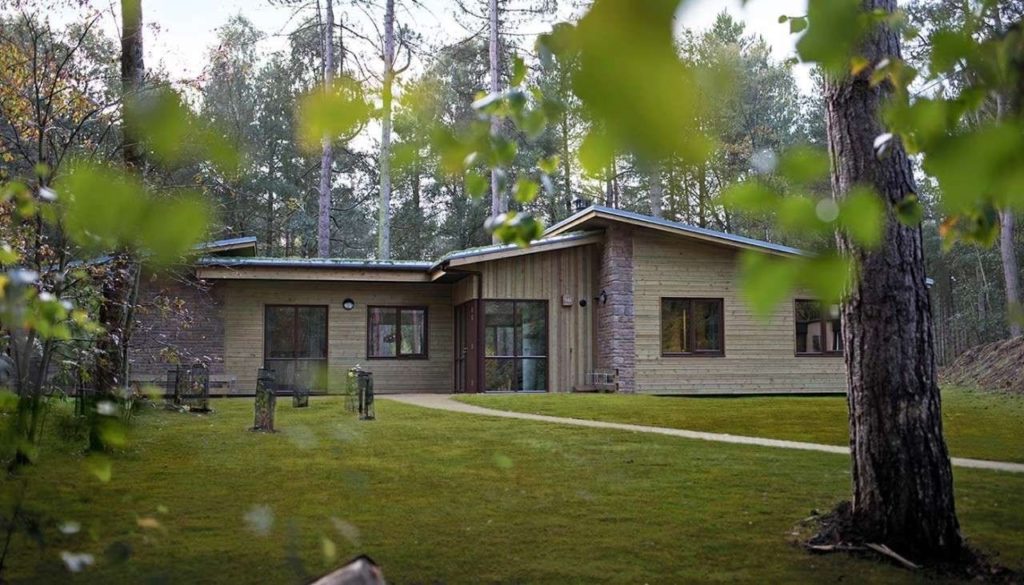 Website: https://www.virginiaparklodge.com/the-cabins/ 
Address: 10 Earlsfort Terrace, Dublin 2, D02 T380, Ireland
Phone: 554787
If you're looking for a romantic log cabin experience that combines the comfort of a resort with the charm of the forest, Center Parcs has just what you need.
Their lodges in Longford Forest have all the fancy stuff like dishwashers and TVs, but they also have warm and inviting features like wood-burning stoves and lovely patios where you can enjoy the view of the trees.
For an extra dose of relaxation, make sure to check out their forest spa, Aqua Sana, where you can unwind in glass-fronted saunas and indulge in outdoor hot tubs surrounded by nature.
Pro tip:

If you want to maximize your chances of spotting wildlife, visit in mid-morning. Check the ranger's lodge for animal feeding stations and a notice board with guest sightings.

To catch a glimpse of adorable baby owls, make sure to stop by the lodge around 9:30 pm.
Treehouse at Grove House
Website: http://www.cottagesforcouples.ie/treehouse-1-at-grove-house/ 
Address: Cottages for Couples, Grove House, Skibbereen, West Cork, Ireland
Phone: +353 28 22957
Email: [email protected]
Operating Hours: Monday to Friday – 9:30 AM to 5 PM
Imagine yourselves in a romantic Treehouse offering a luxurious haven for couples like you. As you climb the tree-trunk steps, you'll enter a retreat made from eco-friendly materials, creating an unforgettable experience in a unique location.
Inside, you'll find a delightful blend of luxury and nature, with a well-equipped kitchen for preparing enjoyable meals together. The bathroom features a refreshing walk-in shower and an electric radiator that keeps you warm and comfy during your stay.
You can delight in the inviting open-plan area, where the double bed in the purple zone offers a view of the roll-top bath, and the lounge and dining space create an intimate setting for meals or gatherings.
Outside, a private two-person hot tub on the deck awaits, providing picturesque views and a deep connection to nature.
Pro tip:

Secure your ideal treehouse rental by booking early. The popularity of treehouse rentals is soaring, and they tend to fill up quickly, particularly during the warmer months. 
The River Fane Retreat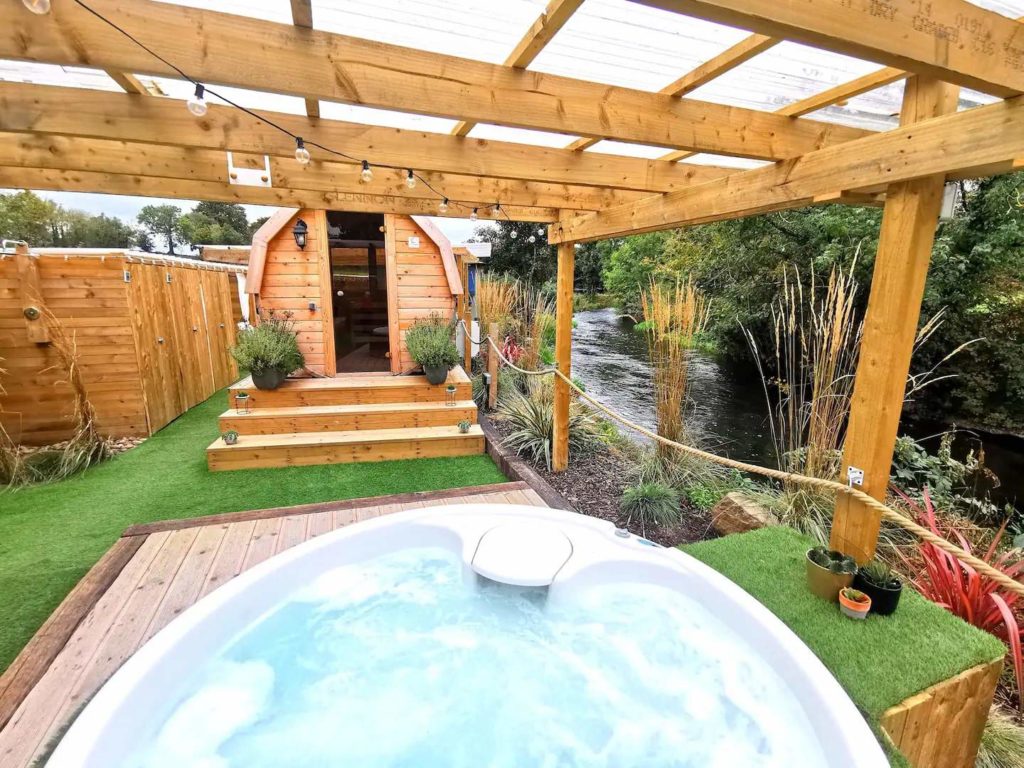 Website: https://www.airbnb.com/h/riverfaneretreat 
Address: Inniskeen, County Monaghan, Ireland
For couples seeking an affordable spa retreat, this lovely log cabin nestled in a peaceful riverside setting offers the perfect getaway. You'll get a cozy bedroom, a kitchenette with a Tassimo coffee maker, and wonderful spa treatments nearby.
At the spa, you'll experience the ultimate relaxation as you immerse yourself in your very own wood-fired barrel sauna and invigorating spring water plunge pool. And when it's time to unwind, indulge in the privacy of your own Canadian Spa hot tub.
Not only will you find an outdoor spring water shower to invigorate your senses, but there's also a heated shower indoors in the bathroom. All of this can be enjoyed while surrounded by the stunning scenery of the River Fane, located near Dundalk.
Pro tip:

It's best to come by car to fully enjoy the convenience of the private driveway and safe car park provided. 

If you prefer public transportation, the Dundalk – Carrickmacross bus stop is a 10-minute walk away (please check the bus schedules in advance because times may vary).
Glenside Cottage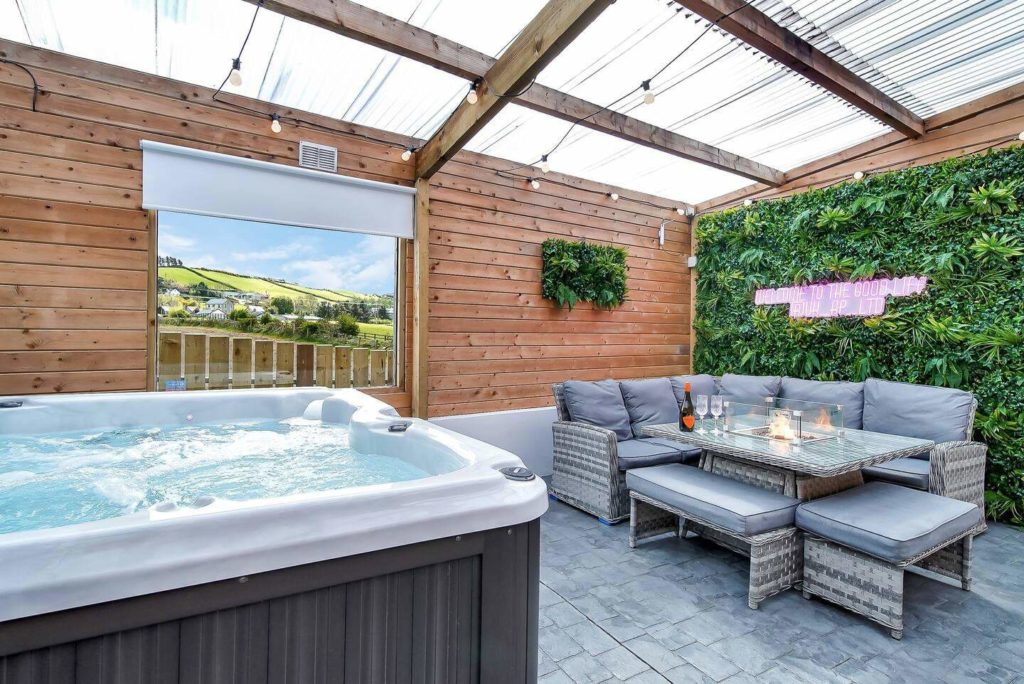 Website: https://www.booking.com/hotel/ie/relaxing-2-bedroom-irish-cottage 
Address: Gransha Road, Buncrana, County Donegal
You'll absolutely love your stay at Glenside Cottage, a beautiful and tidy retreat with breathtaking mountain views and complimentary WiFi. Located in Buncrana, this villa offers a comfortable and well-equipped space.
The cottage provides a comfortable and cozy atmosphere. There is also an exclusive area with a hot tub and a table tennis table for extra fun.
The impeccable cleanliness and availability of all the amenities will enhance your experience. Plus, it's just a short walk to the charming town of Buncrana, where you can find delicious food and a lively nightlife.
Pro tip:

Take advantage of the terrace and explore the nearby hiking trails, ensuring a memorable experience during your stay at Glenside Cottage.

For golf enthusiasts, Buncrana Golf Club is just 3.6 km away, and if you're looking for more city attractions, Guildhall is a short 22 km drive.
Rustic Log Cabin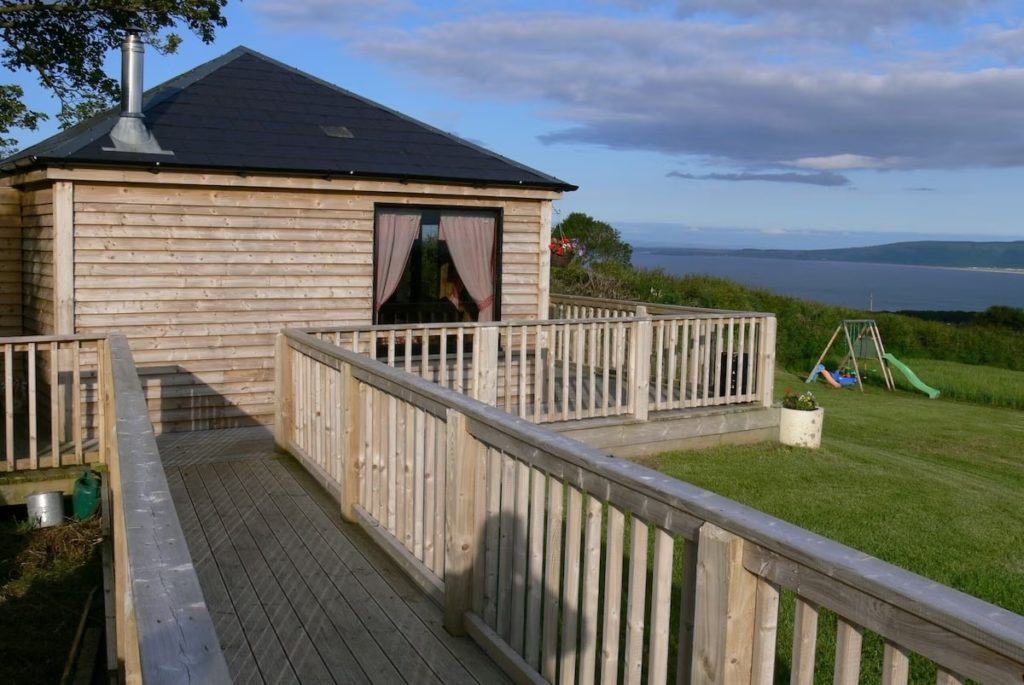 Website: https://www.vrbo.com/8193442ha 
Address: Greencastle, Co donegal, Ireland
Looking for a peaceful escape from the busy city life? This cozy Vrbo vacation rental in Greencastle is the perfect spot for couples.
You'll wake up to stunning views of Lough Foyle and Benone Strand Beach.
The cabin has two big bedrooms that can accommodate up to four people. It's nice and warm inside with central heating, and they've made sure to provide all the things you need for your comfort.
Plus, there's a deck where you can have barbeques while enjoying the beautiful scenery. If you feel like relaxing in a hot tub, they've got one just a short walk away, but you'll need to pay a one-time fee to use it.
Pro tip:

Don't forget to explore the nearby attractions like Magiligan Point (only 3.1 kilometers or 1.9 miles away) and Inishowen Head (just 4.4 kilometers or 2.7 miles away).
The Celtic Cottage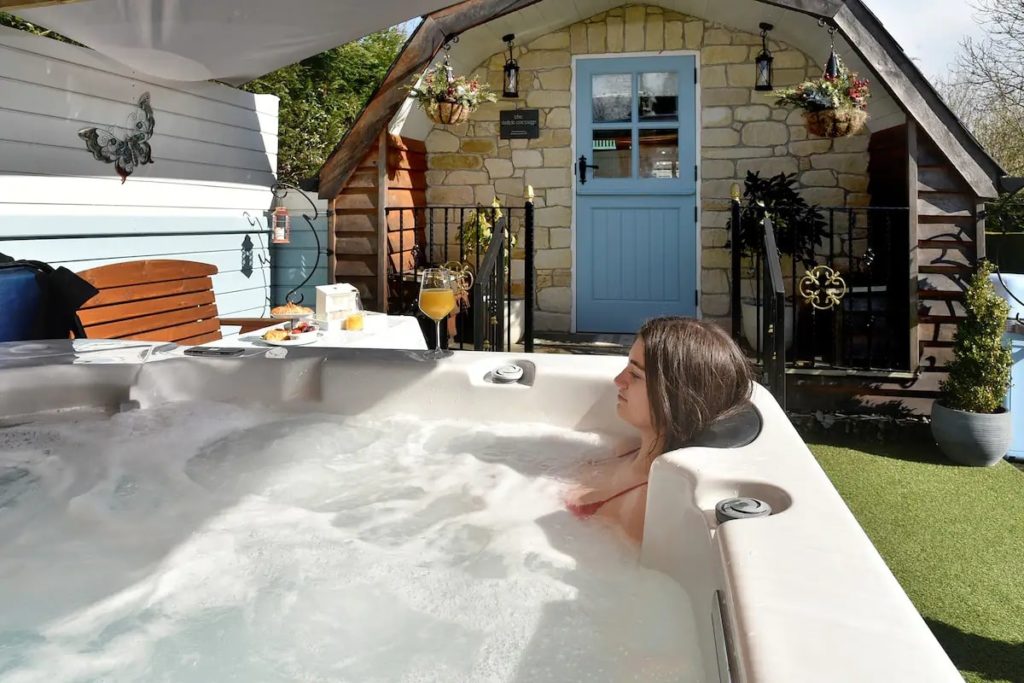 Website: https://www.airbnb.com/h/celticcottage 
Address: Gorey, County Wexford, Ireland 
Phone: +353 86 849 4646
Email: [email protected]
This charming Celtic cottage in the hills of the Wicklow/Wexford border is a great choice for a getaway. Even though you're away from the busy city, you'll have modern comforts like a private deck with a dining and barbeque area.
Perfect for couples, this cozy cottage accommodates two guests and features a relaxing hot tub where you can unwind with a glass of wine. The compact kitchenette provides all the essentials for a simple meal, and you can even request a minibar for a little extra indulgence.
Pro tip:

Don't miss the chance to enjoy 'Nolan's Bar', which is only 2km away and offers a free drop-off service. For more adventure, try horse riding, golfing, or visiting Ballymoney Beach & Courtown Harbour, all within a 20-minute drive. ️
Seaview Cabin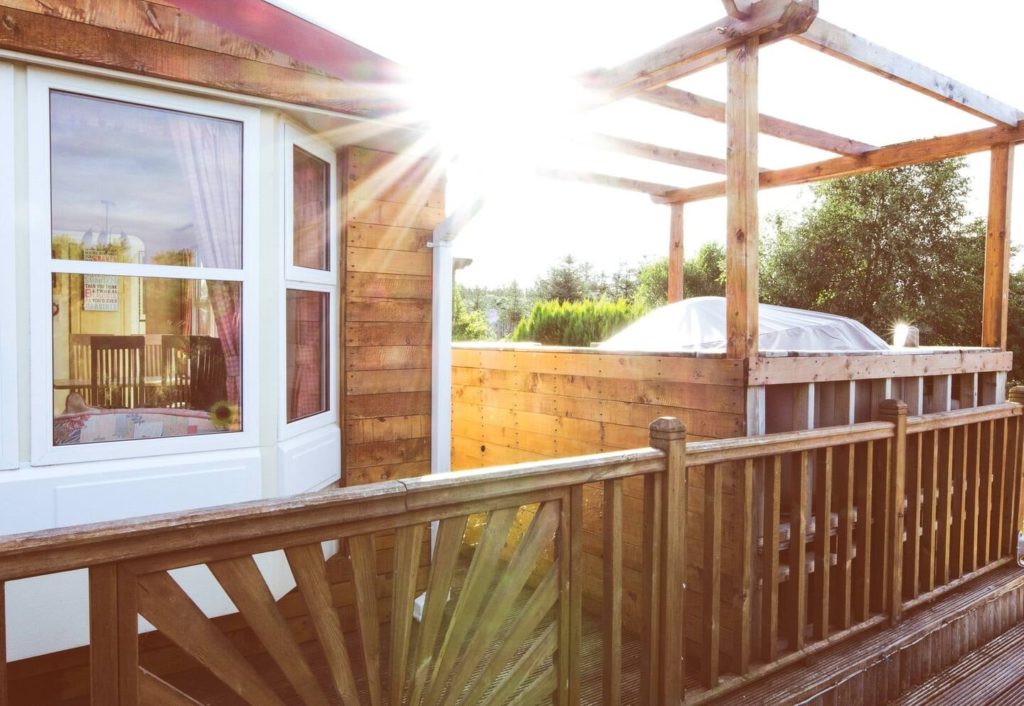 Website: https://www.airbnb.com/rooms/18216337 
Address: Kinlough, County Leitrim, Ireland
Email: [email protected]
If you both want a quiet escape in the countryside of Leitrim, this intimate retreat is perfect for you.
During your visit, you might have the chance to spot the local Native Red Deer as they roam the nearby forest. You'll be treated to stunning views of the Arroo mountains at the back and breathtaking vistas of the Wild Atlantic Way coast at the front.
The accommodation offers a one-of-a-kind experience, providing a cozy and warm atmosphere, along with a comfortable TV area for a perfect night in. You can also have a great time with an evening BBQ or a relaxing dip in a big, private hot tub while enjoying the stunning views.
And in the morning, step onto the cabin's terrace for a lovely outdoor breakfast, savoring the delicious food and each other's company. Don't worry about leaving your furry friends behind; they're welcome too, with a safe wooden fence, a gate, and a spacious dog kennel for their comfy sleep.
Pro tip:

Catch the daily bus, a short 10-minute walk from the cabin, to easily reach Bundoran and Ballyshannon. For a more tailored experience, keep local taxi numbers at hand for convenient transportation options.