Top 9 Photographers in Limerick
Whether it's an adorable newborn or a quiet wedding, photography can be a great way to capture the memories on special occasions. However, different photographers out there have different styles and strengths to consider.
In this article, we check out the best photographers in Limerick to help you decide which one may be the most suitable for your situation.
How much does photography cost?
Photography prices vary on a lot of factors. These include the duration of the sessions, the equipment needed, the quantity and format of the output, as well as the background of the photographer.
Below is a list of prices of different packages we found that different photographers had to offer.
PHOTOGRAPHER OR BUSINESS
PACKAGE DETAILS
PRICES
JustForYou Photography

Standard Session Classic

Fine Arts Portraits Classic

€ 299

€ 100

Michael Martin

Wedding Package A

Wedding Package E

€ 1350

€ 2350

Ayesha White

Newborn Sessions Package 1

Birthday Package Cake Smash

€ 299

€ 299

Posie Photography

Deluxe Cake Smash

Mini Maternity

€ 399

€ 249
Top Photographers in Limerick
We assessed the photographers based on the following criteria:
1. Cormac Byrne Photography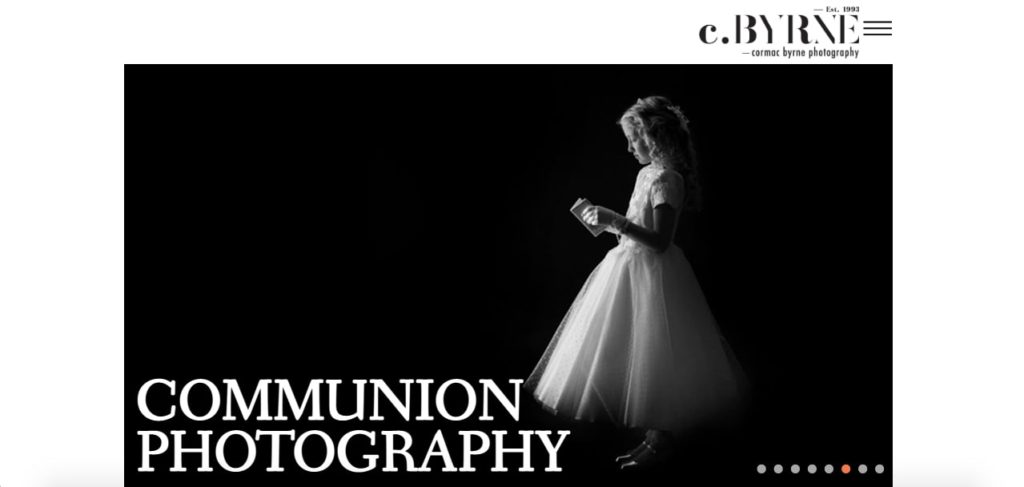 Test
Info
SERVICES

Portraits: Families, Fine Arts, Pets, Newborns

Acting and Business Headshots

Communion, Fashion

WEBSITE
https://www.cbphoto.ie/
ADDRESS
1 The Laurels, Road, Dooradoyle, Co. Limerick
CONTACT DETAILS

PHONE: +353 (0) 61 229805

OPERATING HOURS

Tuesday to Saturday: 9:30 AM to 5:30 PM
| | |
| --- | --- |
| Photography services | ★★★★★(5/5) |
| Range | ★★★★☆(4/5) |
| Quality | ★★★★★(5/5) |
| Background | ★★★★★(5/5) |
| Availability | ★★★★★(5/5) |
| Feedback | ★★★★★(5/5) |
| Process | ★★★★★(5/5) |
| Satisfaction | ★★★★★(5/5) |
Cormac Byrne Photography offers stylish and refined photos for a variety of different subjects. Cormac himself is very experienced in the craft, winning different awards including the Fuji/I.P.P.A. Masterpiece Award and multiple Gold Crest Awards.
If you're looking for an experienced photographer, he makes a great choice, having around 30 years of experience in the business.
What we also think makes them a great choice is the variety of subjects he shoots for portraits. From family portraits to even pet photoshoots, Cormac Byrne offers a very versatile selection.
We think customers will especially like how expressive his style is, having great skill in using light and color to bring out the personality of his subjects.
His style is particularly great for more conceptual prompts which we think best suits his fashion and fine art photography. So, if you're looking for a photographer who is more experienced with stronger concepts, you may want to check him out.
On the other hand, this strong style is still able to bring out his subject's personality even in more typical portraits like family photoshoots and business headshots. Cormac Byrne is the perfect choice if you're looking for something more stylized and refined.
However, it's important to take note that he is only able to supply framed images for his portraits. For those looking for a photographer that offers digital copies, this is not the studio for you.
All in all, Cormac Byrne offers great quality thematic photos with strong concepts that bring out a lot of personality and character.
Very thorough and detailed with requests
Starting price is relatively affordable 
Excellent range of photograph types with some more unique offerings
Pictures are very expressive, great with color and lighting
Can get busy due to popularity
Customer Reviews
The Whole Process was Very Easy
I was thoroughly happy with the graduation photo Cormac took of my son. The whole process from booking the sitting, to taking the photos, to the final selection of one was very easy. Hazel was on-hand to give advice when selecting which I really appreciated as all the photos were fabulous however I only needed one! I'll be back for all my other graduations. I would highly recommend this photographer. -Jane Quinlivan
Patient and Considerate
We had photographs taken with Cormac for my daughter's communion. Cormac was great with the children and made everyone feel at ease. My daughter fell ill during the session and he was so patient and considerate (even though he had back to back appointments.) We were delighted with our photos. They were beautiful. Big shout out to Hazel on reception also who was an absolute pleasure to deal with. I highly recommend this service. -Dannielle Byrne
2. Michael Martin Photography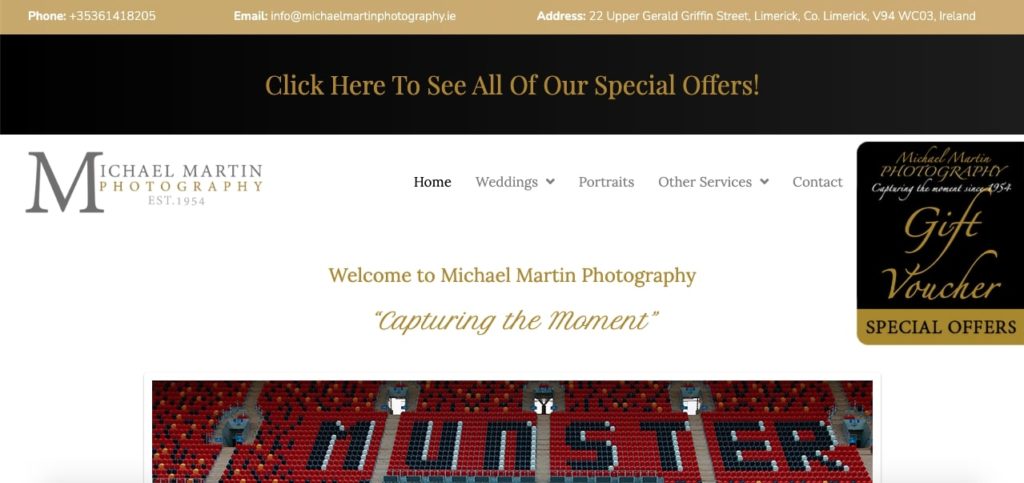 Test
Info
SERVICES

Wedding Photo Packages

Wedding Albums, Portraits

Commercial Photography

Drone Photography

Passport Photography

Photo Restoration

WEBSITE
https://www.michaelmartinphotography.ie/
ADDRESS
22 Upper Gerald Griffin St, Limerick
CONTACT DETAILS

PHONE: +35361418205

OPERATING HOURS

Tuesday and Thursday: 10:00 AM to 4:00 PM

Wednesday and Friday: 9:00 AM to 1:00 PM; 2:00 PM to 4:00 PM

Saturday: 9:00 AM to 1:00 PM
| | |
| --- | --- |
| Photography services | ★★★★☆(4/5) |
| Range | ★★★★☆(4/5) |
| Quality | ★★★★☆(4/5) |
| Background | ★★★★★(5/5) |
| Availability | ★★★☆☆(3/5) |
| Feedback | ★★★★★(5/5) |
| Process | ★★★★★(5/5) |
| Satisfaction | ★★★★☆(4/5) |
If you're looking for top-notch portraits, Michael Martin Photography is the go-to spot in Limerick. As a family-run business, they've been in the game for 70 years, with three generations of skilled photographers capturing life's precious moments.
The latest award-winning photographer, Shane, has 25 years of experience under his belt, and has won numerous accolades, including the IPPA portrait photographer of the year and wedding photographer of the year.
Whether it's communion or confirmation photography, young families, newborns, large family groups, graduation, headshots, maternity pictures or pet portraits, Michael Martin Photography has got you covered.
Their portfolio speaks for itself, showcasing stunning and natural shots that capture the essence of each individual and family.
But what sets them apart is their affordable pricing. They offer framed pictures and unframed prints, with framed packages priced fairly and at half the cost of some of their competitors.
For example, a framed package of three pictures in one frame starts at just €185, including the sitting fee and a custom frame of your choosing.
The team at Michael Martin Photography also prioritize creating a relaxed and fun environment for their clients. They want to capture natural moments that truly reflect their clients' personalities and milestones.
It's no surprise they're the first call made by families in Limerick when it comes to booking their communion and confirmation photography.
However, we do think that their portrait photography varies less in terms of style. We still think they're of good quality, but they are not the best choice if you're looking for some more dynamic shots.
50 years of business
Multiple types of wedding packages available 
Able to work with outdoor and indoor photography
Have a range of other types of services from drone shots to photo restoration
Shorter operating hours 
Not a lot of props or style variation in portrait photography
Customer Reviews
Went the Extra Mile
I had a great experience dealing with Michael Martin Photography. Michelle Martin went the extra mile to help me out and locate my lost graduation picture in her digital archive. I got my graduation pictures done in campus along with many other students on the graduation day (thousands of students). I lost my receipt so I thought that it would be very difficult to find my photo, however Michelle went the extra mile to find it. She was also very accommodating with my time availability. I am very happy with the service and I highly recommend their work. -Elvia Ape
A Pleasure to Deal With
Thanks a million to Shane for our beautiful wedding photographs & album. He was fantastic on our wedding day making it very relaxed. Shane and Niamh are a pleasure to deal with and would highly recommend them -Mary Vithalani
3. Ayesha White Photography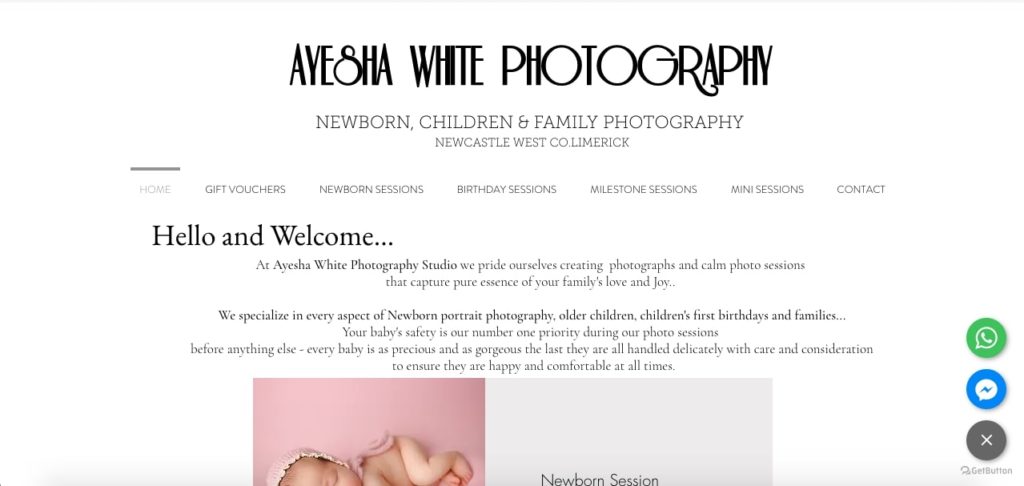 | Test | Info |
| --- | --- |
| SERVICES | All Sessional Sessions, Easter's, Mother's Day Minis, Special Minis , 49€ offer Minis, Halloween Minis, Summer Minis and Xmas Minis |
| WEBSITE | https://www.ayeshawhitephotography.ie/ |
| ADDRESS | 6 Market Pl, Gortboy, Newcastle West, Co. Limerick |
| CONTACT DETAILS | PHONE: +353 83 856 8417 |
| OPERATING HOURS | Monday, Wednesday, Friday, Saturday: Open 24 Hours |
| | |
| --- | --- |
| Photography services | ★★★★★(5/5) |
| Range | ★★★★☆(4/5) |
| Quality | ★★★★★(5/5) |
| Background | ★★★★★(5/5) |
| Availability | ★★★★☆(4/5) |
| Feedback | ★★★★★(5/5) |
| Process | ★★★★★(5/5) |
| Satisfaction | ★★★★☆(4/5) |
Ayesha White Photography specializes in capturing the gentleness and affection of families in each of the pictures.
We think that they're one of the most well-rounded options out there especially for new and expectant parents because of their combination of services. From newborn photography to their milestone sessions, they help families mark significant events.
They're your best bet if you're looking for a photography studio that can help you fill up your albums with pictures of your child's growth, especially because they house award-winning talents. As a matter of fact, they just got their latest award in April.
On top of this, we find the quality of their pictures to be excellent. They use props and sets very creatively and tastefully, capturing an elegant ambience.
Previous customers have also noted how pleasant their experience was with them. Ayesha is very professional and has a great eye for detail and guidance, able to guide subjects calmly and peacefully.
We highly recommend checking out her portfolio, as we were impressed by the atmosphere of ease she was able to create.
However, take note that her birthday sessions are limited to one package type. Her other categories of studio sessions do feature multiple packages with features like varying set ups and prints.
They also have milestone and mini sessions, which we find excellent for more seasonally themed photoshoots. This pairs great with their newborn sessions as customers can have all of their family and children's photos taken by them.
Ayesha White Photography offers the perfect combination of services for new families, including high quality photographs that are refinedly done.
Excellent use of props and styling 
Great with kids and babies
High quality portraits for more seasonal occasions like Christmas or Valentines
All in one stop for mothers and families with their selection of options
Not a lot of variation in birthday sessions packages 
Newborn sessions are limited to babies up to 4 weeks old
Customer Reviews
Gorgeous Photos
Absolutely love our newborn photoshoot pictures with Ayesha. We also got an Absolutely gorgeous sibling photo too & we will 100% be back for another. Ayesha had our images ready in no time for us to view & kept me in the loop every step of the way. She is amazing!!! -Rachel McCormack
Amazing Pictures and a Relaxing Photoshoot
Ayesha was amazing from the initial booking to the days leading up to and after the shoot! The shoot itself was very relaxing, she done what she needed to do and we just waited our turn to get family pictures done, she was fantastic! Her assistant was brilliant with our little girl and our newborn too, it was an absolute pleasure to be there. The pictures are just amazing too! Would highly recommend her. -Rebecca Hackett
4. Posie Photography Studio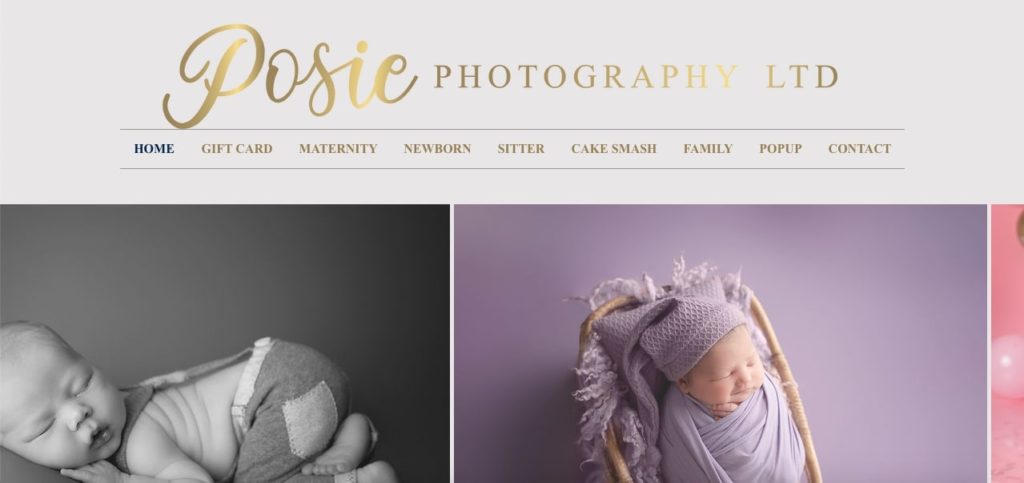 Test
Info
SERVICES

Photoshoots: Maternity, Newborn

Cake Smash, Family;

Sitter Session, Popup Station

WEBSITE
https://www.posie.ie/
ADDRESS
148 Maiden St, Gortboy, Newcastle West, Co. Limerick
CONTACT DETAILS

PHONE: +353 69 66762
| | |
| --- | --- |
| Photography services | ★★★★★(5/5) |
| Range | ★★★★☆(4/5) |
| Quality | ★★★★★(5/5) |
| Background | ★★★★★(5/5) |
| Availability | ★★★★☆(4/5) |
| Feedback | ★★★★☆(4/5) |
| Process | ★★★★☆(4/5) |
| Satisfaction | ★★★★☆(4/5) |
Posie Photography Studio offers a great photo taking experience, producing simple yet elegant pictures for families.
Taking a look at their selection of services, they make a great one-stop-shop for expectant families. From maternity all the way to birthdays and family shoots, customers will find it convenient that they cater to plenty of significant childhood events.
We would also like to highlight their photography style. They're able to create more effortless and modest pictures through their soft editing and lighting.
We like that they don't use as many props which allows the subject of the photos, mostly children, to really shine. Many customers have also noted that they had a great time during their sessions, citing Posie's excellent guidance and friendliness.
If you're looking for simpler styles of baby and family photographs, we highly suggest checking out their gallery of photos.
Admittedly, they do usually offer only one to two variations in terms of packages which we wish were more customizable. However, the pricing is very reasonable.
We also suggest beforehand to take a good look at the information regarding their cancellation policies and recommended booking times. These may be slightly stricter so it would be best to prepare ahead.
Posie Photography Studio is a great option for those who are looking for photos that take the simpler approach but with expert guidance from the photographer.
Simple and soft style for their newborn photography  
Highly recommended by customers for their quality of output
Give great guidance to the customers for posing during the studio sessions
Good amount of options for babies and young children
Much stricter in scheduling and booking appointments 
Less variation in packages
Customer Reviews
Could not be Happier
I cannot recommend Posie Photography enough! We did a Newborn/ Family photoshoot with Katie, who was amazing with our 3 week old. The photos were gorgeous and we could not be happier. They are a great reminder of such an amazing time. 100% recommend and we will be back! -Niamh OMahoney
Beautiful Mother and Daughter Photos
We visited the fabulous Posie Photography Studio just before Christmas. Katie and her colleague were absolutely fantastic with my 8 month old daughter who had been teething. They were so patient and the whole session felt very relaxed and we really enjoyed it as an experience. Katie also took the most beautiful and tasteful breastfeeding portrait which I initially felt really awkward doing and thought I would hate it, but it is one of my favourite pictures and it captured mammy and baby perfectly. I will treasure it always. Thank you Katie and Co. -Belinda O'Keeffe
5. JustForYou Photography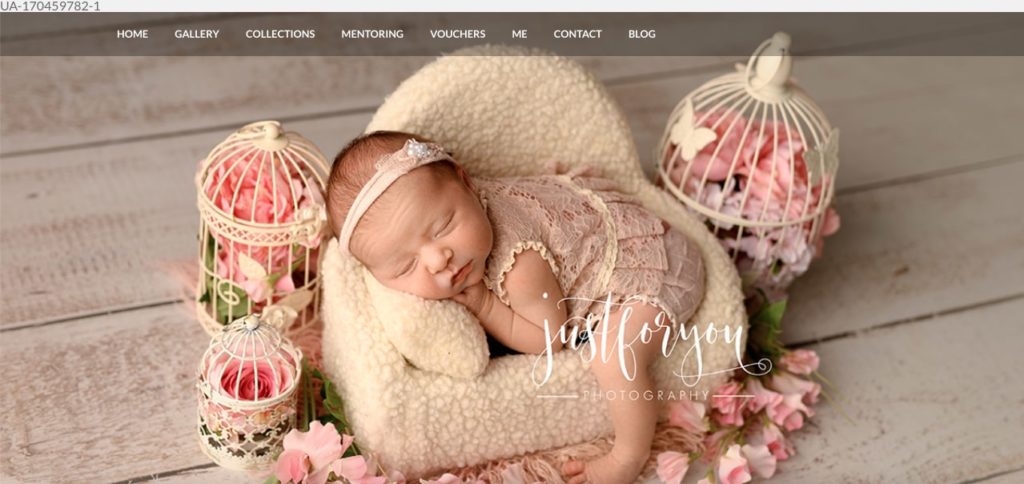 Test
Info
SERVICES

Collections: Maternity, Newborn

Standard Session, Smash

Simple Us, Fine Art, Communion

WEBSITE
https://www.justforyouphotography.ie/
ADDRESS
6 Cornmarket Row, Limerick
CONTACT DETAILS

PHONE: 0860409170
| | |
| --- | --- |
| Photography services | ★★★★★(5/5) |
| Range | ★★★★★(5/5) |
| Quality | ★★★★☆(4/5) |
| Background | ★★★★☆(4/5) |
| Availability | ★★★★☆(4/5) |
| Feedback | ★★★★★(5/5) |
| Process | ★★★★★(5/5) |
| Satisfaction | ★★★★☆(4/5) |
JustForYou Photography impressed us with their range of photoshoot collections to choose from, varying in occasions and styles utilized.
Aggie Laprus opened the studio back in 2015 and has now become a mentor to other newborn photographers. A family woman at heart, she aims to capture other newborns and families with the same affection and care as she does with her own.
We think customers will greatly appreciate their attitude and approach to the sessions. Many previous customers expressed how friendly and warm she is during the photoshoots.
This is especially important when it comes to taking studio pictures of children and babies. Customers can rest easy knowing their kids are in good hands at JustForYou Photography.
On top of this, we were very impressed by the range of different collections they had to offer. Aside from maternity and newborn shoots, they also offer sessions for communion, simpler styles, and fine arts portraits.
Customers who are looking for a studio that is versatile in terms of styling and aesthetics will really be pleased with what JustForYou Photography has to offer.
However, we advise checking out the price information of their services beforehand, as some add-ons are slightly pricier.
For individuals as well looking to avail of the mentoring sessions, take note that Aggie Laprus can only accept previous students under specific conditions.
JustForYou Photography proves to be an excellent candidate for different types of photoshoots as they are very versatile and offer a friendly customer experience.
Have worked with a lot of props and themes
Can work with both simpler and more dynamic styles
Friendly and approachable, helps the customer feel at ease
Have a lot of different package levels to choose from
Slightly pricier packages and add ons 
Strict requirements on those who can avail of her mentoring sessions
Customer Reviews
Professional, Warm and Friendly
Ive been with Aga a few times over the years, she is very professional but also very warm and friendly. My children love her! She even managed to get 'Newborn' photos with my 4 month old that was born during the shutdown over covid. She is amazing -Kate Foley
Made Us Feel at Ease
Aga took my daughters newborn pictures. She was professional and so sweet. She made us feel at ease and when she was with my daughter, she treated her like she was her own. I wouldn't go anywhere else to get pictures done. -Michelle O Brien
6. Marie O'Mahony Photography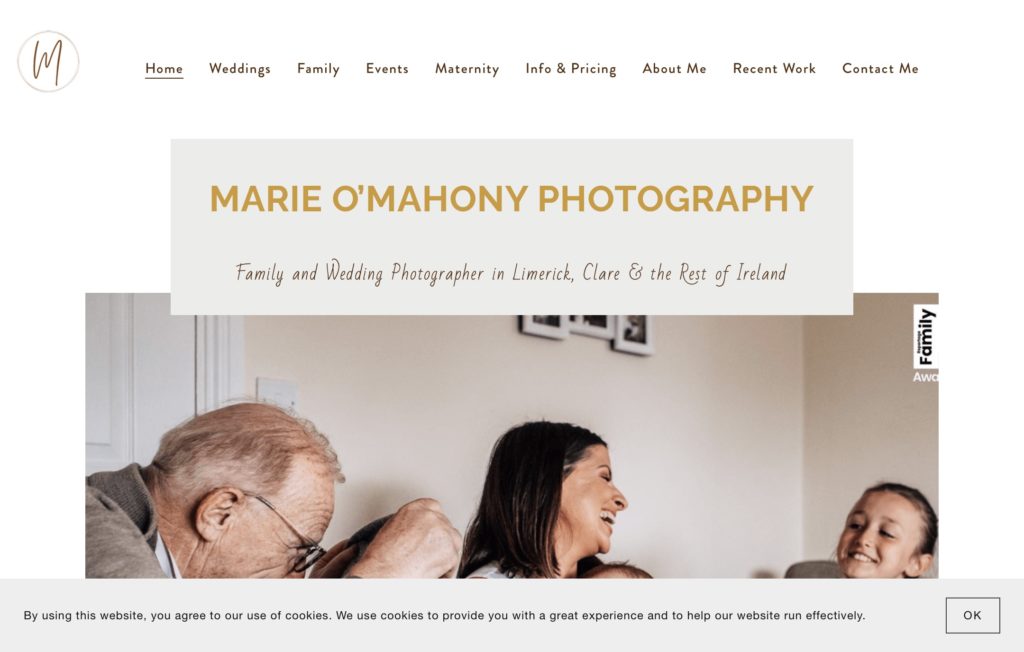 | | |
| --- | --- |
| SERVICES | Baby photography, Corporate photography, Events and parties. Family and group, Group photography, Headshots and portraits, and Individual photography |
| WEBSITE | https://www.marieomahony.com/ |
| ADDRESS | 24 Ard Ratha, Mountievers, Sixmilebridge, Co. Clare, V95 KC6W, Ireland |
| CONTACT DETAILS | +353864463075 |
| OPERATING HOURS | Monday to Saturday: 9:00 AM to 8:00 PM; Sunday: Closed |
| | |
| --- | --- |
| Photography services | ★★★★★(5/5) |
| Range | ★★★★☆(4/5) |
| Quality | ★★★★☆(4/5) |
| Background | ★★★★★(5/5) |
| Availability | ★★★★☆(4/5) |
| Feedback | ★★★★★(5/5) |
| Process | ★★★★★(5/5) |
| Satisfaction | ★★★★☆(4/5) |
We recently had the pleasure of working with Marie O'Mahony Photography, and let us tell you, it was like finding a hidden gem in a treasure chest of memories.
Convenience is key, and Marie O'Mahony knows it like the back of her camera. Our experience was as smooth as a freshly applied filter, with prompt communication and a seamless booking process that made us feel like we were in the VIP list.
When it comes to reputation, Marie O'Mahony is the Picasso of photography. She has an eye for capturing the perfect shot, turning moments into masterpieces.
Her portfolio is like a virtual art gallery, showcasing a diverse range of subjects that left us breathless and itching to grab our own cameras.
We know, quality comes at a price, but Marie O'Mahony strikes the perfect balance between value and excellence.
Her packages are like a photographer's dream, offering a delightful blend of affordability and exceptional results that won't leave your wallet crying for a darkroom.
And did we mention the experience? From the moment we met Marie, it felt like we were reconnecting with an old friend who just so happened to have a natural talent for capturing moments.
Her energy was infectious, making us feel at ease and allowing our true personalities to shine through the lens.
But wait, there's more — Marie's attention to detail is sharper than the focus on her camera. She meticulously planned every shot, taking into account lighting, composition, and the tiniest of details to ensure our photos were perfect.
Unfrotunately, they're closed on Sundays. We advise booking an appointment with them on weekdays.
Convenient booking process
Excellent reputation
Affordable pricing
Attention to detail
Customer Reviews
"This was the funnest photo shoot we have ever had! We travelled from California to visit the beautiful country of Ireland. I am currently pregnant with my 2nd baby and my husband and I thought we should take advantage of the beautiful moment." — Abigail Hernandez
"Marie's work and talent deserves way more than 5 stars! The way she captures these important moments in life is so real and with a beautiful and cinematic twist to it. Her personality will immediately put you at ease before your session." — Sylvia Cro
7. My Real Name Is James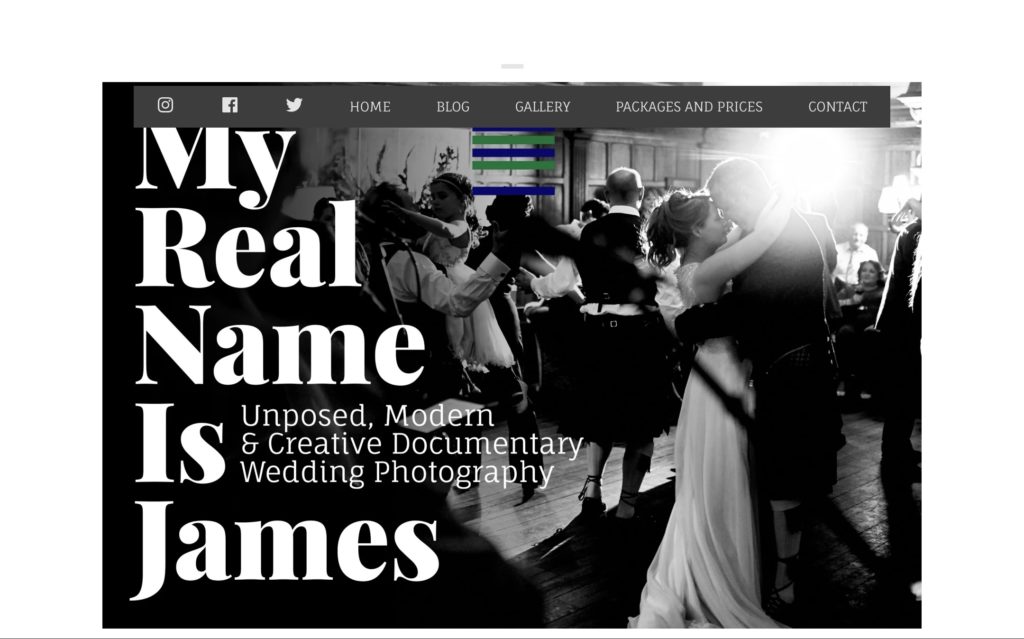 | | |
| --- | --- |
| SERVICES | Wedding Photography, Family Portraits, and Photoshoots |
| WEBSITE | https://myrealnameisjames.com/ |
| ADDRESS | Limerick |
| CONTACT DETAILS | No info on website |
| OPERATING HOURS | By appointment basis |
| | |
| --- | --- |
| Photography services | ★★★★★(5/5) |
| Range | ★★★★☆(4/5) |
| Quality | ★★★★☆(4/5) |
| Background | ★★★★☆(4/5) |
| Availability | ★★★★☆(4/5) |
| Feedback | ★★★★★(5/5) |
| Process | ★★★☆☆(3/5) |
| Satisfaction | ★★★★☆(4/5) |
Our experience with My Real Name Is James has been nothing short of extraordinary.
Their photography services captured our moments with an unrivaled brilliance and artistic finesse. From the first click to the final edit, they showcased true mastery in their craft.
Convenience is key, and My Real Name Is James excels in this aspect.
Their seamless booking process and responsive customer support left us feeling valued and assured. They know how to make every step of the photography journey effortless and enjoyable.
The reputation of My Real Name Is James precedes them, and rightfully so.
Countless positive reviews and glowing testimonials speak volumes about their unparalleled dedication to excellence. It's no wonder they've become the go-to choice for those seeking exceptional photography.
Cost is always a consideration, and My Real Name Is James strikes the perfect balance between quality and affordability.
Their pricing options cater to a wide range of budgets, making their services accessible without compromising on the exceptional results they deliver.
With My Real Name Is James behind the camera, we felt like celebrities in our own right.
Their ability to capture our unique personalities and genuine emotions in every frame was remarkable. They've an innate talent for turning the ordinary into the extraordinary.
When it comes to professionalism, My Real Name Is James sets the bar high. Their team exudes passion and enthusiasm, making the entire photoshoot experience delightful and memorable. It's evident they take immense pride in their work.
Sadly, they don't offer promos at the moment. We recommend checking their website for other affordable deals.
Exceptional photography quality
Convenient and seamless booking process
Excellent reputation with glowing testimonials
Affordable pricing options for all budgets
Customer Reviews
"My Real Name Is James captured our special day with sheer brilliance! The photos were stunning and truly reflected our personalities. Their team made us feel comfortable throughout the entire process. Highly recommended!"
"Choosing My Real Name Is James was the best decision we made for our family portraits. The photos were beyond our expectations, and the photographer's expertise in capturing candid moments was outstanding. We couldn't be happier with the results!"
8. John McGarry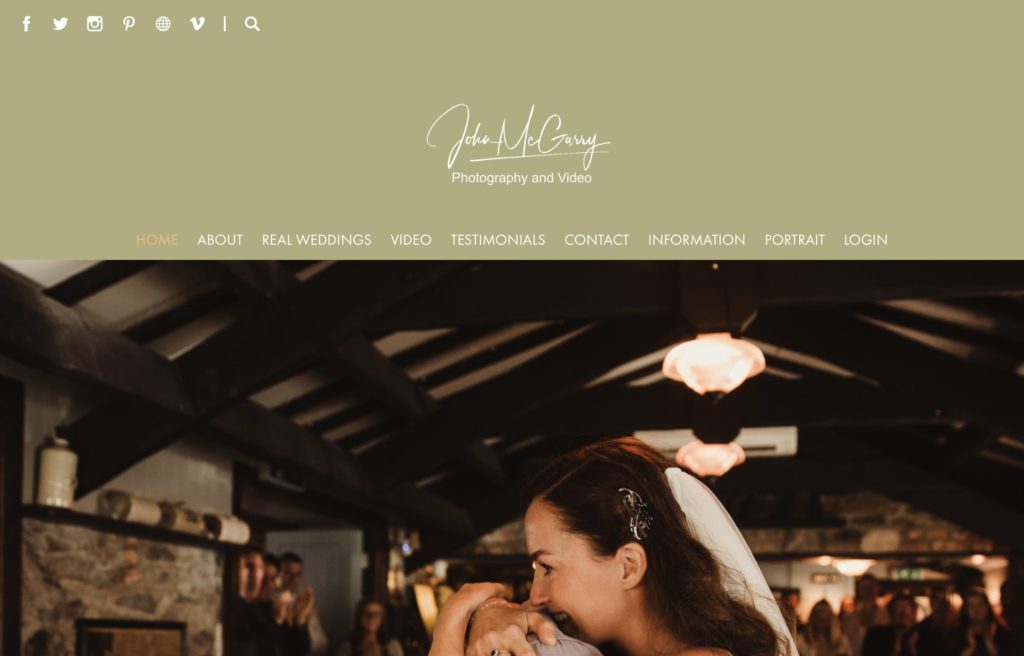 SERVICES
Wedding Videography and Portraits
WEBSITE
https://www.jmcgphotos.com/
ADDRESS
1 The Laurels, Road, Dooradoyle, Co. Limerick
CONTACT DETAILS
Tel: 086 3408209, 061 224569 ( Use +353 prefix for international )
Our email is

[email protected]


Our Skype contact is john.mcgarry260
OPERATING HOURS
By appointment basis
| | |
| --- | --- |
| Photography services | ★★★★★(5/5) |
| Range | ★★★★☆(4/5) |
| Quality | ★★★★☆(4/5) |
| Background | ★★★★☆(4/5) |
| Availability | ★★★★☆(4/5) |
| Feedback | ★★★★★(5/5) |
| Process | ★★★☆☆(3/5) |
| Satisfaction | ★★★★☆(4/5) |
Our experience with John McGarry Photography has been nothing short of exceptional. From the moment we engaged their services, it was evident that we were dealing with a true professional.
Convenience is paramount in today's fast-paced world, and John McGarry Photography knows this.
They seamlessly accommodated our busy schedule and location preferences, making the entire process effortless and stress-free.
When it comes to reputation, John McGarry Photography stands head and shoulders above the competition.
Their portfolio showcases a mastery of capturing moments with an artistic flair that truly sets them apart. Clients can rest assured that they are in the hands of a renowned and respected photographer.
Cost can often be a determining factor, but John McGarry Photography proves quality need not break the bank.
Their pricing structure is competitive, offering exceptional value for the level of expertise and creativity they bring to every assignment.
In an industry flooded with options, it's refreshing to encounter a photographer who not only delivers but exceeds expectations.
John McGarry Photography's attention to detail and commitment to excellence are evident in every frame they capture.
The rapport built with their team was remarkable, as they exhibited a keen understanding of our vision and executed it flawlessly. Their ability to translate ideas into breathtaking visuals truly impressed us.
Moreover, the post-production process was handled with the same care and dedication that they put into their photography. The results were nothing short of stunning, reflecting their unwavering commitment to delivering top-tier work.
However, they can get busy during peak seasons. We suggest booking them ahead of time.
Exceptional creativity
Effortless convenience
Renowned reputation
Competitive cost
Customer Reviews
"Captured our special day with unparalleled creativity and emotion. Each frame is a work of art that tells a unique story. John McGarry Photography turned our moments into memories that will last a lifetime."
9. Dynasty Photography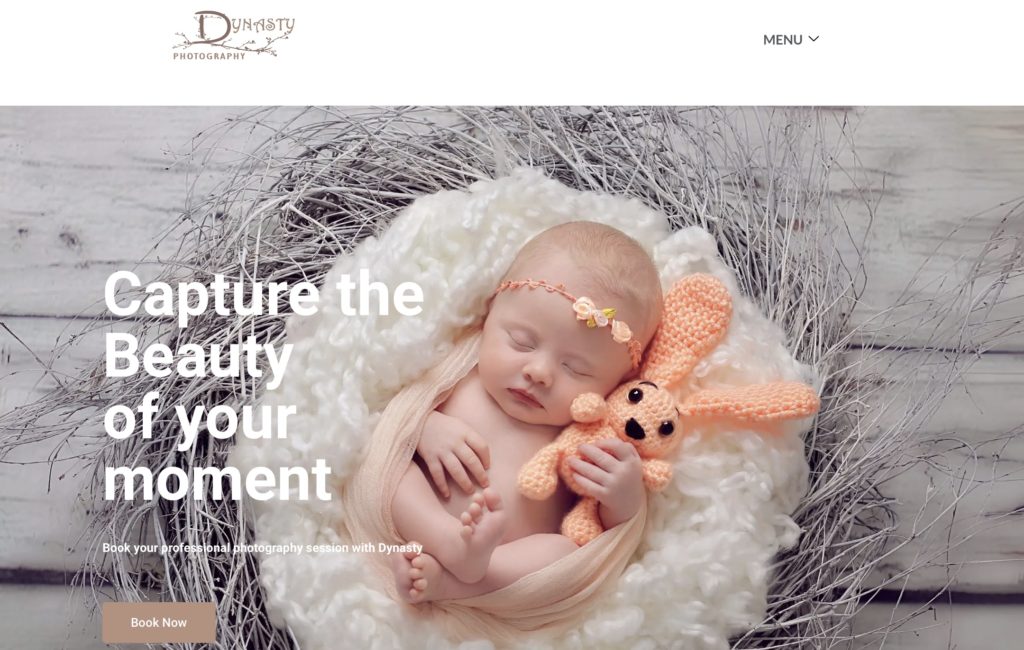 | | |
| --- | --- |
| SERVICES | Newborn Shoot, Milestone Shoot, Kids and Baby Shoot, Cake Smash Shoot, On Location Shoot, Family Shoot, Maternity Shoot, Communion Shoot, and Christening Shoot |
| WEBSITE | https://dynastyphotography.ie/ |
| ADDRESS | 3 Newenham St, Limerick, V94 XAX2, Ireland |
| CONTACT DETAILS | Phone: 353 85 747 2500 |
| OPERATING HOURS | Monday to Friday: 10:30 AM to 6:30 PM; Saturday to Sunday: Appointment-basis |
| | |
| --- | --- |
| Photography services | ★★★★★(5/5) |
| Range | ★★★★★(5/5) |
| Quality | ★★★★☆(4/5) |
| Background | ★★★★★(5/5) |
| Availability | ★★★★★(5/5) |
| Feedback | ★★★★★(5/5) |
| Process | ★★★★★(5/5) |
| Satisfaction | ★★★★☆(4/5) |
We recently had the pleasure of working with Dynasty Photography and they left us completely blown away with their exceptional services, reputation, convenience, and cost.
Dynasty Photography offers a wide range of services, from children to family portraits. Their portfolio is a stunning array of candid, natural shots that capture the beauty and joy of their subjects.
Their team is composed of experienced photographers who know how to make their clients feel comfortable and relaxed, resulting in genuine and heartfelt shots.
It's no secret word of mouth is one of the best forms of advertising, and Dynasty Photography has certainly earned their reputation through it. Their clients rave about their professionalism, attention to detail, and ability to capture the perfect shot.
Convenience is another key factor that sets Dynasty Photography apart from the rest. Their online booking system makes scheduling a breeze, and their team is always quick to respond to any questions or concerns.
They also offer a variety of packages to fit any budget, making it easy to get the photography services you need without breaking the bank.
In addition, we were pleasantly surprised by how reasonable Dynasty Photography's prices were, especially given the quality of their work. They truly offer excellent value for your money, and we can confidently say you won't find a better deal.
Unfortunately, at the moment, Dynasty Photography does not offer any discounts or promos.
Has a team of highly skilled photographers with years of experience
Offers a wide range of services to meet the needs of different clients
Offers competitive and affordable pricing
No promos or discounts currently available
Customer Reviews
"We had a photo shoot for all my mother's grandchildren. There were 9 children in the studio. The youngest kids were only 3 and the oldest was 16. Natasha was so wonderful. It's not an easy job to get 9 crazy kids to concentrate on one camera but she did it. We were so happy with the result. The photos are absolutely stunning and she captured all 9 children beautifully. I would absolutely recommend Dynasty Photography to anyone." — Joanne Ker
"For anyone out there looking for a photographer we highly recommend Natasha from Dynasty Photography. She has a great imagination and talent to go along with capturing amazing moments. Family, children and newborn and even more, photos are fabulous. Service and products are pure quality." — Anastasija Bagina
FAQs about Photography
---
Every special occasion is personal so we hope our list helps you in finding the photographer that can really capture the distinct characteristics. If you would like to read more, we also have an article on the best wedding venues in Ireland.