The 5 Best Photographers in Ireland
Photos make our memories last a lifetime. Because of this, we must get the best photography services for our special events like weddings, graduations, and birthdays.
There are hundreds of photographers in Ireland, and looking for the best one takes a lot of time. So, we've done the job for you and compiled the best ones.
Before starting our list, let us first get an idea of how much you will be spending on photography services.
How much are photography services in Ireland?
The price of the services of photographers in Ireland depends on the purpose of the shoot, the reputation of the photographer, and the length of the shoot.
The following is a list of the approximate price range depending on the purpose of the shoot. We've also factored in the price of the printed copies.
| Purpose of Shoot | Price Range |
| --- | --- |
| Wedding | €1,800 - €2,500 |
| Portrait | €100 - €500 |
| Commercial | Consult with photographer |
| Newborn | €100 - €500 |
The Best Photographers in Ireland
We've assessed the different photographers in Ireland using the following criteria:
1. Lafayette Photography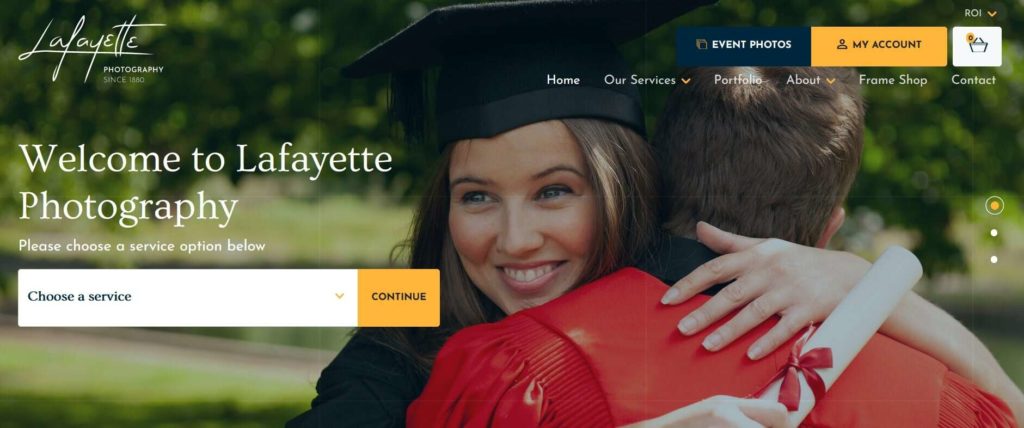 | Test | Info |
| --- | --- |
| SERVICES | Portrait, Corporate, Graduation, School, Drone & Aerial, Historical |
| WEBSITE | https://www.lafayette.ie/ |
| ADDRESS | Unit 44, Fashion City, Ballymount Rd Upper, Ballymount, Dublin 24, Ireland |
| CONTACT DETAILS | +353 1 429 5740 |
| OPERATING HOURS | Monday- Friday: 9:00 AM - 5:00 PM |
| | |
| --- | --- |
| CRITERIA | RATING |
| REPUTATION | ★★★★★ (5/5) |
| AVAILABLE SERVICES | ★★★★★ (5/5) |
| PRICING | ★★★★☆ (4/5) |
| CUSTOMER REVIEWS | ★★★★☆ (4/5) |
What we liked best about Lafayette Photography is their polished way of doing business. From booking their services to getting your photos, their representatives are easy to work with.
In terms of reputation, the company is easily one of the country's well-known ones. Founded in 1880, they have been commissioned by Irish viceroys and members of the royal family.
Their team is notable for having a unique style in key angles, lighting, and framing techniques, which they've mastered over decades. We also liked that they train their photographers to blend well with the crowd of your event so that everything captured in the camera is natural.
With them, the variations in services, from portrait to commercial photography, are well thought of and comprehensive.
In particular, their graduation photo services are one of the most trusted by universities all throughout the country. Their website is tailored to let you book based on your university, venue, and graduation date, which makes the process very convenient.
This ease also extends to booking their service via phone and purchasing frames on their website. We really liked their password-protected online gallery feature where you can choose the photos you want.
Their private studio shoots are also commendable because of their focus on providing variety in backdrops and lighting. Their rates for both single and group portraits are also competitive considering the studio's popularity.
Their studio in Dublin also has an excellent location that can be easily accessed through the M50 motorway. It also has free onsite parking, which is always appreciated.
A concern with them, however, is that some customers have reported receiving slow or unresponsive customer service. Some also report having photos that were mailed late.
Has been around since 1880
Well-designed website
Expertise in graduation services
Unique photography style
Has issues with customer service
Customer Reviews
Super service, easy to use website
"Super service, easy to use website!! Photographer on the day of my graduation from UCD was excellent, attention to detail was second to none, so professional!! Thanking you for capturing me as I am!!!"
– Ruth Scully, Google Reviews
Excellent service and quality
"Excellent service and quality. Very happy with every aspect from the ordering, the photographer, facilitating change of order and delivery. Happy customer experience."
– Mary Costello, Google Reviews
2. Michael Martin Photography
Test
Info
SERVICES
Wedding, Portrait, Commercial, Drone, Restoration, Passport
WEBSITE
https://www.michaelmartinphotography.ie/
ADDRESS
22 Upper Gerald Griffin St, Limerick, V94 WC03, Ireland
CONTACT DETAILS
+353 61 418 205
OPERATING HOURS
Tuesday and Thursday: 10 AM - 4 PM

Wednesday and Friday: 9 AM - 1 PM, 2 - 4 PM

Saturday: 9 AM - 1 PM
| | |
| --- | --- |
| CRITERIA | RATING |
| REPUTATION | ★★★★★ (5/5) |
| AVAILABLE SERVICES | ★★★★☆ (4/5) |
| PRICING | ★★★★☆ (4/5) |
| CUSTOMER REVIEWS | ★★★★★ (5/5) |
Michael Martin Photography is a great choice if you want a comfortable photo session. Given multiple testimonies about them being the photographer of multiple generations of Irish families, the warm atmosphere they ensure during shoots pays off well.
The company has also received multiple awards from Fuji, Irish Professional Photographers & Videographers Associations (IPPVA), and Kodak, which is why they're well-known.
Their photographers are notable for their professional yet friendly way of conducting photo shoots, which translates into naturally cheerful photos. In particular, they are good at handling children, which is why they're an excellent choice for newborn photo shoots, communions, birthdays, and graduations.
They're also a great choice for wedding photoshoots because of their comprehensive packages. This includes consultations, wedding day coverage, and CD copies of your images—
all of which are priced affordably.
We especially liked their traditional-themed photo album, which is handmade with leather. Its design gives your photos a more exquisite feel.
Their commercial photographer services, which include product shoots, corporate portraits, and building photography, are customised depending on the company's needs. They are easy to contact and discuss your plans with.
They also have superb photo restoration services. This can be seen in how well they repair colour defects, scratches, and damage.
The only downside to their service is that it is a bit more expensive compared to others. Because of this, we recommend taking advantage of the vouchers on their website which offer discounted prices.
Awarded by Fuji, Kodak, and IPPVA
Comprehensive wedding packages
Ensures a comfortable atmosphere during shoots
Flexible for commercial shoots
Customer Reviews
Best photographer in Limerick
"Best photographer in limerick very friendly and helpful staff with huge experience."
– Declan Hyde, Google Reviews
Absolutely impeccable service
"Absolutely impeccable service. Everything went perfect and the results even better."
– Ellen Hyde, Google Reviews
3. Lensmen Photography and Video Production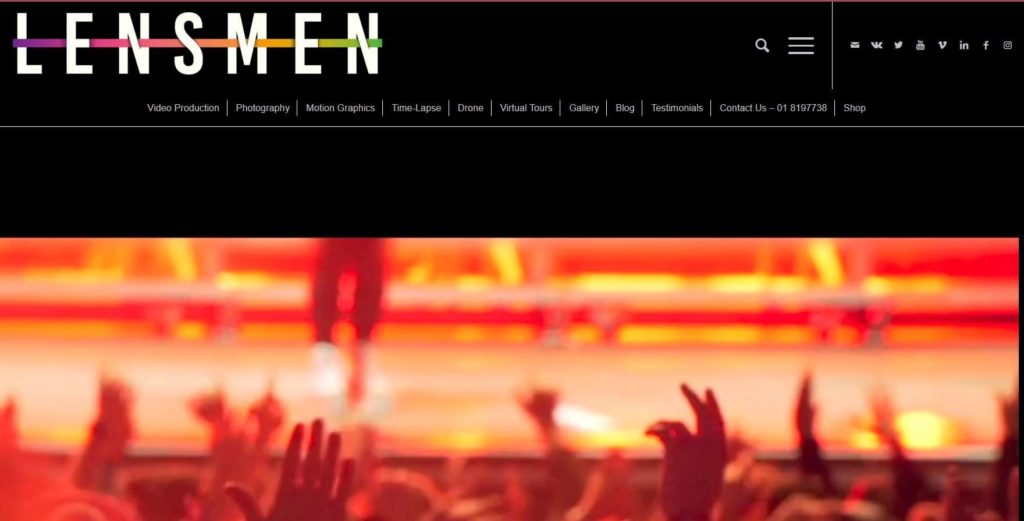 Test
Info
SERVICES
PR, e-Commerce, Drone, Interior, Conference, Event, 360-degree
WEBSITE
https://www.lensmen.ie/
ADDRESS
17 Nottingham St, Dublin 3, D03 C654, Ireland
CONTACT DETAILS
+353 87 258 4388
OPERATING HOURS
Monday - Friday: 9 AM - 5 PM

Saturday: 9 AM - 12 PM
| | |
| --- | --- |
| CRITERIA | RATING |
| REPUTATION | ★★★★☆ (4/5) |
| AVAILABLE SERVICES | ★★★★☆ (4/5) |
| PRICING | ★★★★☆ (4/5) |
| CUSTOMER REVIEWS | ★★★★★ (5/5) |
Lensmen is a company that is steadily getting more recognition because of their innovations in both photography and videography. They are dedicated to ensuring that their equipment and techniques are always up-to-date, which we appreciate.
This especially pays well in their expertise in corporate shoots, as they provide a lot of fresh and experimental ideas that help in highlighting products better.
In fact, they've worked with big companies like Facebook, Google, Paypal, and IKEA.
Business with them is convenient, as their resident team of three photographers is available within a half-hour's notice if your location is near. They also provide national coverage as long as you coordinate in advance.
Recently, they've also begun offering timelapse photography, and based on their online portfolio, they have mastered the technique.
A noteworthy info is that they have a full-time drone pilot who is certified by the Irish Aviation Authority. This is why we are confident with their aerial photography services.
We also liked that their website was easy to navigate through and that it never hard-sells anything to you. It showcased their different services, had short but useful descriptions for each, and provided contact forms by the end of the page to make availing of their services easier.
However, if you're looking for standard photography coverage, such as portraits, weddings, and birthdays, the company may not be the best choice for you. This is because they do not offer unique packages and deals for these.
Updated equipment
Expertise in corporate photography
Has worked with Google, IKEA, Google, and Paypal
Highly responsive to inquiries and last-minute requests
Not the best choice for weddings, birthdays, portraits, etc.
Customer Reviews
Some of the best workers
"Lensmen's video production team and photography team are some of the best workers I have ever had the pleasure working alongside. The work they produce is dynamic, creative and unique for each client. You can trust the Lensmen team to provide high quality photography and video."
– Aoife O'Reilly, Google Reviews
Absolute pleasure to deal with
"Would highly recommend Susan she is a fantastic photographer.
Professional experienced and an absolute pleasure to deal with.
Extremely happy with the work provided.
Thank you for everything i look forward to working with you again really soon.."
– Lenny Howell, Google Reviews
4. Holst Photography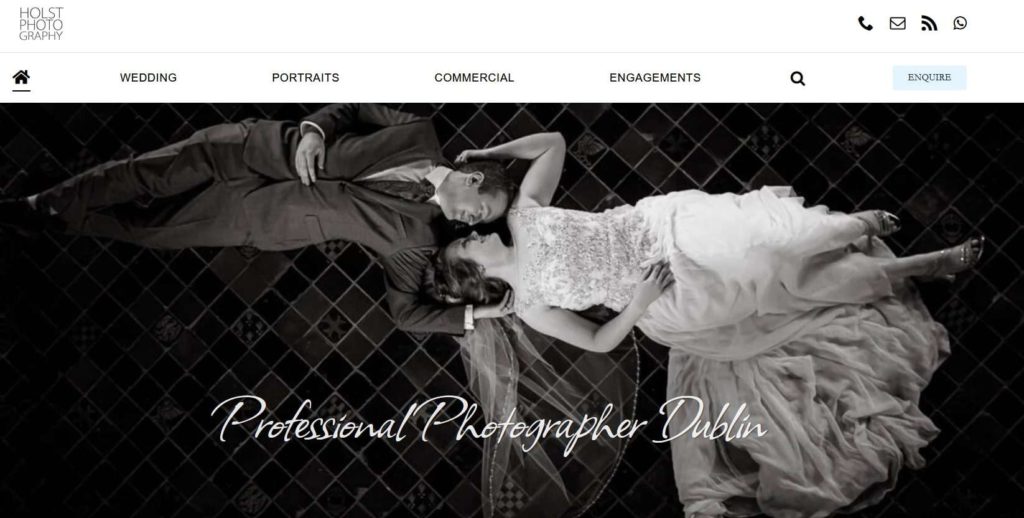 Test
Info
SERVICES
Wedding, Commercial, Portraits, Engagement
WEBSITE
https://holstphoto.com/
ADDRESS
12 Brownsbarn Orchard, Kingswood Cross, Dublin, D22 P899, Ireland
CONTACT DETAILS
+353 86 403 4694
OPERATING HOURS
Monday - Friday: 10 AM - 8 PM

Saturday: 10 AM - 2 PM
| | |
| --- | --- |
| CRITERIA | RATING |
| REPUTATION | ★★★★☆ (4/5) |
| AVAILABLE SERVICES | ★★★★★ (5/5) |
| PRICING | ★★★★☆ (4/5) |
| CUSTOMER REVIEWS | ★★★★★ (5/5) |
Led by Viv Van Der Holst, the company is notable for their adaptability to your photography needs while still consistently applying their signature style. We liked their emphasis on storytelling through the use of the right contrast and colour techniques.
They are well-known in Dublin and have been hired by companies like Honda, Google, Ireland's Wedding Journal, and Nike. They can adjust according to your needs and have excellently supplied real estate, jewellery, e-commerce, food, and event photography.
They've also mastered virtual tour photography, which is always high in demand in the real estate industry. Their specialised 360-degree camera does a great job of capturing every nook and corner of any residential, commercial, or events place that you want to sell.
They are also good at following tight schedules and instructions; the companies that they've worked with can attest to this.
Holst is also complimented consistently for his professional demeanour that makes clients relaxed throughout their events. He is also open to ideas and works well even under pressure.
The company also processes and prints photos fast, which is a good sign of their photography expertise and their dedication to good customer service.
Their studio in Citywest, Dublin, is also well-equipped for portrait sessions. This can be seen in its good ventilation and wide space.
However, interested customers need to book their services at least a week in advance to ensure a spot. This is because they only have limited manpower in proportion to their demand.
Versatile photo services
Emphasis on storytelling
Flexible in meeting corporate photography needs
Fast photo printing
Due to high demand, it may be hard to book their service
Customer Reviews
Easy going and professional
"Before our wedding day, we knew we made the right choice in selecting Viv. Having done an engagement photo session with Viv, it was great to see his work, which we loved, but it was really reassuring to know how easy going and professional Viv is as a person and a photographer. He was so happy to listen to our ideas and implement his own on the day and his work speaks for itself. Many of our guests complimented how nice Viv was to them all. After seeing our wedding photos, we didn't even realise he had captured so many them, he blends in that easily. His style of natural, unforced photography is perfect to capture any wedding day."
– Lorna Healy, Google Reviews
Very relaxed yet professional
"We booked Viv for our wedding in June 2020 which we postponed to September due to covid 19. Viv was very helpful with this and luckily was Available on the date change. On the day Viv was very relaxed yet professional in his approach to taking our photos, which made the photo taking experience on the day very enjoyable. He was very easy to get on with and well liked by our guests on the day. We loved our photos and all the little moments of the day he captured. We would highly recommend him to anyone looking for a fun and relaxed photo experience for their wedding, Resulting in beautiful photos that you will love. Thanks Viv for giving us great memories of our day. Mr and Mrs Murray."
– Laura Corrigan, Google Reviews
5. Photosbyjen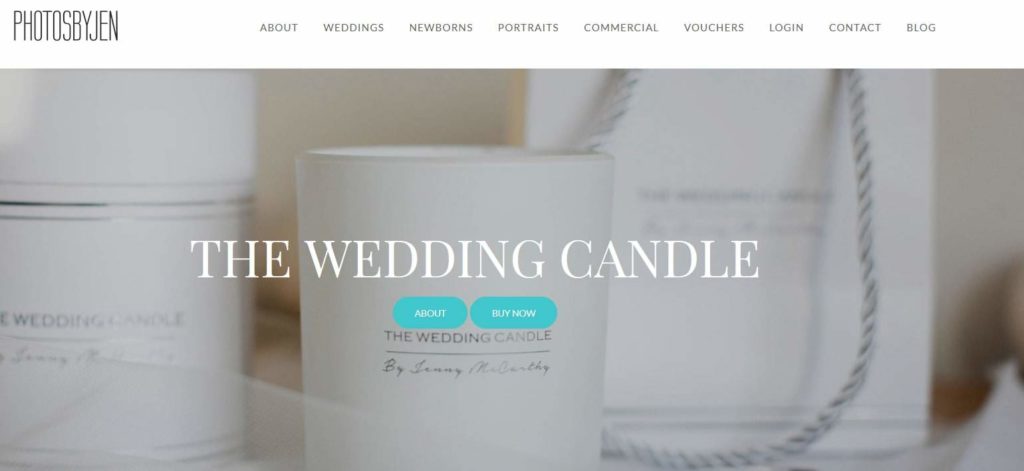 | Test | Info |
| --- | --- |
| SERVICES | Wedding, Newborns, Portraits, Commercial |
| WEBSITE | https://www.photosbyjen.ie/ |
| ADDRESS | Fashion City, Ballymount Rd Upper, Ballymount, Dublin, Ireland |
| CONTACT DETAILS | +353 1 429 5748 |
| OPERATING HOURS | Monday - Friday: 9 AM - 5:30 PM |
| | |
| --- | --- |
| CRITERIA | RATING |
| REPUTATION | ★★★★☆ (4/5) |
| AVAILABLE SERVICES | ★★★★★ (5/5) |
| PRICING | ★★★★★ (5/5) |
| CUSTOMER REVIEWS | ★★★★★ (5/5) |
Led by Jenny McCarthy, the studio is known for its photography style that mixes documentary and classic style. What we liked best about them is McCarthy's expertise in providing an efficient and skilful service, from planning to photo printing.
They have been operating since 2004 and have since created a network of satisfied families who've entrusted them with weddings, newborn photographs, and family events. We liked that they always make sure to hear their clients' ideas, which makes trusting them to document your special day easy.
With them, you won't have to worry too much about pricing, as they have nicely structured packages for their services.
For weddings, they offer both digital and classic album packages; both of which are comprehensive in content. We especially liked their inclusion of multiple album choices, from those with a storybook aesthetic to those made for the couple's parents.
They also execute newborn photoshoots well mainly because of the soothing atmosphere of their studio.They even offer a bump-to-baby coverage that is done with a tasteful and stylish touch.
The studio is also a good choice for commercial photography, as they've worked with familiar TV shows like The Voice, Ireland's Got Talent, and MasterChef. McCarthy's work is exceptional for headshots, fashion, press, and marketing purposes.
All of this gives the studio a high demand, which is why booking a date, especially during peak seasons, is hard. In fact, they are sometimes booked a year in advance, especially during Christmas, New Year, and Valentines season.
Friendly and approachable photographer
Versatile services
Affordable packages
Elegantly-designed studio
Hard to book because of high demand
Customer Reviews
Cannot recommend Photosbyjen highly enough
"We were over the moon with Jenny as our wedding photographer. She really was fantastic on the day putting everyone at ease and making sure everything ran smoothly, from keeping us on schedule to topping up my lipstick she really goes above and beyond. The photos she took were amazing not only of us but she captured so many of our guests and really caught every moment of the day. I cannot recommend Photosbyjen highly enough."
– Laura Byrne, Google Reviews
Both professional excellence and a personal touch
"We had the absolute pleasure of having Jenny & her wonderful assistant Amy capture our wedding day. Jenny has the most amazing eye for detail and didn't miss a beat while capturing our day, even down to a spontaneous sunset session outside our home which has gave us the most incredible photos. Every single person of our small group of guests enjoyed every second of contact with both Jenny & Amy because it was so fun filled, up-beat, humorous, honest-to-god homely, genuine and great craic. The photos and slideshow we then so efficiently received were just spectacular!!! Jenny has both professional excellence and a personal touch. We really are able to feel everything we felt on our wedding day through our fantastic photos because of Jenny's amazing talent!!!."
– Aimee Farrell, Google Reviews
FAQs about Photographers in Ireland
If you want to freshen up your look before your special event, we recommend checking these out: