The Best Jewelry Repair Services in Dublin
Jewelry is often used to commemorate special moments or add a touch of elegance to your wardrobe. It is however, one of the pricier types of products to purchase out there, so repair and maintenance can be a great asset to the longevity of your collection.
In this article, we listed the best jewelry repair services in Dublin that can help you out with breakages.
How much does jewelry repair cost?
Prices of jewelry repair depend on the condition of your jewelry piece, the method and complexity of repair, as well as the tools needed. In some cases, certain parts may need to be ordered for the repair to be a success.
Below is a list of different prices we found for jewelry repair services.
Repair Service
Service Details
Prices
Weir & Sons
Sterling Silver Ring Up One Size

Jewellery Valuation for First Item

€ 25

€ 125

Fallers

Stone Set Ring Size Up

Diamond Set Ring Size Up Add Gold per Size 9ct

Chains and Bracelets Solder Jumpring Gold

€ 40

€ 65.5

€ 20

JewelleryRepair.ie

Ring Size Up 14ct White Gold Includes

Clean and Polish and

Rhodium Plate, 3 to 4 sizes

€ 60
Mira's Jewelry

Ring Size Up One Size Sterling Silver

Solder 2 to 3 Rings Together

€ 25

€ 50
Top Jewelry Repair Services in Dublin
We assessed the services based on the following criteria:
1. JewelleryRepair.ie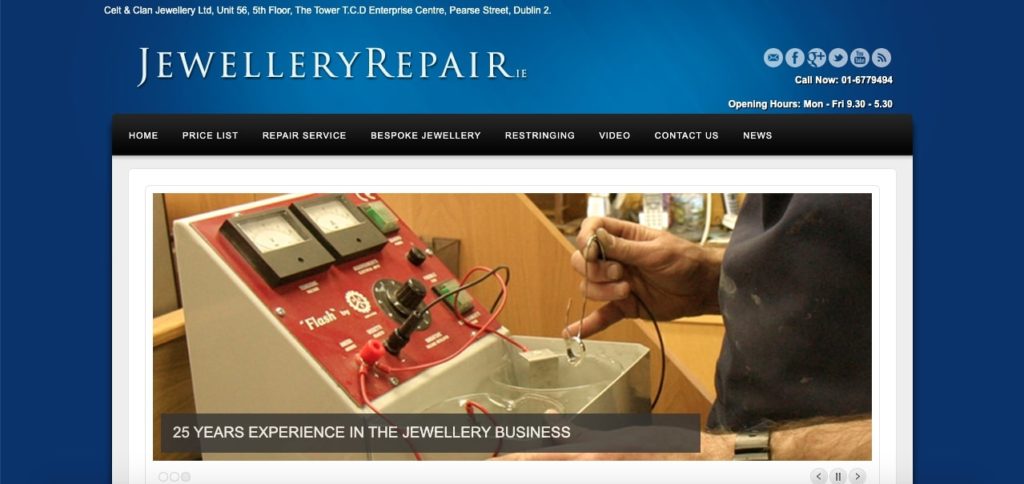 Test
Info
SERVICES

Repair Service

Bespoke Jewellery

Restringing

WEBSITE
https://www.jewelleryrepair.ie/
ADDRESS
T.C.D Enterprise Centre, Unit 56, 5th Floor, The Tower T.C.D, Pearse St, Grand Canal Dock, Dublin
CONTACT DETAILS
Phone: 01-6779494

EMAIL: [email protected]

OPERATING HOURS

Weekdays: 9:30 AM to 5:30 PM
| | |
| --- | --- |
| Services | ★★★★★(5/5) |
| Jewelry repair | ★★★★★(5/5) |
| Additional services | ★★★★★(5/5) |
| Accessibility | ★★★★☆(4/5) |
| Background | ★★★★★(5/5) |
| Feedback | ★★★★★(5/5) |
| Expertise | ★★★★★(5/5) |
| Customer Experience | ★★★★★(5/5) |
A popular choice that has one of the widest range of jewellery repair services in the area, JewelleryRepair.ie is your perfect go to for expert workmanship for all types of pieces.
What we like about them is that they have substantial experience in not only working for day-to-day customers, but other businesses as well.
We think customers will appreciate that their services are also trusted by jewellery shops, providing maintenance for numerous types of pieces. They are also very conveniently located, right at the Grand Canal Dock for easy access.
In terms of their strengths, their selection of repair services is quite large in scope, so we like that they can attend to a wide variety of customer needs.
This includes cleaning, ring sizing, gemstone and diamond replacement, as well as repair for chains, bracelets and necklaces.
They even have a pre wedding full ring service, which is great for couples looking to shine up and plate their rings and accessories before the big day at reduced prices.
What's more impressive is that they have services outside of jewelry repair, offering bespoke jewellery and restringing as well. This makes them an excellent choice for individuals looking for all their services needs under one roof.
If you are planning to pay online, take note that you are limited to Paypal. However, if you do find yourself in the area or are looking for multiple types of jewellery services, JewelleryRepair.ie makes for a quality choice.
Experience with repairing for jewellery shops
Wide range of repair services
Good deals and price offers
Very thorough and detailed work
Online payment only accommodates Paypal
May be difficult to schedule because of popularity
Customer Reviews
Stunning and Looks Like New
I have had three rings repaired and cleaned with one reset. To say I'm a happy customer is an understatement. I was quite unprepared to get emotional when I collected my pieces. My beloved mother's engagement ring (who has recently passed) looks like new. It's so beautiful. My own engagement ring has been set as it should have been in the first place and is stunning. The guys are very professional and extremely friendly. Price wise it was value for money for sure and a lot less than I was quoted elsewhere. All in all five stars for me. Thank you so much. Emily -Emily Ryan
Did an Amazing Job
This place was the best find ever!!! The diamond fell out of my platinum engagement ring which is a heirloom and very old. It needed all the prongs fixed and there was a crack on the basket part. When I picked it up I couldn't believe my eyes. They did an amazing job and I swear it looks new and sparkly. I'm absolutely delighted and I think it will be well able for lots more passing down through the family for years to come. They also fixed a gold necklace and dipped another old ring in rhodium for me. All came out fantastic. Can't recommend this place enough. Thank you!! 🤩 -Tilley
2. Palmerstown Jewellers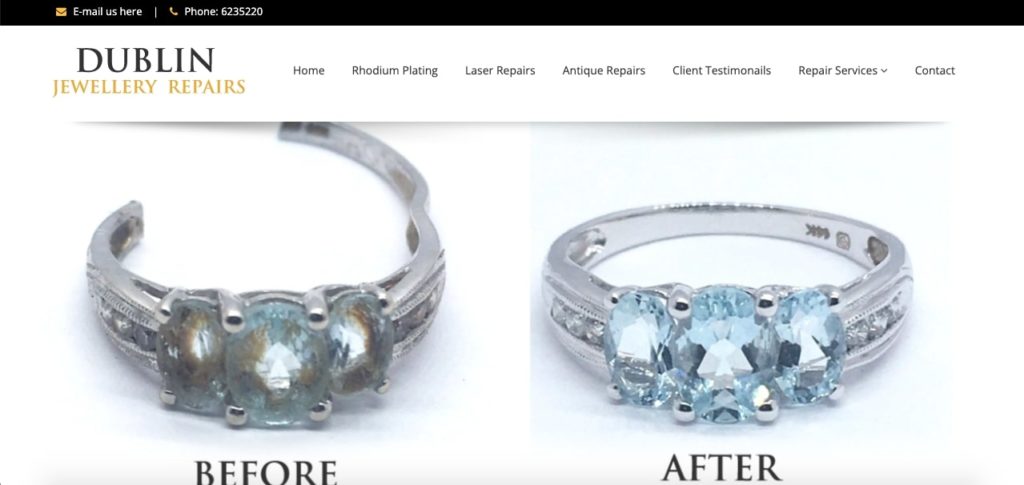 Test
Info
SERVICES

Rhodium Plating

Laser Repairs

Antique Repairs

Ring Repairs

Ring Sizing

Stone Replacement

Jewellery Polishing

Necklace/Bracelet Repair

WEBSITE
http://www.dublinjewelleryrepairs.ie/
ADDRESS
Unit 10 b, Palmerstown Shopping Centre, Woodfarm, Palmerstown, Co. Dublin
CONTACT DETAILS
Phone: 016235220

EMAIL: [email protected]

OPERATING HOURS

Monday to Saturday: 10:00 AM to 6:00 PM
| | |
| --- | --- |
| Services | ★★★★★(5/5) |
| Jewelry repair | ★★★★★(5/5) |
| Additional services | ★★★★★(5/5) |
| Accessibility | ★★★★☆(4/5) |
| Background | ★★★★★(5/5) |
| Feedback | ★★★★★(5/5) |
| Expertise | ★★★★★(5/5) |
| Customer Experience | ★★★★★(5/5) |
Palmerstown Jewellers is one of the best options out there for their efficient yet detail oriented approach. They have a substantial amount of beautiful restorations under their belt.
Their efficiency is definitely one of the highlights of what they have to offer. Many past customers have reported that they have surprisingly received their jewellery pieces quickly from their services.
If you're looking for a fast turnover, chances are Palmerstown Jeweller is your best bet. This makes them a great option for rush orders or emergency requests.
They also have a very competent team on their side and we highly suggest checking out their impressive portfolio of "before and after" work on their website. This makes them a trustworthy option when it comes to not only speed, but quality.
Speaking of dependability, we also highly recommend them for antique jewellery repair, as they have a dedicated service just for this category. They are able to restore old parts as well as polish up the look of older pieces.
Furthermore, they have capabilities in using both traditional hand restorations as well as cutting edge, laser jewellery repairs. This makes them very versatile in not damaging the pieces and applying the best approach they see fit.
Keep in mind however, that they do have certain business periods where they do not accept repair work like before Christmas for example, so make sure to check in with them beforehand.
If you're in the area looking for precision work or antique repairs, Palmerstown Jewellers is hard to beat.
Use advanced technology
Great quality restoration and cleaning work
Very efficient and relatively "quicker" with their work
Can source and replace missing gemstones or diamonds
Does not accept repair work at certain times 
Price estimates unavailable online
Customer Reviews
Skilled and Experienced
I got my dream engagement ring from Robbie in Palmerstown Jewellers in June 2022. The whole process was fabulous, Robbie is so skilled, experienced and encouraging in helping you pick the right design for you. I cannot recommend him enough & I will continue to recommend him to anyone in my life that has gotten engaged as they deserve 5 star treatment. -Sinead Clancy
Wouldn't Bring My Jewellery Anywhere Else
Where do I start with these guys. I wouldn't bring my jewellery anywhere else to be repaired. They are so professional and know what they are doing. Few Christmas's ago they made me some bespoke cuff links for my other half and there are no words to describe the attention to detail. And very reasonably priced. I cannot recommend them highly enough Thanks guys for everything -Teresa Hartford
3. Fast Fix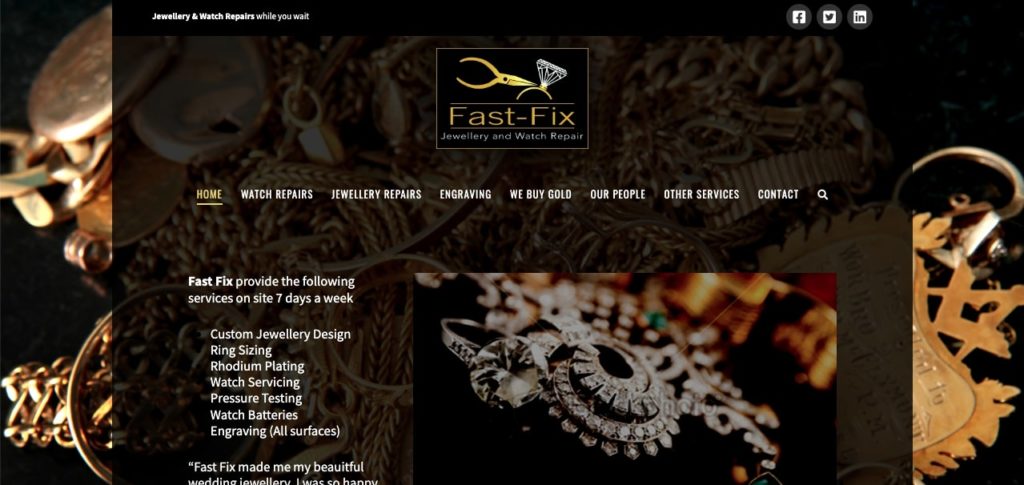 Test
Info
SERVICES

Watch Repairs

Jewellery Repairs

Engraving

We Buy Gold

Eyeglass Repairs

iPhone Repairs

Appraisals

WEBSITE
http://fast-fix.ie/
ADDRESS
Block 4 Dundrum Town Centre, 16 Sandyford Rd, Dundrum, Dublin 16
CONTACT DETAILS
Phone: 01-296 5255
OPERATING HOURS

Weekdays: 9:00 AM to 9:00 PM

Saturdays: 9:00 AM to 7:00 PM

Sundays: 10:00 AM to 7:00 PM
| | |
| --- | --- |
| Services | ★★★★★(5/5) |
| Jewelry repair | ★★★★☆(4/5) |
| Additional services | ★★★★★(5/5) |
| Accessibility | ★★★★★(5/5) |
| Background | ★★★★★(5/5) |
| Feedback | ★★★★☆(4/5) |
| Expertise | ★★★★★(5/5) |
| Customer Experience | ★★★☆☆(3/5) |
If you're on the lookout for a jewellery repair service that's more within reach, Fast Fix is a solid option.
What sets them apart is that they have multiple locations available, having kiosks or shops in Dundrum Town Centre, St Stephen's Green Shopping Centre and more.
Aside from this, we really like that they have a wide team of knowledgeable experts on hand to oversee the services. This includes jewellers and goldsmiths with diplomas and experience in design, crafting and setting.
In terms of their repair services, they definitely have the basics covered including ring resizing, rhodium plating, laser welding and more. Some customers have noted that some of their prices are quite expensive for the quality of service.
However, many customers have complimented how helpful and accommodating staff were during the repairing process.
Outside of these services, they do have a great selection of additional services that complement well with jewellery repair. They can trade cash for gold pieces, repair watches and fix eyeglasses as well.
Multiple convenient locations
Have an engraving service, eyeglass repair as well as purchase gold
Solid range of jewellery repair capabilities
Team of people is very experienced and has a great background
Customers report slightly higher prices
No online purchase service
Customer Reviews
Great Quality Service
Great experience. I have had batteries in watches replaced here a few times but recently got two rings that are very precious to me resized here which they did in 2 hours for me as I was in a hurry. Lovely gentlemen to deal with, great quality service. I'm really happy with the results. Will definitely be receiving my business again. -Bronagh McBride
Very Knowledgeable
I had a great experience with paul in store came in with just a question about a custom ring with an adidas logo on it spoke to paul who was more then happy to walk me through the process of what was required and recommend and showed me several rings in which to get the logo on once I had chosen a ring he was very well educated on the metals and cost of the peice then gave me a time frame that was actully less then the total time taken to produce the finished product I was more then happy with the work and now wear it everyday and would happily come back for the work and all the staff who were very polite and easy to deal with. paul who was a credit to the store well recommend anyone to pop in store to speak to him and the rest of the staff -Dan Arnold
4. Weir & Sons
Test
Info
SERVICES

Engagement and Wedding Rings

Jewellery Watches

Ring Sizing

Plating and Polishing

Jewellery and Watch Services

WEBSITE
https://weirandsons.ie//
ADDRESS
96-99 Grafton Street, Dublin 2
CONTACT DETAILS
Phone: 00353 1 6779678

EMAIL: [email protected]

OPERATING HOURS

Monday to Saturday: 9:30 AM to 6:00 PM

Sunday: 12:00 NN to 6:00 PM
| | |
| --- | --- |
| Services | ★★★★★(5/5) |
| Jewelry repair | ★★★★☆(4/5) |
| Additional services | ★★★★★(5/5) |
| Accessibility | ★★★★☆(4/5) |
| Background | ★★★★★(5/5) |
| Feedback | ★★★★★(5/5) |
| Expertise | ★★★★★(5/5) |
| Customer Experience | ★★★★★(5/5) |
Weir & Sons was established in 1869 and is still a family run business to this day, aiming to provide customers with a high quality experience.
What we appreciate about them is that they have a large team with a diverse set of talents. From watch experts, technicians to their antique department, they make a great option if you're looking for a knowledgeable source for your services.
While their jewellery repair services are admittedly more limited compared to a business purely dedicated to repairs, we still find the selection to be quite solid.
When it comes to rings, they offer sizing, plating and polishing, as well as a valuation service. The quality of these services is excellent as well, with numerous previous customers noting the business' quality of customer treatment.
It's important to take note, however, that their prices can be slightly higher so make sure to check their price list on the website.
Weir & Sons is also well known to carry and curate high quality pieces. From engagement rings to luxury brand watches including Rolex and Patek Philippe, they are the best option if you're looking for both a seller and repair service provider.
All under one roof, Weir & Sons can provide you with high quality customer service alongside a selection of luxurious options, making for an excellent experience.
Also sell high quality branded jewellery and watches
Wide team of staff who are very knowledgeable in different areas
Great option as a one stop shop
Very detail oriented and thorough
Slightly pricier services
More limited list of jewelery repair capabilities
Customer Reviews
Friendly and Considerate Advice
We recently dealt with Sonya when engagement ring shopping and we can't speak highly enough of her. Sonya was friendly, patient and considerate with her advice, while still giving us the room to make a decision. We genuinely felt lucky to have dealt with her. – Sean Mooney
Went Above and Beyond
Had the most lovely experience with my sales rep Jess. No request was too much, she went above and beyond to ensure all my needs were met, I would recommend to anyone looking for stunning vintage pieces. – Faye Kane
5. Martin Gear Jewellers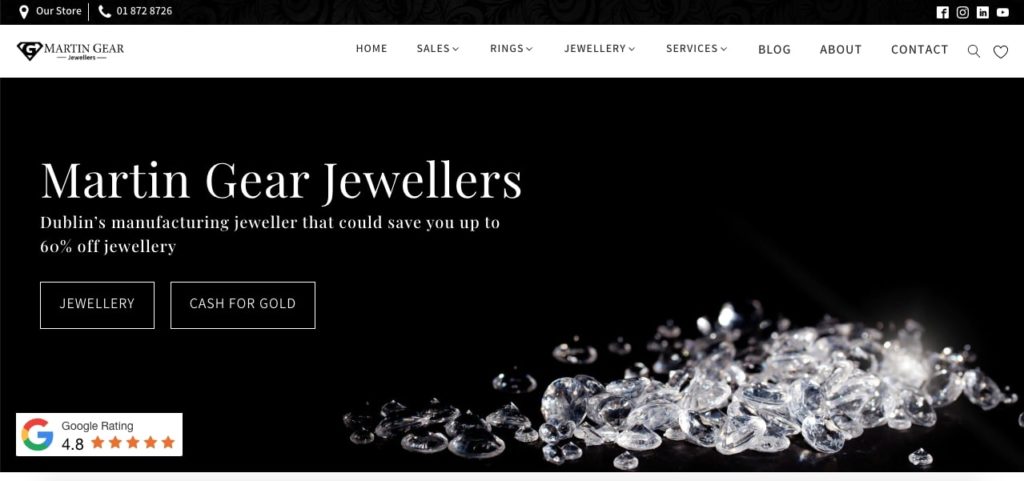 Test
Info
SERVICES

Rings

Jewellery

Cash for Gold

Jewellery Cleaning

Jewellery Repair

Laser Photo Engraving

Ring Resizing

White Gold Replating

WEBSITE
https://martingearjewellers.ie/
ADDRESS
5 Mary St, North City, Dublin 1
CONTACT DETAILS
Phone: 01 872 8726

EMAIL: [email protected]

OPERATING HOURS

Monday to Saturday: 10:00 AM to 5:00 PM
| | |
| --- | --- |
| Services | ★★★★★(5/5) |
| Jewelry repair | ★★★★★(5/5) |
| Additional services | ★★★★★(5/5) |
| Accessibility | ★★★★☆(4/5) |
| Background | ★★★★★(5/5) |
| Feedback | ★★★★★(5/5) |
| Expertise | ★★★★★(5/5) |
| Customer Experience | ★★★★★(5/5) |
Martin Gear Jewellers is a business that is certainly no newcomer to the industry.
Martin Gear, a jewellery designer and professional diamond setter has numerous years of experience and training under his belt. The business has consequently been featured in numerous media outlets like the Irish Times and RTÉ.
We think customers will greatly appreciate that the repair experts have substantial experience as they are jewellers, diamond setters and goldsmiths.a This also makes them quite adaptable to most jewellery repair requests.
Customers will also like that they can come in for a free, no obligation, inspection and quote. This allows them to feel more at ease when it comes to estimating the damage that needs to be repaired and the possible resources needed.
Martin Gear Jewellers has a great range of repair services which includes resizing, polishing and cleaning, as well as restoration and remodelling. Their services are less specialized compared to other repair services, so give them a call before heading in.
What makes them a great service as well is that they offer numerous other products and services outside from jewellery repair.
Customers can easily shop their selection, which has great deals on prices from time to time, then come back and have their pieces repaired.
They also have other services like white gold plating and engraving, giving customers more options for the look of their jewellery.
Martin Gear Jewellers is a great option for their top to bottom services as well as substantial background.
Have sale deals from time to time
Experienced and long standing background
Solid range of repair and additional services
Very efficient yet detail oriented with their work
No available online prices for repair services
Less specialized range of services
Customer Reviews
Friendly, Professional and Fast Service
Absolutely incredible service. After getting engaged in the early hours of New Years Eve, we rang Susan on the off chance we could leave the ring in to be sized that day. Susan explained to us that they could do it for us in a couple of hours, which was fantastic. When we arrived into the shop, Susan greeted us and congratulated both of us in a genuinely warm way. When the ring was ready, only an hour later, both Martin and Susan chatted to us and made us feel like we were the only newly engaged couple they had ever dealt with. I highly recommend Martin Gear and we look forward to going back to choose our wedding rings. Thank you so much for making my dream engagement ring. Rebecca and Alan. -Rebecca Richmond
Could Not Be Happier with the Results
Gear Jewellers is a fantastic place to go if you are looking for a gift or to have jewellery fixed. Recently I bought some items and had family jewellery repaired. I could not be happier with the results and professionalism. Susan, by the way, is a lovely lady and helped all the time with guidance and my queries. For sure I will be back again as some nice pieces have caught my eye. Thank you for the work done on my grandparents jewellery that was handed down to me. I really appreciate the work. See you soon!! -Greg M
FAQs about Jewelry Repair
---
To preserve your precious pieces, there are so many resources and experts in the area who can definitely help with repair. If you would like to read more, we also have an article on the best jewelry stores in Dublin.