The 7 Best Handyman Services in Dublin
Featured Image Source: https://www.pexels.com/photo/man-using-hand-drill-3637784/
It's easy to postpone repairing that slow-draining sink for another day. And because we have a lot of things to do, we forget.
Then, comes the busted bulb…then, the accumulating dirt on the windows…until the list of these small to-do's becomes a huge pile of mess that can't be fixed in a day without a few sacrifices.
Luckily for you, today's list is about the best handyman services in Dublin. But we know you're concerned about how much it costs to have them fix your problems, so let's deal with that first.
The Cost of Hiring a Handyman in Dublin
The rate of hiring a handyman varies from one person or company to another. You can hire them per hour, per day or based on the work involved.
Below, you'll find the average rates for handymen in the city:
Rate per hour
| | | |
| --- | --- | --- |
| Service | 1st hour | Succeeding hours |
| General handyman services | €70 – €100 | €30 – €35 |
Rate per day
| | |
| --- | --- |
| Service | Average rate |
| General handyman services | €70 – €100 |
Rate per job
| | |
| --- | --- |
| Service | Average Rate |
| Wallpaper installation | €10 – €15 per/sqm |
| Wallpaper removal + installation | €20 – €24 per/sqm |
| Kitchen tap replacing | Starts at €65 |
| Roof cleaning | Starts at €300 |
| Medium- sized bedroom painting | Starts at €200 |
| New door fixing excluding frame | Starts at €65 |
| Shower replacement | Starts at €250 |
| Dishwasher/washing machine reconnect | Starts at €65 |
| Radiator replacement | Starts at €65 |
The Best Handyman Services in Dublin
Now, here are our tops picks for the best handyman services in Dublin:
1. Fixed Handyman Services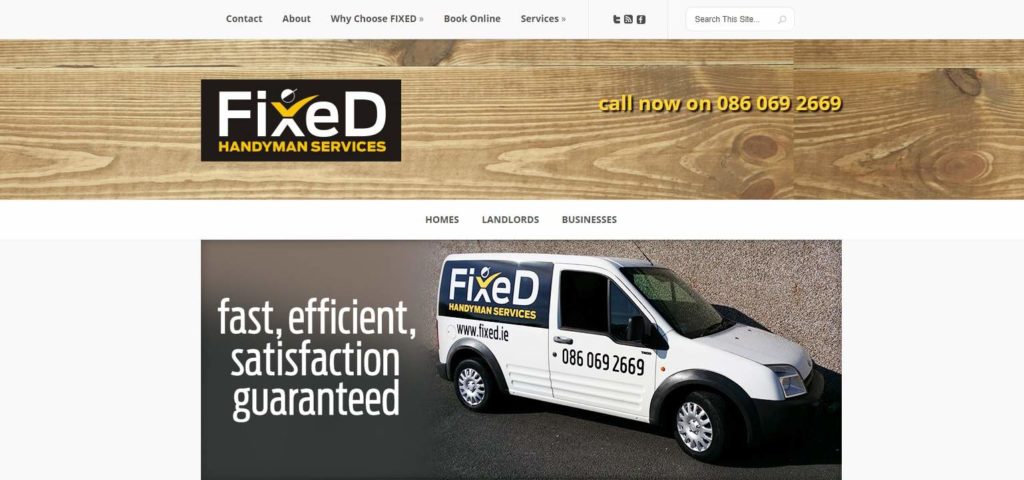 | | |
| --- | --- |
| SERVICES | Electrical, plumbing, painting, odd jobs, decorating, all household and commercial interior and exterior repair and installation services |
| WEBSITE | https://www.fixed.ie/ |
| ADDRESS | 26 Annaville Park, Dundrum, Dublin, D14 E956, Ireland |
| CONTACT DETAILS | +353 86 069 2669 |
First up on our list is Fixed Handyman Services.
A lot of people tell us they're good, which is a good indication of the quality of their service. But the fact that they give a 6-month workmanship guarantee for all their jobs gives us the impression that they're also confident in their work.
Based on our research, not all handyman services have workmanship warranties, so that's a point in favour of FHS.
Then consider too that they're covered by Public Liability insurance.
You know how accidents happen sometimes, no matter how careful you are. An uninsured worker getting injured in your home isn't good.
But with their insurance, you don't need to worry about injuries or property damage because FHS is insured for up to €6.5M.
Fixed Handyman Services offers minor electrical work, painting, plumbing, decorating, interior and exterior repair and a pretty long list of odd jobs.
They also provide property management services for both residential and commercial establishments in the entire Dublin and surrounding areas. They can provide electronic invoicing too, which we think is useful in keeping track of your expenses, whether it's for your home or business.
Finally, note that quotes are free for everyone, but if you live in the south of Dublin, call-outs are also free of charge.
Overall, we liked what we got from them in our testing and found most of their clients' testimonials positive. However, it's worth noting that a few customers said that they missed appointments for jobs, whether due to abrupt manpower shortages or something else.
6-month workmanship guarantee
With Public Liability insurance
No call-out charge within South Dublin
Domestic and commercial jobs accepted
Provides electronic invoicing
Free quote
Some reports of missed appointments
Operating hours not listed on website
Customer Reviews
These customers can attest to Fixed Handyman Services' level of service:
"I was very impressed with John's work.He did numerous jobs around the home ie.hung mirrors,curtain pole,shelving and changed light fittings.I found him to be efficient,friendly and very reasonable.Will definitely be using John's services again." – Sheena, Fixed reviews
"John responded immediately to request and was courteous and helpful in offering solutions. Job was executed quickly, professionally and was very good value for money. Would recommend this service to others." – Monica Corcoran, Google reviews
2. The Home Team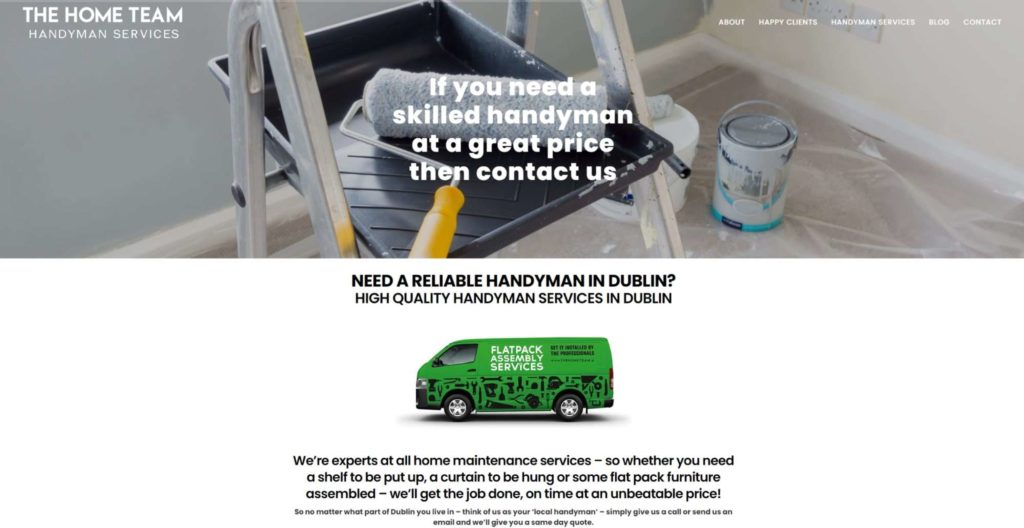 | | |
| --- | --- |
| SERVICES | Painting & decorating, hedge cutting, home repair, flat pack assembly, power washing |
| WEBSITE | https://thehometeam.ie/ |
| ADDRESS | North Street Co Dublin Swords, Ireland |
| CONTACT DETAILS | +353 1 685 2574 |
We've included The Home Team on our list primarily because, aside from their past clients recommending them to us, they're also one of the very few who are open all throughout the week, including holidays.
Which is just as well, since taps, bulbs and such don't really wait for weekdays before stopping to work, do they?
In fact, if it's one of those really bad days, these things seem to even wait when all services are closed before conking out. So, The Home Team being open everyday is welcome news indeed.
THT also has 25+ years of experience in all sorts of handyman jobs: hedge cutting, painting, decorating, power washing, TV wall mounting and home repairs of all kinds.
They can help you lift items too. Sounds like too small a task, but it could be a real drag if you live alone and have no one to give you a hand.
What's more, like Fixed Handyman Services, their quotes are free too.
Unfortunately, they don't take on commercial jobs. It's a pity, because commercial projects have even tighter timelines than home handyman jobs, and the company's 7-day work-week could have come in very handy (no pun intended) to many business owners.
Available 7 days a week including holidays
Lifting and moving service
Big and small jobs accepted
Free quote
Has many branches
Commercial projects not accepted
Customer Reviews
Previous clients of The Home Team were happy to share their experience:
"I would recommend Owen. He is very easy to communicate with, came precisely on agreed time and did the job very efficiently." – Tatiana Vojtilova, Facebook reviews
"Owen has done lots of painting, ikea assembly and general maintenance and fixing around our house over many years. He is highly skilled, very dependable and reliable. Would highly recommend him." – Jane Lanigan, Facebook reviews
3. Local Handyman Skerries
Local Handyman Skerries is made up of a team of specialists in carpentry, plumbing, electrical works, painting and garden maintenance.
But in addition to the usual handyman services, they also have Ikea assembly.
For some of us who can't even put together a toy from Happy Meal, it's comforting to know you can call someone who can assist in assembling furniture from Ikea – or any flatpack furniture, for that matter.
Oh, and they don't stop at furniture too—they also do grill assembly, entertainment centre assembly, bike assembly and more!
Local Handyman Skerries also has a number of branches: Ballsbridge, Drumcondra, Blackrock, Clonsilla, and more. So, it means if you need help quickly, it's more or less guaranteed that they can get to wherever you are in Dublin, fast.
If you have more than one house chore that needs to get done, you can also hire them on a daily rate instead of hourly. Saves you time and money.
We just hope they can provide the same service for businesses in the future. Unfortunately, they're another service only doing residential jobs at the moment.
Ikea / flatpack assembly
Daily rate offered
Accepts small or big jobs
Commercial projects not accepted
Operating hours not listed on website
Customer Reviews
These customers highly recommend Local Handyman Skerries' services:
"Highly recommend. Great service, very responsive and friendly. Peter and his son did a great job in my little kitchen, absolutely delighted with it. Thank you to Peter and his son." O. Pinzele, Google reviews
"Called Peter to do a range of different jobs to get the house ready to rent. Everything from repairing door handles and locks and kitchen drawers to installing a tumble dryer and a lot of other odd repairs. All done to a high standard within a day and at a great price. Definitely highly recommended." – Steven O'Reilly, Google reviews
4. Alex Handyman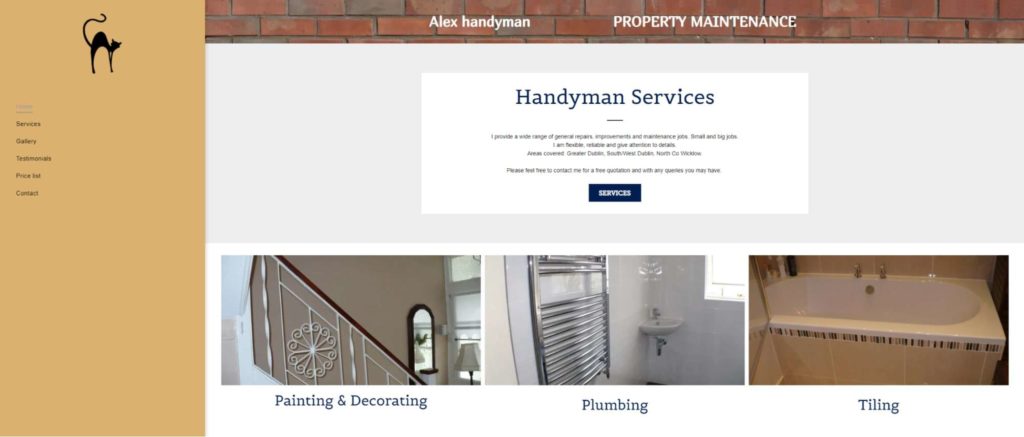 SERVICES
Painting & decorating, tiling, plumbing, carpentry, thermal insulation, gutters/roof fixing/cleaning
WEBSITE
https://www.alex.ie/
ADDRESS
Firhouse, Dublin 24, Ireland
CONTACT DETAILS
085 17 83 570


[email protected]

OPERATING HOURS
Mon – Fri, 9am – 6pm
Saturday, 9am – 1pm
Of all the handyman service companies we've reviewed, Alex Handyman is the only one with all of their rates posted on the website. No need to call to ask—it's all there.
And the prices are all within the city average too. That's definitely another good thing.
So, what services does Alex Handyman offer? Their team has general repairs,maintenance jobs, painting and decorating, plumbing, cleaning, roof fixing, and other handyman jobs.
But they also do home improvements, tiling, gates fitting, fireplace installation, flooring, attic insulation… or if you want, a complete renovation, including fixtures and fitting! No job is too small or big for them, it seems.
We were surprised to find they even have a gallery on their website, complete with before-and-after pictures to showcase their work. So if you're curious to see those, just check out their Gallery page.
You can call, email or fill up their contact form if you want to get a quote for any kind of job you want done. They don't charge for it.
But again, they don't take on commercial projects, so if your handyman service involves your business or establishment, don't bother.
Price list available on website
Complete renovation services offered
Gallery of works with "before" and "after" pictures
Free quote
Commercial projects not accepted
Customer Reviews
Alex Handyman did a great job for these customers, who were happy to share the experience with everyone:
"We hired Alex and his team to do an extensive job of painting our new extension, updating our hall/stairs, laying a new floor in our bathroom and tiling the shower. Not only were we very pleased with the competitive price but we were also very pleased with the quality of the work. We have already recommended Alex to some of our friends/family and would certainly recommend him to anyone else." – Ben, Alex reviews
"I have used Alex on numerous occasions. I have found him to be reliable, professional, trustworthy and his workmanship is of a very high standard. He is prepared to go the extra mile and his services are good value for money. I would use him again and recommend him to anyone." – Cheryl Rego, Alex reviews
5. Remi The Handyman

SERVICES
Building, carpentry, decorating, furniture assembly, garden maintenance, property maintenance, paving, painting, repairs, tiling
WEBSITE
http://www.remithehandyman.com/
ADDRESS
11 Griffeen Glen Wood k78nf24 Lucan, Ireland
CONTACT DETAILS
+353 86 895 5342


[email protected]
And finally, we have Remi The Handyman.
Like other handyman service companies, Remi The Handyman offers repairs, painting, tiling, garden maintenance, decorating, flooring and other handyman jobs.
Unlike several of the others on this list, though, they also do domestic and commercial and property maintenance and management. Some of their clients include Preston Property and Serviced Apartments in Dublin (SAID).
So, they have an extensive list of services, which is clear enough. But what captured our interest was really that they are willing to go beyond what they have on that list.
If you have a job that's not included in their services, call them and they will work it out with you. If they can't do the job themselves, they have ties with other professionals too, so you only have to deal with one supplier.
It's hard to think of all the small odd jobs we need in the house. And the thought that they're willing to work on whatever may come up is one (not so) small consolation.
And to put the icing on the cake, call-outs as well as quotes are free.
There's a face behind each team member too—Vaidas, Raimo, Kastis and Remi, who founded the company in 2008.
Unfortunately, their blog and social media are not updated, which makes a poor impression. It seems to suggest that the company isn't active.
Of course, this wouldn't have mattered so much before. However, with the degree of digitalisation the pandemic has encouraged, times have changed.
Given how many consumers not only do research but demand customer service on social media, we'd prefer companies that pay attention to even that channel. It's a minor quibble, though, and they're still a solid choice for those seeking Dublin handymen.
Domestic and commercial works
All (small or big) handyman jobs accepted
Free quotes
No call-out charge
Operating hours not listed
Website not updated
Customer Reviews
Here's what their previous clients are saying about their experience with Remi The Handyman:
"After googling a local tradesman close to our address, I came up with Remi the handyman. He sent two of his crew around. They were extremely professional and also very friendly. The job turned out great and I was very impressed. I will be using them again without hesitation." – Briano Quinn, Google reviews
"Great experience, fitted a recessed gas meter box in advance of gas networks Ireland installing the gas. Place left spotless clean and done and dusted in just over an hour. Price as agreed time as agreed would have no issues in using again or recommending to anyone else." – Damien Casey, Google reviews
6. Handy Hands Services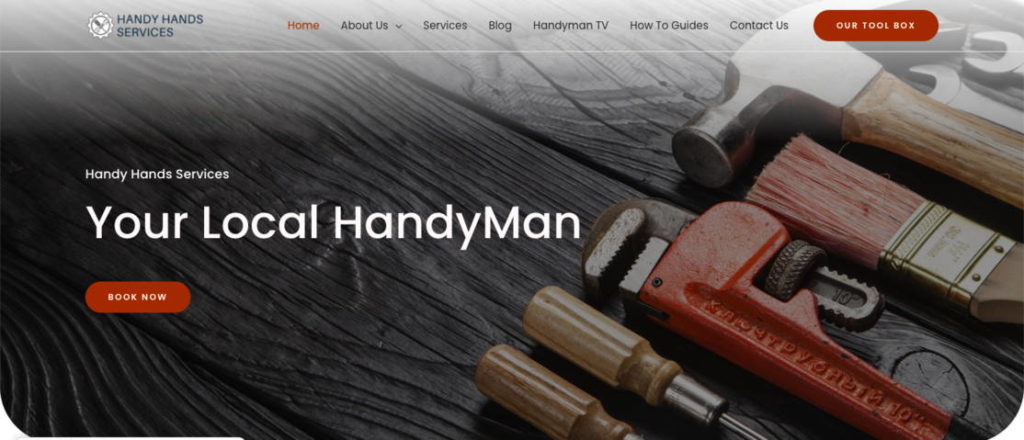 If you need extra hands with your home maintenance, Handy Hands Services is here. It's a fully registered Irish business offering a variety of handyman services.
Whether you need to get your interiors or exteriors painted, garden maintained, gutter cleaned, or driveway power washed, you can have them do it for you.
They even have packages available for you if you need more than one job done to get their services at a cheaper rate.
It's quite easy to avail of their services and packages. All you have to do is go on their website and select which one you need, and you can even get them as gift vouchers!
Unlike most handyman services, they even have a YouTube channel called "The Handyman TV" wherein they show the process of their projects, and also How To Guides on their website! We can truly see how dedicated they are to their craft.
Many of their customers are happy with the results of their work because of the quality, professionalism, tidiness, and speed. They even claim that they can fix any problem!
We haven't really seen any negative feedback for them, so chances are you'll also be delighted with the work they'll do for you.
Positive customer feedback
Offers a variety of handyman services
Packages for multiple jobs for a discounted rate
Prices available on website
Operating hours not listed
Customer Reviews
Here's what their previous clients are saying about their experience with Handy Hands Services on Google Reviews:
"I would recommend Dermot. He was bang on time and carried out the jobs we had discussed and we were delighted to get these done especially the painting outside and couldn't fault anything. He even kept an eye on our cat !! Would definitely recommend and use his services again."
"Dermot did a fantastic job in our garden and repairs to our roof. He paid attention to detail & was precise in his work. Dermot is a gentleman, and I would highly recommend his services."
7.   Home Concierge Limited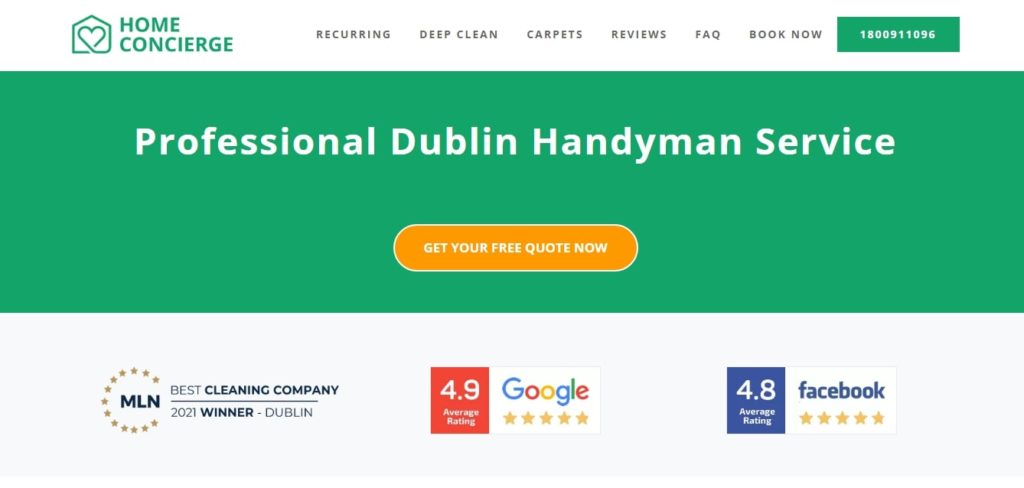 SERVICES
Regular Cleaning
Once-Off Cleaning
Book Online
Commercial Cleaning
Professional Handyman
Professional Carpet Cleaners
Removals Dublin
Carpet Cleaning Cork
WEBSITE
https://homeconcierge.ie/
ADDRESS
Suite 24, 20 Harcourt Street, Dublin 2, Ireland
CONTACT DETAILS
Phone: 1800911096
Email: 

[email protected]
Home Concierge Limited is a company that offers clients a diverse range of handyman services that is very ideal for emergency household concerns that clients may encounter and need immediate professional service. From interior to exterior needs and renovations, clients can rely on them for the simplest to the most complicated jobs due to their attention to detail.
We find commendable their interface contactless procedure that enables clients to avail and book their schedule at their own time and since they accept a wide variety of online payments clients can also easily send their payment through online means as well.
They also employ a customer guarantee wherein should the event arise that the client is not satisfied with their services, they are more than willing to return and re-do the said service free of charge.
Clients can also expect to be updated regularly and a communication methodology that is transparent and honest so that they can be assured that should there be minor and major issues present – the clients will be adequately informed of this.
Though there isn't straightforward pricing readily available on their website, they do offer a free quotation on their website so that clients can make use of it anytime, anywhere.
Customer satisfaction guaranteed
Transparent services
Effective communication
Customer Reviews
Here are some reviews from their clients:
"Booked Home Concierge for a 3 bedroomed clean of our house which hasn't had a proper clean for a long time, was so impressed with the results, honestly above and beyond what we expected, didn't think our cooker could look like they left it. Big thank you to Kevin and his team, wouldn't hesitate in using you guys again!" – Keith Twamley
"Home concierge (HC) came highly recommend by a friend. They get the detail done, they get into the corners where other cleaners I had wouldn't, also the place shines, and my bathroom could be passed as a brand new bathroom. I would highly recommend them" – Helen McHugh
The Benefits of Hiring a Handyman
You're probably wondering why you should bother with a handyman. Of course, it's always cheaper if you do the fixing yourself—if you know how and you have the time, that is.
Even if you have to pay a bit more to get those odd things done, it's still more practical overall because:
Instead of spending it under the sink, why not spend it with your loved ones?
Watching tons of tutorial videos on YouTube on how to fix what-have-yous and the back and forth trips to the hardware store can be stressful.
DIY-ing is okay for simple jobs. But for technical ones, it can be a real challenge. It's not easy to troubleshoot where you went wrong if you don't get it right the first time.
Handymen have the experience and expertise to do it right and fast, on the other hand.
You don't need to buy tools.
Tools are pricey. And if it's just for a one-time job, it's not really worth the investment. A handyman has all the right tools for the job from the start.
FAQs about the Best Handyman Services in Dublin
You can check the answers to some of the most common questions we've received about handyman services below:
---
And that concludes our list of the best handyman services in Dublin. We hope it has helped you find the help you need for your home or business.
If you have other great companies to add to this list, just email us and we'll take a look at them.
We have a tonne of other handyman and repair service lists for this and many other cities, by the way. If you're in Cork and you need a plumber, for example, check out our list of the best plumbers in Cork right here.