The 8 Best Gutter Cleaning Services in Dublin
Featured Image from: https://www.pexels.com/photo/three-pink-green-and-yellow-houses-2904142/
Gutters are often ignored probably because they're not like a door or window that you can style and see all the time. The gutter is just up there along the eaves of your roof, quietly collecting rainwater to keep your foundation safe.
Not until it causes problems do we give it attention, and only after it has caused considerable damage.
To prevent this, regular gutter cleaning is needed. Which is why we've reviewed and picked what we think are companies that offer only the best gutter cleaning services in Dublin.
You will find them below, how much it costs to hire one, and a few helpful tips to get your gutter cleaned without hitches.
The Cost of Gutter Cleaning in Dublin
How much you have to pay to get your gutter cleaned depends on how big your house is and if it's a bungalow or a 2-storey structure. You'll find the price ranges below:
Internal Gutter Cleaning
| | |
| --- | --- |
| Property Size | Price |
| 2-3 Bedroom Properties, Gutters Front and Rear | |
| *Bungalow | Starts at €60 |
| *2-storey house | Starts at €85 |
| 3-4 Bedroom Properties, Upper Gutters Front, Side and Rear | Starts at €120 |
External Gutter, Fascia & Soffit Cleaning
| | |
| --- | --- |
| Property Size | Price |
| 2-3 Bedroom Properties, Gutters Front and Rear | |
| *Bungalow | Starts at €55 |
| *2-storey house | Starts at €80 |
| 3-4 Bedroom Properties, Upper Gutters Front, Side and Rear | Starts at €110 |
The Best Gutter Cleaning Services in Dublin
Now that you know what to expect in terms of costs, here are the best options available and what we think of them.
1. Embassy Guttering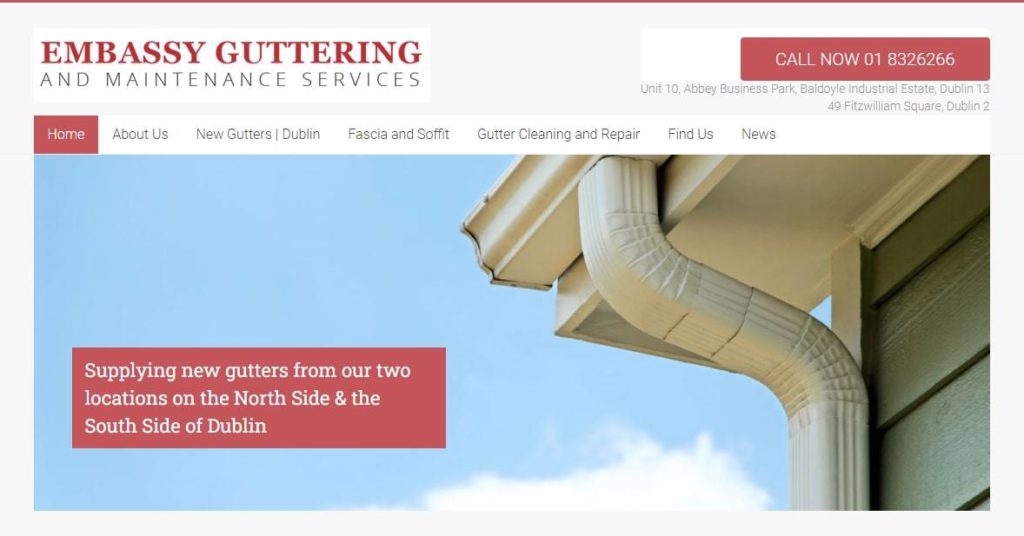 One of the oldest fully-insured companies doing gutter maintenance in Dublin, Embassy Guttering and Maintenance Services has been operating for 35 years now. The company is pretty well-established, which is one of the primary reasons it made this list.
Embassy Guttering has cleaned literally thousands of gutters across Dublin and surrounding counties. They take on any size of gutter-cleaning job, big or small, for both residential and commercial sectors.
But they don't just clean gutters, they can repair them too.
Old gutters can easily be knocked down by strong winds or heavy rains. So, if your gutter has been damaged, they can fix it for you.
They also sell gutters by the way, which we find pretty convenient. You get to deal with only one company to clean, repair or replace your gutter when necessary.
They supply 3 different gutter types: PVC, cast aluminium, seamless aluminium gutter, the last of which is their bestseller.
Add this to the fascia and soffit repair service they offer, and they're pretty much a one-stop shop for your roofing needs.
We just wish they were open on weekends or Saturdays, at least. That's when most people get the time off work to do their house to-do's.
35 years in the business
Fully insured
Serves both the residential and commercial sectors
Gutter repair, gutter product sales, fascia & soffit cleaning/repairs also available
Free quote
Closed on weekends
Didn't mention any certifications
Customer Reviews
You'll find what their previous customers are saying about Embassy Guttering and Maintenance Services below:
"I had leaking gutters replaced with seamless aluminium guttering. They also cleared two blocked downpipes. I found them to be very professional to deal with from the office to the fitters and would have no hesitation in recommending them to others." – Paula Flanagan, Google reviews
"Fantastic to deal with, always on time and never let us down . Great value service with top class professional results.
Highly recommended" – Sean Cummins, Google reviews
2. Weathertight Roofing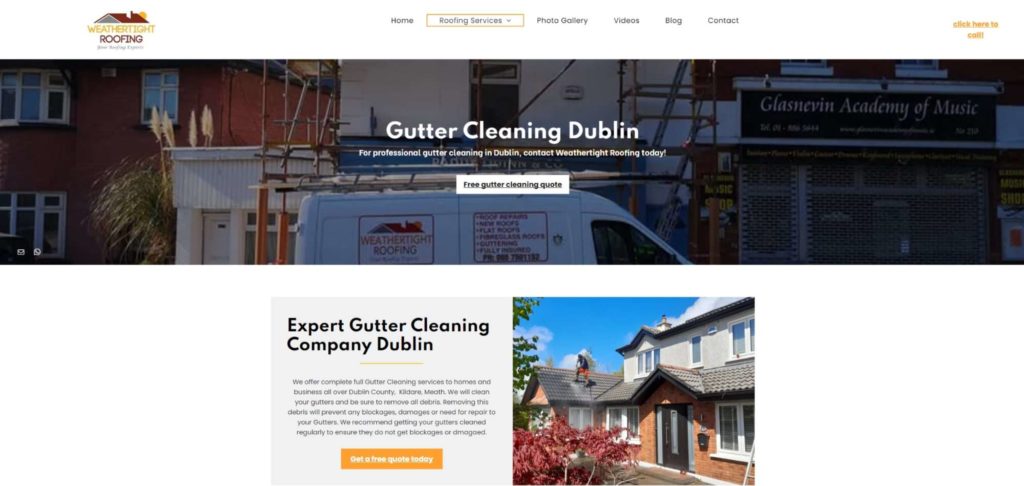 Weathertight Roofing cleans and power-washes gutters regardless of what type of roof you have—flat roof, slate roof, fibreglass roof. They pride themselves on getting the job done all in one day, which is one of the best things about them.
It's also good to know they are fully insured. We all know cleaning gutters requires climbing scaffolding, which is risky, so knowing that part is covered is reassuring.
What's more, Weathertight Roofing offers a full suite of roofing services over North and South Dublin. This means you can also have them do your roof maintenance or repairs while they see to your gutters.
They've been doing this for over 15 years, so we'd say they are pretty experienced. They are a trusted member of the National Guild of Master Craftsmen too, which confirms their skills in the field.
If you're interested in gutter cleaning or roof replacement, you can ask them for a free quote, by the way. They're also open 7 days a week, which we always appreciate for its convenience.
Gutter cleaning for all roof types
Full suite of roofing services also offered
Fully insured
National Guild of Master Craftsmen member
Free quote
Open 7 days a week
Commercial jobs not accepted
Doesn't seem to offer fascia and soffit cleaning and repairs
Customer Reviews
Read some of the testimonials of Weathertight Roofing's previous customers:
"Got my gutters re done. I was very happy with the service and price. Would definitely recommend using them" – Hannah Redmond, Google reviews
"Excellent Service from Niall and his team , they got the job done fast and at a price better than anywhere else! Highly recommended for all of your roofing needs!" – Complex Wear, Google reviews
3. Base Window Cleaners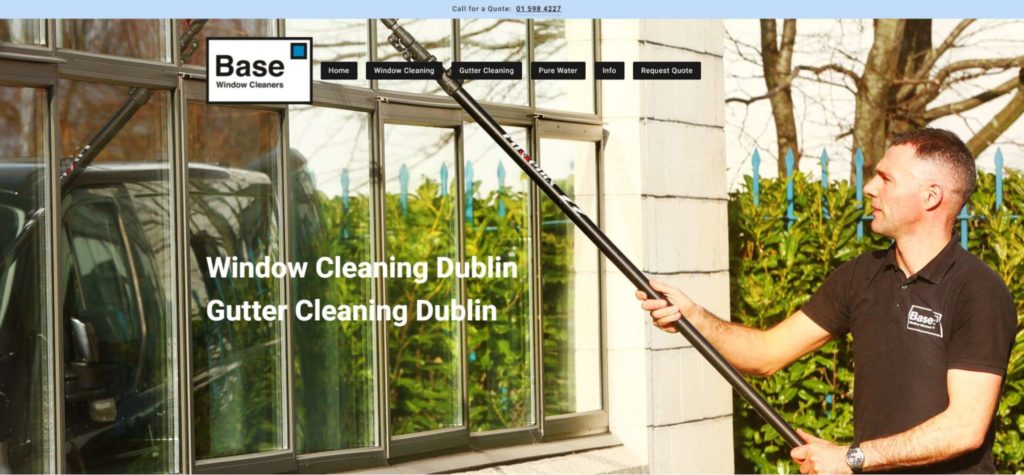 It seems Base Window Cleaners are as concerned about safety and skill certification as we are. We were happy to find that they have valid certifications in Safe Pass, Manual Handling and Mobile Elevated Work Platforms (MEWP) courses.
We also found that they have two types of insurance: Public Liability Insurance and Product Liability Insurance covering up to €6,500,000. That can help a client breathe more easily when they're on the job.
It's also worth noting that Base Window Cleaners uses an industrial gutter vacuum that can reach a height of 46 feet.
This means they don't really need to climb risky scaffolding to do the job. They can reach your roof gutter from the ground!
Safety precautions aside, Base Window Cleaners can take care, not just of your gutters, but your windows too.
They also offer fascia and soffit repair for residential homes and commercial multi-storey buildings. These multiple services allow you to deal with only one contractor, which we think is pretty convenient.
Finally, if you want to schedule a cleaning, appointment times are from 8:00am to 5:30pm, Monday to Saturday. We wish they were also open on Sundays, though, given that they provide services to businesses which are often open all throughout the week.
Has a lot of valid certifications
Fully insured
Uses industrial-grade, high-reach gutter vacuum
Also offers window cleaning and fascia & soffit cleaning
Accepts residential and commercial jobs
Customer Reviews
Base Window Cleaners has a lot of good reviews from previous clients, as what you can see below:
"Highly recommended! I hired this company to clean my guttering and windows based on its reviews and I wasn't disappointed. Excellent company, excellent work, everything exactly as outlined in all the other positive reviews. Will hire them again." – Jacinta Carroll, Base Window Cleaners reviews
"Delighted with the (well overdue) job of cleared gutters and clean windows. Paul and the team were polite, professional, efficient and friendly. Very reasonable. Highly recommended. Thanks lads." – Anne-Maria Whelan, Facebook reviews
4. The Cleaning Company
It's such a drag to have to remember when the last gutter-cleaning was done and when it should happen again. And that doesn't include the task of calling the company to schedule a cleaning.
Well, it seems The Cleaning Company has a solution for that.
They have an annual maintenance program so they can be your regular cleaners. They'll take care of everything—including your windows, roof, fascia and soffit.
Of course, you can also have it as a one-off service. Either way, they'll start with a free camera inspection of your gutter line.
This inspection is done to check how much dirt is there or if your gutter is damaged in any way before sending you a report of their findings.
They will repeat the same inspection process after the cleanup so you'll be able to see the difference. Since we can't actually see the gutter, we think the report is a great way to know what was actually done up there.
The Cleaning Company also offers a bevy of other services. These include window cleaning, power washing, bio-mist disinfecting, soft washing moss removal, fascia and soffit, roof and render/gable end cleaning.
You can get a discount for multiple service orders too. As such, this may be a good time to start asking your neighbours if they want to have their gutters cleaned as well.
TCC takes on both residential and commercial clients, by the way. They offer extra services to the latter like facade and cladding cleaning.
To give you an idea of how well-established they are in the space, some of their commercial clients include Burger King, Tesco and Subway. On the whole, they're among the more well-known options for gutter and facade cleaning here.
Annual maintenance program offered
Free camera inspection
Accepts residential and commercial jobs
Discount for multiple service orders
Also offers bio-mist disinfecting and facade cleaning
Calls are answered 24/7 but didn't mention if their service is also 24/7
Customer Reviews
We're not surprised by the good reviews we've received from The Cleaning Company's customers:
"We have used Luke and his team a number of times and I could not recommend them enough. All the team are extremely professional and the level of customer service is second to none. The whole processor was seamless and Luke is an excellent communicator.. Great job and I look forward to continuing our work with the cleaning company." – Orla Fenelon, The Cleaning Company reviews
"I had put off getting gutters done, so was over the moon to find these guys. Really professional, no messing great job. very very pleased." – Anne Twomey, The Cleaning Company reviews
5. Tower Enterprises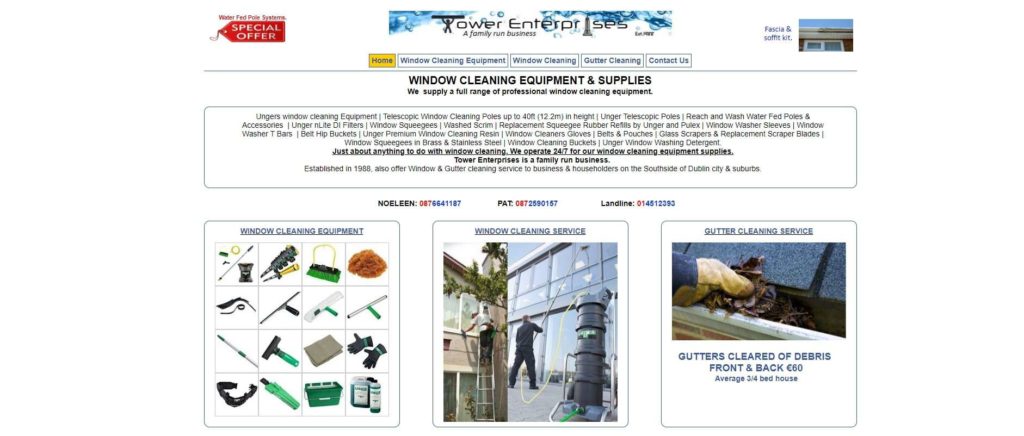 It's not easy to find a company that will look after your gutter and windows on a regular basis. But we think Tower Enterprises can because they offer these services nonstop—they're actually open 7 days a week.
Doesn't matter if you have a shack or a mansion either. They accept both residential and commercial jobs on all scales.
And yes, they're fully-insured too, which is good. It's one of the things we look for in high-risk fields like cleaning gutters—even more so if the company takes on commercial jobs.
You see, commercial jobs almost always mean higher buildings. Higher buildings mean greater risks.
We also checked their website and were pleased to find they have an online shop that sells cleaning equipment such as water-fed pole systems, window cleaning resins, T-bar handles, scrim clothes, detergent, gloves and other cleaning supplies.
They have a variety of special offers too and can even deliver nationwide.
However, we think their website could use a little updating. A gallery of their commercial clients would be helpful in leaving the impression that they're not limited to residential projects.
That aside, we think Tower Enterprises still offers one of the best gutter cleaning services in Dublin. The fact that they've been operating since 1988 probably says something about how much experience they have in this industry.
Open 7 days a week
Also cleans windows
Residential and commercial projects accepted
Fully insured
Has an online shop
Delivers nationwide
Covers south of Dublin City and suburbs only
Website needs a makeover
Customer Reviews
Below are reviews showing what Tower Enterprises' customers are saying about their service:
"Couldn't recommend this company enough. They came out at a time that suited me and did a very professional job. Thanks again Pat; I'll be recommending to friends and family" – Aodh Mac Gráinne, Google reviews
"Service was excellent. Called Pat on the mobile and got a quick appointment which he made good on. Gutters cleaned and some extra bits too, and then most importantly the price from the quote was the price I paid. Very friendly. All the mess was taken away too. Cheers Pat." – Ronan Gaughan, Google reviews
6. Stillorgan Chimney Sweep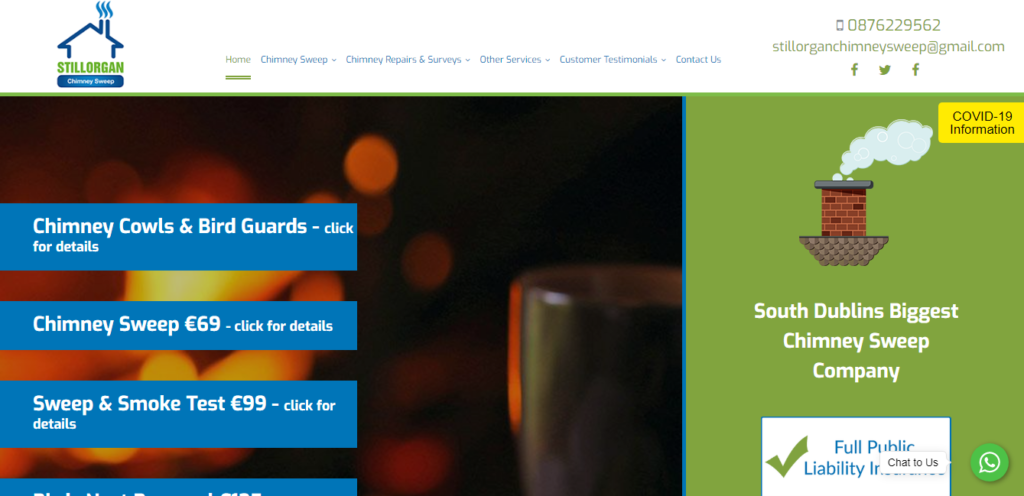 Stillorgan Chimney Sweep is a company that specializes in window and gutter cleaning services throughout Dublin and ensures that your household is in tiptop shape and is clear of any hazards that come from unkept gutters. They offer an excellent full range of gutter, fascia, and barge board cleaning, algae removal, and maintenance services that are sure to be a one-stop-shop for all your gutter needs.
They have a completely thorough approach when it comes to cleaning in which they use the best tools for each job that you have such as soft brushes and van-based circulation and water filtration systems. They also make use of a special wireless inspection camera to double-check and make sure that all pipes and gutters that you ask them to clean are spotless.
Should you also want regular maintenance and cleaning services for your windows and gutters then they also have comprehensive packages wherein they offer weekly up until monthly recurring cleaning services especially for you. Furthermore, they use the latest technology available in order to assure that they deliver only the best results to your job.
We recommend this company for you due to their highly professional cleaners that will provide you peace of mind during the whole cleaning process and a free quotation should you want to inquire regarding their services and the cost as well.
Free quotation
Uses latest cleaning methodology
Comprehensive packages
Operating hours are not available
Customer Reviews
Here are some reviews from their clients:
" Would highly recommend Stillorgan Chimney Sweep and their workmanship, if you are looking for a stove fitter. We found them to be thorough, good & honest workmen using only the best quality materials available."
"For many years we have had our chimneys swept regularly by Stillorgan Chimney Sweep. Living in a listed building, over 150 years old, can pose difficult problems, however they have always done a first class job."
7. Leinster Guttering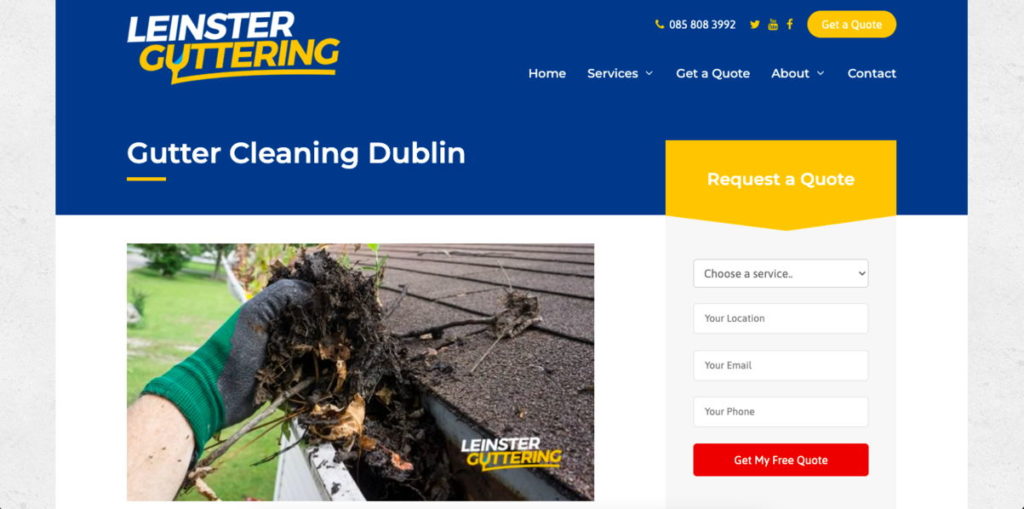 Having been in the business for more than 30 years, Leinster Guttering can be trusted to get any guttering job done—and done well.
They boast of their experience, professionalism, and craftsmanship. They believe this sets them apart from the rest. They ensure that you see the difference in your household afterwards.
When they clean your gutters, they don't simply clean. They also maintain them so that you can save money in the long run.
Since they specialise in gutters, they don't only offer cleaning services. They can also do repairs and installations for both residential and commercial spaces.
They promise to give you the right prices for their services, and if you want to get an idea of the cost you can get a free quotation from them through their website.
What we also like about them is that they can offer their services on weekends, nights and holidays if it's urgent. You simply need to ask them.
If you think that's the best part, you're wrong. They won't charge you extra for calling them in on their off times. You pay the same price on any day at any time!
For all these reasons, we highly recommend Leinster Guttering the same way all their customers do.
Free quotation
Range of guttering services
Experienced company that's been in the industry for
Operating hours not available on website
Customer Reviews
Here are some reviews from their clients on Google Reviews:
"Just got a fantastic job done by Robbie of Leinster Guttering. Had gutters, facia and down pipes all replaced. He is an absolute gentleman to deal with and a great worker. Somebody who is proud of his work and that is a rare find nowadays. He arrived early each morning, worked through rain, wind, sleet and hailstone to finish the job barely stopping for a rest. I cannot recommend Robbie highly enough and I am delighted with a job well done. He spent ages cleaning up afterwards and all rubbish was taken away. Lovely chap to have a chat with as well. Deirdre in the office was also a pleasure to deal with, spoke to her initially, Robbie came out to inspect job, was given a very competitive quote for the work involved and a timeline as to a start date. Got plenty of notice re start date etc and job was completed to a very high standard. Got a lovely follow on call from Deirdre afterwards and it was my pleasure to assure her I was completely happy with the job. Thank you to both Robbie and Deirdre for all your advice and hard work. Quote I got was very competitive and significantly less than their competitors in the market plus as I live in Dublin 15 area, I like to support local business ventures."
I" highly recommend Leinster Guttering. Robert is a lovely guy, he did an excelent job replacing my old gutters and left everything clean once he was finished. Deirdre is great to deal with and provided a great service from start to finish."
8. Clean4U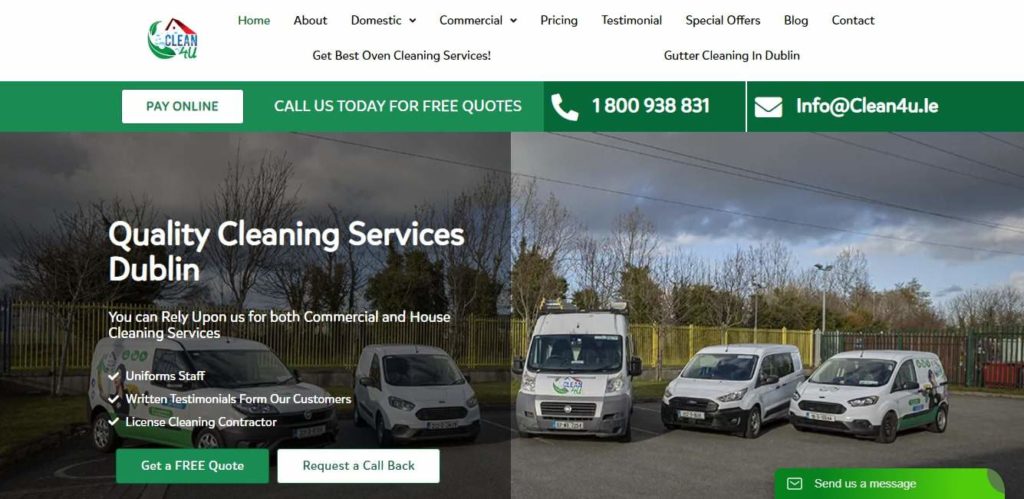 SERVICES
Home Cleaning
End of Tenancy
One Off Cleaning
Carpet Cleaning
Driveway Cleaning
After-Building
Office Cleaning
Window Cleaning
Apartment Cleaning
Gutter Cleaning
WEBSITE
https://clean4u.ie/
ADDRESS
Unit 12, ACE Enterprise park, Bawnogue Road, Clondalkin, Dublin, Dublin 22, Ireland
CONTACT DETAILS
1 800 938 831


[email protected]

OPERATING HOURS
Mon – Fri 08:00 – 18:00
Sat 09:00 – 14:00
Clean4U is a professional cleaning company that accommodates a wide range of cleaning packages especially geared for both domestic and commercial settings. Comprised of fully insured and appropriately certified cleaners, each of their services can help clients have a peace of mind whenever they are working on their property.
We think that their website is especially jam-packed with information clients new to the service may find to be very useful and can aid clients in answering frequently asked questions about each cleaning service they offer.
Though there aren't any upfront and flat pricing available, clients can readily schedule and book an estimate with them so that clients can properly negotiate rates and services that best suit their budget and needs.
Another thing we find notable with their services is that the equipment they use is of stellar and innovative nature wherein it employs a HEPQ filtration system which is especially effective in eradicating dust.
Overall, with clients praising their job to be thorough, reliable, and efficient, we highly recommend them to homeowners looking for a company that offers both personalized and customizable cleaning packages that are flexible to their needs.
Flexible cleaning packages
Makes use of innovative equipment and products for cleaning
Informative website
Closed on Sundays
No flat pricing available
Customer Reviews
Here are some reviews from their clients:
"Thank you again for your service – the girls we excellent the apt spotless we will use your service over and over again as tenants move out. Hope the business goes from strength to strength. All the best." – Eileen Hayes Keogh
"We used Clean 4U on a Shopfit in Dublin. They were very efficient, reliable and provided a good service. We will definitely use them again when working in Eire." – Julie, Parklea Projects Limited
Gutter Materials and Styles: Which one should I choose?
If your basement is damp all the time or the foundation of your house is damaged, it could be the gutter that's causing it.
A repair or replacement might fix it. But before you hunt for a gutter contractor, it's best to arm yourself with the information below so you can make the right choice:
Seamed versus Seamless Gutters
Seamed (also called ordinary or sectional) gutters are gutters sold in sections and connected together to make one gutter system. This type of gutter is easy to install and also inexpensive.
The problem is, it doesn't last very long and will eventually leak at the seams.
Seamless gutters, on the other hand, don't have seams and are therefore leakless. They last a lot longer than seamed gutters and when installed with gutter guards, are almost maintenance-free.
This type of gutter is expensive, though, and needs to be installed by professionals.
Copper Gutters
Copper is extremely durable. It doesn't rust and also ages beautifully, developing a blue-green hue over time.
However, because it's a premium material, objects made with it are also quite pricey.
Steel Gutters
Steel has different varieties. Two of the most popular ones used in gutter systems are galvanised and stainless.
Gutters made of stainless steel are virtually indestructible. The material doesn't rust and its shine doesn't fade.
But like copper, stainless steel is also quite expensive.
Galvanised steel is a lot more economical than stainless steel. It is stronger too compared to aluminium.
However, it will rust over time. You can make it last a bit longer, though, with proper maintenance.
Aluminium Gutters
One of the most popular materials for gutters is aluminium. It's lightweight and less expensive than copper or steel, but fully weatherproof no matter how cold it gets.
It also doesn't rust and you can easily paint it to match the color-theme of your home.
The only problem is that it dents easily and can get misshapen by fallen branches, when you're not careful with your ladder, etc.
Vinyl Gutters
Vinyl is another favourite of homeowners primarily because for a low price, you get an easy-to-install, rust-proof material. The drawback is that it gets brittle and will crack over time, especially when it gets cold.
FAQs about Gutter Cleaning Dublin
---
That wraps up our list of companies that offer the best gutter cleaning services in Dublin. We hope we've helped narrow down the choices for you.
Feel free to get in touch if you want us to review other companies you think deserve to be on our list.
If you need a handyman to fix other stuff in your home, you might be interested in checking out our list of the best handymen in Dublin here.