The 5 Best Funeral Homes in Waterford
The pain of losing a friend or a family member is one of the hardest to get through for any individual. We extend our condolences if you've lost someone recently.
Hopefully, our choices for the best funeral homes in Waterford somehow takes the burden off of you finding the right people to take care of your deceased loved one.
They can render assistance from coffin selection to repatriation if needed. Furthermore, we've also answered some questions on funeral topics and included a few tips to help you in your search.
Before all that, let's take a look first at some payments you'll likely have to make.
Funeral Service Prices in Waterford
The following service prices were obtained from James Falconer Undertaker. According to them, depending on the family's requirements, funeral director charges can range from €1,750 to €7,275 and upwards.
Other costs you need to consider are listed in the table below:
| | |
| --- | --- |
| SERVICE (THIRD PARTY PAYMENTS) | COST |
| Grave purchase | From €1,400 to €9,000 and upwards |
| Grave opening | From €450 to €1,200 (some County Councils charge a "Registration" Fee of between €360 – €400 in addition to the opening fee) |
| Newspaper announcements | From €230 |
| flowers | From €59 |
| Organist's/soloist's fee | From €125 |
| Offering to church | From €200 (at family discretion) |
| Gratuities | From €100 (at family discretion) |
Concerning cremation, according to RIP.ie, the crematoria that serve Waterford are Glasnevin Cemetery and Crematorium and Newlands Cross Cemetery and Crematorium, both of which are located in Dublin. Here are some of their rates:
| | |
| --- | --- |
| SERVICE | COST |
| Adult cremation fee | €500 |
| Environmental filtration fee | €75 |
| Use of chapel (1st-time slot) | €100 |
| Additional 20 min time slot in chapel, if available | €150 |
| Infant, stillbirth, and organs cremation fee | €165 |
| Infant metal urn | €60 |
| Infant wooden casket | €80 |
The Best Funeral Homes in Waterford
Without further ado, let's head on to our selections for the best funeral homes in Waterford.
1. Aidan Walsh & Sons Funeral Directors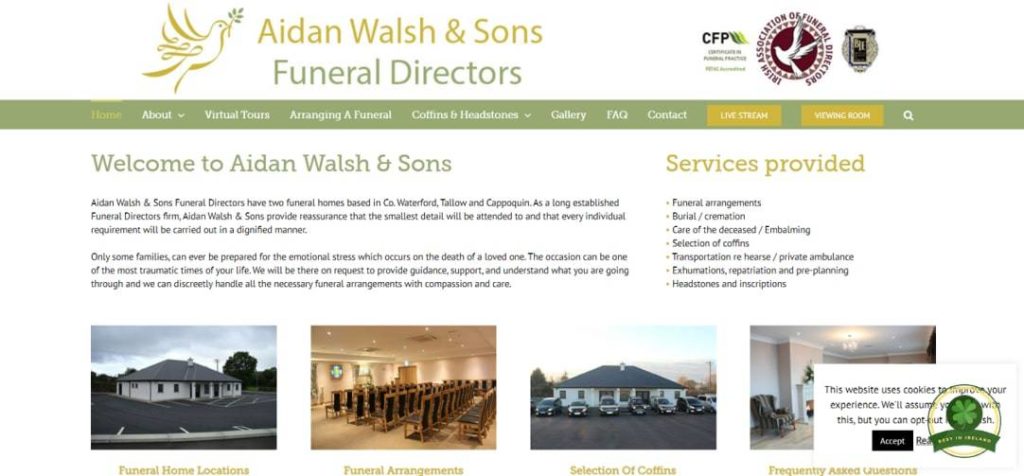 SERVICES
Funeral arrangements, burial/cremation, care of the deceased/embalming, selection of coffins, transportation/private ambulance, exhumation, repatriation, pre-planning, and headstones and inscriptions
WEBSITE
https://www.aidanwalshandsons.ie/
ADDRESS
Castle Street, Cappoquin, Co. Waterford Link Road, Tallow, Co. Waterford
CONTACT DETAILS
Cappoquin: 058 52788
Tallow: 058 55633



[email protected]

OPERATING HOURS
24/7
Aidan Walsh & Sons Funeral Directors is run by Aidan Walsh, a registered embalmer, and Marie Walsh who holds a certificate in funeral practice.
They've got two funeral homes in the county, with their head office located in Cappoquin. Hence, this gives their clients more than one option to choose a funeral home location.
Also, you don't need to even see it in person as their website provides a 3D virtual tour of both funeral homes.
Aside from funeral arrangements, some of the services they provide include embalming, transportation, burial/cremation, repatriation, exhumations, and so on.
Moreover, Aidan Walsh & Sons also helps with coffin selection—clients can choose from their list of caskets, coffins, urns, and more in their Tallow showroom. In addition, they have their own headstone company which creates headstones according to clients' specific requirements.
If other relatives and friends can't physically come to the wake, Aidan & Walsh has live stream services. They can also watch the recording of the funeral service which is uploaded on the website.
2 funeral homes
Has 3D virtual tour of funeral homes
Has live stream services
Funeral service recording can be viewed on website
Has own headstone company
No mention if horse-drawn hearse is available
No mention of referral services for counselling, support groups, etc.
Customer Reviews
Peter Allen, a client, was pleased with Aidan Walsh & Sons Funeral Directors's handling of his father's funeral:
Very respectful people and a thanks to aidan Walsh and team for doing a very good job for my father's funeral very much respect aidan." -Peter Allen
2. Drohan Funeral Directors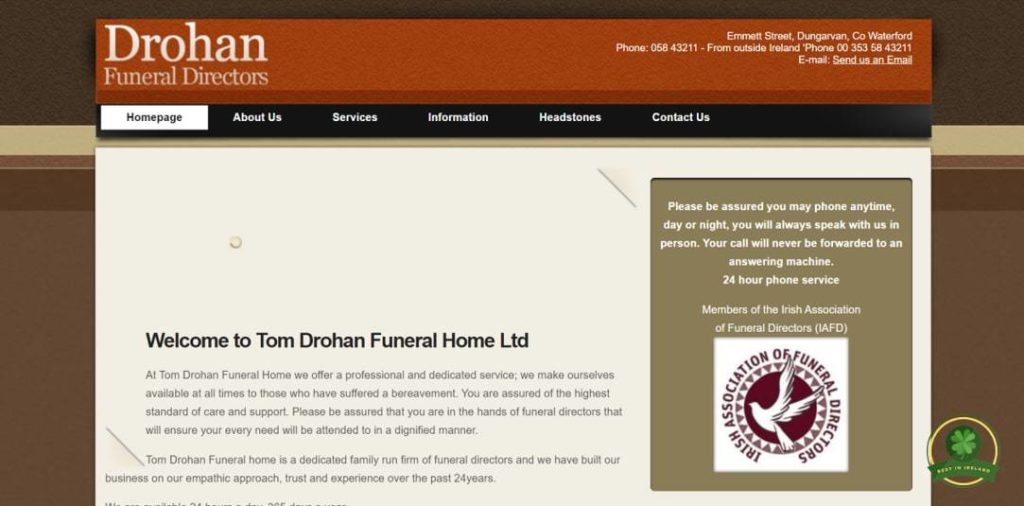 SERVICES
Liaising with hospital/nursing home, transportation & preparation of the deceased, repatriation, coffin selection, embalming, arrangements w/ church & cemetery/crematorium, announcements for newspapers/radio, flowers, organist/soloist, transport at the removal and funeral, death certificate, settlement of third party fees, advanced funeral planning, and headstones
WEBSITE
https://www.drohanfuneraldirectors.ie/
ADDRESS
Emmett Street, Dungarvan, Co Waterford
CONTACT DETAILS
(058) 43211


[email protected]

OPERATING HOURS
24/7
Drohan Funeral Directors, also known as Tom Drohan Funeral Home, is a family-run firm that has been in the industry for 24 years.
A member of the Irish Association of Funeral Directors (IAFD), they offer the usual funeral services that clients need.
These include liaising with the hospital or nursing home (if your family member passed away in such places), embalming, making arrangements with the church, cemetery/crematorium, and advising on flowers.
They can also help with choosing a soloist/organist, arrange with the publication of announcements for newspapers/radio, and so on.
And if your family member died overseas, Drohan Funeral Directors also manages all aspects of repatriation. Their repatriation services include getting the necessary documents, preparing the body for shipment, completing travel requirements, among others.
Moreover, they boast of stocking one of the largest options for coffins and can arrange for the erection of a new headstone. They can also provide assistance if you desire to make any changes to an already existing headstone.
Nonetheless, we didn't find any mention of live stream services, video recordings, etc., so make sure to inquire about that if you need this service.
Provides headstone samples on website
Offers repatriation funeral services
Offers info on support services and other resources
No 3D virtual tour of funeral home
No mention of live stream services
3. James Falconer Undertakers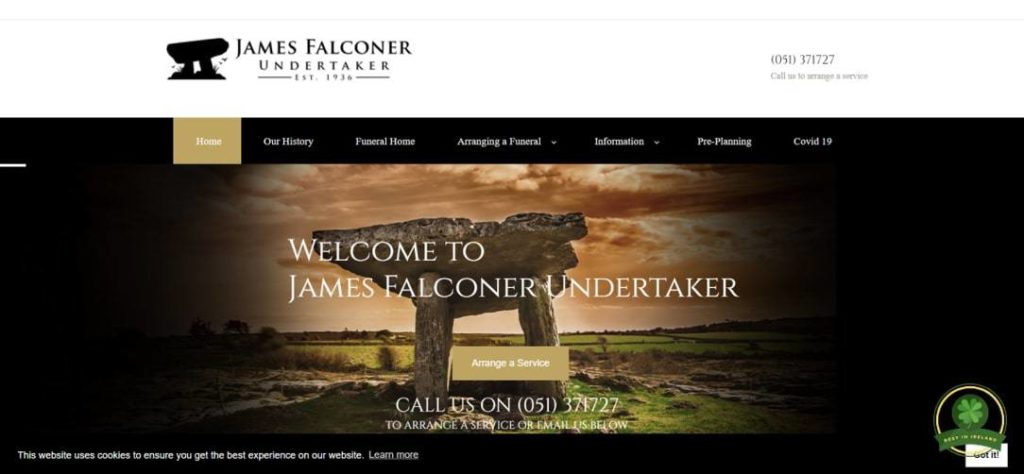 SERVICES
Funeral home, burial, cremation, preparation of the deceased, funeral vehicles, mass booklets/service sheets, music and hymn selection, venues and catering, repatriation, acknowledgement notices, cremated ashes, death certificate, headstone selection & additional inscription, religious & non-religious services, child funeral, and advanced funeral planning
WEBSITE
https://falconersundertakers.com/
ADDRESS
Riverstown, Tramore, Co Waterford,
CONTACT DETAILS
+353 (0) 51 371727
+353 (0) 51 355872

WhatsApp: 0868475296


[email protected]

OPERATING HOURS
24/7
James Falconer Undertakers has been servicing the deceased for almost a century now. This funeral home features an all-Mercedes fleet and a web camera system that enables other friends and relatives to view the funeral ceremony live from their homes.
While they didn't provide a 3D virtual tour of their funeral home, they do have pictures on their website. Both the exterior and interior of the funeral home is reminiscent of a church—the outside has a cross on the walls while the inside contains several pews.
But this doesn't mean that they don't accommodate non-religious funeral services, though, as they have a panel of humanist facilitators to carry out such funeral services.
And if you'd like to have some refreshments for your guests, James Falconer Undertakers can also advise on venues as well as liaise with your venue of choice.
Meanwhile, if you opt for cremation instead of burial, they provide assistance on choosing the would-be resting place of the deceased, be it a columbarium wall, internment in a family grave, scattering of ashes in a specific place, and so on.
We also like that they've included some info on how much families would have to spend on funeral services. According to them, funeral director charges can range from €1,750 to €7,275 and more.
Has live stream services
Has info on service prices
all-Mercedes fleet
No 3D virtual tour of funeral home
No horse-drawn hearse
4. Powers Funeral Directors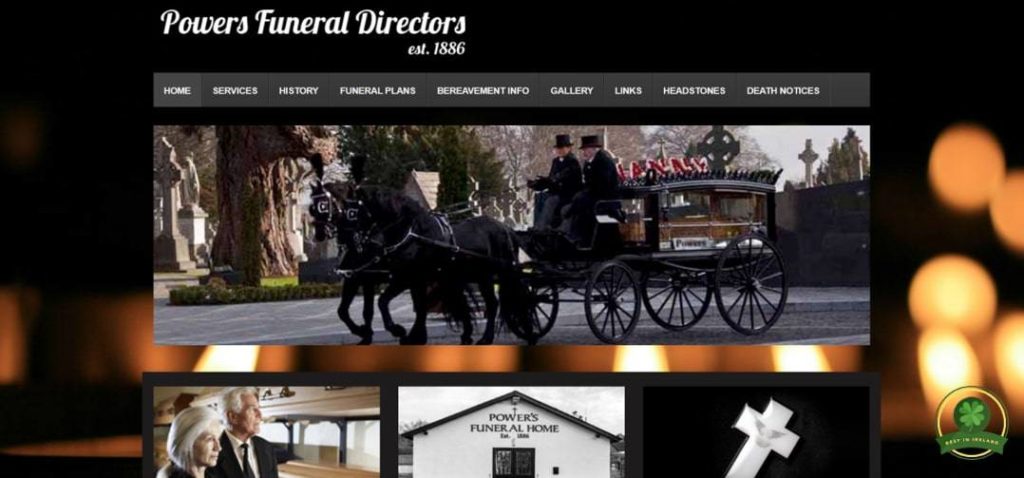 SERVICES
Funeral home, laying out & preparation of remains, opening of grave, cremation, death notices, radio announcements, embalming, hygiene, & sanitation, organist, singers, & music, flower arrangements, condolence books, mass cards, organising of church service, reading, etc., hearse & mourning car, paying clergy & other gratuities, grave markers, information on death certificate & death grant, headstones & inscriptions, Golden Charter Funeral Plan, and outgoing/incoming overseas repatriations
WEBSITE
http://www.powersfuneraldirectors.com/
ADDRESS
Abbeylands, Abbey Rd, Ferrybank, Waterford
CONTACT DETAILS
086 838 0033
051 832081
OPERATING HOURS
12:00 am to 11:30 pm (Monday – Sunday)
Powers Funeral Directors is another family-run business and has been around for some time after being established in 1886.
This funeral home has a parking capacity of up to 80 cars, so they can accommodate a considerable amount of people with vehicles.
What's pretty unique about Powers Funeral Directors is that they also offer the Golden Charter Funeral Plan which boasts of being one of the UK's leading funeral plan providers and the only funeral plan provider recommended by the Society of Allied & Independent Funeral Directors (SAIF) in the UK.
This plan helps you financially prepare for your own funeral. Clients can customise this plan, and even if funeral service prices rise in the years to come, there's no need to pay more.
As expected, Powers Funeral Directors' offers the necessary funeral services, but these are only itemised. Some of these are embalming, death notices in all local, national, and international newspapers, music, all types of flower arrangements, hearse and mourning car, and so on.
As seen from RIP.ie, their funeral home strongly resembles a church. While this won't be a problem for many, we think this would be a concern for non-religious clients.
Ample parking space
Offers Golden Charter Funeral Plan
Wide range of funeral services
No mention of live stream services
Funeral home ambience might not suit non-religious clients
Customer Reviews
This client particularly praises the Powers Funeral Directors team in her feedback:
"Martin & Claire Power operate a very professional funeral business. Excellent team effort at all times. ." -Shane O'Halloran
5. Luke Hennessy Funeral Directors
SERVICES
Arrangement of funeral location, coffin selection, cremation/burial, mass/service, support in eulogy creation, poems & music selection, hearse, dove & balloon release, live music at gravesite, customised caskets, video & floral tributes, referral for counselling services & child bereavement support, death certificates, pre-planning arrangement & pre-payment service, and repatriation
WEBSITE
https://lukehennessyfunerals.com/
ADDRESS
Saint Ursulas Terrace, 19 Ballytruckle Rd, Waterford, X91 PP30
CONTACT DETAILS
085 804 2526
051 876228


[email protected]

OPERATING HOURS
24/7
Luke Hennessy Funeral Directors is another funeral home service that's been in operation since the 1800s.
They help with arranging where the funeral will take place as well as offer a range of coffins and caskets to choose from according to clients' preferences and budget.
They also assist in cremation/burial, choice of poems and music, eulogy, death certificates, as well as other funeral aspects such as dove and balloon releases, video and floral tributes, live music at the gravesite, and more.
Moreover, families of the deceased can opt for a traditional or a horse-drawn hearse to carry their loved ones. Repatriation is also included in Luke Hennessy's services, which means that they'll be the ones to coordinate all of the documents needed from coroners, embassies, and airlines.
And if you need emotional support at this difficult time, Luke Hennessy Funeral Directors also provides referrals for counselling and child bereavement support.
In fact, Beryl Hennessy, one of their staff, is a member of the Irish Children's Bereavement Network. This group helps children and young people together with the adults in their lives cope with grief.
However, one of the downsides of Luke Hennessy Funeral Directors is the bareness of its website. There are no pictures of its funeral home, so you'll need to ask them for some when you contact them.
Ask also about their live stream or video recording services if they have any since they didn't mention any of those either.
Provides traditional and horse-drawn hearse
Staff member is part of a support group
Scheduling available 24/7
No mention of live stream services
No pictures/3D virtual tour of funeral home
Customer Reviews
The majority of Luke Hennessy Funeral Directors's clients gave them 5 stars for their services. Here are a few who left great remarks:
"I always find mr Luke Hennessy and his Family very professional and sincere at any of their Funerals that I have attended .." -Josh Lavery
"Great service, very professional, reasonable price, highly recommended." -Damyan Powers
"Very well-known family who provide a great service! Lovely people to deal with! Highly recommend!" -Ian Coyne
How to Choose the Right Funeral Home
As we mentioned earlier, we've also put together a few tips that'll help you in choosing a funeral home:
1. Visit in person
The best way to properly check out a funeral home's ambience and facilities is to see it in person.
Consider its size. Is it spacious enough to house the number of guests you'll be having for the funeral ceremony? What about its parking space?
Consider its location as well. Will the deceased's friends and relatives be able to easily reach it?
2. Services
While most funeral homes offer the usual needed funeral services, some may provide you with other services others do not currently offer.
For instance, some funeral homes also offer live stream services. This is important as many of the deceased's other friends and relatives who are outside the country or won't be able to come in person would still be able to view the funeral service.
Another thing to consider is their range of coffins/caskets/urns and headstones. Can they provide your specific design and requirements?
What about their options for hearses? If you'd like to avail of a horse-drawn hearse as opposed to a traditional one, check if the funeral home provides this option.
3. Other considerations
Are you a foreigner who happens to have a family member who passed away while visiting Ireland? Or vice-versa, your family member died in another country?
Then, you should be looking for a funeral home with experience in repatriation services. They'll be able to assist you with the necessary documents and the like.
On the other hand, if you do not practice any religion or faith, you can inquire about holding a non-religious service such as a humanist or civil funeral ceremony.
FAQs about the Best Funeral Homes in Waterford
---
And that ends our discussion on the best funeral homes in Waterford. We hope this article has been of help to you in any way.
If you know other funeral homes in the county that should also be included here, we'd be glad to know your picks! Just give us a call anytime!
Are you opting for cremation over burial? The best cremation services in Ireland have also been rounded up by us, so you might want to check it out.