The 5 Best Fabric Shops in Dublin
Fabric shops are a great resource for anyone who is interested in creating their own clothing, or who wants to make something out of their favorite fabric.
The selection of fabrics available at a fabric shop is usually much larger than what you can find in a regular store, and often the prices are lower as well.
That said, we listed where to find the best fabric shops in Dublin. Check them out!
How much do fabrics cost in Dublin?
The price of fabrics in Ireland depends on a number of factors. The fabric itself, the location, and even the season can all influence the price.In general, you can expect to pay about €5 for a meter of fabric.
| Services | Estimated Average Price |
| --- | --- |
| Cotton | €5.00 |
| Chiffon | €5.00 |
| Denim | €6.00 |
| Lace | €6.00 |
| Leather | €8.00 |
| Linen | €6.00 |
| Satin | €6.00 |
| Silk | €7.00 |
| Velvet | €6.00 |
| Wool | €6.00 |
The Best Fabric Shops in Dublin
Going to a fabric shop is a great way to get a good deal on the materials you need. So here's our criteria in determining which fabric shops are the best in Ireland:
1. WM Trimmings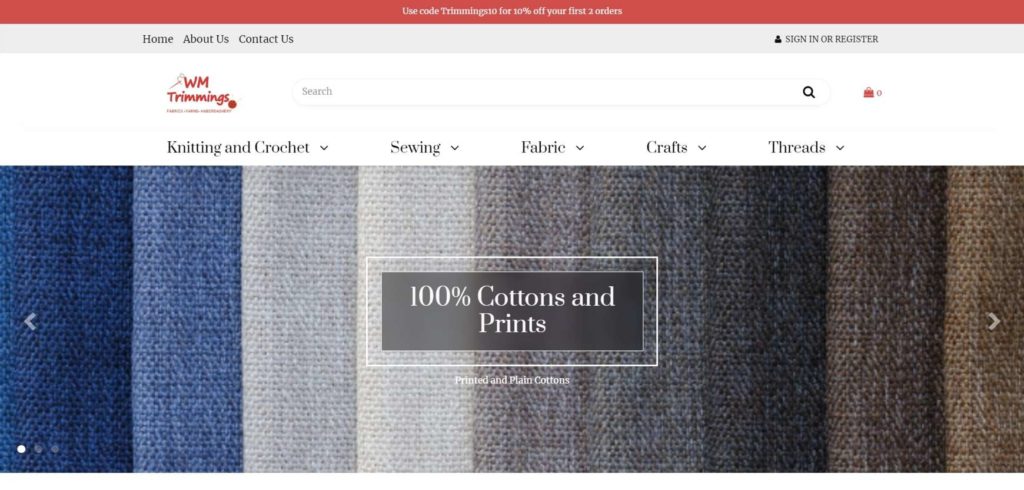 Test
Info
PRODUCTS

Cotton

Stretch

Poly Cotton

Craft Fabrics

Dress Fabrics

WEBSITE
https://www.wmtrimmings.ie/
ADDRESS
137 Capel St, North City, Dublin, Ireland D01 R3H7
CONTACT DETAILS

Phone: +353 182 80301

OPERATING HOURS

Monday to Saturday, 9:30 a.m. - 5:30 p.m.
| | |
| --- | --- |
| PRODUCT VARIETY | ★★★★★ (5/5) |
| QUALITY | ★★★★★ (5/5) |
| AVAILABILITY AND ACCESSIBILITY | ★★★★★ (5/5) |
| PRICING | ★★★★★ (5/5) |
If you're looking for the best fabrics shop in Dublin, look no further than WM Trimmings. It's one of the leading sellers of fabric and here's why.
First, it has a wide range of fabrics available that makes it easy for you to find exactly what you need for your next project. From the softest cotton to the most luxurious silk, it has it all, and more!
Second great thing here are its tons of beautiful designs that will make your holiday projects stand out from the rest! The patterns and colors are perfect for any occasion and will have your friends and family asking where they came from.
Third factor that brought it to this list is convenience. Having an online shop means that customers can shop around the clock without having to leave their homes or offices!
Lastly, we appreciate this shop's pricing transparency, wherein its product prices are all posted along with the details of the products on its website.
This means that there are no hidden fees or extra costs and the price you see on the website is what you'll pay at checkout.
Although it's closed on Sunday and has no alteration services, this is still worth shopping at because of its lovely collection of different fabrics.
Wide range of fabrics
Lovely holiday prints
Has online shop
Transparent pricing
Closed on Sunday
No alteration services
Customer Reviews
Great selection
"Great selection of fabrics, yarn, tools/equipment and all the usual haberdashery stuff. Staff are knowledgeable and friendly." – Alexandra Fogg
Best prices
"A surprisingly large selection packed into a small space. Usually the best prices in Dublin in terms of both fabrics and yarn. Large selection of patterns that include crotchet. Also a decent selection of delicate crotchet threads in various colours for lace work as well as any tools you may need…" – Kornelija Kiguolyte
2. The Fabric Counter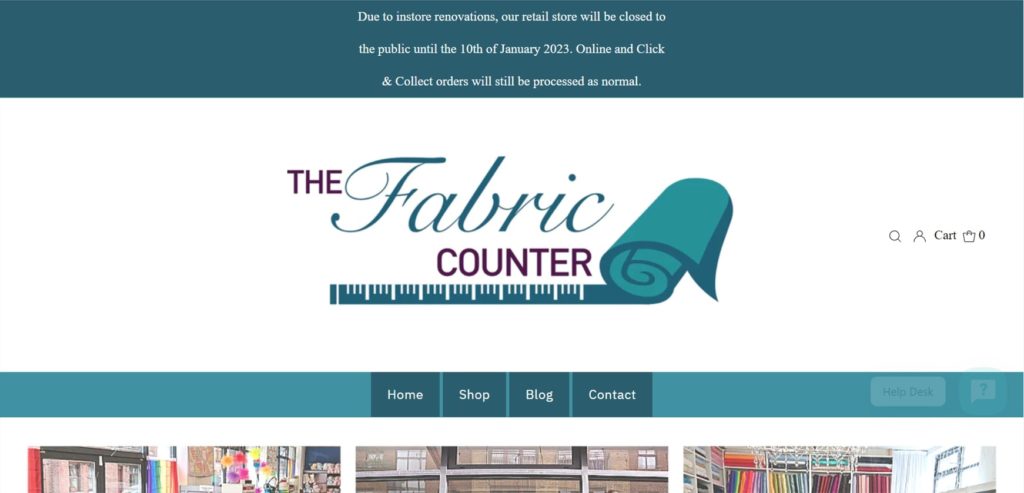 Test
Info
PRODUCTS

Anti-Static Lining

Batik

Tapes and Webbing

Wool

Acrylic

Brocade and Jacquard

Brushed Cotton

Burlington

Calico and Muslin

Canvas Prints

Linen

Chiffon

Chinese Satin

Glitter

Jersey Corduroy

Denim

Deltex

Lycra

Fur

Fleece

Sewing Materials

Gingham

Leather

Neoprene

Waterproof

WEBSITE
https://thefabriccounter.ie/
ADDRESS
Brunswick Court, Unit 4, Brunswick St N, Stoneybatter, Dublin 7, Ireland D07 NW27
CONTACT DETAILS

Phone: +353 155 63588

OPERATING HOURS

Tuesday to Friday, 11:00 a.m. - 4:00 p.m.

Saturday, 10:00 a.m. - 3:00 p.m.
| | |
| --- | --- |
| PRODUCT VARIETY | ★★★★★ (5/5) |
| QUALITY | ★★★★★ (5/5) |
| AVAILABILITY AND ACCESSIBILITY | ★★★★★ (5/5) |
| PRICING | ★★★★★ (5/5) |
Located in the neighborhood of Stoneybatter in Dublin 7, The Fabric Counter offers extensive collections of fabrics that are not usually found in other stores.
Among its stocks are rare fabrics and elegant Chinese satin designs, on top of the many materials from which to choose, including cotton, linen, wool, and synthetic fabrics.
We also like that it has some of the fabrics that are known in other countries. This means you can have them in an instant and won't let you wait for some time before you get them shipped back home.
In our opinion, one of the best collections here is the Elegant Chinese satin which have varying designs that all look regal.
Some of its designs are also child-friendly, having prints on holiday characters and even superheroes. These just come at some price, though they don't cost much of a fortune so they're still worth buying.
As nature lovers, we appreciate The Fabric Counter for valuing sustainability though selling only products that were sourced the right way. We also find this shop a reliable fabric store, having been in the business for years.
The only minor downsides here is it doesn't stock real fur fabric and it has no readymade clothes. Still, it has almost everything you'll need from clothes materials to household equipment covers.
Extensive collections
Has rare fabrics
Elegant Chinese satin designs
Values sustainability
No genuine fur fabric
No readymade clothes
Customer Reviews
Hundreds of fabrics
"The best fabric shop in Dublin. There are hundreds of fabrics to choose from also everything else you need for your sewing needs. Very knowledgeable staff too, you are made to be very welcome in this fabulous sewing haven. If this shop was in my local shopping centre I'd live in it. Couldn't recommend it highly enough." – Finola Byrne
Really nice staff
"Best fabric store in Dublin! Their range of fabrics is just so cool, got almost everything I need for my fashion sewing. Highly recommend. And the staffs are really nice and helpful as well." – Safidy Andrianarivelo
3. TWI Textile Machinery & Fabric Co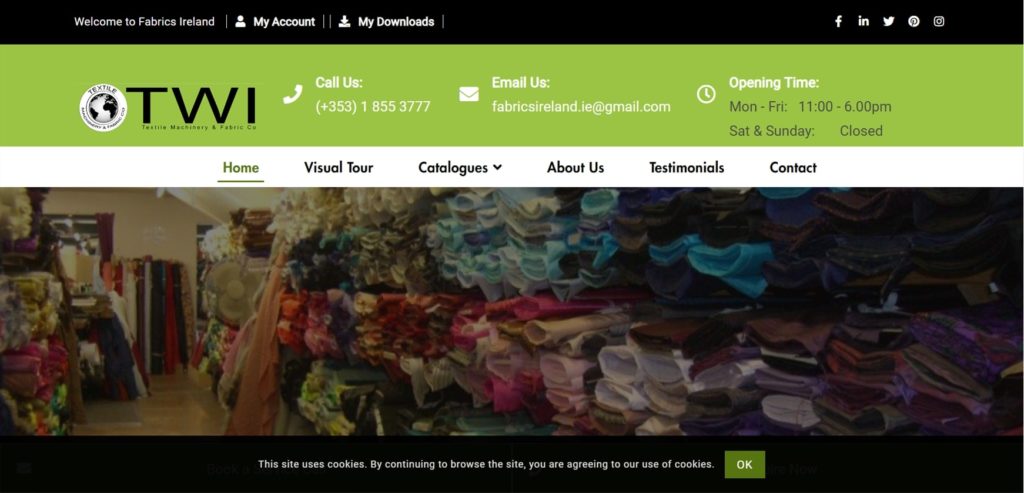 Test
Info
PRODUCTS

Cotton

Batik

Dance

Coated

Holiday

Craft

Denim

Fleece

Fur

Furnishing

Jersey

Satin

Seasonal

Viscose

Novelty Cottons

Bridal

Tartan and Tweed

Silk

Machinery

Accessories

WEBSITE
https://fabricsireland.com/
ADDRESS
24 Mountjoy Square E, Mountjoy, Dublin, Ireland D01 VP29
CONTACT DETAILS

Phone: +353 185 53777

OPERATING HOURS

Monday to Friday, 11:00 a.m. - 6:00 p.m.
| | |
| --- | --- |
| PRODUCT VARIETY | ★★★★★ (5/5) |
| QUALITY | ★★★★★ (5/5) |
| AVAILABILITY AND ACCESSIBILITY | ★★★★☆ (4/5) |
| PRICING | ★★★★☆ (4/5) |
If you're searching for a fabric shop that's best for making gowns and tailored suits, TWI Textile Machinery & Fabric Co is one option to consider.
We're impressed by its huge bridal fabric collection. There are so many different types of silk fabric that you can use to make your own wedding dress, as well as a wide range of colors.
Not only that, but TWI Textile Machinery & Fabric Co offers high quality silk, lace, and cotton fabric that you can use for making your own wedding dress or for other purposes.
We're also delighted by the fabric shop's wide color selection. They offer many different colors of craft cotton fabric so you will be able to find exactly what you need for your project.
Aside from these, it's also a good spot for buying materials for sports uniforms as it has different jersey fabrics designs and colors.
Another thing we took note of is how detailed the products are on its website. We find this helpful in choosing the right material for your project.
However, visiting this shop is a must when you want to check its products as it doesn't have its own online shop/ The prices are also unavailable online, so we advise you to request for a quotation before shopping for fabrics in bulk.
The shop's not so far away anyway, so there's no reason for you to drop by in this spacious shop.
Huge bridal fabric collection
Wide color selection
High quality silk fabric
Detailed products
No online shop
Prices unavailable online
Customer Reviews
Has everything
"This has everything for your sewing needs, materials to machinery for home or industrial. A huge range of materials for all purposes, quilting, hobbies to ball gown silks and satins. If they don't have what you want it may not be in existence." – Ita Cregan
Worth a trip
"What an Aladdin's cave. They have everything for the sewing/fabric world. If you're just browsing, leave yourself an hour! I'm a sewing novice but it's a joy to step in to this old house on Mountjoy Square. They have parts for old sewing machines as well as everything for crafting and sewing. Well worth a trip…" – Lisa McGuirk
4. Zhivago Ltd.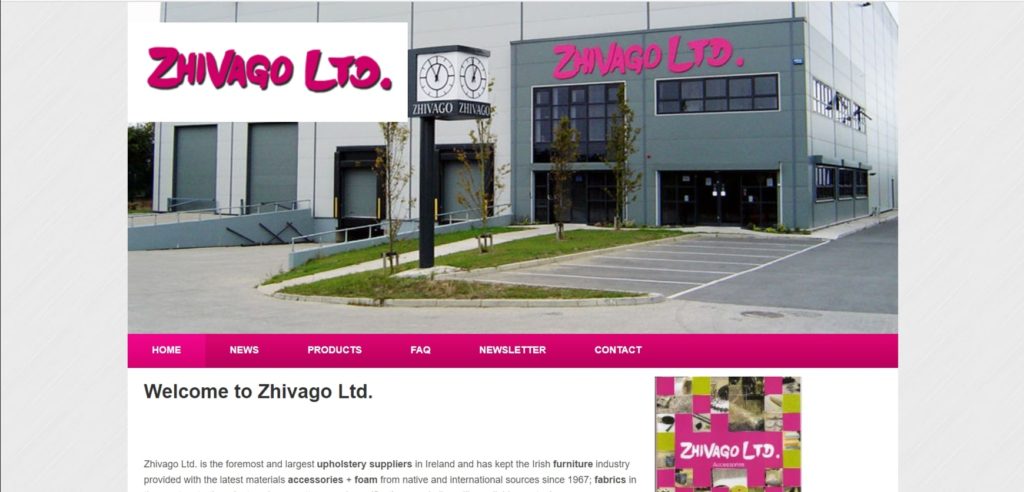 Test
Info
PRODUCTS

Bordeaux Contract

Carabu

Cambridge Contract

Denver Contract

Elite Aqua Clean

Felix

Galaxy Contract

Homer

Iris

Jersey

Kansas

Laguna

Magnum (New)

Nero

Regal

Sky

Tamara Aqua Clean

Westbury

WEBSITE
http://zhivago.ie/
ADDRESS
Maple House, 3a, Rosemount Business Park, Dublin, Ireland D11 RPE8
CONTACT DETAILS

Phone: +353 1 864 4474

OPERATING HOURS

Monday to Friday, 8:30 a.m. - 5:00 p.m.
| | |
| --- | --- |
| PRODUCT VARIETY | ★★★★☆ (4/5) |
| QUALITY | ★★★★★ (5/5) |
| AVAILABILITY AND ACCESSIBILITY | ★★★★★ (5/5) |
| PRICING | ★★★★☆ (4/5) |
On the search for the best-looking fabric for your home? Then you've come to the right place.
Zhivago Ltd. has many choices of upholstery fabric, making it a popular spot for fabric types in Dublin.
If you want to make a new sofa or chair with cushions, then you can go to this shop and buy the exact type of fabric that you need. You can also choose from different colors and patterns which will add more beauty to your home decoration.
We think its Homer Collection is among the right choices to improve your living room furniture design. It comes with delicate and regal-looking fabric that compliments natural wall colors.
We also like that most of its fabrics do not require high maintenance when used for upholstery because they are washable. Not only that, the washable fabrics in its Bordeaux collection also come in many colors.
As for its staff, we consider them reliable as they are experienced in dealing with upholstery materials and have worked on upholstery services for long before.
However, this shop doesn't sell fabrics for clothes and other wearables such as cotton, silk, batik, and satin. This is because it's limited to upholstery fabrics only.
There's also limited description and images of its products online, thus we recommend that you check these fabrics on its store.
Many choices of upholstery fabric
Ideal for household furniture
Washable fabric comes in many colors
Expert on fabric and upholstery materials
No fabrics for clothes, garments
Limited description of products
Customer Reviews
Fantastic selection
"Fantastic selection of materials. Plenty of free parking. Very helpful and knowledgeable staff." – Ann-Marie Langan
Reasonably priced
"Very helpful staff. Quality materials. Reasonably priced. Used the old Chapel St showroom in the past. New location carries on the tradition of great service and value. We will use again." – Ben Greene
5. Crafty Studio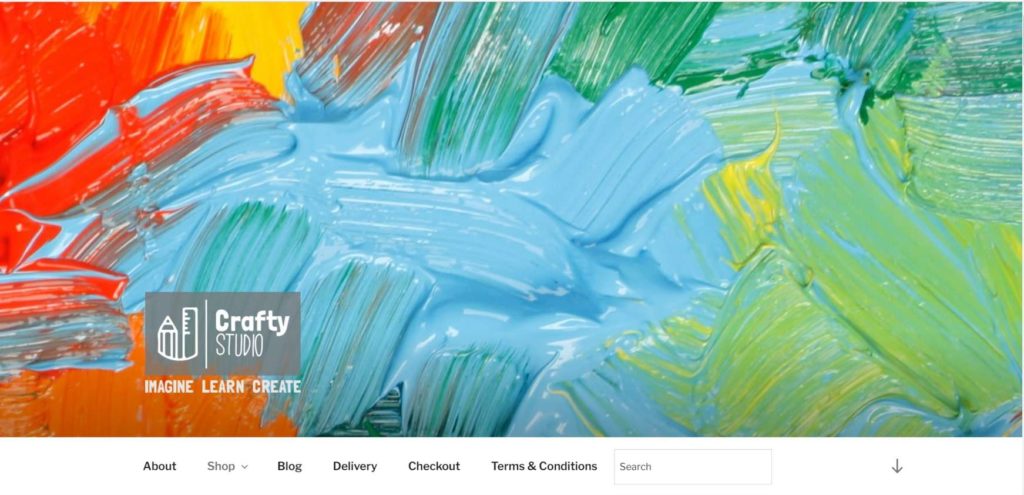 Test
Info
PRODUCTS

Canvas

Kids Fabrics

Seasonal Fabric

Batik

Batting

Chambray

Cord

Cotton

Georgette & Crepe

Knits & Jersey

Lady Mc Elroy

Linen

Luxury Fabric

Organic, Panels

Precut

Samples

Satin

Scuba

Silk

Stretch

Viscose

Wool

Art Supplies

WEBSITE
https://www.craftystudio.ie/
ADDRESS
2 Prospect Ave, Glasnevin, Dublin 9, Ireland D09 DD83
CONTACT DETAILS

Phone: +353 876 417159

OPERATING HOURS

Thursday, 10:00 a.m. - 3:00 p.m.

Friday, 10:00 a.m. - 5:30 p.m.

Saturday, 12:00 p.m. - 5:00 p.m.
| | |
| --- | --- |
| PRODUCT VARIETY | ★★★★★ (5/5) |
| QUALITY | ★★★★★ (5/5) |
| AVAILABILITY AND ACCESSIBILITY | ★★★★☆ (4/5) |
| PRICING | ★★★★☆ (4/5) |
Crafty Studio is one of the best fabric shops in Dublin. Why? It's because it's not only a bug shop of fabrics, but is also a hub for arts and crafts.
We like that it has an excellent organic collection for customers to choose from, such as cotton fabrics and jerseys.
If you're a fan of looking like a celebrity, this is a place to go because it has many choices for luxury fabric such as silk, cotton, wool, and linen. It also provides a great selection of silk fabrics for customers to choose from.
We find it convenient that Crafty Studio delivers to customers. This is a relief as it cuts the burden of carrying heavy loads of fabric.
What's more, it offers arts and sewing workshops to the public. This is a great feature because it enables customers to learn new skills and techniques from professionals in the industry.
Crafty Studio also offers an online store where customers can purchase their favorite fabrics, sewing supplies, unique gifts and more.
One of the minor limitations here is it doesn't have leather products and has limited products for upholstery. Still, it has many fabrics for you to choose as alternatives for what's not in the store.
Excellent organic collection
Many choices for luxury fabric
Delivers products
Has arts and sewing workshops
No leather products
Limited products for upholstery
Customer Reviews
Fast delivery
"Lightning fast delivery, well packaged in a recycled box which was great to see. Good communication from AnnMarie throughout the purchase and a handwritten thank you note with the order. That's what makes a good business 'A Great Business'." – Diarmuid O;Sullivan
A crafters dream
"Lovely experience. Makes me so happy to go into an in-real-life shop and browse fabrics, threads and art supplies. A crafters dream. Very friendly owner." – Joyce Brereton
FAQs about the best fabric shops in Dublin
---
Fabric shops are great for people who want to learn how to sew but don't know where to start, or for those who have been sewing for years but have trouble finding the perfect fabric.
For fabric-related reviews, read our list of The 5 Best Tailors In Dublin.
---