The Top 5 Clinics for Breast Implants in Ireland
Breast implants are a popular body enhancement procedure to achieve a curvier body. Not only can they improve your physical appearance, but can give a boost of confidence as well
If you're having thoughts about trying it or just want to learn more, read on for our review on the top clinics for breast implants in Ireland.
How much do breast implants cost in Ireland?
Like any cosmetic procedures that require surgery, having breast implants could cost you an arm and a leg. Here's our estimated average rates:
| Services | Estimated Average Price |
| --- | --- |
| Saline Implant | €4,000 - €8,500 |
| Silicone Gel Implant | €4,000 - €8,500 |
| Round shape | €3,500 - €8,500 |
| Teardrop | €3,500 - €8,500 |
| Breast Lift | €3,000 - €8,000 |
| Breast Reduction | €4,500 - €8,500 |
The Best Clinics for Breast Implants in Ireland
Breast implants is a serious medical procedure that must only be done by experts and trained specialists. Thus, we evaluated the clinics in this list based on the following factors:
1. The Avoca Clinic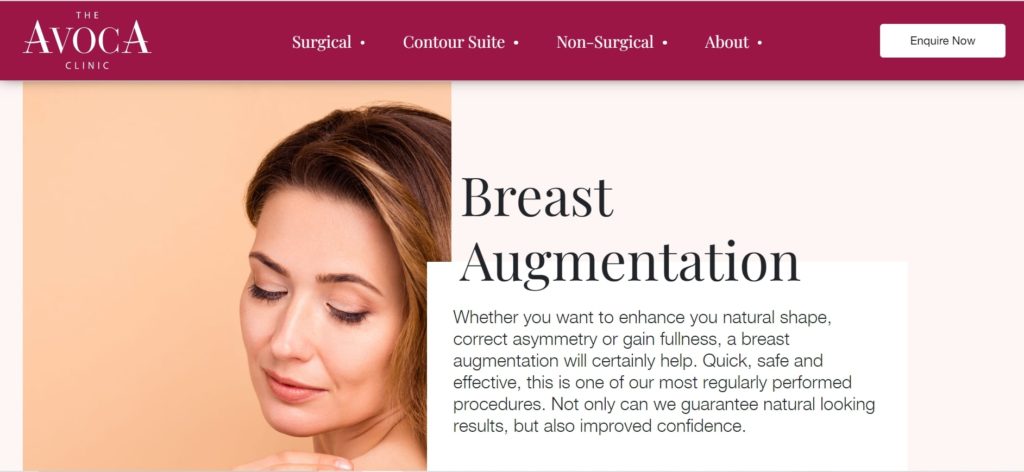 Test
Info
SERVICES

Breast Augmentation

Breast Reduction

Breast Lift

Body Contouring

Non-Surgical Fillers

WEBSITE
https://www.avocaclinic.ie/
ADDRESS
Kilmacanoge North, Glencormack Business Park, Co. Wicklow, A98 WK27, Ireland
CONTACT DETAILS
+353 120 14563,

[email protected]

OPERATING HOURS

Monday to Saturday, 10:00 a.m. - 6:00 p.m.
| | |
| --- | --- |
| EXPERTISE | ★★★★★ (5/5) |
| SAFETY AND HYGIENE | ★★★★★ (5/5) |
| EFFECTIVENESS | ★★★★☆ (4/5) |
| COST AND VALUE | ★★★★☆ (4/5) |
If you're planning to have a positive life-changing breast augmentation procedure soon, The Avoca Clinic in Ireland is a great place to consider. It's very accessible with three locations in the country.
This clinic has been specializing in breast procedures for around two decades now, so safety and expertise are not a problem. In fact, it has already performed thousands of breast procedures since it began operating in 2012.
Avoca offers surgical procedures on breast augmentation, lift, and reduction. For the augmentation, it only uses FDA-approved Mentor Silicone Breast Implants from the reputable Johnson & Johnson.
We like that Avoca uses 3D simulation technology and has a "try-for-size" experience. These allow clients to have an instant look and feel of the effect of the procedure on their breasts.
We also appreciate the free consultation for breast and other cosmetic procedures done on the body, as well as its informative website for providing answers and explanations to basic breast procedure questions.
However, the exact prices for the implants and post-surgery care aren't available online and must be discussed thoroughly with the clinic. You also have to double check with the clinic about the extent of its aftercare services.
Nonetheless, guaranteed safety and effectiveness of breast implant procedures make this clinic worth trying.
Thousands of procedures performed
Has 3D simulation tech
Free consultation
Has three locations
Specific price unavailable online
Inconsistent aftercare service
Customer reviews
Exceptional aftercare
"…I am beyond delighted with the result with my breast augmentation. It was en excellent experience from start to finish, as well e the medical team. The aftercare was exceptional. I was booked in for post-op consults and any queries or questions were answered immediately. I would highly recommend Avoca clinic. I have not stopped smiling and haven't been this happy with myself in a long time." – Gemma Allen
Pleasing results
"I am now 7 weeks post breast Aug surgery. I am so pleased with the results and care I have received from all the staff at the Avoca clinic. Everything went so smoothly, from booking my consultation to the last follow up appointment I had. I have zero complaints. Dr. Joyce and all the team can't do enough for you…" – Aimee Judge
2. GBS Clinic Ltd.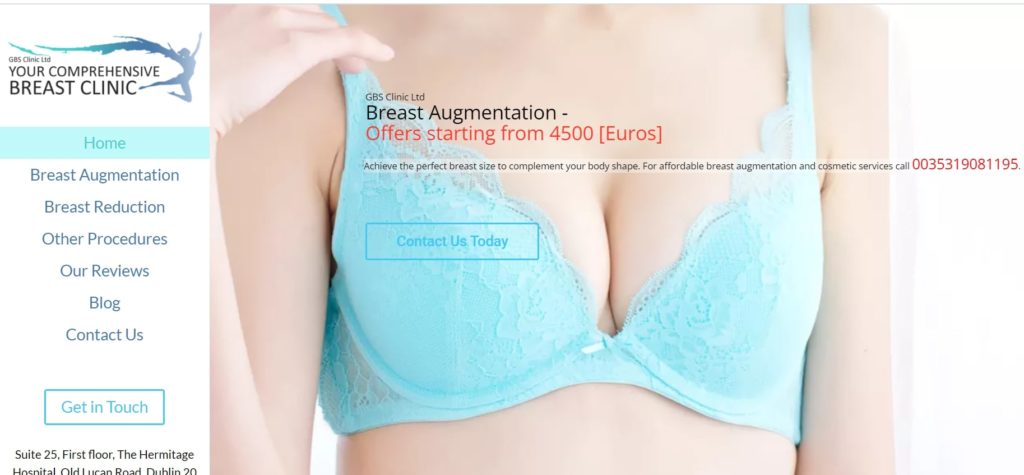 Test
Info
SERVICES

Breast Augmentation

Breast Reduction

Fat Transfer

Silicone Gel Implant

Saline Implant

Teardrop

Roundshape

WEBSITE
https://www.yourcomprehensivebreastclinic.ie/
ADDRESS
The Consultation Suits, Old Lucan Road, Dublin 20, Ireland D20 F304
CONTACT DETAILS
+353 861 013945,

[email protected]

OPERATING HOURS

By appointment only
| | |
| --- | --- |
| EXPERTISE | ★★★★★ (5/5) |
| SAFETY AND HYGIENE | ★★★★★ (5/5) |
| EFFECTIVENESS | ★★★★★ (5/5) |
| COST AND VALUE | ★★★★☆ (4/5) |
Having an effective breast augmentation through implants is what GBS Clinic Ltd. can provide. True to its tagline, this cosmetic hub is your comprehensive breast clinic in Ireland.
Located along Old Lucan Road in Dublin, GBS is a specialist clinic solely dedicated to breast procedures or surgery for boob augmentation and reduction. It even has a fat transfer to the breasts using liposuction.
We like that it has four varieties of health authorities-approved Nagor and Mentor implants. GBS uses silicone gels, saline implants, anatomical (teardrop) implants, and round breast implants.
The round shape is among the most favorite of clients because it offers a firm round breast shape for a curvier yet more proportional body appearance. For conservative individuals who want a naturally looking boob job, the teardrop is a good option.
What makes these implants worthy of your money is they generally last for up to 12 years. There are, however, some associated risks, but these are discussed in detail by the cosmetic surgeons.
Getting a breast implant is not easy and takes weeks to fully recover. We appreciate how GBS offers a comprehensive aftercare plan that includes guides and a 24/7 emergency line.

To add, clients have a free three-month postoperative appointment.
The only downside is it has only one location in Dublin without any available online information regarding its schedule. Still, you can talk and book an appointment through a call or email.
Variety of implants
Implants last up to 12 years
Dedicated to cosmetic breast surgery
Comprehensive aftercare plan
Schedule unavailable online
Only one location
Customer reviews
Happy with results
"I was so happy with my breast reduction, i would definitely recommend their services. Doctors are really understanding and professional." – Mrs. C Smith
Amazing results
"Sooo happy with my breast enlargement they are amazing absolutely over the moon, my surgeon Mr Alazawi was lovely made me feel very comfortable before and after the surgery very professional lovely people who dealt with me the hospital was very clean, I was so nervous going in and they were kind to me the whole way thru I recommend getting your breast enlargement with them 1000 percent." – Lynsey
Professional doctors
"Pleased with the results, all healing up well and can already see the results I wanted. Professional doctors." – Melissa
3. Auralia Medical Group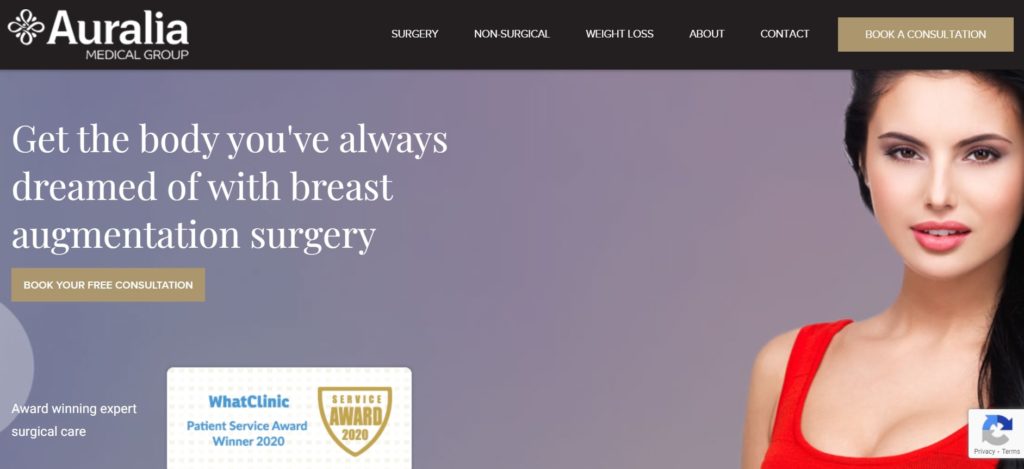 Test
Info
SERVICES

Breast Augmentation

Breast Lift

Breast Reduction

Areola Reduction

Inverted Nipple Treatment

Male Breast Reduction

Male Pectoral Implants

Bodily Procedures

Weight Loss

WEBSITE
https://www.auralia.ie/
ADDRESS
The Plaza Park West Business Park, New Nangor Road, Dublin 12, Ireland D12 WDN2
CONTACT DETAILS
+353 161 20551,

[email protected]

OPERATING HOURS

Monday to Friday, 8:00 a.m. - 6:30 p.m.

Saturday, 9:00 a.m. - 4:00 p.m.
| | |
| --- | --- |
| EXPERTISE | ★★★★★ (5/5) |
| SAFETY AND HYGIENE | ★★★★★ (5/5) |
| EFFECTIVENESS | ★★★★★ (5/5) |
| COST AND VALUE | ★★★★☆ (4/5) |
Located in Dublin, Kilkenny, and Limerick, Auralia Medical Group is an award-winning and internationally acclaimed cosmetic procedure clinic in Ireland.
With around 15 years of experience and ISO-certified, Auralia uses state-of-the-art facilities and equipment. They also have modern safety procedures that are compliant with both national and international health standards.
What makes it a top choice is its broader range of breast procedures for all genders. It has breast augmentation, lift, reduction, areola reduction and inverted nipples treatment, and even pectoral implant for men.
We also like that it offers clients options on how long the implant would last on their body. In terms of safety, this clinic only uses safe implants and not the product that is linked to rare serious complications of BIA-ALCL.
Not to mention, Auralia houses a number of cosmetic surgeons and one leading breast surgeon in Ireland who has already conducted over 2,000 procedures. It's also the first to revolutionize the most advanced biodynamic breast implant system in Ireland.
Auralia isn't only award winning, but is internationally renowned for its extensive cosmetic procedures. We're amazed that since 2001, more than 10,000 procedures have been done on breasts, body, face, and including weight loss.
However, the minor issues here are the absence of its complete rates on its website and a post-surgery program for clients. Nonetheless, it has a 24/7 team to respond to patients' concerns after the operations.
Extensive breast and body procedures
Great pool of surgeons
Award winning
Renowned cosmetic surgery clinic
Rates not available online
No post-surgery program
Customer reviews
Pleased with results
… I'm two weeks post augmentation and lift surgery and I am feeling fantastic and very pleased with the results so far. Consultation was great and answered everything I needed to know. Surgery day came and the staff were amazing and helped keep my nerves at bay. I was a bit nauseous after the anaesthetic (which is common with some patients) but the staff allowed me to stay as long as I needed to come around to my self. The aftercare was superb and the staff phone called for 3 or 4 days in a row after surgery just incase I had any queries and to see how I was generally feeling. I honestly thought I would've been in a lot more pain than I was 🙈 I've had one post-op appointment so far and Dr.Salman said everything was looking superb! Scars are also much smaller than I thought and look very tidy so I know they'll fade nicely! All in all, delighted…" – Nicole Jamieson
Everything is impeccable
"Only 2 days post op of my breast augmentation but already want to give a review as this clinic is so amazing! From the consultation until after surgery everything has been impeccable! Felt really good after I came out of my consultation with Dr Salman, any questions I needed answered before my surgery the girls where so quick to respond and where super helpful! Come the day of surgery I was excited but had pre surgery nerves but as soon as I entered the clinic I felt at such ease and the whole staff there are amazing and I really felt like I knew I was in good hands and had made the right decision to get my surgery with this clinic! The whole clinic is spotless and you're so comfortable after surgery, The aftercare is also amazing and they really care about their patients recovery, I'm only 2 days post op but super excited to see my final results!..." – Erica Foster
4. Aesthetic Institute (Akademikliniken)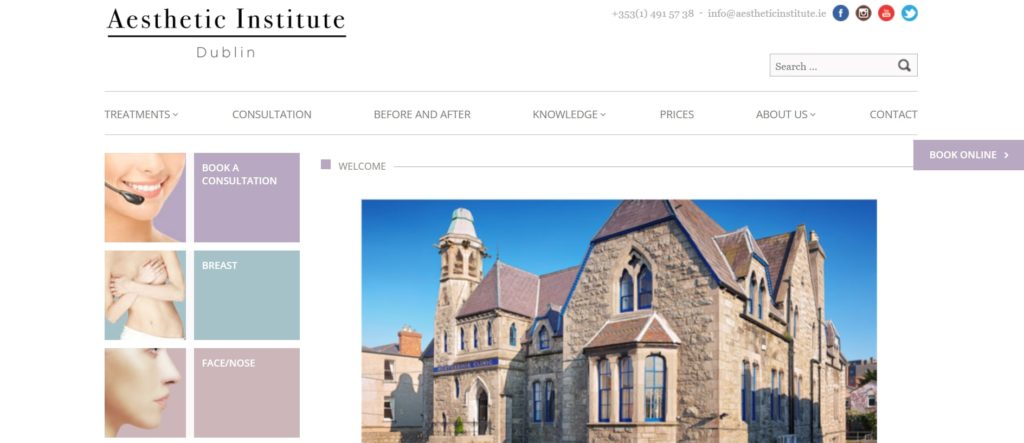 Test
Info
SERVICES

Breast Augmentation & Breast Implants

Breast Reconstruction

Breast Reduction / Lift

Gynaecomastia

Inverted Nipples

Reconstructive Surgery

WEBSITE
http://www.aestheticinstitute.ie/
ADDRESS
Northbrook Clinic, 15A Northbrook Rd, Ranelagh, Dublin, 6, Ireland D06 PH32
CONTACT DETAILS
+353 149 15738,

[email protected]

OPERATING HOURS

Monday and Wednesday to Friday, 9:00 a.m. - 5:00 p.m.

Tuesday, 9:00 a.m. - 8:00 p.m.
| | |
| --- | --- |
| EXPERTISE | ★★★★★ (5/5) |
| SAFETY AND HYGIENE | ★★★★☆ (4/5) |
| EFFECTIVENESS | ★★★★★ (5/5) |
| COST AND VALUE | ★★★★★ (5/5) |
For an effective breast augmentation procedure done by fully accredited plastic surgeons, you can try setting up a schedule at Aesthetic Institute in Dublin.
Aesthetic Institute, offers breast augmentation and implants, breast reconstruction, reduction and lift, gynaecomastia, and treatment for inverted nipples.
We love how thorough the specialists are during the initial consultation. They not only discuss the procedure and the implant types, but also advise patients on the best procedure that would give the best results based on their measurements
Also, we like that Aesthetic Institute has all the prices of their procedures on their website. They also have before and after procedure photos of breast augmentation online for customers to browse through. This is on top of the 3D simulation to provide clients a look of the possible breast job result, which we absolutely love.
We also commend this clinic for having breast procedures for all genders. There are also facial and other reconstructive and cosmetic surgeries done for all genders.
As for drawbacks, this clinic doesn't have its own facility for major surgeries. Thus, clients have to be admitted to major hospitals for the procedure to be conducted. It's also unavailable to accommodate consultations on weekends.
Overall, this is a clinic for almost all cosmetic procedures and it is a must-try if you want to boost your confidence in your body.
Variety of breast procedures
Transparent pricing
Broad gallery of before and after photos
All-gender friendly
Closed on weekends
No own facility for surgery
Customer reviews
Amazing job
"I had a breast lift about 7 months ago as I was very conscious of my sagging breasts. I cannot believe the difference and how wonderful they look in such a short period of time. Thank you, Colin Riordan, for the amazing job I am so happy with them." – Rachel Bennette
True experts
"I have to admit I always disliked some aspects of my body and I always wanted to get something done about it. Thankfully I came across Aesthetic Institute Cosmetic Surgery Clinic. They made my whole consultation very comfortable and where always very supportive and friendly. After doing extensive research into multiple Cosmetic Surgery Clinics in Dublin. I finally decided to get work done with Aesthetic Institute. the results have been amazing and I don't regret one thing about it. Im extremely grateful for everything Aesthetic Institute have done for me. I highly recommend there services they are true experts." – Cormac Battle
5. The Kelly Clinic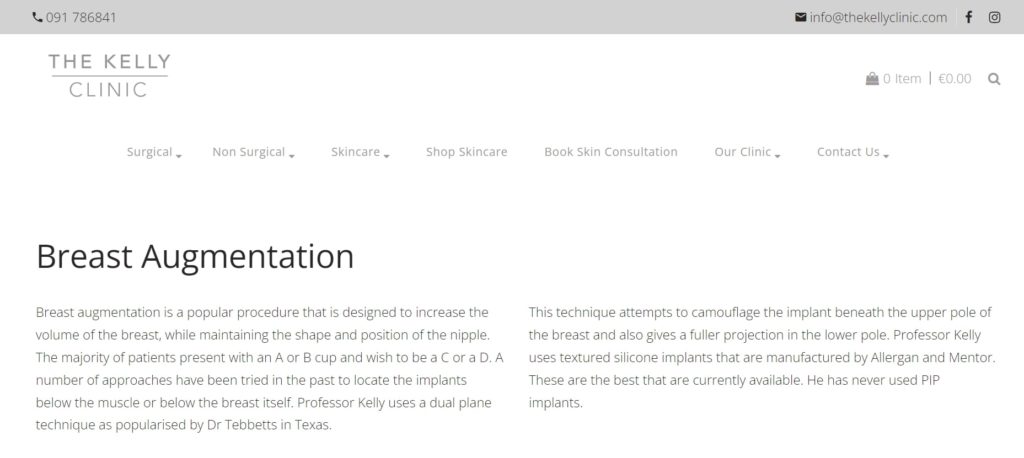 Test
Info
SERVICES

Breast Augmentation

Breast Lift

Breast Reduction

Breast Reconstruction

Male Breast Reduction

WEBSITE
https://thekellyclinic.com/
ADDRESS
The Kelly Clinic, Suite 9, Bon Secours Hospital, Galway, Ireland H91 NF62
CONTACT DETAILS
+353 917 86841,

[email protected]

OPERATING HOURS

Monday to Wednesday, 9:00 a.m. - 8:00 p.m.

Thursday, 9:00 a.m. - 9:00 p.m.

Friday, 9:00 a.m. - 5:00 p.m.

Saturday, 8:00 a.m. - 2:00 p.m.
| | |
| --- | --- |
| EXPERTISE | ★★★★★ (5/5) |
| SAFETY AND HYGIENE | ★★★★☆ (4/5) |
| EFFECTIVENESS | ★★★★★ (5/5) |
| COST AND VALUE | ★★★★☆ (4/5) |
Situated at one of the facilities of Bon Secours Hospital in Galway, The Kelly Clinic offers breast surgical procedures for both men and women. These are performed by Prof. Jack Kelly, a plastic reconstructive and aesthetic surgeon.
What's good about its breast augmentation is the dual plane technique to make the implant be in uniform with the breast's upper pole and a fuller projection on the breast's lower pole.
Also, we like that it values clients' safety by avoiding Poly Implant Prostheses (PIP) that contain unapproved silicone gel. The Kelly Clinic only uses Allergan and Mentor textured silicone implants.
However, the Allergan implant has been recalled due to health risks associated with it. Don't worry, you can still have the safer Mentor implant used on your body.
Moreover, because this clinic has an extensive service list of breast and cosmetic procedures for all sexes, we like that it has long operating hours from 9:00 a.m. until night time during weekdays.
There's also no problem about its staff as they are all well-trained and very accommodating. They are very dedicated in explaining to clients the procedure and the benefits and risks of breast surgeries.
One downside, however, is that some clients have to wait for several minutes before their procedure. Still, you can double check with the clinic staff about the best time to schedule an appointment. 
Experienced surgeon
Has breast procedure for males
Accommodating staff
Long operating hours
Long waiting time
Uses FDA-recalled Allergan implant
Customer reviews
Honest and approachable
"I found Jack Kelly very honest and approachable. I found the whole visit very positive and I felt very confident with what I was advised to do. I would definitely recommend the Kelly Clinic to family and friends." – Clare O Neill
Informative and efficient staff
"Dr Jack Kelly has a special way of making you feel at ease. He is very patient, takes time with his patients to explain fully all aspects of procedures with you to make sure you fully understand.His staff are very friendly, informative and efficient. You're in good hands under Dr Jack Kelley." – Ann Forde
Positive experience
"I would like to thank Professor Kelly and his team for my very positive experience in his care, from point of contact with his assistant Jackie through to initial consultation and then procedure. Level of care and reassurance was fantastic and thankfully my issue has been dealt with very satisfactorily…" – Ray Kenny
FAQs about the best clinics for breast implant in Ireland
---
Breast augmentation is among the popular cosmetic procedures done globally to enhance body appearance and personal confidence. With that, we made this list to help you decide which clinic to visit in case you're considering getting a boob job.
If you're on the hunt for other cosmetic clinics, check out our list of the best dermatologists in Dublin.
---