Arranmore Island Travel Guide
Arranmore Island, located near County Donegal in Ireland, is a beautiful place to visit. It's famous for its natural beauty, history, and friendly people.
This guide will help you plan your trip. You'll learn about the best time to visit, how to get around, things to do, places to eat, where to stay, and where to shop.
Let's start our adventure on Arranmore Island!
Is Arranmore Worth Visiting
Arranmore Island is a beautiful hidden gem that you shouldn't miss when you visit Donegal. It's a short ferry ride from the mainland, but it offers a lot of scenic and cultural attractions that make it worth visiting.
How to Get to Arranmore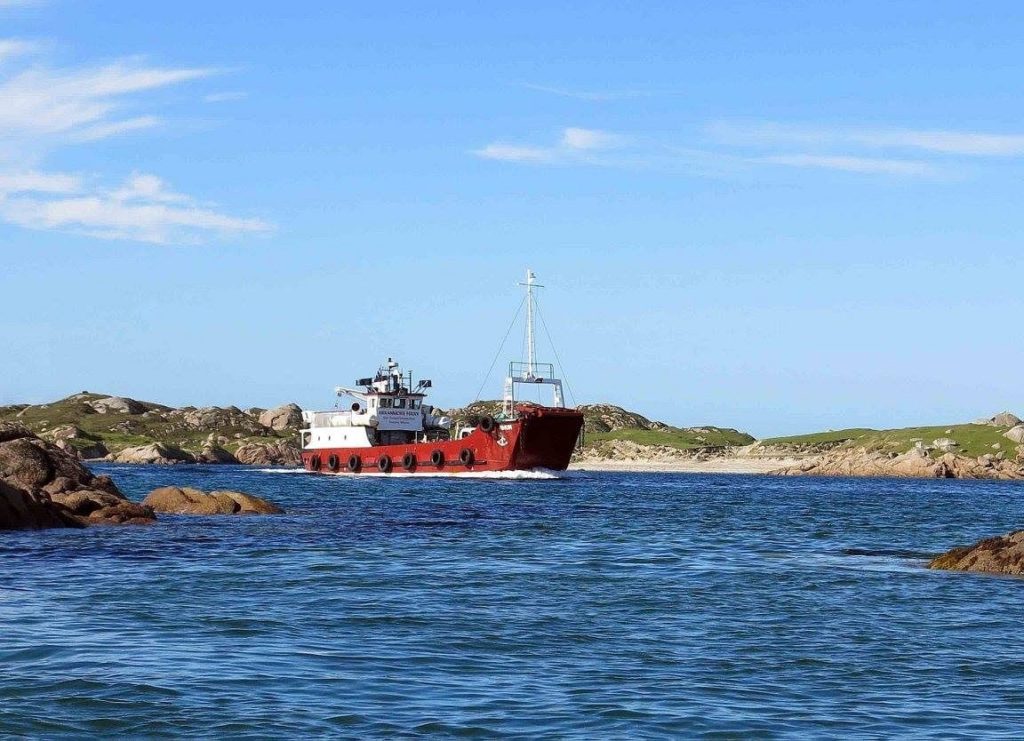 You can take a ferry from Burtonport, a port town in Northwest Donegal, to Arranmore Island. Burtonport is about an hour from Letterkenny and 25 minutes from Carrickfinn Airport, which has daily flights from Dublin.
The ferry from Burtonport to Arranmore Island is a quick 15-minute journey with 6 daily crossings, accommodating any car and up to 96-foot passengers. It's recommended to check if the ferry is running on the day before going.
The ferry follows a scenic route between the larger islands of Inishcoo and Rutland Island.
Things to Know When Driving on Arranmore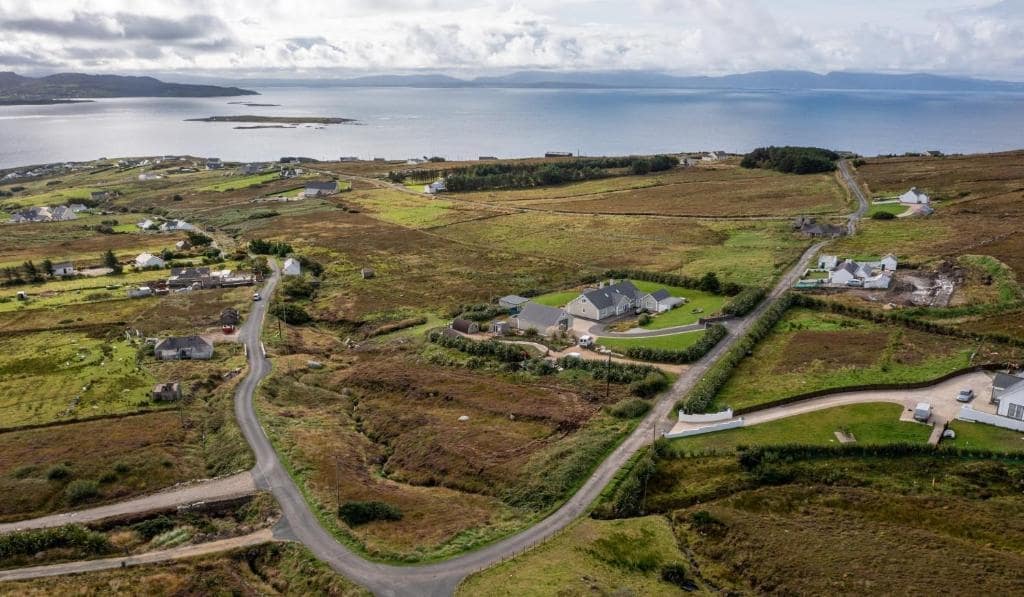 When driving on Arranmore Island, it's important to note that the roads are mostly narrow and single-lane, with some passing through exposed bog areas. Drivers should exercise caution due to unexpected changes in the road's elevation.
If you plan to visit the island, be prepared to pull over occasionally to allow other vehicles to pass, as the roads often do not accommodate two-way traffic.
However, be cautious when pulling over, as the roadside may be soft due to peat or bogland, potentially causing your vehicle to get stuck or encounter sudden drop-offs.
Best Time to Visit
Arranmore Island has a mild and wet climate, with average temperatures between 30ºF (-1ºC) and 60ºF (15ºC) during the year. The island's weather is affected by the Atlantic Ocean and the Gulf Stream, which keep it warmer than the mainland.
Based on the climate and weather in Arranmore Island, Ireland, the best time to go is July.
Things to Do in Arranmore
Hop on a bike and ride to the Arranmore Lighthouse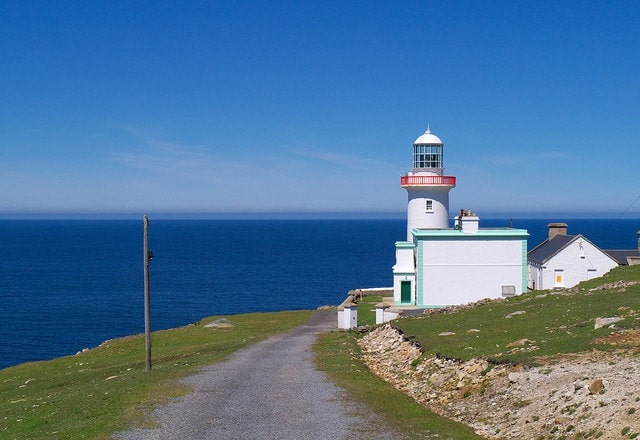 Arranmore Lighthouse, situated on the island's northwestern tip, provides a fascinating glimpse into maritime history.
Accessible primarily by bike, this iconic structure's origins trace back to 1798, marking it as Donegal's inaugural lighthouse during that era.
Constructed in 1865, the lighthouse underwent a substantial renovation before transitioning to automation in 1982. Adjacent to the lighthouse, you'll also find captivating sea caves and sea arches to explore.
Step Back in Time at the Old Lighthouse Steps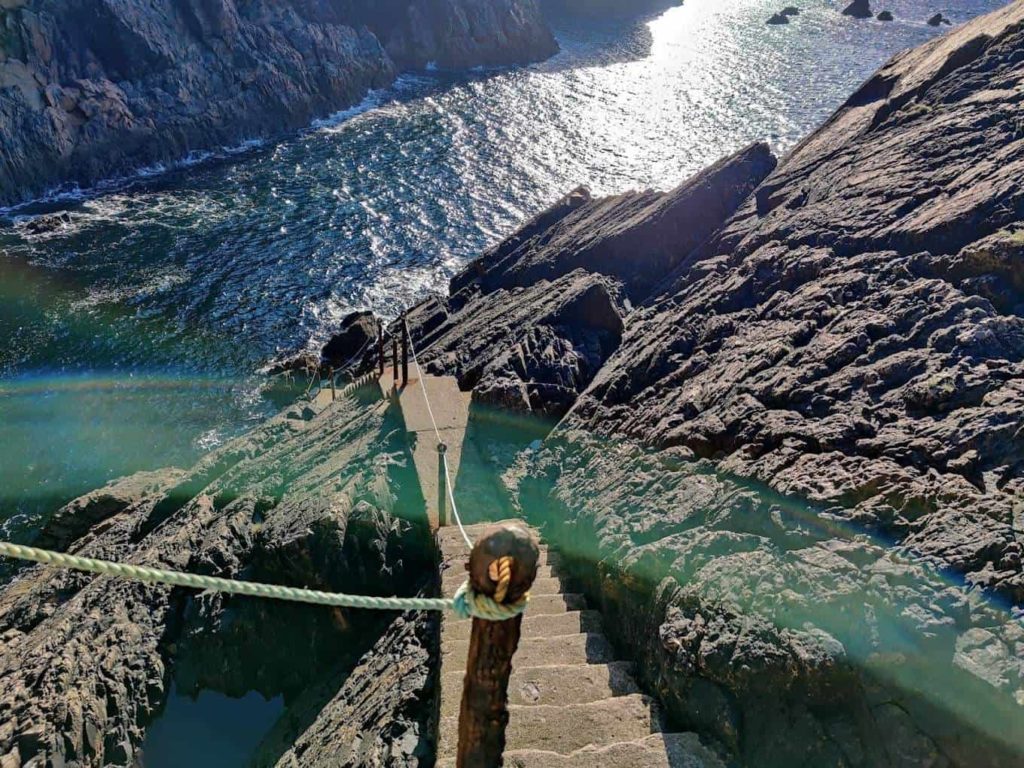 The Old Lighthouse steps on Arranmore Island hold a unique historical significance. These steps, etched into the rocky terrain, once served as a vital means for lighthouse keepers to reach rescue boats stationed in the waters below.
While they have fallen into disuse, visitors to Arranmore can still marvel at these remarkable steps. For those seeking adventure, a descent down these historic stairs is also an option.
Just a tip if you plan to visit the old Lighthouse Steps – they are quite steep and potentially dangerous. Don't go down them if you are afraid of heights, because there are no railings and there are cliffs and drops.
Marvel at the Arranmore Cliffs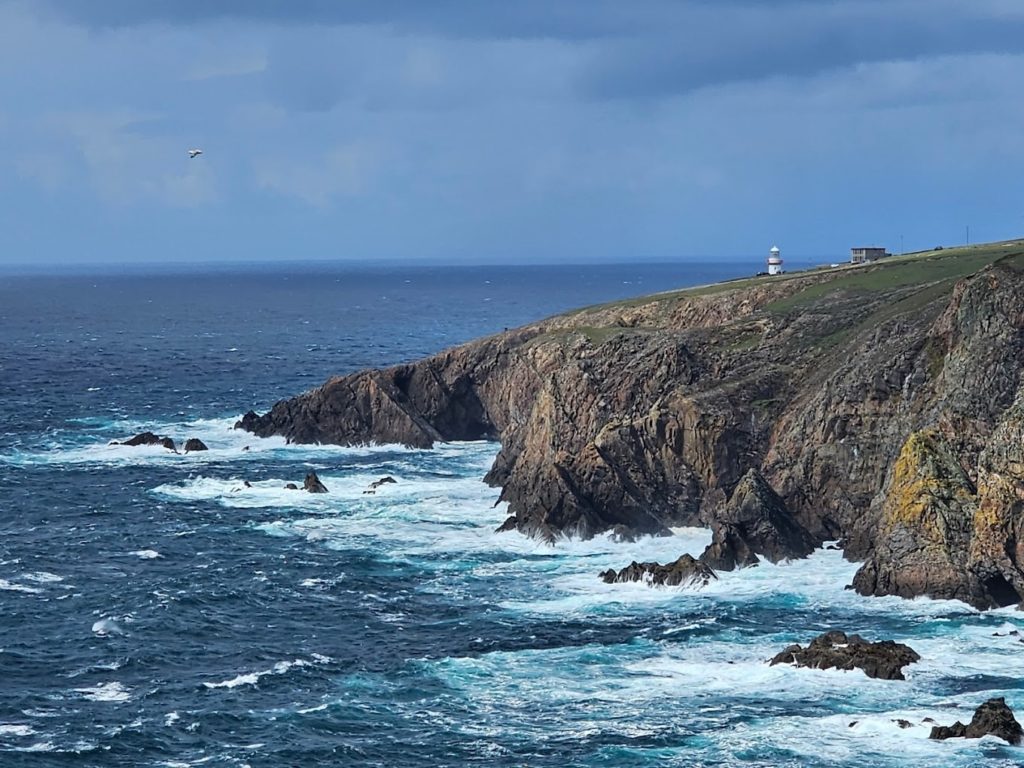 As you traverse the narrow road leading to the Arranmore Lighthouse, you'll have the opportunity to feast your eyes on the magnificent Aranmore Cliffs.
Along this picturesque route, numerous stopping points offer ideal vantage points to admire these awe-inspiring cliffs.
Take advantage of the strategically placed benches to unwind, soak in the breathtaking scenery, and savor a refreshing beverage as you reflect on the wonders of nature.
Pay Tribute at the Beaver Island Monument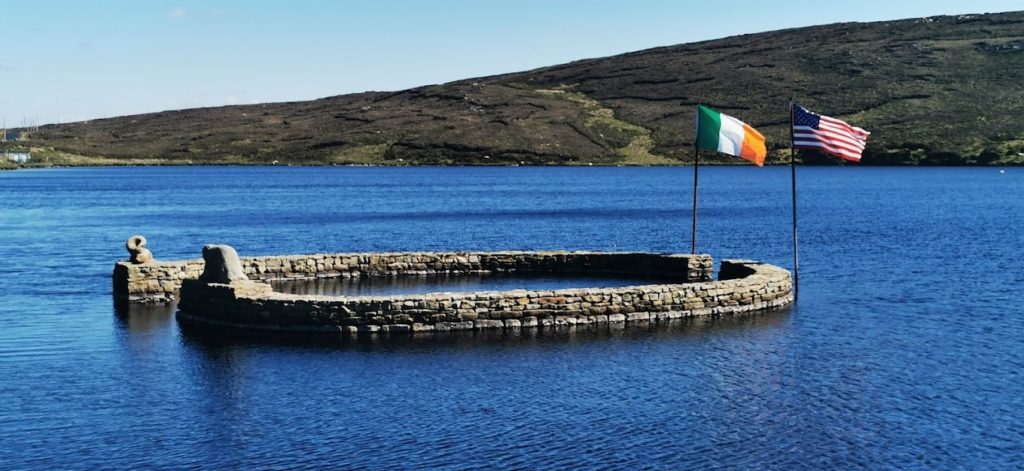 Found along the narrow road leading to the Arranmore Lighthouse, the Beaver Island monument stands as a poignant tribute to the island's past.
It serves as a solemn memorial to the people of Arranmore Island who endured immense suffering during the Irish Potato Famine in the mid-1800s.
This devastating famine prompted a significant portion of the island's population to seek refuge on Beaver Island in Lake Michigan.
Today, the monument serves as a solemn reminder of those who were forced to leave their homeland and the enduring connections between these two islands.
Walk the Arranmore Island Loop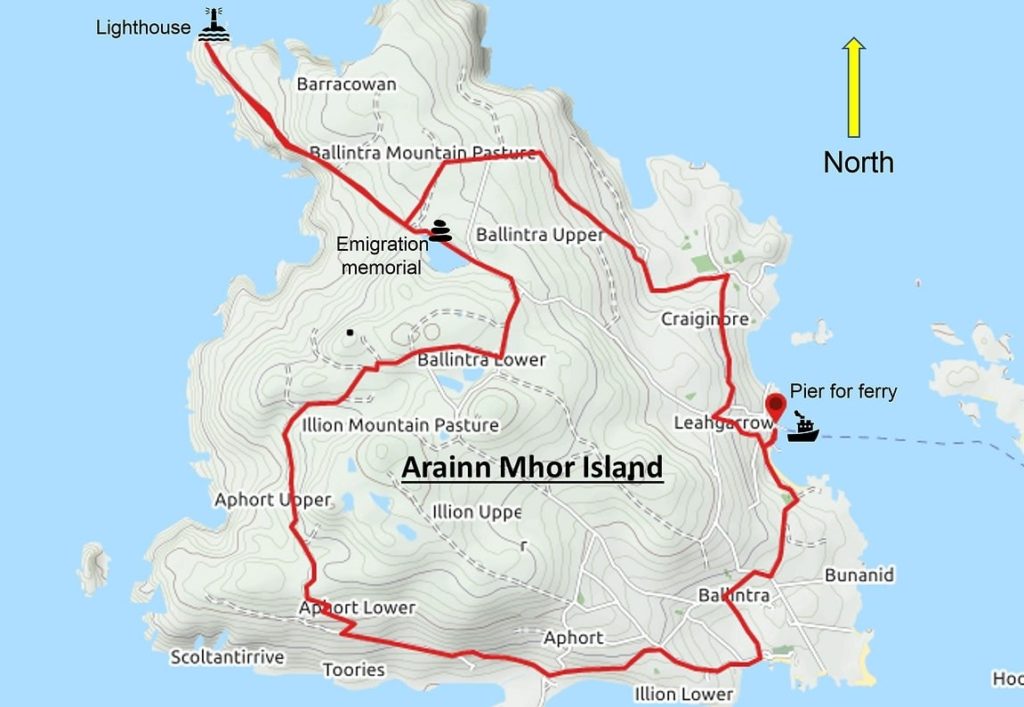 The coastal beauty of County Donegal is best seen on this 14km island loop. It's a remote and wild part of the Wild Atlantic Way with lots of ocean views and the biggest island in the county.
The Arranmore Island Loop starts and ends at the ferry port and takes about five hours. The island and coastal views are really great along the way.
Part of the loop goes down by the scenic Lough Shore, and there's a memorial about the island's connection to Beaver Island. You can also take a 2km walk to the remote lighthouse at Binrawros Point.
Uncover the Secrets of the Cave of Slaughter
To the south of the island, near both the church and the fort, lies the enigmatic 'Cave of Slaughter.'
According to local legends, in the year 1641, a ruthless nobleman named Conyngham, who also served as a captain under Cromwell, perpetrated a horrific massacre within this cave.
Numerous women and children who had sought sanctuary there tragically lost their lives.
Witness Wildlife at Green Island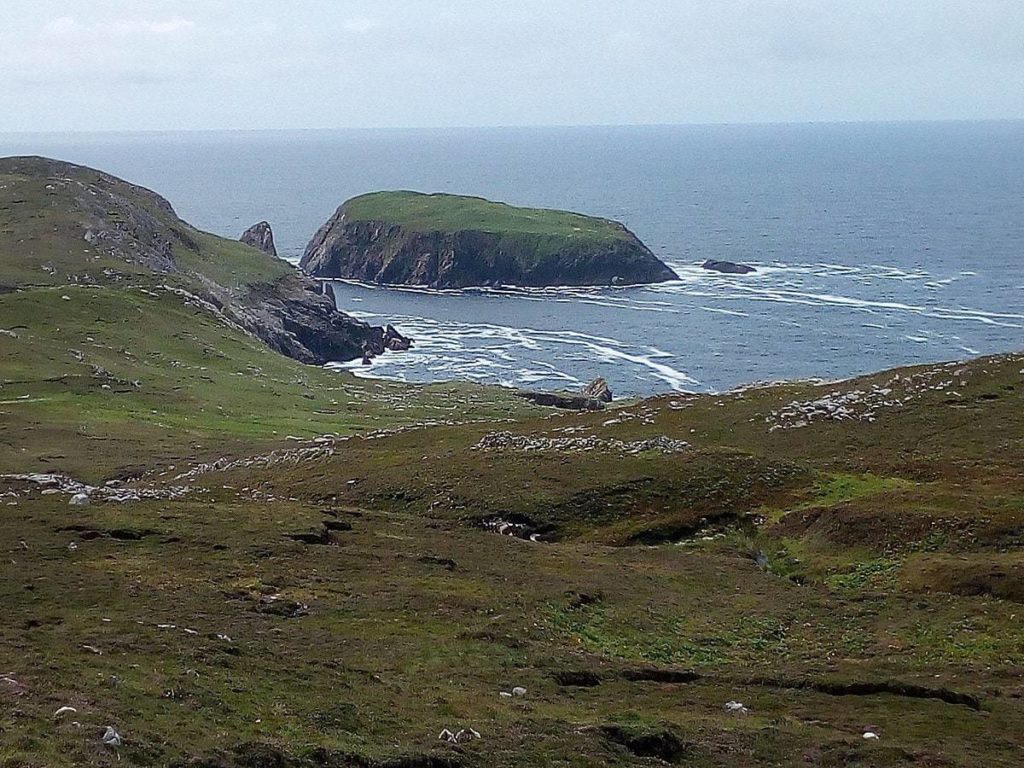 Off the southwest tip of Arranmore, you'll find Green Island, a pristine wildlife reserve. While setting foot on the island is prohibited due to its treacherous cliffs and absence of a safe cove, you can still observe its natural splendor.
Boat trips pass by Green Island, providing a chance to witness its abundant birdlife, including corncrakes, snipes, and various seabird species.
Though you can't explore its shores up close, you'll have a front-row seat to the flourishing ecosystem thriving in this protected sanctuary.
Relax and Go Fishing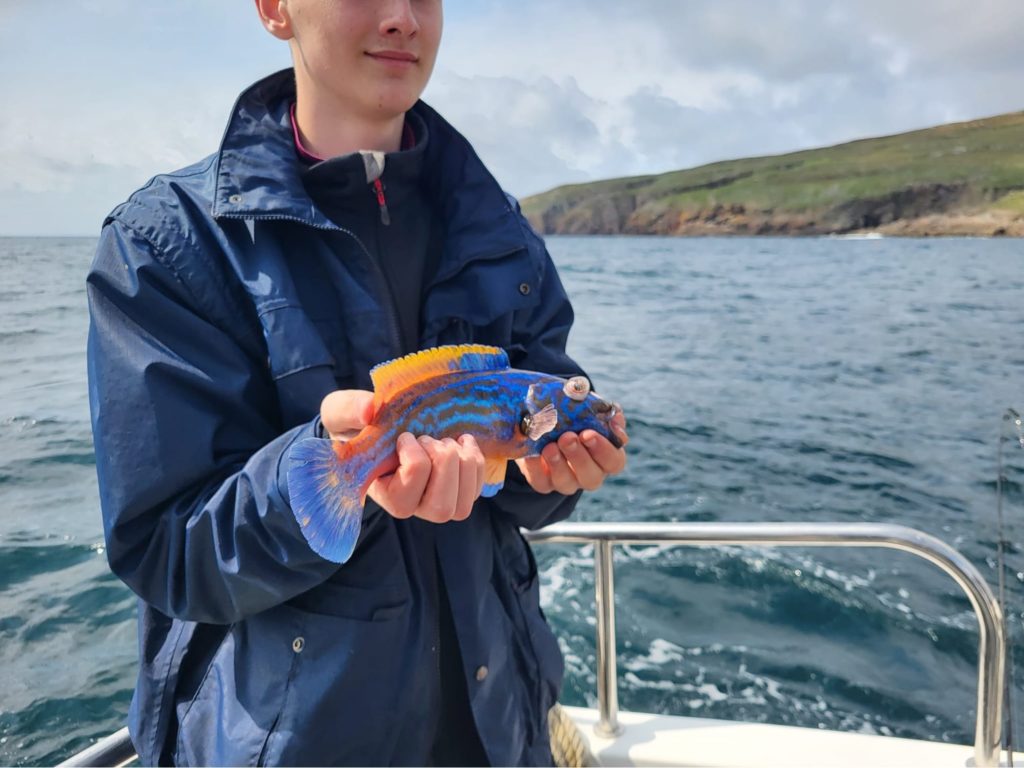 Fishing off the rocks is a great way to enjoy a summer day. You can relax with your fishing rod and maybe catch dinner!
In the twin lakes, you can catch Brown Trout, and in the biggest lake, Rainbow Trout. This is one of the few places in Ireland where Rainbow Trout naturally live.
When you go sea fishing, you can catch Trout, Pollock, and Mackerel.
Experience More Water Activities on Arranmore Island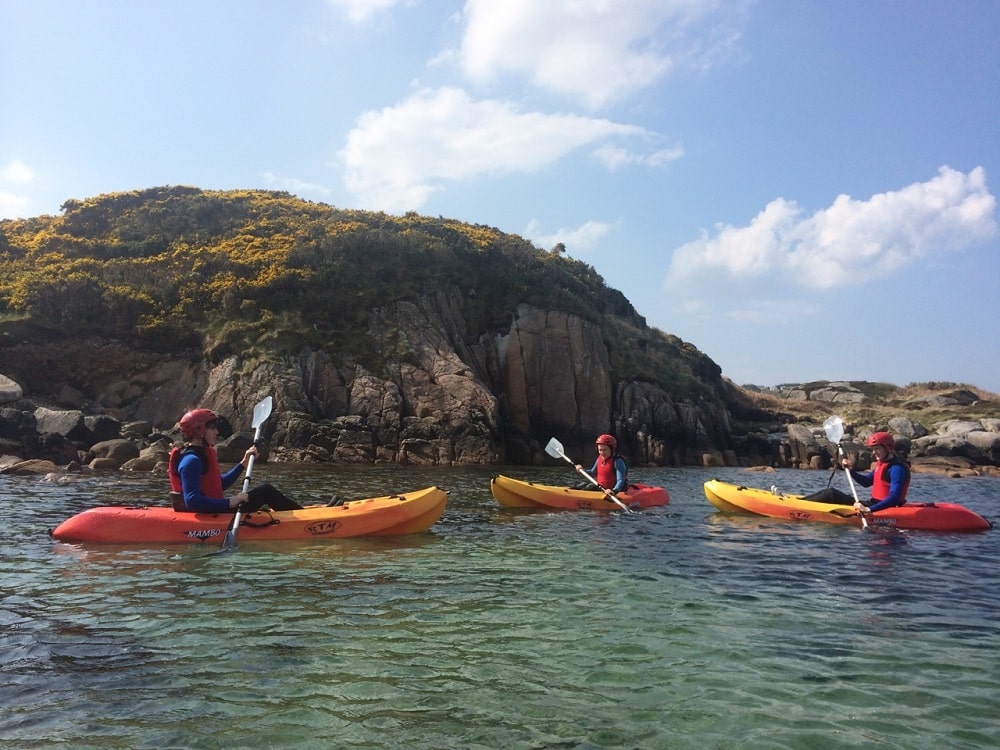 Cumann na mBád, Árainn Mhór, a local watersports club, aims to promote boating among both residents and tourists. They offer various courses, including surfing, sailing, kayaking, and rowing, making it an excellent choice for group activities.
"Dive Arranmore" has been operating since 2012 and offers rich marine life encounters. Accompanied by experienced instructor Jim Muldowney, divers can explore the waters.
A one-hour cruise, priced at €30 for adults, provides insights into Arranmore's cliffs, beaches, sea stacks, and diverse marine life. Passengers may spot islands, dolphins, seals, basking sharks, and more during the journey.
Where to Eat in Arranmore
Early's Bar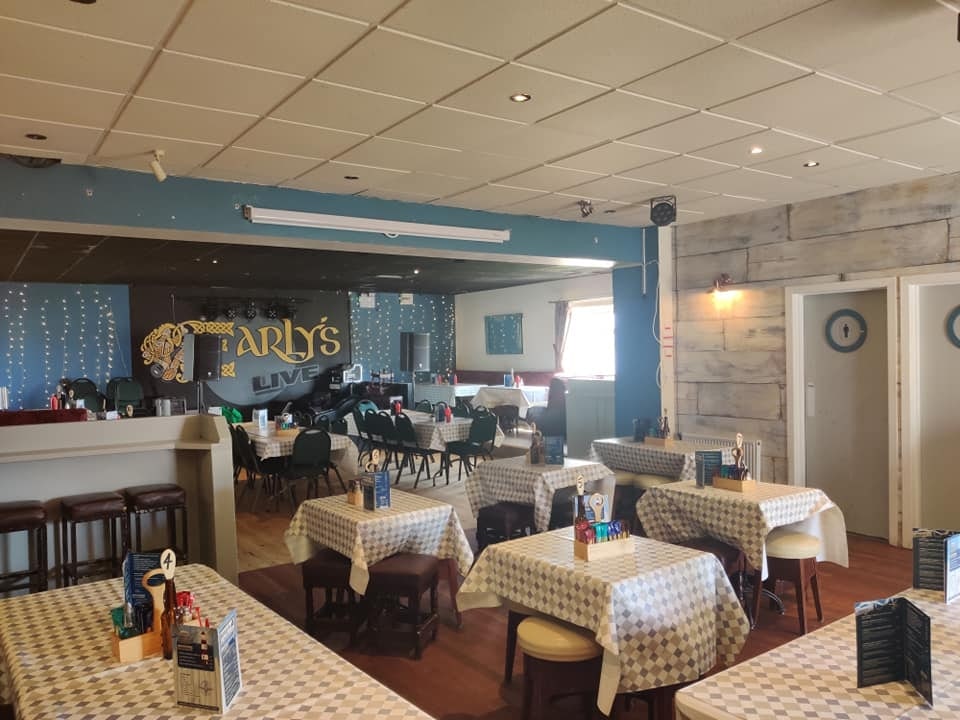 Website: https://earlys.bar/
Address: Leabgarrow, Arranmore Island
Phone: +353749520515
Email: [email protected]
No visit to Arranmore is truly fulfilling without making a pit stop at Early's Bar for some delicious food and refreshing drinks.
After an eventful day of discovering all the wonders the island has to offer, it's tough to resist indulging in a classic Irish treat consisting of a pint of Guinness and a mouthwatering cheese toasty.
Additionally, Early's Bar offers fantastic traditional music performances on most weekend evenings. If you happen to visit on a pleasant day, you can savor your meal on the outdoor terrace.
Conveniently located right next to the Arranmore ferry, Early's ensures that you won't have to venture far to catch your ride back to the mainland.
The Only Plaice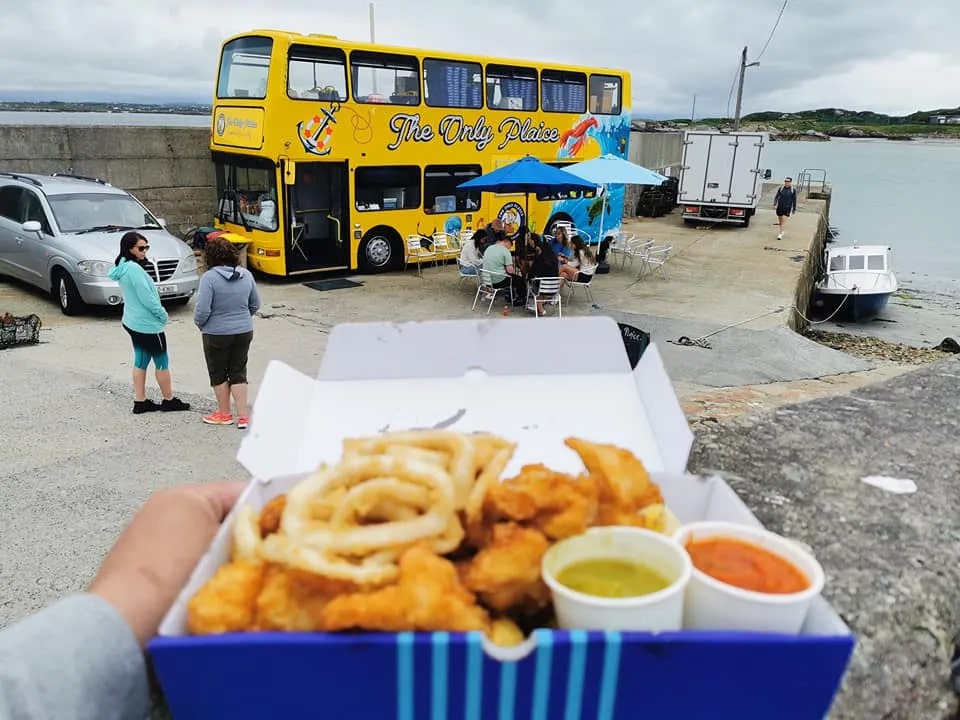 Website: https://www.theonlyplaice.com/menu 
Address: The Yellow Bus Leabgarrow Pier Arranmore Island
Phone: 089 9411619
Email: [email protected] 
Operating Hours:
Monday to Wednesday – 2 PM to 8 PM
Thursday to Sunday – 1PM to 9 PM
The Only Plaice is a unique seafood restaurant on Arranmore Island, a beautiful and wild place off the coast of County Donegal. It's housed in a yellow double decker bus that offers stunning views of the sea and the mainland.
The restaurant serves fresh fish dishes that are sourced from the local waters and prepared with creative flair. Some of the highlights of their menu include monkfish curry, oriental beef salad, fish tacos, and seafood chowder.
The Only Plaice is open from July to September and is located only a 5 minute walk from the ferry pier.
Boathouse Beach Bites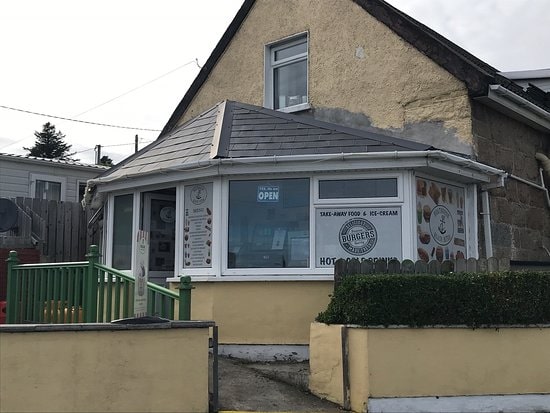 Website: https://www.facebook.com/p/Boathouse-Beach-Bites-100063694896599/ 
Phone: +353 87 452 7265
Email: [email protected] 
If you are looking for a tasty treat in Arranmore, you might want to check out Boathouse Beach Bites, a takeaway shop that offers coffee, ice-cream, and hot food.
Boathouse Beach Bites is located along the wild atlantic way, near the ferry terminal and the beach. You can enjoy a delicious burger and chips, a fresh muffin, or a creamy ice-cream while admiring the scenic views of the island.
Where to Stay in Arranmore
Arranmore Lighthouse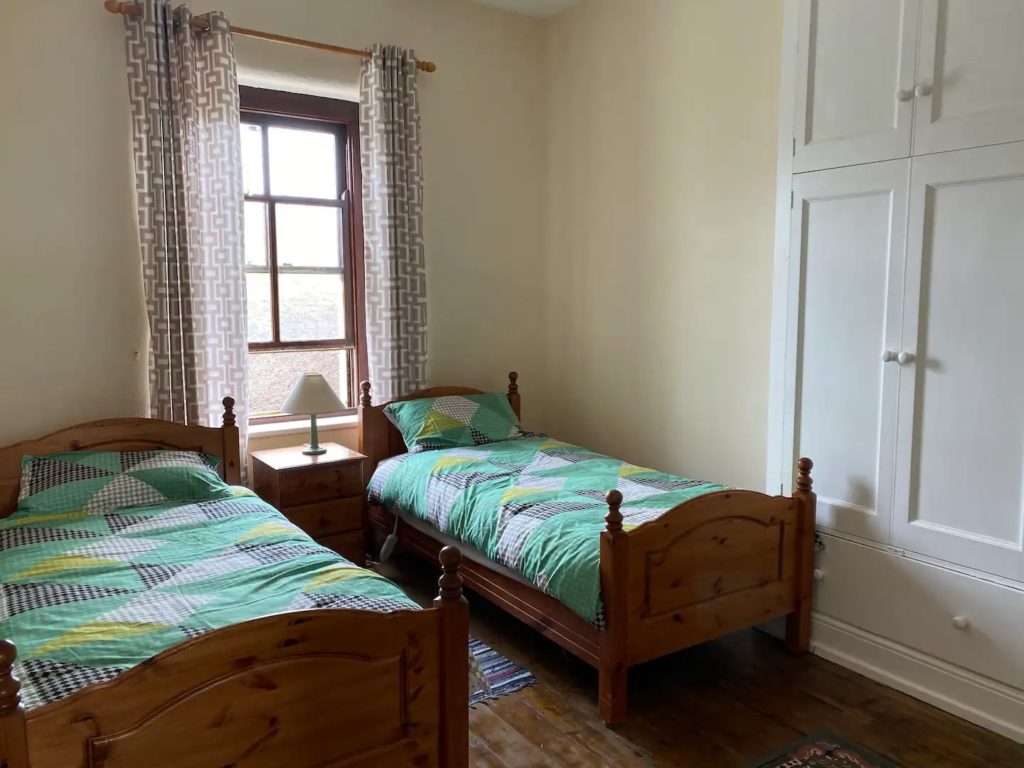 Website: https://www.airbnb.ie/rooms/3146425
For a truly unforgettable stay on Arranmore Island, you can book a night in one of the former Lightkeepers' dwellings at the cliff edge lighthouse.
This Airbnb is not only quirky and cozy, but also offers amazing views of the wild and remote island and the sea. The lighthouse is still operational and is at the end of the garden.
The houses are semi-detached and have three bedrooms each. This is a rare opportunity to experience the life of a lightkeeper and enjoy the beauty of Arranmore Island.
Arranmore Glamping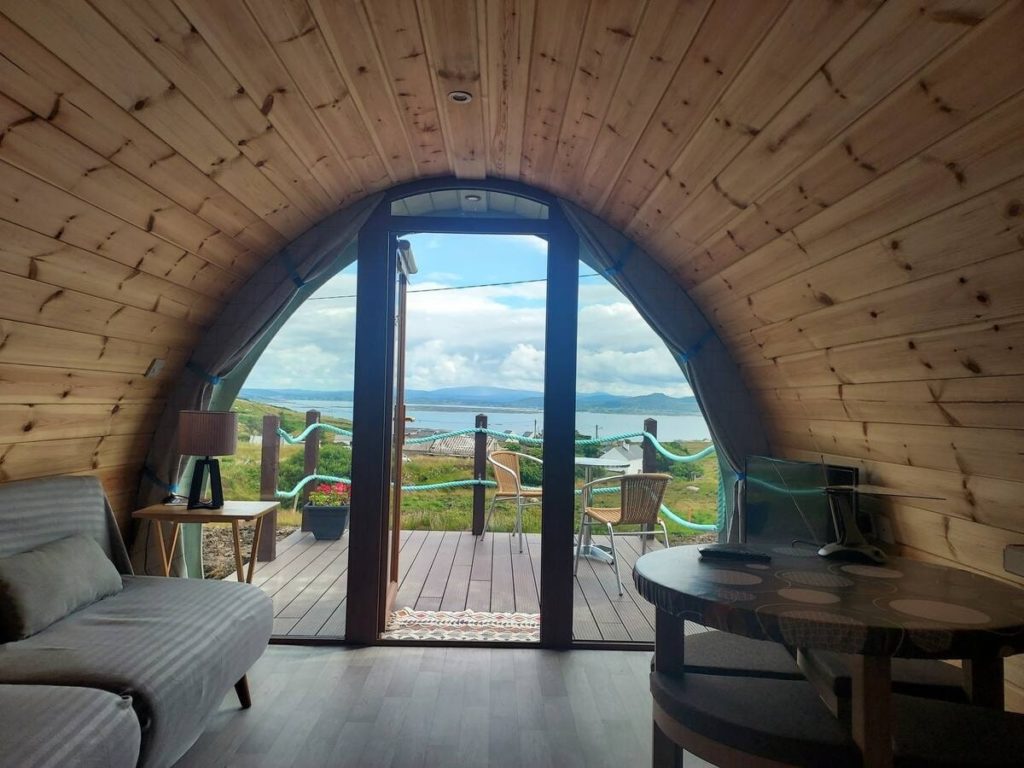 Website: https://www.airbnb.com/rooms/50456001
Arranmore Glamping on Árainn Mhór offers six deluxe glamping lodges with coastal views. Since 2021, this family-run business has been a peaceful base for couples seeking a unique experience.
The lodges, named after the islands they overlook, can accommodate two people and feature double-glazed gables for stunning views. Amenities include en suite facilities, indoor and outdoor dining areas, and kitchen appliances.
Linen and towels are provided, and sea safari tours can be booked onsite. Free parking is available, but pets are not allowed.
Glen Hotel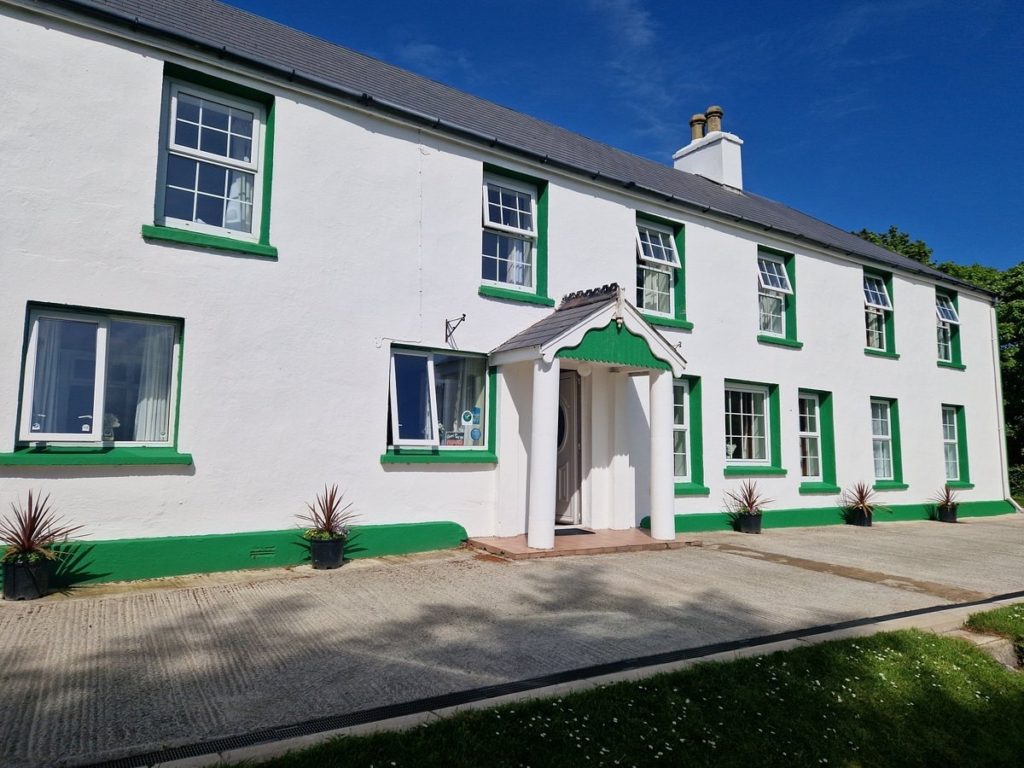 Website: https://theglenhotel.weebly.com/
The Glen Hotel is a family-run hotel near the ferry pier, offering a tranquil setting with views of the Atlantic and the Hills of Donegal. It's perfect for nature lovers who enjoy activities such as hiking, fishing, diving, and bird watching.
You can also relax and have a pleasant sea side holiday with your family. The Glen Hotel offers you a warm welcome and a comfortable stay on this beautiful island.
The hotel serves wholesome food in the bar and offers special rates for large groups, divers, hill walkers, and tourists.
Arranmore Hostel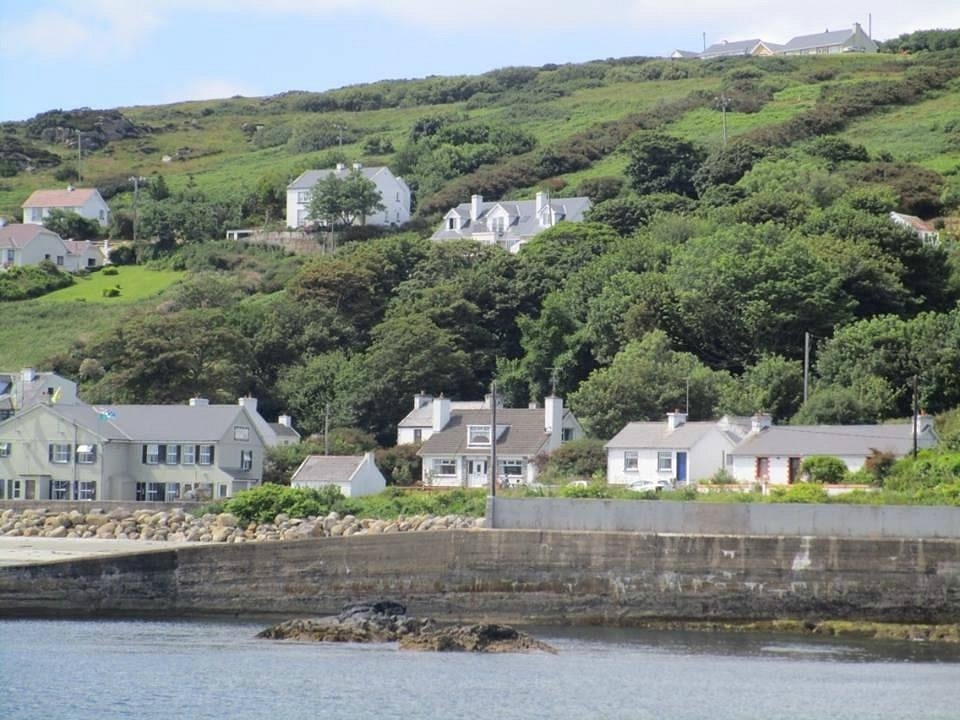 Website: https://www.facebook.com/arranmorehostel/
Arranmore Hostel is a beachfront accommodation that can host up to 35 people in dorm rooms and private rooms. It's ideal for those who want to enjoy the island's nightlife, as it is located between two popular pubs, Teac Phil Ban and Early's bar.
The hostel has a large communal area with kitchen facilities and outdoor benches to relax and admire the view of Leabgarrow Beach.
Arranmore Holiday Village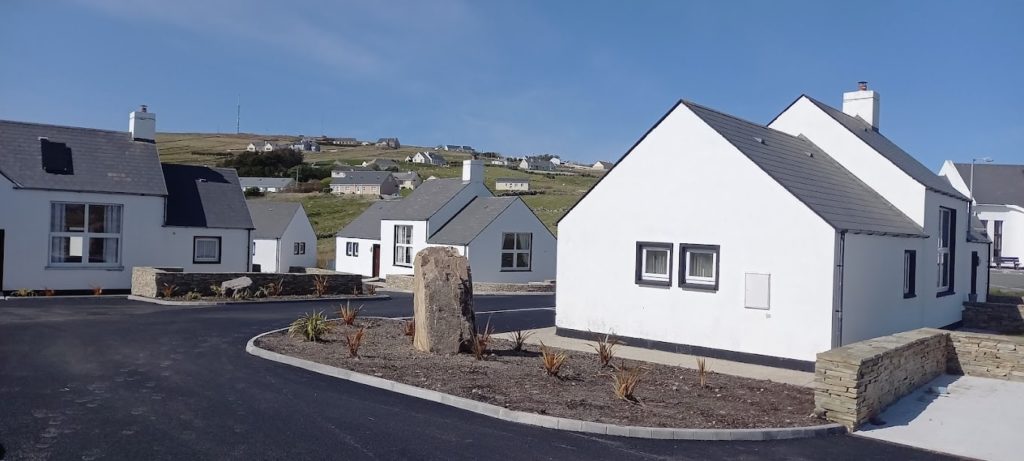 Website: https://arranmoreisland.ie/holiday-village-baile-saoire/
Arranmore Holiday Village is conveniently situated just 1 kilometer away from the island's ferry pier. The cottages are self-catering and are located less than 200 meters from the children's playground and pitch & putt course.
Adjacent to the village is the Cultural Centre, where visitors can find information, local crafts, internet access, meeting rooms, and a selection of children's Irish language books.
Right next door to the Cultural Centre is Caifé an Ghabhann, where you can enjoy a variety of food options. The village is also just a short stroll away from 'Scoilt na Loinge' beach, which is one of the many beautiful beaches on Árainn Mhór Island.
Where to Shop in Arranmore
Phil Bán's Store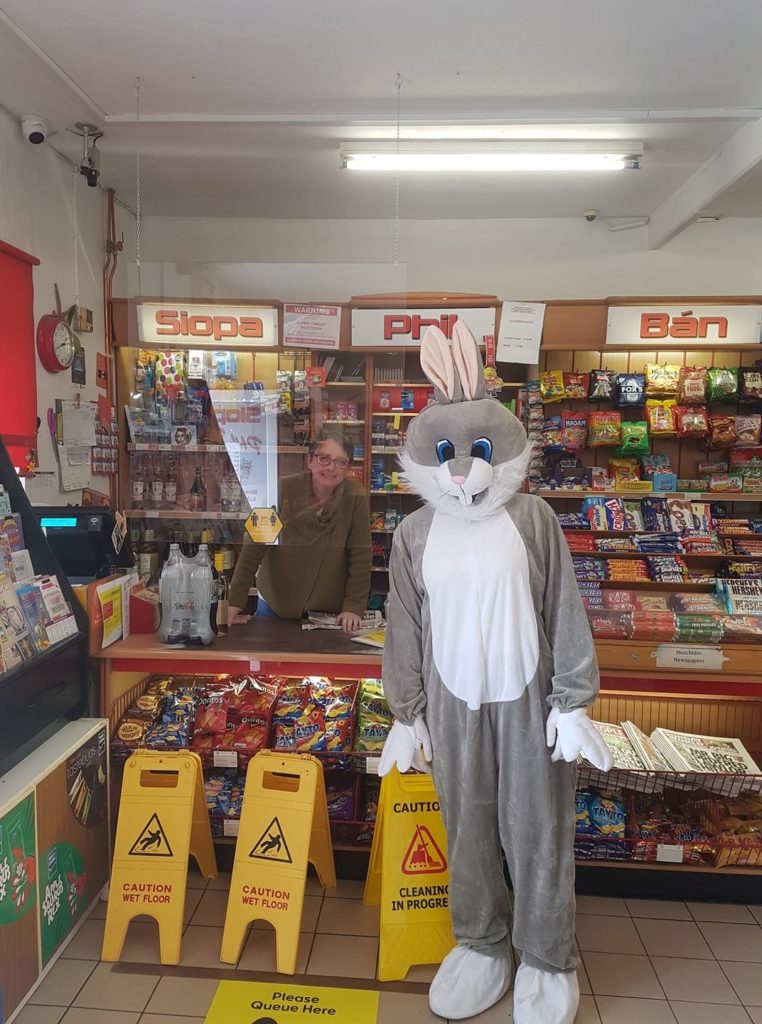 Phil Bán's Store is a friendly and well-stocked shop on Arranmore Island, run by Phil Bán Gallagher, a local expert on the island's history.
The store sells food, newspapers, books, souvenirs, fishing stuff, and things people need on the island. They also have homemade jams, cakes, and bread made by Phil Bán's wife.
You can find the store near the ferry pier in Leabgarrow, the island's main village.