Clare Travel Guide: Must-See Attractions and Info for Visiting
County Clare, the Banner County, is a quintessential Irish destination. It's a treasure trove of musical heritage and stunning landscapes that will take your breath away.
Clare lies on the western edge of Ireland, surrounded by the waters of Galway Bay, Lough Derg, the River Shannon, and the Atlantic Ocean.
In this article, you'll learn useful tips on when to visit, how to get there and around, what to see and do, and discover the best neighborhoods, restaurants, hotels, and shops Clare offers.
Is Clare worth visiting?
Clare is worth visiting for its unique attractions and authentic Irish culture.
This county has it all: from the breathtaking Cliffs of Moher and Bunratty Castle to charming fishing villages and a vibrant music scene.
Best Time to Go
County Clare is a popular destination in Ireland during the summer months of June, July and August.
If you want to escape the crowds, consider visiting in April, May, September or October. The weather is still mild and sunny, but you'll have more space and time to enjoy the scenic views of the Cliffs of Moher.
Rain is common in Ireland all year round, so remember to bring an umbrella, a light raincoat and waterproof shoes.
How to Get There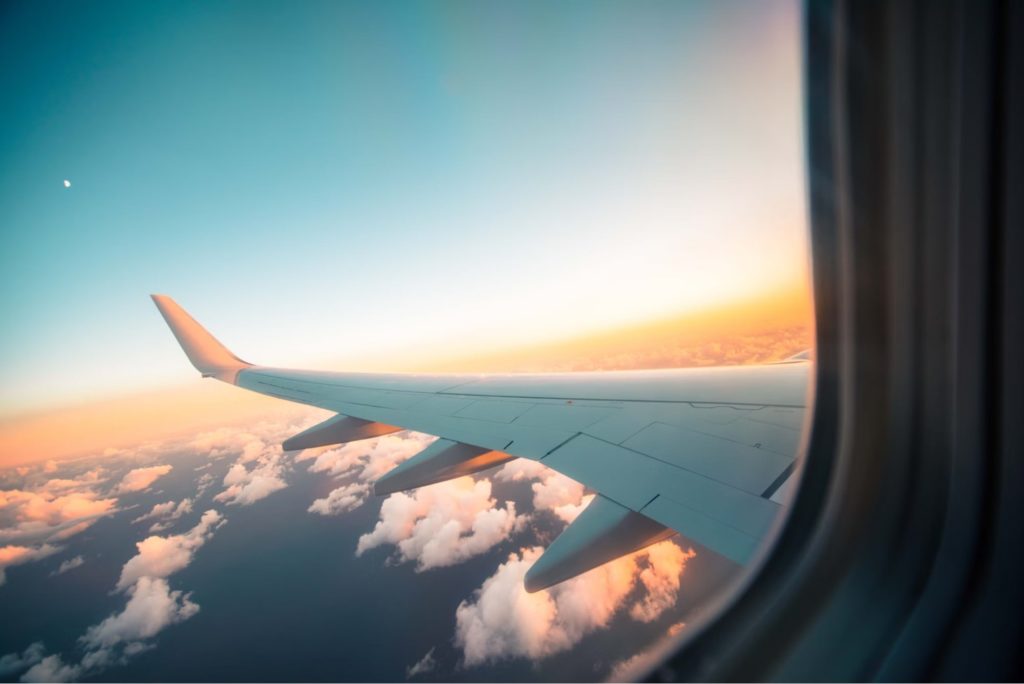 By Plane
We highly recommend flying into Shannon Airport for a hassle-free and convenient journey to Clare. With direct flights from the UK, Europe, and the USA, it's the ideal entry point to Ireland.
Upon arrival, you'll find it easy to navigate through the airport and quickly hit the road. It's also the perfect place to rent a car and acclimate to driving on the left-hand side.
By Car
You can easily reach Clare through Ennis by car from any major city. Take any exit from 11 to 14 on the M18 motorway and follow the signs.
Here are the travel distances and estimated travel times from various cities and ports to Ennis, making it easy to reach Clare by car:
| Route | Distance | Travel Time |
| --- | --- | --- |
| Dublin to Ennis | 245 km | 2 hours and 37 minutes |
| Rosslare Ferryport to Ennis | 233 km | 3 hours and 15 minutes |
| Cork to Ennis | 136 km | 1 hour and 54 minutes |
| Limerick to Ennis | 39 km | 36 minutes |
| Galway to Ennis | 74 km | 56 minutes |
| Belfast to Ennis | 363 km | 4 hours and 2 minutes |
Please note that travel times can vary depending on factors such as the time of day, traffic levels, road works, and weather conditions.
It's also worth mentioning that peak traffic times in cities and major towns are typically between 07:00 hrs and 09:00 hrs, as well as between 17:00 hrs and 19:00 hrs, from Mondays to Fridays.
By Train
To reach Clare by train, head to the Ennis train station on Quin Road. It's conveniently located within a brief 10-minute walk from the town centre and is clearly marked with signs.
From this station, you can catch daily trains to various destinations such as Limerick, Cork, Dublin, and Galway. The routes served include:
Dublin Heuston/Limerick/Ennis
Ennis/Limerick/Cork/Tralee
Limerick/Galway
By Bus
To get to County Clare by bus, there are several options available. Bus Éireann provides connections from all major cities in Ireland.
The Big Green Bus operates daily with frequent services between Dublin and Ennis. Their Ennis bus stop is located at Friar's Walk Bus Park, behind the Temple Gate Hotel.
TFI Local Link is a bus service that links rural areas with national bus and rail services throughout Ireland. 
If you're heading to Ennis, the bus and rail station is located at Clonroad More, Ennis. For Dublin Coach services, the designated stop is the Friar's Walk Bus Park, behind the Temple Gate Hotel.
By Ferry
Clare can be reached by ferry through Shannonferries, which connects Kerry and Clare on the Wild Atlantic Way. The ferry trip takes 20 minutes and offers a scenic view of the Shannon Estuary and the Atlantic Ocean.
Tickets are available online or you can buy them on board, and enjoy a relaxing break from driving. Shannonferries operates every day except Christmas Day, with frequent sailings during peak season.
You can travel with any vehicle or as a foot passenger and might even see some dolphins along the way.
How to Get Around
The most convenient mode of transportation in County Clare is by car. With its compact size, you can easily reach any part of the county within a morning or afternoon.
If you need to know the distances (in kilometers) and approximate travel times between specific locations, you can find this information on County Clare's official website.
Neighborhoods to Visit
Ennis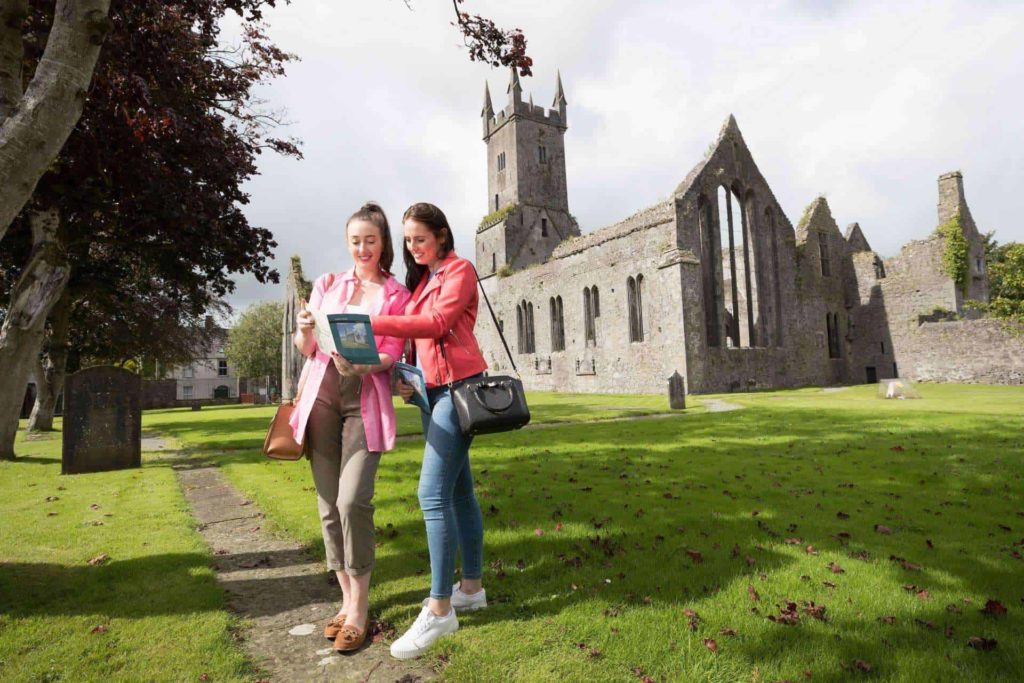 Ennis, the county capital of County Clare, seamlessly blends its rich history with modern influences, creating a unique character.
It's also known as 'The Boutique Capital of Clare', offering a wide range of shops to cater to all tastes. The town is lined with these shops, providing plenty of options for shopping enthusiasts.
Additionally, Ennis has numerous pubs that showcase live traditional Irish music, perfect for music lovers. With a variety of fantastic hotels available, visitors can find accommodations that suit their budget while ensuring a top-quality experience.
Lisdoonvarna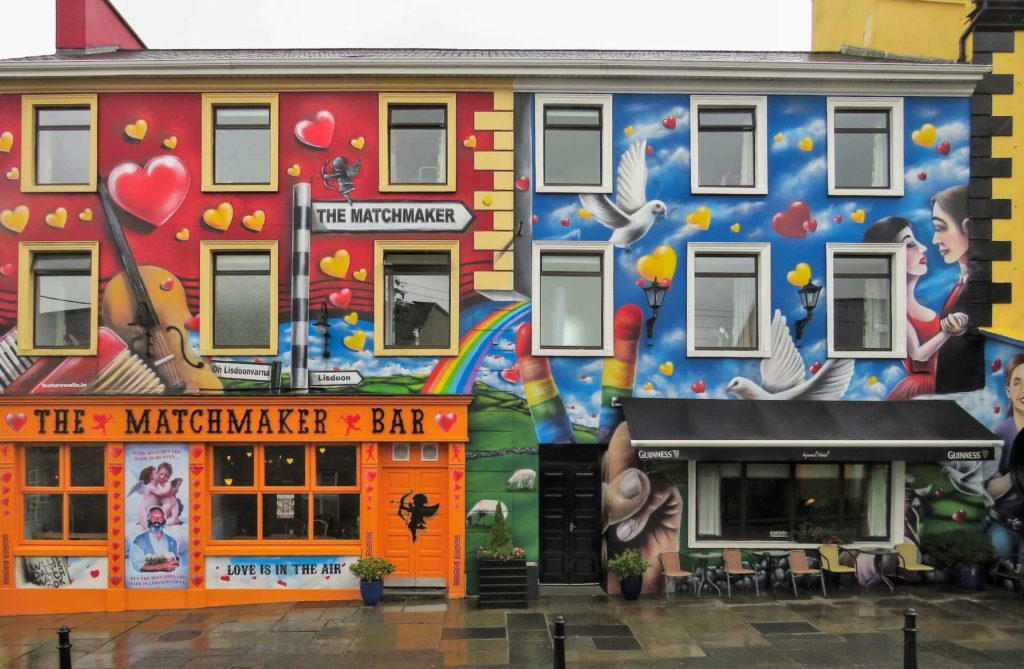 Lisdoonvarna, located in north Clare, is renowned as Ireland's top spa town. In addition to its spa facilities, the town is also celebrated for its vibrant music scene and annual festivals that attract numerous visitors annually.
One of the town's most notable events is the 'Lisdoonvarna Matchmaking Festival,' recognized as one of Europe's most prominent gatherings for singles seeking companionship.
Moreover, Lisdoonvarna offers a delightful retreat for those seeking relaxation and enjoyable social experiences. The town boasts a diverse range of exceptional hotels, pubs, and restaurants for visitors to savor.
Lahinch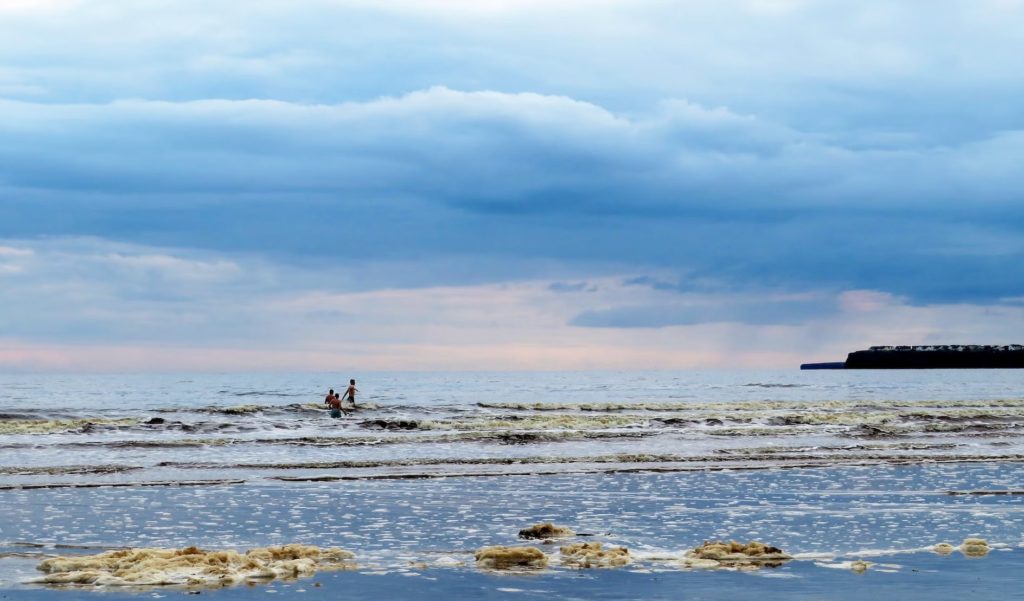 For a well-run, lively, and family-focused holiday resort, Lahinch is the place to be. With its 2 km long golden sandy beach, it's a haven for water sports enthusiasts and has gained a reputation as one of the world's top surf centers.
Along the promenade, you'll find charming shops, pubs, and restaurants to enjoy. Plus, Lahinch offers some of the most incredible Airbnb accommodations in County Clare.
Kilkee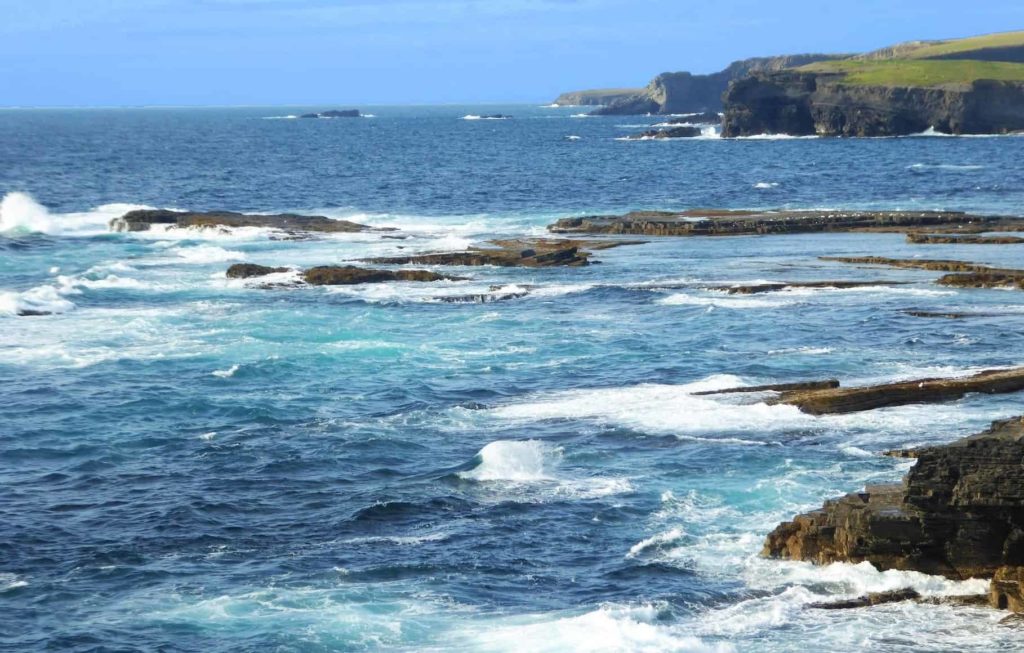 Located in Moore Bay, Kilkee is a town that has been a popular tourist spot since the Victorian era. It was considered a great destination by the wealthy due to its unique weather, natural attractions, and desirable bathing spots.
Despite its 19th-century Victorian charm, Kilkee now offers all the modern comforts and amenities one would expect on a vacation.
Kilkee is widely recognized as an excellent choice for beach lovers. The long sandy area between the promenade and the sea is considered one of the safest and most beautiful bathing spots on the west coast.
Shannon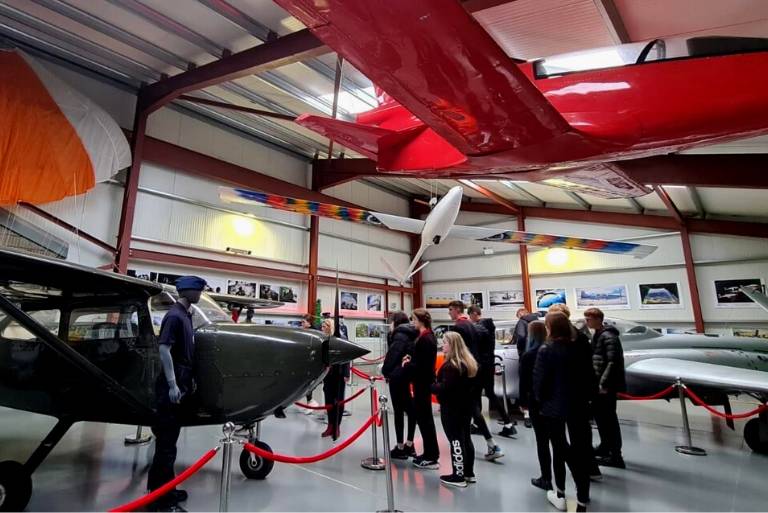 Shannon is a modern town in Ireland that attracts visitors with its aviation heritage, scenic walks and riverside drive. You can explore the Shannon Aviation Museum and, or enjoy the views of the Shannon Estuary from the walking trails or the golf course.
Shannon also has a rich history dating back to the Neolithic era, as well as a reputation for excellence in hotel management. It's often overlooked, but its lively pubs and beautiful scenery make it worth a visit.
Things to Do
Gaze at the Breathtaking Cliffs of Moher
As Ireland's Best Visitor Attraction and part of a UNESCO Global Geopark, the Cliffs of Moher offer a spectacular natural experience. From the safe paths along the cliffs, you can admire the diverse wildlife, the ocean scenery and the nearby landmarks.
Knowledgeable guides are available to share the cliffs' fascinating history, mythology, geology, and folklore. For those with mobility issues, the 'Lifts of Moher' electric vehicle is available for transportation to the viewing areas.
Visit Bunratty Castle & Folk Park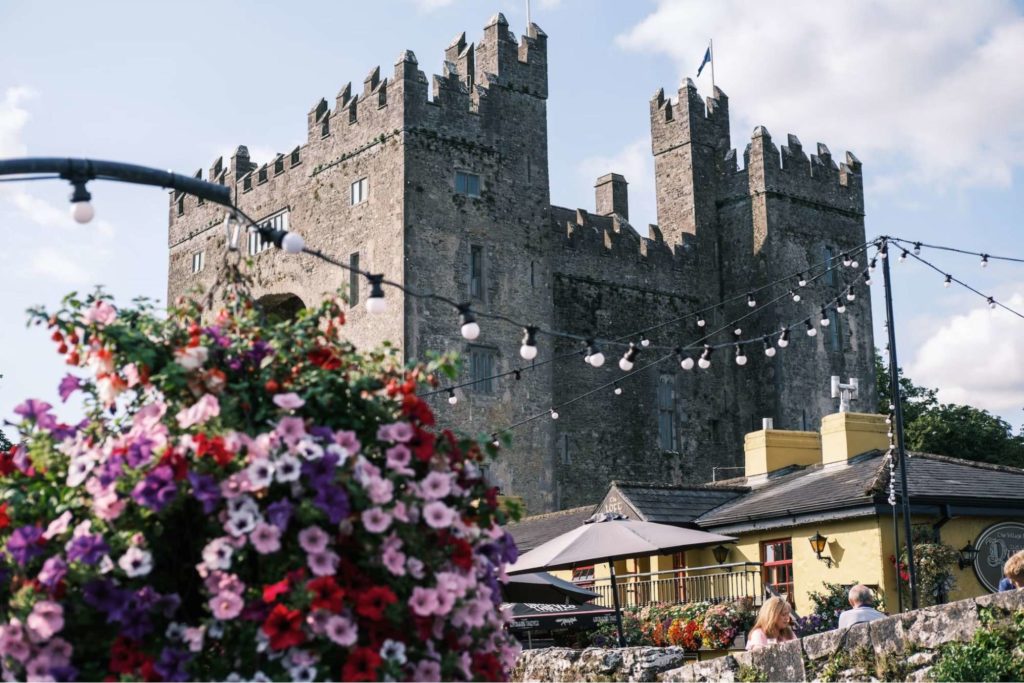 Bunratty Castle & Folk Park is a must-see attraction that combines history and culture. Visitors can explore the restored castle, recreated village, and farm to experience early 20th-century Irish life and meet friendly animals.
For a touch of magic, the interactive Fairy Trail offers a whimsical adventure through enchanted woods and gardens. The Viking playground and regency walled garden provide additional attractions and stunning views of the Clare countryside.
Explore Ailwee Cave & Doolin Cave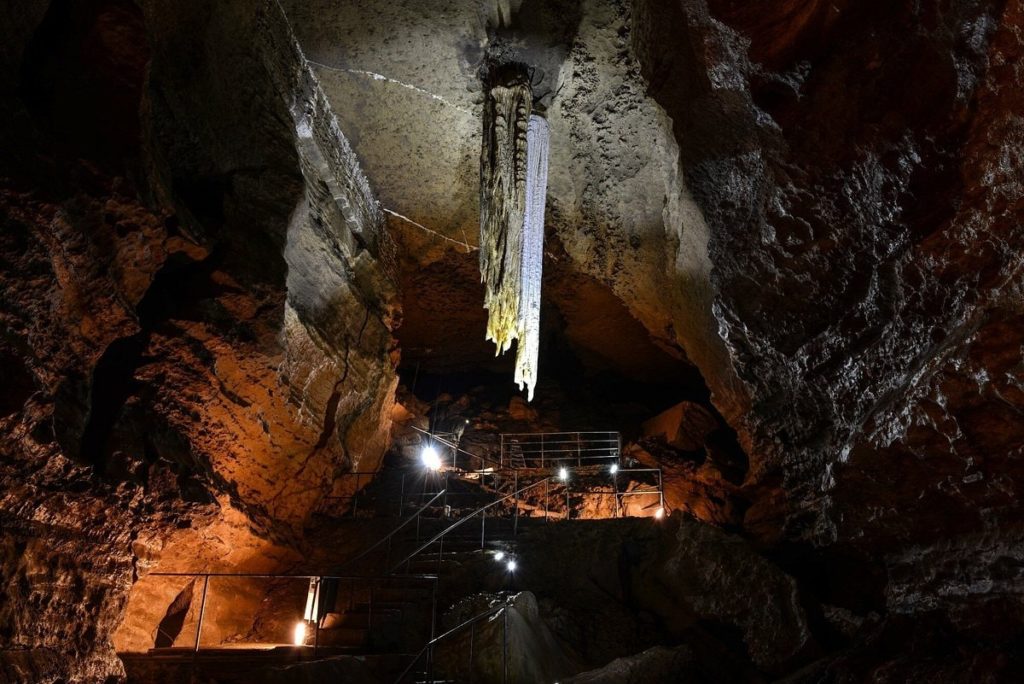 County Clare is home to two renowned caves, Aillwee Cave and Doolin Cave. A tour of Aillwee Cave takes visitors through winding passages, chasms, and even an underground waterfall.
Meanwhile, Doolin Cave boasts the largest stalactite in Europe. At Aillwee Burren Experience, visitors can explore the cave, enjoy interactive flying displays of Birds of Prey, and browse the farm shop with its award-winning Burren Gold Cheese.
Aillwee also offers a self-guided biodiversity walk through its woodland. On the other hand, Doolin Cave has a deep underground experience and a nature trail.
Discover the Unique Landscape of The Burren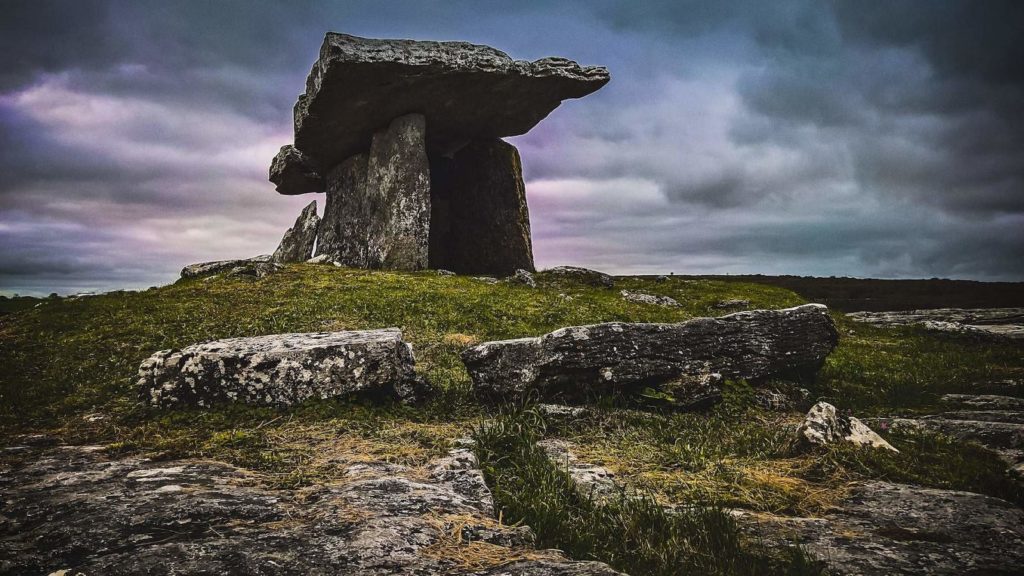 A karst limestone ecosystem with native flora and fauna, the Burren is a rare and precious site. It offers historical and cultural attractions, such as the Poulnabrone Dolmen, and scenic pastoral countryside views.
The Burren Centre provides valuable information about the area's limestone pavement. The Burren is also renowned for its food, with the Burren Food Trail, where you can try local dishes and join themed events and tours.
Relax on the Beaches of Lahinch and Fanore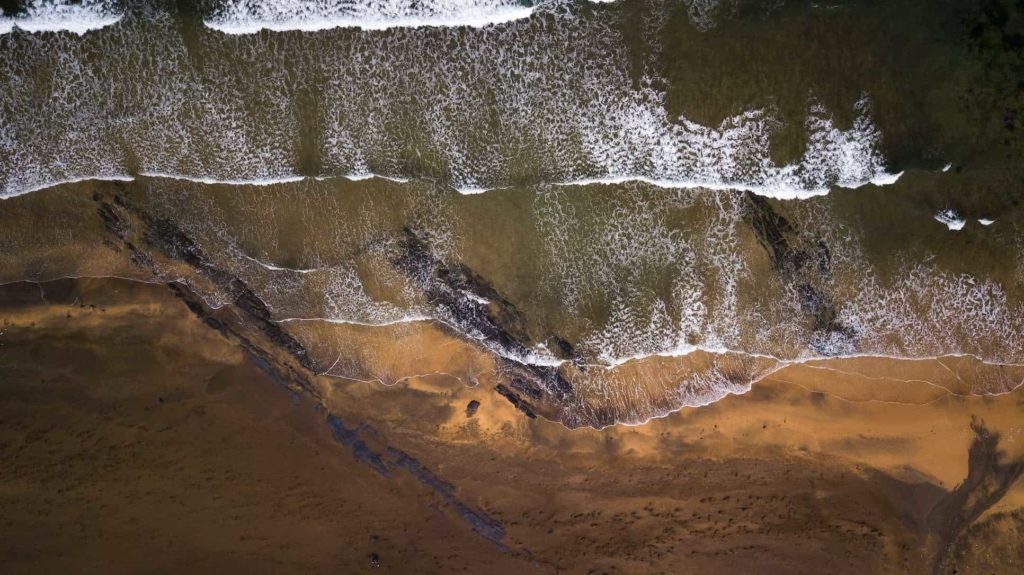 If you are looking for a beach getaway in County Clare, you might want to visit both Lahinch and Fanore beaches.
These two sandy beaches offer stunning views of the Atlantic Ocean and the surrounding landscapes and plenty of opportunities for water sports and outdoor activities.
Both beaches are lifeguarded during the summer and have information boards for convenience. You can also explore the nearby attractions, such as the Cliffs of Moher and the Burren, and enjoy this region's natural beauty and diversity.
Experience the Beauty of Loop Head and Lighthouse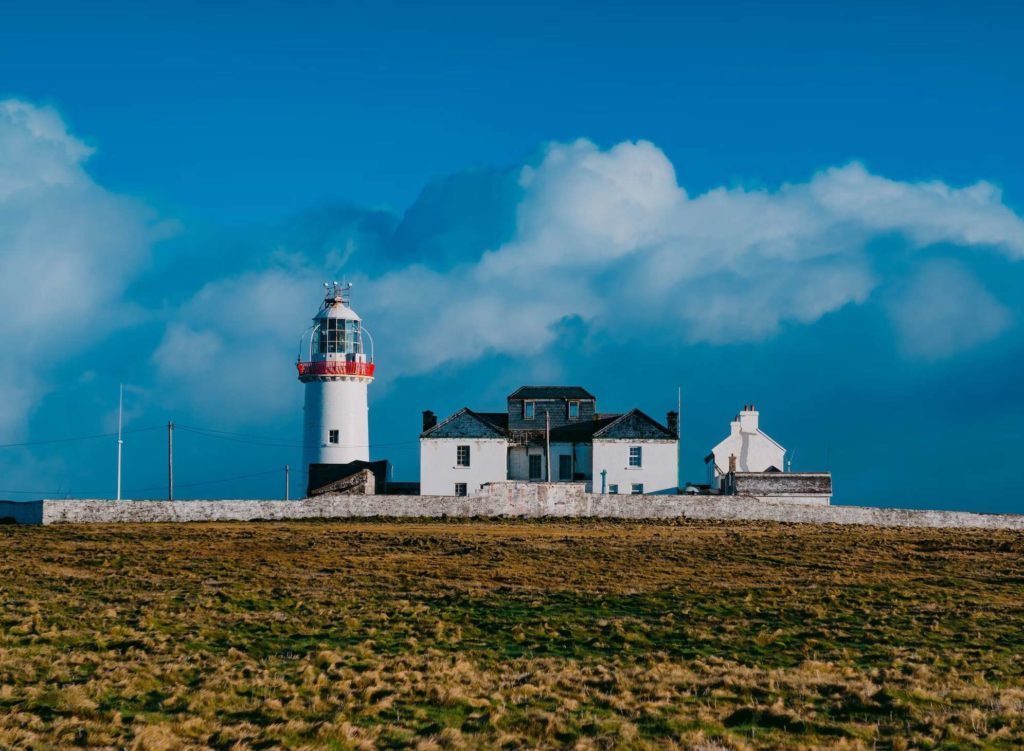 Loop Head Peninsula is easily recognizable on the map as it extends into the Atlantic Ocean in County Clare. At the peninsula's very tip lies Loop Head Lighthouse, offering breathtaking views that span from Kerry to the Cliffs of Moher.
Standing atop the lighthouse, the only barrier between you and the sea is the massive white letters spelling out EIRE carved into the grassy headland during World War II to indicate to pilots that they were entering neutral airspace.
Play a Round of Golf at Clare's Scenic Courses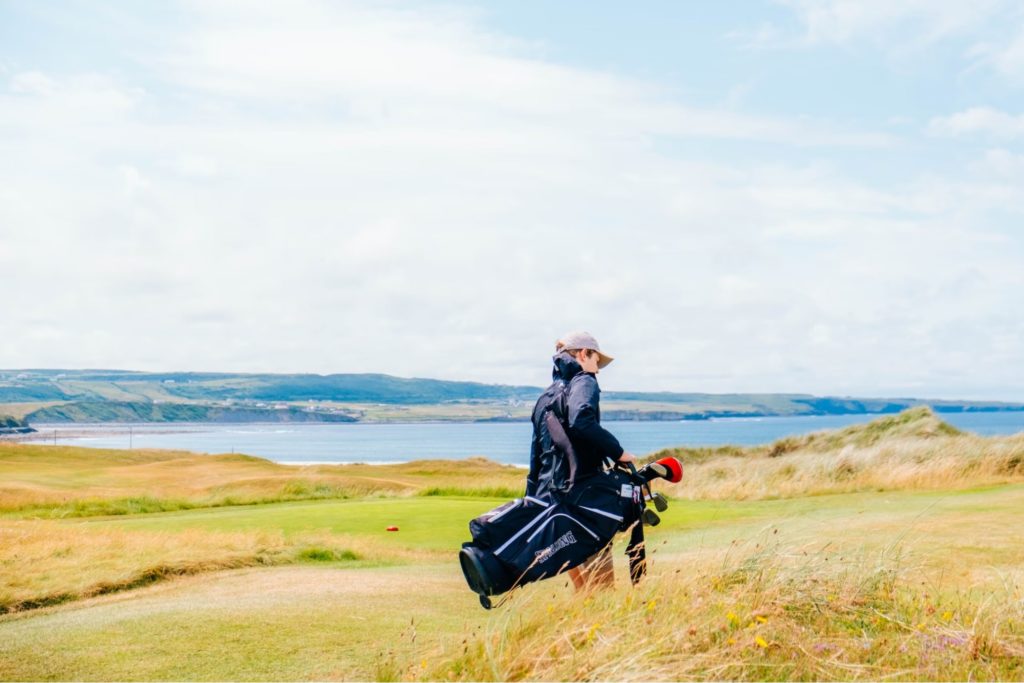 Clare is the place to go for those looking for a golfing experience that combines stunning scenery, challenging terrain, and world-class design.
You can play at Lahinch Golf Club's Old Course, which dates back to 1892 and is often called the "Saint Andrews of Ireland" for its views of the Atlantic Ocean and its natural features that create a rugged test of links golf.
Or you can try Trump International Golf Links Doonbeg, which was designed by Greg Norman. You'll enjoy spectacular views of the wild Atlantic from 16 of the 18 holes and a varied layout that changes with the wind. 
Embark on an Adventure to Scattery Island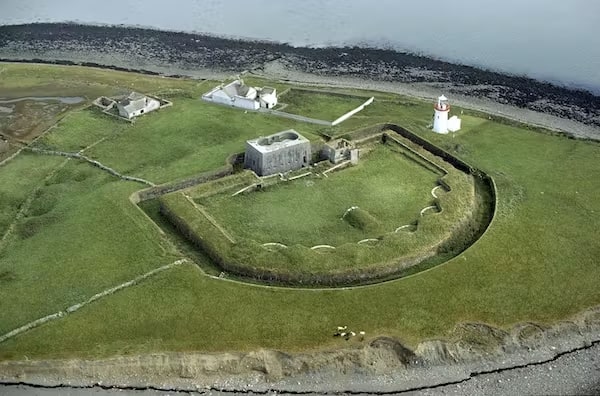 Scattery Island is a hidden gem in West Clare, where the River Shannon meets the sea. You can take a boat from Kilrush Marina in the summer and explore the island's rich history.
You'll see 'The Street', a deserted village, and a holy well with healing powers. You'll also admire the 6th Century monastery of St Senan, who resisted the Vikings, and the O'Cahane castle and battery, which defended against the French.
Join the Festivities at the Matchmaking Festival
Matchmaking Festival, Europe's biggest singles festival in Lisdoonvarna, is an event you shouldn't miss in Clare. Every September, this Irish festival welcomes people worldwide who want to enjoy a bit of 'craic.'
Unlike online dating services, this festival offers you the chance to meet Ireland's only traditional matchmaker Willie Daly, who has a 'lucky book' that can help you find your soulmate in six months if you touch it with both hands.
The festival has a history of over 165 years and features music and dancing in every bar from noon to late night.
Admire the Stunning Bridges of Ross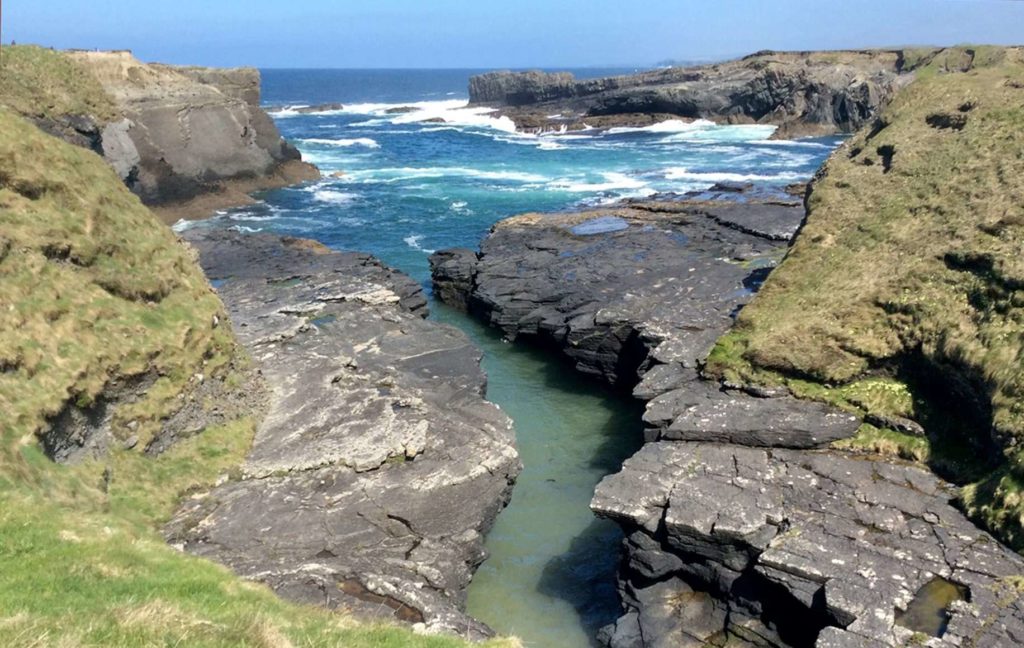 One of the most scenic spots on the Wild Atlantic Way is the Bridges of Ross, a single rock arch that overlooks the ocean and the coast. You can reach it by following a path from the car park near Ross Bay, 8km west of Carrigaholt.
The Bridges of Ross used to be three arches, but two of them collapsed over time. The remaining bridge is still a stunning sight, especially in autumn when you can see many seabirds flying over it before they migrate for winter.
Where to Eat
Earl of Thomond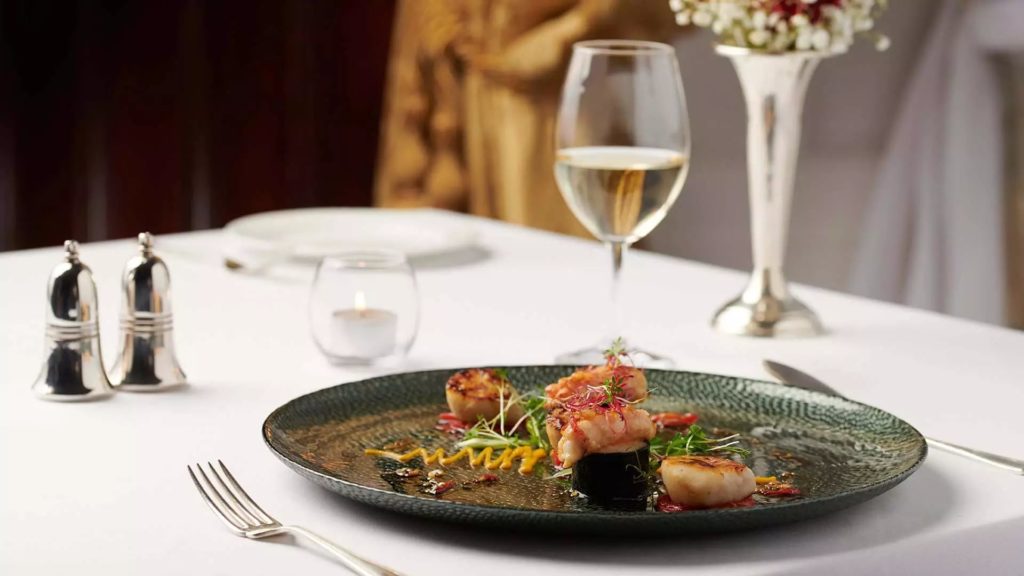 Website: https://www.dromoland.ie/dining/dining-earl-of-thomond/ 
Address: Newmarket-On-Fergus, Co. Clare
Phone: +353 61 368144
Operating Hours:
Open Daily
Breakfast – 7:30 AM to 10 AM
Lunch – 1 PM to 4 PM
Dinner – 7 PM to 9:30 PM
Earl of Thomond offers a fine dining experience with panache, innovation, and outstanding Irish sea and land produce. Executive Head Chef David McCann creates exquisite dishes combining classical techniques and modern flair.
You can choose from a la carte or tasting menus, with vegetarian and vegan options, in a cozy setting with harp music and estate views. Earl of Thomond is a restaurant that serves Irish cuisine with Dromoland magic.
Pepper's Pub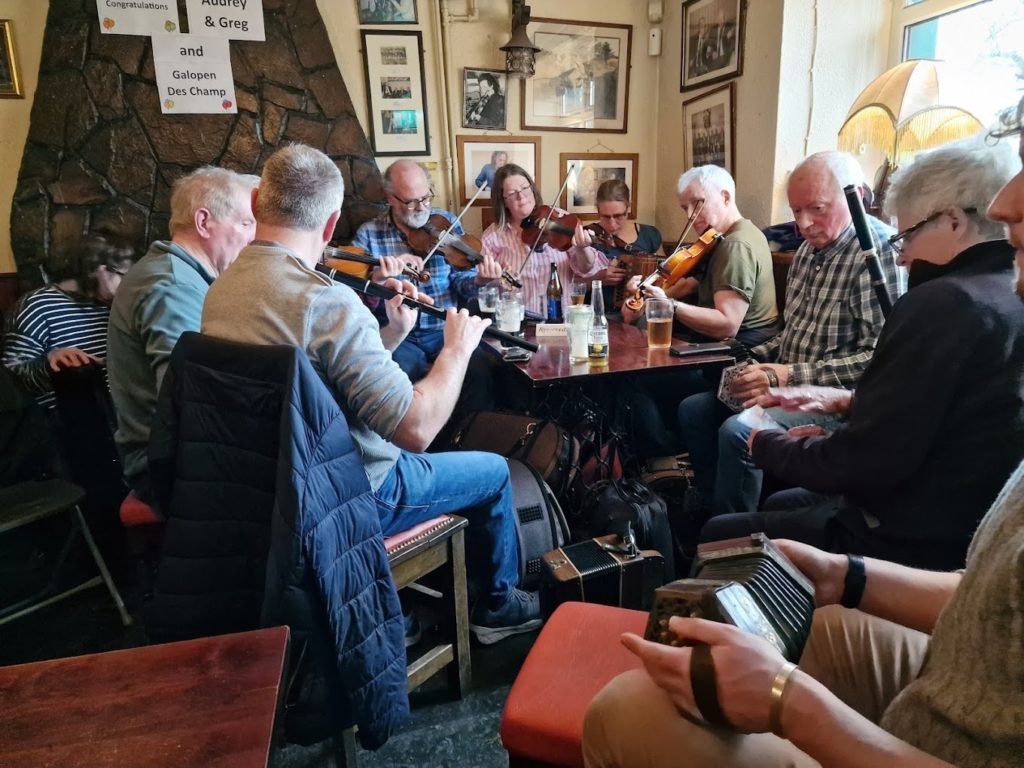 Website: https://www.facebook.com/people/Peppers-pub/100063606398561/ 
Address: Feakle, Feakle East, Co. Clare
Phone: +35361924322
Operating Hours: Open Daily – 1 PM to 8:30 PM
Pepper's Pub is renowned for its lively music scene and daily food offerings. With its warm and inviting ambiance, this pub exudes true Irish hospitality.
Their menu features a range of delicious homemade traditional dishes, including starters, mains, desserts, and even a children's menu.
Additionally, Pepper's Pub is famous for hosting live music sessions, attracting renowned musicians such as Martin Hayes, Liam O' Flynn, Matt Molloy, Sharon Shannon, and Kevin Crawford.
Glas Restaurant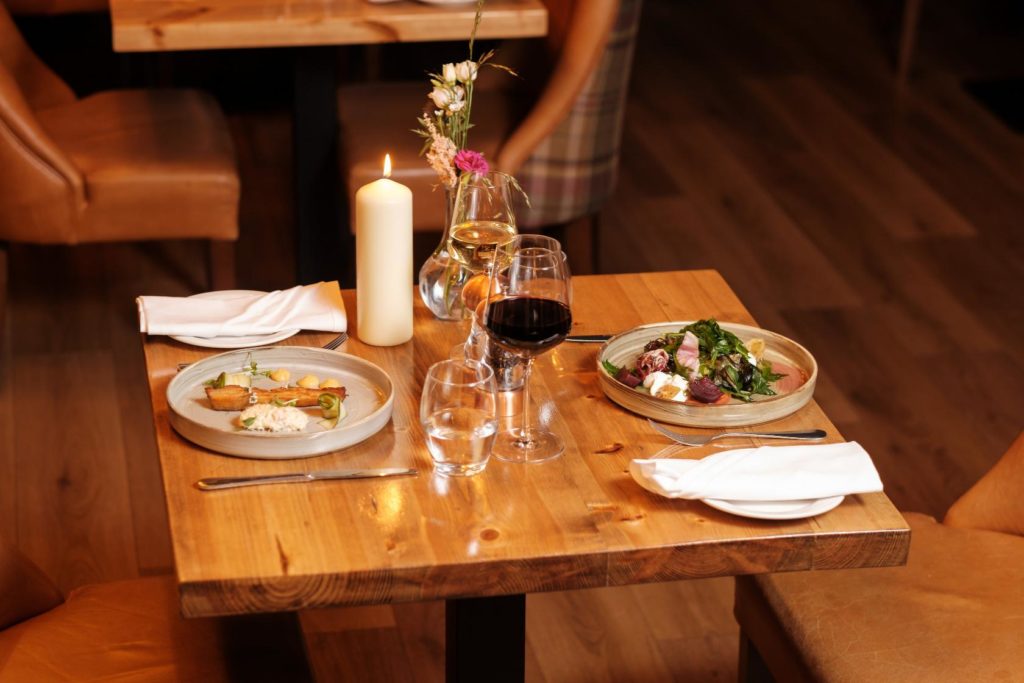 Website: https://www.hoteldoolin.ie/glas-restaurant.html
Address: Rivervale, Doolin, Co. Clare
Phone: +353 65 707 4111
Email: [email protected] 
Operating Hours: Thursday to Sunday – 6:30 PM to 9 PM
Glas Restaurant offers a fresh and sustainable dining experience with a 30-mile menu. All ingredients are sourced within 30 miles of the hotel, ensuring the highest quality for seafood, vegetables, cheese, breads, and desserts.
Some of the recommended menu items are the lobster and crab from Michael O'Connell of Doolin, the oysters from Flaggy Shore Oyster, and the chocolate from Hazel Mountain.
The Old Bakehouse Restaurant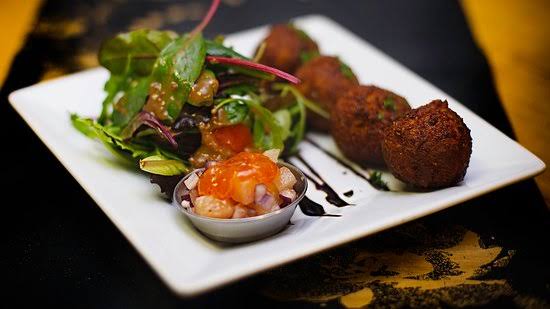 Website: http://www.theoldbakehouse.ie/
Address: Main St, Leagard South, Miltown Malbay, Co. Clare
Phone: 353 (0)65 7084350
Email: [email protected]
Operating Hours:
Open Daily
Lunch Menu – 1 PM to 5:30 PM
Dinner Menu – 6 PM to 9 PM
The Old Bakehouse Restaurant serves fresh, delicious seafood dishes, both traditional and exotic. Eddie's culinary expertise and Irene's warm service ensure a delightful dining experience.
The walls of the restaurant are adorned with captivating pictures, and the decor features warm tones of light browns, creams, and reds, along with a cozy low ceiling, creating a comfortable and homely ambiance.
Barrtrá Seafood Restaurant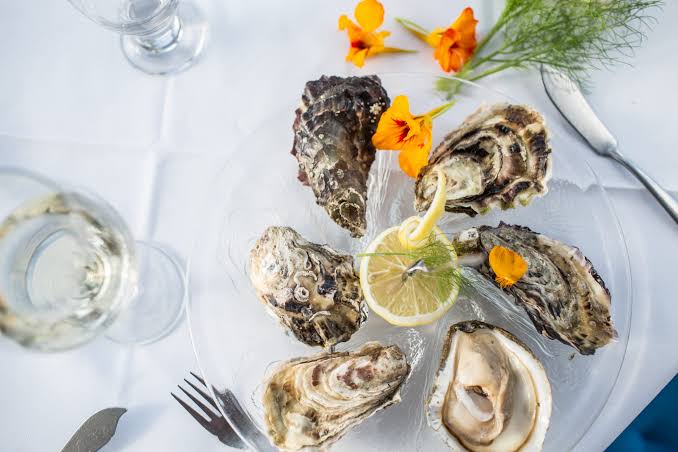 Website: https://barrtra.com/ 
Address: Barrtrá, Lahinch, Co. Clare
Phone: (065) 7081280 
Email: [email protected] 
Operating Hours:
Wednesday to Saturday – 5:30 PM to 9 PM
Sunday – 12 PM to 7 PM
Barrtrá Seafood Restaurant has been a family-run business since 1988, in front of the scenic Liscannor Bay. You can enjoy the stunning view of the water, especially during the evening when the sun sets.
Barrtrá's 'Surprise Seafood Menu' offers 5 courses of meat, seafood, or vegetarian dishes for €35, or €25, respectively. It's a delightful surprise, always fresh and beautifully presented.
Where to Stay
Old Ground Hotel Ennis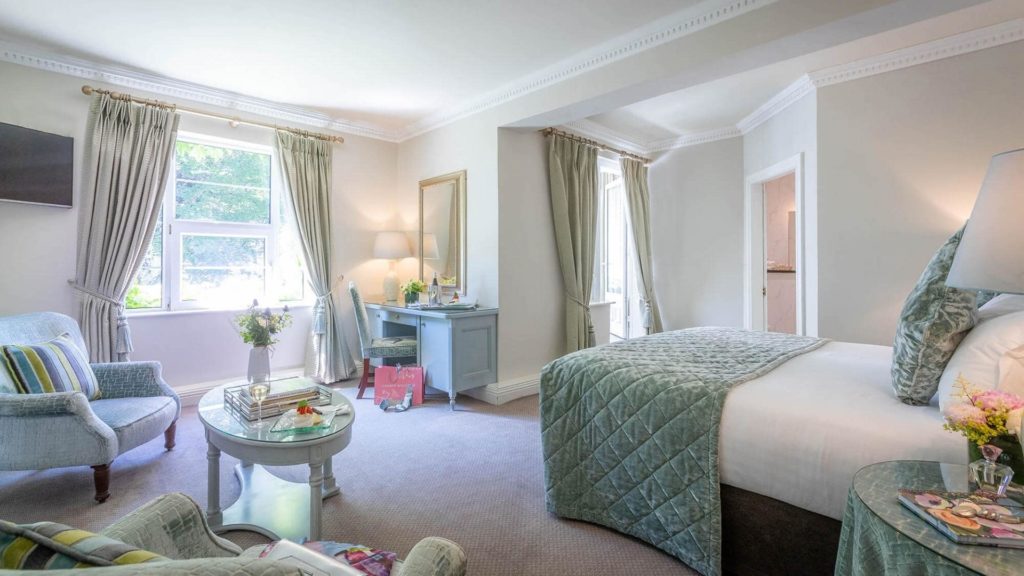 Website: https://oldgroundhotelennis.com
Address: O'Connell Street, Ennis, County Clare
Phone: +353 65 689 2333
Email: [email protected]
The Old Ground Hotel is a renovated manor house that dates back to the 18th century, and it offers its guests a warm Irish hospitality.
You can enjoy spacious and comfortable rooms, as well as easy access to some of the most scenic attractions in the country, such as the Cliffs of Moher and the Wild Atlantic Way.
The hotel also has a great reputation for its food, which is made with fresh local produce, and its cozy and charming atmosphere. Plus, it's only a short drive from the airport, so you won't have to worry about transportation.
Dromoland Castle Hotel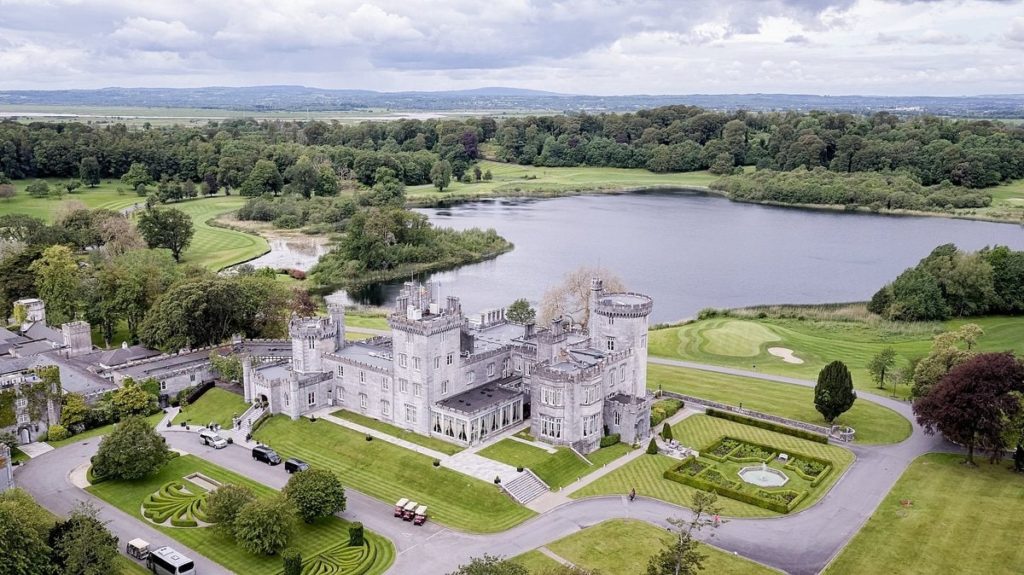 Website: https://www.dromoland.ie/ 
Address: Dromoland Castle Hotel, Newmarket-On-Fergus, County Clare
Phone: +353 61 368 444 
Email: [email protected]
Dromoland Castle offers a luxurious experience for travelers who want to explore County Clare and its surroundings. The castle is beautifully decorated and has a high-quality restaurant, as well as stunning views and cozy rooms.
The hotel has a five-star rating and features a golf course, a spa, and a large 450-acre estate for guests to enjoy.
Sheedy's Boutique Hotel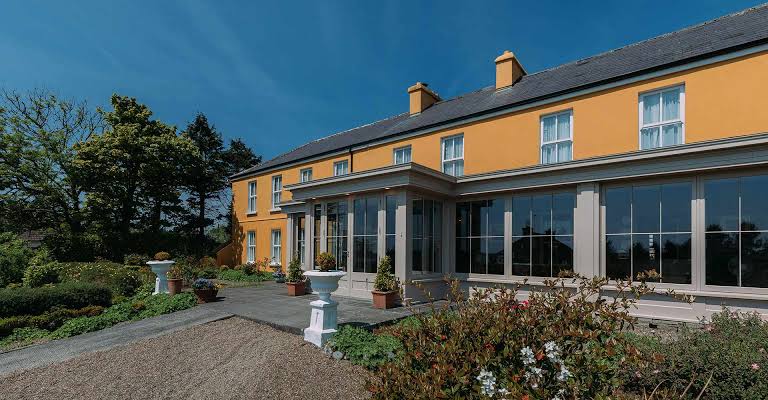 Website: https://sheedys.com/ 
Address: Lisdoonvarna, North Clare
Phone: +353 (0) 65 707 4026
Email: [email protected] 
Sheedy's is a family-run four-star hotel and restaurant in the Burren and Cliffs of Moher UNESCO Global Geopark. It dates back to the 1700s and is a member of Original Irish Hotels and the Burren Ecotourism Network.
The hotel is close to the Cliffs of Moher Visitor Centre and the lively pubs of Lisdoonvarna and Doolin. Sheedy's has won awards for its walking breaks and its restaurant, which serves local food from Easter to September.
Lahinch Coast Hotel & Suites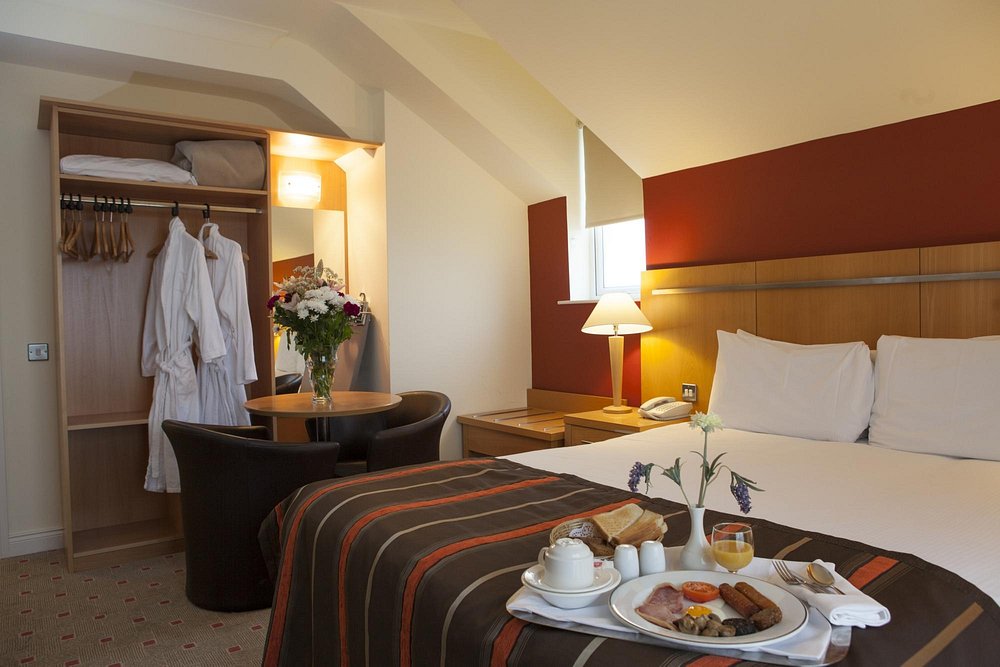 Website: https://www.lahinchcoasthotel.ie/ 
Address: Lahinch, Co. Clare
Phone: +353 (065) 7081100
Email: [email protected] 
Lahinch Coast Hotel & Suites, is a four-star seaside hotel where you can relax in one of the 144 rooms, some with lounge and kitchenette facilities for families.
The hotel features a leisure centre with a 17-meter pool, a bar and restaurant with local food and drinks in a cozy "Gastro Style" setting, and a fairy-themed fun area for children.
You can also explore Clare's Wild Atlantic Way, with its stunning attractions such as surfing, golfing, the Burren, the Aran Islands and the Cliffs of Moher.
Bay View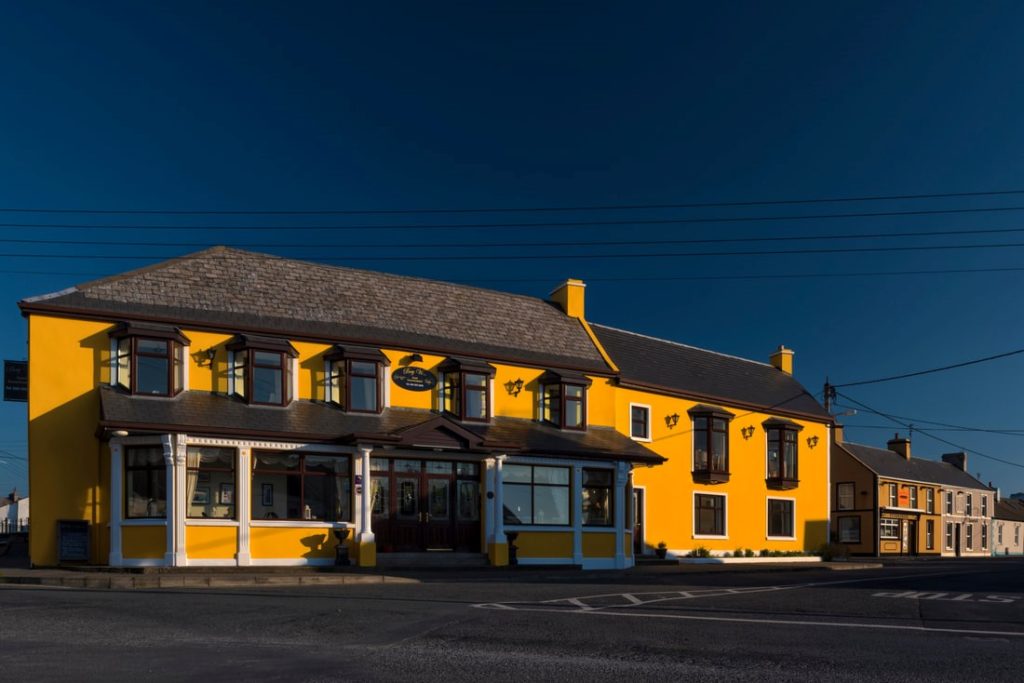 Website: http://www.bayviewkilkee.com/ 
Address: O'Connell Street, Kilkee, Co. Clare,
Phone: +353 (0)65 905 6058
Email: [email protected] 
The Bay View is a family-owned hotel in Clare that has been welcoming guests since the 1880s. It has cozy double rooms with free wi-fi and stunning views of the beach.
At The Pier Restaurant, you can savor local delicacies like seafood chowder and Black Angus beefburger, while admiring the bay view from the cozy parquet floor. For some Irish fun, visit Hickies Bar and enjoy live music and culture.
Shannon Springs Hotel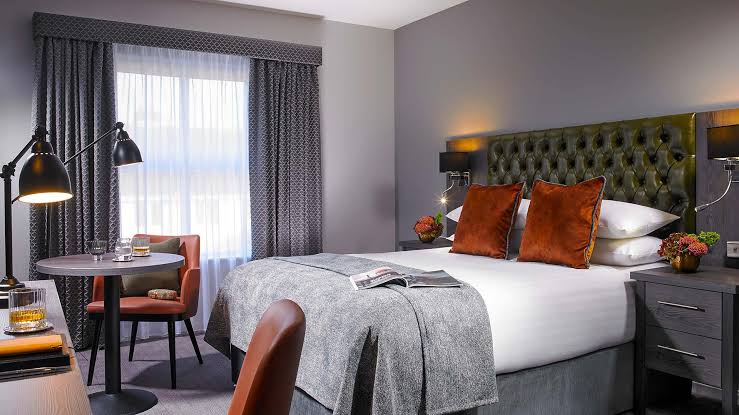 Website: https://www.shannonspringshotel.com/ 
Address: Ballycasey, Shannon, Co. Clare,
Phone: +353 (0) 61 364 588
Email: [email protected]
Shannon Springs Hotel is a unique and cozy hotel near Shannon Airport and Clare's attractions. It blends country pub charm, live music, award-winning food, and modern design and art in the lobby and rooms.
You'll enjoy the comfort and tranquility of the bedrooms, where you can rest and recharge for your next adventure. The Shannon Springs Hotel will make you feel welcome and inspired whether you're here for business or pleasure.
Where to Shop
The Rock Shop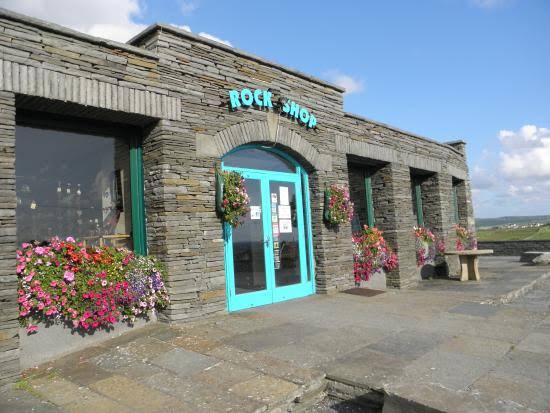 Website: https://therockshop.ie/ 
Address: Dereen, Liscannor, Co. Clare
Phone: 065 7081930
Email: [email protected] 
The Rock Shop in County Clare offers a variety of rocks, fossils, jewellery and gifts from Ireland and abroad. You can admire the impressive collection of stones, crystals, marble and onyx, and buy something special for yourself or a loved one.
The Rock Shop has a cozy tea room overlooking Liscannor Bay. Here, you can savor homemade cakes, soups, and coffee, while also exploring a video on local quarrying history and various flagstone types in the area.
The Clare Jam Shop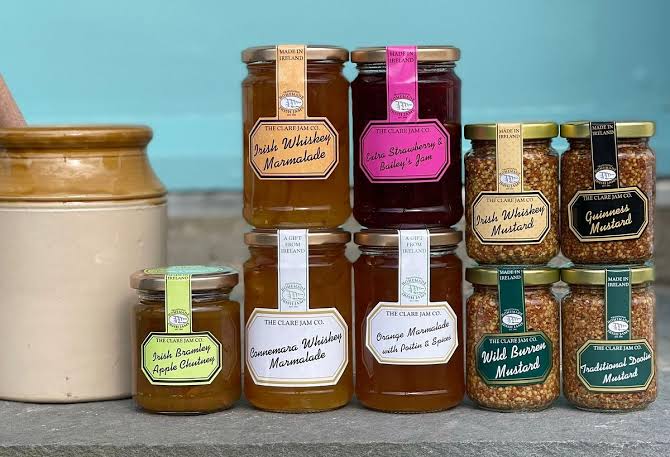 Website: https://theclarejamcompany.com/ 
Address: Lough North, Doolin, Ireland
Phone: +353657074778
Email: [email protected] 
Operating Hours: Open daily – 9 AM to 6 PM
A family-run business, the Clare Jam Shop has been crafting delicious jams and other preserves for three decades.
Using only natural ingredients from quality sources, they create a range of products that reflect the beauty and charm of the West of Ireland coast.
Their shop offers a unique opportunity to sample their extra-fruit jams, marmalades, jellies, chutneys, mustards and condiments, all made with traditional Irish methods.
Chapel Lane Market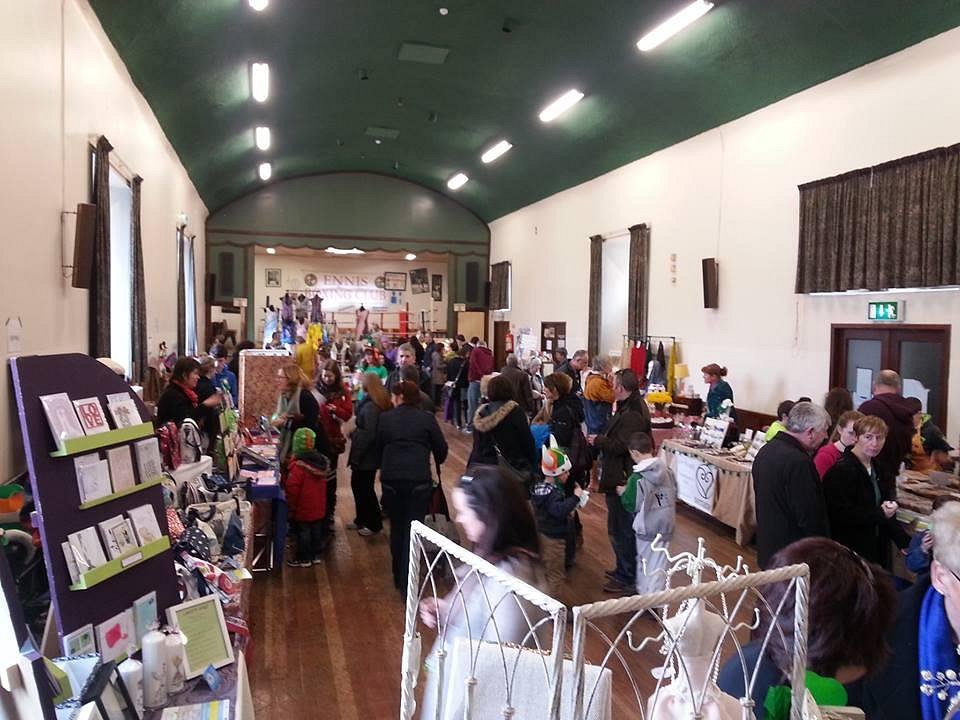 Website: https://www.facebook.com/ChapelLaneMarket/ 
Address: Chapel Lane Community Centre, Ennis, Ireland
Email: [email protected] 
Operating Hours: Every Saturday – 10 AM to 5 PM
Chapel Lane Market is a community-run market that specializes in locally produced crafts and products. The market offers a variety of items such as jewellery, pottery, paintings, candles, soap, and more.
It's a hidden gem for visitors who want to experience the creativity and culture of Ennis, and support local artisans and entrepreneurs. It's easily accessible by foot from the town centre.
Ennis Book Shop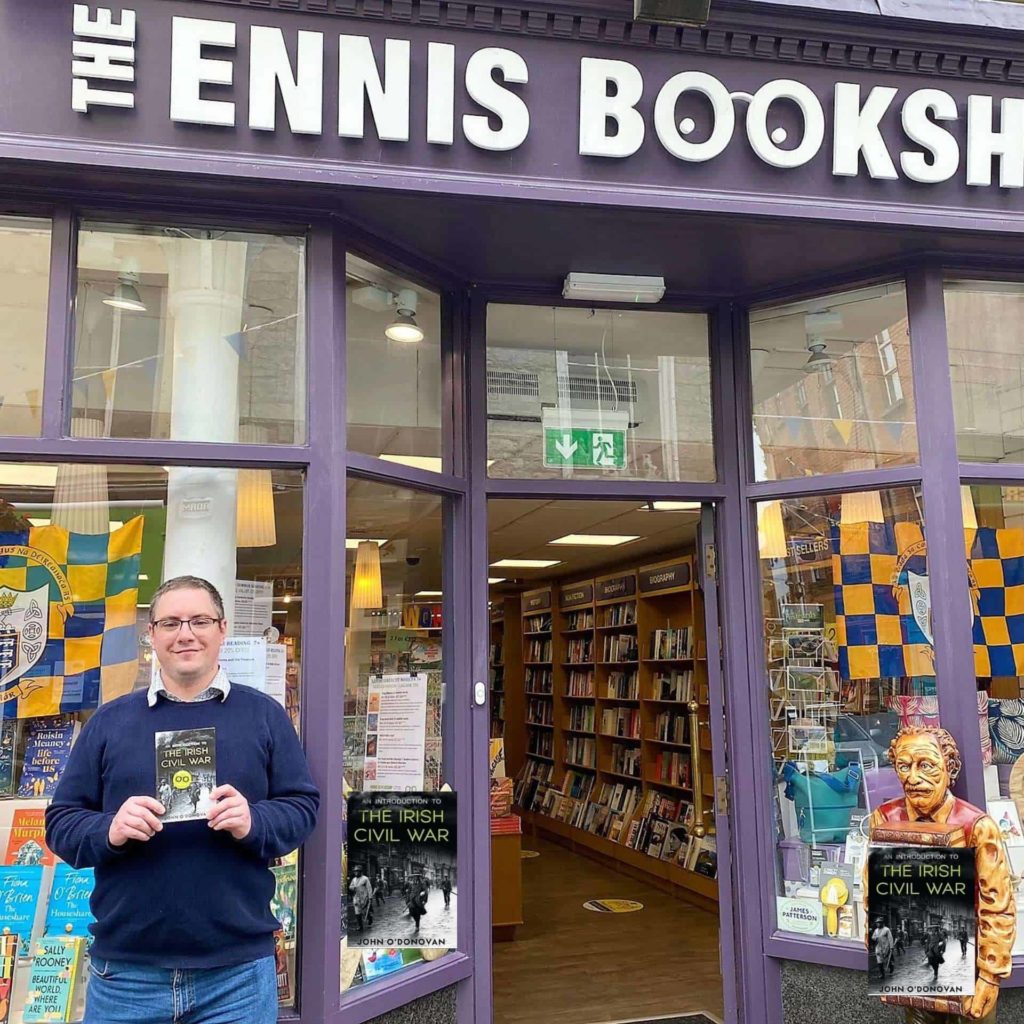 Website: https://www.ennisbookshop.ie/ 
Address: 13 Abbey Street, Ennis, County Clare
Phone: +353 65 682 9000
Email: [email protected] 
Operating Hours: Monday to Saturday – 10 AM to 5 PM
A family-owned independent bookshop, Ennis Book Shop has been serving the community since 1970. Founded by Mary and the late Michael Evans, the shop is now run by their daughter Dervilla.
The shop has a wide range of books for all tastes and interests, from popular fiction and memoirs to history and sports. You can also find gifts, cards, and crafts made by local artists.
Ennis Book Shop is a destination for book lovers, where you can explore new releases, find new favourites, or revisit the classics.
Kenny Woollen Mills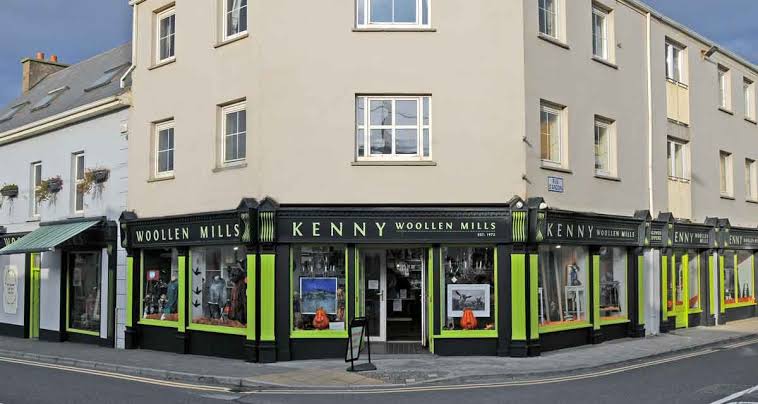 Website: https://kennywoollenmills.com/ 
Address: Main St, Lahinch, Co Clare
Phone: +353 65 7081400  
Email: [email protected] 
Operating Hours: Monday to Saturday – 10 AM to 6 PM
Kenny Woollen Mills offers a variety of Irish products, such as clothing, home decor, jewellery and golf accessories.
The shop welcomes visitors from Ireland and abroad, and showcases some of the finest Irish brands, including Waterford Crystal, Belleek China and Nicholas Mosse pottery.
Kenny's Lahinch Art Gallery, located inside the store, showcases and sells Irish-themed original artworks by local artists, especially new talents. Customers can order online and enjoy the convenience of the shop's delivery service.