What Is the Coolest Thing in Ireland?
Wondering about the coolest things to do in Ireland? We've got a couple of suggestions to make your visit interesting!
What Cool Activities to Explore in Ireland
Here are the coolest things to do in Ireland:
Attend festivals
Taste the cuisine
Visit the Lough Tay Lake
Drive along the Wild Atlantic Way
See the Dublin Zoo
Drink at the Guinness Storehouse
Shop 'til you drop
Trek at the Killarney National Park
Sightsee at the Cliffs of Moher
Stay at an ancient castle
Prepare for a memorable trip in Ireland and check out our recommendations in detail below.
Attend a festival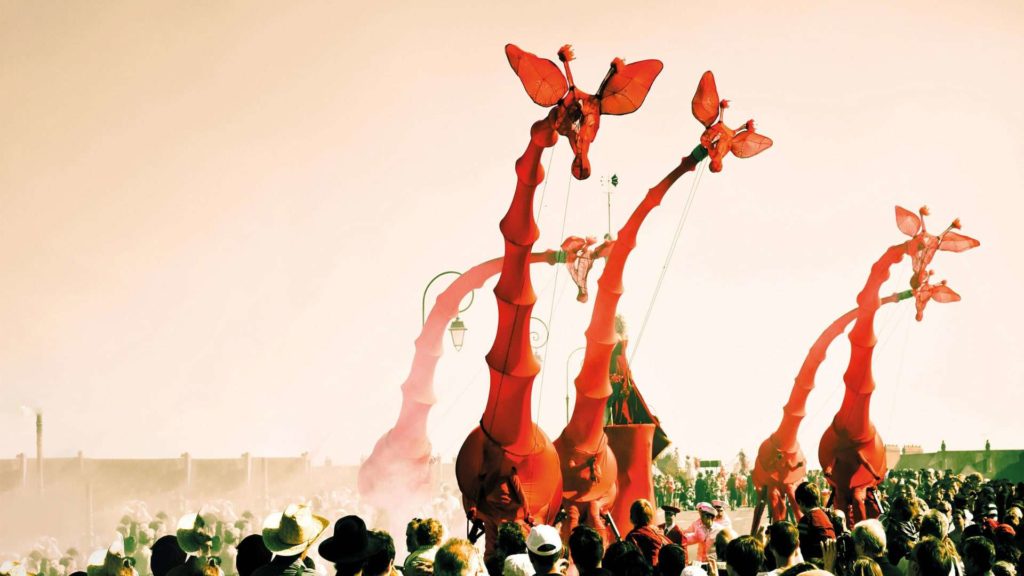 Do you like experiencing colourful events? Good for you, Ireland boasts a full calendar of festivals throughout the year! 
Many people travel from all over the world to attend Irish festivals since they're so popular. No matter what time of year it is, you can always go to an interesting cultural event in the country.
Because of this, accommodations may quickly sell out. To prevent any trouble, it's a good idea to make your hotel reservations as early as possible.
The following are some of the top annual festivals we think you should consider attending:
Every year in September and October, there is the Dublin Theatre Festival.
More than 400 artists from around the world attend the Galway Arts Festival, which is held in July.
You may watch the comic festival Kilkenny Cat Laughs, which takes place during the June Bank Holiday Weekend.
Travel tip: Even in the summer, Ireland's weather may be fickle. It's best to pack warm-weather and cool-weather attire, as well as rain gear, just in case.
Taste Irish cuisine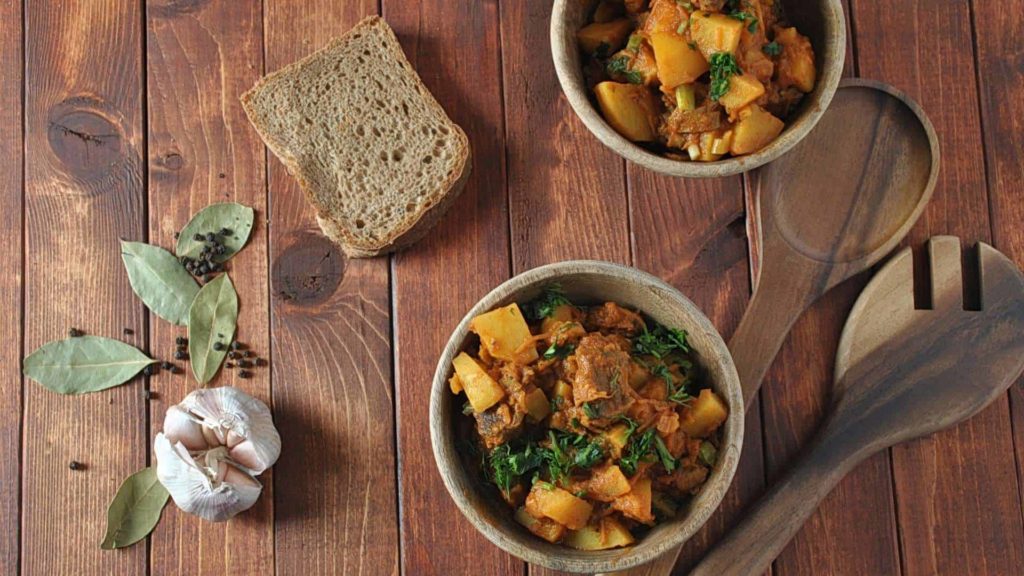 Given the abundance of restaurants where you can sample different cuisines, Ireland's culinary diversity will leave you with many options.
And what would the point of visiting Ireland be if you didn't try some real Irish food?
For us, the best way to characterise Irish food is as hearty. The most common elements in almost all recipes are potatoes, cabbage, and meat (particularly lamb and pork) but there's a big focus on using seasonal, local ingredients.
Don't limit yourself to eating burgers when you go to a restaurant. Even if you're a picky eater, why not try opening yourself up to the local cuisine as well?
Some of these are colcannon (mashed potatoes with cabbage), boxty (potato pancakes), seafood pie (chunks of fish topped with mashed potatoes and cheese), and Irish stew (a flavourful broth with lamb stew, potatoes, celery, carrots, and onions).
Who knows? You might find your new favourite meal in Ireland – without getting food poisoning, of course.
Friendly tip: Once you've had your fill, make sure to finish off your scrumptious meal in true Irish fashion with a glass of ice-cold Guinness or your preferred beer.
Irish culture and food both heavily rely on pubs. At many bars in Ireland, you can get traditional dishes like shepherd's pie and fish and chips, among other crowd favourites.
Visit the Lough Tay Lake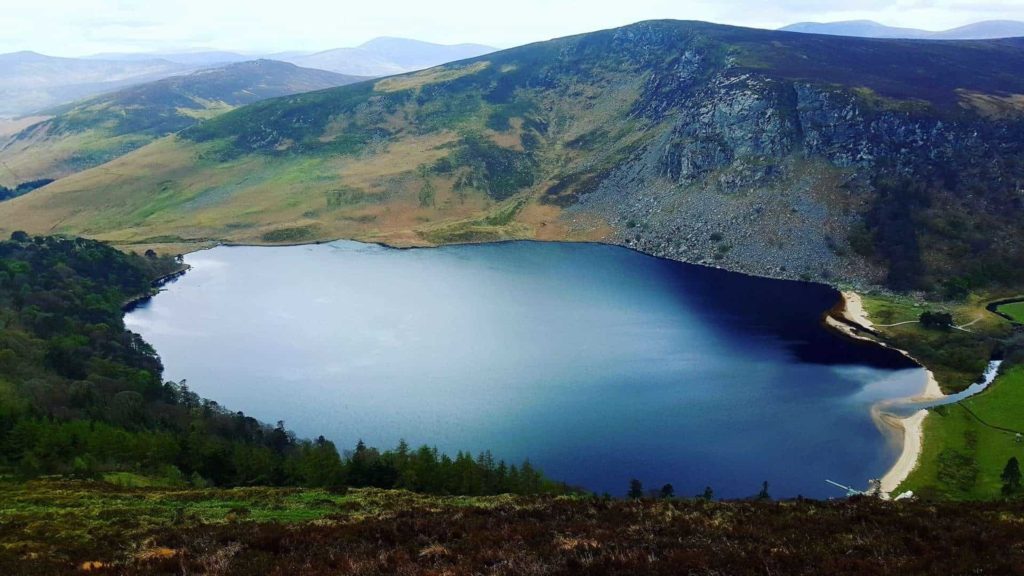 Lough Tay Lake is a picturesque body of water that's unquestionably worth a visit. It's located between the Luggala and Djouce mountains.
After climbing any of the mountains close by next to the lake, you can obtain a broad view of it. In dramatic contrast to the brown and green flora that covers much of the mountainous environment, the turquoise blue lake stands out.
When viewed from above, this area's white sand and dark, peaty water look remarkably like a pint of Guinness. You can be your own photographer and take lots of beautiful photos right here.
If hiking isn't really your thing, you can still take in the stunning sights of Guinness Lake without exerting much effort! Just go to the Lough Tay viewing point, park your car, and enjoy the view.
Still, we advise checking the weather before starting your journey because mist and rain might make it difficult to see.
Also, keep in mind not to go too far down because this area can get very slippery. Since the lake is on private property, you cannot access it anyway.
Drive Along the Wild Atlantic Way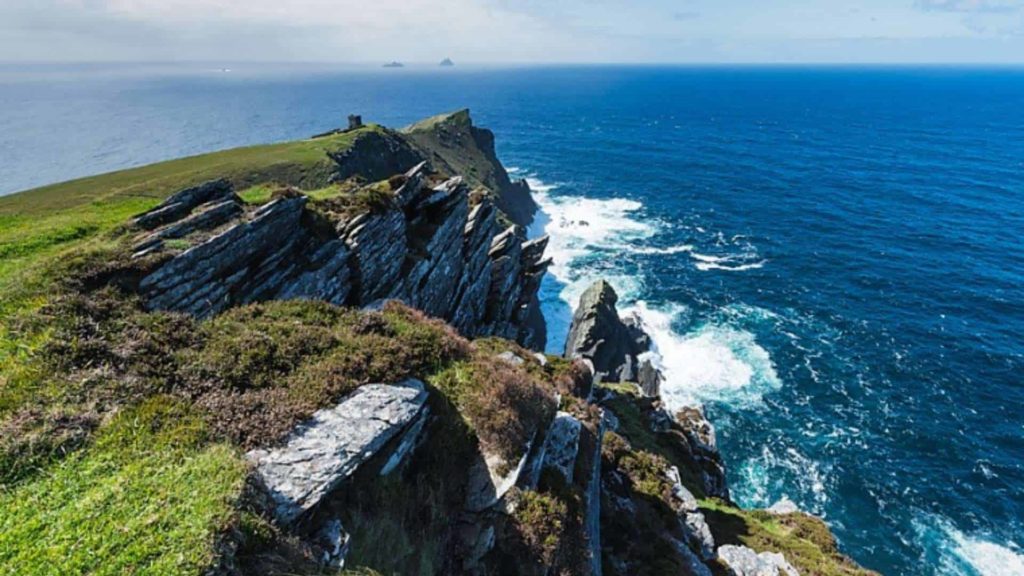 Do you want to feel closer to nature? Along Ireland's Atlantic coast, the Wild Atlantic Way goes through a variety of beautiful locations, such as beautiful beaches and bays.
It also travels through rivers, lakes, mountains, bare moorland, beautiful grassy fields, and dramatic coastal cliffs. We think every traveller, regardless of age, may find something to enjoy along the Wild Atlantic Way. 
We recommend wandering through rural areas, pausing for a cup of coffee in a charming village, or experiencing the eye-popping attractions of bustling cities while travelling.
Although there are companies that offer Wild Atlantic Way trips, you may also choose to have a road trip on your own.
Even if you had a month to spend travelling along the Wild Atlantic Way, there would still be so much to see and do between the natural beauty, hospitable people, food, culture, and legacy.
Travel tip: To avoid crowds, it's advisable to visit between spring and autumn. Several major tourist locations might get packed throughout the summer.
Explore the Dublin Zoo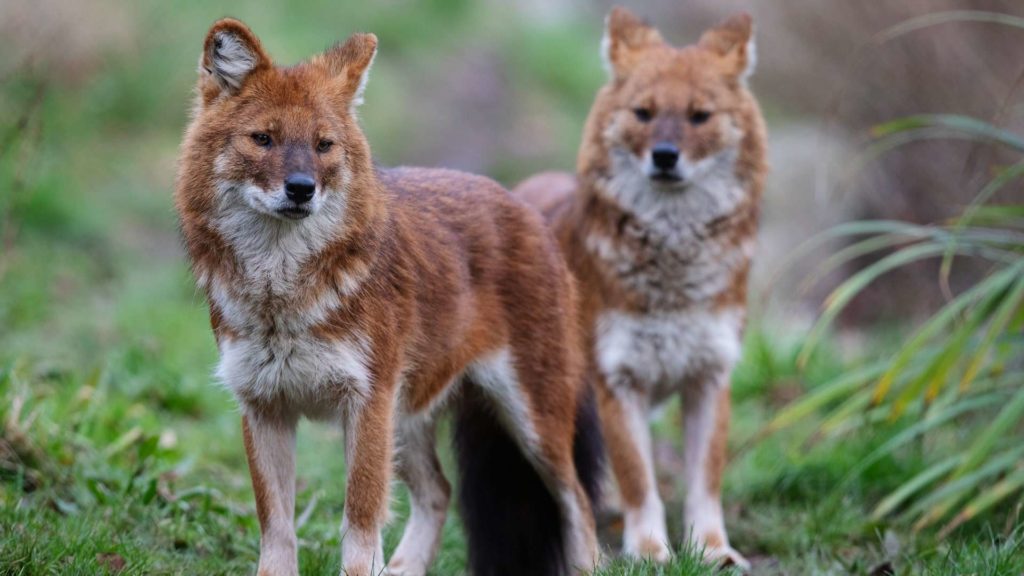 Are you an animal lover? Dublin Zoo is a fantastic place to visit if you happen to be travelling through Ireland with kids (or kids at heart!).
Animals from all over the world, including birds, reptiles, and mammals, can be found here. We think you'll have a blast getting up close and personal with diverse creatures while discovering all kinds of interesting information about wildlife. 
In addition to the exotic animals that can be seen in most zoos, visitors can see animals that are only found in Ireland. This even includes the hornless sheep from Galway!
Friendly tip: If you want to go to Dublin Zoo, it's best to order your tickets up to a day ahead of time.
Compared to buying tickets on the day, pre-booking eliminates a 15% savings that would have been possible. Pre-ordered tickets aren't required to be printed because Dublin Zoo accepts electronic tickets.
Taste Beer at the Guinness Storehouse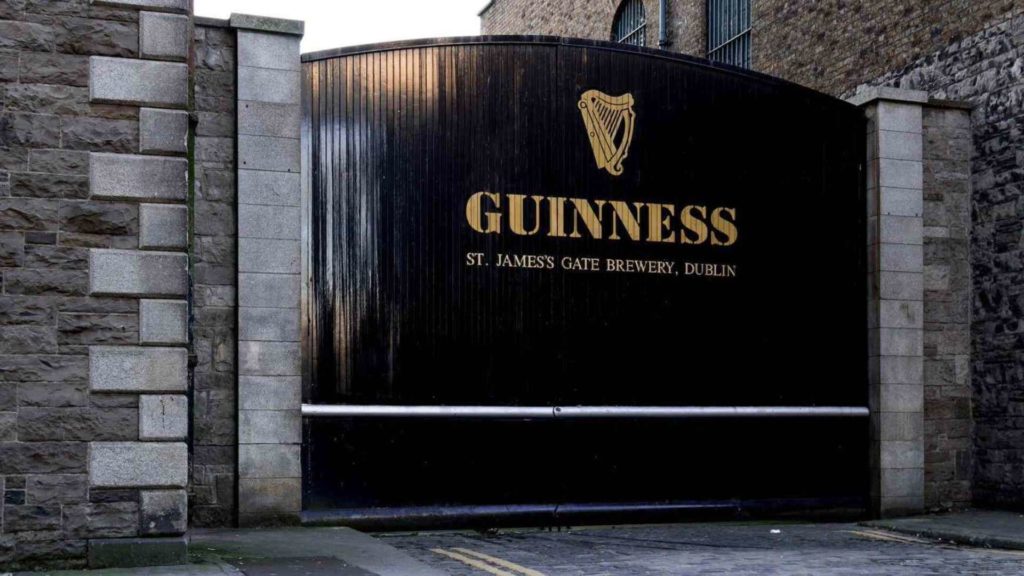 If you happen to be a beer enthusiast, we recommend going to the Guinness Storehouse in Dublin for the best beer tasting experience!
The self-guided tour of the Guinness Storehouse starts with an explanation of the basics of how Guinness is made.
You will discover the four components: water, barley (which is mashed and roasted), hops, and yeas. These are needed to make the ideal beer.
The Guinness Storehouse offers several tour choices for your convenience:
Basic, self-guided Storehouse adventure that includes a beverage at the Gravity Bar
Trip to the Guinness Academy to learn how to pour the ideal pint
Going to the Connoisseur bar with a ticket and taking part in a pint-pouring session and an exclusive tasting experience
Travel tip: We advise staying for at least 1.5 hours, but you can remain longer since there's a lot to see and learn about.
If you become thirsty, there are cafés and bars on several levels. There's also a gift store with everything Guinness on the first floor.
Shop 'Til You Drop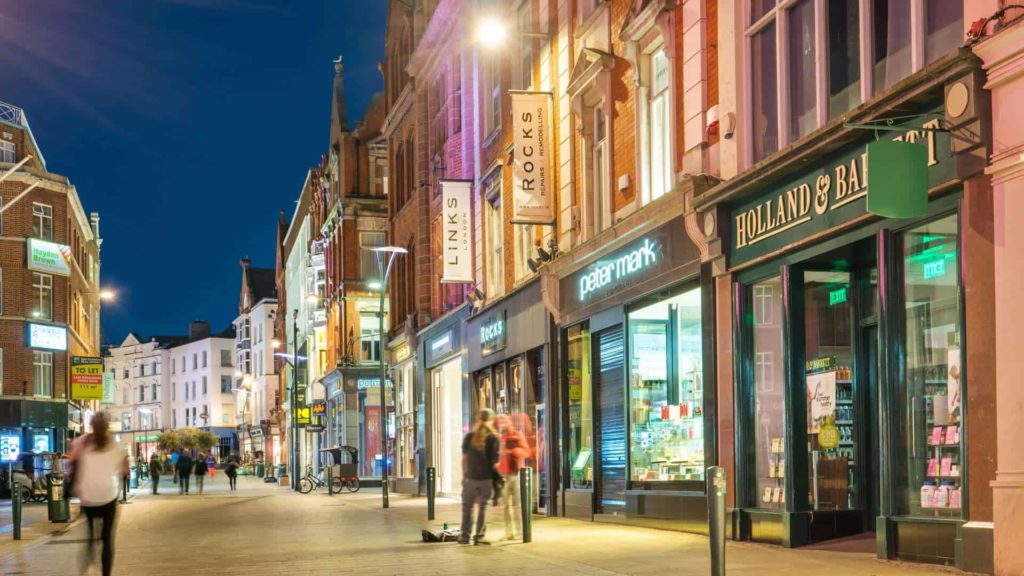 You'll be happy to know that Ireland has a lot more to offer shoppers than just beautiful scenery. Shopaholics who like to look around local markets, modern malls, and gift shops for vacation souvenirs will find a lot to like in Ireland.
For antique aficionados, Francis Street in Dublin is the ideal location. In April, Dublin holds its annual Antiques and Collectibles Fair, where you can buy unique Irish items to take home with you.
There are also lots of boutique shops in Cork, Galway, Kilkenny, and Limerick if you also have a taste for unique clothes.
Foodies might also be interested to know that Ireland is among the best countries in Europe to get milk chocolate. Ireland's exceptionally creamy milk is the key to its delicious taste.
Friendly tip: Wherever you shop, remember to bring your own bags. Though this might seem like a hassle at first, we believe you'll benefit from doing so. 
Many stores in Ireland charge for plastic bags, and over the course of a semester, each tiny bag adds up. The money you can save is better spent on other things.
For unexpected shopping, canvas bags typically work best because you can fold them up and fit them in a bag. We suggest getting one with a funny quote before you leave for Ireland, so you can have a fun memory to look back on.
Trek Through the Killarney National Park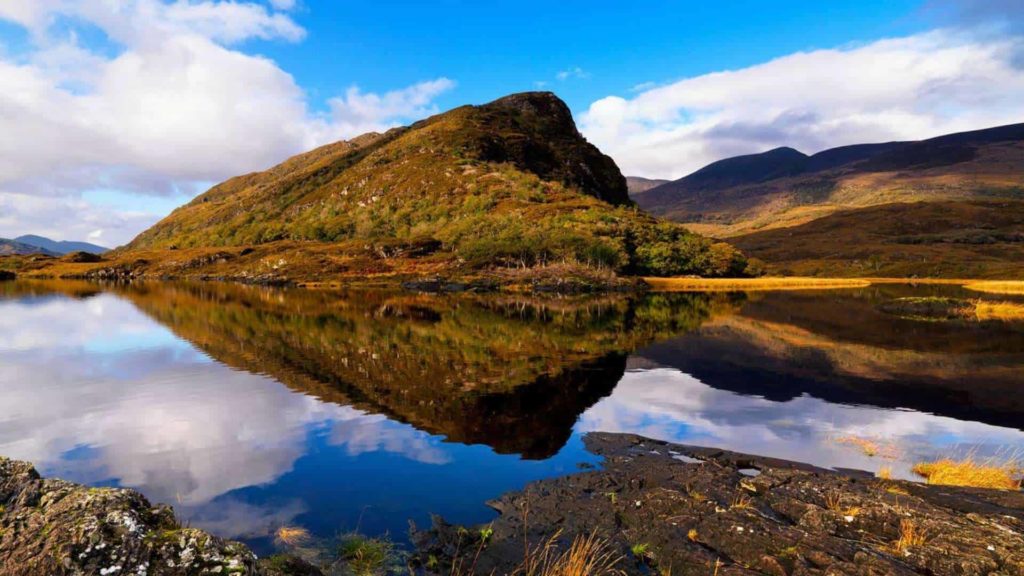 The beautiful Killarney National Park is another one of the coolest places for tourists to visit in Ireland.
We think you won't get bored here! The park has Ireland's highest mountain range, beautiful lakes, tumbling waterfalls, castles from the Middle Ages, luxurious homes, and a lot of animals.
Travel tip: Renting a bike is the best way to move about the park. Biking is also great for you to get in some healthy exercise as well.
As an alternative, an interesting mode of transportation is the park's jaunting vehicles. You can reserve one online in advance or simply pick one up at the park or at a few of the entrances.
Make sure to make the most of your exploration. We feel it would be crazy not to explore this magnificent terrain, as you're in one of the most beautiful regions of the nation!
Thankfully, there are several trails that have been set aside for walking. These paths pass by lakes, forests, and beaches – all of which offer stunning views of MacGillycuddy's Reeks in the distance.
Moreover, note that there's no entrance fee for the park. But some of the attractions, like Muckross Mansion, do charge an admission fee – so bring some extra cash.
After all that exploring, you'll probably be hungry for a big meal. Luckily, Killarney Town has a lot of places to eat.
You'll never run out of options in Killarney town because you can get traditional Irish, fine dining, international, Asian, and seafood.
Sightsee Around the Cliffs of Moher
ADDRESS
Cliffs of Moher, Liscannor, Co. Clare, Ireland, V95 KN9T
WEBSITE
https://www.cliffsofmoher.ie/
CONTACT INFO
Phone: +353 65 708 6141, +353 87 6566 133

Email: [email protected]

SOCIAL MEDIA
Facebook: mohercliffs

Instagram: cliffsofmoher.ie

Twitter: @CliffsofMoherIE

OPENING HOURS
Monday - Sunday: 9:00 AM - 5:00 PM (Jan, Feb, Nov & Dec)

Monday - Sunday: 8:00 AM - 7:00 PM (Mar, Apr, Sept & Oct)

Monday - Sunday: 8:00 AM - 9:00 PM (May, Jun, Jul & Aug)
While visiting Ireland, we think you shouldn't miss the Cliffs of Moher. It's easy to find a day trip to the cliffs from Dublin or Galway, but if you're going to be renting a car in Ireland, doing your own tour is fine too.
You can easily spend the entire day exploring this lovely location because it has a big visitor centre, tons of walking trails, and stunning views drenched in myth and history.
When you're hungry, Cliffs View Café serves tasty food and has big windows that look out over Liscannor Bay and the Cliffs. 
Friendly tip: Try this café's hot chocolate or indulge in a cool ice cream cone! You may also treat yourself to a nice cliffside picnic if you simply can't get enough of the crisp sea air.
Just note that between 11am and 4pm, the Cliffs are at their busiest. You'll likely see large groups around this time because that's also when many bus excursions stop at this well-known location.
And if you're facing the ocean, remember that the busiest spots are in front of the visitor centre, up and around the walled area to the left, and O'Brien's Tower to the right.
To prevent tourists from photobombing your takes, it's best to strategise when to capture your best shots.
Stay at an Ancient Castle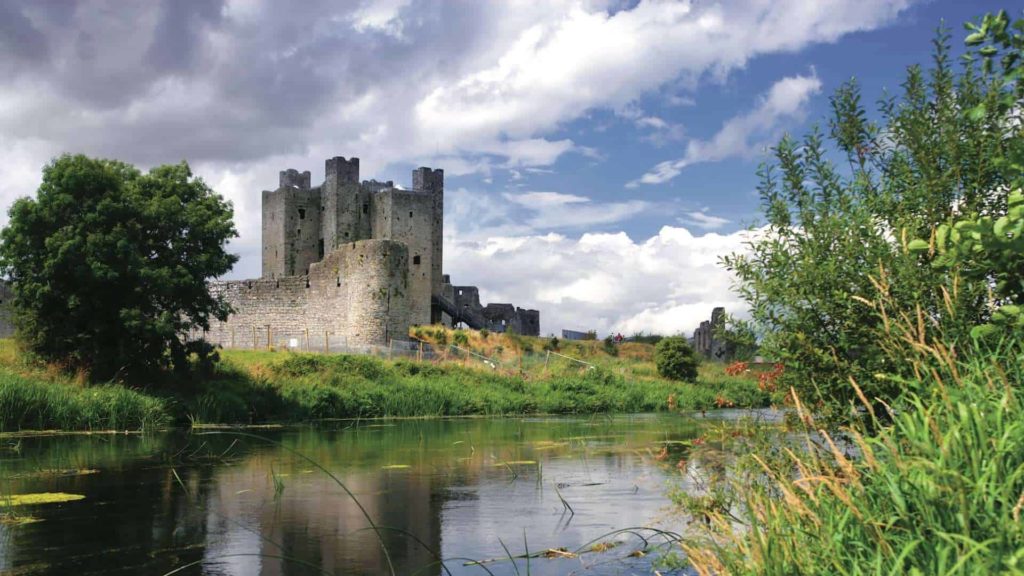 Ireland has a lot of castles, and visiting them is a great way to learn about the country's history and relive parts of it. There's a tale to be told and a song to be sung about each castle.
You may begin your castle exploration by visiting Dublin Castle in the nation's capital. 
There, a guided tour can take you to the State Apartments, where previous presidential inaugurations have taken place. We also suggest going to the Chapel Royal, which has exquisite decor and is quite unique.
As a tip, it's helpful to wear sturdy, comfortable shoes because most castles have uneven ground, steep stairs, and narrow paths.
Visitors who want to stay in a real castle may also reserve a suite at the Ashford Castle in County Cong. We think this can be perfect as a honeymoon suite too!
Though this castle was built in 1228, it doesn't let you down with its opulent 5-star service.
---
And there you go! We hope you find the coolest things to do in Ireland. Make sure to have fun and take lots of photos and souvenirs!