Killarney Adventures: Your Essential Planning Guide
Ever dreamed of a place with nature, history, and adventure all in one? If so, you might want to consider Killarney as your next destination.
Killarney is a quaint town in County Kerry with a population of approximately 15,000. It's famous for its scenic landscapes, historic castles, and lively pubs.
In this article, we'll give you a guide to visiting Killarney, including when to go, how to get there and around, the top attractions, and the best places to eat, stay, and shop.
Is Killarney worth visiting?
Killarney is a wonderful place to visit, and you won't regret it. The town is surrounded by breathtaking scenery, with mountains, lakes, and waterfalls that will make you feel like you're in a fairy tale.
Killarney is steeped in history and culture, with several monuments and landmarks worth exploring. It also serves as an excellent base for exploring the rest of County Kerry, with iconic locations like the Ring of Kerry nearby.
Killarney is a beautiful place to experience the warmth and hospitality of Ireland, with a perfect balance of nature and culture.
Best Time to Go
Similar to numerous Irish cities, the summer months witness a surge in crowds and prices.
Nevertheless, the early spring and fall seasons present an ideal opportunity to explore this scenic destination, as they offer a tranquil ambiance with fewer tourists and more affordable lodging options.
How to Get there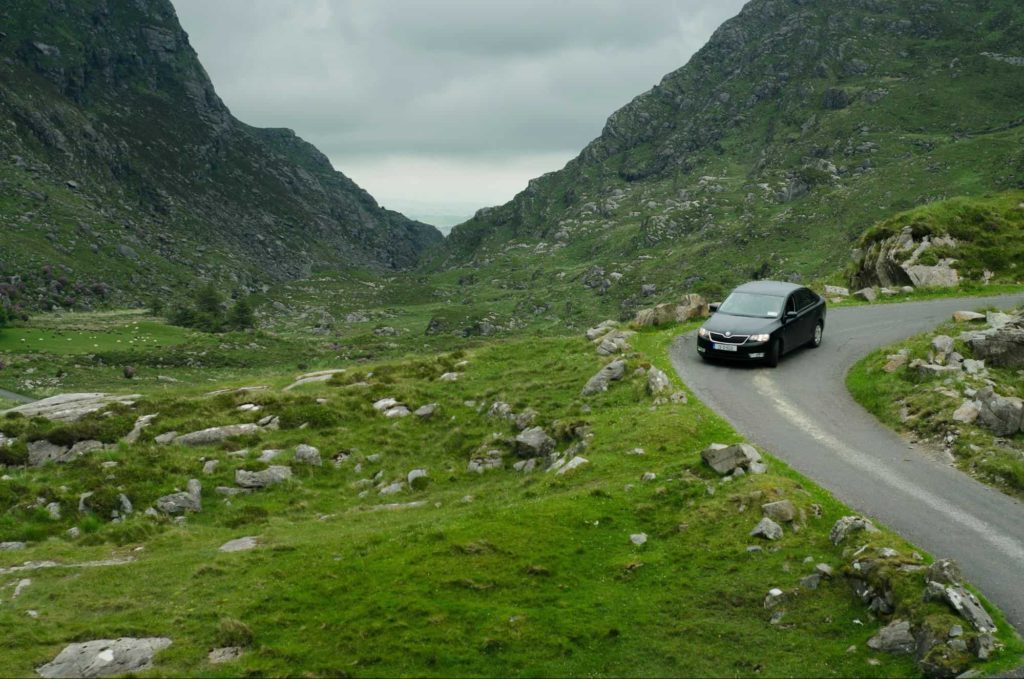 By Car
If you are planning to visit Killarney by car, you have four main options depending on where you are coming from.
From the north, you can take the N22 route from Tralee, Limerick or Dublin. From the south, you can follow the N71 route from Kenmare or West Cork.
From the east, you can drive on the N22 from Cork. From the west, you can take the N72 from Killorglin or Dingle.
By Bus
There are direct bus services from Dublin, Cork, Limerick and Galway to Killarney. You can check the timetables and fares on the websites of Bus Éireann or GoBus.
The journey time varies depending on the route and traffic, but it usually takes between 3 to 5 hours. The bus will drop you off at the Killarney Bus Station, which is located in the town center and close to many attractions and accommodations.
By Train
The Killarney Railway Station is conveniently situated in the heart of the town, offering easy access to and from Tralee, Cork, and Dublin. For specific departure and arrival times, please refer to the Irish Rail website.
Additionally, the bus station is conveniently located next to the Railway Station, right next to the Killarney Outlet Centre.
By Plane
The closest airport to Killarney is Kerry Airport, which is situated 17km away. Cork Airport is located 90km from Killarney, while Shannon Airport is 135km away. Killarney itself is positioned 300km southwest of Dublin Airport.
By Ferry
If you're looking for a ferry port near Killarney, Cork is your best option – it's only about 90km away from the town. But if you don't mind traveling a bit further, you can also check out Rosslare port (about 250km from Killarney).
How to Get Around
Killarney offers a charming city centre and stunning Killarney National Park to explore on foot, with the option to join various tours for further adventures.
Another fun way to see Killarney is by jaunting cart. These horse-drawn carriages in the park offer informative tours and are readily available, simply ask your hotel or wait for a friendly driver to approach you.
You'll love discovering Killarney by jaunting cart. It's a unique and enjoyable experience that will make your trip unforgettable.
Neighborhoods to Visit
St. Mary's Cathedral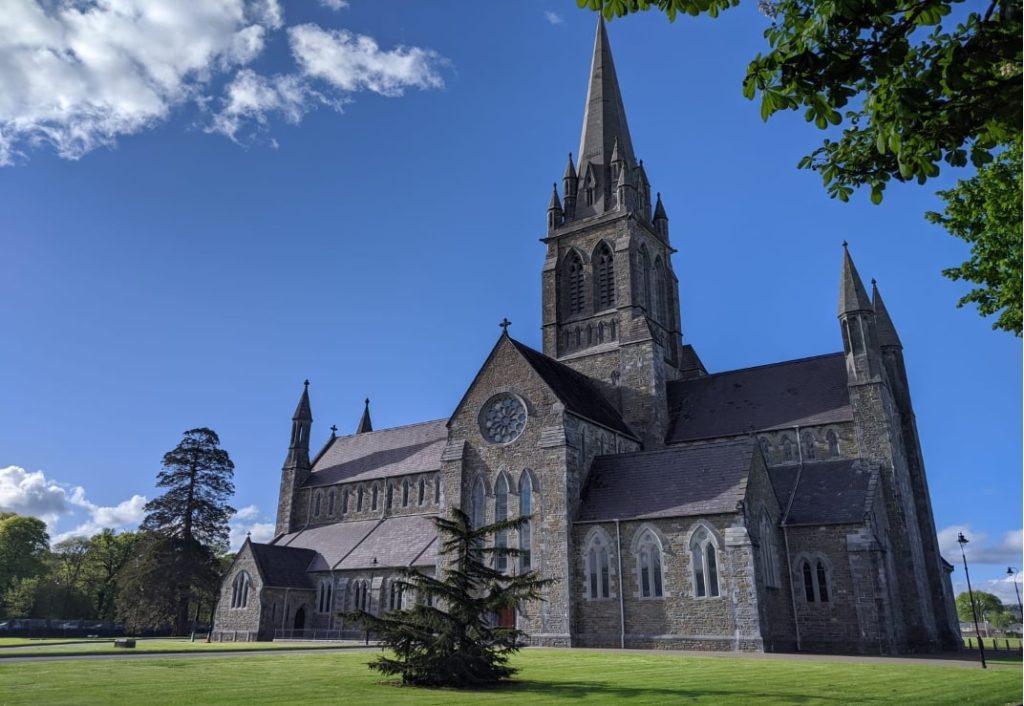 A must-see attraction for history buffs in Killarney Town is the magnificent St. Mary's Cathedral. This stunning 19th-century building showcases the Gothic Revival style of architecture, created by the famous Augustus Pugin from England.
The cathedral took 13 years to complete, from 1842 to 1855. It is one of the most imposing churches in Ireland, with a towering height of 280 feet.
Killarney House and Gardens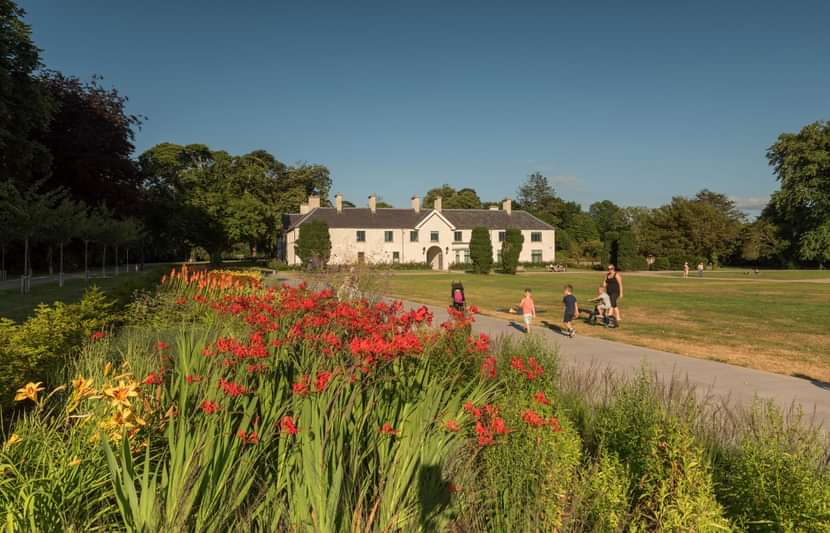 Killarney House and Gardens, which have undergone recent renovations, have become the latest tourist hotspot in Killarney, augmenting the charm of Killarney National Park.
Positioned in close proximity to the town center, it is conveniently accessible on foot and offers a serene escape from the city's hustle and bustle.
This site was handpicked by Queen Victoria during her visit to Ireland in 1861 and was previously occupied by the Earls of Kenmare.
Ross Castle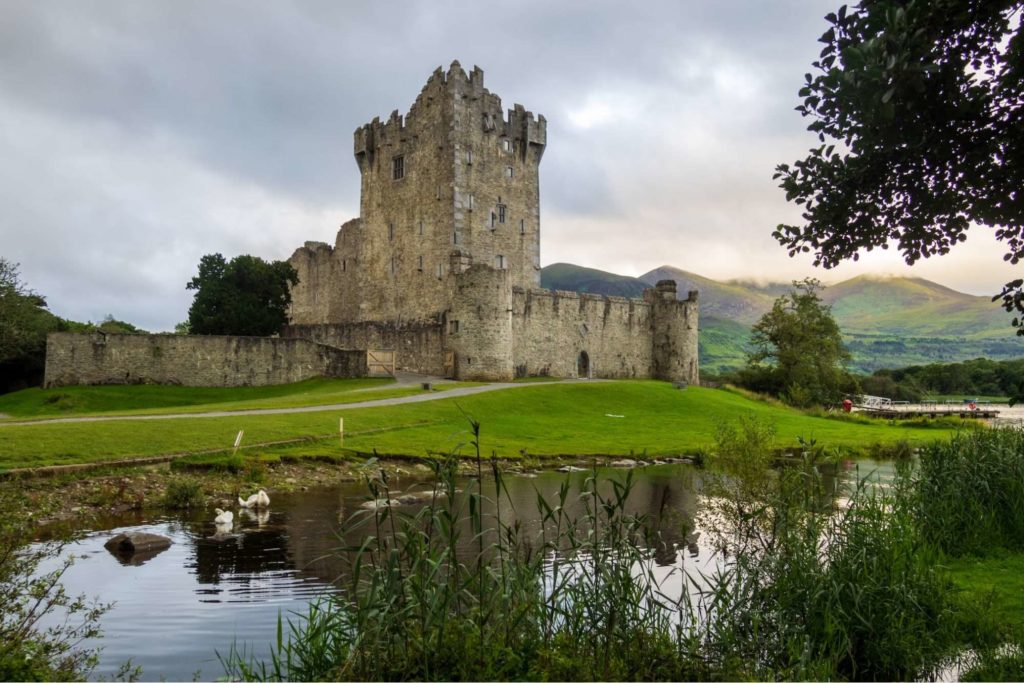 Ross Castle is a 15th-century fortress that was built by O'Donoghue Mór, a legendary chieftain who sleeps under the lake. It's also known as 'Killarney Castle' and it sits on the shore of the lake, near Muckross Abbey.
Some say he wakes up every 7 years on a white horse and rides around the lake on May 1st. How magical is that?
It's easy to get there by car, and there's a parking lot nearby. It's a great place to visit if you or someone in your group has limited mobility and wants to enjoy a relaxing and scenic attraction.
Muckross House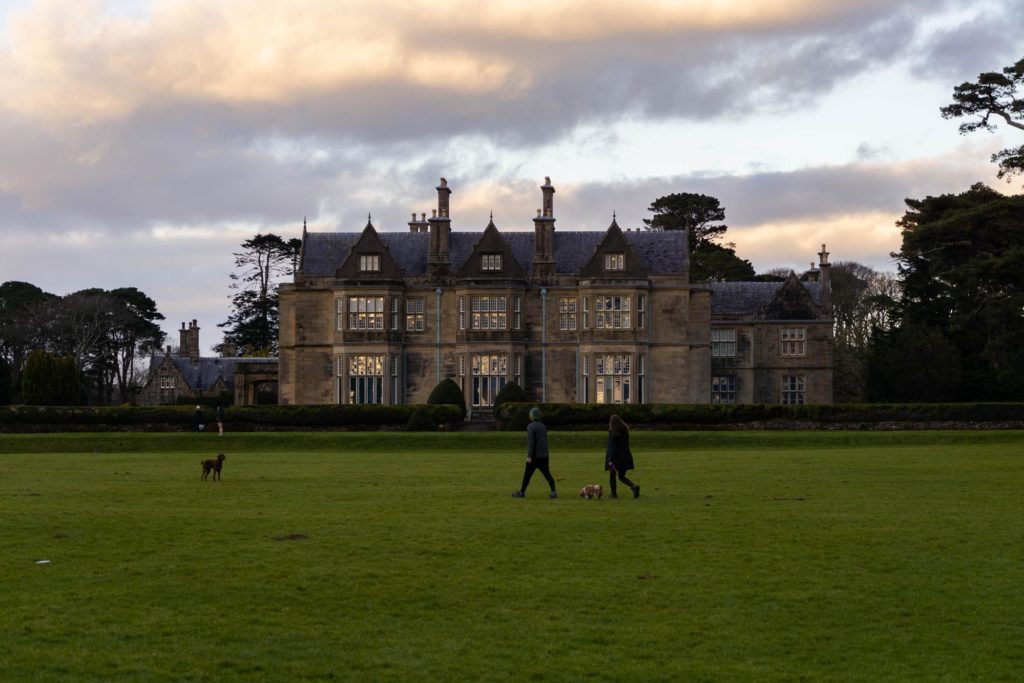 If you're into history and nature, Muckross House in Killarney National Park is a must-see. This beautiful mansion is constructed in the 1800s for Henry Arthur Herbert and his wife Mary Balfour Herbert, a talented landscape painter.
You can explore the house and its museum with a guided tour and learn more about its fascinating past. You can also visit the walled garden and the traditional farm, where you can see how people lived in rural Ireland.
Muckross Abbey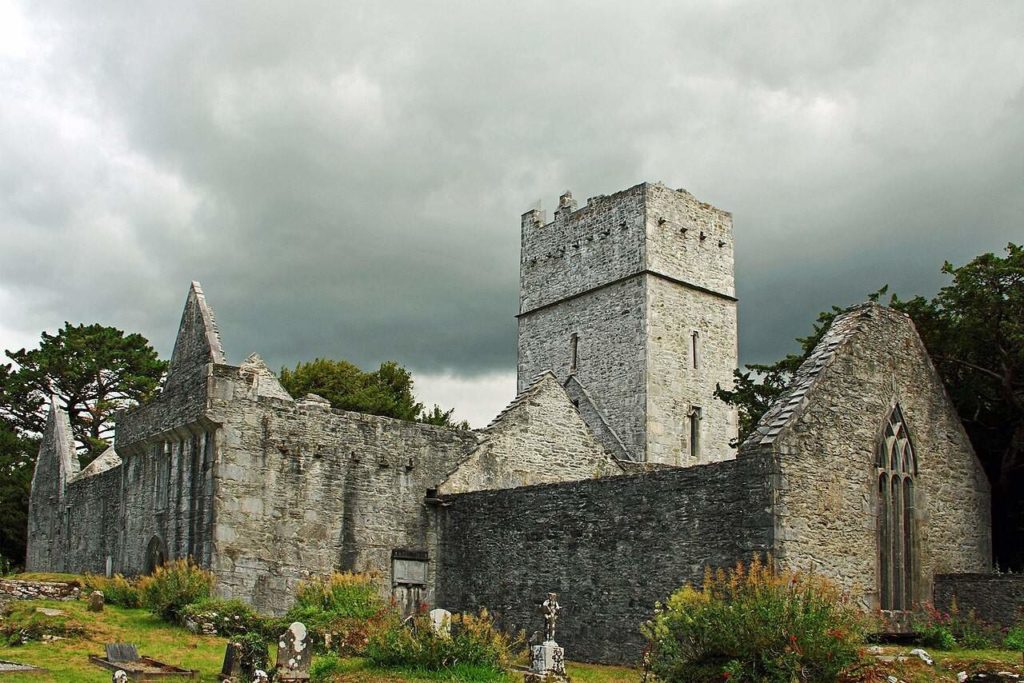 Muckross Abbey is a hidden gem in Killarney National Park. It's one of the oldest and most fascinating places in the area, dating back to the 6th century.
The current ruins are from the 15th century when a Franciscan monastery was built here. Sadly, the monks had to leave in the 1650s, during the Cromwellian war.
Torc Waterfall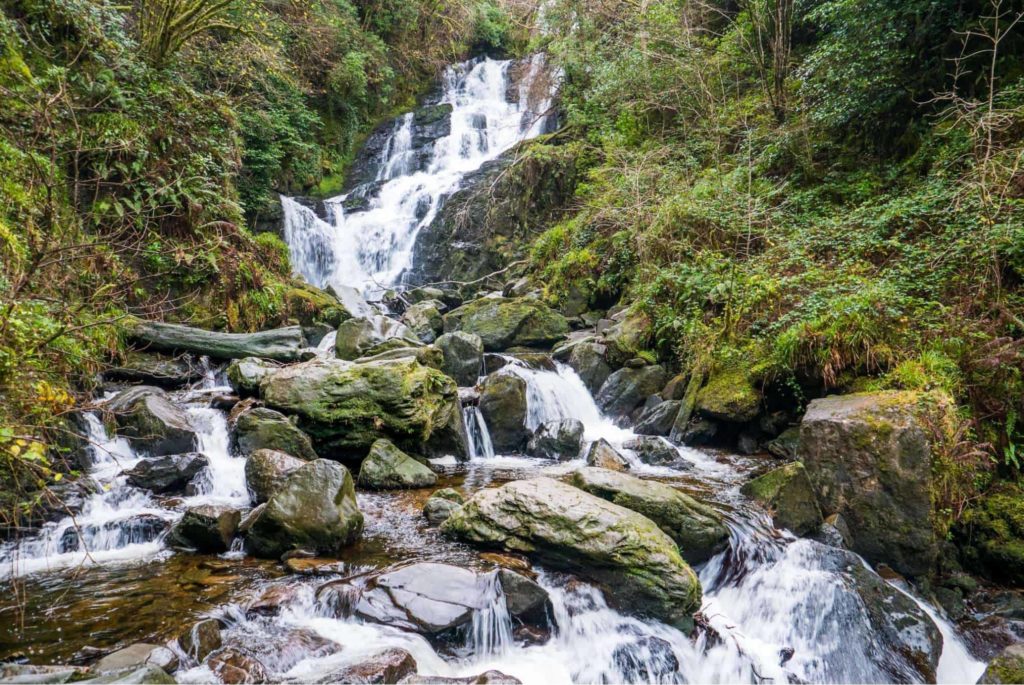 Torc Waterfall is a scenic attraction in Killarney National Park, located at the base of Torc Mountain along the Ring of Kerry Road.
The waterfall is 20 meters high and 110 meters long and is formed by the Owengarriff River that flows from the Devil's Punchbowl Lake.
There are several walking trails around the waterfall that offer views of Muckross Lake and the surrounding area.
Things to Do
Drive along the Ring of Kerry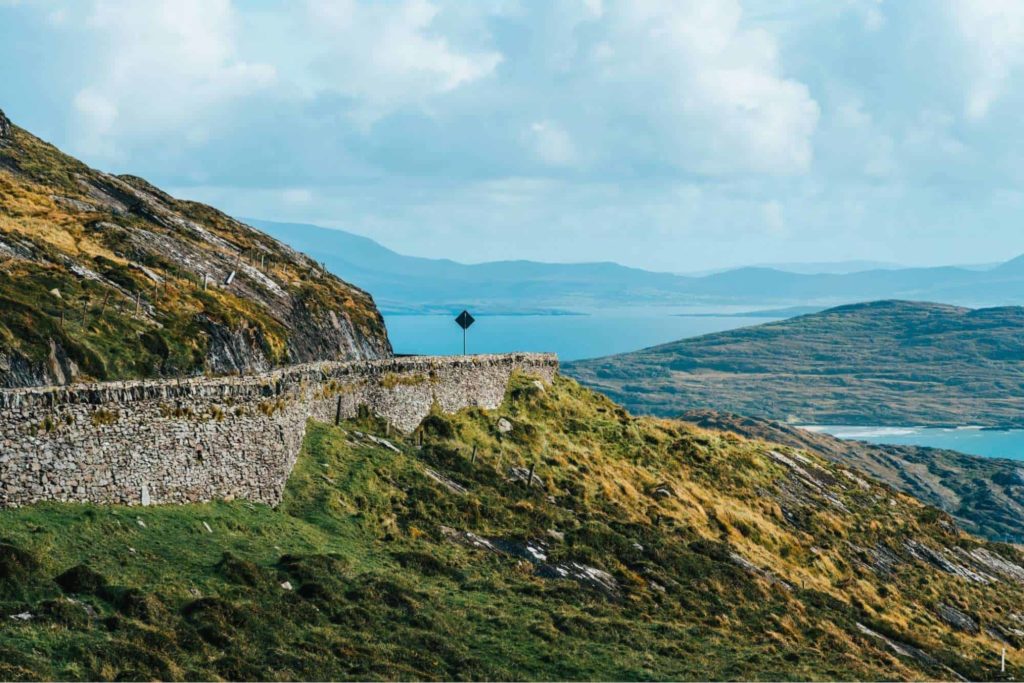 A popular activity in Killarney is to begin the Ring of Kerry Drive from there (it's the official starting point). The Ring of Kerry is one of the most famous driving routes in Ireland.
It follows the N71 and covers many of the best places to see in a single loop. You'll need at least 7 – 10 hours for the Ring and if you can, you should include the Skellig Ring, which will take you to places like the Kerry Cliffs and Valentia Island.
It's a wonderful day trip, but drivers beware; the weather should be clear. If it's foggy, you won't see much, so don't waste your time.
Go for a Classic Jaunty through the Town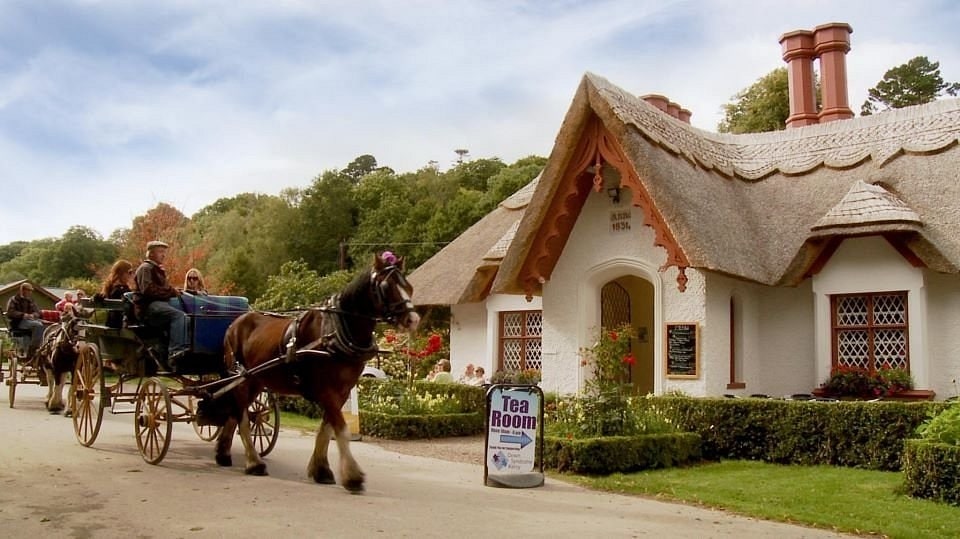 A fun and different way to explore Killarney is to hop on a jaunting car, a traditional horse-drawn carriage. You can find them around the town center.
The tour will take you to see the stunning Macgillycuddy's Reeks, the historic Ross Castle and many other attractions while you listen to the Jarvey guide's tales of the region.
This is a great option for those who love unique experiences and want to know what to do in Killarney.
Explore Killarney National Park by Bike
One of the best activities in Killarney is to rent a bike in town and explore the beautiful Killarney National Park. This was Ireland's first national park and it covers almost 103 sq. km of forests, mountains, and lakes.
You can also see the only herd of red deer in Ireland here. Some of the highlights of the park are Ross Castle, Muckross House and Gardens, and Torc Waterfall.
You can cycle along a scenic trail that connects these attractions. The whole trip can take from 1 to 3 hours, depending on how much time you spend at each place.
Take a Boat Cruise in the Lakes of Killarney
If you want to explore Killarney's natural beauty, you can join a boat tour that will take you around the three lakes: Lough Leane, Muckross Lake, and Upper Lake.
You'll enjoy the comfort of a heated boat with a glass roof that lets you admire the scenery of the national park.
Along the way, you will see the ancient Innisfallen Monastery, the tallest mountain in Ireland, and maybe even some wildlife like Red Deer and White Tailed Eagles.
Paddle a Kayak to Inisfallen Island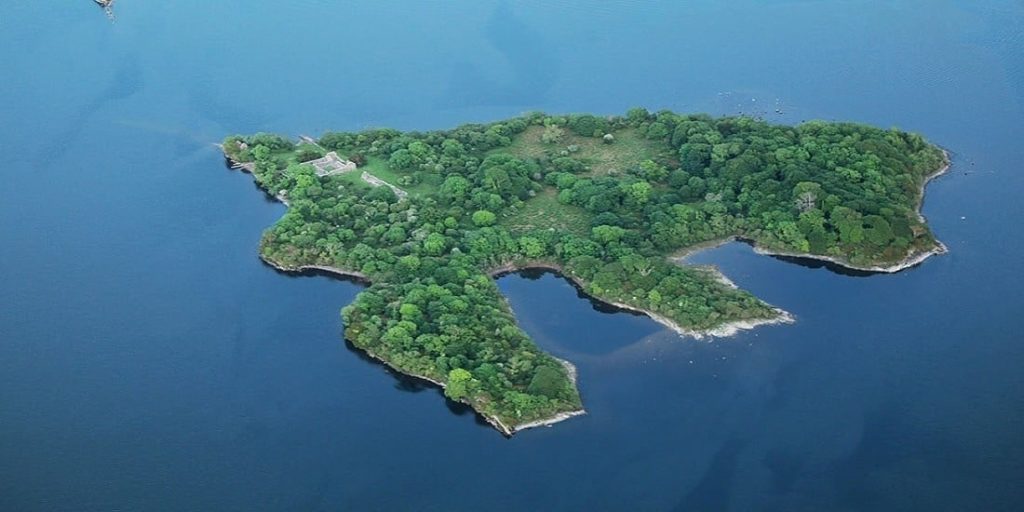 One of Ireland's most significant archaeological sites is on Innisfallen Island in Lough Leane. The island has the remains of Innisfallen Abbey, a monastery founded by Saint Finian the Leper in 640.
The monks who lived there wrote the Annals of Ireland, a chronicle of the country's early history. For a unique and adventurous way to explore Killarney, you can take a Kayak tour and enjoy the natural beauty of the area.
Stroll the Gap of Dunloe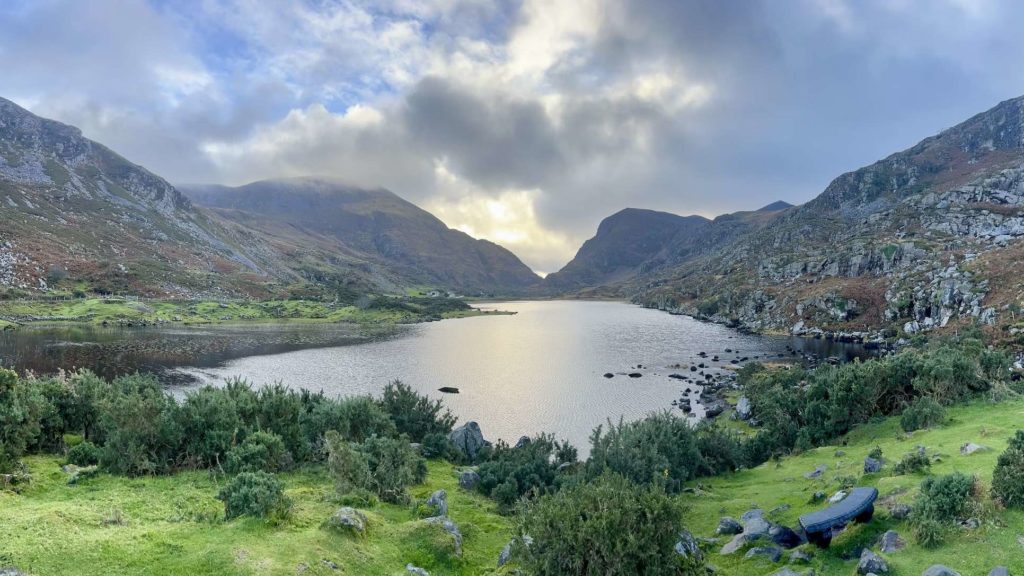 One of the best activities in Kerry is to explore the Gap of Dunloe. You can start your adventure at Kate Kearney's Cottage, a 150-year old family-run place that is very famous.
This scenic walk includes bridges, streams, ruins, and stunning views. It's not a loop, so you'll need to return the way you came. It typically takes around 5 hours (2.5 hours each way) but is manageable for most.
If you prefer a shorter walk, you can go to the wishing bridge (the yellow marker on the map above). It is only 15 minutes from the cottage.
Enjoy the Breathtaking and Expansive Vista at Ladies View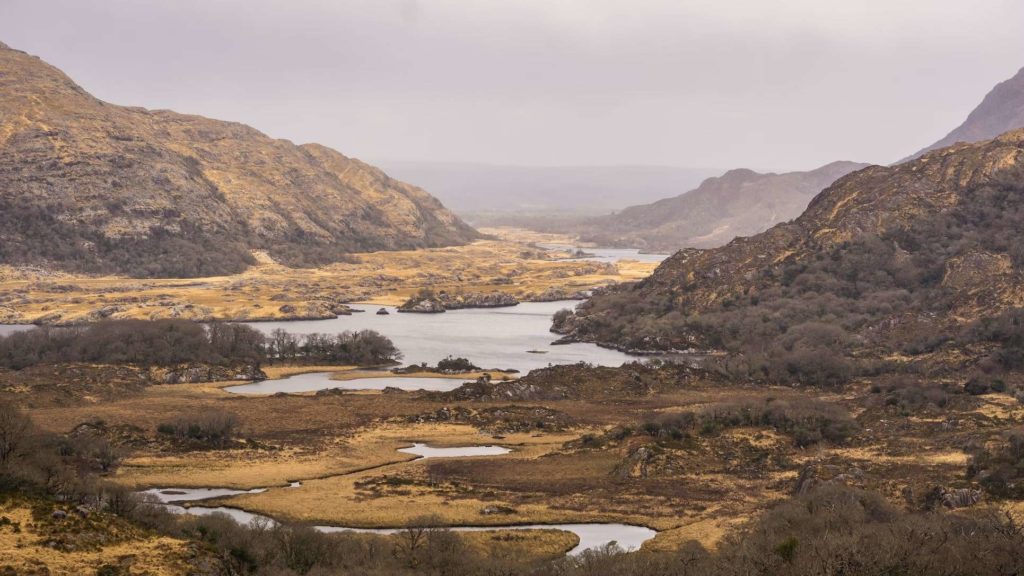 Ladies View is a really cool place near Killarney. You can see three beautiful lakes from there.
They have a store where you can buy gifts, a cafe for snacks, and a bar for drinks. You can also take a little walk to another parking spot and see more of the Upper Lake.
If you keep going down the road, you'll reach a famous mountain pass called Moll's Gap. It's a great spot to visit!
Climb the Carrauntoohil Mountain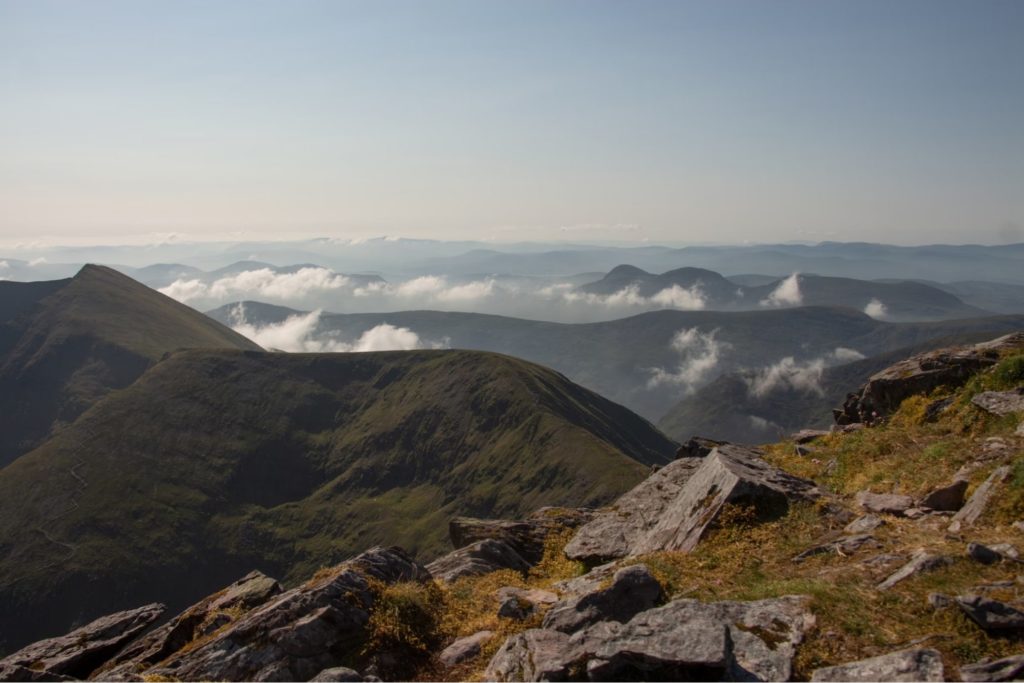 Carrauntoohil is Ireland's highest mountain at 1038m and a great destination for thrill-seekers, hikers, and climbers. It has amazing views of the Lakes of Killarney and the surrounding area and is linked to some Irish myths.
You don't need any special equipment to climb Carrauntoohil, but you should be fit and ready.
The Devil's Ladder Trail is one of the most popular routes to the summit. It is a 12km hike that requires some climbing and scrambling, so it is not for beginners.
Where to Eat
Porterhouse Restaurant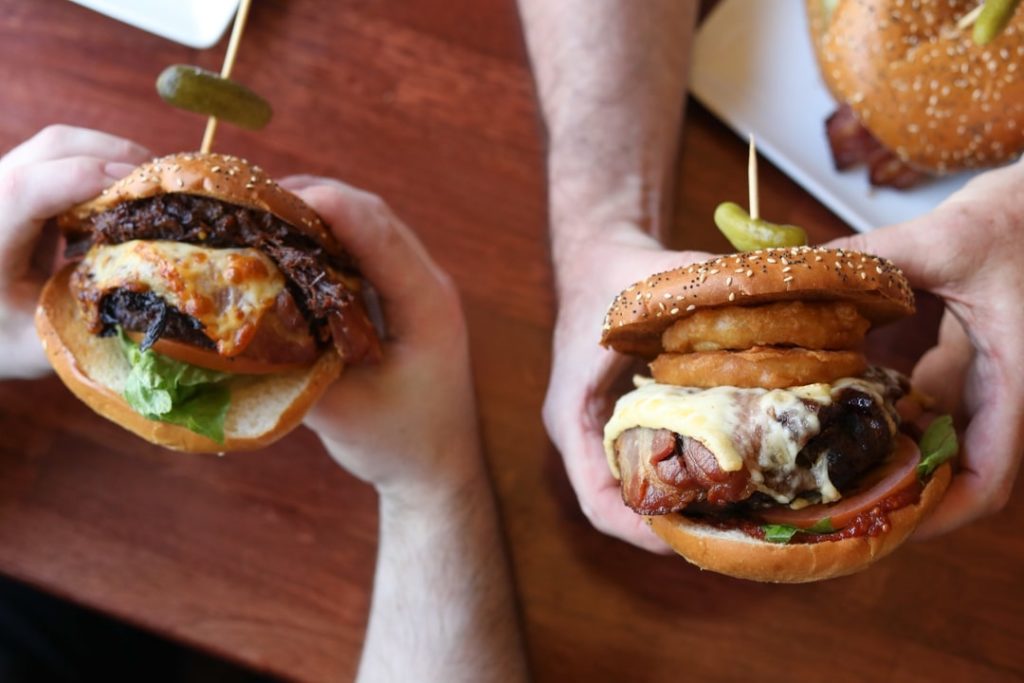 Website: https://theporterhousekillarney.com/
Address: 26 Plunkett St, Killarney, Co. Kerry
Phone: +353 64 667 1130
Email: [email protected] 
Operating Hours:
Monday to Friday – 5 PM to 10:30 PM
Saturday to Sunday – 4 PM to 10:30 PM
Porterhouse is famous as one of the best restaurants in Killarney for steaks and burgers.
You'll also find a variety of delicious dishes here, from homemade onion pakoras and juicy gambas pil pil prawns to crispy cod and spicy cajun salmon.
You can choose from a huge 40oz ribeye tomahawk and a signature 10oz beef burger to a tender lamb shank braised for four hours.
Murphy's of Killarney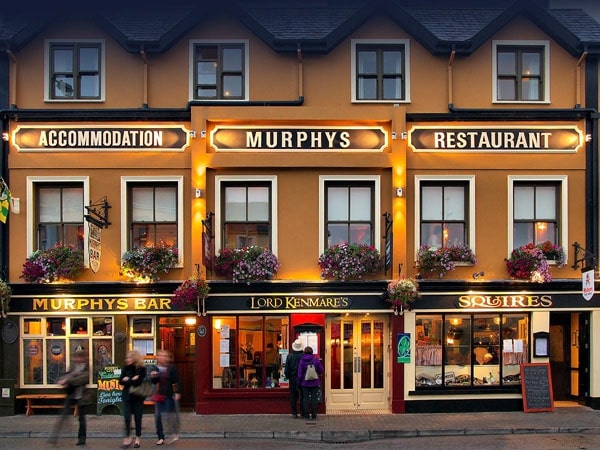 Website: http://www.murphysofkillarney.com/ 
Address: 18 College Street, Killarney, Co. Kerry
Phone: (064) 663 1294
Email: [email protected] 
Operating Hours:
Monday to Thursday – 12:30 PM to 11:30 PM
Friday to Saturday – 12:30 PM to 12:30 AM
Sunday – 12:30 PM to 11 PM
For a satisfying meal and a lively atmosphere, you can't go wrong with Murphy's of Killarney, a traditional Irish Pub that serves hearty dishes and refreshing drinks.
You can also enjoy a more elegant dining experience at Lord of Kenmare, a fine restaurant located in the same hotel that offers exquisite cuisine.
Whether you crave a classic beef lasagne with garlic bread, a spicy chicken curry with basmati rice, or a crispy Killarney beer-batter fish and chips, you'll find something to please your palate at Murphy's of Killarney.
The Mad Monk by Quinlan's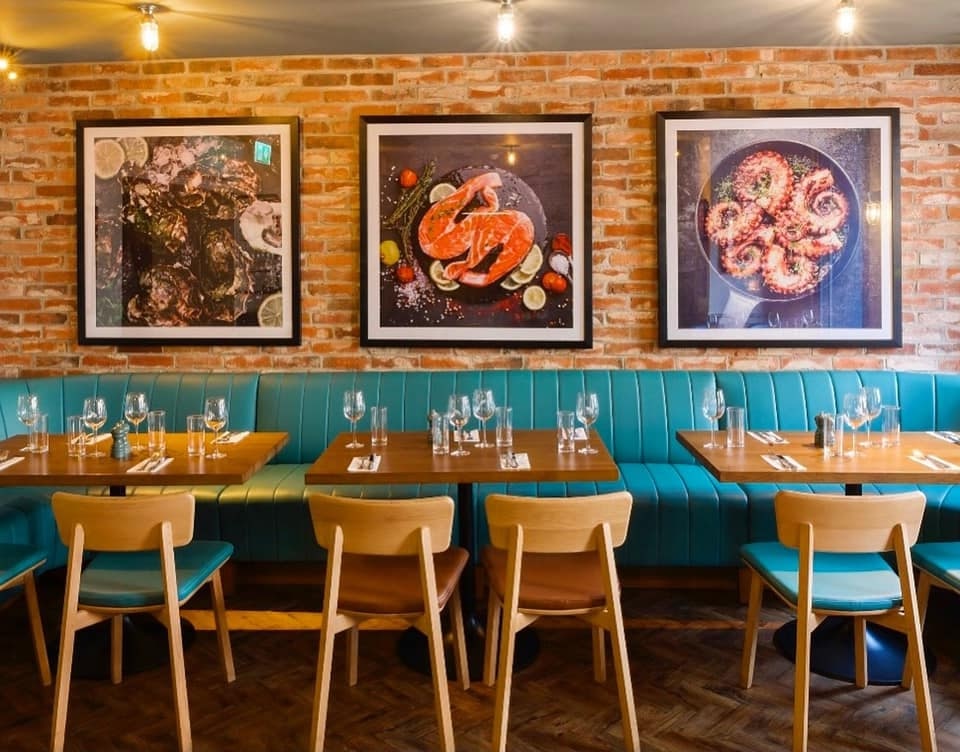 Website: https://www.kerryfish.com/seafoodbar/the-mad-monk/ 
Address: 21 Plunkett St, Killarney, Co. Kerry
Phone: +353 64 662 3597
Operating Hours: Open Daily – 1 PM to 10 PM
The Mad Monk in Killarney is the perfect place for a seafood feast, offering a cozy atmosphere, modern design, and enough space for any occasion, all while being run by a crazy but talented master chef.
You'll love the Dingle Bay Wild Squid served with the famous homemade sweet chilli jam and the Sizzling Deep Water Atlantic Prawns. They also have a mouthwatering Portmagee crab bake, the exquisite Quinlan's black sole, and much more.
Khao Asian Street Food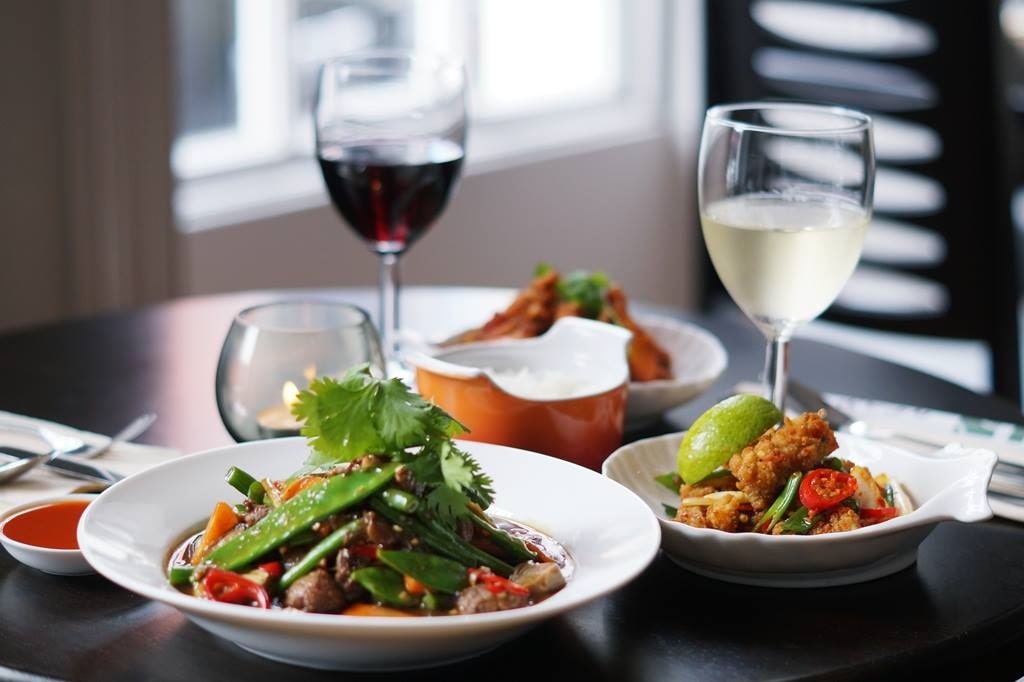 Website:  https://www.facebook.com/khaokillarney/ 
Address: 66 High Street, Killarney, Co. Kerry
Phone: +353 64 667 1040
Operating Hours: Open Daily – 12 PM to 10:30 PM
Khao Asian Street Food is a great choice if you want to spice up your palate with some Vietnamese and Thai flavours.
You can enjoy a variety of dishes, from the aromatic pho bo (Vietnamese beef noodle soup) to the creamy Thai green vegetable curry, as well as some less common options.
The restaurant has a large dining area, but you can also take your food away if you prefer a quiet night at home.
Curious Cat Café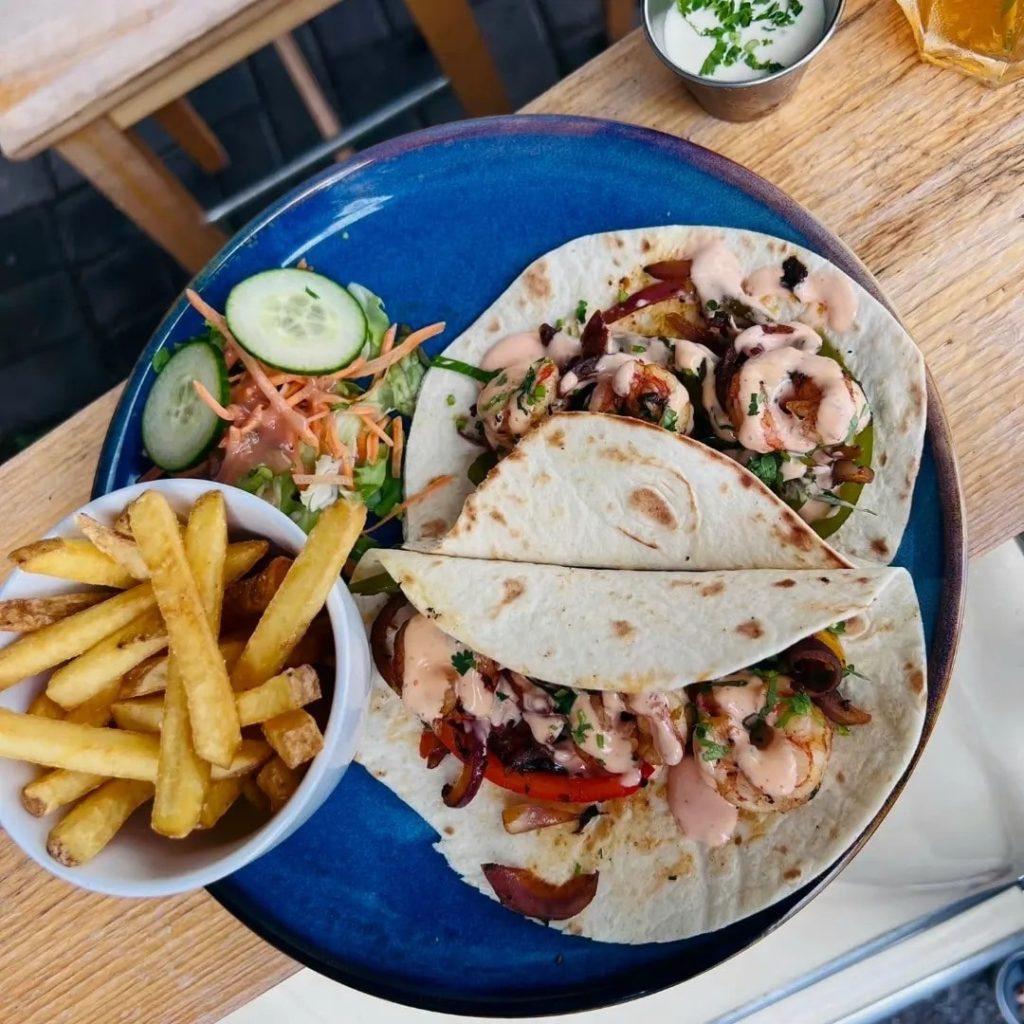 Website: https://www.facebook.com/curiouscatcafe/ 
Address: Unit 1 Newmarket Lane, Killarney
Phone: +353 87 663 5540
Email: [email protected]
Operating Hours: Open Daily – 9 AM to 5 PM
People like Curious Cat Café a lot, as it's a small cafe, but it can do as well as big restaurants in Killarney. The cafe looks different, with metal around the bar, wood on the floor and tables, and soft seats.
They have small dishes you can try, like potatoes with sauce, olives with smoke and wine, sausage and wine, and meat with beans and chilli.
Where to Stay
Killarney Railway Hostel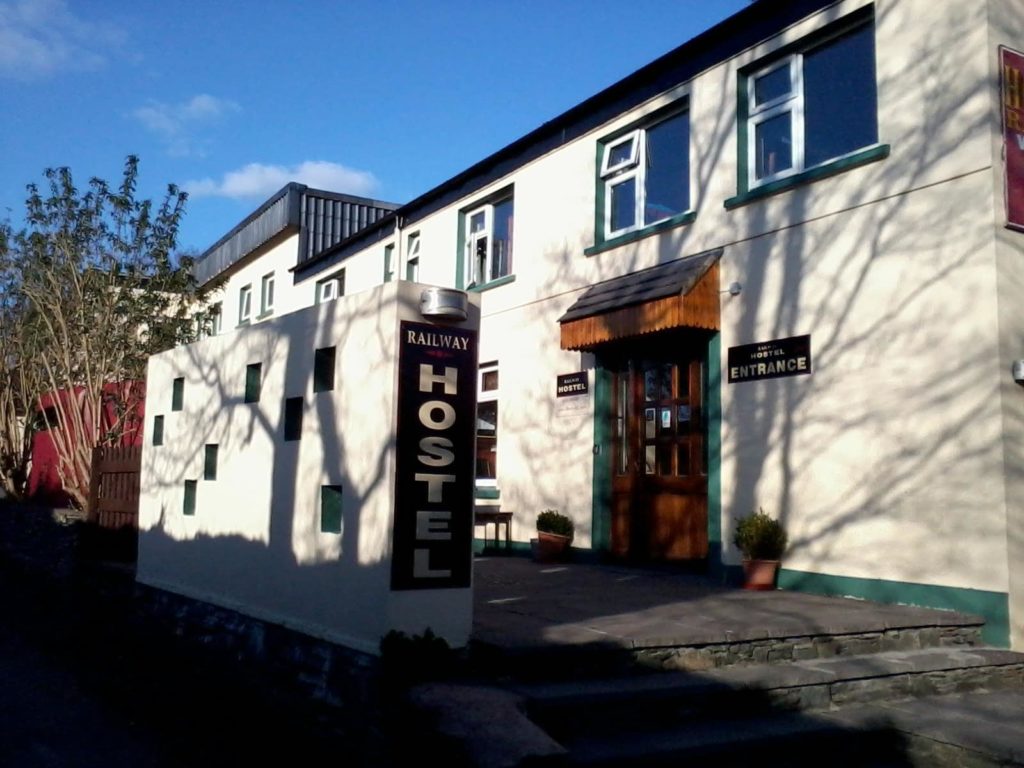 Website: https://killarneyhostel.com/ 
Address: Fair Hill, Killarney, Kerry
Phone: +353 (0)64 663 5299
Email: [email protected]
The Killarney Railway Hostel is an excellent choice for travellers who want an affordable stay in Killarney. The hostel is conveniently located near the bus and train stations and offers a variety of rooms, from standard to ensuite.
Guests can enjoy complimentary amenities such as car parking, lounge, dining room, barbecue area, self-catering kitchen, laundry service, bed linen, light breakfast, map, discounted local tour bookings, and Wi-Fi.
Killarney Plaza Hotel and Spa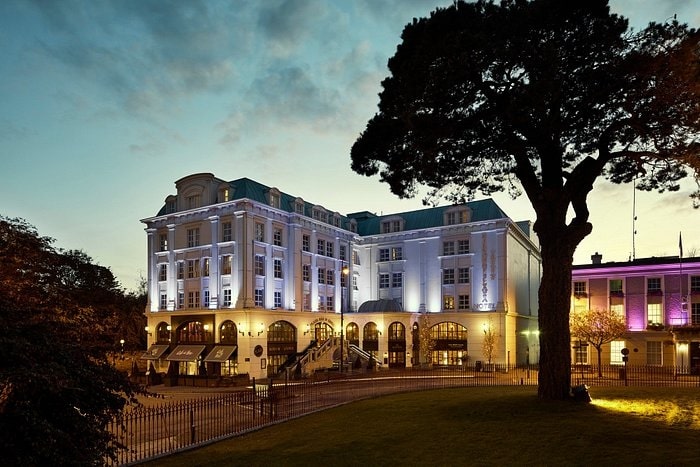 Website: http://www.killarneyplaza.com/ 
Address: Kenmare Place, Killarney Town Centre
Phone: +353 (0)64 66 21100
Email: [email protected] 
The 4-star Killarney Plaza Hotel & Spa boasts a prime location overlooking Killarney National Park. It's part of the O'Donoghue Ring Collection, making it a great base for exploring the Kingdom of Kerry on the Wild Atlantic Way.
The hotel's spa offers tranquillity with a Gulfstream Hydrotherapy Pool and rejuvenating treatments using Decléor Paris and Rituals Cosmetics products.
Accommodation includes stylish classic and executive guestrooms with air conditioning, as well as suites. You can also enjoy delectable cuisine and cocktails at the signature bar and restaurants, Café du Parc and The Tan Yard.
Killarney Towers Hotel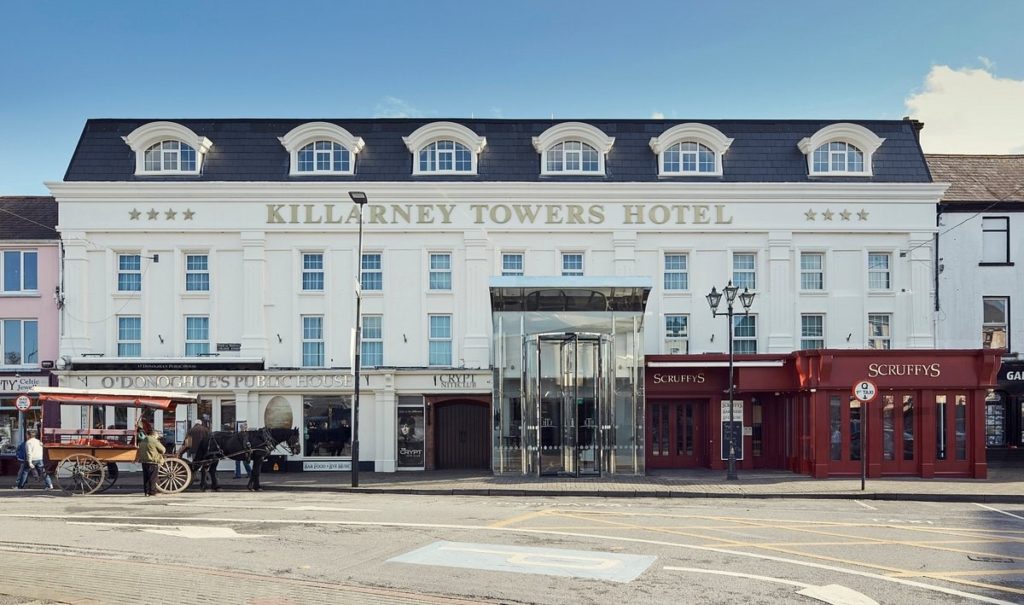 Website: http://www.killarneytowers.com/ 
Address: College Street, Killarney
Phone: +353 (0) 64 66 31038
Email: [email protected] 
The Killarney Towers Hotel & Leisure Centre offers 4-star accommodation and facilities. You can relax in spacious and comfortable guestrooms, enjoy complimentary access to the Swimming Pool and Gymnasium.
You can also experience the local culture and cuisine at Scruffy's Bar, a lively pub with great food and craic, or The Innisfallen Restaurant, a modern and elegant dining venue.
Killarney has it all if you are looking for adventure, culture, or family fun. You can find cycling and walking trails, golf courses, Blue Flag beaches, fishing centres, and much more in the surrounding area.
Muckross Park Hotel & Spa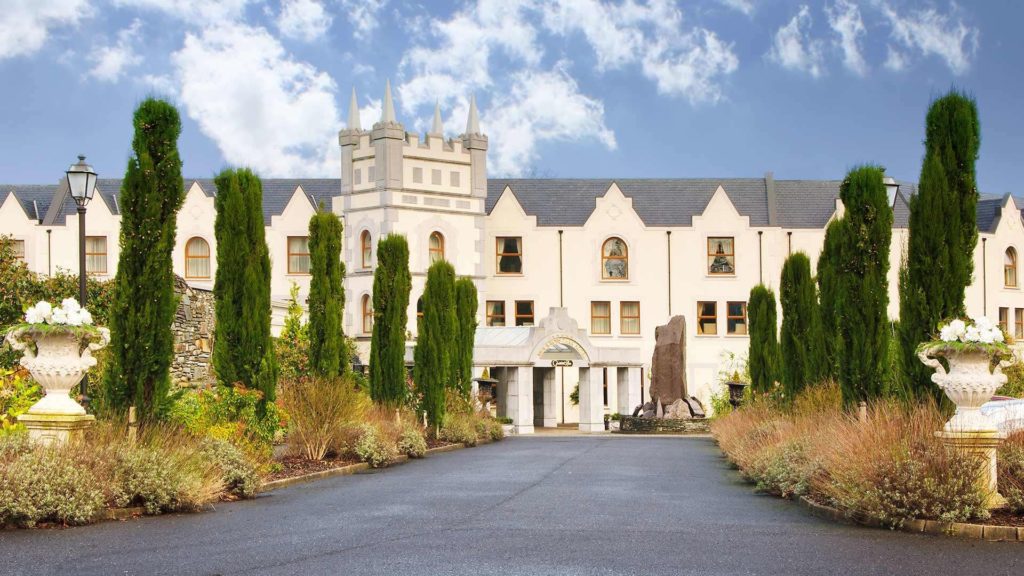 Website: https://www.muckrosspark.com/ 
Address: Muckross, Killarney
Phone: +353 (0) 6466 23400
Email: [email protected]
Muckross Park Hotel and Spa, a 5-star, multi-award-winning establishment, offers luxurious rooms and dining with 4 on-site restaurants: Yew Tree, Colgan's, Monks, and the Tea Rooms.
The hotel, dating back to 1795 as The Herbert Arms on the Muckross Estate, has hosted famous guests like Queen Victoria, George Bernard Shaw, and Daniel O'Connell.
Their world-class Spa blends Gothic style and natural elements, offering various treatments and amenities for relaxation. The Spa garden overlooks the blue pool river, creating a serene atmosphere.
Ross Castle Lodge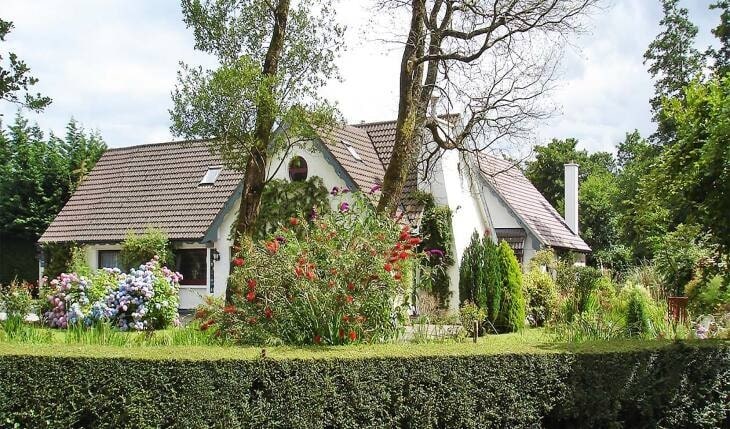 Website: https://www.rosscastlebnb.com/ 
Address: Ross Road, Killarney, Co Kerry
Phone: +353(0)646636942
A short walk from the town of Killarney, Ross Castle Lodge offers a four star bed and breakfast experience in a scenic location.
Guests can enjoy the comfort of orthopaedic beds, ensuite rooms, TV, laptop safe, hairdryer, trouser press and luggage racks. WiFi and a computer are also available for free.
The bed and breakfast has a beautiful garden with a patio and a wishing well. Ross Castle Lodge is close to many attractions, such as Killarney National Park, Ross Castle, Lough Leane and Ross Golf Club.
Tatler Jack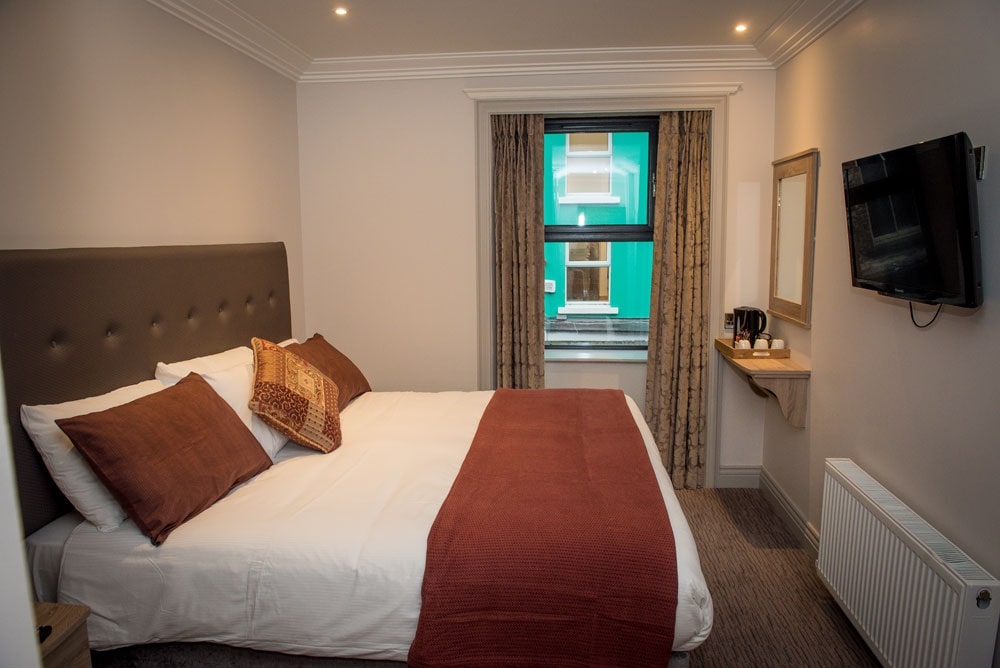 Website: https://www.tatlerjack.ie 
Address: 28-29 Plunkett St, Killarney
Phone: +353 64 663 2361
Tatler Jack is a family-run hotel in Killarney that offers 10 ensuite guest rooms with a traditional style. The hotel also has a cosy bar and restaurant that welcome non-residents and attract locals, which shows their quality and reputation.
The bar is a friendly Irish spot where you can learn about Gaelic football from enthusiastic fans. This is part of the experience of staying in a genuine local inn with sports bar fun.
Where to Shop
Killarney Outlet Centre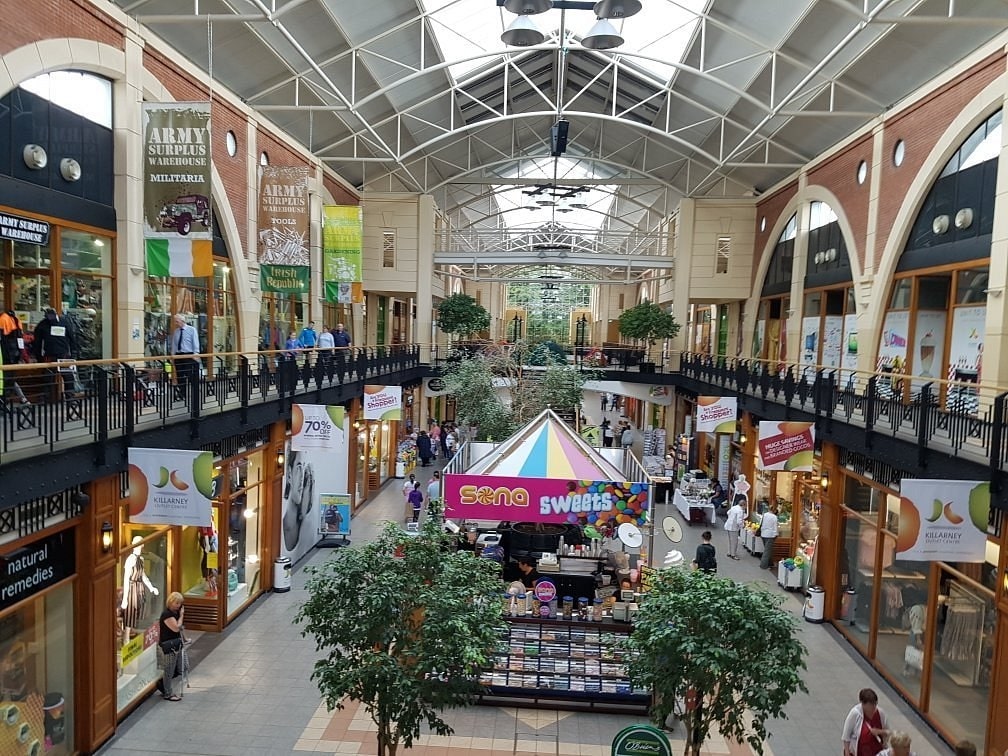 Website: https://killarneyoutletcentre.com/ 
Address: Fair Hill, Killarney, Co. Kerry
Phone: +353646636744
Email: [email protected] 
Operating Hours:
Monday to Saturday – 10 AM to 6 PM
Sunday & Bank Holiday – 12 PM to 6 PM
The Killarney Outlet Centre has a variety of stores to suit your needs, such as Paco, Flying Tiger, Costa Coffee, Leading Labels and the Kerry GAA Store.
You can save up to 70% off the regular prices on designer and branded items at The Killarney Outlet Centre all year round. That means more money in your pocket to enjoy your stay in Killarney.
The Outlet Centre is accessible, convenient and customer-friendly. It has on-site restaurants, ATM, and plenty of parking spaces for cars and coaches.
Deerpark Retail Park
Website: https://deerpark-shopping.ie/  
Address: Deerpark Retail Park, Killarney, Co. Kerry
Phone: +353 1 491 6300
Deerpark Shopping Park is a great place to shop on the edge of town. It has many famous stores with a variety of choices for men and women.
You can find New Look, Mountain Warehouse, Mods & Mini's and more. You can also get your essentials at Boots, Argos, Dealz and Tesco.
And don't miss the only M&S store in Kerry at Deerpark.
Quill's Woollen Market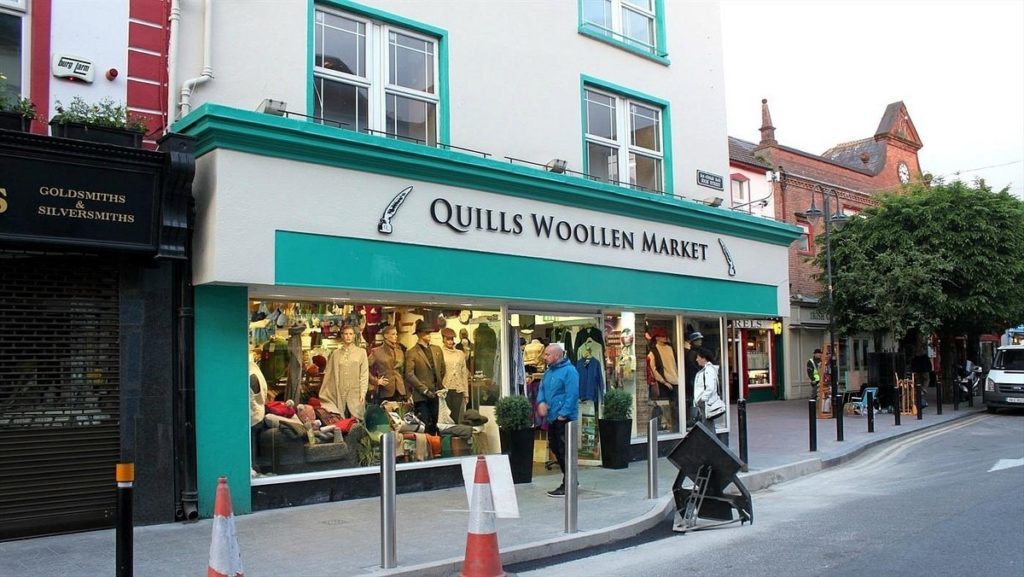 Website: https://irishgiftsandsweaters.com/ 
Address: 1 High Street, Killarney, Co. Kerry
Phone: +353646632277
Email: [email protected] 
Operating Hours: Open Daily – 9 AM to 11 PM
Quills Woollen Market is the oldest and most authentic Irish knitwear store in the country. It has been run by the same family since 1938 and has locations in County Kerry and County Cork.
They offer high-quality and unique products, such as the Aran Sweater, which is hand-knitted by local women and exclusive to Quills. You can find a variety of Irish gifts at Quills, both in their shops and on their website.
Brian James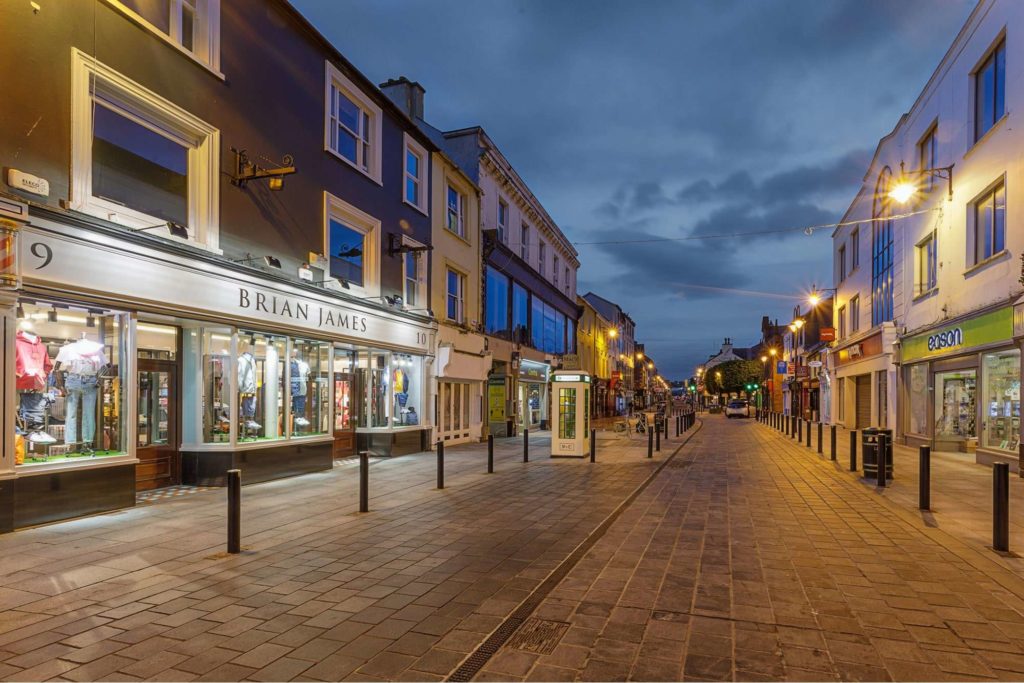 Website: https://www.brianjames.ie/ 
Address: 9-10 Main Street, Killarney, Co. Kerry
Phone: 00353646631134 
Email: [email protected]  
Operating Hours:
Monday to Saturday – 9:30 AM to 6 PM
Sunday – 11 AM to 6 PM
Brian James, a well-established boutique, has been a beloved destination for high-end menswear for many years.
Known for carrying a wide range of renowned brands, such as Ralph Lauren and Lacoste, this store has become an integral part of the local shopping scene.
While their current location is relatively new, they have maintained their exceptional stock and commitment to quality. Additionally, they have a separate store exclusively dedicated to suits, which can be accessed by inquiring at the main store's counter.
O'Neills of Killarney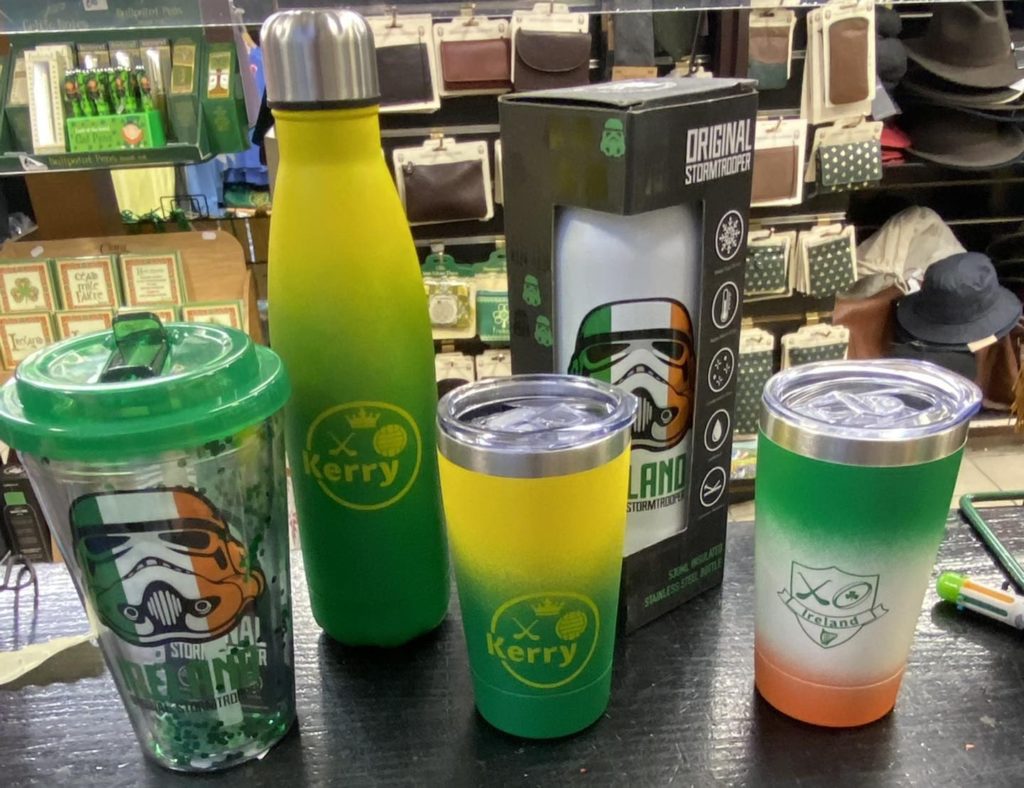 Website: https://www.facebook.com/oneillsofkillarney 
Address: 6 Plunkett St, Killarney, Co. Kerry
Phone: +353 64 663 1970
Email: [email protected] 
Operating Hours:
Monday to Saturday – 9:30 AM to 6 PM
Sunday – 10:30 AM to 6 PM
O'Neill's caters to tourists with its Irish-themed merchandise and souvenirs, but it also has some unusual and interesting items. You can find replica guns, novelty lighters, fishing rods and tackle, and more.
O'Neill's is not a typical store; it has something for everyone. You will enjoy browsing through their eclectic collection.
Variety Sounds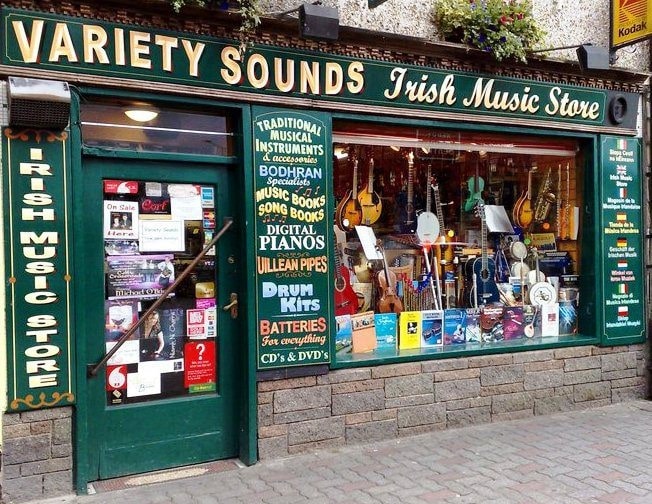 Website: https://www.facebook.com/VarietySoundsKillarney/ 
Address: 7 College Street, Killarney
Phone: +353 64 663 5755
Email: [email protected] 
Operating Hours:
Monday to Saturday – 10 AM to 6 PM
Sunday – 12 PM to 6 PM
A gander at Variety Sounds is a must-do for anyone visiting Killarney, even if you are not in the market for a musical instrument.
This small shop has a huge selection of instruments, both traditional and modern, as well as accessories like cases, straps, and plectrums. You can also find CDs by local artists and discover the rich musical heritage of the area.