5 of the Best Wedding Photography Services in Dublin
A wedding may only be for a few days but wedding photos can last you for a lifetime. It is important to choose the right photographer for your ceremony that understands the atmosphere and vision you had in mind.
In this article, we take a look at the best wedding photography services in Dublin to capture your special moments the right way.
How much does wedding photography cost?
Wedding photography costs can greatly vary due to their subjective nature. Factors that cause price differences include, number of photographers, equipment they use, editing, duration, other package features, transportation fee.
Below is a list of price estimates of different packages.
| Test or Procedure | Price Estimates |
| --- | --- |
| Affordable Packages | € 500 to € 1000 |
| Essentials Package | € 800 to € 1100 |
| Deposit | € 200 to € 700 |
| Wedding Albums | € 300 to € 600 |
| Advanced Packages | € 2000 to € 3000 |
Top Wedding Photographers in Dublin
We assessed the wedding photographers based on the following criteria:
1. DK Photo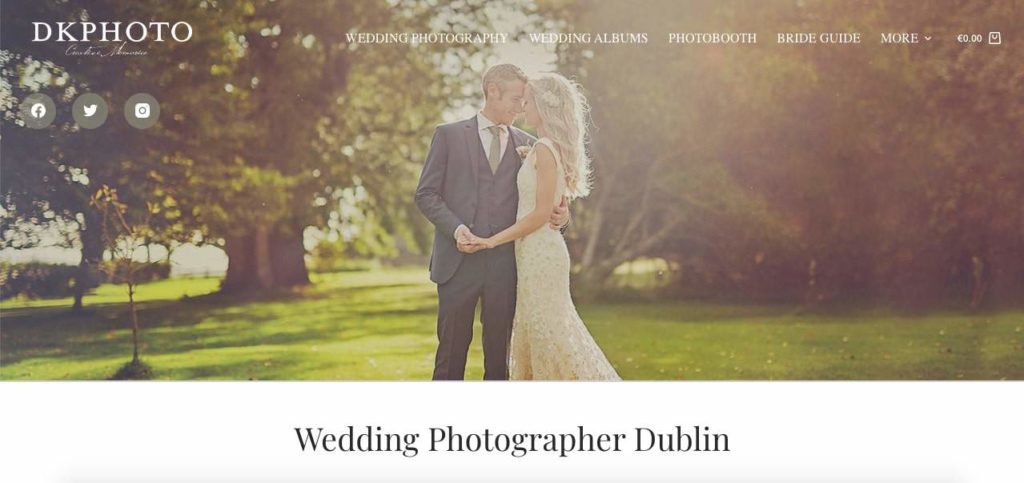 Test
Info
SERVICES
Wedding Photography, Wedding Albums, Photobooth
WEBSITE
https://www.dkphoto.ie/
ADDRESS
Bellevue, 112 Bellevue, Islandbridge Dublin 8, Co. Dublin
CONTACT DETAILS
087 780 7297

Email: [email protected]

OPERATING HOURS
Monday to Saturday: 9:00 AM to 10:00 PM
| | |
| --- | --- |
| Qualifications and background | ★★★★★(5/5) |
| Previous works | ★★★★★(5/5) |
| Services | ★★★★★(5/5) |
| Wedding photography | ★★★★☆(4/5) |
| Other services | ★★★★★(5/5) |
| Customer feedback | ★★★★★(5/5) |
| Coordination | ★★★★★(5/5) |
| Overall satisfaction | ★★★★★(5/5) |
What makes this wedding photographer stand out is that he builds close, yet professional, relationships with his customers. This is to ensure that the pictures come out perfectly capturing their personalities.
Daniel's works have been featured on numerous wedding related websites and he was also awarded as the wedding photographer of the year by the Weddings Online Awards.
He approaches his subjects with a documentary style approach and we really like that he has a lot of helpful resources on his site for brides, covering topics like winter weddings.
His wedding photography in particular impressed us because of his amazing ability to really capture candid moments in motion.
From veils sweeping in the wind to bridal parties opening a bottle of champagne, he's a great choice if you're looking for high quality dynamic shots.
We also really like that his services extend to destination weddings, able to travel to places like Spain or Italy. But we do really recommend him for his vast expertise in shooting on different Irish locations.
Admittedly however, his calendar does fill up quickly per year, so make sure to avail of his services as soon as you are sure.
He also has great additional offerings like photo booths and wedding albums, so he is a great one-stop-shop if you're looking for these things as well.
In the end, DK Photo is an excellent choice if you're looking to have a very amicable experience with your wedding photographer who produces high quality dynamic pictures.
Vast knowledge and experience of different locations in Ireland
Very friendly and professional personality
Fantastic dynamic shots
Also offers wedding albums and photo booths
May be difficult to schedule
Photographer has complete control over which photos are in color or black and white
Customer Reviews
Lots of Great Advice
Very happy with Daniel as our wedding photographer. He has lots of great advice for the day, dresses very smartly so that he almost blends in with guests on the day. We are very happy with our photos and he makes sure to capture a bit of personality in each photo! -Aideen Ryan
Captured our Day so Beautifully
Daniel, our wedding photos are amazing. I can't stop looking at them again and again. Daniel captured our day so beautifully. I'm so happy he was part of it. Daniel is beyond talented and any couple would be lucky to have him capture their day. I would do anything to do it all again. -Emma Day
2. Pawel Bebenca Photography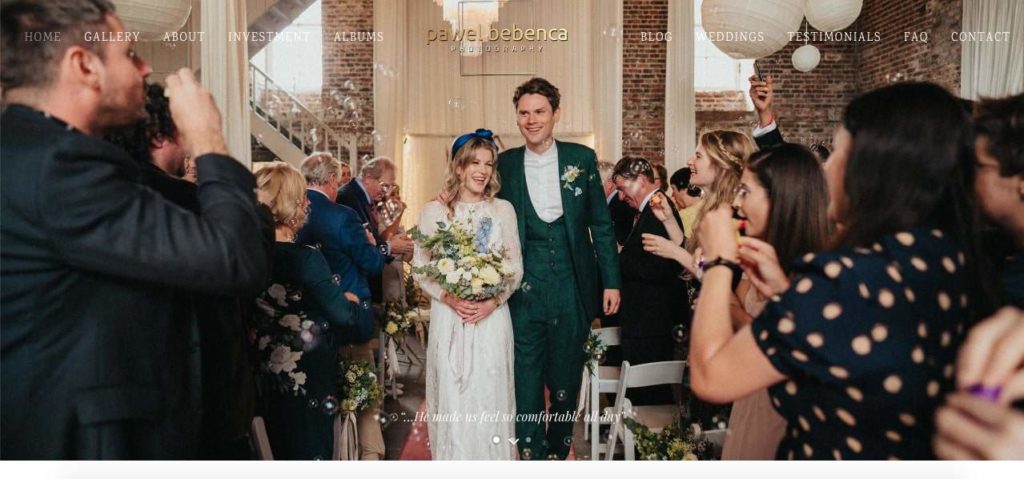 Test
Info
SERVICES
Wedding Photography, Wedding Albums
WEBSITE
https://www.pawelbebenca.com/
ADDRESS
Saint Catherine's Church Apartments, Bridgefoot St, Usher's Quay, Dublin
CONTACT DETAILS
+353 86 892 3406

Email: [email protected]

OPERATING HOURS
Monday to Wednesday: 11:00 AM to 1:00 PM

Thursday: 10:00 AM to 1:00 PM
| | |
| --- | --- |
| Qualifications and background | ★★★★★(5/5) |
| Previous works | ★★★★★(5/5) |
| Services | ★★★★★(5/5) |
| Wedding photography | ★★★★★(5/5) |
| Other services | ★★★★☆(4/5) |
| Customer feedback | ★★★★★(5/5) |
| Coordination | ★★★★★(5/5) |
| Overall satisfaction | ★★★★★(5/5) |
Based in Dublin, Pawel Bebenca Photography focuses on fostering a relaxed and comfortable atmosphere to put the subjects at ease.
Pawel himself has a background as a musician and a lot of his photographs clearly show a slightly more artistic approach when it comes to taking wedding photos.
His distinct perspective has even earned him a spot in the 100 photographers worldwide to watch in 2016. What we really like about Pawel's photos is that he uses the background and space very well.
From the intimacy of indoor tents to the sweeping greens of orchards, if you're looking for wedding pictures that complement your venue's beautiful views, he may be your guy. He's also very versatile in that sense when it comes to whichever wedding venue.
We also really appreciate that his packages and pricing are highly customizable. He currently offers three different categories alongside a la carte, like a second photographer and A4 wedding magazines.
However, we would like to note that Pawel also discloses that each wedding is individually quoted. That said, customer expectations on pricing are highly variable.
For those looking as well for wedding albums, Pawel Bebenca has a great assortment to choose from with different colors and materials. Most of his pre-set offerings, however, are limited to 40 pages, so that is something to consider.
In the end, he is an excellent choice if you are looking for a more artistic approach to your wedding photos with highly customizable options.
Great selection of wedding albums for colors and materials
Ensures a relaxed atmosphere with a artistic perspective
Highly experienced in capturing different types of venues
Very customizable add-ons
Service prices are individually quoted for
Most wedding album options are for 40 pages
Customer Reviews
Stunning Photos and Great Attitude
We had the best experience with Pawel for our wedding in Dublin City. Not only are the photos absolutely stunning, but he was such a laugh to hang out with while taking the photos. Such a pro! Highly recommend to anyone looking for a photographer. Check out his Instagram and you can see how his photos are so versatile depending on the wedding and venue. Thanks Pawel you legend!!! -Christina
Did Not Disappoint
Pawel was an absolute pleasure to work with. He is incredibly professional and made us feel so at ease throughout the day. We spent a lot of time researching photographers and were so in love with Pawel's work. We can honestly say that Pawel definitely did not disappoint. He captured our day so perfectly and we can't recommend him enough. – Aoife O'Dea
3. Nicola Webster Photography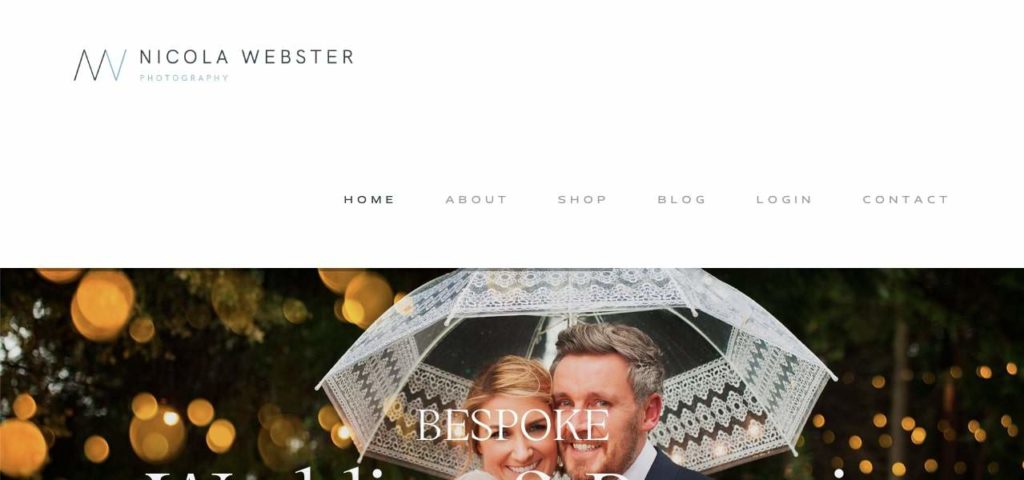 Test
Info
SERVICES
Wedding Photography, Portrait Photography, Frames and Albums
WEBSITE
https://www.nicolawebster.com/
ADDRESS
Raheny Shopping Centre, Main St, Clontarf East, Raheny, Co. Dublin, D5
CONTACT DETAILS
+353(0)87 840 4528

Email: [email protected]

OPERATING HOURS
Monday to Saturday: 9:00 AM to 5:00 PM
| | |
| --- | --- |
| Qualifications and background | ★★★★★(5/5) |
| Previous works | ★★★★★(5/5) |
| Services | ★★★★★(5/5) |
| Wedding photography | ★★★★☆(4/5) |
| Other services | ★★★★★(5/5) |
| Customer feedback | ★★★★★(5/5) |
| Coordination | ★★★★★(5/5) |
| Overall satisfaction | ★★★★★(5/5) |
Nicola Webster established her business in 2000 and since then has produced beautifully intimate wedding and portrait photography.
She takes on a very classic approach to her photography, with some very creative touches whether it be post production or layout here and there at times.
You can expect high quality images as a lot of her images have been awarded by the Irish Professional Photographers and Videographers Association.
What we really like about her wedding photos is her creative use of framing. Whether it be a view from overhead or in between an archway, we really like how she uses the surroundings to create a very interesting and atmospheric moment.
We also really like her use of props for a more fun and candid way to put the guests at ease. We highly recommend her if you would like a balance of more posed and candid photos.
Her process is commendable as well in that it is very efficient and straightforward. This includes an in-depth consultation and you can expect to receive the photos four to six weeks after the wedding.
However, we would like to note that from her services, you would approximately receive around 400 photos. This is slightly lower than what other photographers would offer.
In addition to her wedding photography, she is also great at portrait photography and we like her use of black and white. It is a very convenient additional service if you're looking to capture some couple or family shots.
We highly recommend Nicola Webster photography if you're searching for a more classic and fun approach.
Excellent black and white photography
Also offers portrait photography
Great range of capturing both candid and posed shots
Very efficient, receive photos 4 to 6 weeks after the wedding
Usually leaves by the dinner bell
More limited with 400 wedding photos received
Customer Reviews
Fun and Professional
Working with Nicola was wonderful from start to finish! Thank you so much, Nicola, for photographing our wedding. She was fun and professional to work with, and got fantastic shots despite the fact that both my husband and myself are very unused to being in front of a camera! We had a great time strolling around Dublin city centre and even having a pint of Guinness. Looking back through the photographs is just magical. Highly recommend! -Alyssa Rivera
Helps Put People at Ease
Nicola is an excellent talented photographer. She is wonderful at putting people at ease, which leads to Nicola capturing beautiful natural shots. Had such a laugh with Nicola at our wedding. She made the whole process from start to finish so easy and fun. Super reliable, creative and helpful. Highly recommended! -Ruth Farrar
4. Frank Gavin Photography
Test
Info
SERVICES
Portraits, Weddings, Print Shop, Photo Restoration
WEBSITE
https://www.frankgavinphotography.ie/
ADDRESS
Frank Gavin Photography, 89 Lower Dorset Street Lower, Dublin 1
CONTACT DETAILS
018306571, 018304955

Email: [email protected]

OPERATING HOURS
Monday to Saturday: 10:00 AM to 5:00 PM
| | |
| --- | --- |
| Qualifications and background | ★★★★★(5/5) |
| Previous works | ★★★★★(5/5) |
| Services | ★★★★★(5/5) |
| Wedding photography | ★★★★☆(4/5) |
| Other services | ★★★★★(5/5) |
| Customer feedback | ★★★★★(5/5) |
| Coordination | ★★★★★(5/5) |
| Overall satisfaction | ★★★★☆(4/5) |
With a long history, Frank Gavin Photography's services range from portraits to photo restoration.
This family run business has won notable awards like the Kodak and Fuji Photographer of the year. We really like that they are highly qualified with extensive backgrounds in different categories.
Joe Gavin himself is a member of the Irish Professional Photographers Association and he runs the business with his niece Becki Greene.
She, on the other hand, concentrates on producing excellent child and baby portraits, so we do like the different perspectives they offer.
In terms of their wedding photography, we really like that their style is simple and jovial. They have excellent experience with posed photos, and we like how they are able to put their subjects at ease.
If you are not someone who is used to posing in front of a camera, we highly recommend them.
Speaking of posed shots, they also offer an extensive service on portraits, from newborns to pets to graduations. We really appreciate that their style in this case is very simple and clean.
However, we would like to note that when their photos are uploaded to the private online gallery, these photos are live for only seven days. After which, customers would need to visit their studio in person.
Regardless, they make a wonderful choice if you're looking for simple and elegant wedding and portrait photography.
Excellent execution of more posed wedding shots
Highly qualified background and experience
Also offers photo restoration and a print shop
Great portrait photography service
Appointment only
Private web galleries are only available for 7 days
Customer Reviews
Always a Pleasure
Have used Gavins for various work through the years. I'm really familiar with their wedding work and would highly recommend them for that alone. Always a pleasure to see their regularly changed window display. -Chris Moran
Professional and Friendly
Very professional and friendly guy. 100% recommended this place for professional portfolio photos and for other special occasions. Thanks Frank Gavin very happy with my photo. -Adnan Rashid
5. David Duignan Wedding Photographer Dublin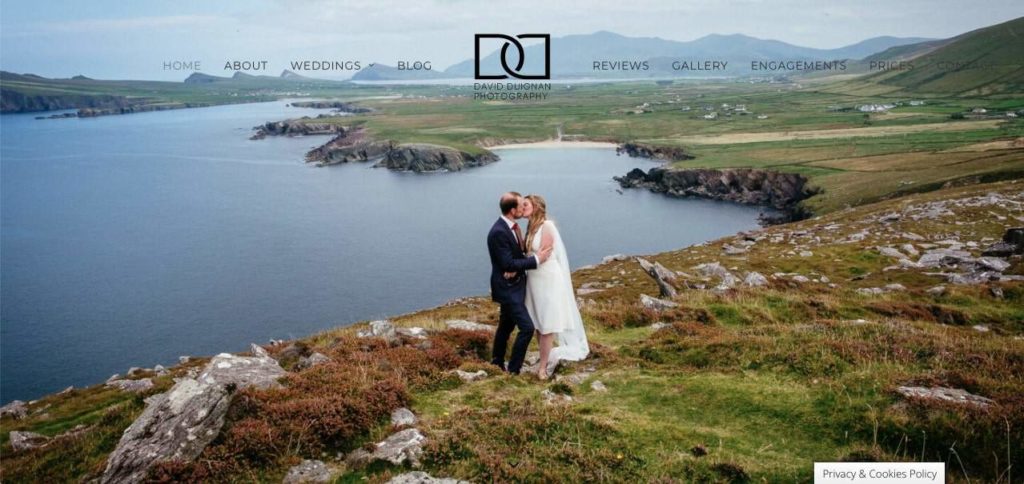 | Test | Info |
| --- | --- |
| SERVICES | Wedding Photography, Destination Wedding Photography, Sunset Photography, Albums, Engagement Shoot |
| WEBSITE | https://www.djd.ie/ |
| ADDRESS | 6 Bunbury Gate Cres, Broadmeadow, Swords, Co. Dublin |
| CONTACT DETAILS | +353 1 443 4683 |
| OPERATING HOURS | Monday to Saturday: 9:00 AM to 5:00 PM |
| | |
| --- | --- |
| Qualifications and background | ★★★★★(5/5) |
| Previous works | ★★★★★(5/5) |
| Services | ★★★★★(5/5) |
| Wedding photography | ★★★★★(5/5) |
| Other services | ★★★★★(5/5) |
| Customer feedback | ★★★★★(5/5) |
| Coordination | ★★★★★(5/5) |
| Overall satisfaction | ★★★★★(5/5) |
David Duignan's range of wedding photography services will surely cater to a lot of customers looking for a natural and spontaneous style.
David's background includes shooting for ceremonies all over Ireland and photographing destination weddings. However, keep in mind that his slots for the former are much more limited.
We like that his produced photos cover a wide range of categories. This includes the preparations, natural and formal portraits, as well as candid shots of guests around the ceremony and reception.
These shots go over a great amount of details to fully highlight the setting of the whole wedding. For example, he even shoots the dresses and shoes prior to the preparation.
We really like his particular focus on a discreet and unobtrusive style, allowing for the most unplanned and at ease shots.
Although his style primarily includes both black and white as well as vibrant shots, his main preferred element of use is natural light. We are very impressed with how he is able to use this to come up with a very grand atmosphere.
He even particularly offers sunset photography, making him a great choice if you're looking for outdoor evening weddings.
He also conveniently offers engagement photography as well. However, it is worth noting that there are additional travel fees for some of his packages.
David Duignan is an excellent option if you're looking for a photographer who skillfully uses natural light.
Unobtrusive approach for wedding photography
Makes great use of natural light
Offers engagement photography as well
Great range of various photos from preparation to reception
Limited slots for destination weddings
Some packages incorporate additional travel fees
Customer Reviews
His Work Took My Breath Away
I came across David's blog when I was searching for a Photographer to shoot our engagement photos while we were on vacation in Ireland. His work took my breath away and I was so excited to work with him! David was very quick to respond and provided a lot of suggestions and ideas to help us plan a great photo shoot! He was very patient and encouraging while taking our photos. The outcome was amazing too! His photos are absolutely stunning! I could not have asked for better engagement photos! Everyone loves them! I cannot thank David enough for capturing our love in the most beautiful way! -Sandra Bye
Great Attention to Detail
Dave was the photographer for our October wedding and we can't recommend him highly enough. We met on a couple of occasions before the big day and his attention to detail and absolute passion for his work was clear. We wanted relaxed, natural photographs and he certainly delivered. The photographs that Dave took were absolutely beautiful and he captured so many special moments of the day that narrowing the choices for the wedding album is proving difficult! Dave and his assistant Deena were a pleasure to work with, definitely one of the best decisions we made. -Debbie Mcfadden
FAQs about Wedding Photography
---
It can be a lot of pressure to choose the best photographer for your special day but we hope our list helped you in exploring options. Additionally, we also have a perfect complementary article for the best wedding videography services in Dublin.