A Guide to the Best Things to Do Vico Baths
Have you ever wanted to go for a swim in a historical and beautiful place by the sea? If you have, then you should check out the Vico Baths in Dalkey.
In this article, we will explore the top things to do at the Vico Baths, as well as provide other essential information for your visit.
What is Vico Baths?
Location: Hawk Cliff, Vico Rd, Scalpwilliam, Killiney, Co. Dublin, Ireland
The Vico Baths are a popular swimming spot in South Dublin, located on Vico Road, a leafy and affluent area that overlooks the stunning Dublin Bay.
Of course, the best thing to do at the Vico Baths is to jump into the water and feel the thrill of sea swimming in this stunning location. But you can also explore the surrounding area.
The baths have been popular since the Victorian era and are now enjoying a revival, as people discover the benefits and joys of cold water immersion.
So don't expect warm waters in this part of South Dublin, even though it's known as the Dublin Riviera. The sea temperature ranges from about 10⁰C in winter to 15⁰C in summer, so you'll feel a jolt of cold when you dive in!
But the cold is worth it for the benefits to your blood flow and some locals are so tough that they swim in the sea here on Christmas Day! If you can handle the initial shock of the cold, you'll have a great and invigorating swim.
Sadly, the Vico Baths aren't wheelchair accessible, as you need to go down some stone steps, which can be managed by most people. There's a small changing cabin for your convenience, though.
Take note, there's no lifeguard on duty here, so please swim safely and follow the sea swimming guidelines.
Make sure the weather and sea conditions are suitable.
Swim with others and let someone know where you are going.
Know your limits and don't swim too far or too deep.
Be aware of cold water shock and hypothermia and warm up after your swim.
Learn how to help and call the Coast Guard if you see someone in trouble.
Now, if you don't want to swim in the sea, you can still enjoy the cold seawater in a natural sea pool. The sea pool is a good alternative when the sea is rough or wavy.
To get to the baths, you need to walk 15 minutes south from the charming village of Dalkey, where you can find cafes, pubs and shops.
You need to look for a gap in the wall on Vico Road, and then follow the path down to the sea. You'll cross a footbridge over the railway tracks and then descend the stone steps that lead to the rocky outcrop by the sea.
If you're travelling by public transport, the best option is to take the DART to Dalkey train station. From there, you'll be less than 15 minutes walk away from the baths.
Parking near the Vico Baths can be challenging, as the roads are narrow and the spaces are scarce. You might find a spot on Vico Road or Sorrento Road if you visit early in the morning, but a better option is to park at Dalkey train station
What are the top things to do in and around Vico Baths?
Vico Baths is a historic and scenic spot in Dublin, where you can enjoy a refreshing dip in the sea, surrounded by nature and history. But there's more to do than just swimming – here are some of the top things to do in and around Vico Baths.
Take a Dip in the Sea
It's no question that swimming in the sea is one of the best things to do in and around Vico Baths. It can boost your health and mood by strengthening your body, improving your circulation, and protecting you from infections and diseases.
Vico Baths can also be a fun and social environment, attracting regular morning swimmers and offering opportunities to meet new people or bring friends for an enjoyable dip.
Swimming at Vico Baths may give you a chance to encounter celebrities like Harry Styles and Matt Damon or simply make you feel like a star in your own right!
Pro tip:

If you want a calmer swim, opt for the ancient seawater pool beside the Vico Baths. It's sheltered from the waves and has a soothing effect.
Explore Dalkey Island
If you see that island near the Vico Baths, just beyond Sorrento Point, you'll be looking at Dalkey Island, a treasure trove of ancient history.
It got its name from the old Irish word for 'Thorn Island', because of the thorny plants that grow there. The island was one of the first places where people lived on the east coast of Ireland, thousands of years ago.
You can still see some of their remains, like a stone church and a burial mound. The island was also used by the Vikings as a base, and later by the Normans as a port.
You can visit the island by boat or kayak, if you're brave enough. It's a great place to explore and learn more about Ireland's past.
Pro tip:

Kayaking is a fun and adventurous way to explore Dalkey Island. You can choose from two reputable tour operators, Kayaking.ie and Portobello Adventure, that offer daily guided tours for all skill levels.
Go for a Walk at Killiney Hill
Do you want to see some amazing views from a high place? Then you should try the Killiney Hill Walk. It's a 5-minute drive from the Vico Baths, and it's one of the best walks in Dublin.
When you get to the top of Killiney Hill, you'll see why it's worth it. You'll have a fantastic view of Dublin city from the Obelisk, which is a tall stone monument.
You'll also have a great view of the coast and the Wicklow Mountains from the Viewpoint, which is a bit further south. You can also see Dalkey Island, which has a lot of ancient history. 
Pro tip:

Dalkey Village is a short walk from Killiney Hill Park and has many restaurants to satisfy your hunger. You can also enjoy the village's charm and attractions, or take a DART to Dún Laoghaire for more seaside fun.
Visit Sorrento Park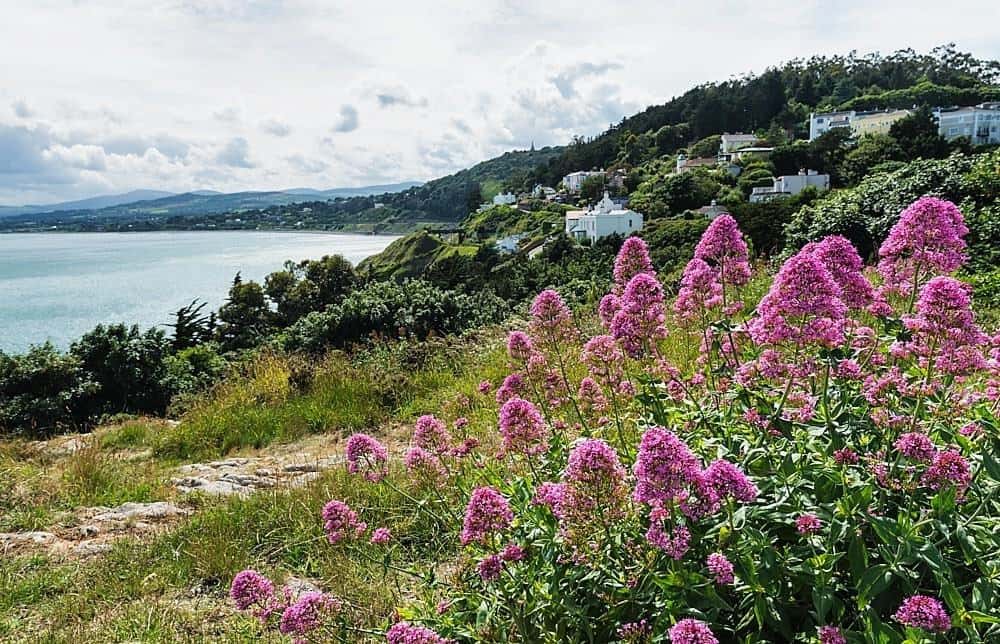 Do you know another place where you can see some great views? It's Sorrento Park, and it's only a 5-minute walk from the Vico Baths.
It's not really a big park, but it has a small hill that you can climb up. The views of the coast and the Wicklow Mountains from the top are amazing, and you can also see the beautiful Dalkey Island.
If you want to see more views, you can also go to Dillon's Park, which is next to Sorrento Park across Coliemore Road. It's bigger and greener, and it has some benches where you can sit and relax. 
Pro tip:

For the best photos, arrive early and catch the golden hour light. You'll be rewarded with amazing views of the landscape.
Enjoy Sunbathing at Killiney Beach
How about complementing your swim in the Vico Baths with a delightful sun-soaked experience at Killiney Beach? Take a short 15-minute drive through the pretty roads of Killiney and head to Killiney Beach.
It's a stony beach, but it has some of the cleanest water in Dublin. It has won the Blue Flag award many times, which means it meets high standards of quality and safety.
The beach also offers amazing views of the mountains and the coast. From there, you can see the Little and Great Sugarloaf, Bray Head, and Dalkey Island.
And if you're feeling hungry or want a treat, you can grab some coffee or ice cream from Fred and Nancy's, a food truck near the beach.
Pro tip:
The sun's rays are strongest between 10 am and 4 pm. Try to schedule your sunbathing sessions during the early morning or late afternoon to reduce your risk of sunburn.
For a comfortable sunbathing experience, pack some essentials for the stony beach. You'll need a pair of sandals or water shoes for your feet and a thick towel, a mat, or a sun lounger for your body.
Join the Christmas Morning Swim
One of the most famous traditions is the Christmas morning swim, which attracts many Dubliners every year.
At this festive tradition, you can wear a Santa hat, a costume (or nothing at all!), and brave the cold water for a fun and exhilarating experience. You can also sing carols, drink hot chocolate and share mince pies with other swimmers.
Pro tip:
Wear a warm hat, gloves, and a robe before and after your swim to keep yourself from getting too cold.
Don't stay in the water for too long, as hypothermia can set in quickly. A few minutes is enough to get the adrenaline rush.
Join a local swimming club or group to enjoy the festive atmosphere and camaraderie of this tradition. You'll also find safety advice and support from experienced swimmers.
What are some notable facts about the Vico Baths?
Vico Bath has been a popular swimming site since the Victorian era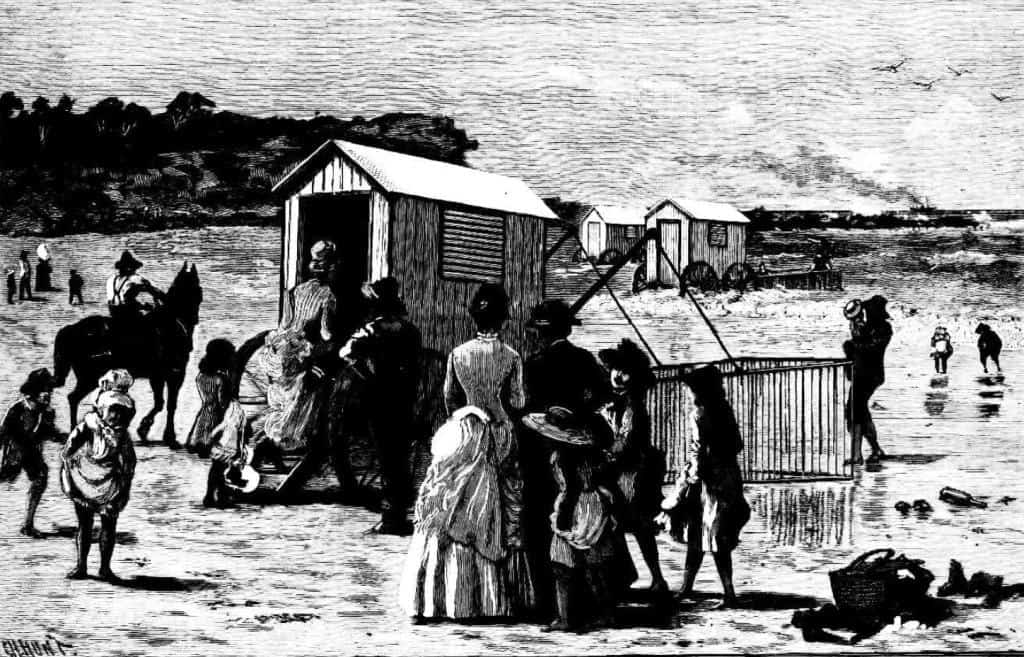 When Vico Road was built in 1889, the Victorians must have realized that the small cove would be a hit because the scenery around here is so beautiful.
There are other places to swim around here, like Forty Foot, Sandycove Beach, Killiney Beach, and Seapoint Beach, for example. But none of them have the amazing views that Vico has, especially at sunrise which attracts a lot of people.
Vico Baths was originally for gentlemen only
The Vico Baths have a long history of sea swimming, but not everyone was welcome there in the past. The baths were reserved for men only, like many other bathing spots in Dublin.
Outdoor bathing areas were separated by gender according to the bylaws of the time, so women had their own designated areas to swim. The bylaws were not to be broken, and anyone who did faced a fine of 40 shillings.
Thankfully, those days are over now, as women can enjoy the waters and views of the Vico Baths, along with men. The baths are open to everyone who wants to experience a refreshing dip in the sea.
The 'EIRE' sign indicated Ireland's neutrality during World War 2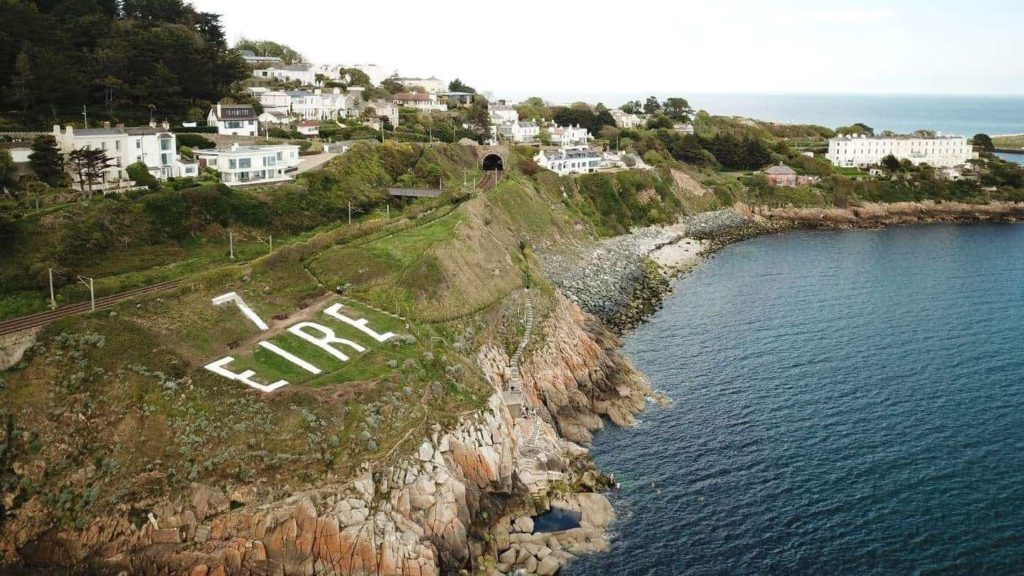 On your way to the Vico Baths in Dalkey, you might spot a huge '7 EIRE' sign on the cliff beside the baths. This sign is made of white painted rocks and has a fascinating history behind it.
It dates back to the World War Two era in Ireland, when the country was neutral and wanted to avoid being bombed by mistake. The sign was part of a series of large signs along the coast that served as navigational aids for planes flying over Ireland, especially American bombers.
They indicated to the pilots that they were in Irish airspace and not in the UK, which was under heavy attack at the time. The signs were essential in the age before GPS and are now preserved as historical monuments.
Vico Baths became known as a nude bathing spot
The Vico Baths have a reputation for being a place where people swim naked. Some people didn't like that and called the Garda on them in the 1990's.
Nowadays, you can still find some nudists there, but they usually come very early. Most people who go there wear bathing suits.