Limerick for Lovers: The Coolest Things to Do for Couples
Looking for exciting romantic things to do in Limerick? If you're tired of the same old routine or just want to make your date night special, we've got you covered.
From exploring historic castles to rocking out at concerts, Limerick offers a plethora of options for couples.
Creativity can wane after a long day, so we've compiled a diverse list of date ideas to suit different preferences and budgets. It's time to break free from the routine and create memorable experiences with your loved one.
Get ready for some fun and unique adventures with our top activities in Limerick for couples!
What are the most memorable things to do in Limerick for couples?
The most memorable things to do in Limerick for couples are enjoying a sunset bike ride, kayaking along the Shannon, exploring the city's charming streets and markets, indulging in whiskey tasting, and enjoying live music.
They can also unwind at No.1 Pery Square Hotel & Spa, visit the Hunt Museum and Medieval Quarter, have a budget-friendly picnic at People's Park, and take a trip to Adare Village or watch a Rugby match at Thomond Park.
Sunset Bike Ride by the Shannon through Three Bridges Walking Route
If you want to see Limerick in all its glory, there's no better time than the golden hour, when the sun paints the sky and the Shannon with warm colors.
You'll love the Three Bridges Walking Route, a scenic loop that takes you past some of the city's most historic and beautiful sights, like King John's Castle, Saint Mary's Cathedral, and the stunning mix of old and new architecture.
The route is 3.6km long and starts at Arthur's Quay Park, where you can enjoy the lively atmosphere and the views of the river. Along the way, you'll also discover some amazing street art and green spaces that make Limerick so unique and vibrant.
Getting your pedal on is a real endorphin booster, and what's cooler than getting your happy vibes on with your loved one, right?
Pro Tip:

Don't have your own bikes? No problem!

You can rent a TFI bike from Arthur's Quay Park and enjoy the scenic Three Bridges Walking Route. Just visit their website to learn how.
Stay and Unwind at No.1 Pery Square Hotel & Spa
Website: https://oneperysquare.com/
Address: Georgian Quarter, Limerick
Phone: +353 61 402402
Email: [email protected] 
For a romantic getaway in Limerick City, No. 1 Pery Square is great choice. It's a chic and cozy boutique hotel with a stunning view of the green People's Park.
This hotel is a gem of Georgian architecture, with 21 elegant rooms that feature original fireplaces, plush pillows, and vintage furniture.
But the best part is the Heritage Spa, where you can pamper yourself and your partner with a range of spa treatments in the Thermal Suite, Steam Room and Mist Showers.
Pro Tip:
Make your spa retreat even more special by enjoying delightful afternoon tea in the hotel's Drawing Room and savoring a delectable dinner at Sash Restaurant.
For a truly memorable dining experience, be sure to reserve a table at The Long Room, where you can indulge in the finest Irish cuisine and culinary mastery.
Start Your Day with Breakfast at The Buttery
Website: https://thebuttery.ie/the-buttery-bedford-row/ 
Address: 10 Bedford Row, Prior's-Land, Limerick
Email: [email protected] 
Operating Hours:
Monday to Saturday – 9 AM to 5 PM
Sunday & Bank Holidays – 10 AM to 5 PM
A great way to start your day in Limerick is to treat yourself and your partner to a delicious breakfast at The Buttery. This cozy and stylish cafe offers a variety of dishes, from classic Irish breakfasts to pancakes, omelettes and vegan options.
You'll love their fresh and flavorful food, made with local and organic ingredients. The Buttery also serves excellent coffee, tea, and smoothies, as well as homemade cakes and pastries.
The staff are friendly and attentive, and the atmosphere is relaxed and inviting. From quick bite to a leisurely meal, The Buttery will satisfy your appetite and make you feel welcome.
Pro Tip:

For a hearty breakfast, try the Breakfast Burrito served with egg, chorizo, cheese and more, or go for the Eggs Beni with smoked salmon. And don't miss the French Toast with berries and maple syrup – yum!
Enjoy a Saturday Morning Stroll at the Milk Market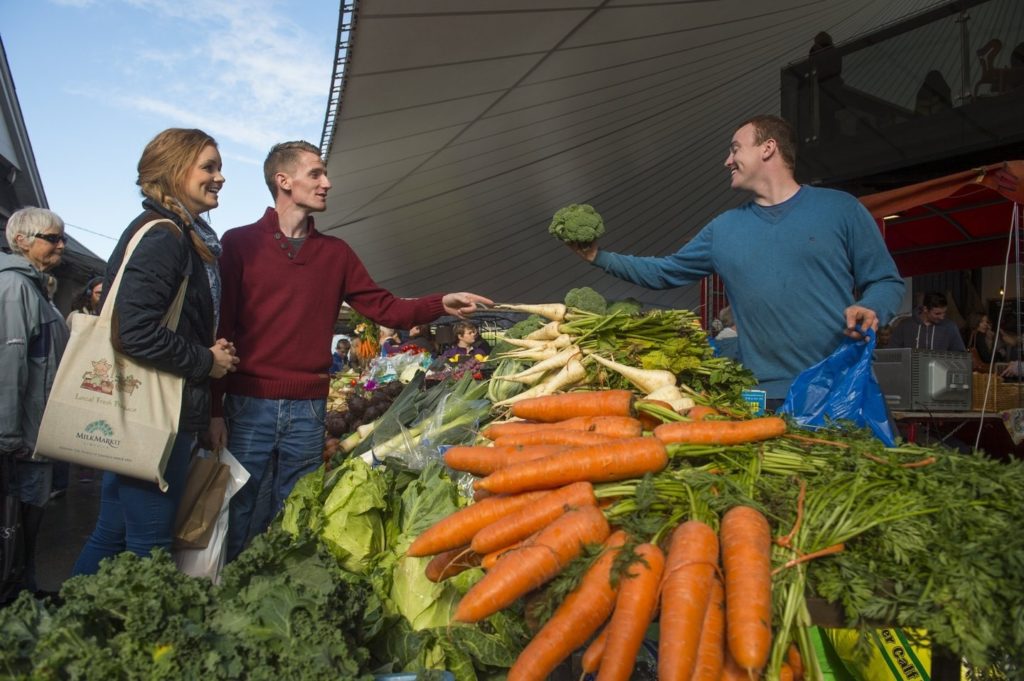 Website: https://www.milkmarketlimerick.ie/ 
Address: Limerick Milk Market, Cornmarket Row, Limerick
Phone: +353 61 214782
Email: [email protected]
Operating Hours:
Fridays – 10 AM to 3 PM
Saturdays – 8 AM to 3 PM
Sundays – 11 AM to 3 PM
You and your partner can explore the Milk Market, a lively and colourful spot in Limerick's city centre.
As you wander around the stalls, you'll find fresh, local and organic produce, from cheese and fish to bread and juice, as well as tempting treats like pastries, chocolates and crepes.
You can also chat with the friendly vendors and learn more about their products and stories.
Who knows, you might even get inspired to buy some ingredients for a romantic dinner later. The Milk Market is not just a place to shop, but also a place to connect with each other and the community.
Pro Tip:

Change a boring job into a fun thing for both of you. Split your list in two and race to see who can do it faster.
Shop at Various Places along Limerick's Charming Streets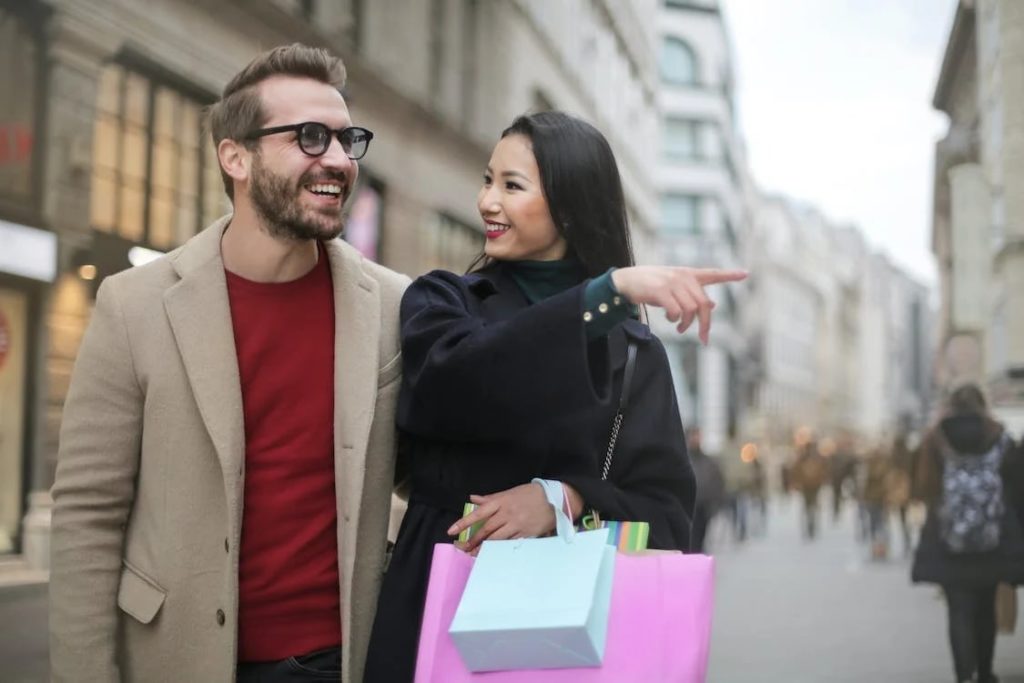 For couples who love to shop, Limerick's shopping streets offer a variety of options to suit every taste and budget.
You can explore the narrow lanes that lead to Cruise's Street, where you'll find everything from bakeries to bookstores.
You can also check out the department store Brown Thomas, the boutiques along Roches Street and Catherine Street, or the landmark menswear Billy Higgins.
Shopping together can be a fun way to bond and learn more about each other's preferences and personalities. You might even find something special that you both love and want to share. 
Pro Tip: 

Visit Cahill's Tea, Limerick's iconic shop in the historic tobacco and snuff factory on Wickham Street. Immerse yourself wih a global selection of tea flavors, including gunpowder black tea, Moroccan mint, and pina cola fruit tea.
Have a Budget-friendly Picnic at People's Park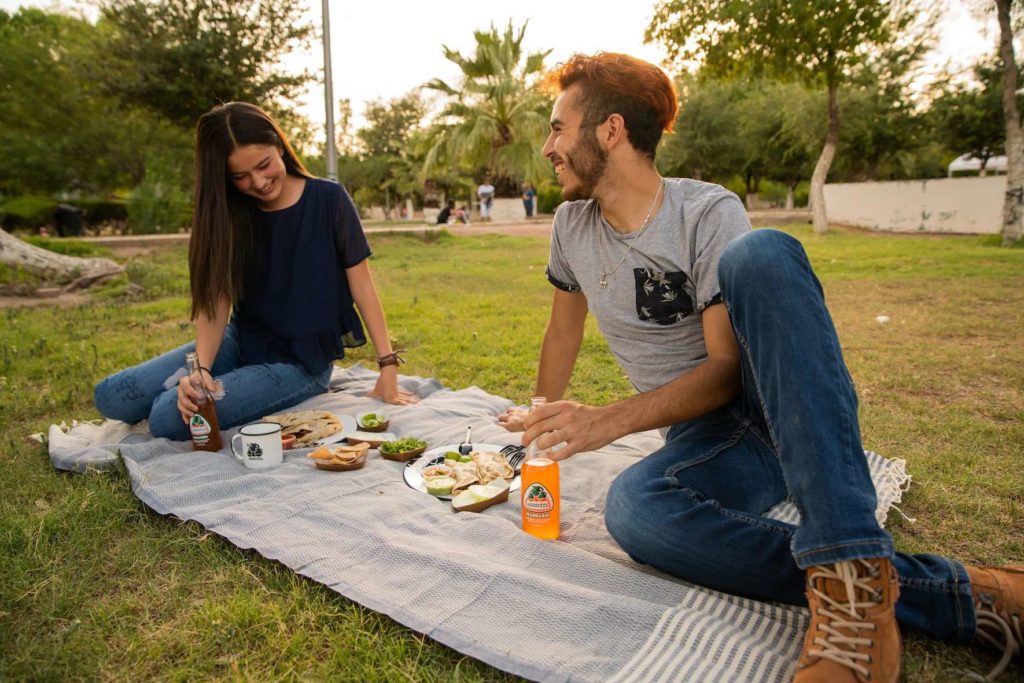 How about a cozy and relaxing picnic at The People's Park, one of the oldest and most charming spots in Limerick?
You and your partner can enjoy the fresh air, the green scenery, and the historical features of this lovely park, while munching on some delicious snacks and drinks that you bring along.
A picnic date is a great way to get to know each other better without the pressure of a fancy restaurant. Plus, it's budget-friendly and easy to plan.
Even if it's your first date or your hundredth, a picnic at The People's Park is sure to make it memorable and fun!
Pro Tip:

You can also check out the Limerick City Gallery of Art, which is located right next to the park, and admire some amazing artworks together
Spend Some Time at The Hunt Museum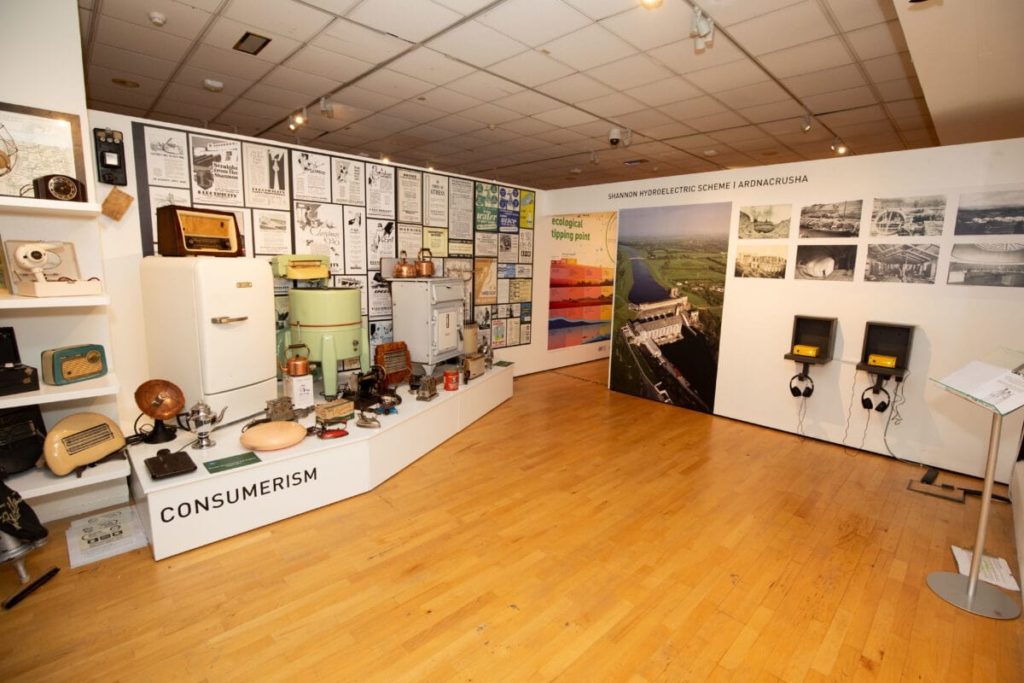 Website: https://www.huntmuseum.com/ 
Address: The Hunt Museum, Custom House, Rutland Street, Limerick City
Phone: +353 61 312833
Email: [email protected] 
Operating Hours:
Tuesday to Saturday – 10 AM to 5 PM
Sunday – 11 AM to 5 PM
Monday – closed
The Hunt Museum is a treasure trove of art and history in Limerick City, where you and your partner can marvel at over 2,000 original works from different cultures and eras.
You'll find everything from ancient Egyptian sculptures to modern paintings by Picasso and Renoir, as well as rare Irish artefacts from the Neolithic to the medieval period.
It's a perfect place to spark some conversation and learn more about each other's tastes, opinions, and emotions. Art can help you connect on a deeper level and explore topics beyond the usual small talk.
So why not plan a date at this fantastic museum and discover its diverse and fascinating collection?
Pro Tip:
Before visiting Hunt Museum, download and print their Medieval Treasure Hunt trail. You'll get to explore the museum and learn fun facts about medieval objects in their collection. 
A great way to enjoy Hunt Museum is to join one of their workshops and learn a new skill. Just check out their website for the latest workshop schedule.
Step Back in the Past at Medieval Quarter
Limerick's Medieval Quarter, perched at the entrance to the River Shannon and the Wild Atlantic Way, is a captivating journey through a thousand years of history.
Within, Saint Mary's Cathedral, featuring intricate misericords and stunning stained glass, acts as a living time capsule. Noteworthy is the famous oak and limestone entrance, and nearby, remnants of ancient city walls await discovery.
Nicolas Street leads to the 17th-century Widow's Almshouse, situated adjacent to King John's Castle, offering stunning river views and a front-row seat to the city's dramatic past.
For a perfect finish, make sure to visit the Treaty Stone, where the 1691 Treaty of Limerick was, supposedly, signed—an enigmatic rough-hewn limestone block across from King John's Castle.
Pro Tip:
After a historic stroll through the Medieval Quarter, quench your thirst with a refreshing stop at Treaty City Brewery. 
Add an extra layer of fun and learning to your adventure by challenging each other to a quiz about Limerick's rich history. Create questions and take turns testing your knowledge.
Indulge in a Whiskey Tasting Experience at Michael Flannery's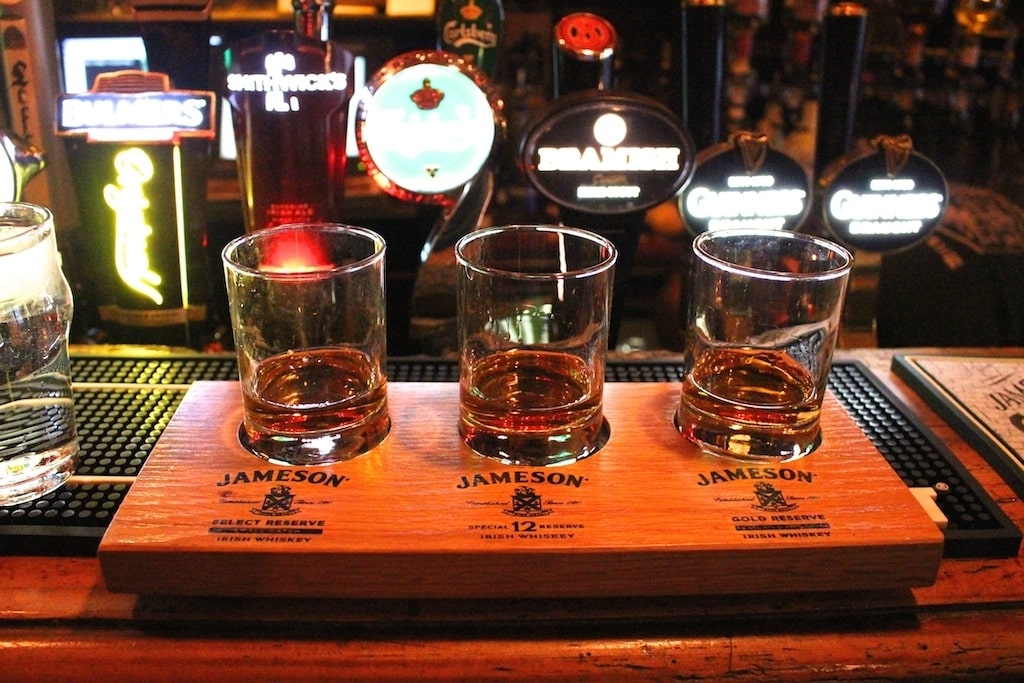 Website: https://www.flannerysbar.ie/whiskey-tastings/ 
Address: 17 Upper Denmark Street, Limerick
Phone: 061-436677
Email: [email protected] 
For a memorable date night, you should also consider visiting Michael Flannery's, a cozy and authentic Irish bar with a huge whiskey collection.
You can sample different varieties of Irish whiskey, guided by an expert who will explain the history and process of this iconic drink.
You might discover a new favorite or learn something new together. Michael Flannery's also has a great selection of craft beers and a warm atmosphere that will make you feel at home.
Pro Tip:

Follow these simple steps before tasting your whiskey:
Nose the whiskey by sniffing it with your mouth open and closed. You'll get different aromas that way.
Sip the whiskey and let it coat your mouth. Notice the texture, flavour, and intensity. 
Swallow the whiskey and see how it changes. Some flavours may linger, some may disappear. 
Describe the whiskey in your own words. Is it fruity, spicy, smooth? 
Repeat the process and experiment with adding water. Water can enhance the whiskey's bouquet and taste.
Round-off Your Evening with a Live Music at Dolan's Warehouse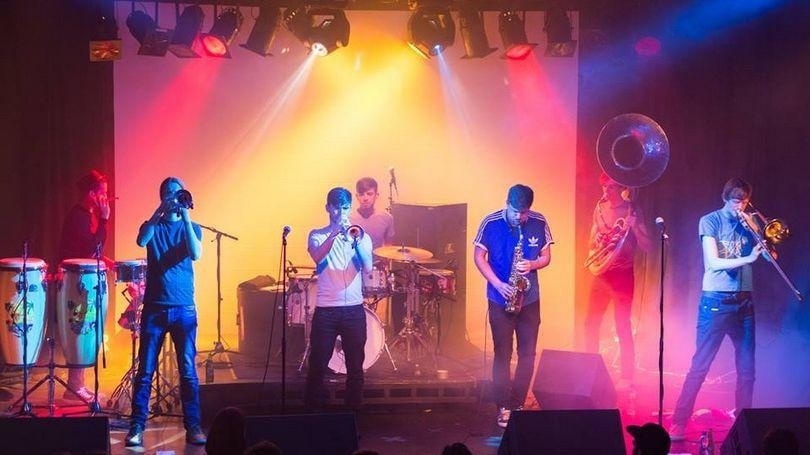 Website: https://www.dolans.ie/ 
Address: 4 Alphonsus Street, Limerick
Phone: +353 61 314483
Email: [email protected] 
Operating Hours:
Wednesdays & Thursdays 4 PM to 11:30 PM
Friday 4 PM to 12:30 AM
Saturday – 2 PM until late
Sunday – 2 PM to 11 PM
Dolan's Warehouse, a beloved Irish pub and music venue, offers an engaging experience for couples looking to enjoy live music.
Research shows that attending concerts enhances communication, emotional connection, and relationship satisfaction.
With different notable acts, Dolan's provides an entertaining date night for every couple. Whether you're on a first date or seeking a memorable night out, this traditional Irish pub remains a well-respected music venue.
You can relish traditional Irish music or contemporary tunes at Dolan's, making it an excellent choice to connect and bond over shared musical interests.
Pro Tip:

Make sure to purchase your online ticket without delay. You only have a 5-minute timeframe to complete the checkout process, and each page has its own time limit.
Take a Trip to Adare Village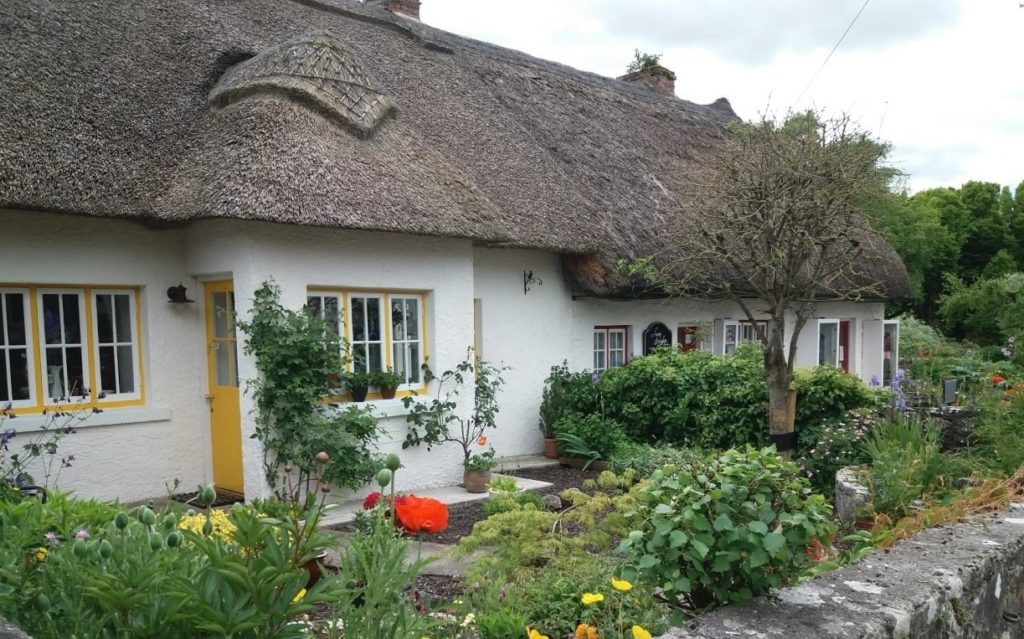 A perfect day in Limerick for couples could start with a visit to Saint Mary's Cathedral, where you can hear the bells ring and admire the Gothic architecture.
Then, hop on a bus or a car and head to Adare, the prettiest village in Ireland. You'll love the thatched cottages, the medieval monastery and the majestic Adare Manor.
You can also enjoy a scenic walk along the river Maigue and learn about the history of Adare from a guide book. For lunch, treat yourself to some delicious local food at 1826, a cozy and charming restaurant in a cottage.
Adare is a romantic and charming place that will make you feel like you're in a fairy tale.
Pro Tip:

Be sure to visit the nearby Curragh Chase Forest Park, just a 15-minute drive away, offering diverse trails suitable for various fitness levels. Lough Gur, a 35-minute drive, is also worth considering for a romantic outing.
Attend a Munster Rugby Match at Thomond Park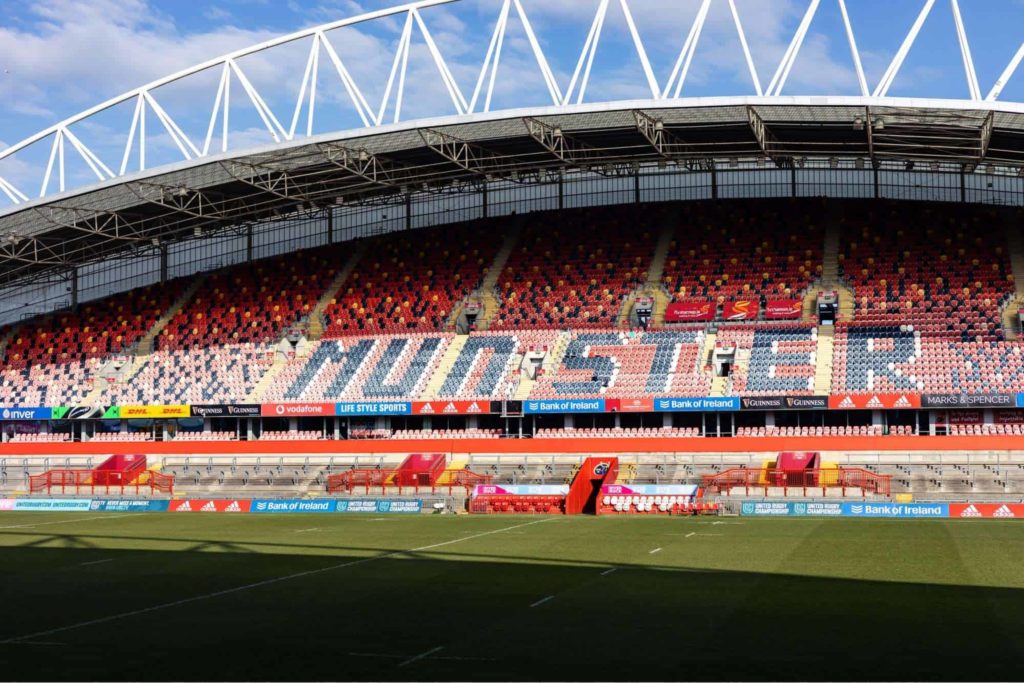 Website:
Address: Cratloe Rd, Ballynanty Beg, Limerick
Phone: +353 61 421 100
Email: [email protected] 
Nothing beats the thrill of cheering for Munster at Thomond Park, the rugby heart of Limerick. You'll surely love the adrenaline rush of watching the game live.
You can also experience the rich history and culture of Limerick's rugby scene at the stadium's museum, where you can relive the legendary moments of Munster's victories.
Going to a game is a fun and memorable date idea that will make you stand out from the crowd. It's also budget-friendly, with student tickets only €10.
So grab your partner and join the roar of the fans at Thomond Park!
Pro Tip:

Enhance the game-watching experience by enjoying delicious game day favorites like hotdogs, chicken wings, and drinks, which can easily be ordered from takeout restaurants or food vendors.

Sharing good food while cheering for your team creates a warm and enjoyable atmosphere for you and your guests.
Try Kayaking on the River Shannon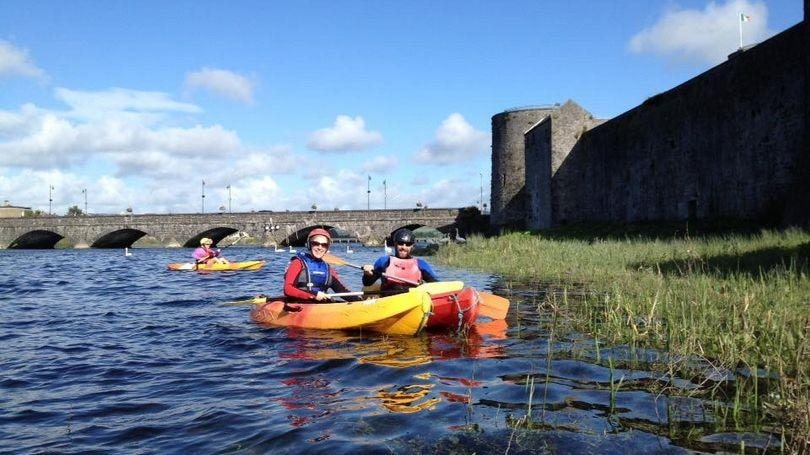 A scenic activity that you and your partner will love is kayaking on the River Shannon, the longest river in Ireland.
From the Shannon Pot where the river originates, you can glide along the water and admire the stunning landscapes, ancient monuments, castles, islands, and wildlife that surround you.
You'll see colorful kingfishers, graceful herons, swans, and fish as you navigate the river's calm and rough sections. You can join a guided tour from one of the many operators like Nevsail Watersports and Limerick Kayak Club.
Pro Tip:

Prior to starting your kayaking journey, it is crucial to verify the weather forecast and river conditions to guarantee a secure and pleasurable experience. Always prioritize safety above all else.