The 6 Best Payroll Services in Dublin
Payroll is one of the most important aspects of a business to pay attention to. After all, your employees' morale is affected by how it is managed.
If you are based in the area, check out our list of the best payroll services in Dublin. We've done the research for you and answered some FAQs too.
The Best Payroll Services in Dublin
To assess the different payroll services in Dublin, we used the following criteria:
1. Osservi
Test
Info
SERVICES
Bookkeeping

Payroll

Accounting

Company formation

WEBSITE
https://osservi.ie/
ADDRESS
Unit 5 Jervis St, North City, Dublin 1, D01 T2C2, Ireland
CONTACT DETAILS
+353 1800 938 796
OPERATING HOURS
Monday - Friday: 9 AM - 5 PM
| | |
| --- | --- |
| Experience | ★★★★☆ (4/5) |
| Years of operation | ★★★☆☆ (3/5) |
| Record | ★★★★★ (5/5) |
| Convenience | ★★★★★ (5/5) |
| Location | ★★★★★ (5/5) |
| Registration process | ★★★★★ (5/5) |
| Prices | ★★★★☆ (4/5) |
| Features | ★★★★☆ (4/5) |
Osservi's outsourcing services only started in 2018, so they're still relatively young in the business. Still, they've proven their service quality through satisfactory feedback from their customers.
Their team has experience in various industries and is familiar with doing business globally. They're also regularly trained to keep up with the latest payroll technology.
We liked their focus on continuously advising you about your key performance indicator (KPI) goals. This is done through monthly reports, which are notable for being written simply and shortly.
The payroll services they provide have a wide scope, as they involve income tax preparation, general ledger review, income tax planning, and business start-up consulting. Through this, businesses can become more proactive when it comes to financial planning.
We also liked their location, as it is accessible and is near many landmarks, such as the Dublin Airport and Ha'penny Bridge.
Planning a consultation is easy with them, as it can be done through their website.
Proactive and diverse payroll services
Updated payroll technologies
Short and well-written monthly reports
Accessible location
Customer Reviews
It has all been working perfectly
"So happy, being an Australian company who had offices in the UK and also Singapore we had recently started to hire in Ireland and needed a payroll partner there. I was recommended 3 all of which impressed me but it was the simplistic and easy manner in both the way John presented himself and also his solution. It has all been working perfectly and I have already recommended him to clients of ours looking to launch into Ireland. It is not often I feel compelled to write a review but this was one of those cases." – Steve Grace, Google Reviews
Highly recommend!
"We were looking for an accountant in the EU due to the new Brexit regulations. So glad that we came across Osservi! They are so efficient and are so helpful in every aspect. Highly recommend!" – Christina, Google Reviews
2. Shamrock Accounting, Tax and Payroll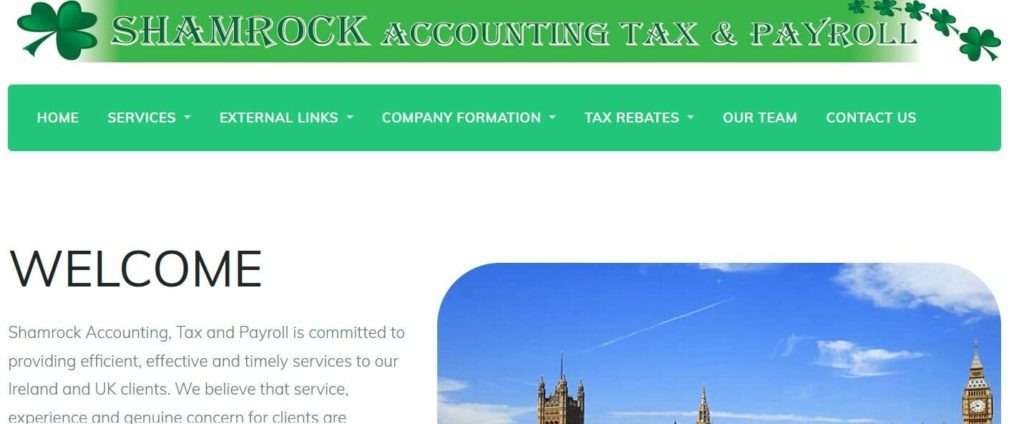 Test
Info
SERVICES
Accounting

Tax

Bookkeeping

Business services

WEBSITE
https://imshamrock.com/
ADDRESS
45 Mayeston Ct, Poppintree, Dublin 11, D11 C4AX, Ireland
CONTACT DETAILS
+353 86 074 5194
OPERATING HOURS
Monday - Thursday: 9 AM - 5:30 PM

Friday - Saturday: 9 AM - 12 PM
| | |
| --- | --- |
| Experience | ★★★★☆ (4/5) |
| Years of operation | ★★★★☆ (4/5) |
| Record | ★★★★★ (5/5) |
| Convenience | ★★★★☆ (4/5) |
| Location | ★★★★☆ (4/5) |
| Registration process | ★★★★☆ (4/5) |
| Prices | ★★★★☆ (4/5) |
| Features | ★★★☆☆ (3/5) |
We liked Shamrock's use of the Sage Business Cloud Accounting platform, which is notable for being convenient both for payroll and invoice processing. It's secure, easy to use, and friendly even for the smallest businesses.
Their payroll services can accommodate multiple needs, such as pensions, benefits in kind, employment contracts, and varied payroll schedules. Planning is also easy because of their well-informed and friendly representatives.
Speaking of representatives, their team is composed of experts in the industry who've had years of experience. Unfortunately, we found the info provided on their website to be inadequate, and we've had to dig for their LinkedIn accounts separately to know more about them.
We also think that their website's aesthetic and user-friendliness need to improve.
Besides these drawbacks, there's still much to be happy about what they offer.
Once you get in contact with their team, the process will be smooth no matter what type of business you have, as they're experienced in dealing with various industries. They also provide a lot of advice for those who are aiming for future business growth, and they give affordable service fees to accommodate this.
Uses Sage Business Cloud Accounting Platform
Can handle various payroll requirements
Representatives are familiar with various industries
Easy registration process
Website has insufficient info and outdated design
Customer Reviews
Our business is very satisfied
"Our business is very satisfied from the service provided by the Shamrock Accountants. We would recommend their service to any businesses." – Artur Kyuregyan, Google Reviews
Excellent and professional
"Excellent and professional Accounting services provided here. Also I'm Really thankful to Shamrock accounting for supporting me at every step in setting up and then guiding me growing my business. I highly recommend the services without a doubt." – Kamran Khan, Google Reviews
3. Jefferson Payroll

Test
Info
SERVICES
Payroll services for

•Start-ups

•SME

•Multinational

•Enterprise

•Global

WEBSITE
https://www.jeffersonpayroll.ie/
ADDRESS
Beaver House, Beech Hill Office Campus, Clonskeagh, Dublin 4, Ireland
CONTACT DETAILS
+353 1 269 8311
OPERATING HOURS
Monday - Thursday: 8 AM - 5:30 PM

Friday: 8 AM - 4:30 PM
| | |
| --- | --- |
| Experience | ★★★★★ (5/5) |
| Years of operation | ★★★★★ (5/5) |
| Record | ★★★★★ (5/5) |
| Convenience | ★★★★☆ (4/5) |
| Location | ★★★★★ (5/5) |
| Registration process | ★★★☆☆ (3/5) |
| Prices | ★★★☆☆ (3/5) |
| Features | ★★★★★ (5/5) |
The company has a good location that is located near the Dublin Bay and the airport. They also have long operating hours, which makes consultation easier.
One thing that makes them stand out is that they have a self-made payroll software. This is flexible in adapting to newer payroll demands as set by industry experts in HR and finance.
Their software has many great features such as input converters, custom reports, and file extraction for third parties. It also has the iPayslips feature that provides post-payroll reports to your employees.
Jefferson Payroll can also accommodate international companies, which is always a plus. They are familiar with SAAS, payroll consolidation services, and more.
They have one of the best payroll service websites we've seen, as it explains their different features well. It's also easy to contact them through this.
They've also accumulated more than 50 years in the business and serve more than 200 international clients. Because of this, they've developed a good cloud system infrastructure that's secure and easy to use.
In exchange for these are higher rates than their competitors, though. This makes them friendlier for mid to large companies but not so much for others.
Self-made payroll platform
Expertise in providing international services
Well-made website
More than 50 years of experience
Customer Reviews
Very efficient service provider
"Jefferson Payroll are a very efficient service provider. Their expertise helped me out of a tight spot when I needed it the most. The prices were a bit higher than their competitors but worth it for the great service and onboarding they provided. They handheld me through the implementation with ease and precision. I'd highly recommend them if you are transitioning your payroll solution." – Emma Quinn, Google Reviews
Experts in their field
"Experts in their field, always happy to help with professionalism and efficiency." – David Hayward (Peacecore), Google Reviews
4. Brady Management Global Ltd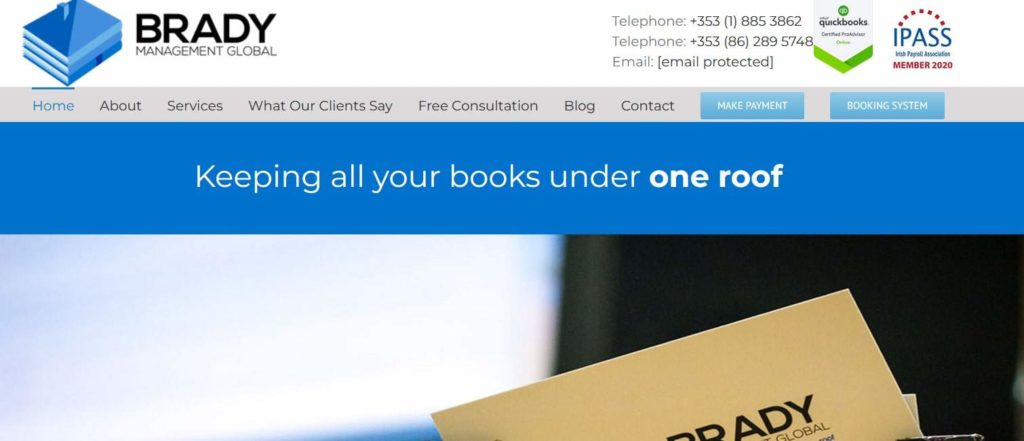 Test
Info
SERVICES
Training and mentoring

Payroll

Bookkeeping

WEBSITE
https://www.bradymgt.com/
ADDRESS
Unit 42, Block 12, Rosemount Business Park, Dublin 15, D11 H602, Ireland
CONTACT DETAILS
+353 1 885 3862
OPERATING HOURS
Monday - Thursday: 7 AM - 4:30 PM
| | |
| --- | --- |
| Experience | ★★★★☆ (4/5) |
| Years of operation | ★★★★☆ (4/5) |
| Record | ★★★★★ (5/5) |
| Convenience | ★★★★☆ (4/5) |
| Location | ★★★★☆ (4/5) |
| Registration process | ★★★★☆ (4/5) |
| Prices | ★★★★☆ (4/5) |
| Features | ★★★★☆ (4/5) |
Brady Management takes a different approach in comparison to other companies in the industry, as they have a more traditional style rather than being software-focused. Being family-led, their representatives aim for a friendlier and personal service, which we appreciate.
Because of this, they offer affordable rates. They're also flexible depending on your company's needs.
Lesa Malone, who leads the company, is one of the few to be awarded the QuickBooks Proadvisor certification. She also has more than 20 years of experience and is praised by many to be great in guiding businesses regarding their bookkeeping and payroll needs.
They are the best for new businesses, as mentoring and training are their expertise. Those who need a free consultation can simply schedule one through their website.
Many businesses have also commended them for meeting deadlines promptly and following employer obligations and newer laws and regulations. The team ensures that all fees are also planned in advance.
Their downside is that they may not be the best choice for bigger companies due to their limited manpower and lack of sophisticated technology.
Good for new and small business
Expertise in training and mentoring
Free consultations through website
20+ years of experience
May not be the best choice for big companies
Customer Reviews
Excellent service
"I can't thank Lesa and her team enough for the excellent service that they have given to me in a polite and professional manner. Not only did Lesa so patiently walk me through each and every step of the process of filing my very first tax returns but I am not good with technology and that still was no trouble to her as she helped me respectfully. Two weeks later I needed her help to locate a file and once again she helped me without hesitation. I would very highly recommend the services of Brady Management. Thank you Lesa and team." – Pauline Mcguinness, Google Reviews
Can explain everything so clearly
"Lesa provided an excellent service; she is very knowledgeable, but importantly, can explain everything so clearly, to someone who is a professional in a different field. I very much valued her support, and would not hesitate to recommend Lesa and her company." – Wendy Robinson, Google Reviews
5. GroForth

Test
Info
SERVICES
Payroll

Bookkeeping

Back office support for accountants

Tax records

Management accounting and reports

Cash flow management

WEBSITE
https://www.groforth.com
ADDRESS
The Old Station House, 15a Main St, Blackrock, Dublin, A94 T8P8, Ireland
CONTACT DETAILS
+353 1 905 9436
OPERATING HOURS
Monday - Friday: 9 AM - 5 PM
| | |
| --- | --- |
| Experience | ★★★★★ (5/5) |
| Years of operation | ★★★★★ (5/5) |
| Record | ★★★★★ (5/5) |
| Convenience | ★★★★☆ (4/5) |
| Location | ★★★★☆ (4/5) |
| Registration process | ★★★★☆ (4/5) |
| Prices | ★★★★☆ (4/5) |
| Features | ★★★★★ (5/5) |
GroForth is still relatively new, with only eight years of experience. They make up for this through their experienced team that's familiar with various industries.
They are notable for being awarded as a Business All-star by All Ireland for two years in a row, based on customer centricity, trust, and performance.
The company uses many accounting software including SortMyBooks, Xero, Parolla, Revolut, Thesaurus, BrightPay, and Soldo, making them capable of releasing fast and accurate output.
We liked how informative their website is about new payroll technology, business growth strategies, and accounting. However, we found it limited in terms of explaining the strengths of their team, which would've helped in showing their expertise.
Many customers praise them for being approachable and professional during the consultation process. The plan they tailor for your payroll needs is also affordable and flexible.
Awarded as a Business All-Star by All-Ireland
Uses various payroll software
Informative
Knowledgeable representatives
Relatively new
Minor issue about team info on website
Customer Reviews
Provided a consistently excellent service
"GroForth have been doing our payroll for the last five years. They have provided a consistently excellent service throughout this period. As a charity, it is really important to have a clear separation of duties and especially in relation to our financial management. GroForth provide that extra layer of accountability. They offer a standout service because they are not only really good at what they do but are also always on hand to advise and support when needed. We would highly recommend their service." – Alex Cooney, Google Reviews
Very easy to deal with
"We have been working with GroForth for roughly 6 months. Very easy to deal with, knowledgeable and professional. We would highly recommend to anybody who needs an Accountant." – Andriy Mykytiv, Google Reviews
6. Snow Technology
| Test | Info |
| --- | --- |
| SERVICES | Software provider |
| PRODUCTS | Quantum Bureau, Quantum Enterprise, Quantum Cloud, Q Business Intelligence, Quantum Pay App, Q Script |
| WEBSITE | https://snowtechnology.ie/ |
| ADDRESS | Suite 101, Q House,76 Furze Road,Sandyford Business Park,Dublin 18, D18 PF29 |
| CONTACT DETAILS | +353 (01) 213 0737 |
| OPERATING HOURS | Monday – Friday, 9:00 AM – 5:30 PM |
Snow Technology is a well-known payroll software provider that has given people an easy-to-use Quantum Payroll Software that is in compliance with your revenue requirement making your payroll management hassle-free.
They use the latest technology to bring to their clients a user-friendly software that is extremely powerful and highly customizable. This makes their software in tune with today's payroll needs but also allows their clients to respond to staff queries with a single touch of a button.
What convinced us that their payroll software is unlike any other is their error-free calculations. Most payroll software needs to be double-checked by human labor in order to make sure that no software miscommunication takes place. However, this is not needed in this software because of how easy it is to use.
We think that Snow Technology is one of the best companies to work for if you own a start-up company or a fast-growing company since their software works great with it.
Easy-to-use software
Great customer support
Affordable rates
Perfect for start-up and fast-growing companies
Rates are not specified on their website
Customer Reviews
Saved my business a huge amount of time and cost
"Using the Snow Bureau Payroll Service has saved my business a huge amount of time and cost." – Pierce Kevin
FAQs about Payroll Services in Dublin
---
Need help with growing your business? Check out these related articles: