Things to Do When Visiting Kilkenny, Ireland
Unsure of what to do when visiting Kilkenny, Ireland? Take a look at what we compiled right here as your fun travel guide.
What Activities to Explore When Visiting Kilkenny
Things to do when visiting Kilkenny, Ireland:
Go to the Kilkenny Castle
Visit the Woodstock Gardens
See the Kilfane Glen & Waterfall
Check out the Dunmore Cave
Explore the National Design & Craft Gallery
Admire the Saint Mary's Cathedral
Learn at the Medieval Mile Trail
Make beers at Smithwick's Experience
Ready for a long, fun trip with your loved ones? Check out our favourite things to do in Kilkenny, Ireland below.
Go to the Kilkenny Castle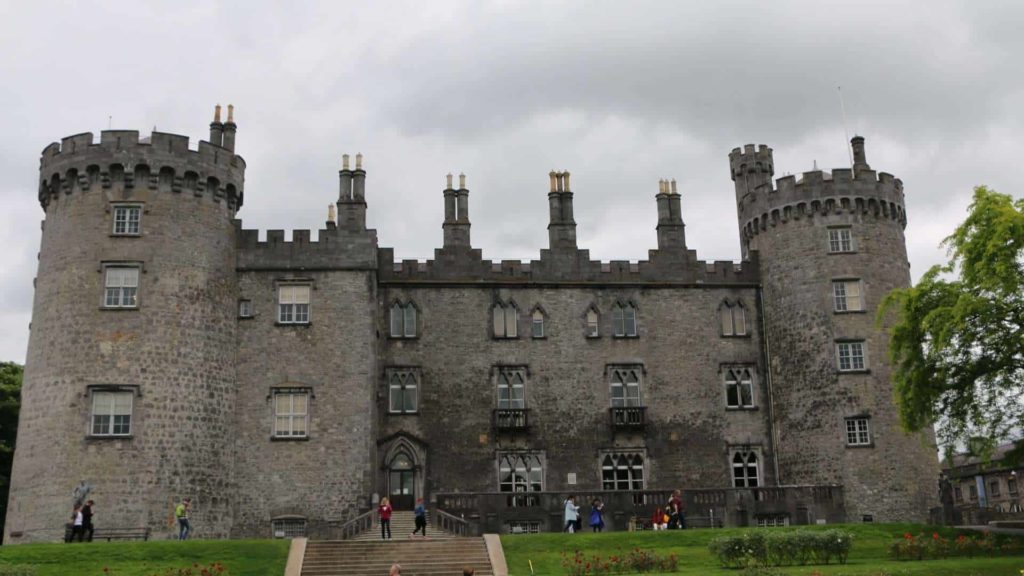 Website: https://kilkennycastle.ie/
Address: The Parade, Collegepark, Kilkenny, R95 YRK1, Ireland
Contact Details: +353 56 770 4100, [email protected]
Opening Hours: Monday – Sunday: 9:00 AM – 5:30 PM
Start your journey by visiting Kilkenny Castle, one of Ireland's largest and most historically significant castles.
Those who enjoy art galleries must see the Butler Gallery, a chamber with art and changing exhibitions, as well as the Long Gallery, a dramatic room with painted ceilings and portraits of the Butler family.
Just remember that you can be your own photographer and take pictures, but the staff may advise you to do it without a flash.
But if you want to have an outdoorsy experience, we suggest wandering down the hill to the riverfront through a shady path to the secret duck pond. Otherwise, there are formal rose gardens at the front and rolling open green space at the back of the castle grounds.
Interestingly, nearby is also a little cemetery where the Butler family members are buried, including Sandy, a cherished companion dog.
Speaking of dogs, we believe the nearby area is a delightful playground for your furry friends since the castle grounds are also pet-friendly.
Don't pass up Kilkenny Design Center's gorgeous Irish trinkets and presents, too. It's directly across the street and was once the stables on the castle grounds.
Lastly, note that there aren't any parking spaces inside the castle grounds. For this, we recommend parking on Ormonde Street or beside Castle Road, which are both close by.
Visit the Woodstock Gardens & Arboretum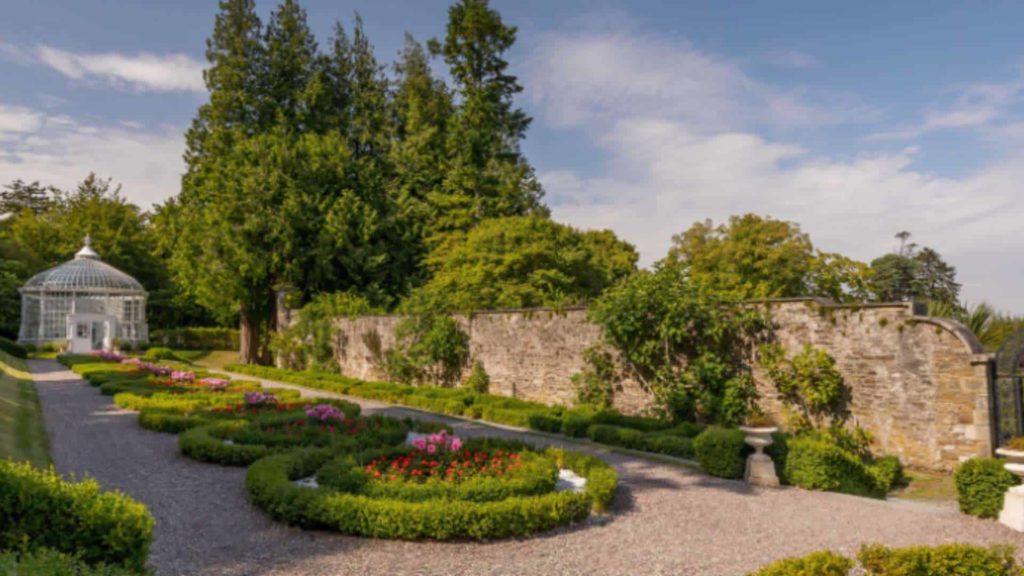 Website: https://www.woodstock.ie/
Address: Woodstock Arboretum, Inistioge, Co. Kilkenny, Ireland
Contact Details: +353 56 779 4441
Opening Hours: Monday – Friday: 9:00 AM – 7:00 PM
Do you fancy seeing spacious gardens? If so, we think you might enjoy visiting the Woodstock Estate in Kilkenny.
The gardens here, which date back to 1840, look out over the River Nore Valley. The arboretum, the rose garden, and a gorgeous fountain are a few of the estate's attractive attractions.
Given that Kilkenny's history covers several centuries, this location also provides an additional chance to learn a little bit more about Irish history.
For your convenience, there are parking spaces, restrooms, a playground for kids, a picnic area, and seasonally open tea rooms on site.
For tourists who have trouble getting around, we recommend renting a mobility buggy ahead of time. Keep in mind that guided tours are also offered, but only by appointment.
Coffee and tea lovers may enjoy these beverages with cake in the tea rooms after strolling around all day. Take it easy with the sweets though; there may not be many dentists around the site.
See the Kilfane Glen & Waterfall
Website: http://www.kilfane.com/
Address: Stoneen, Kilfane, Co. Kilkenny, Ireland
Contact Details: +353 56 772 7105
Looking for a nice date idea? We believe the late-18th-century garden Kilfane Glen & Waterfall is a breathtaking romantic retreat.
The gardens themselves were influenced by philosopher Jean-Jacques Rousseau's romantic movement. 
Actually, the gardens have been kept up and haven't changed in more than 200 years. This means that tourists can walk along historical paths and get a beautiful look at Kilkenny's past.
There's also a deep waterfall, a gurgling stream, and winding paths that go through green trees in the garden. Additionally, the 15-acre garden is recognised as an Irish heritage garden.
We suggest bringing picnic essentials to the site. This is a great place to eat and drink while listening to the sound of the waterfalls.
Do note that dogs aren't allowed to visit Kilfane Glen & Waterfall, so you might consider getting a pet sitter for your furry pals in the meantime.
Check Out the Dunmore Cave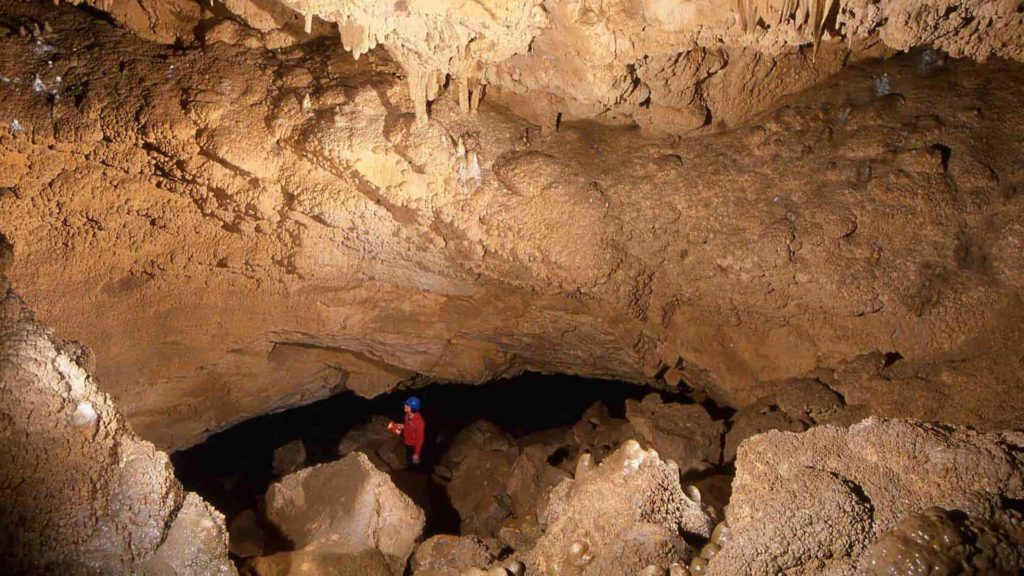 Website: https://heritageireland.ie/visit/places-to-visit/dunmore-cave/
Address: Castlecomer Road, Inchabride, Kilkenny, Ireland
Contact Details: +353 56 776 7726, [email protected]
Kilkenny has a long history that dates back to the Middle Ages, but its roots go back much further. To learn more about this, you may visit Dunmore Cave for a great view of the area's prehistoric past.
This magnificent natural wonder is made up of a number of limestone chambers that were developed over millions of years. Some of Ireland's finest calcite formations are found there, too.
Today, tourists may take guided excursions inside the cave to learn more about its history and travel through the millennia.
Numerous 10th-century artefacts, including bones, coins, and basic tools, can be found at the tourist centre.
Just keep in mind that Dunmore Cave is cold and damp. For the rough terrain, we suggest going clothes shopping to find a suitable jacket and sturdy shoes.
The cave also has more than 700 steps, which makes it hard for people with limited mobility or very young children to get around. Fortunately, the visitor centre for the cave has a café, in case you want to take a break for a while.
From Kilkenny city, the cave is roughly a 10-minute drive away. Since there are no direct transit connections to the cave, we think it's preferable to take a guided trip if you don't have a car.
Dunmore Cave is busiest on weekends during the summer. To avoid the crowds, it's best to go during the week or during the slower winter months.
Explore the National Design & Craft Gallery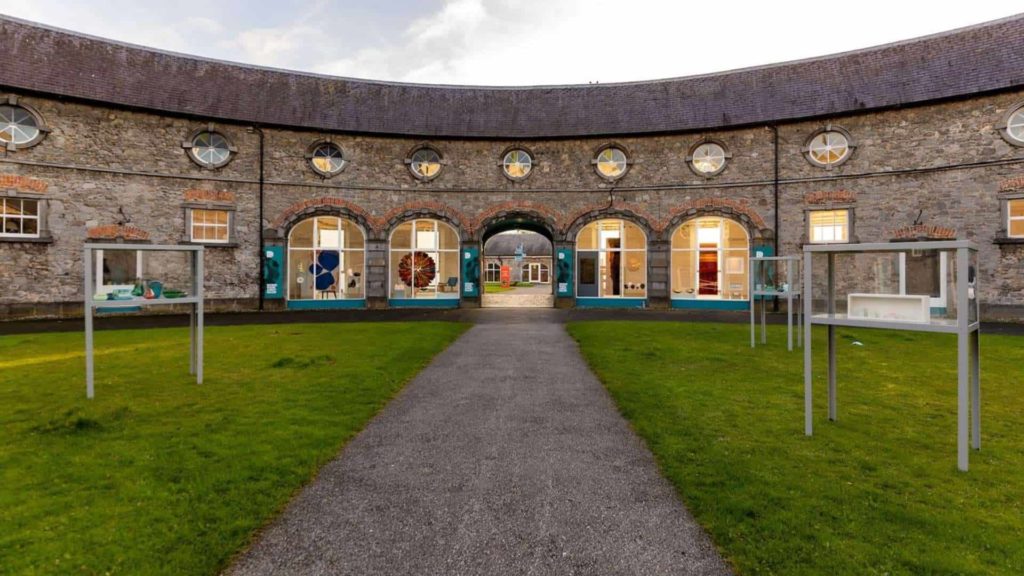 Website: https://www.ndcg.ie/
Address: The Castle Yard, The Parade, Gardens, Kilkenny, Ireland
Contact Details: +353 56 779 6147, [email protected]
Opening Hours: Monday – Friday: 10:00 AM – 5:30 PM
In the heart of the historic city, in what was once Kilkenny Castle's stable yard, is the National Craft Gallery. In our opinion, it's among the best places in Ireland to see modern craft and design.
Through their exhibitions, events, and educational programmes, they encourage guests to appreciate creativity and innovation. 
This significant public space piques tourists' interest with its diverse collection of textiles, glass, pottery, furniture, and baskets. Those who are fond of jewellery can see some of that here as well.
The gallery takes people away from the hustle and bustle of the city. For us, this would even be more relaxing when you try their afternoon tea.
We recommend you discover more wonders about art by joining their workshop, which will be themed around the latest exhibition. Alternatively, you may attend one of their organised 'Meet the Maker' events instead.
For future reference, there are also free bathrooms right next to the castle.
Admire the Saint Mary's Cathedral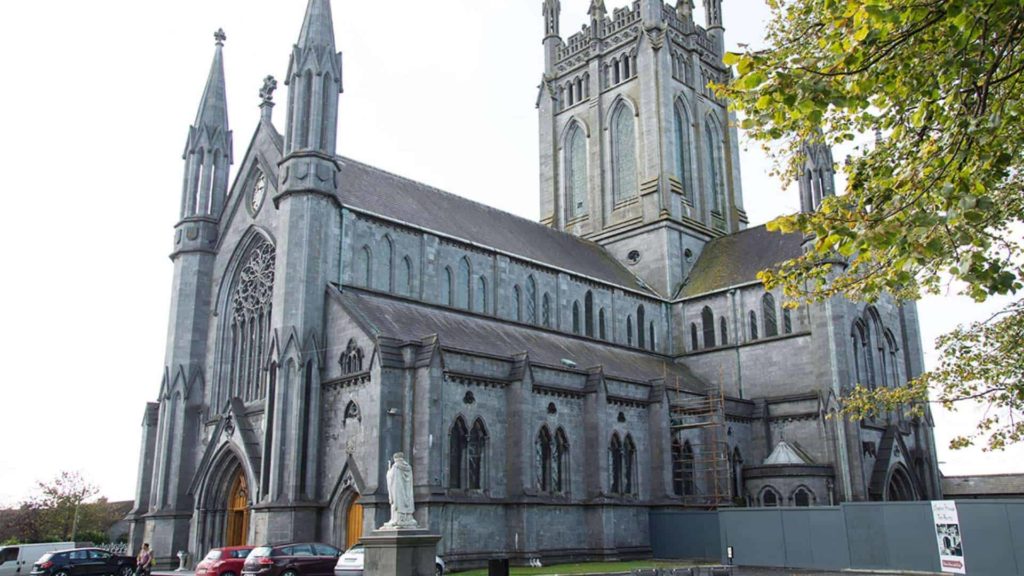 Website: https://www.stmaryscathedral.ie/
Address: James's St, Gardens, Kilkenny, Ireland
Contact Details: +353 87 242 0033, [email protected]
Interested in seeing old churches or cathedrals? The Cathedral Church is a gem in Kilkenny St. Mary's, a medieval city, and a living house of worship that serves the parish as well as the diocese.
St Mary's Cathedral continues to rule Kilkenny's landscape, and all entrances to the city may see its enormous tower. It's a reminder of the faith and high confidence of a long-gone generation.
Because of the beautiful arches and grand structures, we believe you'll be inspired to think about its past.
In our opinion, you shouldn't miss the incredible ceiling artistry, which will leave you stunned as well. Take a stroll through the cathedral to admire its exquisite colour scheme, creative artefacts, stained-glass windows, and graceful constructions. 
We believe it's like witnessing a set from a fictional movie while sitting in the church. Try coming here in the evening, because the cathedral looks even more beautiful in the dark.
Moreover, we recommend renting a bike around here for better mobility. There are also taxis available if you need one.
Travel tip: Visit the Cathedral Cafe in the former chapter house nearby for some tasty snacks or lunch after your exploration.
Discover Local History at the Medieval Mile Trail & Museum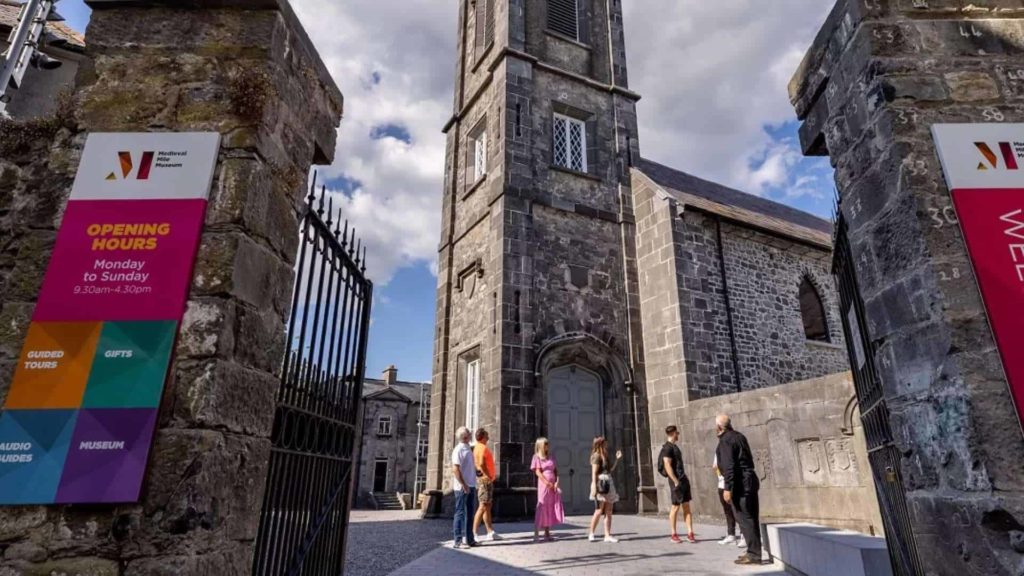 Website: http://medievalmilemuseum.ie/
Address: Gardens, Kilkenny, R95 K276, Ireland
Contact Details: +353 56 781 7022, [email protected]
Opening Hours: Monday – Sunday: 9:30 AM – 4:30 PM
Those who are fond of guided trail tours and museums may find the Medieval Mile ideal – this site hits two birds with one stone!
Before visiting the Medieval Mile Museum, make the most of your visit by joining the Medieval Mile Trail first. After all, admission to the museum is included in the ticket price.
In this fascinating walking tour experience, you can learn the tales of Kilkenny's lengthy past.
Their skilled storytellers will lead you through the medieval capital of Ireland's streets and alleyways, pointing out undiscovered treasures and spinning old legends as this walled city comes to life.
As you learn about the legends of witchcraft and sorcery on Kieran Street and in front of Kyteler's Inn, you'll also see the stunning architecture of Rothe House and Richard Shee's Alms House.
Beer fans might be interested to know that the well-known Kilkenny beer was made at Smithwicks Brewery, which used to be a medieval friary.
Just note that on Saturdays and Sundays, tours start at 11 am from the Medieval Mile Museum on St. Mary's Lane. We advise you to arrive at least 10 to 15 minutes before the start of the tour to avoid any hassle.
Afterwards, museum visitors will be transported back in time to 1202 and learn more about the site. Once you're done, we recommend exploring their gift shop for unique and reasonably priced souvenirs.
Make Beers at Smithwick's Experience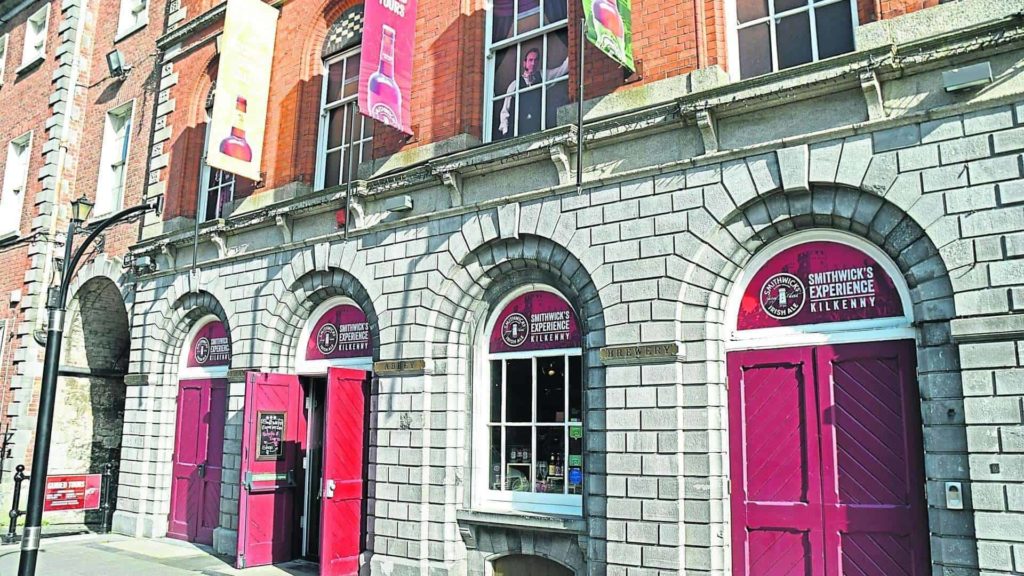 Website: https://www.smithwicksexperience.com/
Address: 44 Parliament St, Gardens, Kilkenny, R95 VK54, Ireland
Contact Details: +353 56 778 6377
Opening Hours: Thursday – Monday: 11:00 AM – 5:00 PM
Do you like exploring new bars and pubs around the country? This next 1-hour experience may just be what you're looking for!
Immerse yourself in Smithwick's tour. We think that for many, this is a once-in-a-lifetime event where 300 years of history and incredible brewing inventions come together.
But if you want to try their other beers, like pale ale, Kilkenny lager, or red beer, you might need to pay more. Because of this, it's best to bring extra money to maximise your brewery experience.
Here, you'll have the opportunity to mill the malt, stir the mash, and smell the hops throughout your tour – just as professionals would during the brewing process!
Just a word of advice: Don't wear high heels or open-toe sandals in case you or your friends get drunk. It's also wise to arrange safer transportation options beforehand.
The Smithwick's Experience Kilkenny is open every day from Thursday to Monday. But we advise avoiding going on weekends, so you won't need to deal with crowds.
If by any chance you aren't a drinker, don't fret because soft drinks and other non-alcoholic beverages are available as well.
---
And there you go! We hope you find the best things to do when visiting Kilkenny, Ireland and make the most of your stay there.