Galway: Your Go-To Party Town in Ireland
Curious about the vibrant party scene in Galway?
Galway is a city that never sleeps, with a vibrant nightlife scene that offers something for everyone. Whether you're looking for a cozy pub with live music, a trendy bar with craft beers, or a nightclub with DJs and dancing, you'll find it in Galway.
This article talks about why Galway is known as a great place to party and gives you ideas on where to have a fun night out.
Is Galway a party town?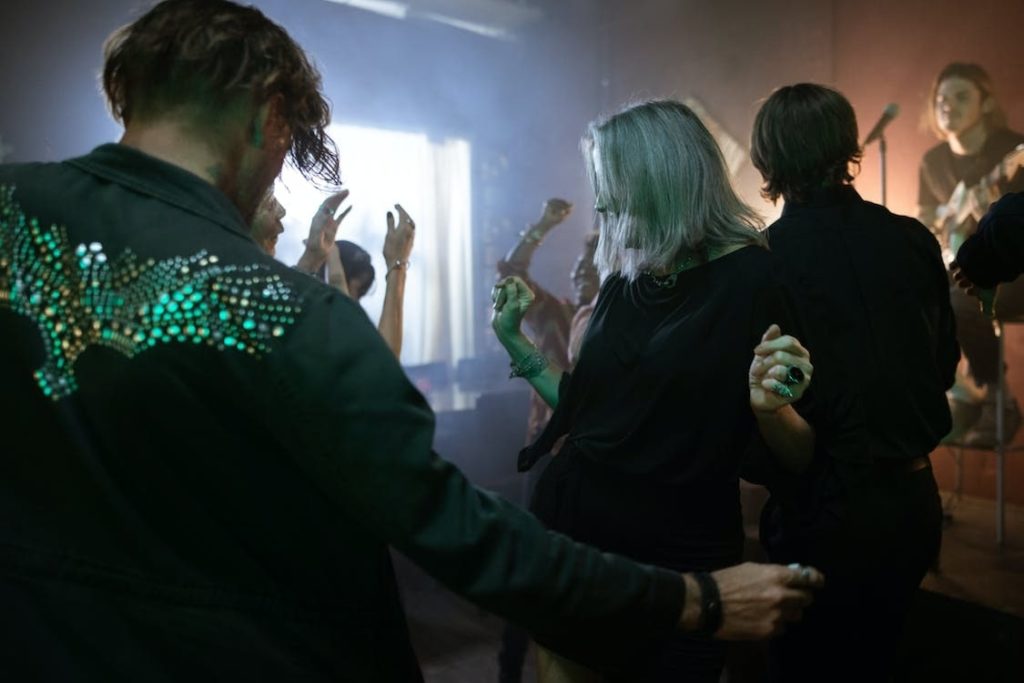 Galway is famous all around the world for being a party town, especially during the summer in Ireland. Due to its western charm, Galway's Irish festivals, with top talents, become a fun attraction for tourists.
Why is Galway known as a party town?
Galway showcases the best of Irish culture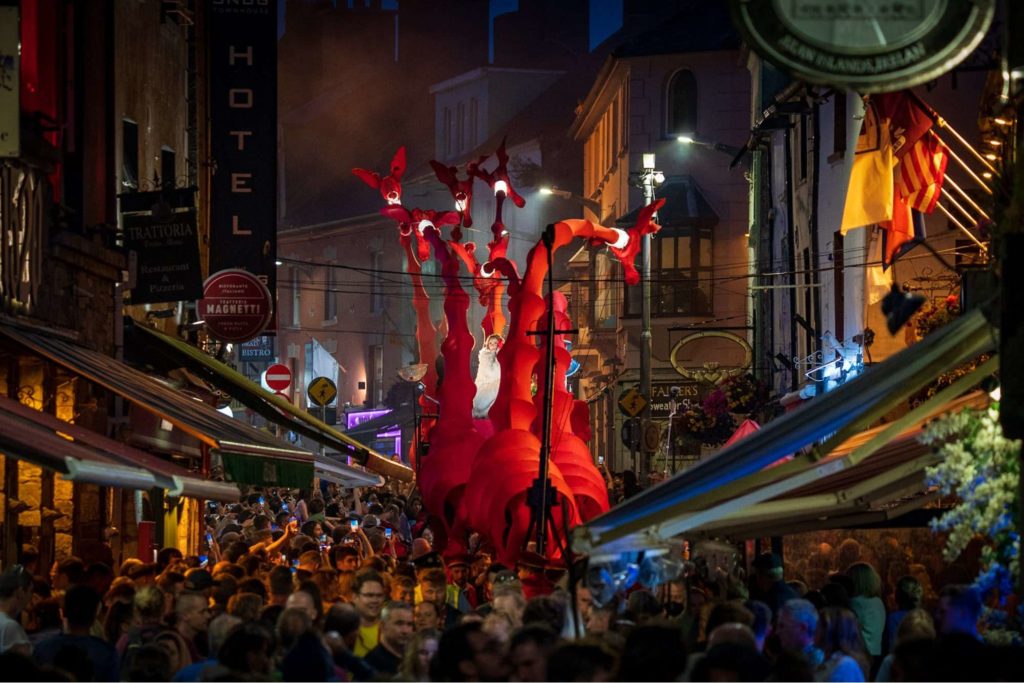 Galway hosts many festivals throughout the year, such as the Galway International Arts Festival, the Galway Film Fleadh, the Galway Races, and the Galway Oyster Festival.
These festivals attract thousands of visitors who enjoy the music, art, cinema, horse racing, and seafood that Galway has to offer.
You'll be part of the Craic in Galway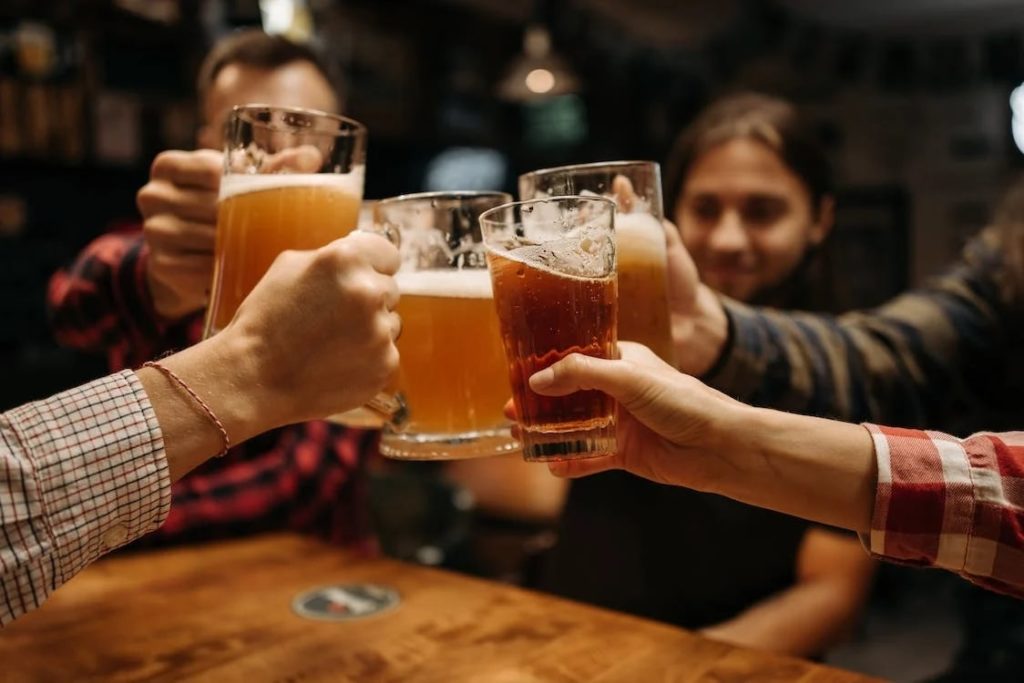 Craic means having fun, being entertained, and feeling happy with others in Irish.
You'll sing, dance, and laugh with old and new friends. Galway will surprise you with its craic, the best fun and entertainment in Ireland.
Locals are friendly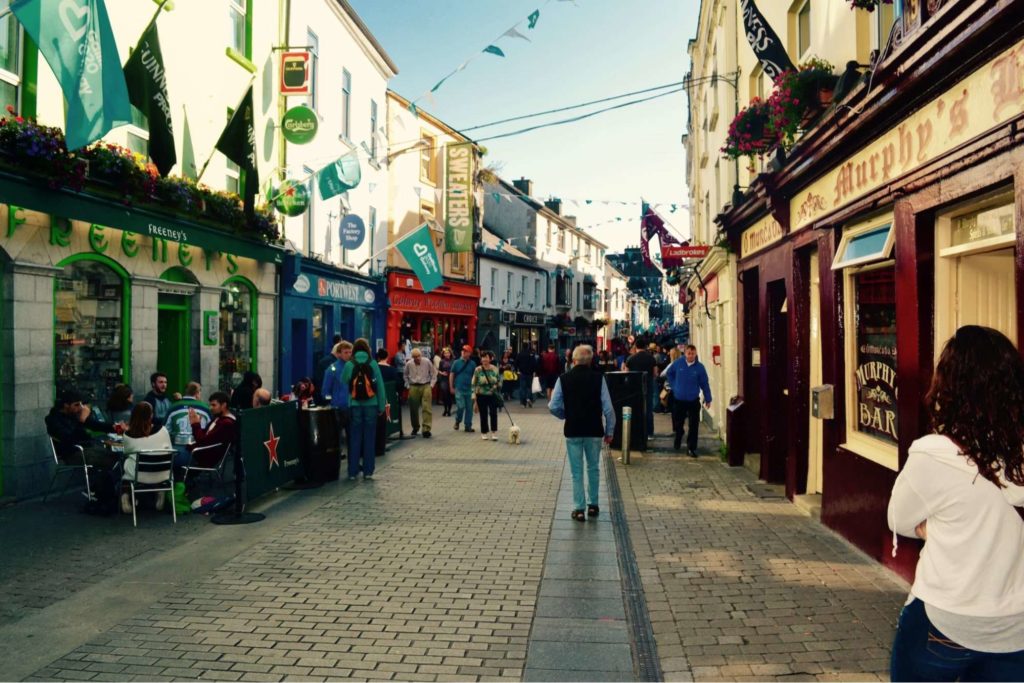 Galway is the friendliest city in the world, according to Travel + Leisure, a US magazine. It always ranks high among the most charming and welcoming places on the planet.
Galway embraces everyone, no matter their age or size. It is a place of many cultures, backgrounds, and ages. The amazing people of Galway create a special charm and mood that makes visitors come back again and again.
Galway has a full of live street performers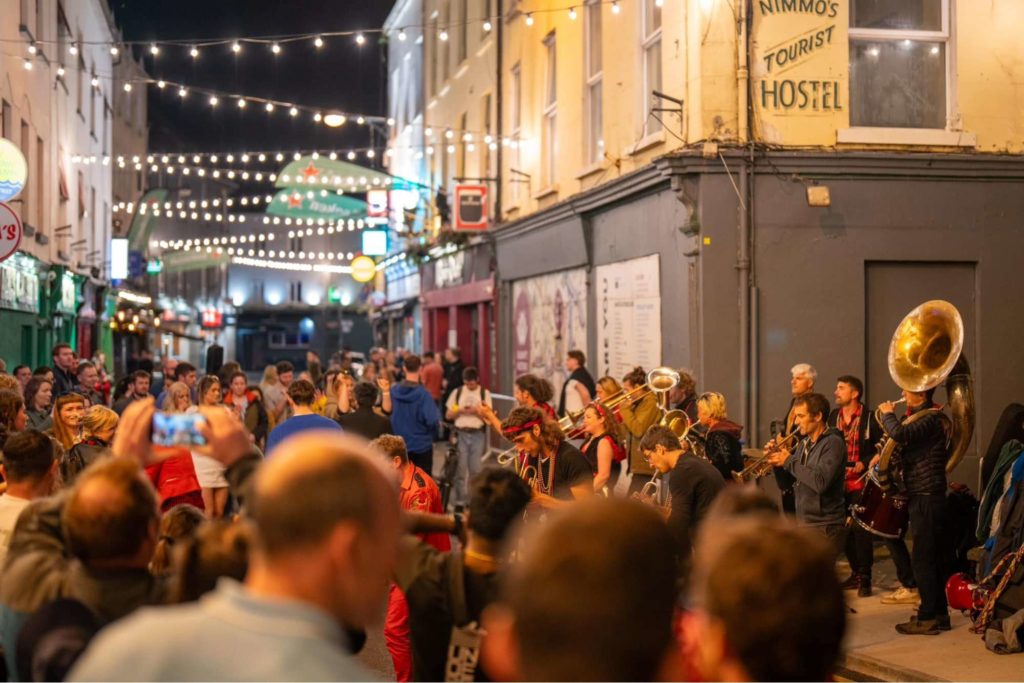 After enjoying some food and drinks, stroll from Eyre Square along Wiliamsgate Street, Shop Street, and the cobblestones of Quay Street.
You'll encounter singers, dancers, traditional groups, or mime artists on your way – they all contribute to the city's unique vibe and atmosphere.
It has some of the finest pubs in Ireland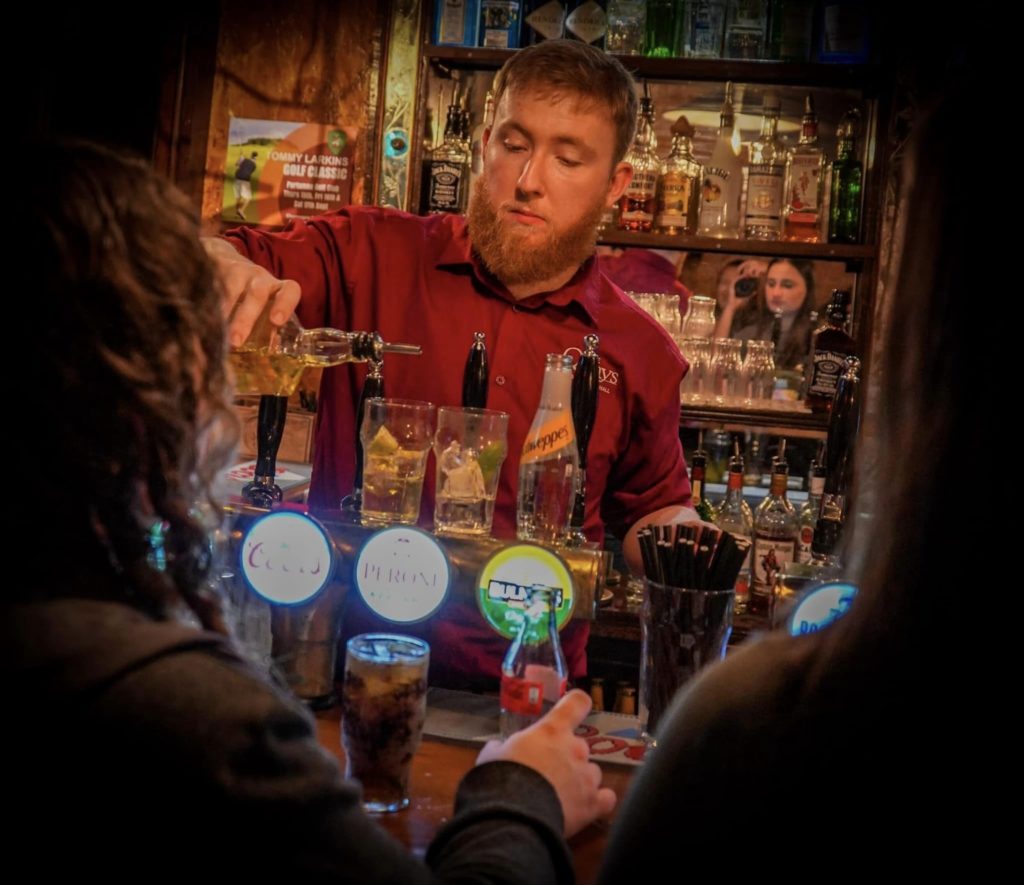 You could write a whole book about Galway's pubs, but there are some that you can't miss. O'Connor's in Salthill, with its quirky decor, live music, and friendly vibe, attracts people worldwide, making it a great place to meet new friends.
In Galway city, stop by the Skeffington to enjoy sports, relax by the fire, or drink outside and watch people across Eyre Square. If you are into horse racing, then you should visit Kennedy's in Eyre Square.
Bet on a horse in the bookies next door, then wait with your pint in this cosy traditional bar and see your horse win by a nose. Plus, there are great bars like An Pucan, The Dáil, The Quays, and Taffes to explore.
Where to party in Galway?
DNA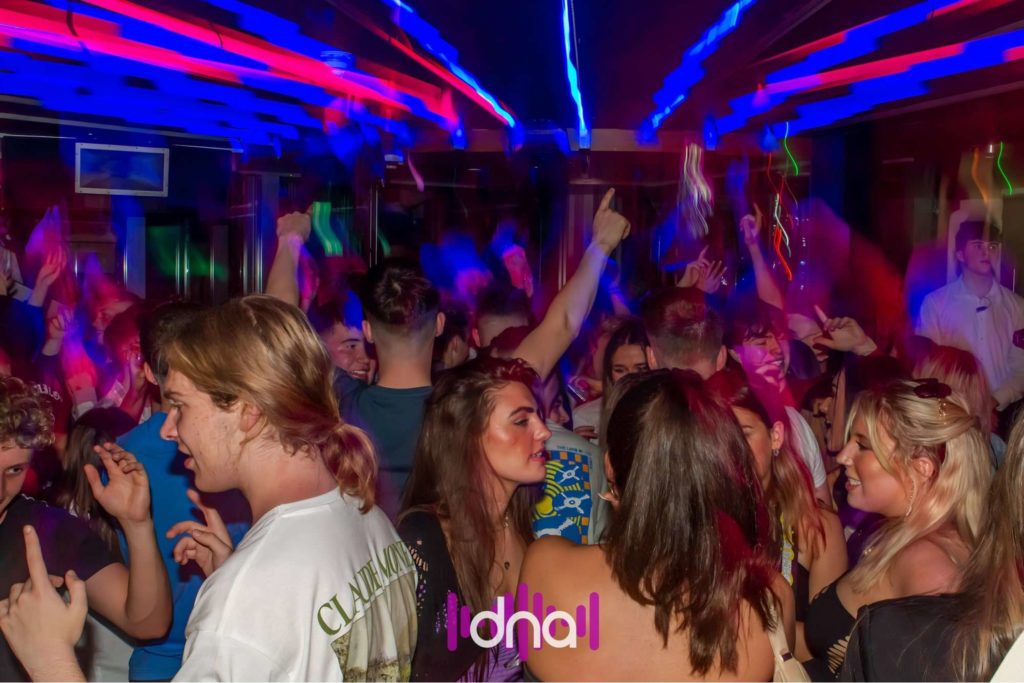 Website: https://www.dnagalway.com
Address: Ball Alley Lane, Eyre Square
Phone: +353 91 500 330
Email: [email protected]
Operating Hours: 
Sunday to Thursday – 11 PM. to 2 AM
Friday to Saturday – 11 PM to 2:30 AM
DNA is a spacious and lively club in Galway that has a bright venue, two dance floors, and two balconies. It also has a wide selection of cocktails for different occasions, such as White Russian and On Juan.
Live music is a highlight at DNA, with bands, DJs, and other performers bringing excitement to the weekends. Despite the crowds, making an early reservation allows you to enjoy partying at DNA.
However, the club is only open from 11:00 p.m. to 2:00 a.m., which may seem short for some. Nevertheless, the atmosphere and memories created at DNA make it one of the top picks for nightclubs in Galway.
The Quays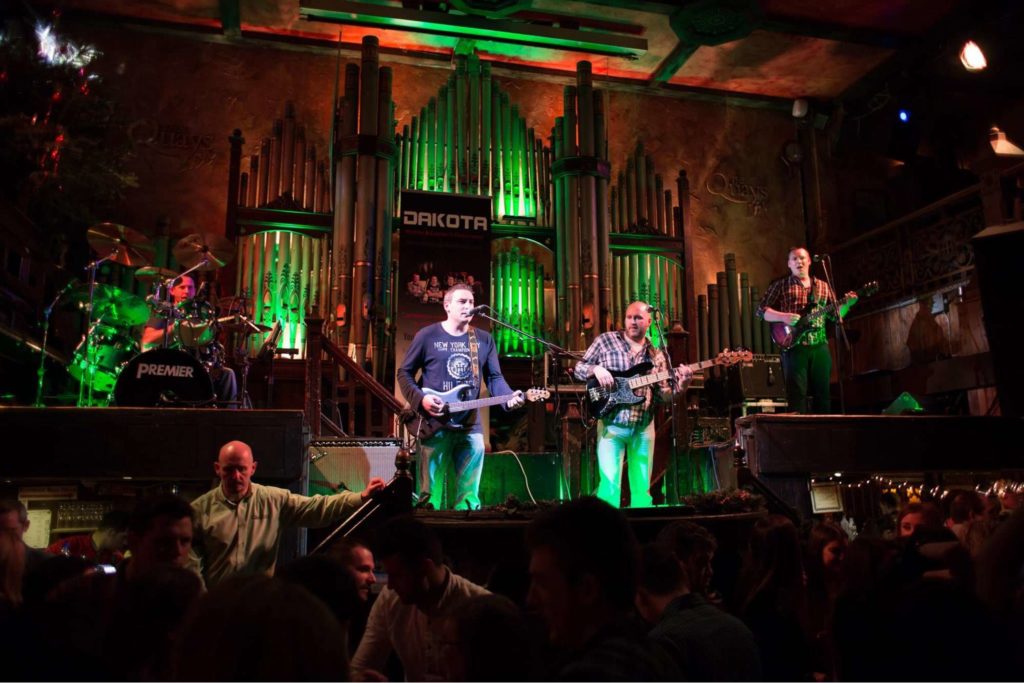 Website: https://quaysgalway.ie/ 
Address: 11 Quay St, Galway
Phone:  +353 91 568347
Email: [email protected] 
Operating Hours: 
Monday to Saturday – 11:30 PM to 2 AM
Sunday – 12:30 PM to 1 AM
Quays Bar is a historic and well-known music venue in Galway that still has some of its old features. It plays music every night on two floors and has hosted famous acts like Aslan and Nathan Carter.
Quays Bar is also the place where TG4, a television channel, has its country music contest called "Glor Tire". Many tourists like to go there because they can enjoy everything that is good about Irish culture.
De Burgo's Bar and Club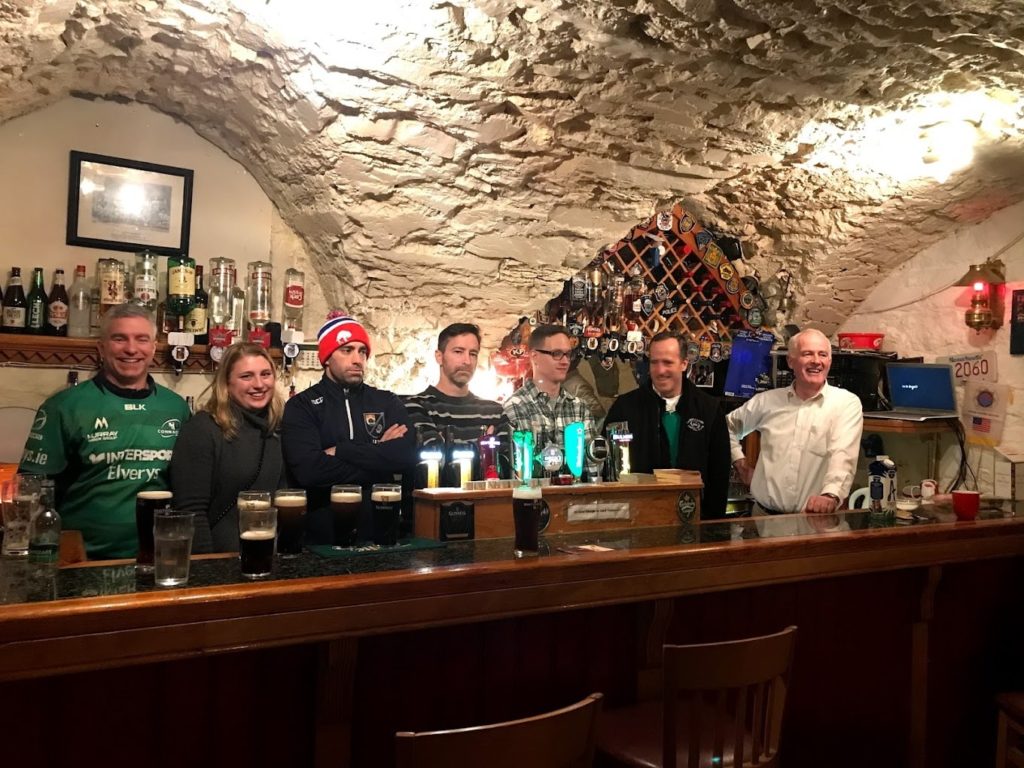 Website: https://deburgosgalway.wixsite.com/deburgos 
Address: 15-17 St Augustine Street
Phone: +353 91562188
Operating Hours: Open Daily – 1 PM until night
De Burgo's Bar and Club is a hidden gem that combines history and modernity. It highlights a unique underground setting for live gigs and private events, with sound-proof features for a great experience.
De Burgo's Bar and Club lets you create a club-inspired atmosphere for your event. You can work with the staff to coordinate your theme, and enjoy their food and wine, such as salads and cheese boards.
While it may not be exclusively for clubbing, booking a private event here still gives you the opportunity to enjoy a club-like experience if that's what you're looking for.
The Kings Head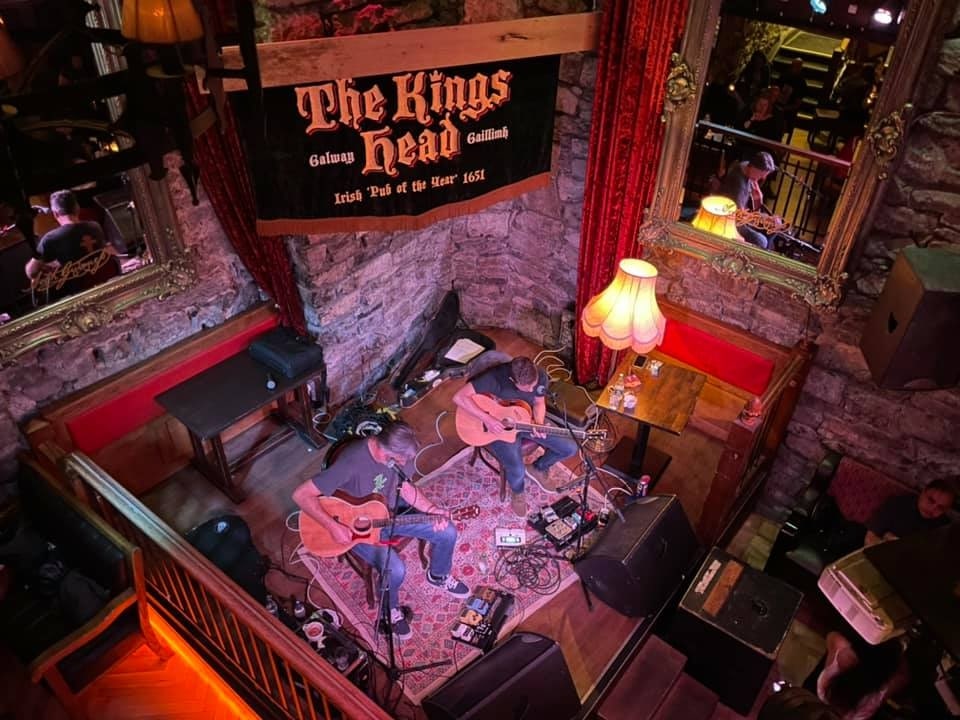 Website: https://www.thekingshead.ie/ 
Address: 15 High Street
Phone:  +353 91 566630
Email: [email protected] 
Operating Hours: Monday to Sunday – 11 AM to 2 AM
The Kings Head Bar in Galway City is a historic building that offers fantastic food, drinks, music, and sports. It's a favorite among locals and a must-visit for tourists exploring the City of the Tribes.
Owned by Mary and Paul Grealish since 1989, the pub has strong ties to Galway's music and arts scene. They host free live music on the main stage every night, along with stand-up comedy and lunchtime theater on the top floor.
With its welcoming atmosphere, delicious cocktails, craft beers, and late-night bars on weekends, The Kings Head is one of Galway's most popular pubs, offering live music, comedy, hearty food, and a great time across three floors.
Róisín Dubh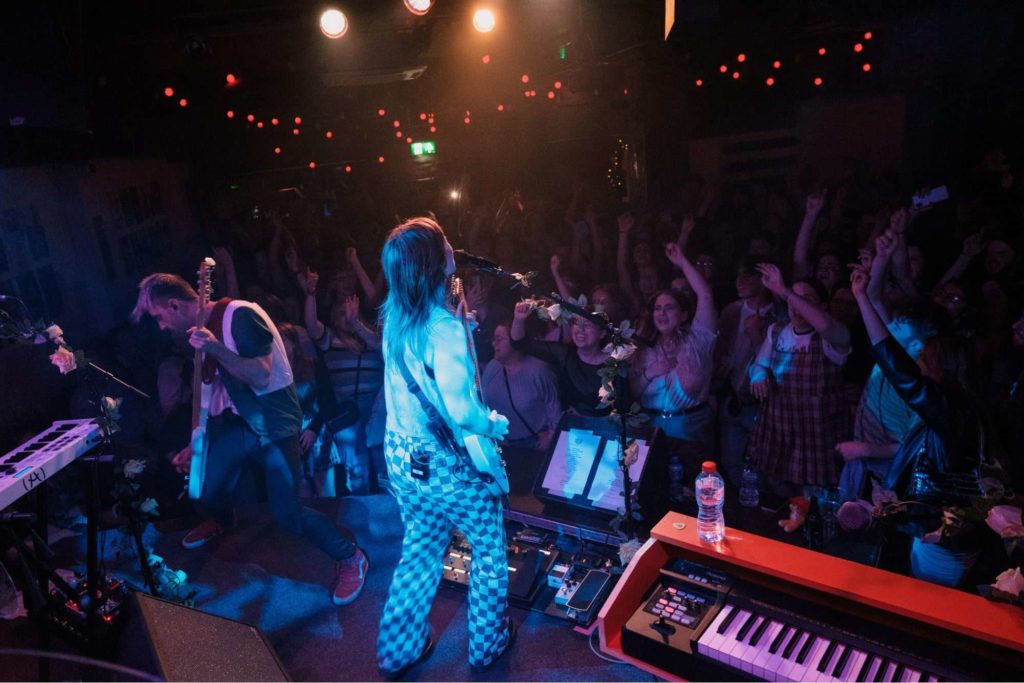 Website: https://roisindubh.net 
Address: 9 Dominic Street Upper
Phone: +353 91 586540
Operating Hours: 
Tuesday, Thursday, and Sunday – 6 PM to 2 AM
Friday to Saturday – 6 PM to 2:30 AM
Roisin Dubh is a top-notch nightclub in Galway that offers the best music and comedy in the city. It has amazing events every night, a wonderful atmosphere and a lot of talented performers.
This venue offers a unique twist on traditional clubbing with their silent disco, where you can dance and enjoy music through headphones.
They regularly feature live performances by local artists spanning genres like pop, acoustic, dance, rock, and electric, along with entertaining comedy shows and other live acts, ensuring an enjoyable night out.
Busker Brownes Bar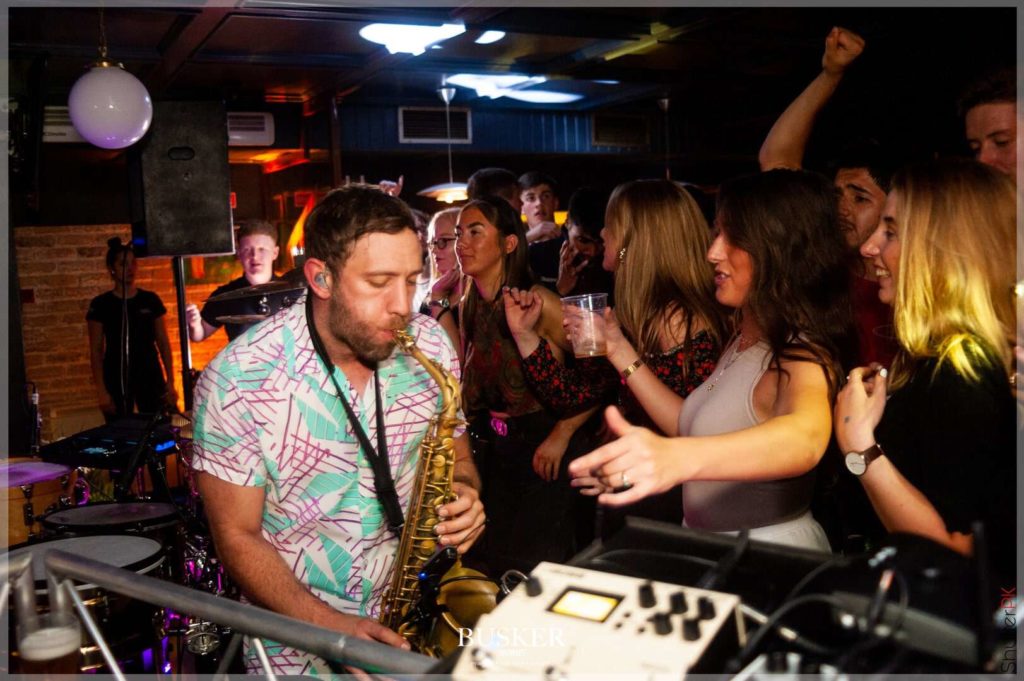 Website: https://www.buskerbrownes.com/ 
Address: 5 Cross Street Upper
Phone:  +353 91 566630
Email: [email protected] 
Operating Hours: 
Monday to Saturday – 10 AM until late
Sunday – 12 PM until late
Busker Brownes Bar & Kirbys Restaurant in Galway's Latin Quarter is a historic meeting place that has transformed over the years. Inside, you'll find three unique bars that all offer top-notch service and ambiance.
The main bar is a spacious and modern area where you can have drinks and food. At night, it becomes a trendy spot with live music or a DJ, and on Sunday mornings, you can listen to the Galway bay jazz band.
Another bar, called 'the slate house,' offers a cozy and traditional atmosphere, with access to Kirwan's Lane. At night, the slate house comes alive with its own unique charm.
'The hall' is a stunning and unique party venue in Galway, located on the third floor of the main bar. It has stone walls, high ceilings, and leaded windows, and it offers free room hire, free DJ, free homemade finger food, and a cocktail menu.
Coyotes Late Bar and Club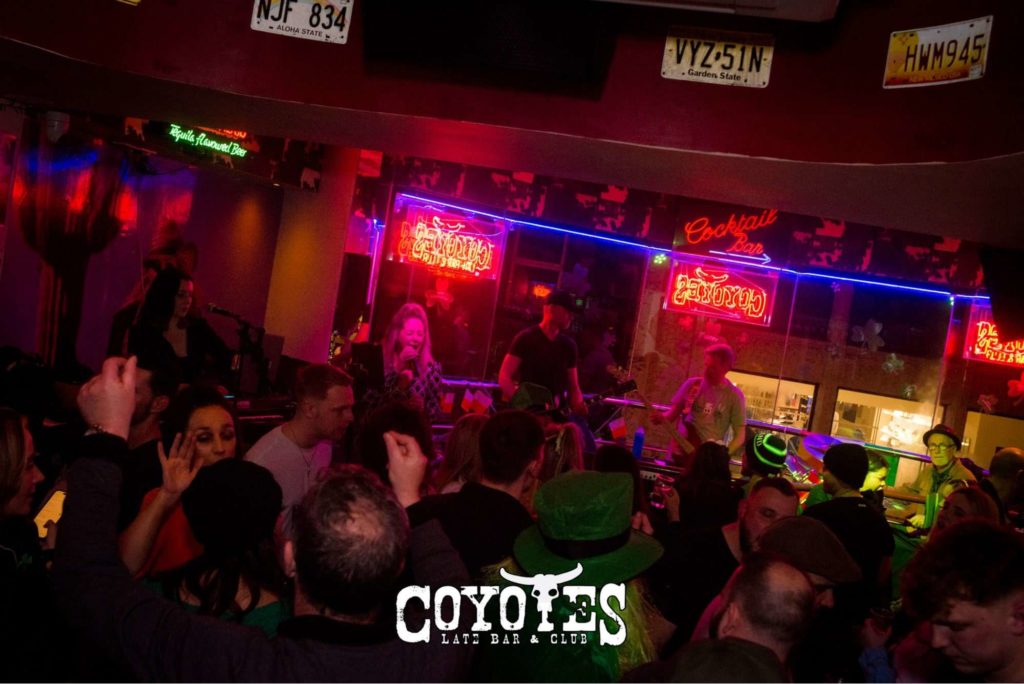 Website: http://coyotes.ie 
Address: 34 Shop Street
Phone: +353 91 895785
Email: [email protected] 
Operating Hours: 
Friday to Saturday – 6 PM to 2 AM
Sunday to Thursday – 7 PM to 2 AM
If you want to party all night long with loud and wild music, Coyote's Late Bar and Club is the place for you. It has four floors for dancing and clubbing, and it hosts hen parties, stag nights, birthdays, and corporate events.
You can enjoy the DJs' music from popular and latest charts, or live music on Tuesdays and Thursdays. You can also sing along on the karaoke night, or book the VIP lounge for more privacy.
Coyote's is a go-to place for an electric late-night hangout with a brilliant atmosphere and spacious venues.
The Front Door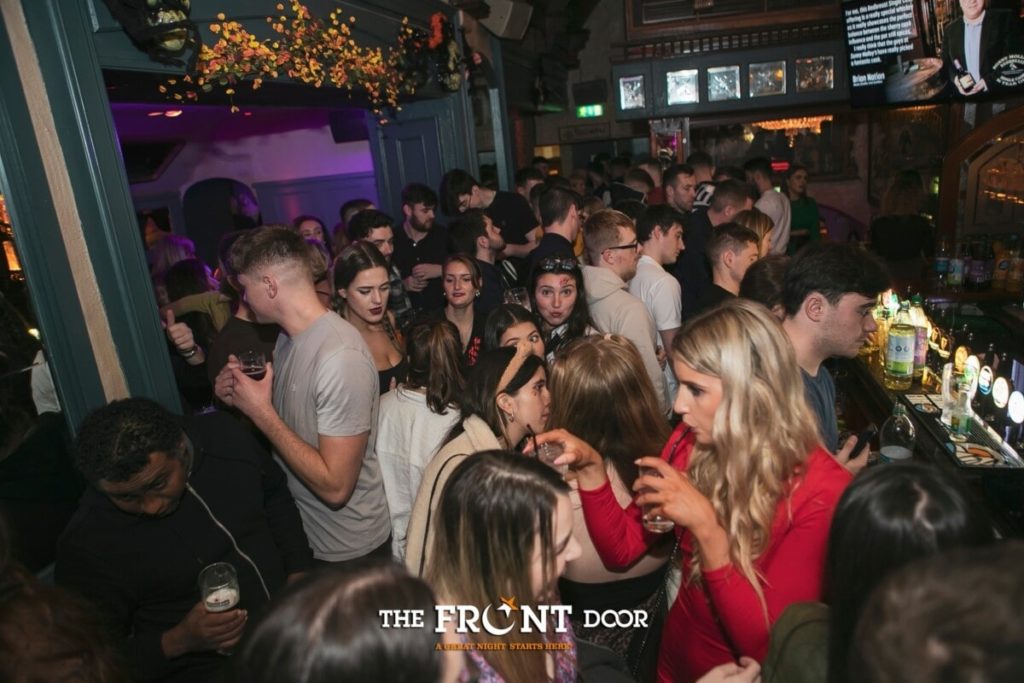 Website: https://www.frontdoorpub.com/ 
Address: 8 Cross Street & High Street
Phone:  +353 91 563 757
Email: [email protected] 
Operating Hours: 
Monday to Saturday – 10:30 AM to 2 AM
Sunday – 11 AM to 1 AM
The Front Door Pub is a historic and beautifully decorated pub, spread across two floors and two streets. It's located in the heart of the bustling Latin Quarter, with popular shopping and entertainment streets nearby.
The pub screens sporting events on large HD TVs and offers a choice of five different bars, including a stylish cocktail lounge. At night, The Front Door is a popular spot for socializing and enjoying live music, with drinks served until 02:00.
It's also a popular party venue for various occasions. Sonny Molloy's Bar, part of The Front Door Pub, has its own unique character and is known for its whiskey selection, including a limited edition Redbreast 16-year-old all sherry single cask.
Monroe's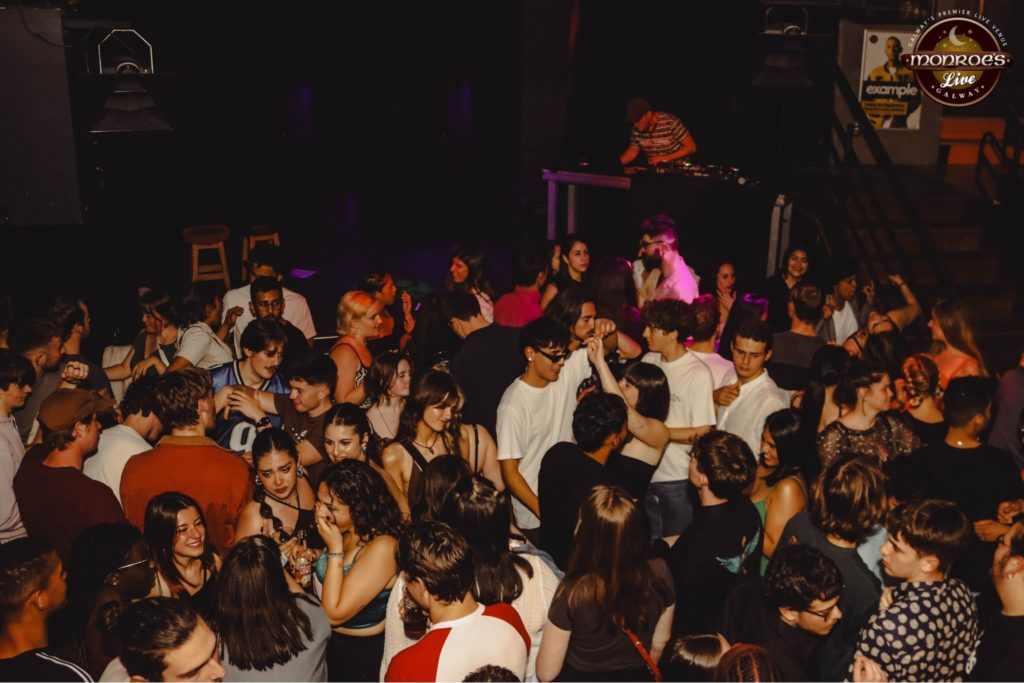 Website: https://monroes.ie/ 
Address: 14 Dominick Street
Phone:  +353 91 583 397
Email: [email protected] 
Operating Hours: 
Monday to Saturday – 10 AM until late
Sunday – 12 PM to 11:30 PM
With a night club that has been open since 2009, Monroe's has built a reputation for hosting unforgettable parties. The spacious venue can accommodate anywhere from 10 to 600 people, making it a top choice for events.
Monroe's playlists range from dance, pop rock to electronic, catering to a variety of music preferences. What sets Monroe's apart from other clubs is their ability to customize your party package with a team of professionals.
Additionally, Monroe's has talented resident DJs, hosts, and photographers to ensure your party is energetic and well-captured. They also offer a diverse menu, including food, cake options, and a great selection of cocktails and champagne.