Dublin's Best Outdoor Adventures for Groups
Are you and your group of friends, family, or colleagues looking for fun outdoor activities in Dublin? If so, you are in for a treat!
Dublin is a charming Irish city that offers plenty of exciting outdoor activities for groups such as hiking, horse riding, guided biking or walking, Gaelic games, zip trails, kayaking, stand-up paddle boarding, skiing, and more.
In this article, we'll explain these outdoor experiences that you and your group can have in Dublin. Let's dive in!
Horse Riding at Paddocks Riding Centre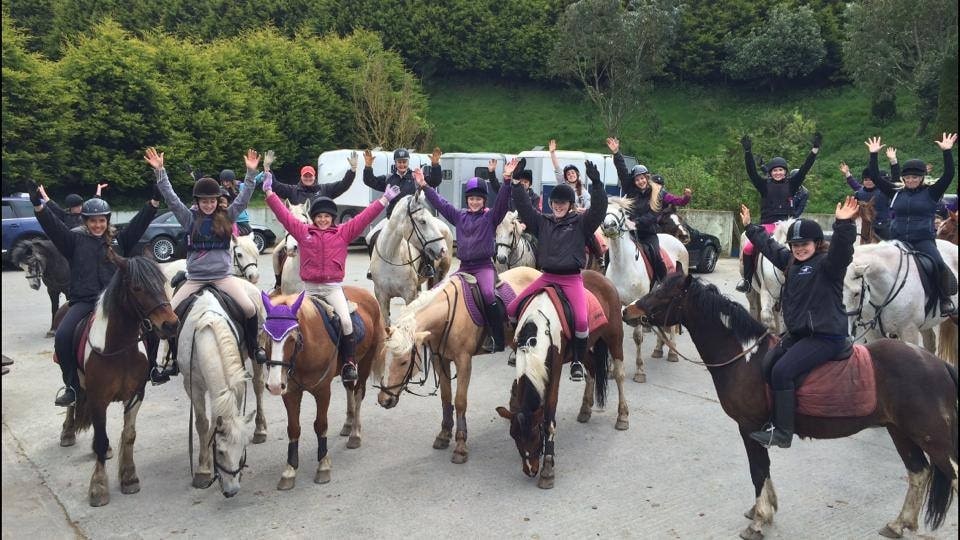 Website: https://www.paddocks.ie/
Address: Woodside Road, Sandyford, Co. Dublin.
Phone: (01) 295 42 78
Email: [email protected] 
Horse riding is a unique blend of adventure and relaxation amidst lush landscapes and scenic trails making it an ideal choice for team-building or recreational outings.
Paddocks Riding Centre offers you a fantastic opportunity to enjoy horse riding in Dublin. You can choose from a variety of horses and trails, depending on your skill level and preference.
With experienced instructors, you'll be guided safely through the friendly and scenic trails. You'll also get to see some amazing views of the countryside and the city, making it a memorable and rewarding adventure.
Pro Tip:

Please arrive at the stables at least 20 minutes before your scheduled ride. This will allow you enough time to get prepared with hats and boots, ensuring a secure and enjoyable riding adventure.
Zip Trail with Zipit Forest Adventure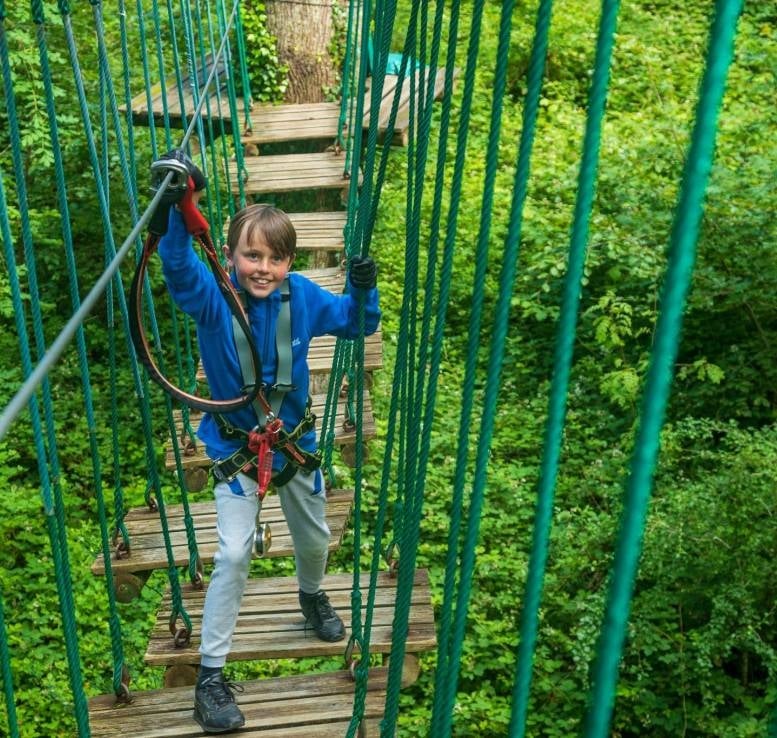 Website: https://zipit.ie/ 
Address: Tibradden Wood, Cruagh, Dublin 16
Phone: +353 (0)51 858008
Email: [email protected] 
Zipit Forest Adventure is an outdoor activity for groups in Dublin that will make you feel like Tarzan or Jane. It lets you swing, zip, climb and jump through the treetop high ropes parks, which are built in a natural forest setting.
The experience offers excitement and fun for all ages and skill levels, allowing your group to explore various circuits tailored to your abilities. It also lets you enjoy the beauty of nature and the fresh air, as you see the forest from a different perspective.
With top-notch safety equipment and certified instructors guiding you, rest assured you'll be safe throughout the adventure.
Overcome your fears, reach new heights, and enjoy the high life at Zipit – no expertise or adrenaline addiction is required!
Pro Tip:

Wear clothes that are suitable for outdoor activity and shoes that have good grips. You also need to wear gloves, tie your long hair into a bun, cover your piercings, and apply insect repellent and sunscreen before you put on your harness.
Hitting the Slopes with Ski Club of Ireland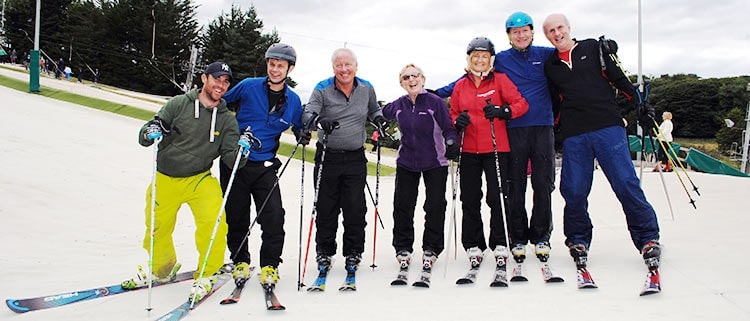 Website: https://www.skiclub.ie/ 
Address: Kilternan, Co.Dublin, Ireland
Phone: +353 (0)1 295 5658
Email: [email protected] 
Hitting the slopes is an exhilarating activity that lets you experience the thrill of winter sports with your friends or colleagues. With Ski Club of Ireland, you can enjoy skiing and snowboarding, catering to all skill levels with various slopes and lessons.
The coolest thing about it is that you get to have a mountain adventure right in the city – no need to travel far for that snowy thrill. Plus, you'll be treated to some breathtaking views of County Dublin and Wicklow while you glide down the slopes.
You'll feel the adrenaline rush of sliding down the hill, and the satisfaction of learning a new skill. Whether you're looking for something easygoing or a more challenging experience, they've got you covered.
Pro Tip:

You can enjoy the special group rates if you have more than 8 people, and choose from different times and days to suit your schedule.
Kayaking on the River Liffey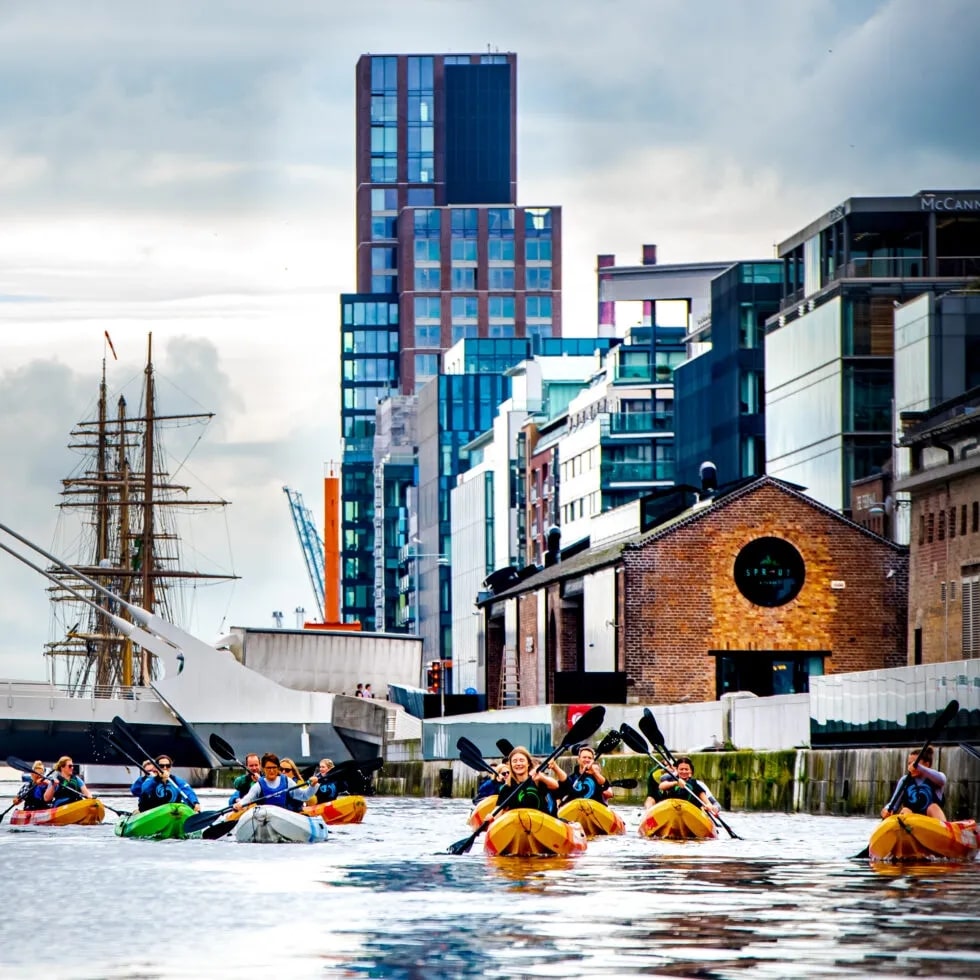 Website: https://citykayaking.com/ 
Address: City Kayaking, Dublin City Moorings, Custom House Quay, IFSC, Dublin 1
Phone: +353 85 866 7787
Email: [email protected]
Kayaking right into Dublin City centre is a unique and thrilling experience that you can enjoy from the water. You can admire the shiny docklands, the impressive Custom House and iconic bridges like the Ha'penny Bridge and O'Connell Bridge.
The activity fosters teamwork and camaraderie as the group navigates the river's twists and turns together, with the guidance of trained instructors who ensure your safety and teach you kayaking tips and techniques.
City Kayaking in Dublin caters to groups of all ages and abilities, making it a perfect choice for team-building events, birthday parties, class outings, work gangs, stag and hen parties, and inclusive experiences for groups with special needs.
You'll love seeing the views of Dublin from the water, feeling the gentle breeze and sharing the laughter and memories with your group. 
Pro Tip:

Protect your camera or phone from water damage by using a waterproof case. You can bring them along, but be aware that they might get wet during the kayaking adventure.
Stand-Up Paddle Boarding with BigStyle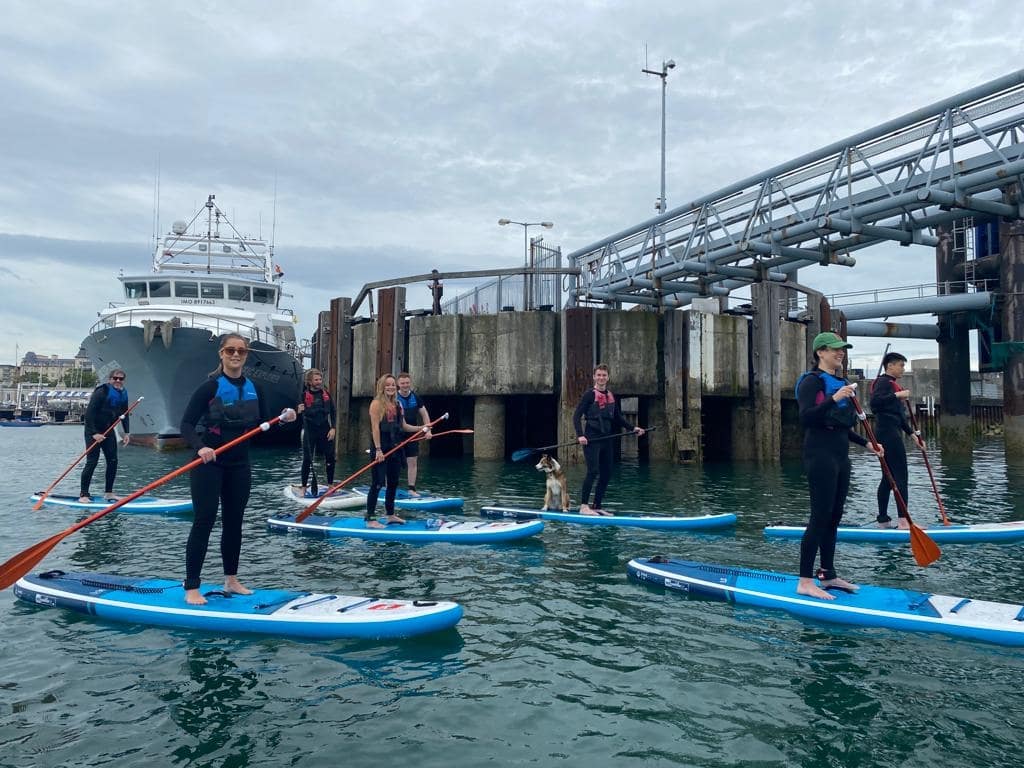 Website: https://bigstyle.ie/ 
Address: Killadoon, Co. Mayo, F28 DA31
Phone: +353 83 012 3689
Email: [email protected] 
Stand-Up Paddle Boarding (SUP) is another fun and relaxing way to enjoy the water, have an adventure, stay fit, and bond with friends, family, or colleagues during team-building.
BigStyle is a leading SUP school and rental company in Dun Laoghaire Harbour, offering lessons, guided tours, adventures, and camps for all skill levels with top-notch equipment and professional guidance.
The activity is inclusive, suitable for all ages and fitness levels, fostering a sense of togetherness among participants. 
Pro Tip:

Book your stand-up paddle boarding session with BigStyle in advance, especially during the summer months when the demand is high. You can book online or by phone, and choose from different locations and times.
Hiking on the Howth Peninsula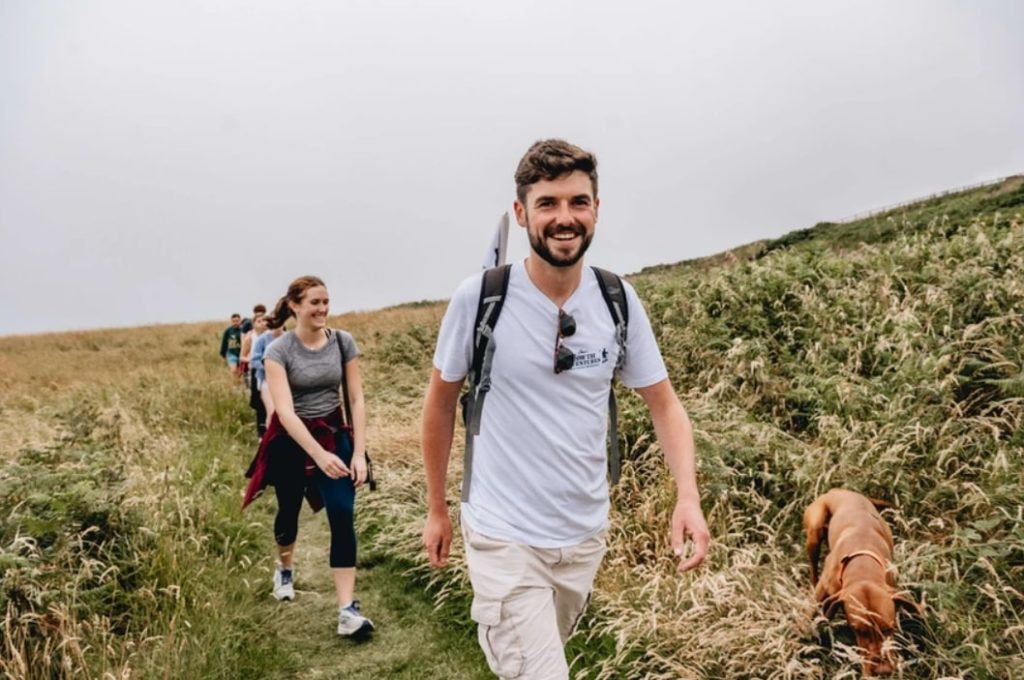 Website: https://www.shaneshowthadventures.com/ 
Address: 7 Balglass Road, Howth, Dublin 13
Phone: +353 (0)86 125 0055
Email: [email protected] 
Howth Adventures offers you a fun and exciting outdoor activity, where you can explore the beautiful Howth peninsula on foot. You'll get to visit Howth medieval castle, trek through wooded forests and stroll down the pier.
The hiking activity is suitable for groups of all ages and abilities, as there are different tours and routes to choose from, ranging from easy to challenging.
The views of Dublin Bay and Ireland's Eye, the fresh air and the stories and memories with your group will make you love this hike. Howth Adventures gives you a wonderful opportunity to experience the nature and culture of Howth.
Pro Tip:

Before embarking on your hike, check the weather forecast and dress in layers as the weather can change quickly, and don't forget to bring plenty of water to stay hydrated during your trek.
In Our Shoes Guided Walking Tours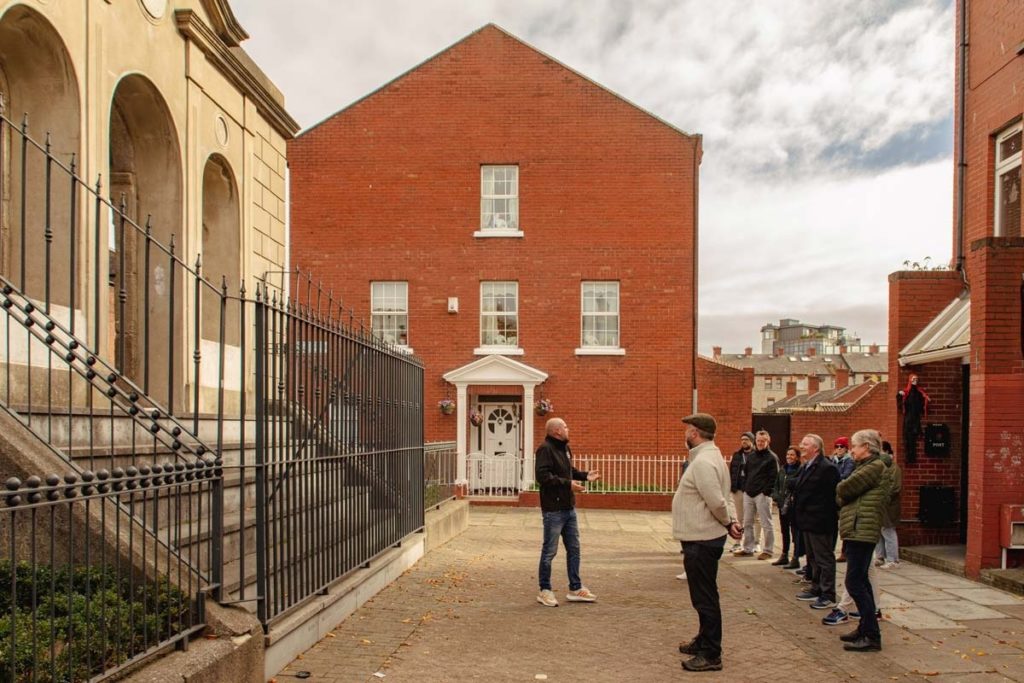 Website: https://inourshoeswalkingtours.ie/ 
Phone: +353 83 149 9927
Email: [email protected] 
The guided walking tour is a great way to see the hidden gems, landmarks and characters of this vibrant area of Dublin. You'll get to learn from the local guides, who are passionate, professional and charismatic storytellers.
This activity is suitable for groups of all ages and interests, as there are different tours and themes to choose from, ranging from history to music.
The local charm, the stories and memories with your group and the different perspective of The Liberties and Dublin 8 will delight you.
Pro Tip:

Listen to your guide and take the chance to ask questions. They are usually very knowledgeable and friendly, and can give you insights and tips that you won't find in guidebooks.
Gaelic Games in Glasnevin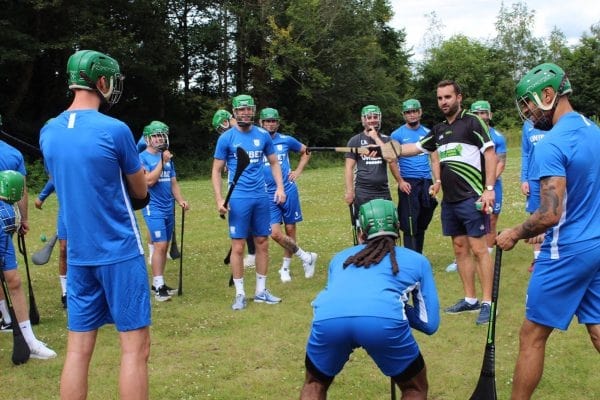 Website: https://experiencegaelicgames.com/ 
Address: Experience Gaelic Games, Na Fianna GAA Club, Saint Mobhi Road, Glasnevin, Dublin 9
Phone: +353 1 25 44 292
Gaelic Games is an outdoor activity that offers a unique and immersive experience in traditional Irish sports like Gaelic football, hurling, and handball. One local company that caters to this activity is the Experience Gaelic Games.
With expert instructors, participants of all ages and skill levels can enjoy the games and learn about Ireland's rich cultural heritage. The activity promotes teamwork, cooperation, and physical exercise while fostering a sense of accomplishment.
Set in picturesque locations, it provides an unforgettable chance to explore Irish culture and sportsmanship.
Pro Tip:

Make the most of your Experience Gaelic Games adventure by opting for a full day of Gaelic action. You will have the chance to explore more aspects of the Irish culture, such as music, dance, history, and folklore.
Cycle Dublin Bike Tours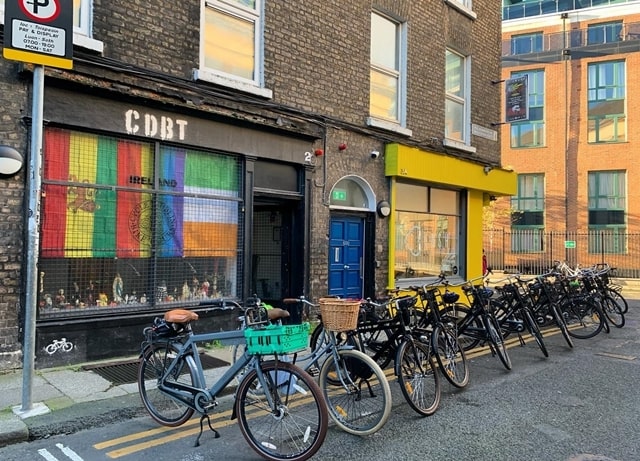 Website: https://cycledublinbiketours.ie/ 
Address: 2 Whitefriar Pl, Dublin, D08 XYE6
Phone: +353 86 252 6578
Email: [email protected] 
Cycle Dublin Bike Tours offers an unforgettable outdoor group activity in Dublin with their guided bike tours. Led by knowledgeable guides, participants can explore the city's iconic landmarks, rich history, and culture.
The tours cater to all fitness levels and provide well-maintained bikes for a safe and comfortable ride. It's an excellent option for friends, families, or corporate team-building events.
The thoughtfully designed routes showcase famous sites like Trinity College, Dublin Castle, and the River Liffey. Additionally, participants get to enjoy local cuisine and beverages with stops at charming cafes.
Pro Tip:

Stretch your muscles before and after you ride to prevent injuries, improve posture, and enhance performance. Warm up with some light cycling or jogging, then hold each stretch for 20 to 30 seconds without bouncing or forcing.